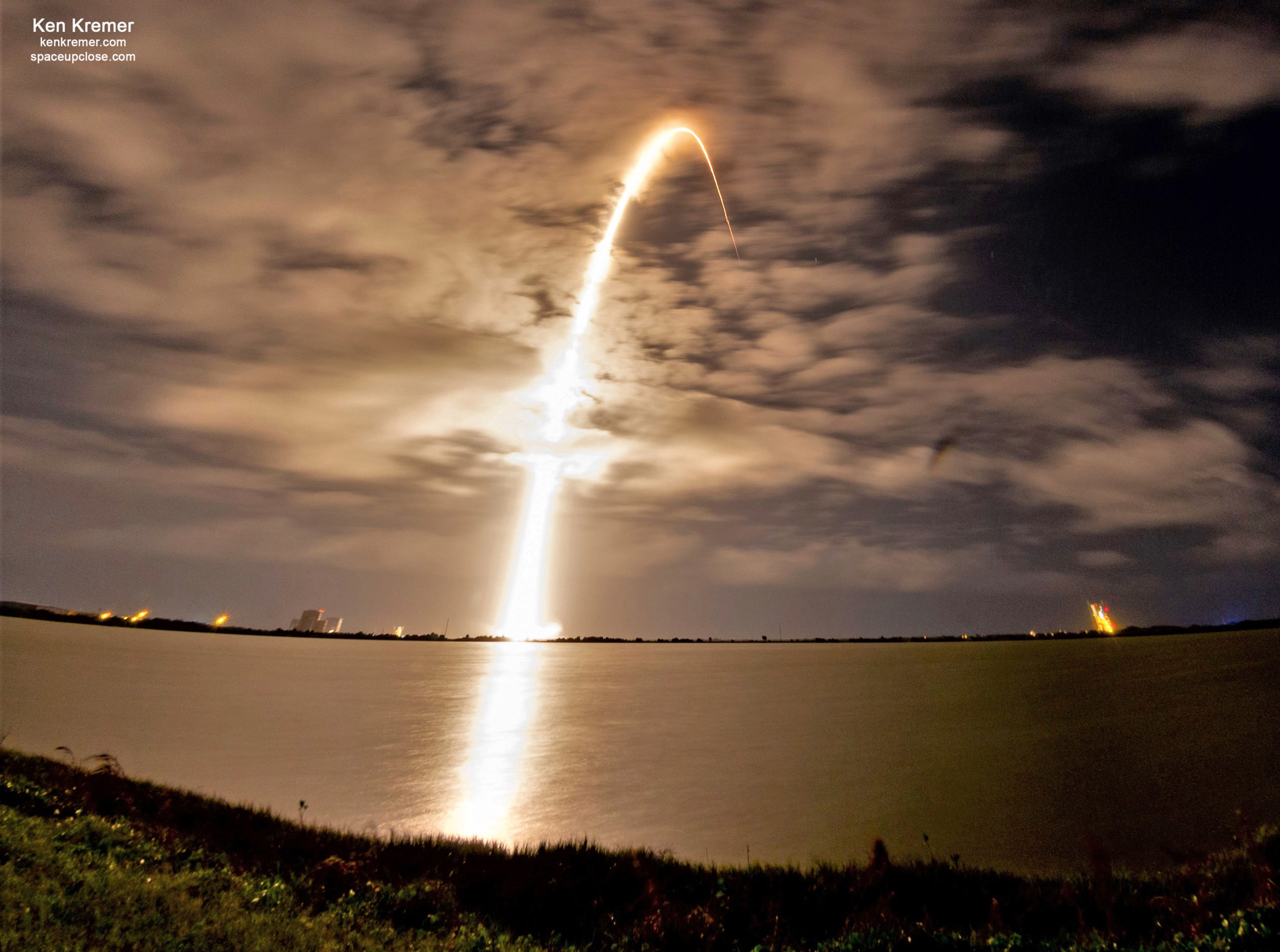 For SpaceUpClose.com & RocketSTEM
CAPE CANAVERAL AIR FORCE STATION, FL – Under dismal Space Coast skies and after several delays for technical and weather issues SpaceX at last launched and landed the record setting recycled Falcon 9 rocket on a stunning nighttime liftoff carrying the next batch of Starlink broadband internet satellites to orbit Tuesday evening, Nov. 24, using a milestone 1st stage booster that counts as the first one to be flown seven times!
The mission expanding the Starlink constellation also counts as the 100th flight of a Falcon 9 – an amazing launch cadence with nearly a quarter of those just in the past year and in large part enabled by the now routine reuse of 'flight-proven' and recovered 1st stage boosters.
The spectacular nighttime liftoff of a veteran 'fleet leading' Falcon 9 booster designated 1049.7 for the seventh time delighted spectators gathered all around the Florida Space Coast – especially after heavy rains moved in less than two hours before the planned liftoff and nearly spoiled the show
SpaceX's Falcon 9 'fleet leader' finally blasted off Tuesday November 24 at 9:13 p.m. EST (0213 GMT) for launch of its sixteenth Starlink mission from Space Launch Complex-40 on Cape Canaveral Air Force Station, in Florida carrying 60 Starlink broadband internet satellites to low earth orbit during an instantaneous launch window.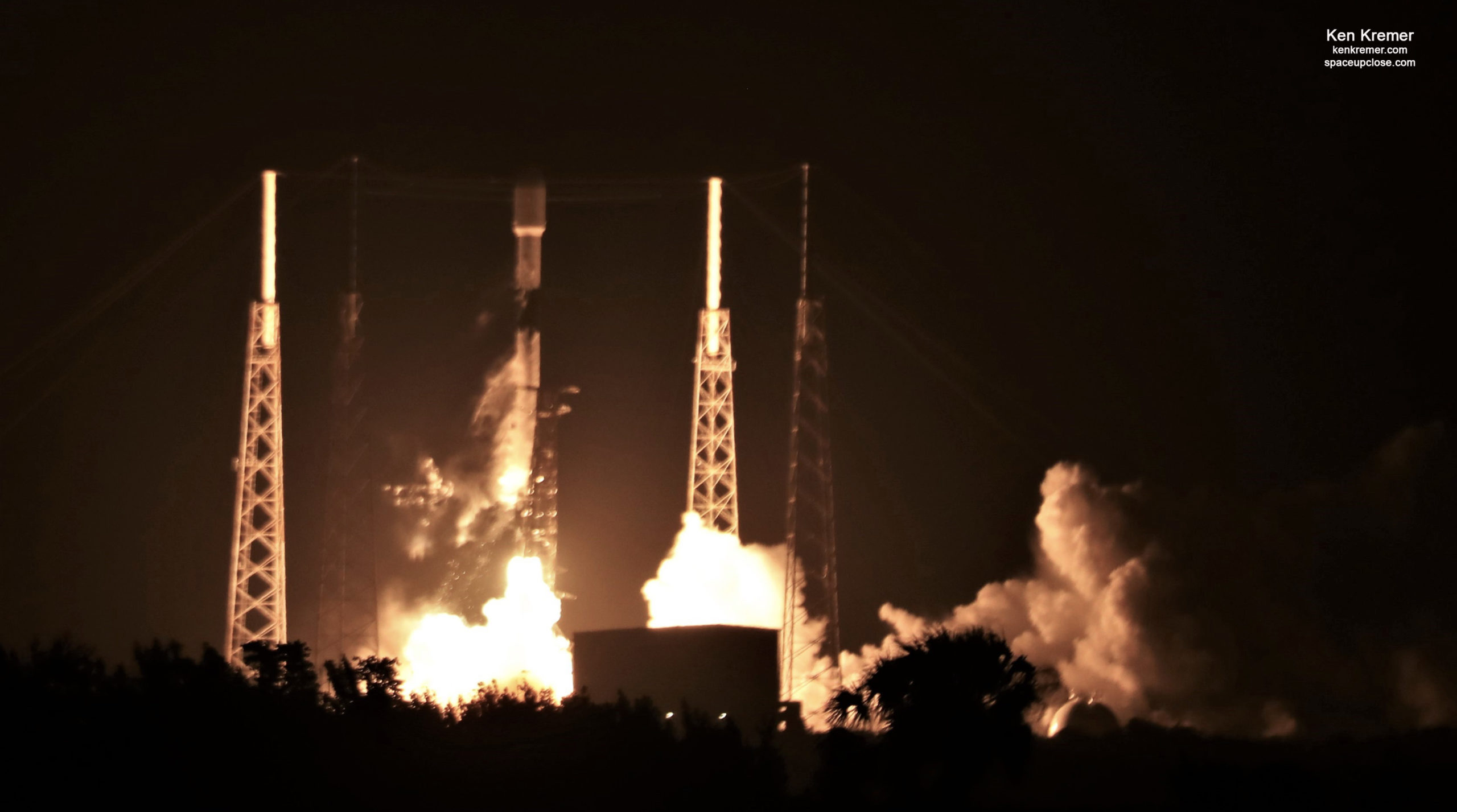 The booster darted between broken clouds on its way to orbit – making for quite an eerie sight as the clouds momentarily  glowed from the flames of the passing rocket.
The new mission thus fortifies the Starlink constellation of relay satellites that one day upcoming will offer a competitive alternative to existing broadband services across North America – including the US and Canada
Enjoy our eyewitness photos of the Falcon 9 launch from the team of Ken Kremer and Jean Wright at  at Space UpClose.
SpaceX tweeted this launch video:
Liftoff! pic.twitter.com/a9O2MqcsCV

— SpaceX (@SpaceX) November 25, 2020
The evening launch of the booster B1049.7  on its seventh mission to space and back was uplifting event amidst a third wave of Coronovirus pandemic cases afflicting our nation and the world.
Falcon 9's first stage B1049.6 previously supported the Telstar 18 VANTAGE mission in September 2018, the Iridium-8 mission in January 2019, and four separate Starlink missions in May 2019, January 2020, June 2020 and most recently 18 Aug. 2020.
This booster was also the first to fly six times to space and back.
SpaceX CEO Elon Musk says this Block 5 version of the Falcon 9 is designed to 10 times with minimal refurbishment and potentially further beyond.
Furthermore, both payload fairing halves are also reflown from prior missions following recovery and the SpaceX Fleet will again attempt to recover them.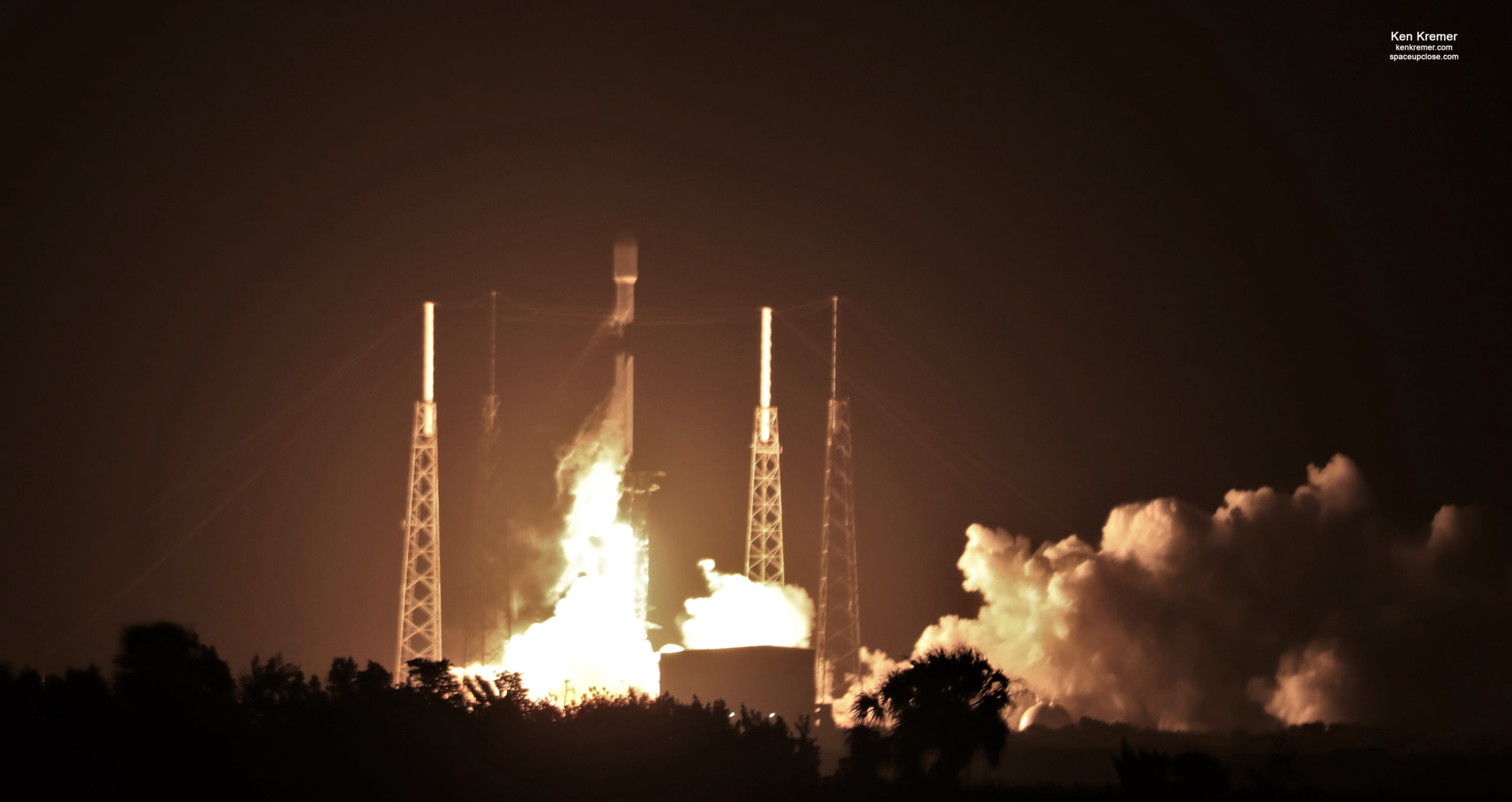 Following stage separation SpaceX recovered the Falcon 9 first stage some eight and a half minutes after landing with a guided propulsive soft landing on four deployed landing legs on the 'Of Course I Still Love You" (OCISLY) droneship – stationed some 400 miles downrange in the Atlantic Ocean off the Carolina's coast.
Watch this video tweeted by SpaceX:
"Falcon 9's first stage lands on the Of Course I Still Love You droneship!"
Falcon 9's first stage lands on the Of Course I Still Love You droneship! pic.twitter.com/RZGbgzDBwf

— SpaceX (@SpaceX) November 25, 2020
Fairing catcher ship GO Ms Chief and GO Searcher fairing recovery vessel were deployed for fairing recovery.
One fairing has been flown once and recovered and the other fairing half has been flown and recovered twice.
All 60 Starlink satellites deployed as planned about 14 and a half minutes after liftoff – as seen in this SpaceX video:
"Deployment of 60 Starlink satellites confirmed," SpaceX tweeted with video.
Deployment of 60 Starlink satellites confirmed pic.twitter.com/Ddg9EPn5gP

— SpaceX (@SpaceX) November 25, 2020
The ever expanding Starlink constellation now numbers approximately 955 refrigerator sized broadband internet relay satellites launched to orbit and aimed at serving rural and underserved areas across the globe – where service is "unreliable, expensive, or completely unavailable."
The flat panel satellites weigh about 500 pounds each.
However quite a few have been deorbited for a variety of reasons – thus the true number of Starlinks in orbit is estimated at about 860 to 910 or so.
There are no rideshare payloads on this flight.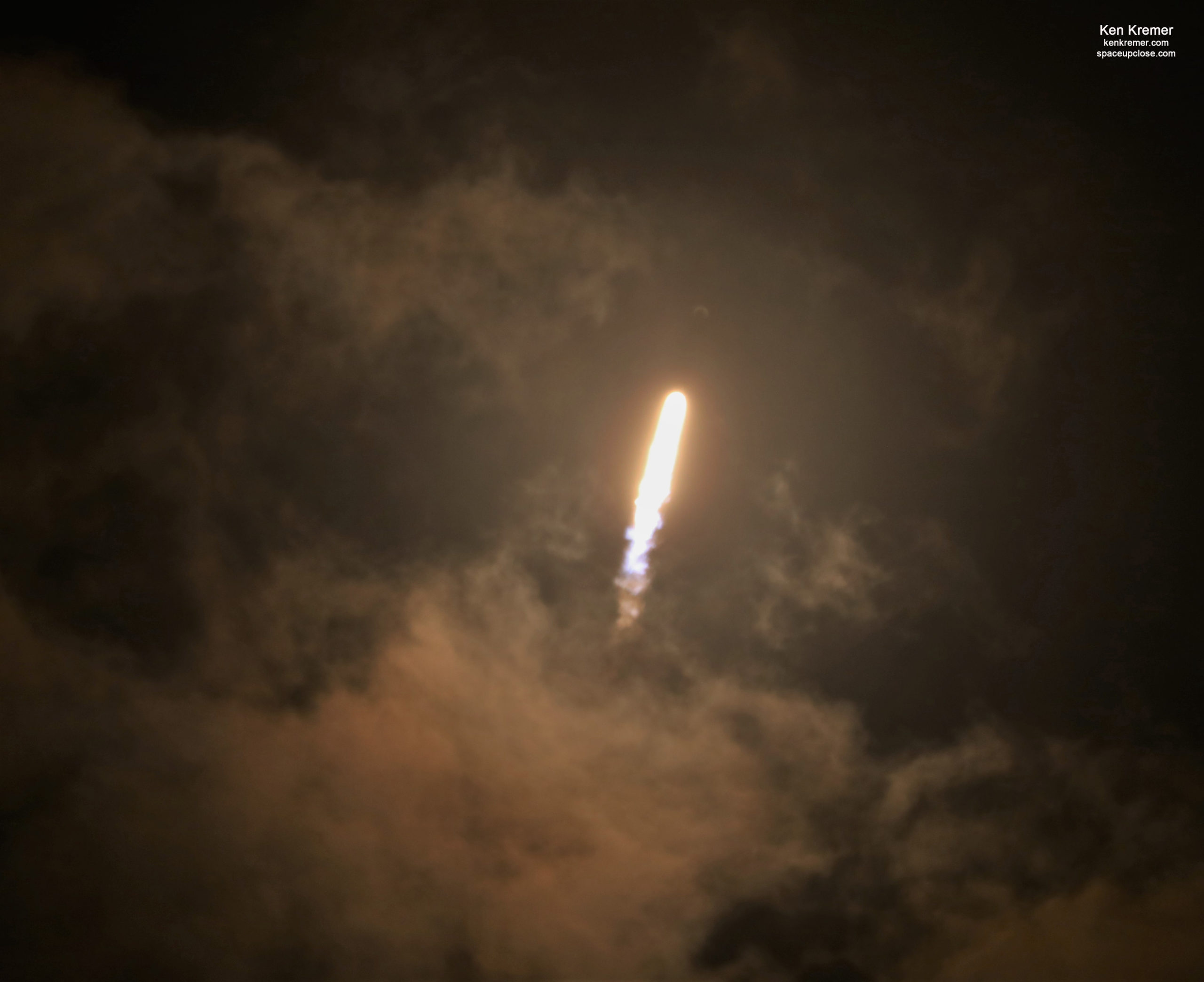 SpaceX says they need approximately 1400 Starlink satellites to establish widespread service in the US. They may eventually loft 30,000 to 40000 for worldwide service
This 16th Starlink launch designated as Starlink 15 mission came just over a week after the Crew-1 mission launching 4 astronauts from the US and Japan on a six month science mission to the international Space Station.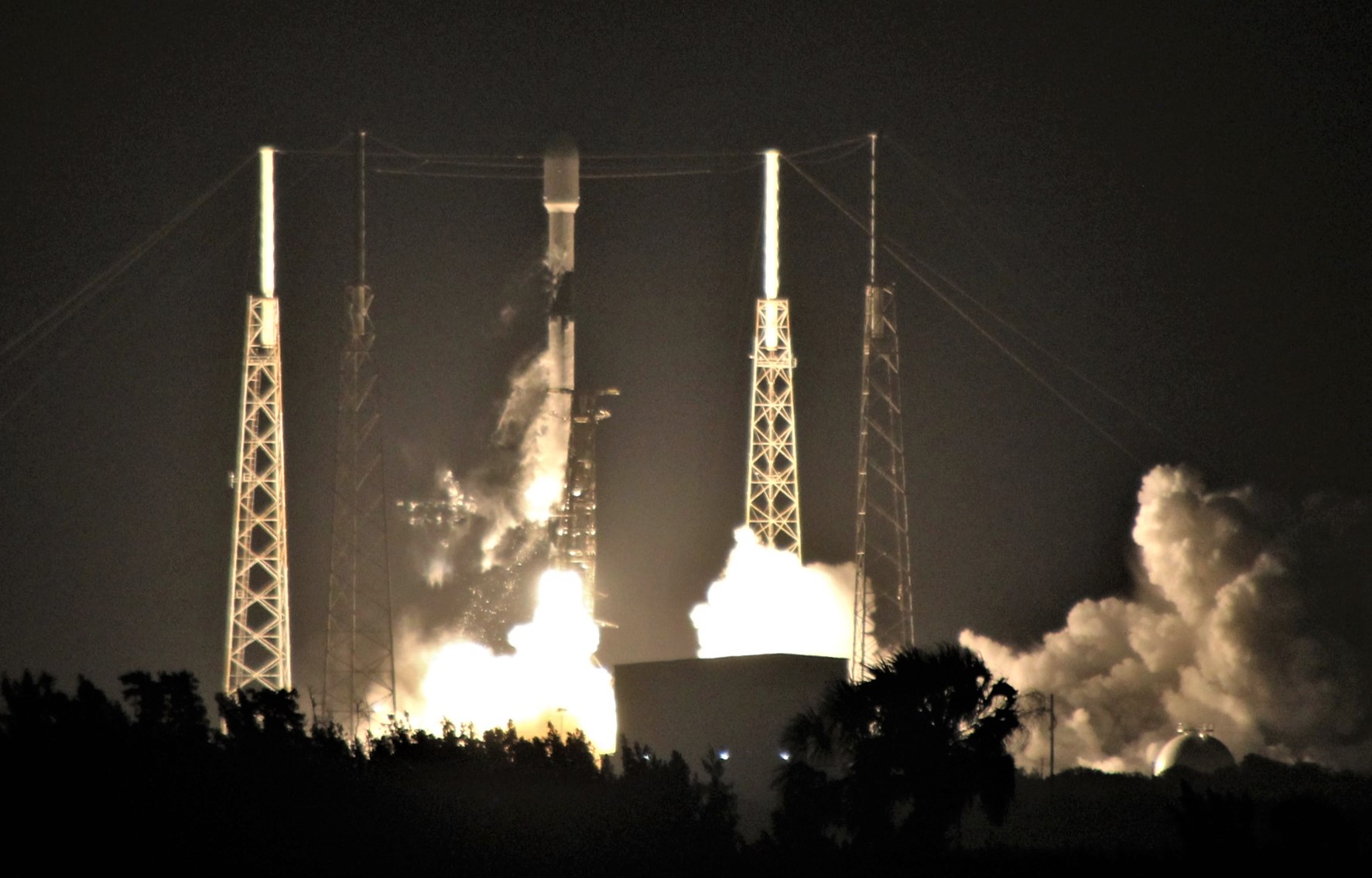 The liftoff also takes place a few days after SpaceX's successful delivery to orbit of the NASA ESA Sentinel-6 Michael Freilich oceanography sea level rise mapping satellite from Vandenberg Air Force Base, Calif earlier Nov. 21.
The prior liftoff of the now 7x flown veteran, record setting SpaceX Falcon 9 booster B1049.6 took place Aug. 18 at 10:31 a.m. EDT on the eleventh Starlink mission from Space Launch Complex 40 (SLC-40) at Cape Canaveral Air Force Station in Florida.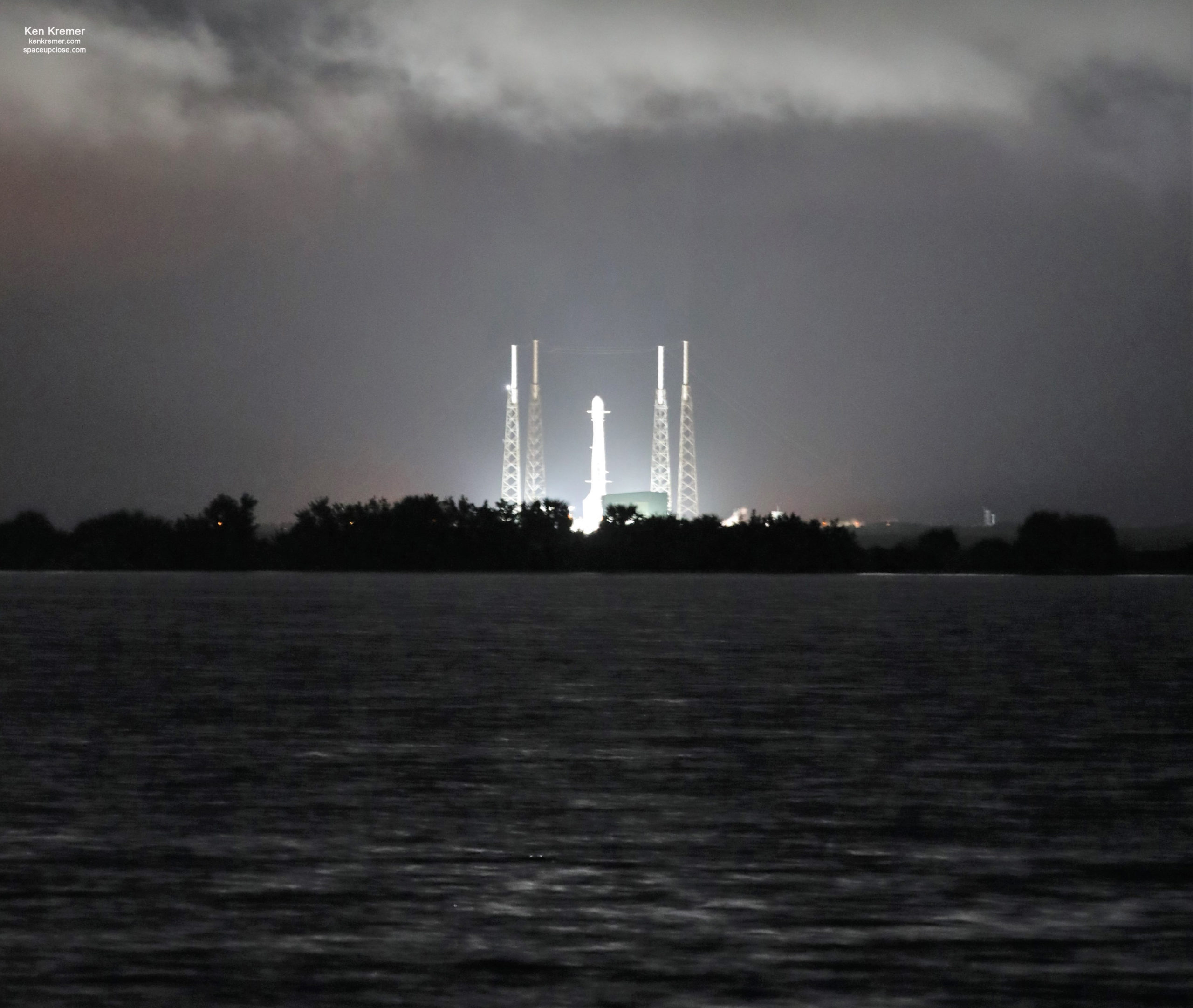 SpaceX says you can sign up to receive updates on Starlink news and service availability in your area. Please visit starlink.com
Some school districts, first responders and others  are already partnering with SpaceX on beta testing.
"Last month, SpaceX launched its "Better Than Nothing Beta" test program. Service invites were sent to a portion of those who requested availability updates on Starlink.com and who live in serviceable areas. A couple weeks ago, Canada granted Starlink regulatory approval and last week SpaceX rolled out the service to parts of parts of southern Canada," says SpaceX.
"If you would like to learn more about the service, please visit the Reddit AMA SpaceX engineers recently participated in."
For those selected to participate in beta testing the cost of the 19 inch satellite dish is $499.
The monthly service costs $99.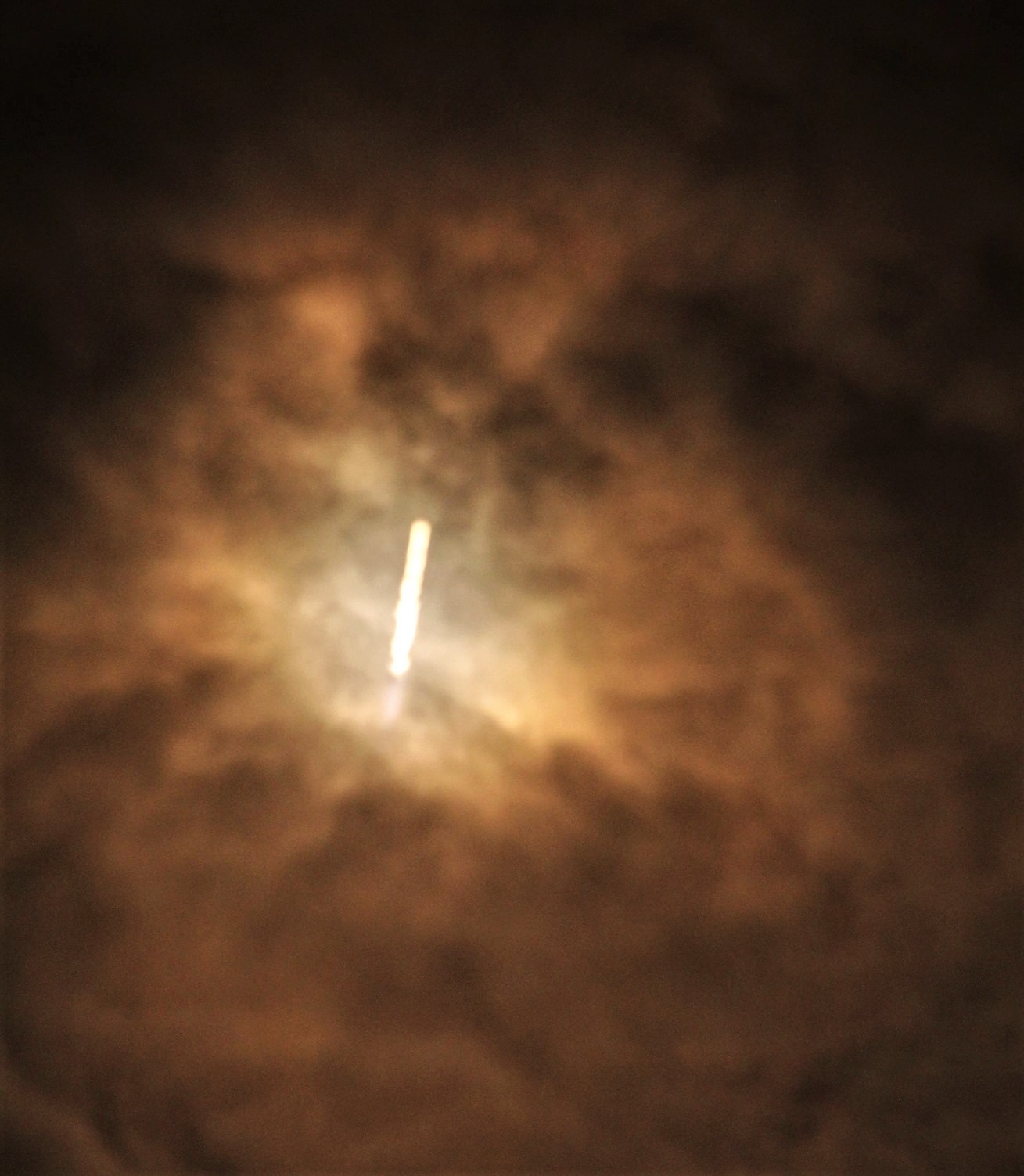 The path to launch was clear following a successful static fire test using a milestone 1st stage booster Saturday afternoon Nov. 21 – after torrential rains poured on the Space Coast  – that counts as the first one to be flown seven times!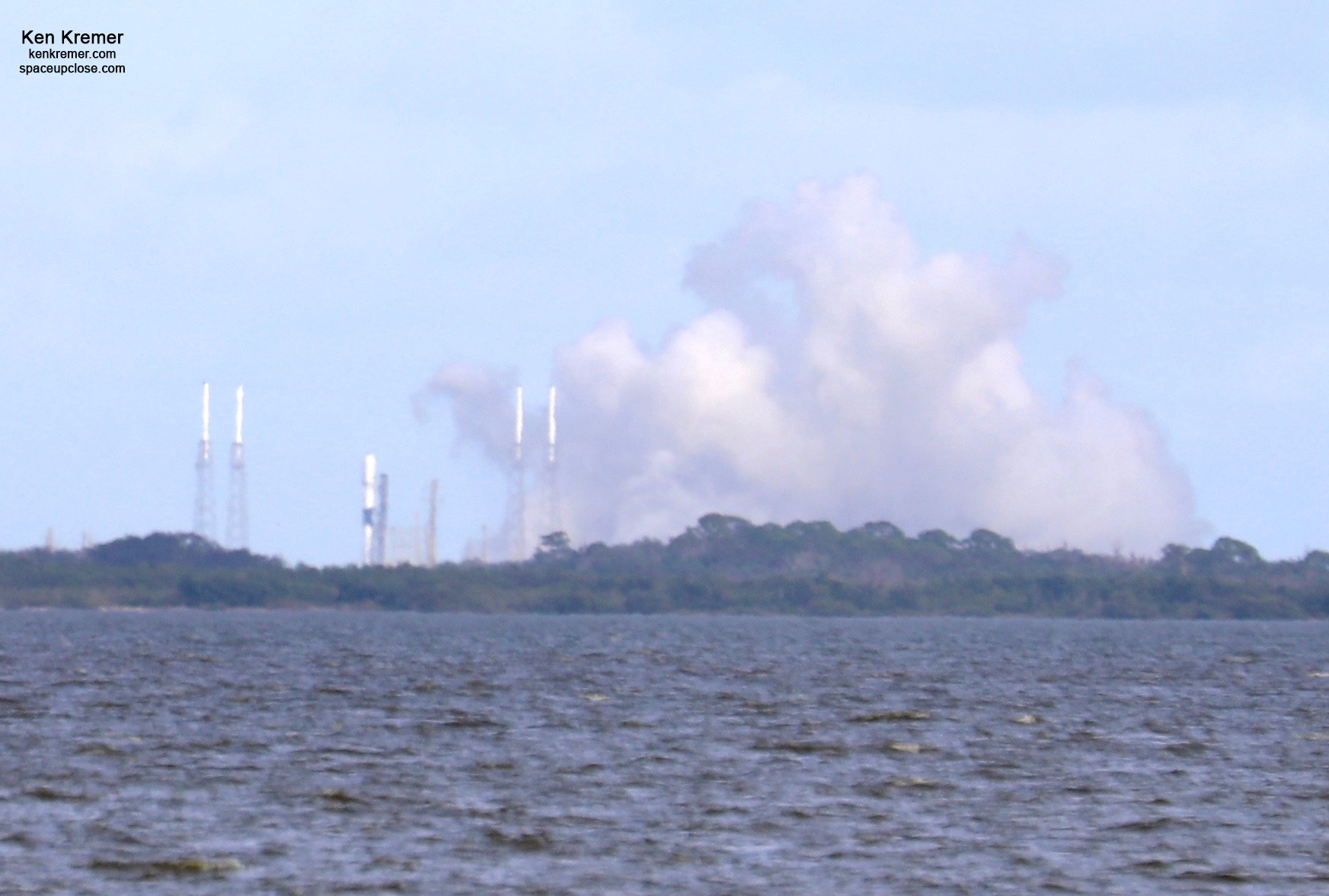 Overall this marked SpaceX's 23rd launch of 2020, eclipsing the prior record of 21 in 2018.
Several more launches are still upcoming before years end including CRS-21 Crew Dragon 2 cargo resupply mission to the ISS set for Dec. 5
The two stage Falcon 9 rocket stands 229 feet (70 meters) tall.
Falcon 9 launches Starlink to orbit – the seventh launch and landing of this booster pic.twitter.com/Xm8NjBhE9t

— SpaceX (@SpaceX) November 25, 2020
My prelaunch/scrub photos were featured at WFTV ABC 9 Orlando with Starlink testing commentary and WKMG CBS News 6 Orlando on Nov 23/24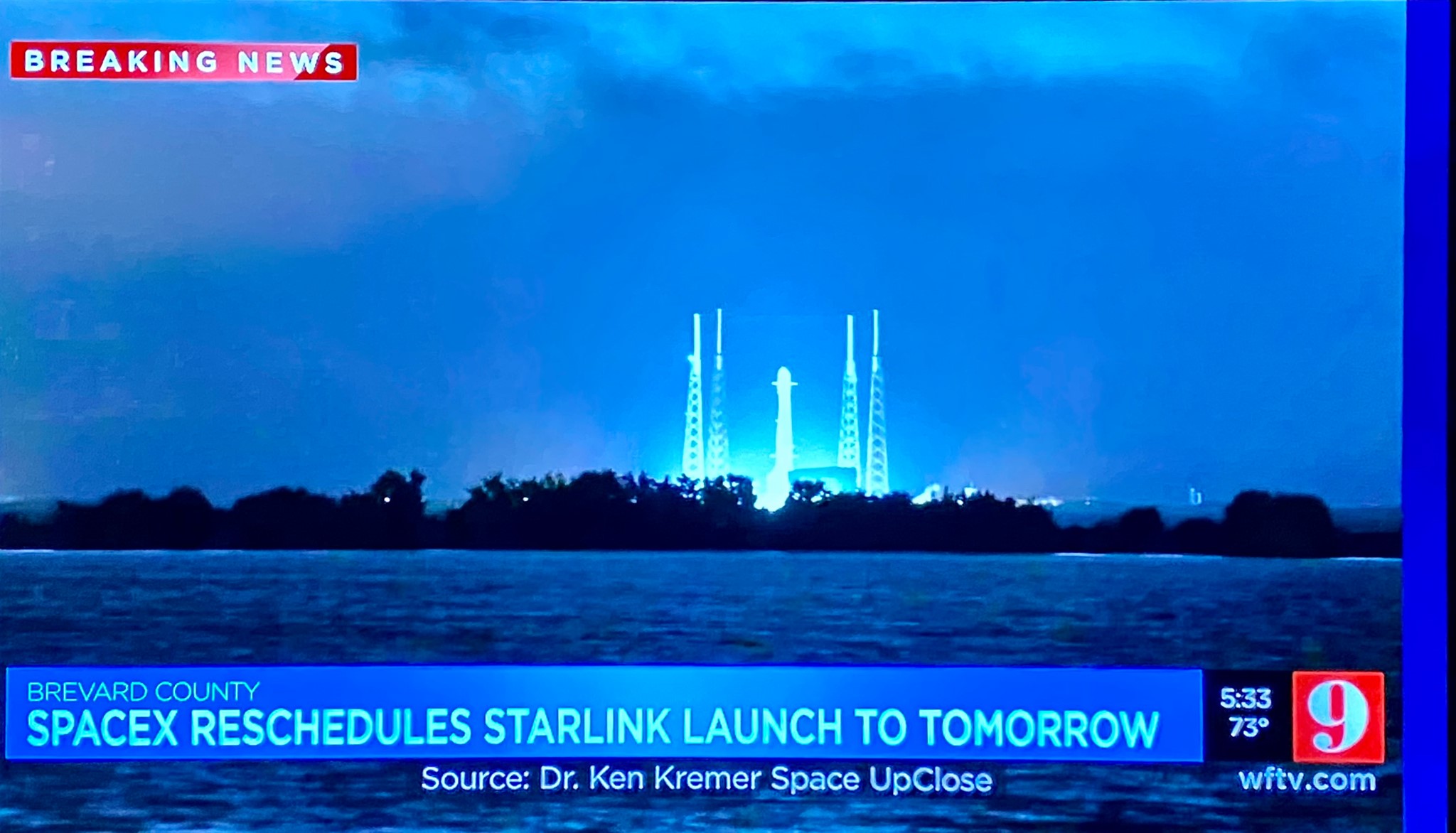 Watch Ken's continuing reports about Starlink, Crew Dragon, Commercial Crew and Artemis and onsite for live reporting of upcoming and recent SpaceX and ULA launches including Demo-2, Starlink, X-37B, Solar Orbiter, Mars 2020 and more at the Kennedy Space Center and Cape Canaveral Space Force Station.
Stay tuned here for Ken's continuing Earth and Planetary science and human spaceflight news: www.kenkremer.com –www.spaceupclose.com – twitter @ken_kremer – email: ken at kenkremer.com
Dr. Kremer is a research scientist and journalist based in the KSC area, active in outreach and interviewed regularly on TV and radio about space topics.
………….
Ken's photos are for sale and he is available for lectures and outreach events
Please consider supporting Ken's work by donating at Patreon:
https://www.patreon.com/kenkremer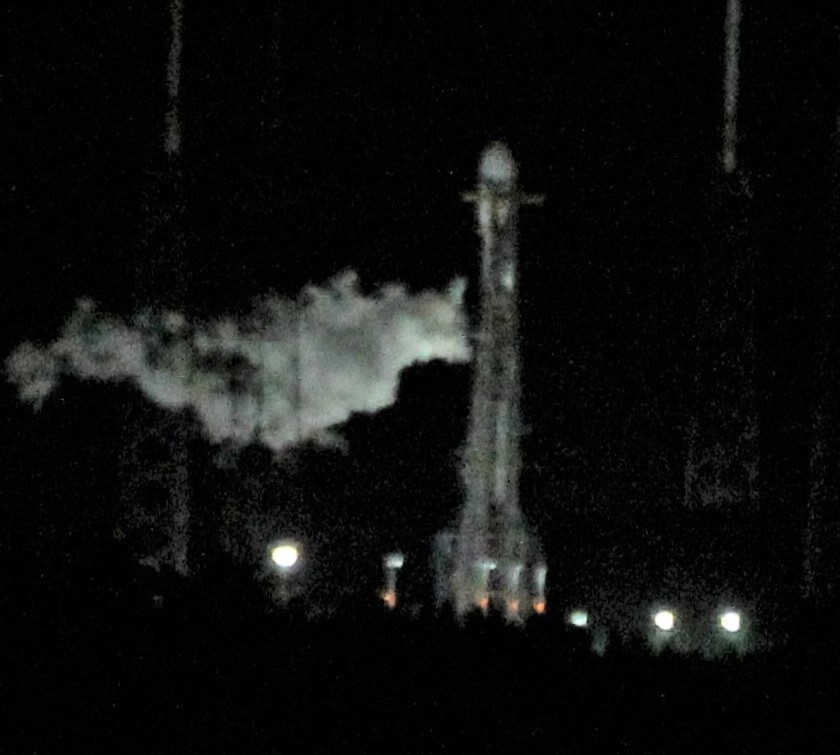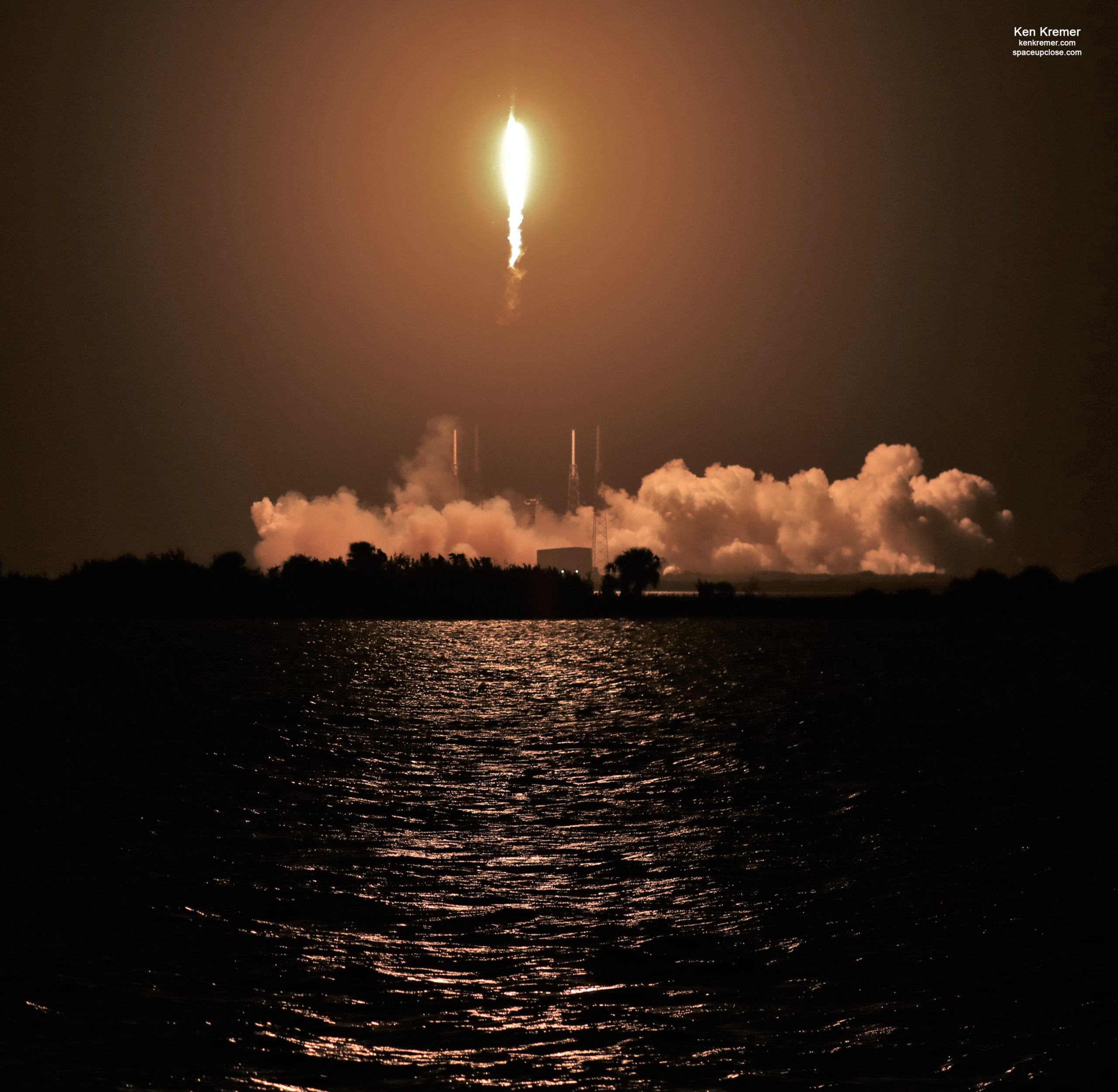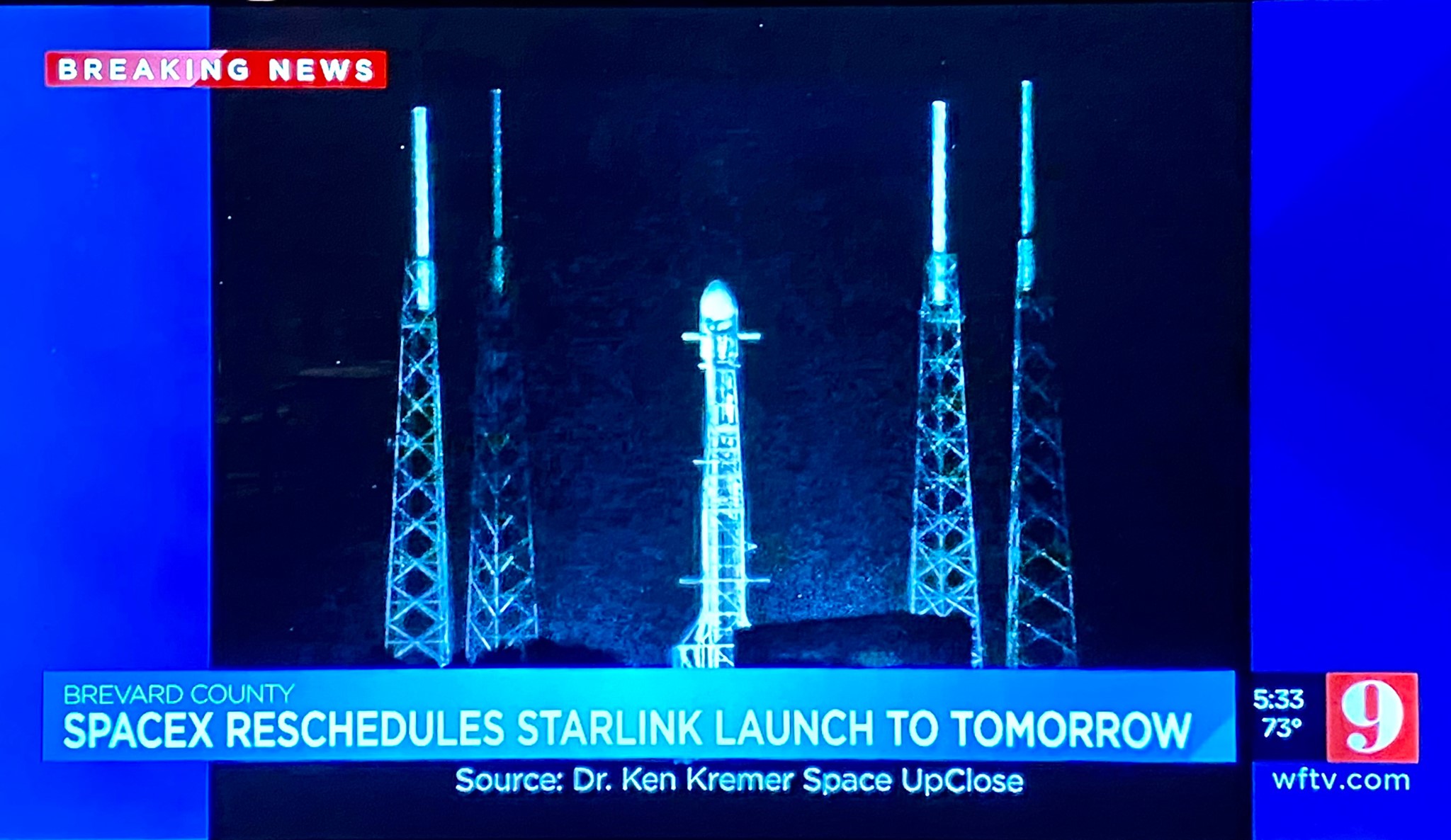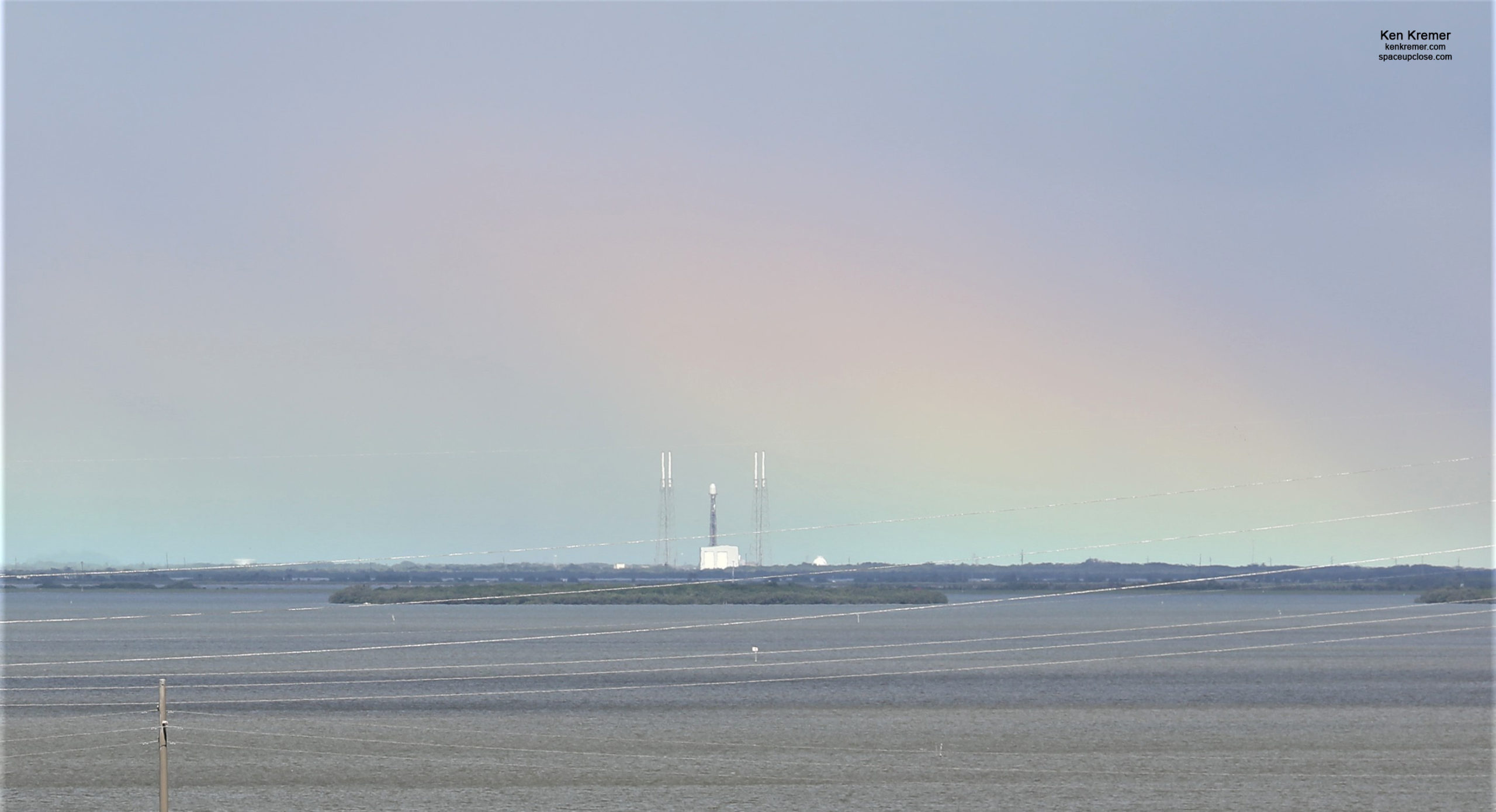 x