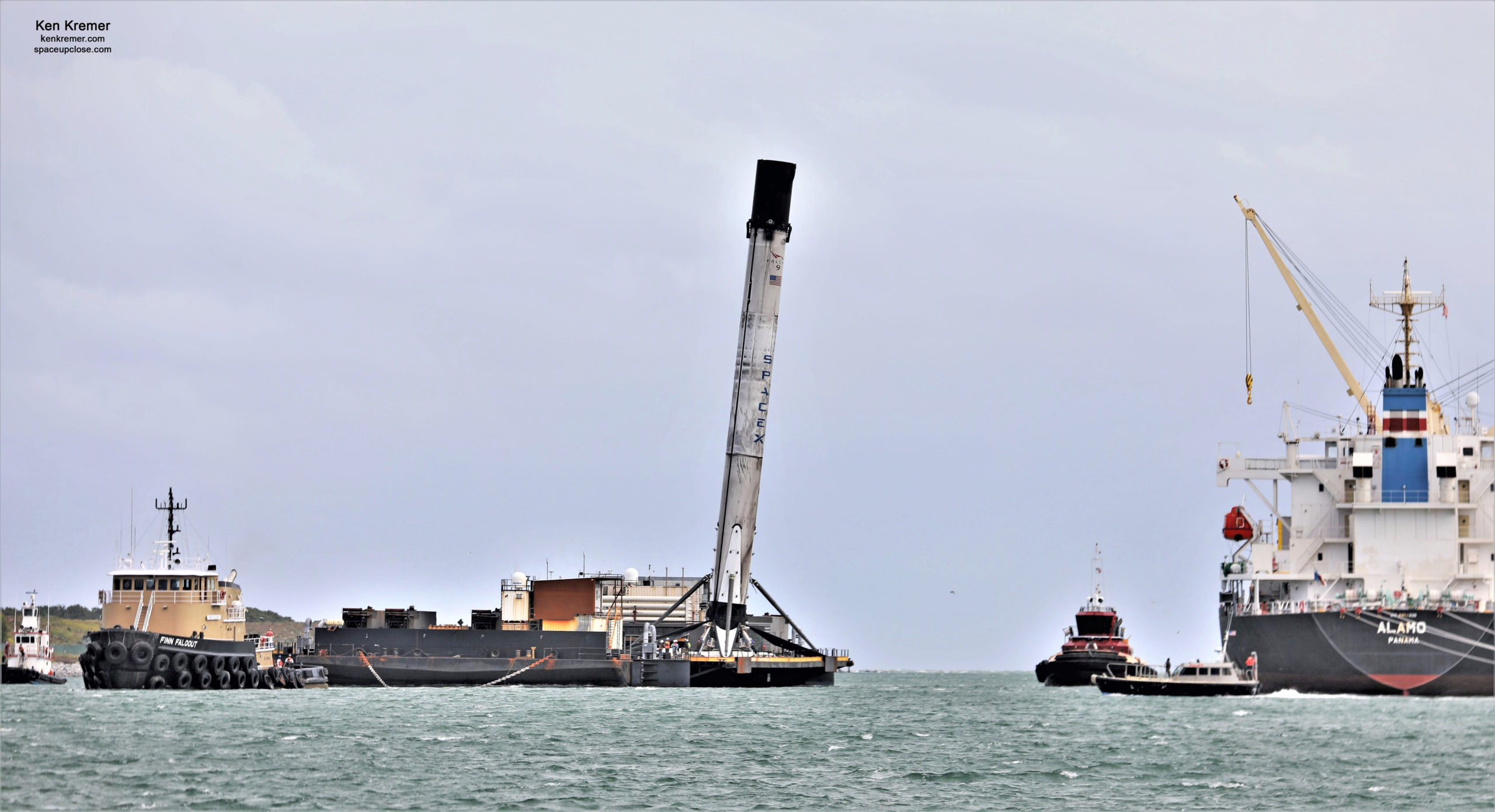 For SpaceUpClose.com & RocketSTEM
PORT CANAVERAL/KENNEDY SPACE CENTER, FL –  Three and a half days after  Sunday's (Nov. 15) historic and flawless blastoff  with 4 astronauts from NASA's Kennedy Space Center in Florida the SpaceX Crew 1 Falcon 9 first stage booster that propelled them aboard Crew Dragon Resilience to a successful docking with the International Space Station (ISS) Monday  evening and that subsequently soft landed on an ocean going platform in the Atlantic finally arrived back into Port Canaveral at lunchtime today, Nov. 19 – but with a clearly noticeable and significant tilt.
The 15 story tall booster from the history making 1st SpaceX NASA operational commercial crew rotation mission arrived Thursday morning at the mouth of Port Canaveral, Florida with a rather obvious lean on deck of the 'Just Read the Instructions' droneship.
Indeed the spent booster was somewhat precariously perched atop JRTI with one of the four landing legs positioned right at or slightly over the edge of the droneship deck– as was visibly obvious as it was towed past us observing nearby at the Port.
The booster was firmly grasped and held in place at the base between the legs by the hi-tech  octagrabber device and simple but very strong chains – see our photos.
Other than the lean it appeared to be in good shape with roughly the normal expected amount of soot on the core exterior.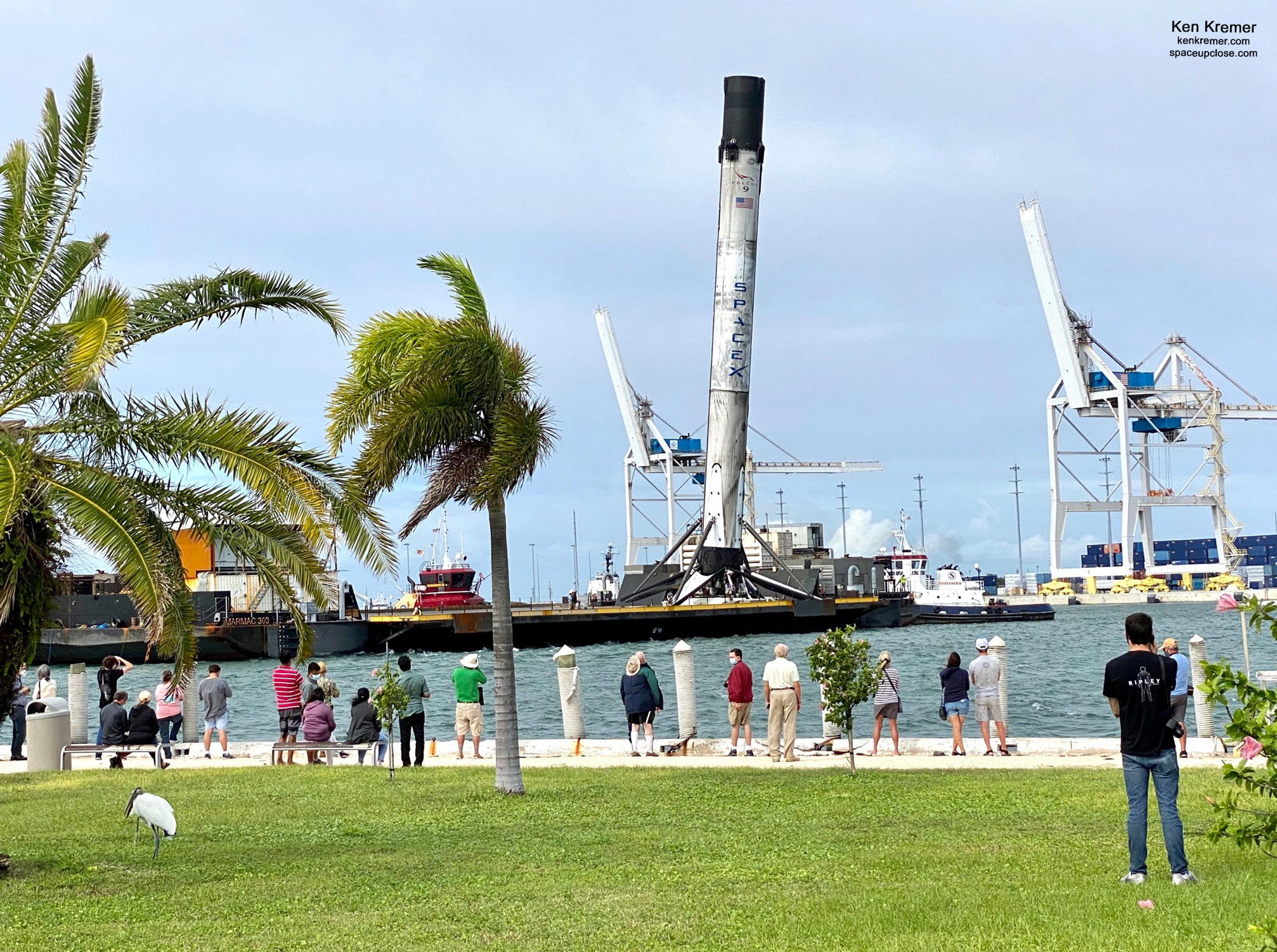 The condition of the booster is critical because NASA hopes to reuse this recovered Crew-1 first stage on the Crew-2 Crew Dragon mission launching next spring in late March 2021.
As a result of the tilted lean and resulting stresses the NASA and SpaceX teams will have to carry out an even more thorough examination and refurbishment of the booster to confirm that's its still fir and robust and qualified to launch the next team of international astronauts on the Crew-2 mission launch from NASA's Kennedy Space Center.
After lingering for a few hours the JRTI droneship with the recovered launched/landed booster B1061.1 at last began her final approach to Jetty Park and Pier around noon today Nov. 19 towed by now veteran tugboat Finn Falgout and accompanied by the SpaceX fleet and welcomed by a small crowd of my media colleagues and beachgoers and Port spectators.
Today's lunchtime booster arrival was accompanied by high winds and strong gusts and strong surf and choppy seas at Florida's Space Coast weather.
Following liftoff, the 156 foot tall booster accomplished a precision guided soft landing atop JRTI some 400 miles (640 km) northeast of the Cape off the coast of the Carolina's and appeared to land near the center – based on a SpaceX video feed.
So its possible the tilting arose post landing when the droneship was buffeted by big waves in the Atlantic Ocean during the voyage back to the Cape.
Thus the recovery team likely went on deck to attach added chains not normally used anymore to hold and secure the booster on deck in addition to the hi-tech robotic movable octagrabber device and prevent the booster from tipping overboard -with that one leg right at the edge.
Another of the four landing legs was raised off the deck opposite from that one was at the edge of the deck.
Enjoy our Space UpClose gallery of booster return, launch and prelaunch images from the Port Canaveral, the KSC press site and Cap Canaveral Air Force Station from the team of Ken Kremer and Jean Wright.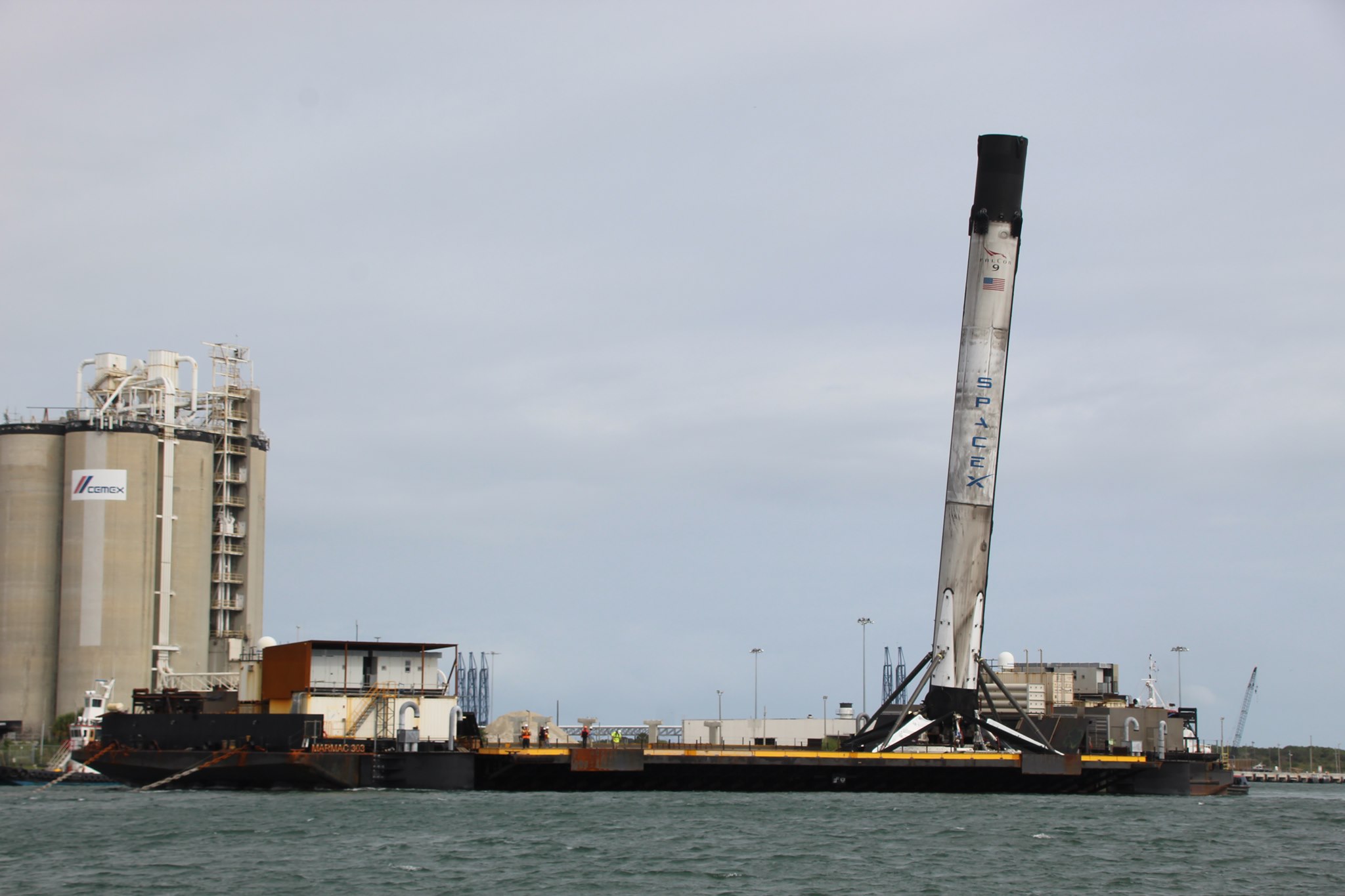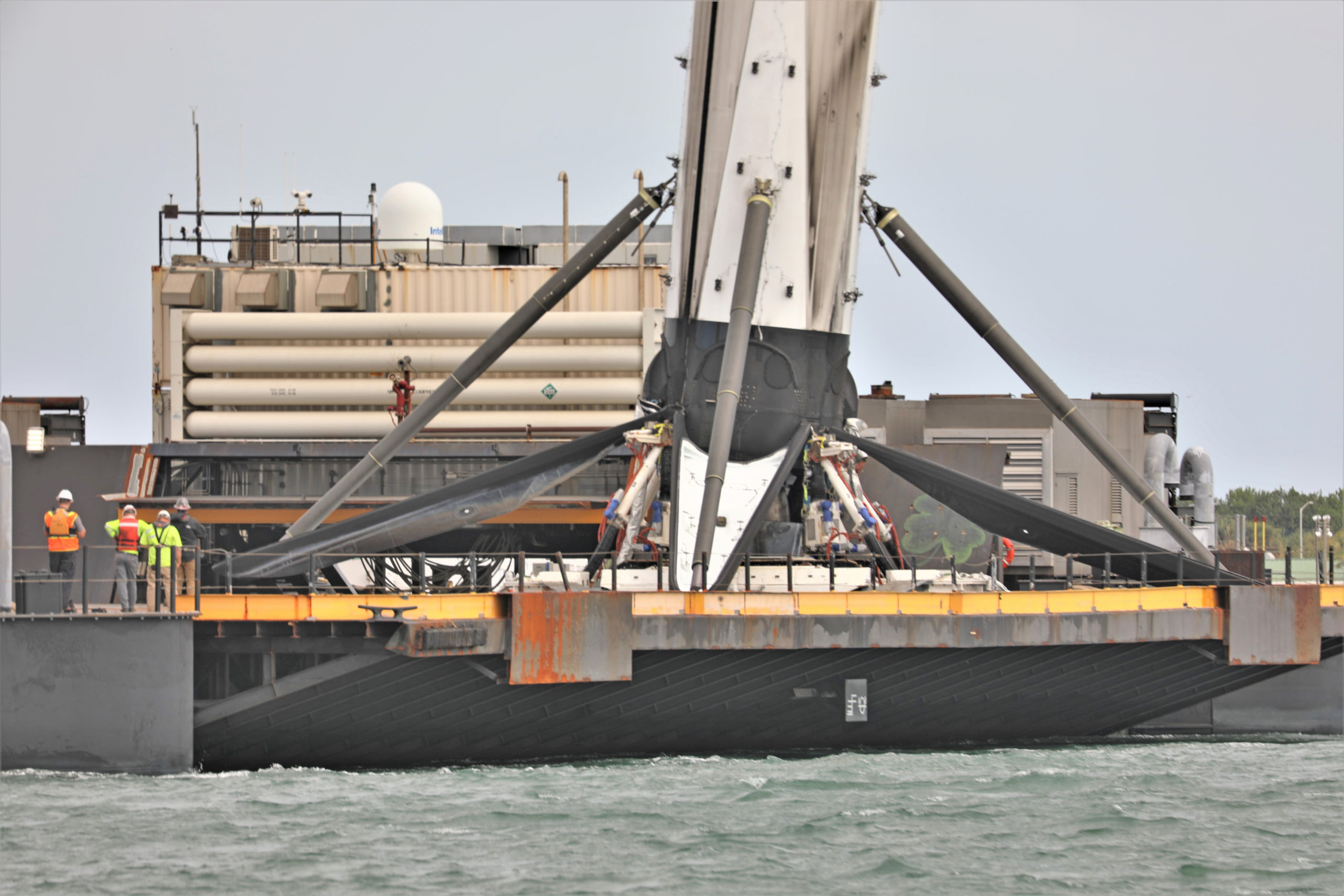 This brand new never before flown booster propelled the very precious cargo of four humans – namely NASA astronauts Michael Hopkins, Victor Glover, Shannon Walker, and Japan Aerospace Exploration Agency (JAXA) astronaut Soichi Noguchi on NASA's SpaceX Crew-1 mission who join the three resident humans already on board.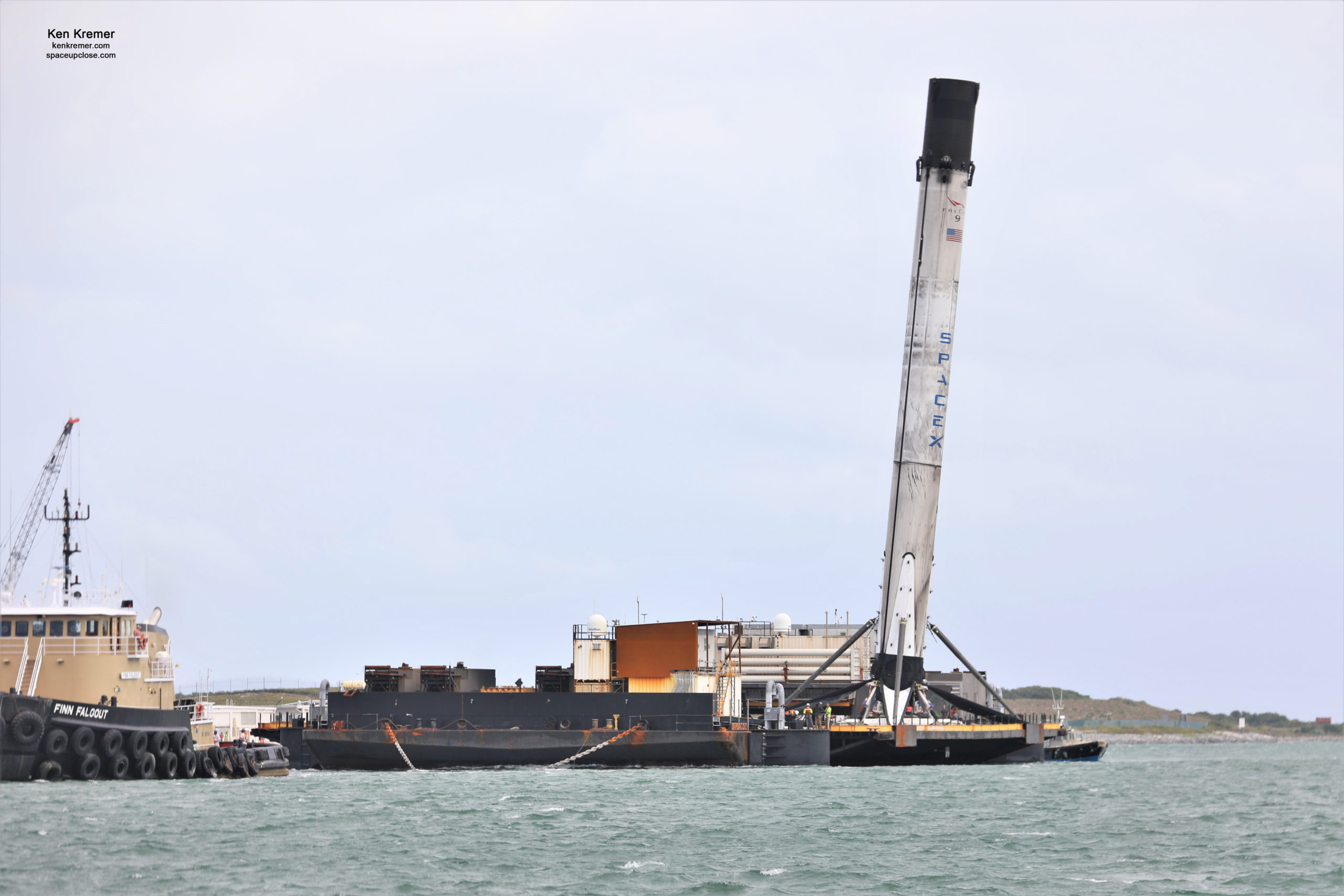 NASA's SpaceX Crew-1 mission lifted off on a Falcon 9 rocket at 7:27 p.m. EST Sunday, Nov. 15 (0027 GMT Monday) from Launch Complex 39A on Florida's Spaceport during an instantaneous launch time – bound for the ISS on a six month science mission.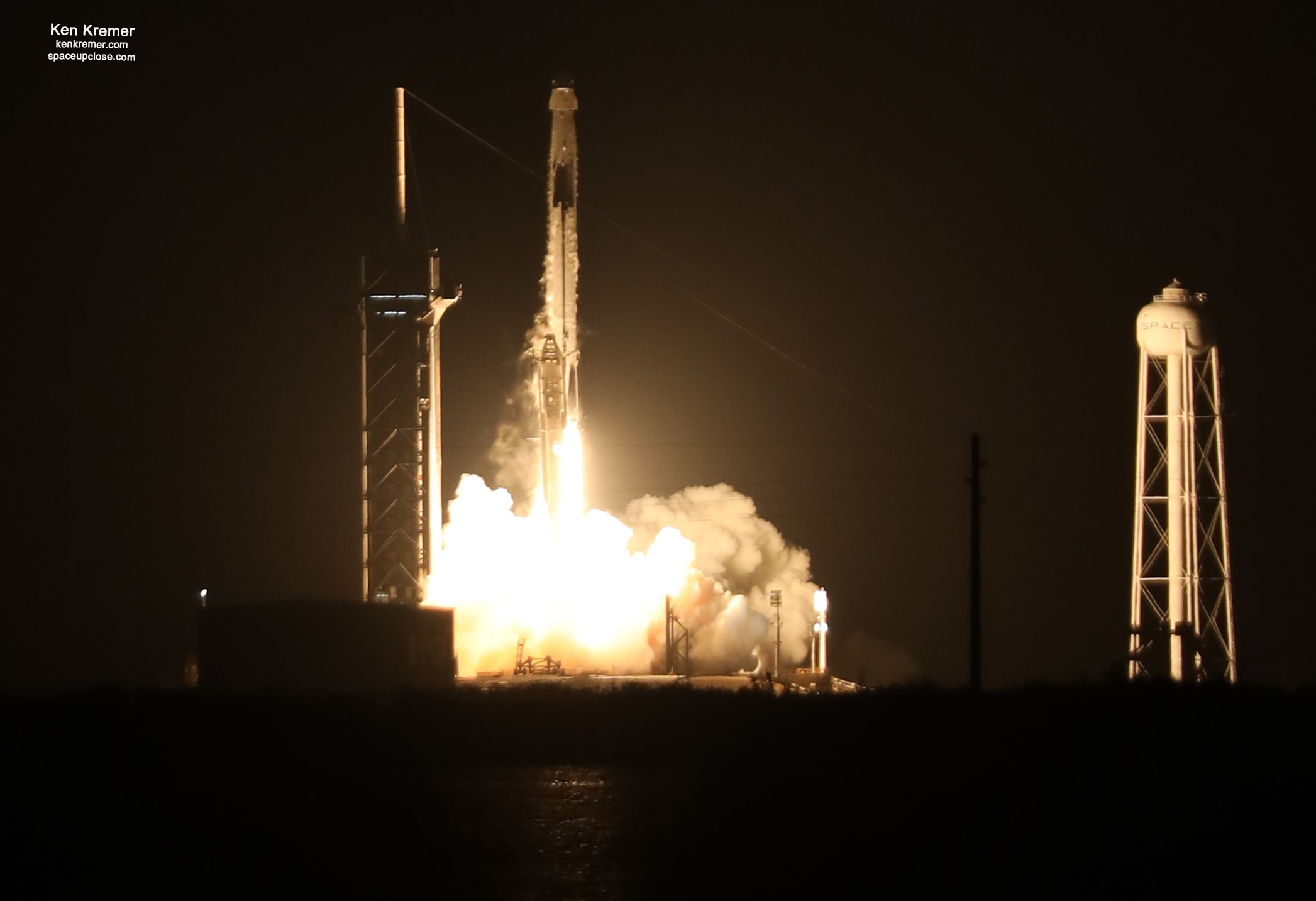 Just over 27 and a half hours  after  Sunday's flawless blastoff  from KSC the SpaceX Crew Dragon Resilience with the four person multinational crew of NASA and Japanese astronauts successfully docked at the International Space Station (ISS) at 11:01 p.m. EST Monday  (0401 GMT Tuesday).
With the arrival of the new four person crew from Crew-1 the ISS will be enlarged to start a long duration crew of seven resident spaceflyers for the first time in its history  – for what now marks the Expedition 64 crew increment.
Since 2009 the ISS has normally been staffed with a permanent resident crew of six astronaut and cosmonaut crewmates living and working aboard the massive orbiting lab complex. Initially ISS was home to two and three member long term expedition crews.
The gumdrop shaped Crew Dragon measures around 13 feet (4 meters) in diameter and 16 feet (5 meters) tall.
Crew Dragon is certified to stay up to 210 days in orbit before it must return to Earth with its crew.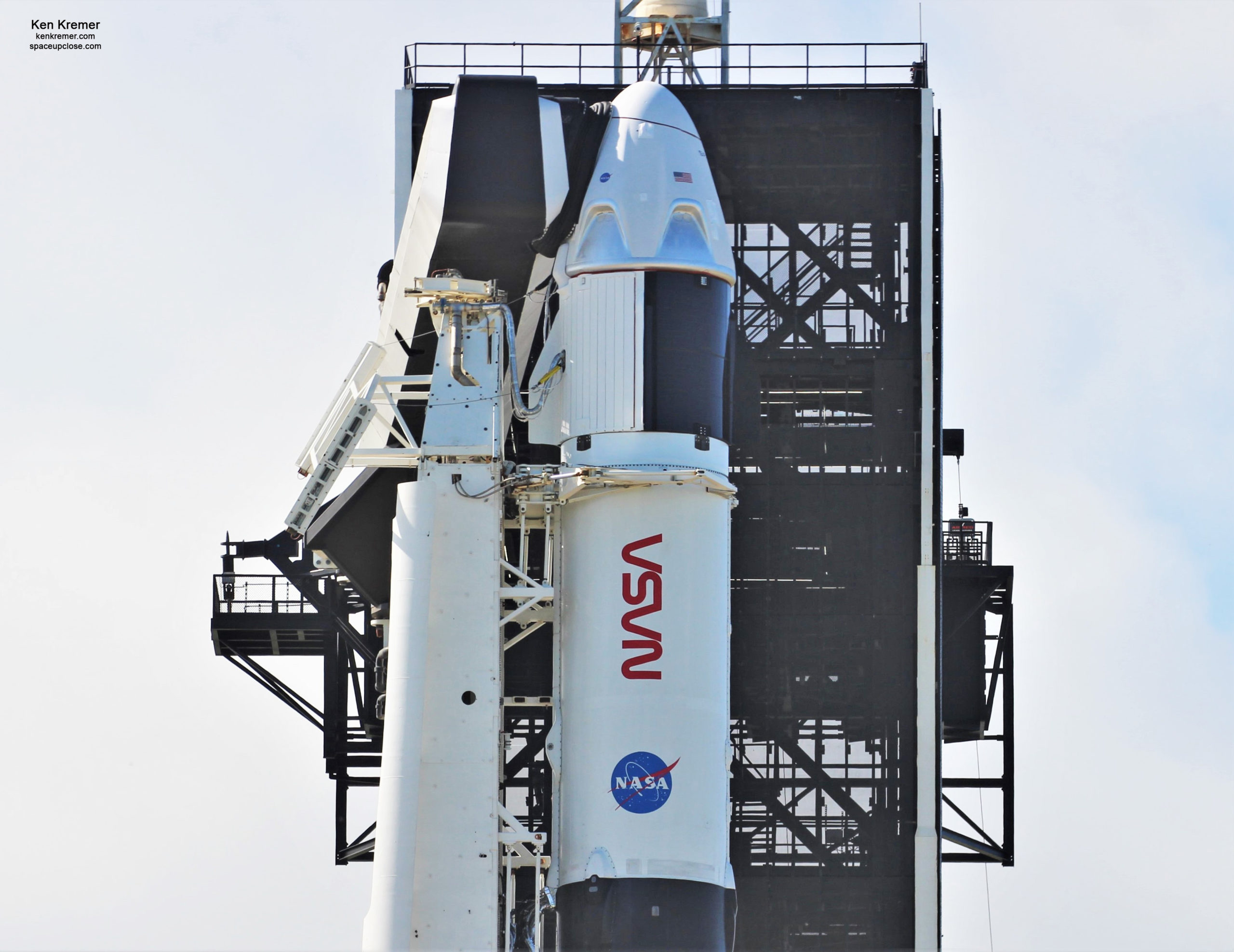 SpaceX has an incredible pace of Dragon launches upcoming.
Over the next 15 months SpaceX plans to launch 7 crew and cargo Dragons from the Space Coast.
"That means stat starting with Crew-1 there will a continuous presence of Dragon on orbit," says SpaceX senior director on human spaceflight Benji Reed, at a prelaunch briefing.
The next cargo Dragon launch is slated for Dec. 2 on the CRS-21 mission on the first flight of the newly upgraded cargo version to the ISS.
Follow along with launch, arrival and on station activities and get more information about the mission at: http://www.nasa.gov/crew-1. Learn more about commercial crew and space station activities by following: @Commercial_Crew, @space_station, and @ISS_Research on Twitter as well as the Commercial Crew Facebook, ISS Facebook and ISS Instagram accounts.
Watch Ken commentary about the booster return on WKMG CBS 6 Orlando TV News on Nov. 19:
Watch Ken's full live interview on TRT World Turkish TV News (English) about NASA SpaceX Crew-1 mission to the ISS -just minutes after Crew Dragon docked at ISS Monday night Nov. 16 :
Watch Ken's commentary at WFTV ABC 9 Orlando and WESH 2 NBC TV News Orlando about the possible weather impact from Hurricane Eta on the launch and landing
https://www.wftv.com/news/local/brevard-county/countdown-dress-rehearsal-success-ahead-this-weekends-crewed-launch/RXYO4DZX4VFZXP63DFUTGKLWSU/
https://www.wesh.com/article/eta-threatens-astronaut-mission/34647727
Watch for Ken's continuing live and onsite reporting from KSC about the Crew-1 mission.
Watch Ken's continuing reports about Crew Dragon Starlink, Commercial Crew and Artemis and onsite for live reporting of upcoming and recent SpaceX and ULA launches including Demo-2, Starlink, X-37B, Solar Orbiter, Mars 2020 and more at the Kennedy Space Center and Cape Canaveral Space Force Station.
Stay tuned here for Ken's continuing Earth and Planetary science and human spaceflight news: www.kenkremer.com –www.spaceupclose.com – twitter @ken_kremer – email: ken at kenkremer.com
Dr. Kremer is a research scientist and journalist based in the KSC area, active in outreach and interviewed regularly on TV and radio about space topics.
………….
Ken's photos are for sale and he is available for lectures and outreach events
Please consider supporting Ken's work by donating at Patreon:
https://www.patreon.com/kenkremer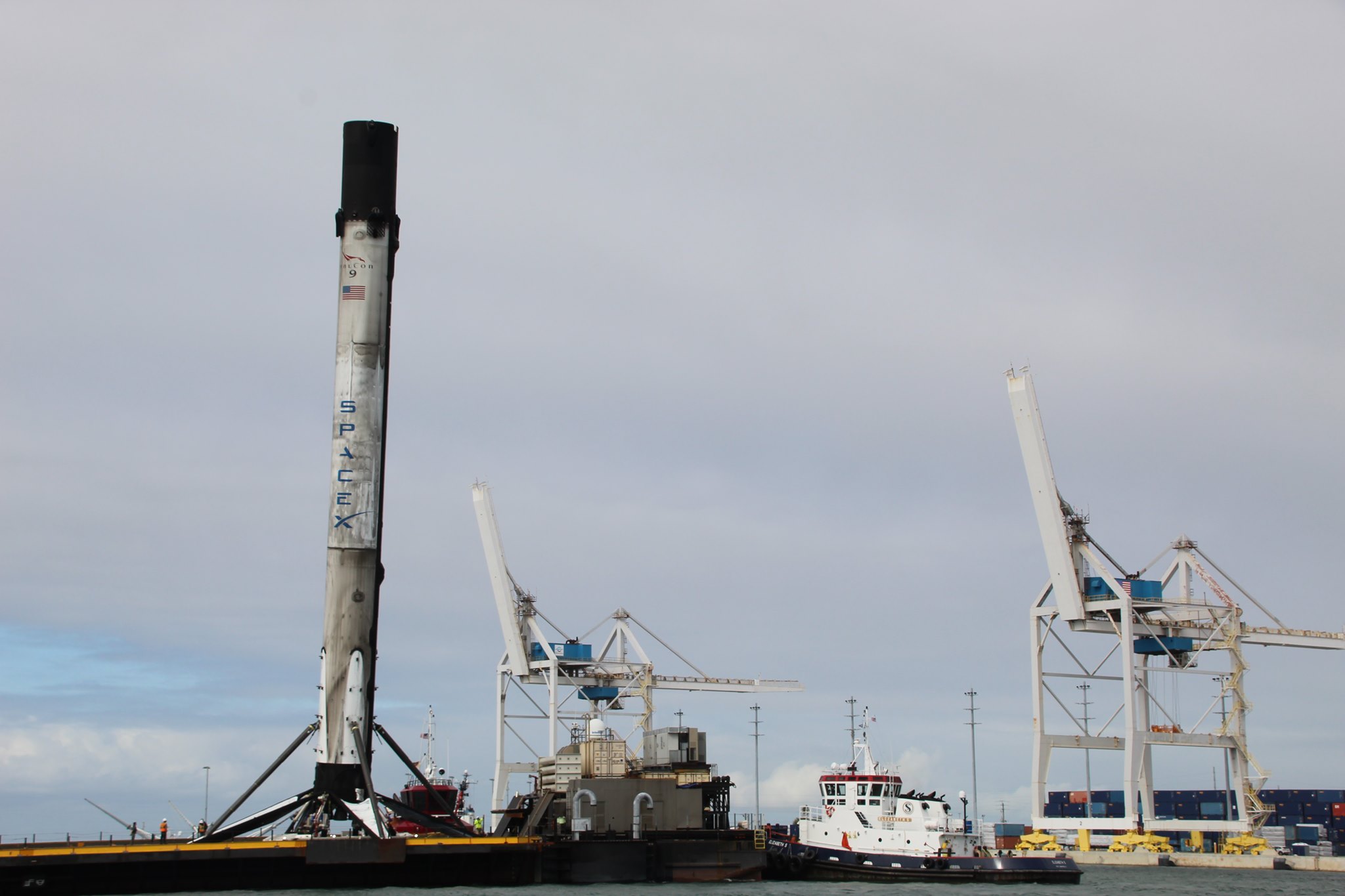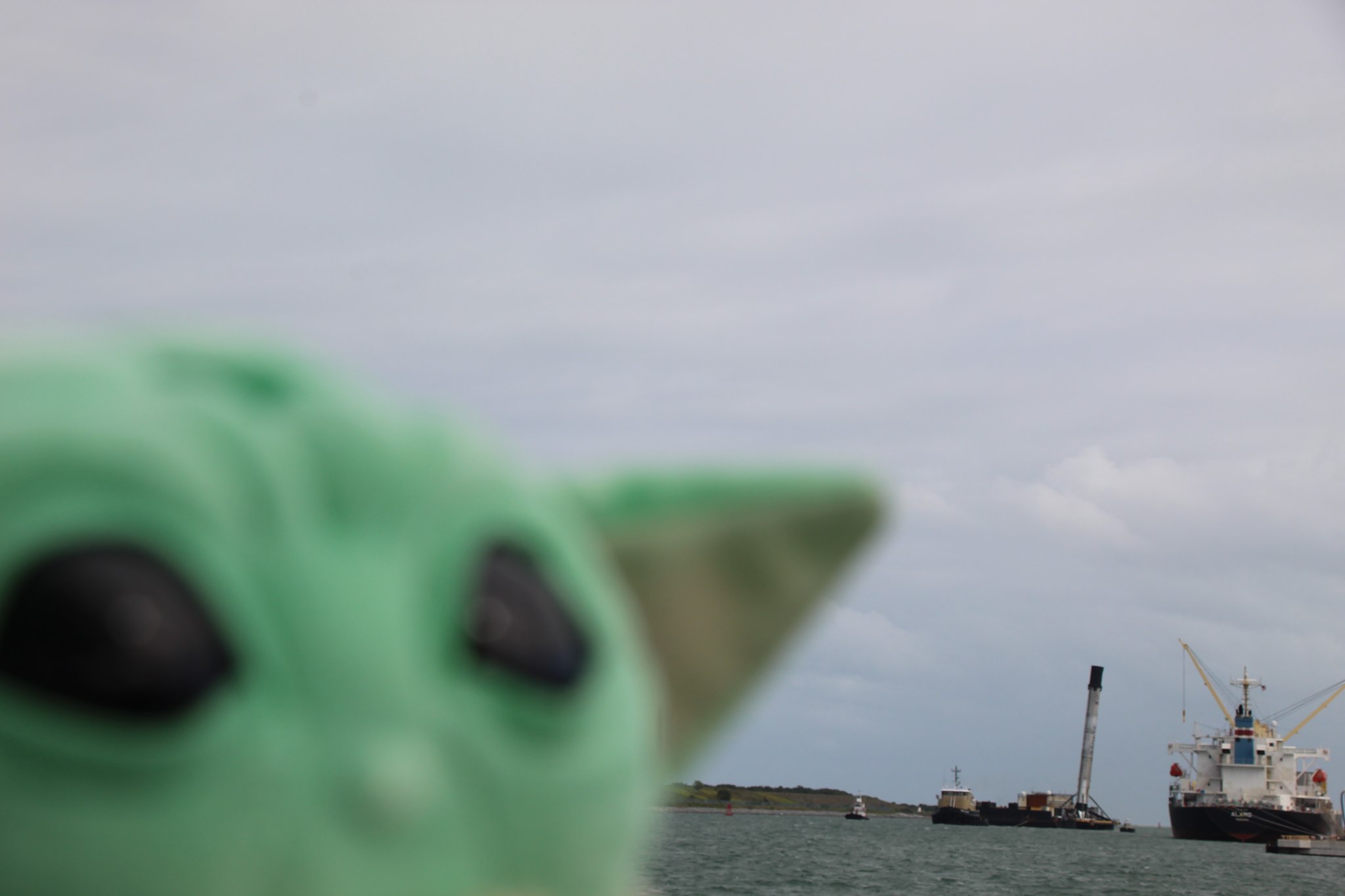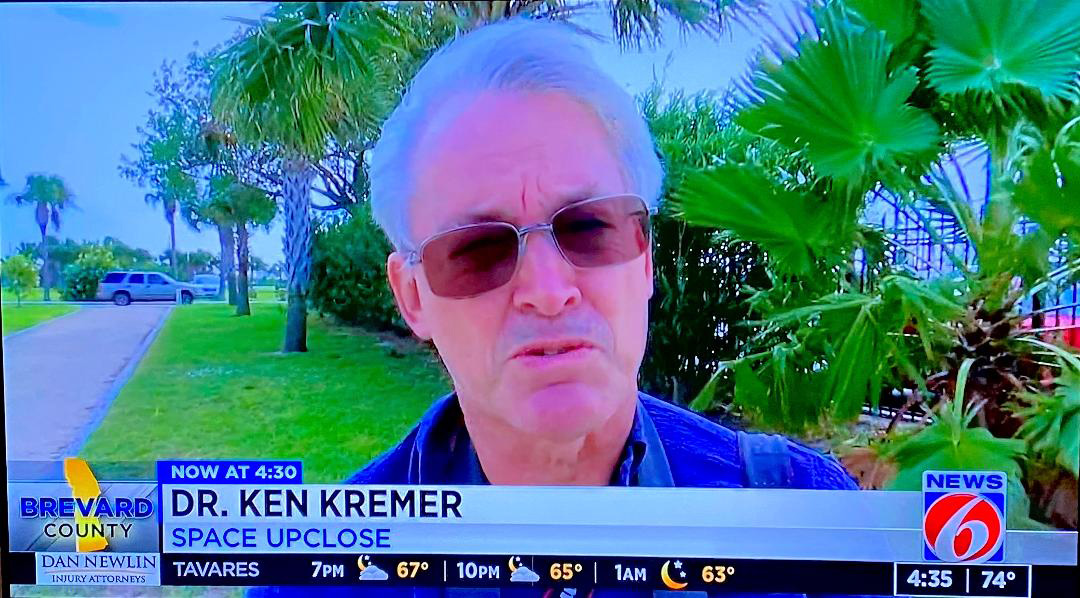 x