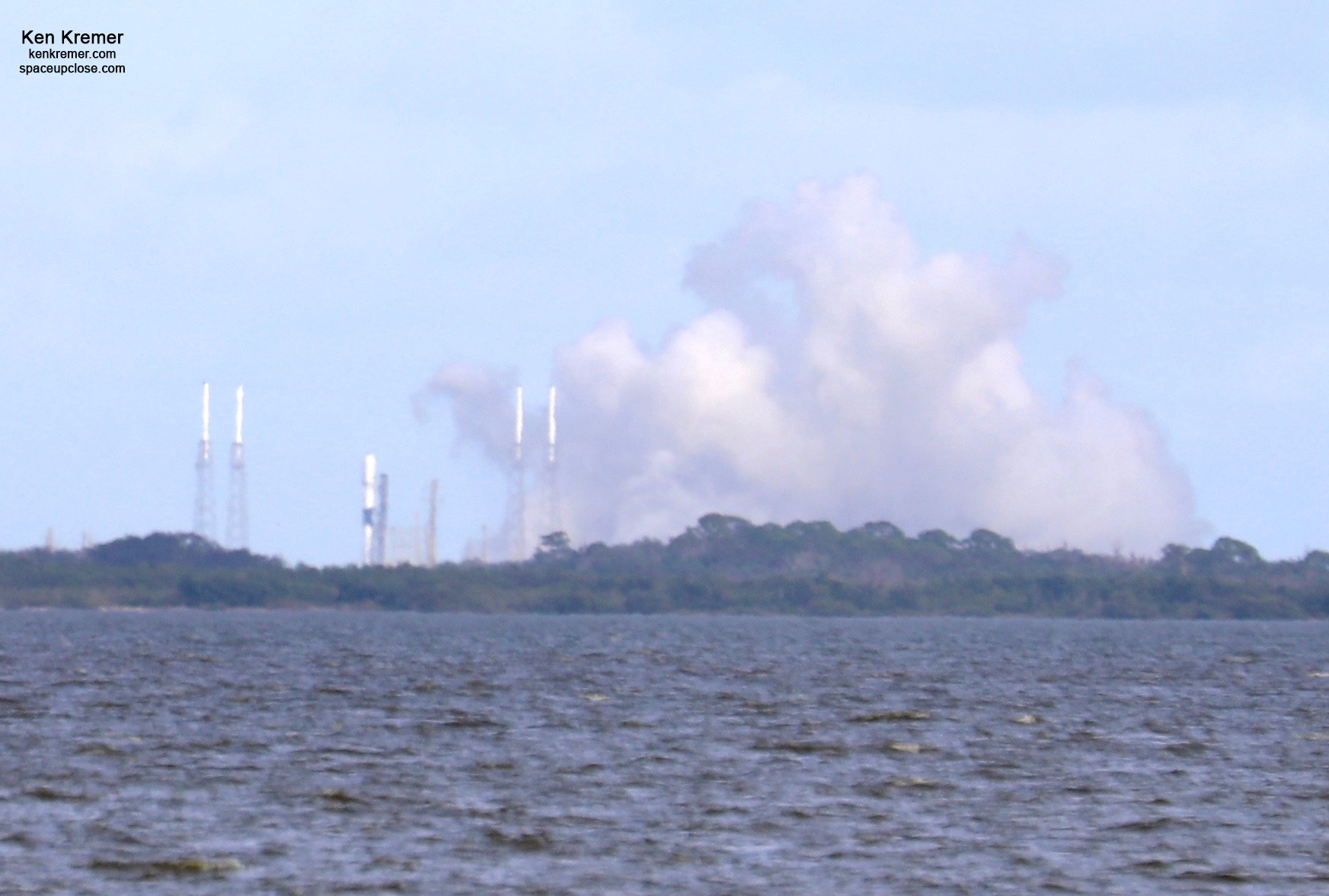 For SpaceUpClose.com & RocketSTEM
TITUSVILLE/CAPE CANAVERAL, FL – SpaceX is targeting Sunday, Nov. 22 for the nighttime liftoff of a veteran Falcon 9 rocket carrying the next batch of Starlink broadband internet  satellite to orbit following a successful static fire test using a milestone 1st stage booster this Saturday afternoon Nov. 21 – after torrential rains poured on the Space Coast  – that counts as the first one to be flown seven times!
If the skies stay clear Starlink will put on a sure to be spectacular show of this 7th time flown 'fleet leading'  first stage for space fan and more spectators – an uplifting event amidst a third wave of Coronovirus pandemic cases afflicting our nation and the world.
Furthermore both payload fairing halves are also re-flown from prior missions following recovery.
The brief hold down static fire test of the "fleet leading" 1st 7th time to be flown Falcon 9 rocket booster fully integrated with the nose cone attached and encapsulating the Starlink payload was carried out precisely at 4 p.m. ET (2100 GMT) Saturday afternoon Nov. 21 after the gloomy, stormy skies and thick clouds dissipated about 1 hour into the 8 hour long test window that opened at 3 p.m.
I watched the mid-afternoon engine test Saturday afternoon from nearby in Titusville, Fl  about a dozen miles away across the Indian River lagoon and observed the exhaust plume and vapor cloud emanating from the bottom of the booster – just barely visible in the afternoon haze with choppy waves and surf.
From a distance the test appeared normal – however as always we awaited SpaceX confirmation of a good result.
About 90 minutes later SpaceX did confirm a good test and targeted launch for Nov. 22.
"Static fire test complete – targeting Falcon 9 launch of Starlink from SLC-40 in Florida on Sunday, November 22," SpaceX tweeted
Falcon 9's first stage previously supported six missions; this launch will make it the fleet leader

— SpaceX (@SpaceX) November 21, 2020
"Falcon 9's first stage previously supported six missions; this launch will make it the fleet leader."
SpaceX is targeting Sunday, November 22 at 9:56 p.m. EST (0256 GMT) for launch of its sixteenth Starlink mission from Space Launch Complex-40 on Cape Canaveral Air Force Station, in Florida carrying 60 Starlink satellites to low earth orbit during an instantaneous launch window.
Enjoy my eyewitness photos of the static fire test at Space UpClose.
The brief hold down hotfire test of the SpaceX Falcon 9 first stage rocket and Merlin 1D engines was run after the rocket was raised early Thursday afternoon – and is routinely done to confirm the readiness of the rocket for launch.
An apparently aborted static fire test was attempted overnight Friday morning and was called off at 1:30 a.m. ET.
All 9 Merlin 1D first stage engines were ignited Saturday at 4 p.m. to generate approx. 1.7 million pounds of thrust for about 3 seconds or so
During the hold down static fire test, the rocket's first and second stages are fueled with liquid oxygen and RP-1 propellants just like an actual launch, and a simulated countdown was carried out to the point of a brief engine ignition lasting around 3 seconds or so.
#SpaceX confirms good static fire test just done at 4 PM – targets Sun nite Nov 22 956 PM ET launch of next batch #Starlink internet sats from #pad40 using 1st 7th time flown #Falcon9 1st stage https://t.co/P4kgJpqAKD pic.twitter.com/gV8jf4plNB

— Ken Kremer (@ken_kremer) November 21, 2020
SpaceX will webcast the Falcon 9 launch live starting about 15 minutes before the planned liftoff:
You can watch the launch webcast  here: spacex.com/launches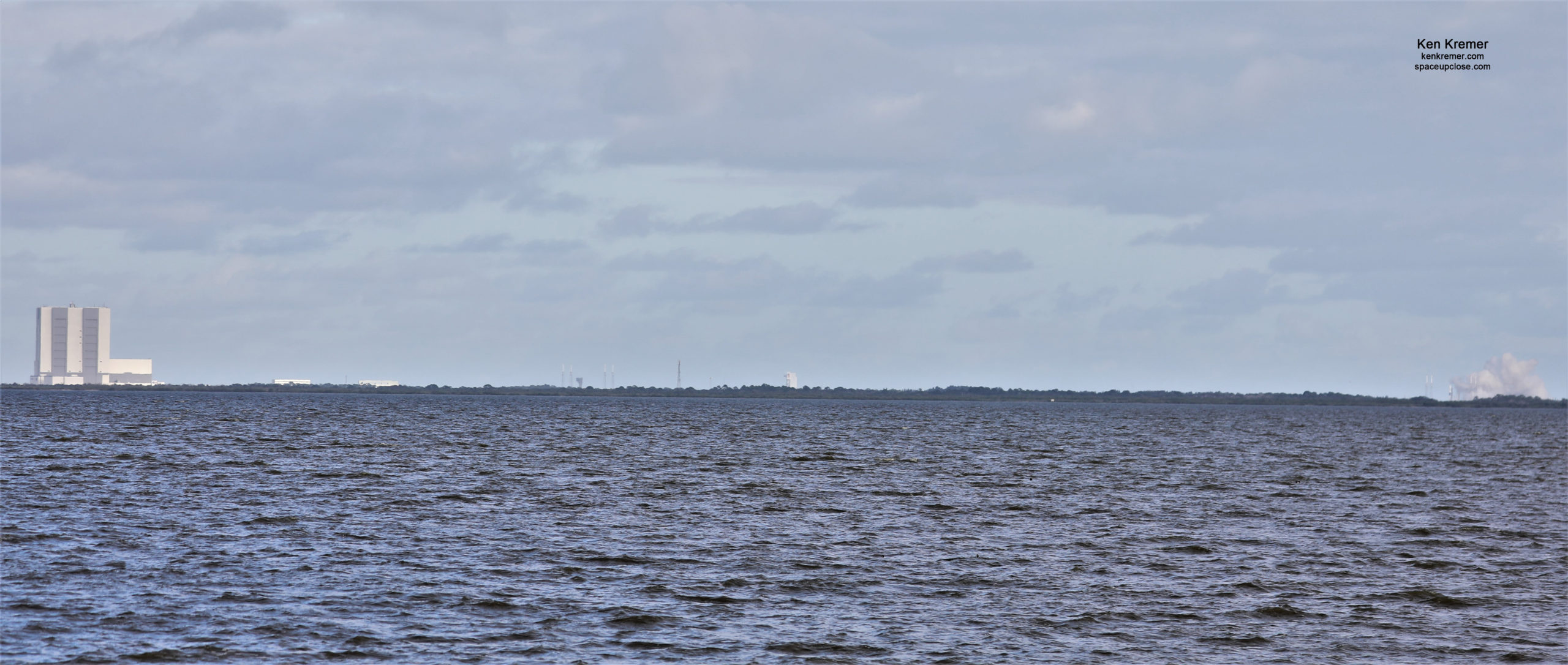 This 16th Starlink launch designated as Starlink 15 mission is targeted for exactly 1 week ago on the Crew-1 mission launching 4 astronauts from the US and Japan on a six month science mission to the international Space Station.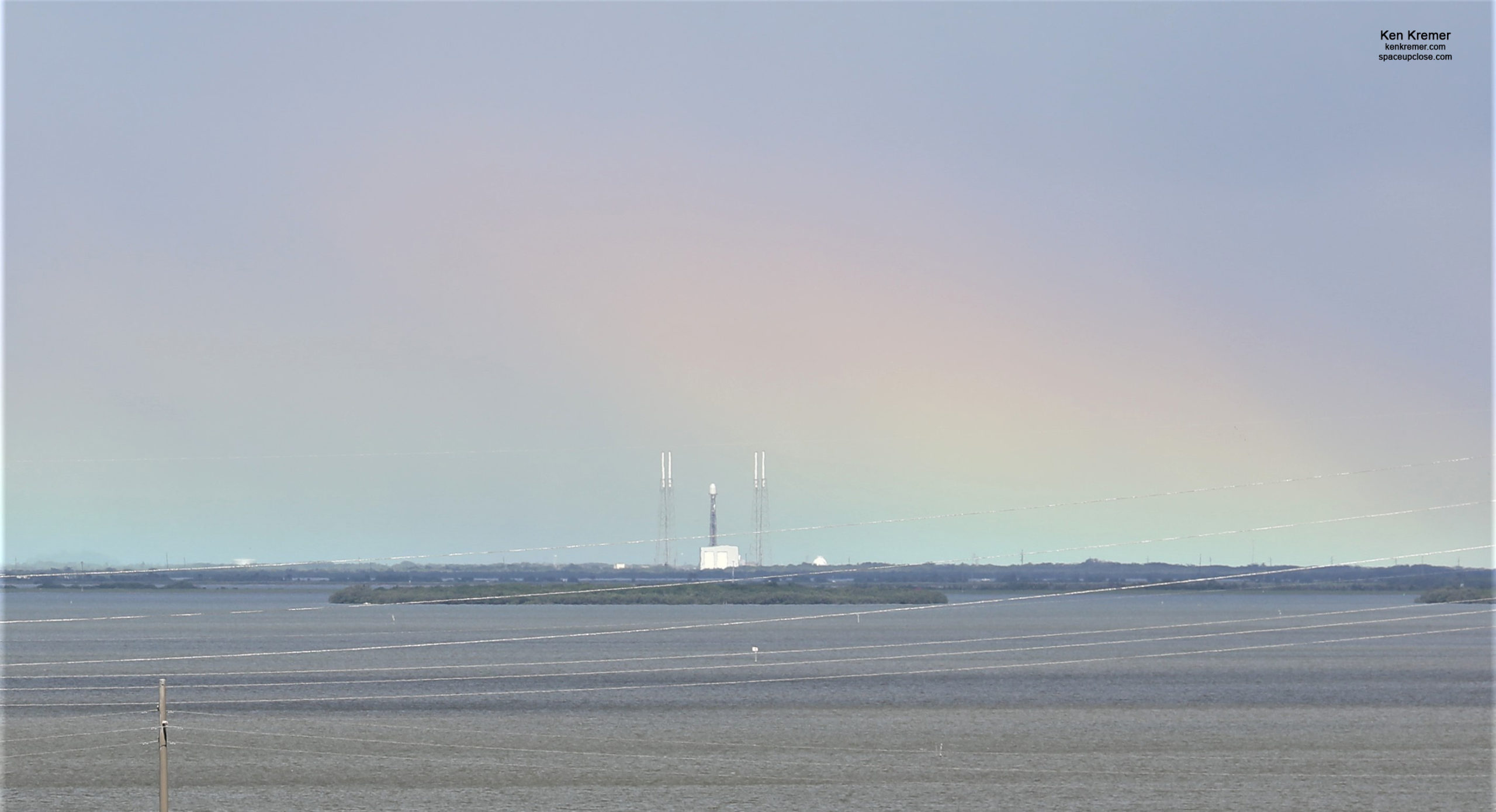 The liftoff also takes place 1 day after SpaceX's successful delivery to orbit of the NASA ESA Sentinel-6 Michael Freilich oceanography sea level rise mapping satellite from Vandenberg Air Force Base, Calif earlier today Nov. 21.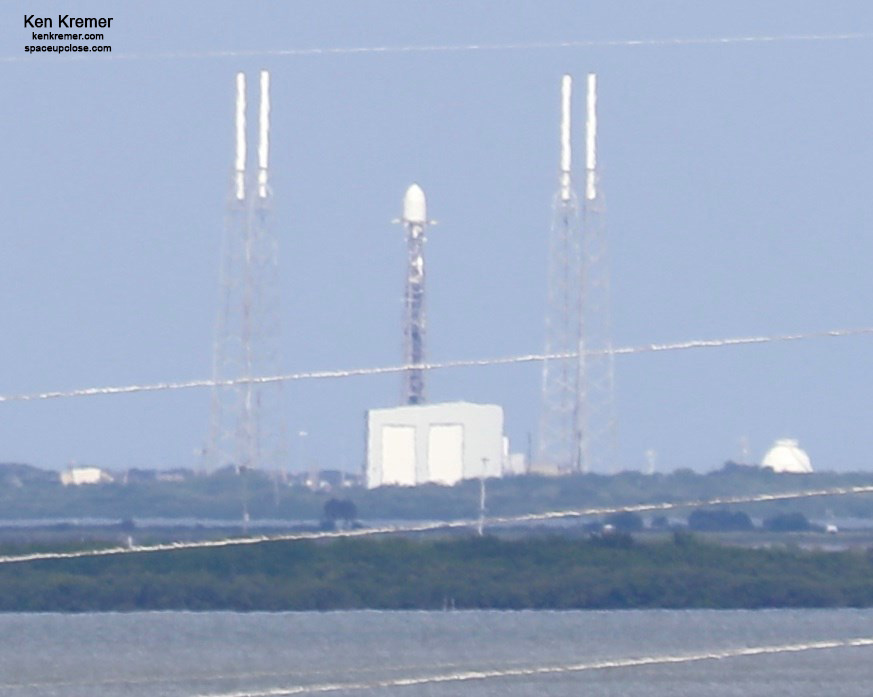 The prior liftoff of the then 6x flown veteran, record setting SpaceX Falcon 9 booster B1049.6 took place Aug. 18 at 10:31 a.m. EDT on the eleventh Starlink mission from Space Launch Complex 40 (SLC-40) at Cape Canaveral Air Force Station in Florida.
Falcon 9's first stage B1049.6 previously supported the Telstar 18 VANTAGE mission in September 2018, the Iridium-8 mission in January 2019, and four separate Starlink missions in May 2019, January 2020, June 2020 and most recently 18 Aug. 2020.
The ever expanding Starlink constellation currently numbers approximately 895 refrigerator sized broadband internet relay satellites launched to orbit and aimed at serving rural and underserved areas across the globe – where service is "unreliable, expensive, or completely unavailable."
However quite a few have been deorbited for a variety of reasons – thus the true number of Starlinks in orbit is estimated at about 810 to 850 or so
There are no rideshare payloads on this flight.
The weather prognosis is moderate.
At this time the Air Force meteorologists team at the 45th Weather Squadron is forecasting a 60% chance of acceptable conditions at launch time on Sunday, Nov. 22.
The Primary concerns are the Cumulous Cloud Rule and Disturbed Weather Rule.
In case of a delay for any reason a backup launch window opportunity is available on Monday, Nov. 23.
Weather conditions rise to a very good 80% GO.
SpaceX says you can sign up to receive updates on Starlink news and service availability in your area. Please visit starlink.com
Some school districts, first responders and others  are already partnering with SpaceX on beta testing.
"Last month, SpaceX launched its "Better Than Nothing Beta" test program. Service invites were sent to a portion of those who requested availability updates on Starlink.com and who live in serviceable areas. A couple weeks ago, Canada granted Starlink regulatory approval and last week SpaceX rolled out the service to parts of parts of southern Canada," says SpaceX.
"If you would like to learn more about the service, please visit the Reddit AMA SpaceX engineers recently participated in."
Following stage separation SpaceX plans to recover the Falcon 9 first stage on the 'Just Read the Instructions' droneship stationed some 400 miles downrange in the Atlantic Ocean off the Carolina's coast.
Fairing catcher ship GO Ms Chief and GO Searcher fairing recovery vessel have been deployed for fairing recovery.
Both fairing halves are also being reflown and SpaceX Fleet will again attempt to recover them.
One fairing has been flown once and recovered and the other fairing half has been flown and recovered twice.
Here's a sample of my photos of the recovered 1st stage B1049.6 from the last launch and return to Port Canaveral.
The two stage Falcon 9 rocket stands 229 feet (70 meters) tall.
Watch Ken's continuing reports about Starlink, Crew Dragon, Commercial Crew and Artemis and onsite for live reporting of upcoming and recent SpaceX and ULA launches including Demo-2, Starlink, X-37B, Solar Orbiter, Mars 2020 and more at the Kennedy Space Center and Cape Canaveral Space Force Station.
Stay tuned here for Ken's continuing Earth and Planetary science and human spaceflight news: www.kenkremer.com –www.spaceupclose.com – twitter @ken_kremer – email: ken at kenkremer.com
Dr. Kremer is a research scientist and journalist based in the KSC area, active in outreach and interviewed regularly on TV and radio about space topics.
………….
Ken's photos are for sale and he is available for lectures and outreach events
Please consider supporting Ken's work by donating at Patreon:
https://www.patreon.com/kenkremer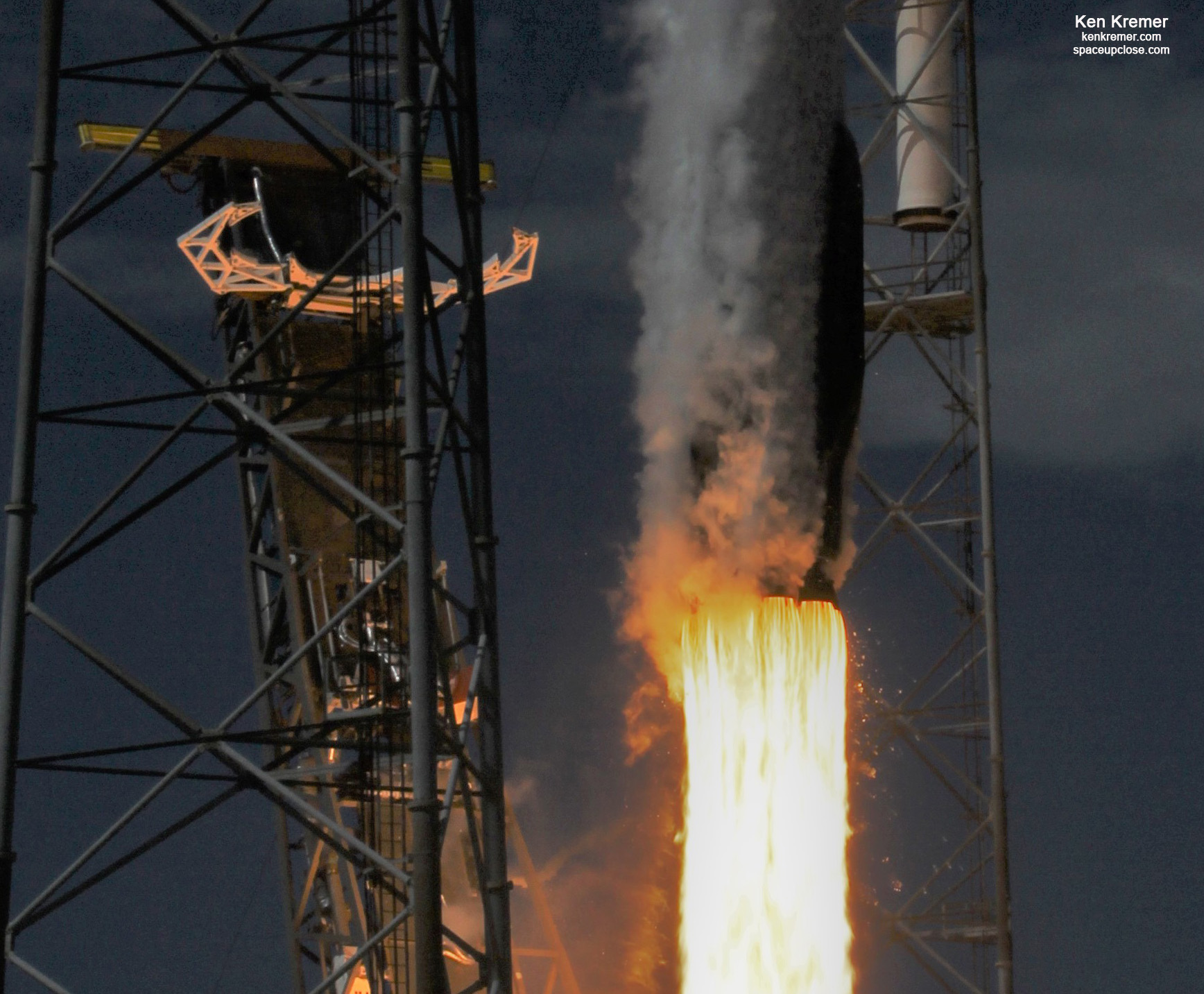 x