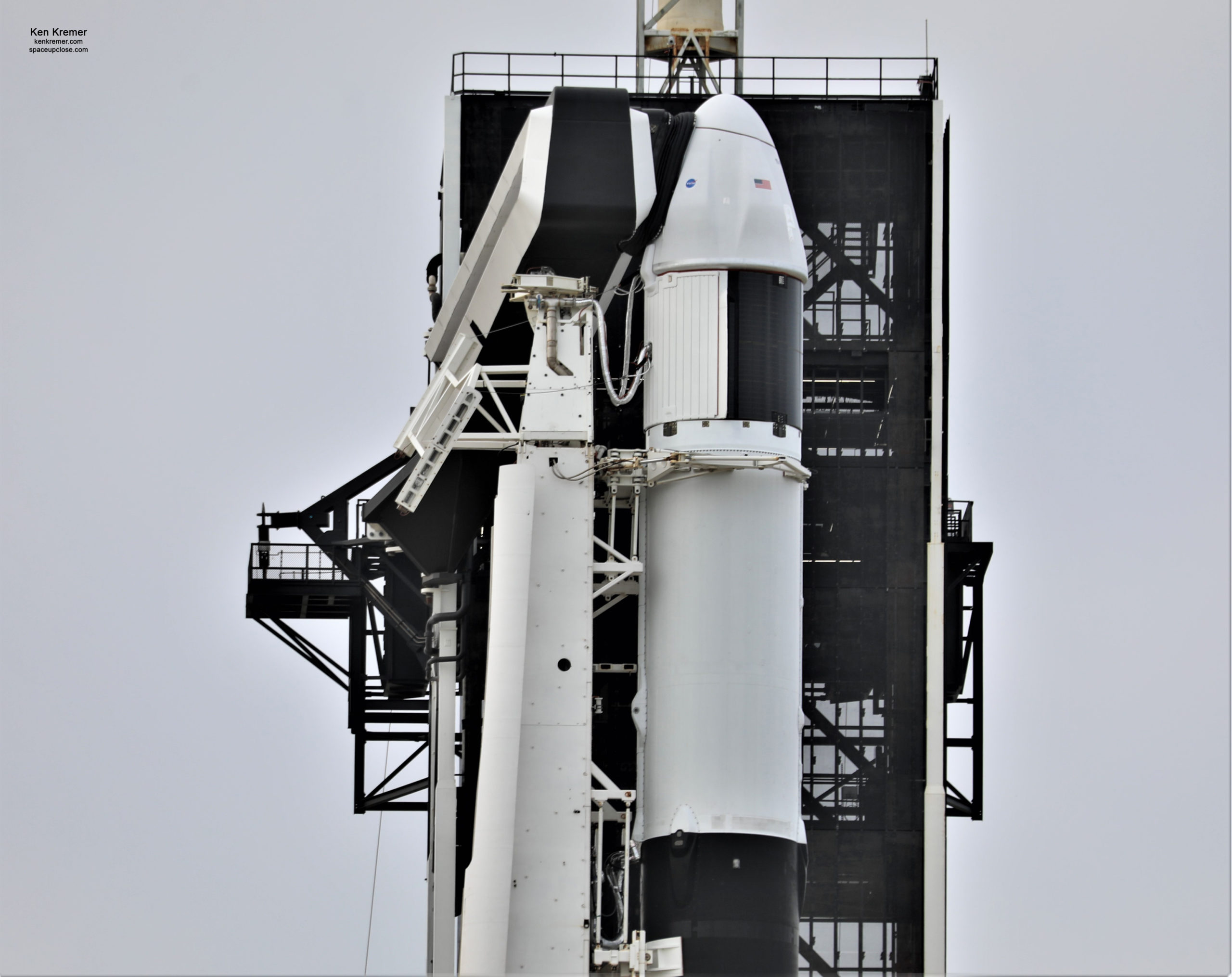 For SpaceUpClose.com & RocketSTEM
KENNEDY SPACE CENTER, FL – The first of SpaceX's newly upgraded commercial Cargo Dragon spacecraft is 'GO' for liftoff on a 4 times recycled Falcon 9 lunchtime Saturday, Dec. 5 from Florida's space coast carrying over 3 tons of critical science and supplies and a new commercial airlock for science payloads bound for the International Space Station (ISS) and her recently enlarged multinational crew of 7 humans – if the rather iffy weather allows.
Following a joint management team review at the  Launch Readiness Review (LRR) today SpaceX and NASA announced the 'GO' for tomorrow's launch of SpaceX's Crew Dragon on a 'flight-proven' Falcon 9 on the 21st Commercial Resupply Services mission, dubbed CRS-21, to the International Space Station, under the auspices of NASA's commercial cargo program.
Liftoff of the SpaceX Falcon 9 rocket carrying the Cargo Dragon supply ship on the CRS-21 resupply mission to the ISS is targeted for 11:39 a.m. EST (1639 GMT) tomorrow, Saturday, Dec. 5, from seaside Launch Complex 39A on NASA's Kennedy Space Center (KSC) in Florida.
"This morning, we did a mission management team meeting, and we had a unanimous go for this launch and docking," said Kenny Todd, deputy program manager of NASA's International Space Station Program Office, at the prelaunch briefing for reporters at KSC.
"We're excited to get on with it; we'll see how things play out over the next couple of days, but hopefully by the middle of the week, we'll have a Dragon on the way, if not already attached (to station)."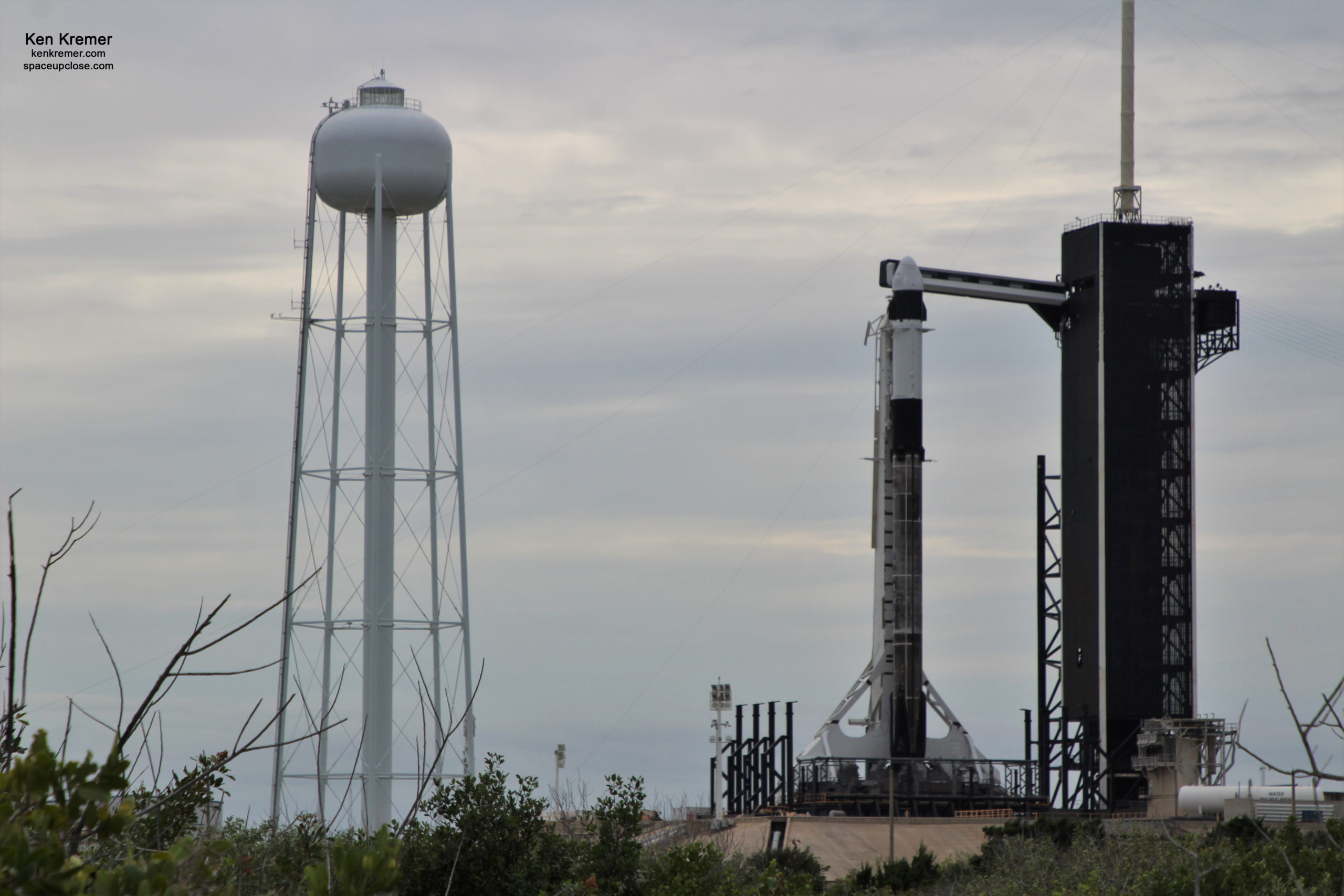 You can watch the launch live on NASA TV starting about 25 minutes before launch
NASA live launch countdown coverage begins at 11:15 a.m. EST.
Follow along here NASA blog, NASA TV, or the agency's website.
NASA SpaceX CRS-21 is actually a mission of many firsts:
The flight also marks the first time two Dragon will be docked to the ISS – including the SpaceX Crew 1 Crew Dragon Resilience that arrived in November. It will also be the first cargo Dragon to splash down in the Atlantic Ocean vs. the Pacific Ocean.
? The @SpaceX resupply mission launching Sat., Dec. 5 will make history for many firsts, including the first time 2 Dragon spacecraft will be docked to the @Space_Station, & the first cargo Dragon to splash down in the Atlantic: https://t.co/PJGMhAsM58

Get to know more ⤵️⤵️⤵️ pic.twitter.com/1IemIuX1Rq

— NASA (@NASA) December 5, 2020
Enjoy our Space UpClose prelaunch photos of the Falcon 9 and Cargo Dragon raised vertical on pad 39A at KSC from the team of Ken Kremer and Jean Wright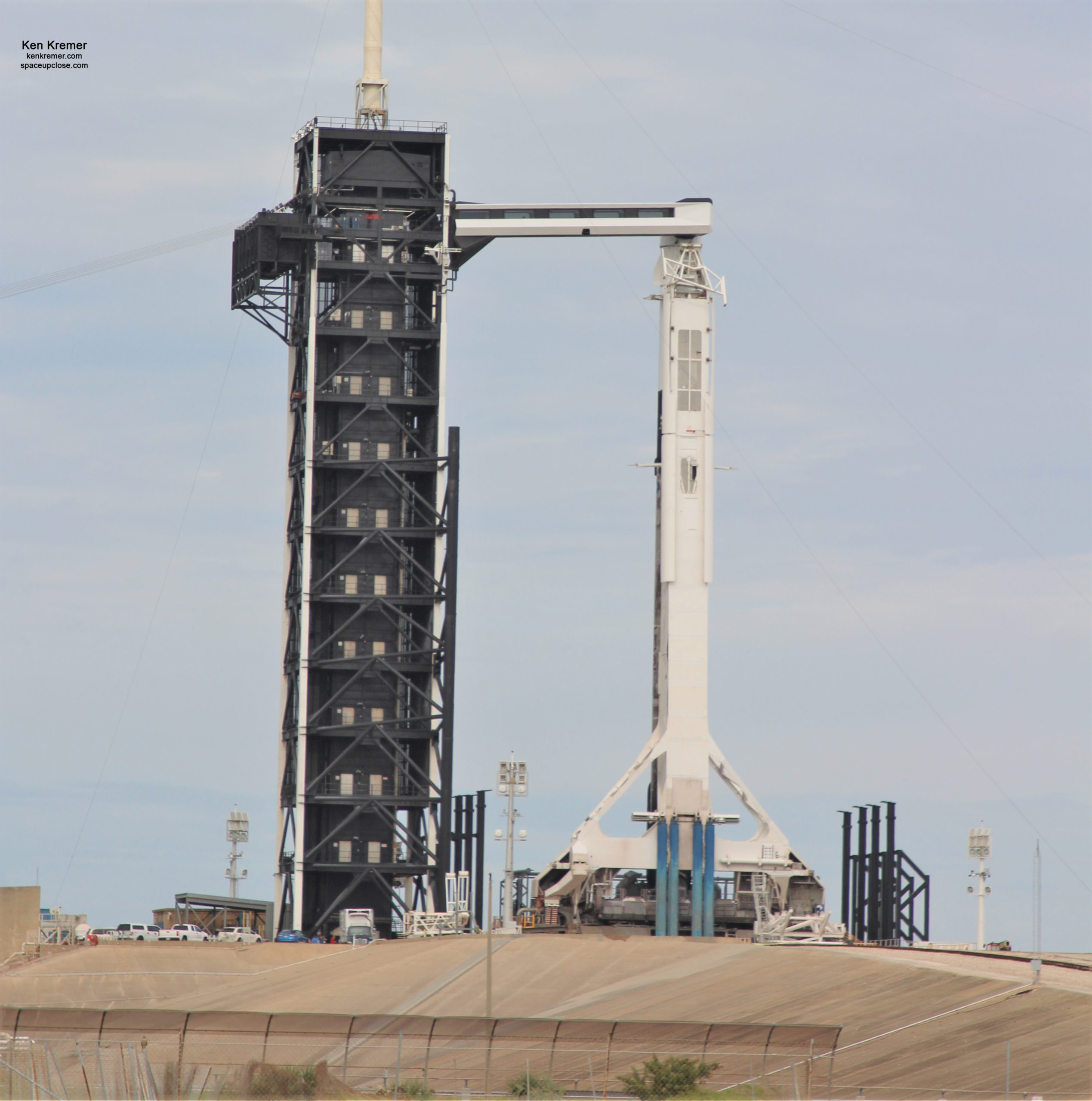 The SpaceX Cargo Dragon CRS-21 launch window is 'instantaneous' meaning any delay for weather or technical reasons forces a minimum 1 day scrub to Sunday, Dec. 6.
The weather odds are moderate at best for Saturday – but improved slightly from an earlier forecast this week of only 40% favorable.
Air Force weather officials with the 45th Space Wing are now predicting a 50% chance of favorable weather conditions for liftoff Saturday, Dec. 5 – as a "cold front moving across the state of Florida will have teams keeping a close eye on the weather."
"Previously, it looked like that cold front would be passing right during the launch window, but the trend is now our friend – the models are now bringing that cold front through prior to the launch window," said Melody Lovin, U.S. Space Force launch and weather officer for the 45th Space Wing.
"Because of that, we're expecting most of the rain associated with the cold front to be pretty much done before the launch window opens up. We're not exactly sure when the clouds are going to clear out of the way for us. We're hoping the earlier the cold front will pass, the more clearing we'll get."
The booster recovery is also an issue with a high chance of choppy seas Saturday
Weather odds rise to 70% favorable on Sunday, Dec. 6  at 11:17 a.m. EST, or 16:17 GMT. And the booster recovery is also more favorable.
SpaceX intends to recover the booster again.
Following stage separation the first stage is target to soft land on the 'Of Course I Still Love You' (OCISLY) droneship – stationed some 400 miles downrange in the Atlantic Ocean off the Carolina's coast.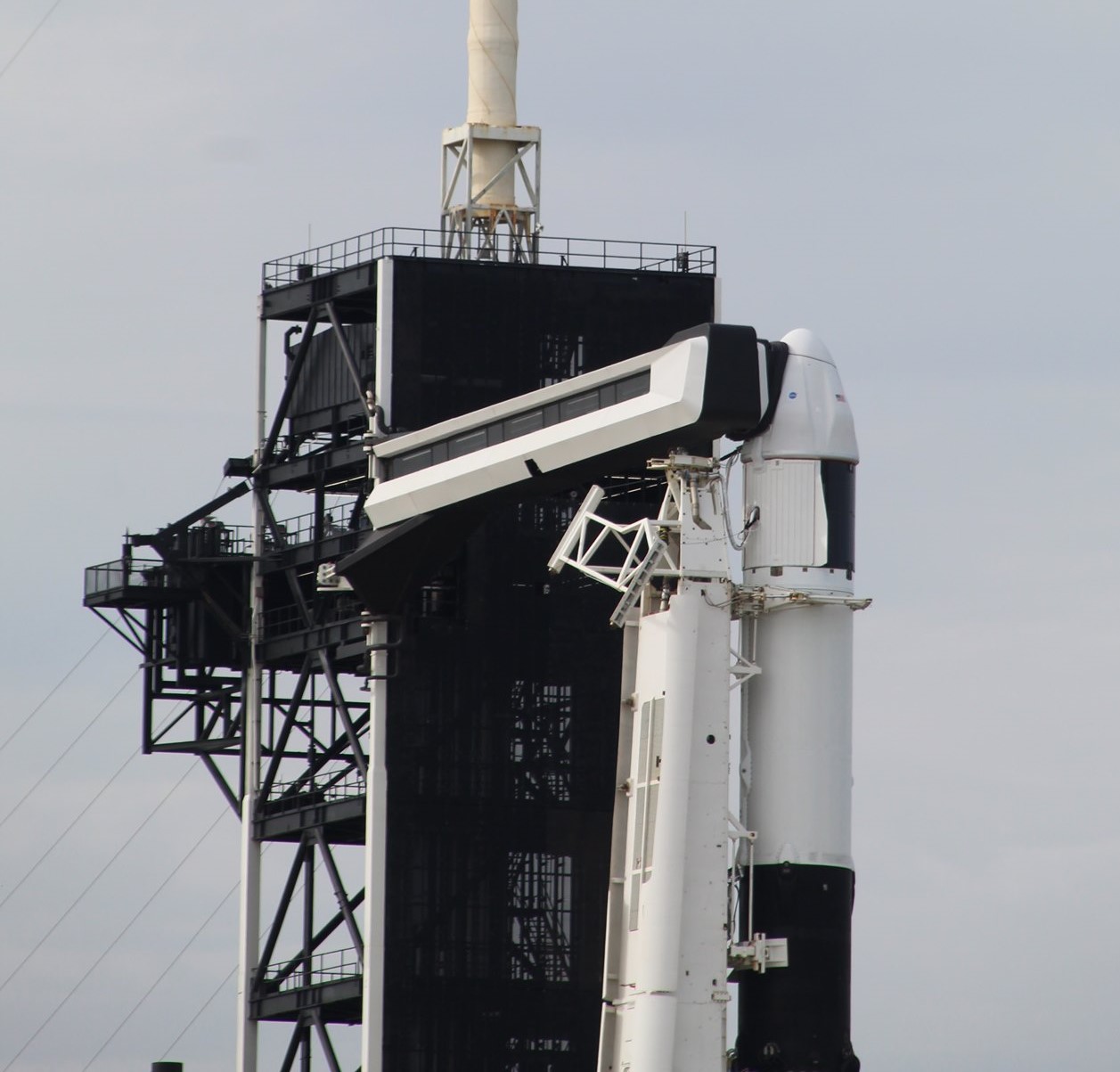 UpClose view 1st Upgraded SpaceX Cargo Dragon spacecraft bolted on top Falcon 9 rocket for NASA CRS-21 Resupply launch to the ISS. Liftoff slated for Dec. 5, 2020 from Launch Complex 39A on NASA's Kennedy Space Center in Florida. Credit: Jean Wright/spaceupclose.comCRS-21 counts as the first mission for SpaceX under NASA's second Commercial Resupply Services contract.
CRS-21 counts as the first mission for SpaceX under NASA's second Commercial Resupply Services contract.
It will rendezvous and dock autonomously to the Harmony module's space-facing (zenith) port located adjacent to and perpendicular to the Crew Dragon vehicle. at the ISS on Sunday Dec. 6 scheduled for about 11:30 a.m. EST, about 24 hours after liftoff Dec. 5.
NASA Flight Engineers Kate Rubins and Victor Glover will be on duty early Sunday to monitor the Cargo Dragon's approach and rendezvous.
CRS-21 will deliver some 6,553 pounds (2,972 kg) of supplies, equipment, and critical materials needed to support a variety of science and research investigations that will occur during Expeditions 64 and 65.
The total pressurized cargo is 4150 pounds (1882 kg).
The unpressurized payload comprising the Nanoracks Bishop commercial airlock is 2403 pounds (1090 kg) stowed in the trunk section.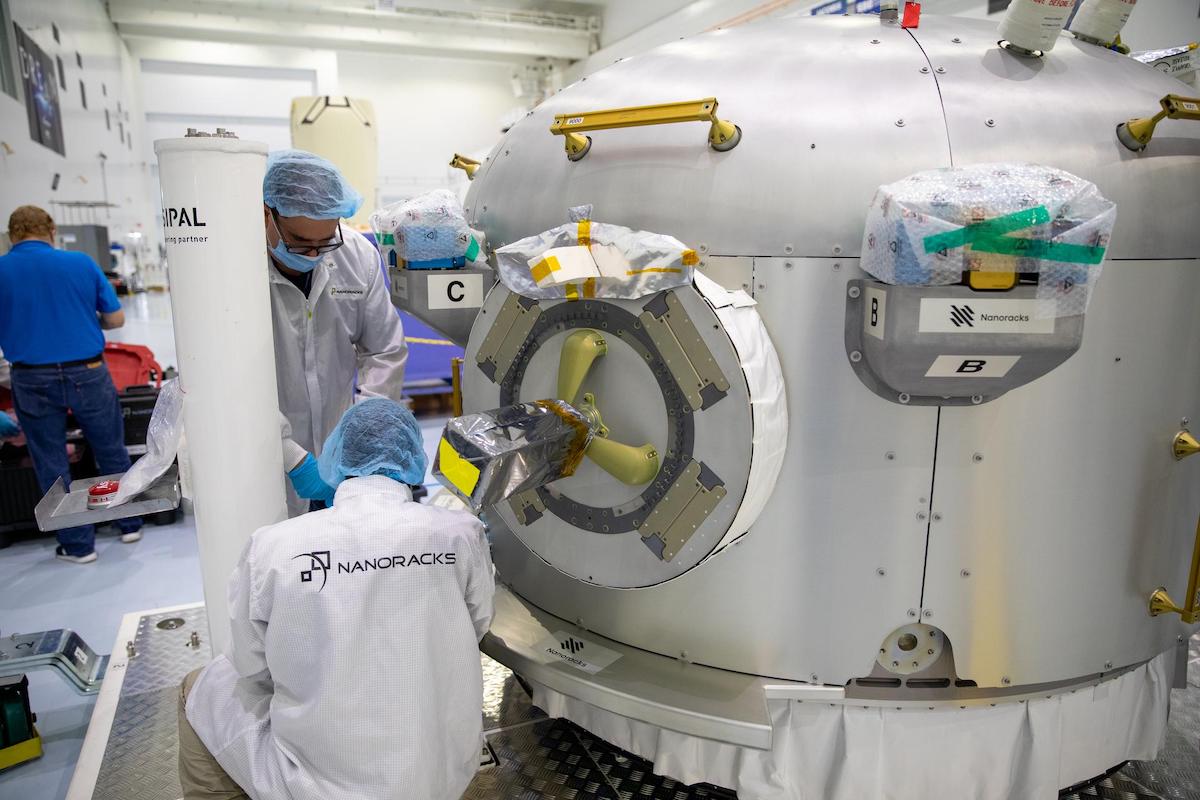 The Bishop airlock module from Nanoracks undergoes launch preparations inside NASA's Space Station Processing Facility at the Kennedy Space Center. Credit: NASA/Glenn BensonThe Nanoracks Bishop Airlock "is a commercial platform that can support a variety of scientific work on the space station. Its capabilities include deployment of free-flying payloads such as CubeSats and externally-mounted payloads, housing of small external payloads, jettisoning trash, and recovering external Orbital Replacement Units. Roughly five times larger than the airlock on the Japanese Experiment Module (JEM) already in use on the station, the Bishop Airlock allows robotic movement of more and larger packages to the exterior of the space station, including hardware to support spacewalks."
The airlock will be installed onto an open  common berthing mechanism CBM on the Tranquility module Node 3 by astronauts using the SSRMS robotic arm.
We couldn't have done it without our friends at @Thales_Alenia_S! https://t.co/hIIDaXEIKu

— Nanoracks (@Nanoracks) December 4, 2020
Great explanatory video, @OrbitalVel! https://t.co/4VHpWGLHzH

— Nanoracks (@Nanoracks) December 4, 2020
A very important upgrade to Cargo Dragon  is the ability to double the capacity for powered lockers that preserve science and research samples during transport to or from Earth, ISS chief scientist Kirt Costello told Space UpClose in an interview.
The CRS-1 Dragon had six lockers available, whereas the upgraded version of Dragon has 12.
The upgraded Dragon also provides the capability for science payloads to remain in the spacecraft for the full duration of the mission. While the spacecraft is docked at the orbiting laboratory during CRS-21, four powered payloads will reside in Dragon to carry out research investigations.
The enhanced Dragon also has about 20% more volume available for loading science and gear translating to a bit more upmass as well
Dragon is now designed for up to 5 flights to and from the ISS compared to 3 before.
This version of cargo Dragon can also remain attached to station for about twice as long as the prior version – for up to 75 days.
Dragon will spend about 35 days attached to the orbiting laboratory before autonomously undocking and returning to Earth with 5,200 pounds research and return cargo.
The spacecraft is slated to splash down in the Atlantic Ocean upon its return to earth.
SpaceX recovery ships GO Searcher or GO Navigator will haul Cargo Dragon from the ocean waters. Recovery crews will be able to access the inside and retrieve science samples starting 4 hours after splashdown and delivery them back to land via helicopter.
This more advanced Dragon 2 cargo ship is directly derived from the SpaceX Crew Dragon designed for crew flights for astronauts but modified to launch cargo in this case and thus simplified somewhat, since no humans will be flying on board.
The Cargo Dragon 2 thus replaces the original SpaceX Cargo Dragon 1 which flew a total of 20 times. The last time it flew was earlier this year in March 2020 – see our reports.
The recycled SpaceX Falcon 9 first stage will fly for the 4th time.
It first launched NASA astronauts Bob Behnken and Dough Hurley on the historic Demo-2 test flight – the first Falcon 9 to launch humans – to the ISS in May 2020.
"The Falcon 9 booster supporting this mission previously launched @NASA astronauts Bob Behnken and Doug Hurley to the @space_station, the ANASIS-II mission, and a Starlink mission," SpaceX tweeted.
The Falcon 9 booster supporting this mission previously launched @NASA astronauts Bob Behnken and Doug Hurley to the @space_station, the ANASIS-II mission, and a Starlink mission pic.twitter.com/qNVIaBjCCa

— SpaceX (@SpaceX) December 3, 2020
My interview about competitor Sierra Nevada Corp Dream Chaser space plane resupply mission to ISS featured on Spectrum News 13 Orlando on Dec 4.
https://www.mynews13.com/fl/orlando/news/2020/12/03/space-florida-wants-shuttle-like-landings-to-return-to-the-space-coast#
Watch Ken's continuing reports about SpaceX Cargo and Crew Dragons, Starlink, Commercial Crew and Artemis and onsite for live reporting of upcoming and recent SpaceX and ULA launches including Crew-1, Starlink, X-37B, Solar Orbiter, Mars 2020, NRO spysats and more at the Kennedy Space Center and Cape Canaveral Space Force Station.
Stay tuned here for Ken's continuing Earth and Planetary science and human spaceflight news: www.kenkremer.com –www.spaceupclose.com – twitter @ken_kremer – email: ken at kenkremer.com
Dr. Kremer is a research scientist and journalist based in the KSC area, active in outreach and interviewed regularly on TV and radio about space topics.
………….
Ken's photos are for sale and he is available for lectures and outreach events
Please consider supporting Ken's work by donating at Patreon:
https://www.patreon.com/kenkremer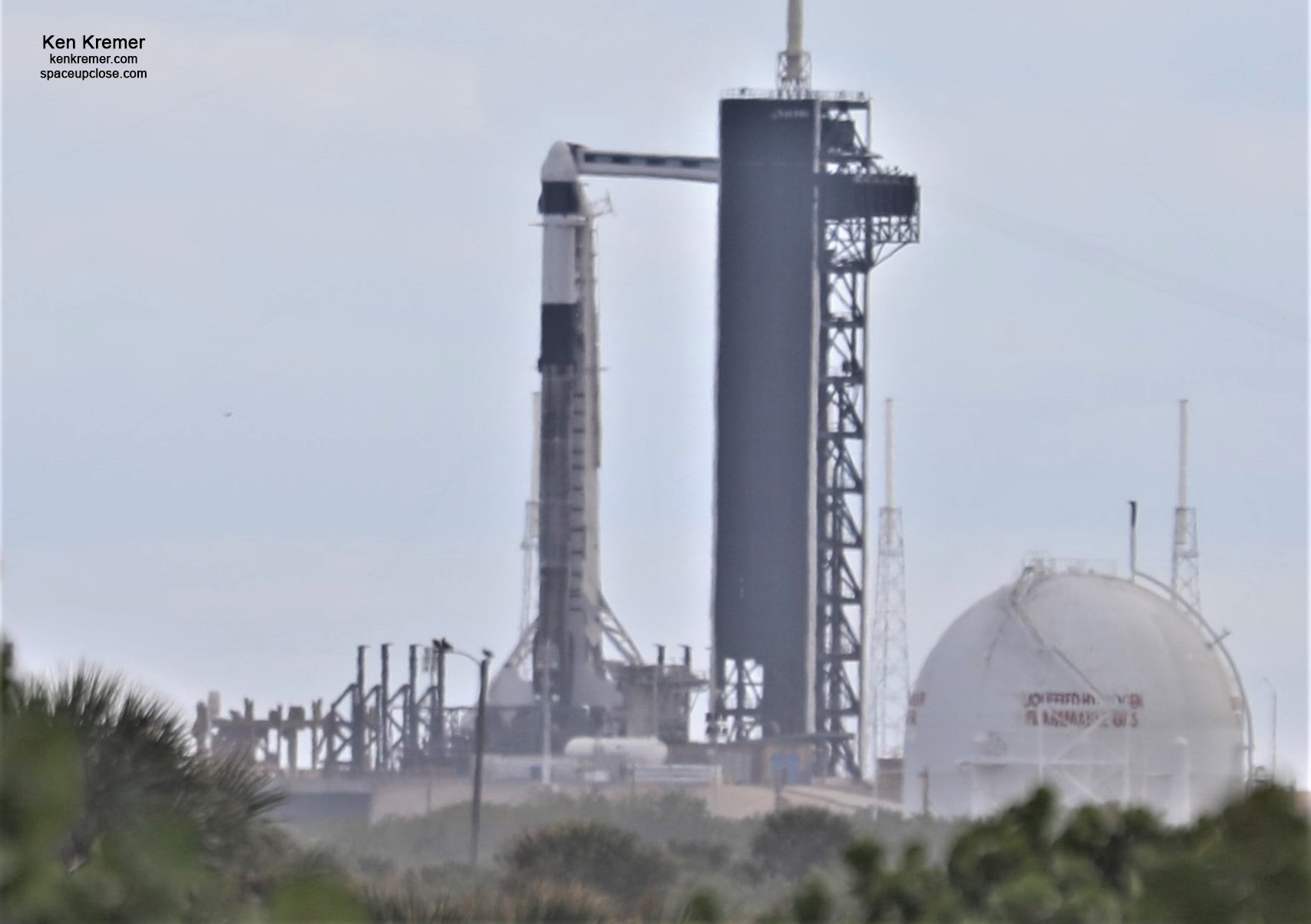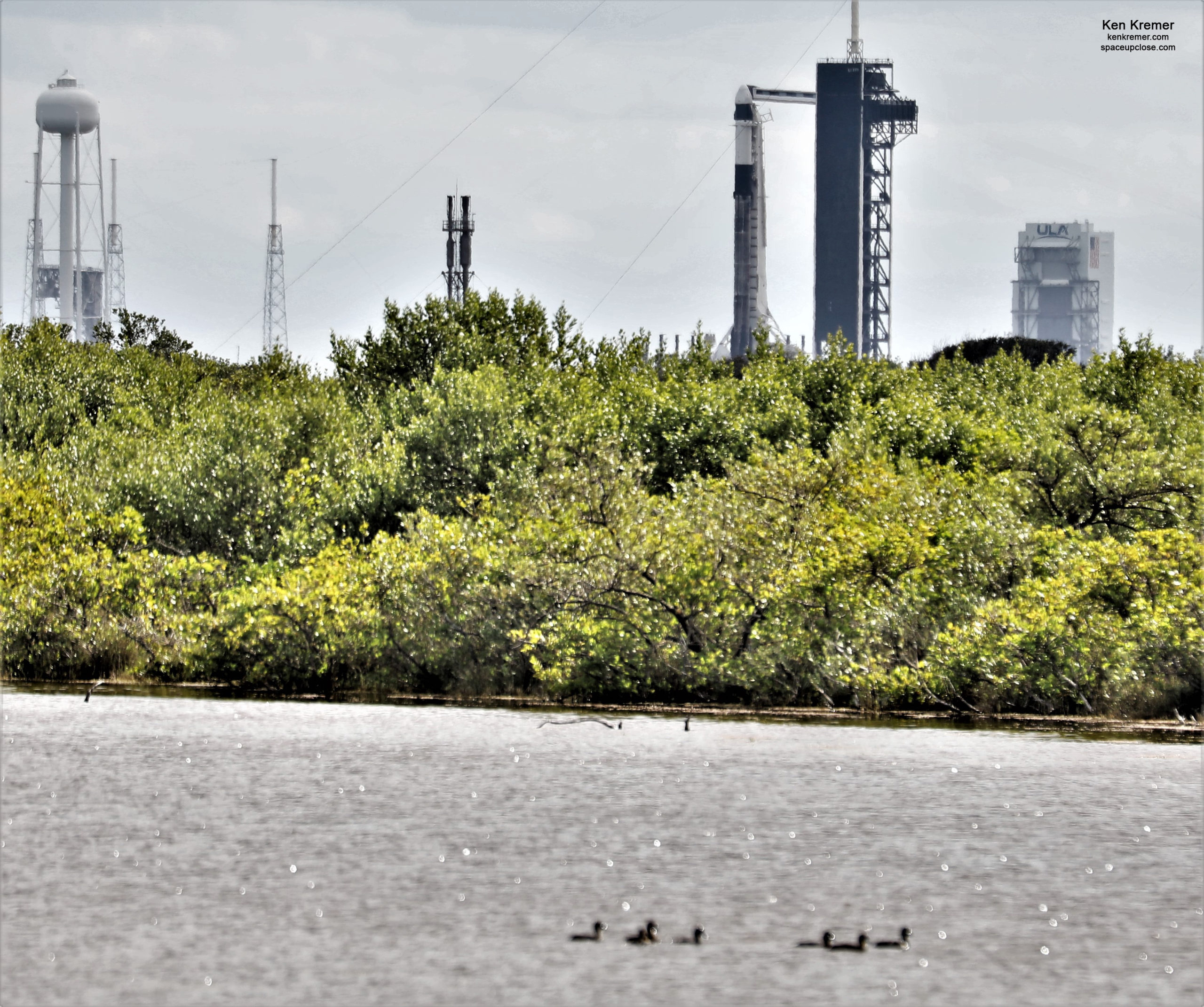 x