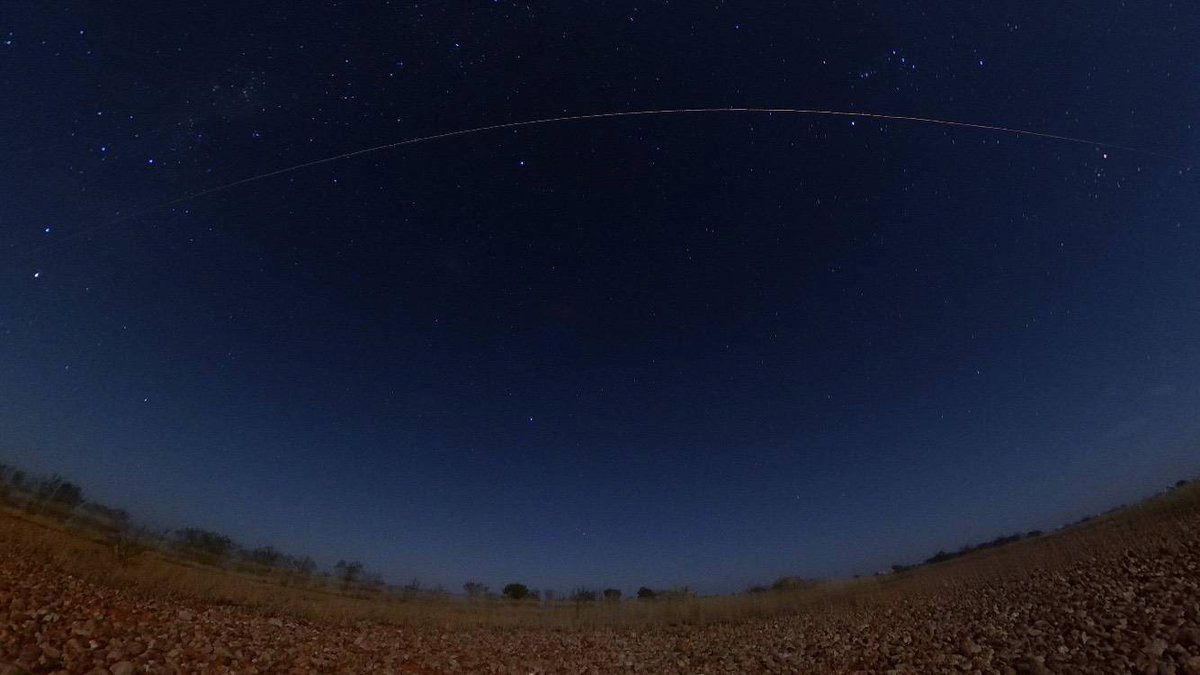 For SpaceUpClose.com & RocketSTEM
CAPE CANAVERAL, FL –  Japan's ambitious Hayabusa 2 spacecraft successfully delivered a sample return capsule to a safe landing in the remote Australian outback today, Dec. 5, after surviving a scorching reentry plunge that created a dazzling fireball as  it streaked through the Earth's atmosphere while carrying pristine soil and rock samples gathered from an ancient asteroid after a six year roundtrip scientific journey that could hold clues to the origin of life and the early evolution of our solar system.
The Hayabusa 2 spacecraft deployed the sample return canister containing precious dust and pebbles from the near earth Asteroid Ryugu from the mothership last night at a distance of about 220,000 km – on the final leg of its journey on a do or die one time only chance to hit the Earth's atmosphere for a fiery reentry at a speed of approximately 26,000 mph (11 km/sec).
After a successful dive through Earth's atmosphere and a parachute assisted soft landing the capsule touched down in the Woomera Prohibited Area in remote south Australia just before 1:00 p.m. EST (1800 GMT), Saturday, Dec. 5 and 4 a.m. Australian time Sunday, Dec. 6.
The entire reentry sequence operation was carried live in a broadcast from the Hayabusa 2 mission control – and the safe and successful landing conclusion was confirmed by officials with the mission operated by the Japan Aerospace Exploration Agency, or JAXA.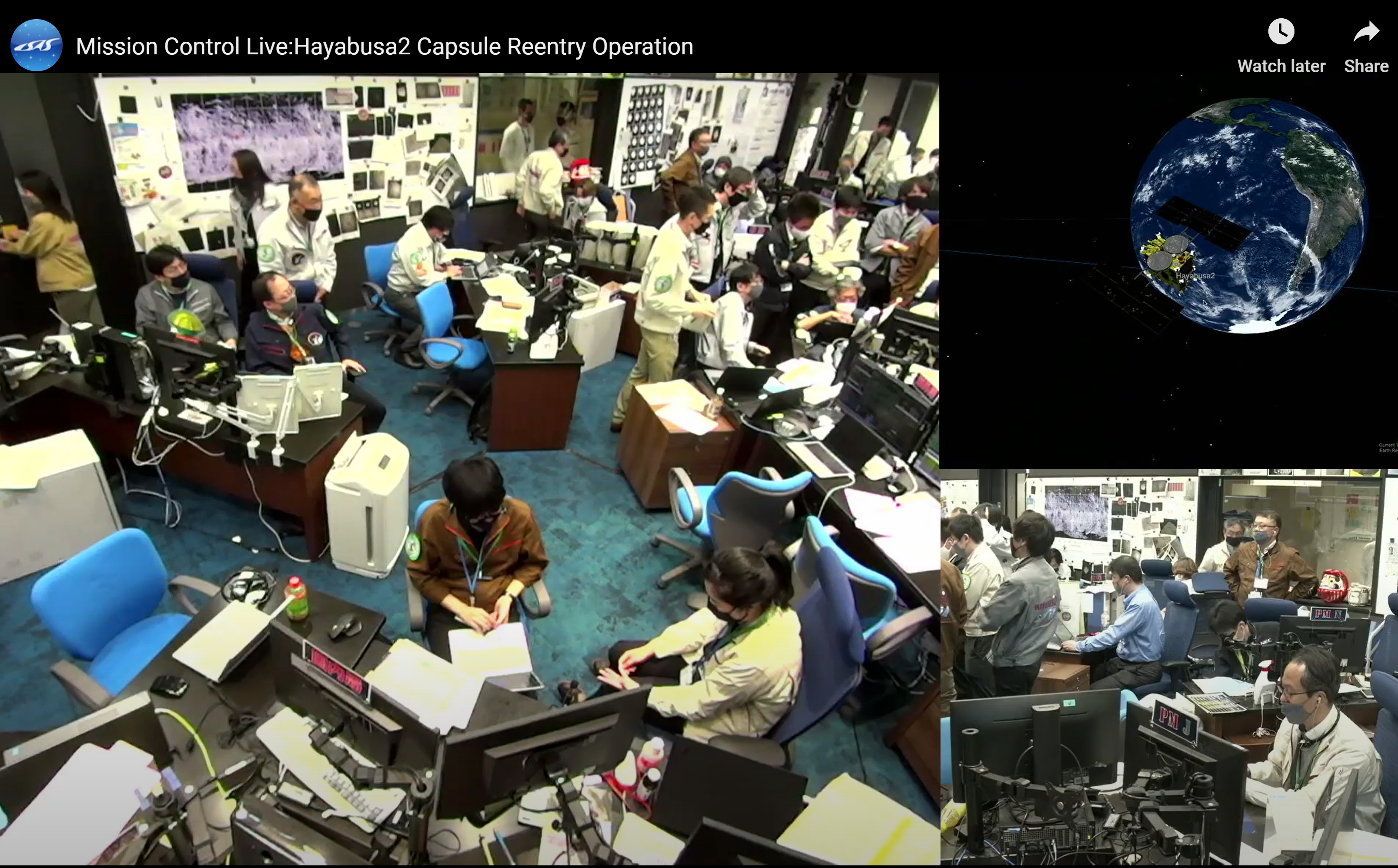 The small sample return capsule containing pristine samples from asteroid Ryugu measures 16 inches (40-centimeters) in diameter and weighing 35-pound (16-kilogram) was detected by a beacon signal post landing.
Recovery teams were quickly dispatched by helicopter after dawn broke to locate and retrieve it for shipment back to a secure processing facility in Japan, JAXA announced.
We found the capsule!
Together with the parachute!
Wow!
(Collection Team M)#Hayabusa2#はやぶさ2#AsteroidExplorerHayabusa2 #HAYA2Report

— HAYABUSA2@JAXA (@haya2e_jaxa) December 5, 2020
The Hayabusa 2 team posted these dramatic photos and videos of the capsule reentry:
Photographs of the fireball captured on-site. Welcome back.
(Collection Team M)#Hayabusa2#はやぶさ2#AsteroidExplorerHayabusa2 #HAYA2Report pic.twitter.com/b2ThFi33q5

— HAYABUSA2@JAXA (@haya2e_jaxa) December 5, 2020
Images of the re-entry capsule fireball! We have posted short videos of the re-entry capsule as it passed through the Earth's atmosphere, captured from near Coober Pedy in Australia. Link: https://t.co/wFHcICc7L1

— HAYABUSA2@JAXA (@haya2e_jaxa) December 5, 2020
Asteroid Ryugu is carbon rich and thus scientists hope to find organic molecules, water and minerals and perhaps clues to the origin of life in the samples returned to Earth today after a six year 5 billion kilometer round trip voyage to space and back.
Ryugu stems from the creation of the solar system some 4.5 billion years ago and the celestial body is relatively unchanged since then.
Thus the pristine samples will be extremely informative on the solar system early formation and perhaps provide insight into the origin of life on Earth.
Asteroids like Ryugu and Bennu are believed to have seeded Earth with water and organic molecules and other key elements after impacting the planet and thus could have contributed to life's origins on Earth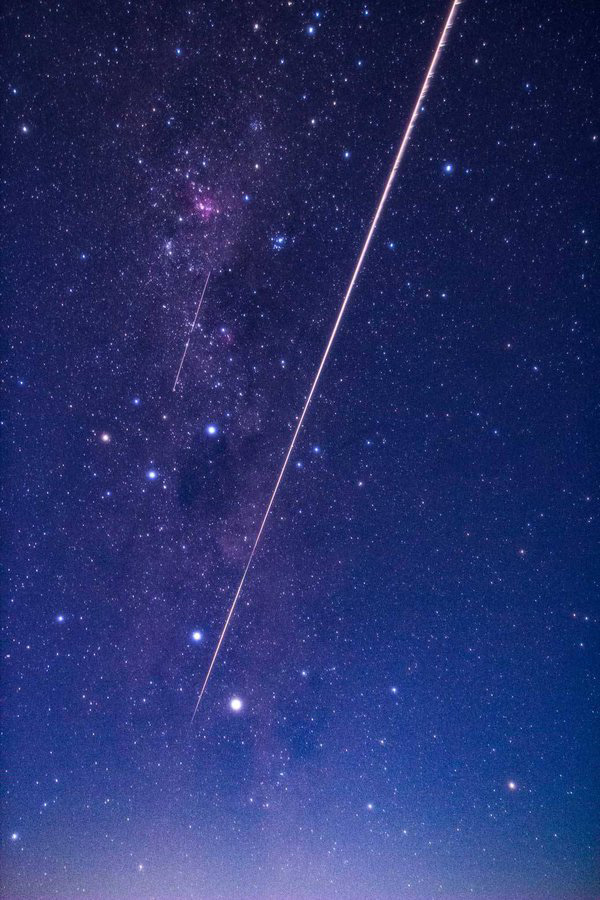 JAXA announced that the capsule was successfully recovered:
Today (12/6) at 08:03 JST, the helicopter carrying the capsule arrived at local headquarters and the capsule was brought inside the building.

— HAYABUSA2@JAXA (@haya2e_jaxa) December 5, 2020
In Woomera, collection work began at 6:23 JST at the re-entry capsule landing site.

— HAYABUSA2@JAXA (@haya2e_jaxa) December 5, 2020
Today (12/6) at 07:32 JST the capsule collection work at the landing site was completed. From now onwards, we being shipping to the local headquarters.

— HAYABUSA2@JAXA (@haya2e_jaxa) December 5, 2020
The actual amount of precious material gathered from 2 sampling attempts in 2018 and 2019 is not known – but estimated at 100 milligrams or more.
They will complement those recently gathered by NASA super successful OSIRIS-Rex asteroid sample mission from asteroid Bennu.
These samples will also be returned to Earth in a similar manner via sample return canister plunging through Earth's atmosphere  into the Utah desertin 2023
NASA's Thomas Zurbuchen, head of the Science Mission Directorate, quickly passed along congratulations!
Today marks a historic event as precious samples from asteroid Ryugu have been brought to Earth by @JAXA_en's Hayabusa2 mission. We congratulate Japan on being the 1st nation to carry out a successful asteroid retrieval mission, twice! https://t.co/MhVwJA1w4z pic.twitter.com/91oMKtAii4

— Thomas Zurbuchen (@Dr_ThomasZ) December 5, 2020
Hayabusa 2 was launched on a Japanese H-IIA rocket in Dec. 2014.
It arrived  in orbit in June 2018 for 1.5 years of exploration of the 900 meter diameter carbonaceous asteroid Ryugu.
It accomplished two touch and go sample landings in 2019- firing a 5 gram tantalum projectile to eject dust into the 1 meter long sample collection horn on the 2nd collection involving subsurface material.
3 rovers and landers from Japanese, German and French researchers were deployed to the surface in 2018 and 2019.
As part of the #Hayabusa2 mission the German-French lander @MASCOT2018 explored the surface of #Ryugu in October 2018. The mission is a significant milestone in DLR's cooperation with @JAXA_en. #asteroidlanding https://t.co/uFoHqmEme4

— DLR – English (@DLR_en) December 3, 2020
This JAXA graphic shows the reentry profile
The probe departed Ryugu in Nov. 2019 for a 1 year trip back to Earth and todays' s successful sample return reentry and landing and capsule collection by JAXA.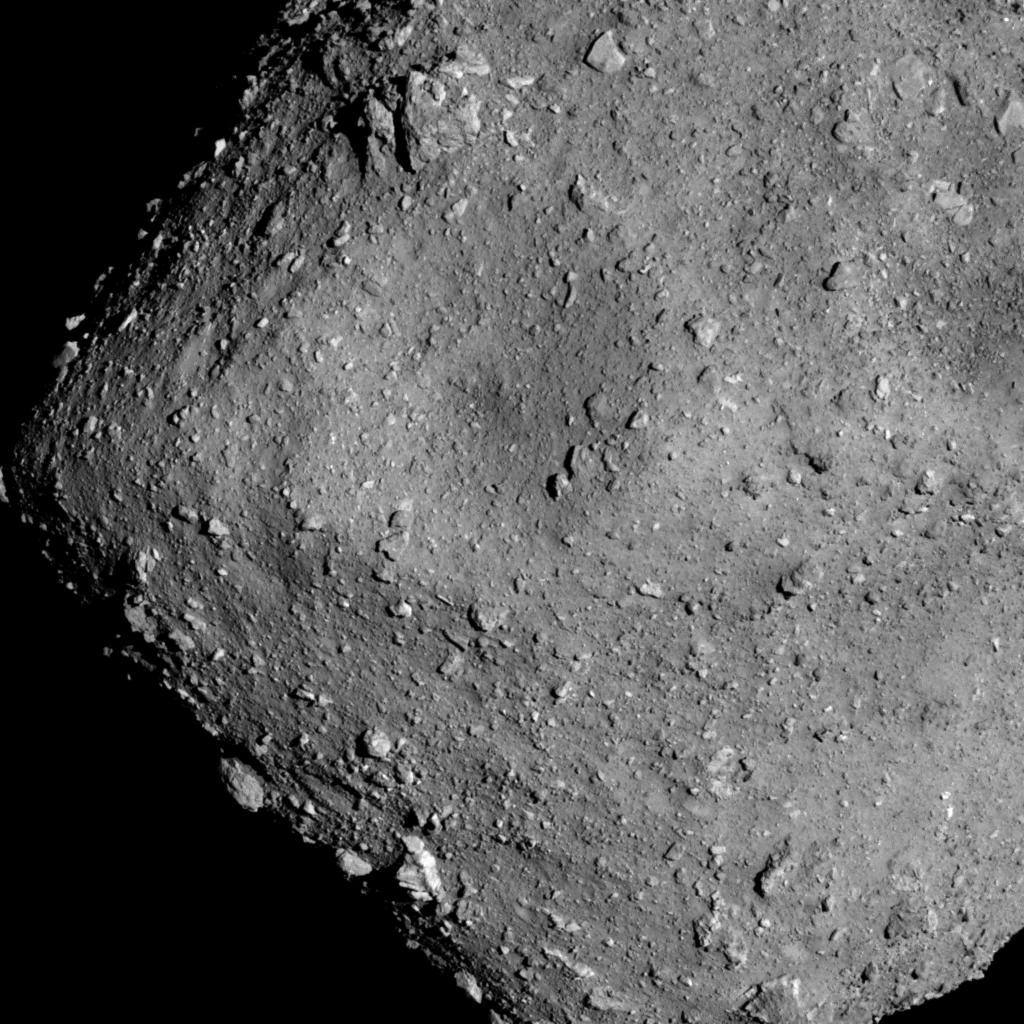 At the conclusion of the broadcast, JAXA announced that the Hayabusa 2 mothership spacecraft will live on and has been approved for an extended mission to 2 asteroids.
Its path was deflected from Earth to enable the meetup in 2031 with asteroid 1998 KY26 a tiny 30 m wide body.
Ken was interviewed by TRT World Turkish TV News live on Dec. 5 soon after the landing. Video link upcoming Monday.
Watch Ken's continuing reports about Hayabusa 2, NASA's OSIRIS-Rex asteroid sampler, SpaceX Cargo and Crew Dragons, Starlink, Commercial Crew and Artemis and onsite for live reporting of upcoming and recent SpaceX and ULA launches including Crew-1, Starlink, X-37B, Solar Orbiter, Mars 2020, NRO spysats and more at the Kennedy Space Center and Cape Canaveral Space Force Station.
Stay tuned here for Ken's continuing Earth and Planetary science and human spaceflight news: www.kenkremer.com –www.spaceupclose.com – twitter @ken_kremer – email: ken at kenkremer.com
Dr. Kremer is a research scientist and journalist based in the KSC area, active in outreach and interviewed regularly on TV and radio about space topics.
………….
Ken's photos are for sale and he is available for lectures and outreach events
Please consider supporting Ken's work by donating at Patreon:
https://www.patreon.com/kenkremer
x