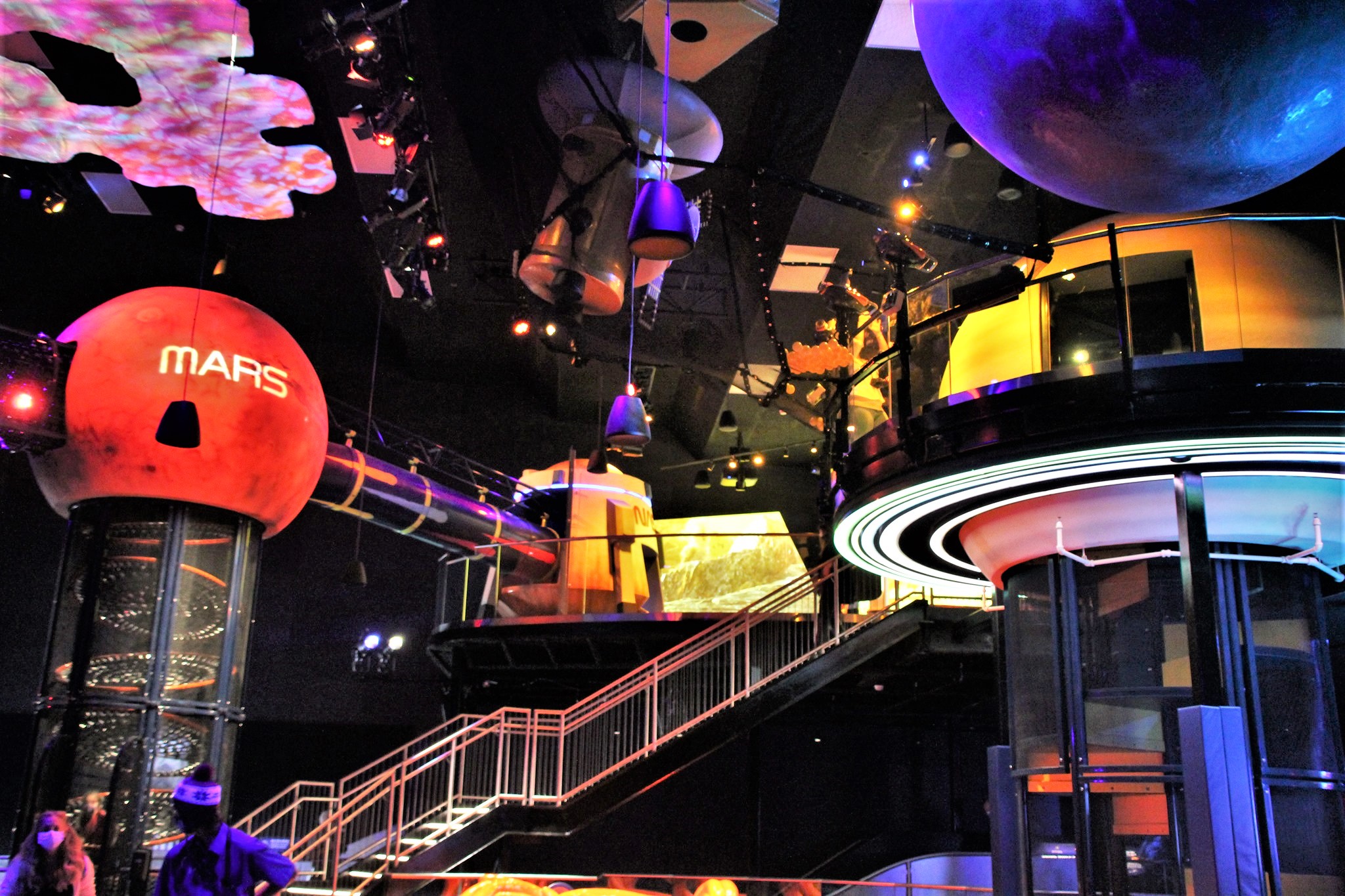 "Planet Play" is the newly opened interactive multi-story play and learning experience about space, astronomy and science for the new generation of space exploring kids at the Kennedy Space Center Visitor Complex in Florida! 'Planet Play' official Grand Opening Jan. 4, 2021. Credit: Jean Wright/spaceupclose.com
For SpaceUpClose.com
KENNEDY SPACE CENTER VISITOR COMPLEX, FL – What kid hasn't dreamed of going into space? Dancing on Mars? Or perhaps sliding through an asteroid field? All of that is now possible with the January 1, 2021 opening of "Planet Play," a new multistory experience at the Kennedy Space Center Visitor Complex!
Designed for young space explorers ages 2-12, Planet Play is an indoor interactive experience that encourages learning about planets and our galaxy.
'Planet Play' includes numerous interactive gaming and artistic components designed to create a memorable learning experience for the enthusiastic 'space explorers' – including opportunities to map a constellation, climb a wormhole and between planets, walk on Saturn's rings, slide through an asteroid field, scamper over the sun – and much, much more!!
While kids learn and play, parents can enjoy Starbucks coffee, beer and a wine bar in a cozy lounge atmosphere watching their budding space explorers and future scientists.
"We are over the moon to bring an offering to our visitors that will interest an even younger generation in space exploration and interplanetary travel," said KSC Chief Operating Officer, Therrin Protze.
Planet Play is located in one of the former IMAX theaters and has been designated a "trusted space" for using CDC health and safety measures for the new attraction.
Security is of the most importance when it opens. There will be 36 cameras and 2 Crewmembers- one on each floor to assure safety to everyone there.
This new attraction is truly a bright spot to look forward to in the new year!
And the kids can also explore around a Martian habitat to learn how humans will journey to the Red Planet.
The official Grand Opening for Planet Play was Jan. 4, 2021.
Enjoy our 'Planet Play' grand opening photos from the Space UpClose team of Jean Wright and Ken Kremer
…….
Jean Wright is a writer and photographer for Space UpClose, a Docent at Kennedy Space Center Visitor Complex and a seamstress. Her space themed apparel is available for sale.
Jean Wright worked on NASA's Space Shuttle program as an Aerospace Composite Technician/ Seamstress that sewed flown space hardware as part of the Thermal Protection System. This group of   18 ladies were called the "Sew Sisters."
Contact Jean via her Facebook page: Sew Sister Space Creations