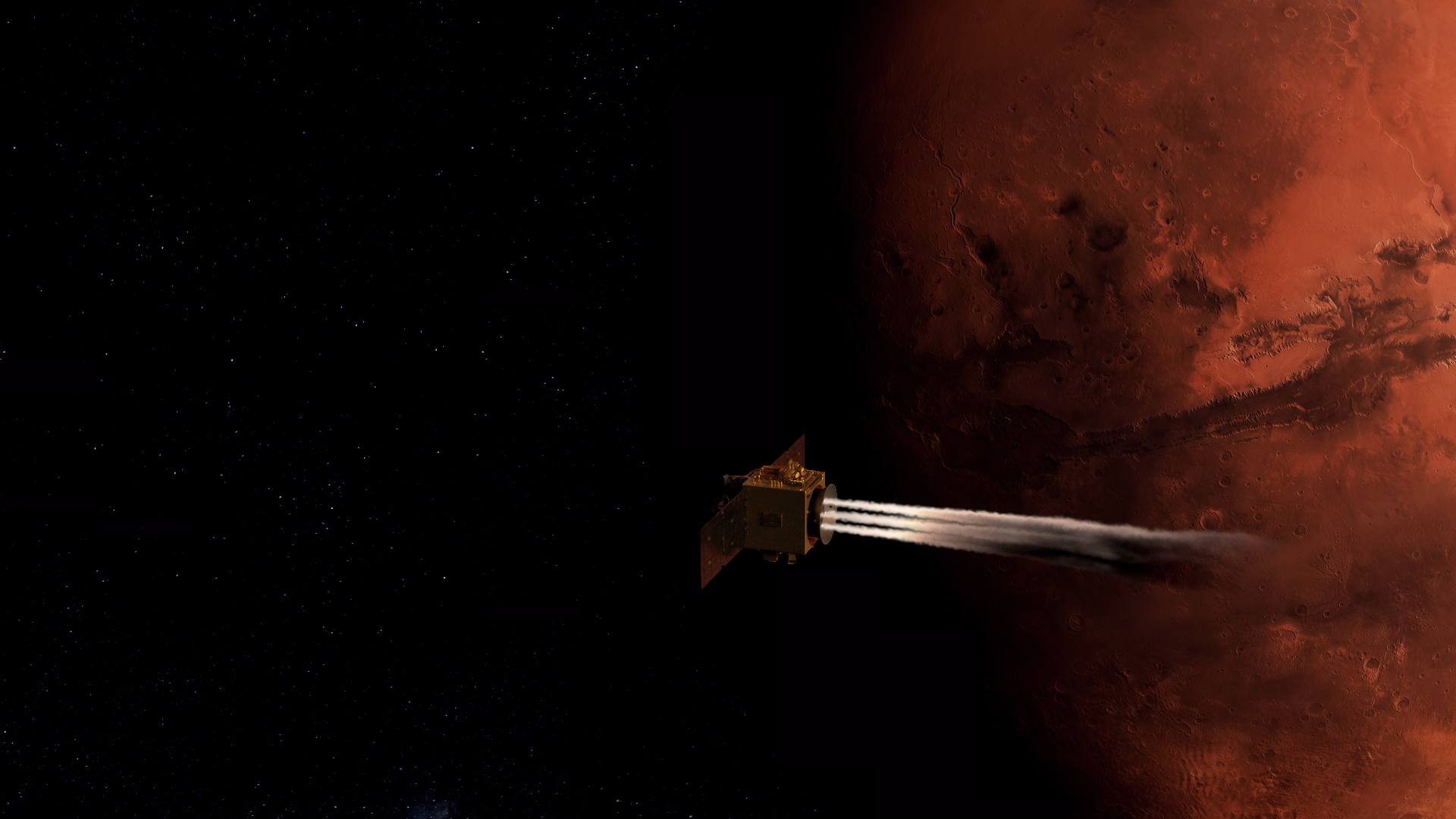 For SpaceUpClose.com & RocketSTEM
CAPE CANAVERAL, FL –  The Arab World's history making first interplanetary mission to Mars – the United Arab Emirates Hope Probe – successfully achieved orbit today, Tuesday, Feb. 9, at 10:57 a.m. ET (19:57 UAE time, 1557 GMT)," after a seven month journey bound for the Red Planet and designed to study the planets weather and climate and inspire the nations young people to study science.
Hope is the first of three science probes reaching the Red Planet this month.
Hope thus commences Earths powerful Invasion of Mars in 2021 with an international fleet of orbiters, landers and rovers launched also from the United States and China.
Hope's science goal is to provide the first planet-wide picture of Mars' weather system and climate throughout the Martian year during a 2 year long mission.
The Hope spacecraft performed a crucial 27 minute long Mars Orbit Insertion (MOI) engine burn with a cluster of six Delta-V thrusters starting at 10:30 a.m. ET as the UAE Space Agency was providing live coverage and the probe entered radio blackout.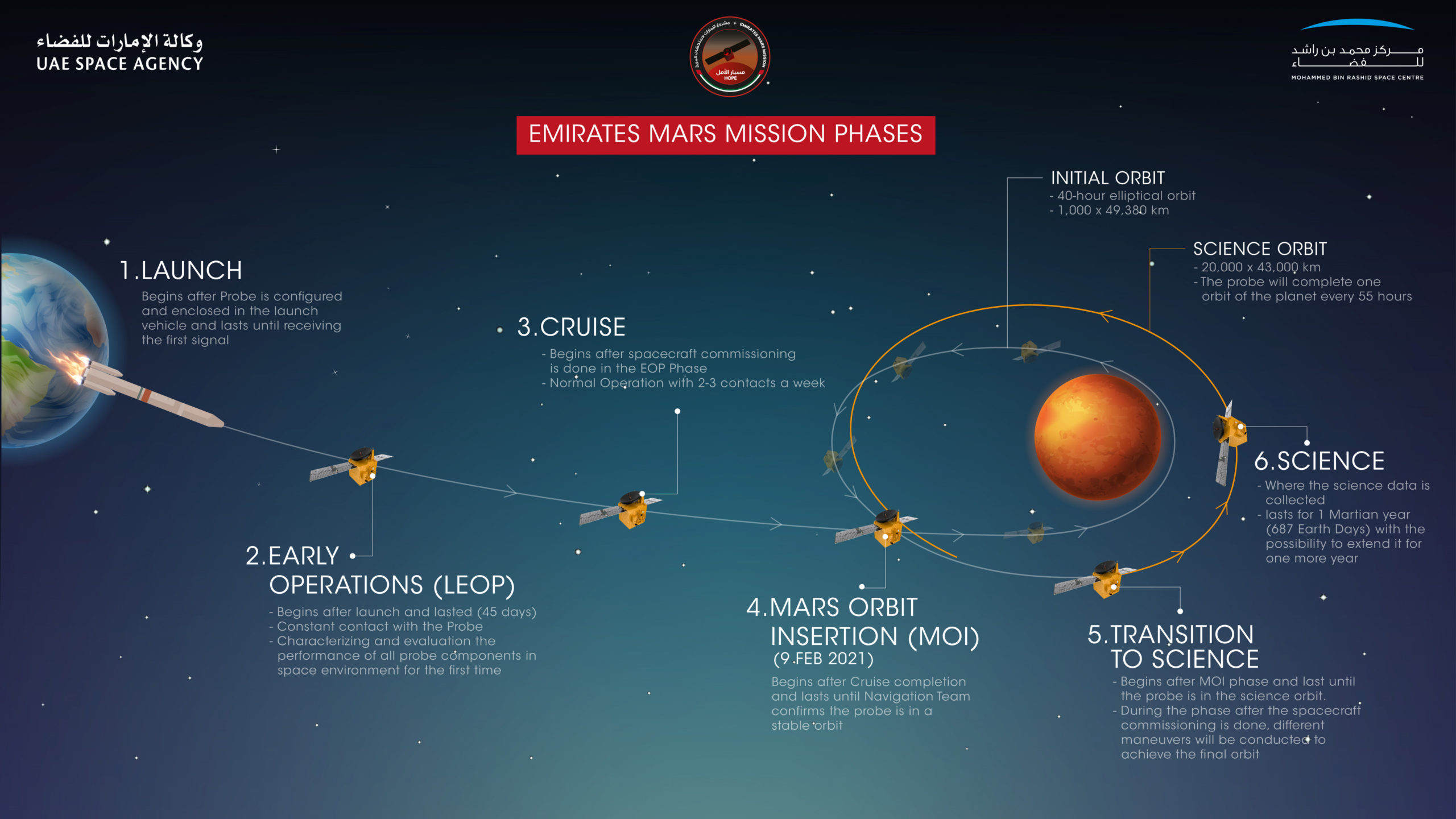 The successful outcome of the nail-biting MOI engine ignition and shutdown was not known until contact with Hope was reestablished and the signal reached Earth after the 11 minute one-way radio delay across the vast interplanetary gulf of some 119 million miles (191 million kilometers) –  the time it takes for signals to reach Earth from Mars traveling at the speed of light.
Thus the burn was already done before the radio confirmation was received by the team eagerly awaiting the radio signal back on Earth.
"Success! Contact with #HopeProbe has been established again. The Mars Orbit Insertion is now complete," the Hope team tweeted at 11:16 a.m. ET.
Success!

Contact with #HopeProbe has been established again.

The Mars Orbit Insertion is now complete.#ArabsToMars

— Hope Mars Mission (@HopeMarsMission) February 9, 2021
The UAE thereby became the first Arab nation and only the fifth nation or space agency from Earth to safely and successfully reach the Red Planet following US, Soviet Union, Europe and India.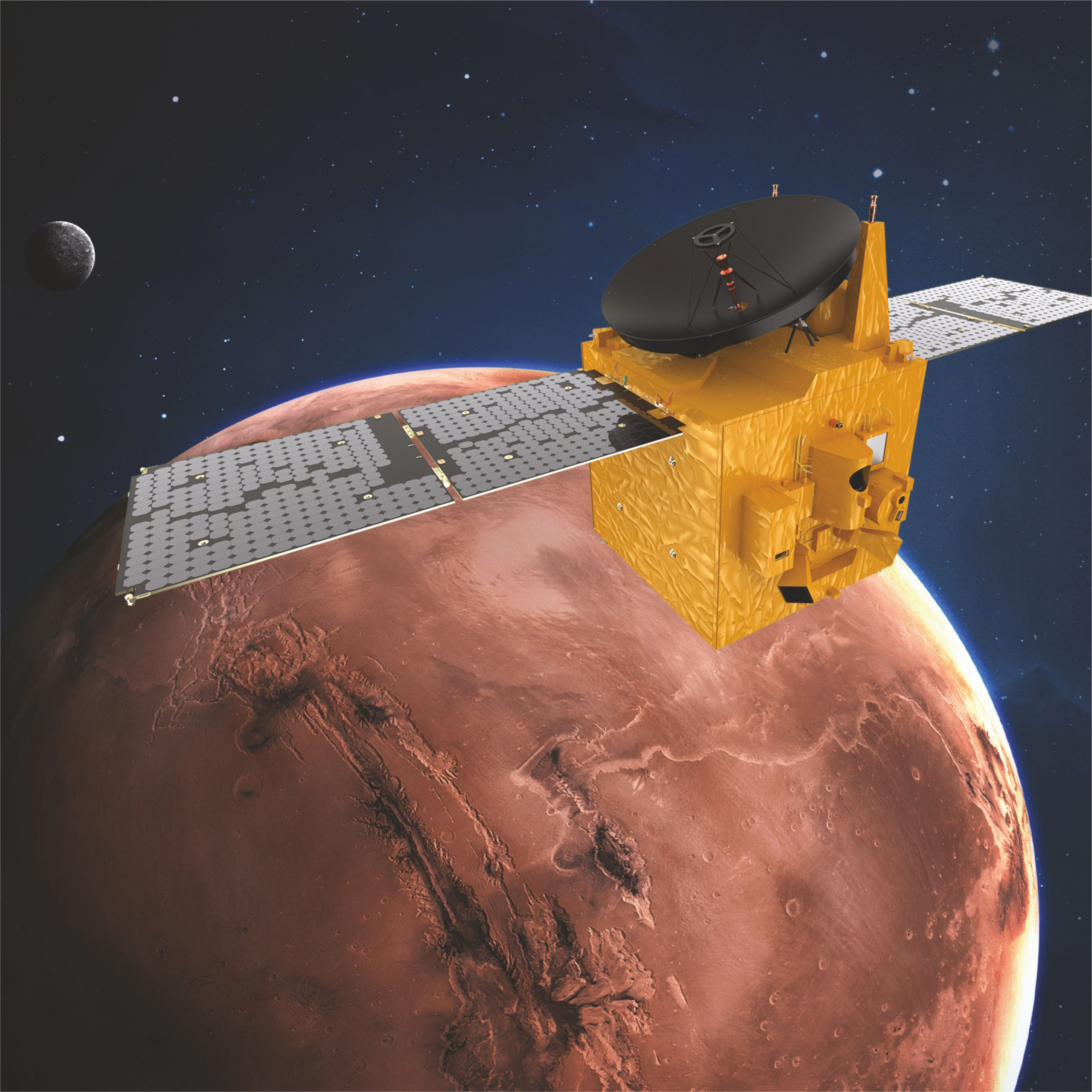 "The United Arab Emirates Mars Mission's Hope Probe has officially reached Mars, entering its Mars capture orbit at 19:57 UAE time (15:57 UTC)," the UAE Space Agency announced after an interplanetary voyage of 493.5 million kilometers (307 million miles).
The Hope Mars Mission began with the launch on the Japanese H-2A  rocket on July 19,  US time at 5:58:14 p.m. EDT (2158:14 GMT), or Monday July 20th, 2020 at 01:58 am UAE local time, 6:58 a.m. Japan Standard Time from Launch Pad No. 1 at the Yoshinobu launch complex located at the Tanegashima Space Center.
Mars Orbital Insertion (MOI) was achieved after Hope fired its six Delta-V thrusters for 27 minutes to slow the spacecraft down from its cruising speed of 121,000 km/h to some 18,000 km/h.
Hope is now in its initial elliptical capture orbit ranging from about 1,000 km by 49,380 km (600 mi x 30,700 mi) above Mars as engineers now work to determine the actual orbit achieved with precision.
"MOI was the most critical and dangerous part of our journey to Mars, exposing the Hope probe to stresses and pressures it has never before faced,"  said Omran Sharaf, EMM Project Director at the Mohammed bin Rashid Space Centre, in a statement.
"While we have spent six years designing, testing and retesting the system, there is no way to fully simulate the impacts of the deceleration and navigation required to achieve MOI autonomously. With this enormous milestone achieved, we are now preparing to transition to our science orbit and commence science data gathering."
The team will now also begin calibrating and testing its science instruments, before moving to its science orbit duration of 55 hours and ranging in altitude from 20,000 x 43,000 km.
"The science of the mission is enabled by a unique highly elliptical orbit that Hope will adopt when it starts its two-year science mission," said Hessa Al Matroushi, Science Lead for the mission at the UAE's Mohammed Bin Rashid Space Centre, in a statement.
"The orbit offers an unprecedented local and seasonal time coverage of the Martian atmosphere.  Combined with the unique instrumental synergy, Hope will explore Mars different atmospheric layers revealing new and global perspective of its atmospheric behavior and connections."
EMM or Hope is funded by the UAE Space Agency and The Mohammed Bin Rashid Space Centre to the tune of about $200 million.
In addition to the science another goal is to "Get a probe to Mars by the Emirates' 50th anniversary in 2021."
The Mini Cooper sized probe has a mass of approximately 2,976-pound (1,350-kilogram).
Science Goals:
Hope's mission is focused on atmospheric dynamics. It will explore the atmosphere of Mars globally while sampling both diurnal (daily) and seasonal timescales. (Never been done by any previous Mars mission). Understanding atmospheres of other planets, allows us to better understand our planet (since there is another sample to compare with) and better understand other planets in the universe.
Hope is equipped with three science instruments:
EXI – The Emirates eXploration Imager is a digital camera that will capture high resolution images of Mars  along with measuring water ice and ozone in the lower atmosphere through the UV bands.
EMIRS – The Emirates Mars InfraRed Spectrometer will to measure global distribution of dust, ice cloud, and water vapor in the Martian lower atmosphere.
EMUS – The Emirates Mars Ultraviolet Spectrometer will measure oxygen and carbon monoxide in the thermoshphere and the variability of hydrogen and oxygen in the upper atmosphere.
Partners on the EMM team:
The Hope Probe was designed and developed by the EMM team at MBRSC together with Knowledge Transfer partners at the University of Colorado, Boulder; Arizona State University and the University of California, Berkley.
The Laboratory for Atmospheric and Space Physics (LASP) at University of Colorado, Boulder is the primary knowledge transfer partner for mission design, spacecraft, and EXI/EMUS instrument development, testing, science team/apprenticeship, and operations
Arizona State University is the knowledge transfer partner for EMIRS instrument development and science team/apprenticeship
The University of California, Berkeley Space Sciences Lab (SSL) is the knowledge transfer partner for Science team/apprenticeship & EMUS detectors
Next up for Earth's Invasion Fleet are arrival of the Chinese Tianwen-1 probe tomorrow, Feb. 10 and NASA's Perseverance rover on Feb 18.
Watch Ken's continuing reports about Artemis and NASA missions, SpaceX, Starlink, Commercial Crew and Starliner and Crew Dragon and onsite for live reporting of upcoming and recent SpaceX and ULA launches including Crew 1 & 2, Demo-2, ISS, X-37B, Solar Orbiter, Mars 2020 Perseverance and Curiosity rovers, NRO spysats and national security missions and more at the Kennedy Space Center and Cape Canaveral Space Force Station.
Stay tuned here for Ken's continuing Earth and Planetary science and human spaceflight news: www.kenkremer.com –www.spaceupclose.com – twitter @ken_kremer – email: ken at kenkremer.com
Dr. Kremer is a research scientist and journalist based in the KSC area, active in outreach and interviewed regularly on TV and radio about space topics.
………….
Ken's photos are for sale and he is available for lectures and outreach events
Please consider supporting Ken's work by donating at Patreon:
https://www.patreon.com/kenkremer
x