For SpaceUpClose.com & RocketSTEM
CAPE CANAVERAL, FL –  The first all private crew of four men will launch aboard a SpaceX Crew Dragon spacecraft on a groundbreaking visit to the International Space Station (ISS) early next year – while flying under the command of a veteran former NASA astronaut and under a commercial venture chartered by Axiom Space.
The historic mission dubbed AX-1 (Axiom Mission 1) could liftoff for the space station sometime as soon as early 2022 on a commercial SpaceX Falcon 9 rocket with the four person multinational team led by retired NASA astronaut and Axiom vice president Michael López-Alegría, Axiom announced late last month.
López-Alegría flew four times to space as a NASA space shuttle astronaut and most recently visited the ISS in 2007.
Contrary to widespread speculation and earlier statements from NASA last year about filming some unspecified type of movie on the ISS the private crew does not include world famous star actor Tom Cruise and his director Doug Liman.  The Cruise project has been delayed apparently into NET later 2022.
Rather, in addition to López-Alegría the multinational crew for AX-1 comprises 3 rookies –  American entrepreneur and non-profit activist investor Larry Connor as pilot; Canadian investor and philanthropist Mark Pathy; and impact investor and philanthropist Eytan Stibbe of Israel.
"The first private ISS crew in the history of humankind has been assembled. Commander Michael López-Alegría Mission Pilot Larry Connor Mission Specialist Mark Pathy Mission Specialist Eytan Stibbe Axiom Mission 1 (Ax-1): The start of a new era, Axiom Space announced via tweet.
The first private ISS crew in the history of humankind has been assembled.

Commander Michael López-Alegría

Mission Pilot Larry Connor

Mission Specialist Mark Pathy

Mission Specialist Eytan Stibbe

Axiom Mission 1 (Ax-1): The start of a new era. pic.twitter.com/vBlr0ASRhj

— Axiom Space (@Axiom_Space) January 26, 2021
Another record breaking former NASA astronaut Peggy Whitson will train as back up to López-Alegría.
Looking forward to working with you again Peg! pic.twitter.com/hWx9swBIMm

— Michael L-A (@CommanderMLA) January 26, 2021
The crewmates are expected to conduct a variety of scientific research experiments and outreach efforts during their time in orbit to make for a productive visit to space.
Based on past pronouncements from SpaceX the cost per seat is expected to be approximately $55 million or so.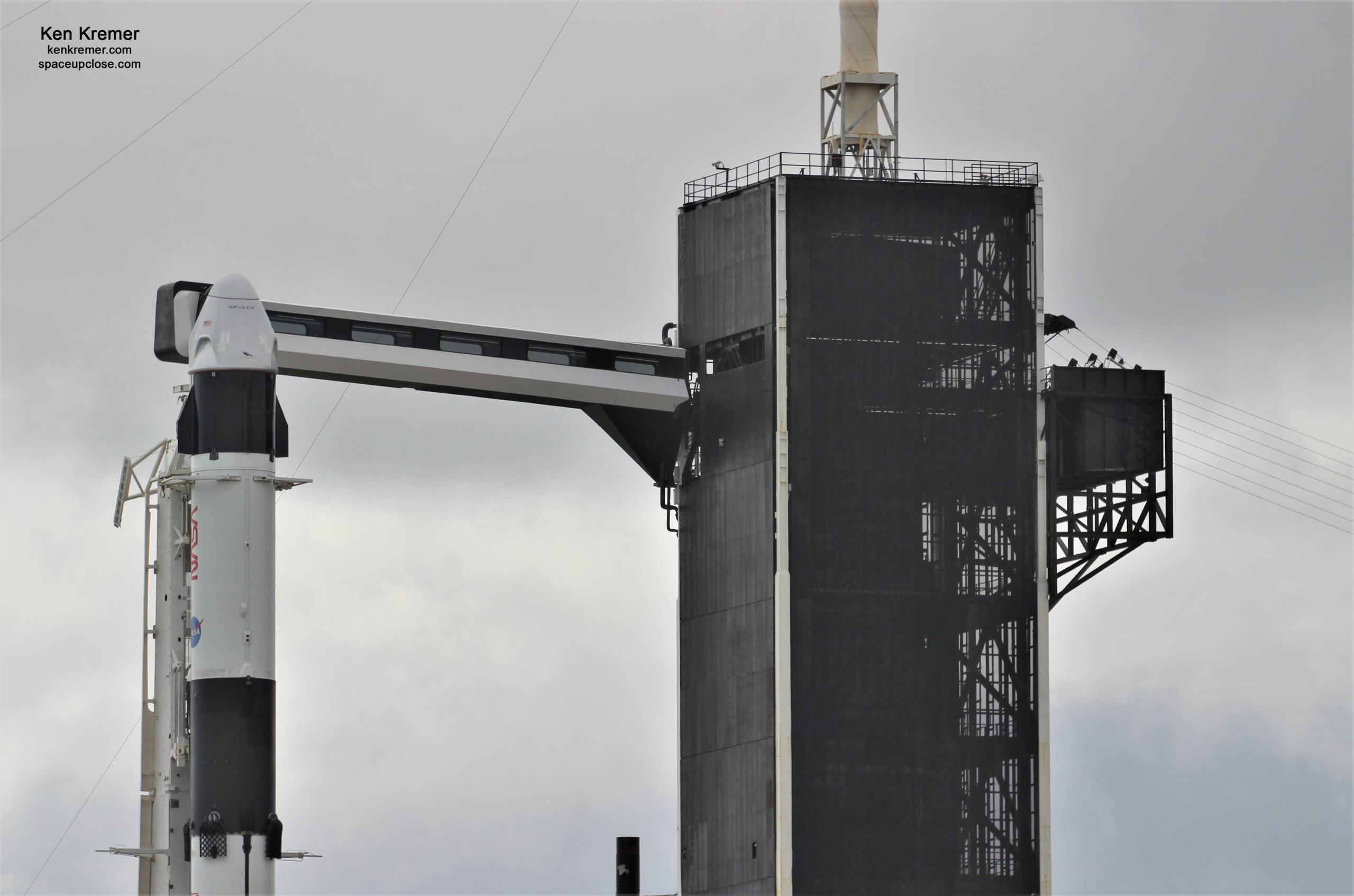 The SpaceX Crew Dragon for AX-1 would blast off on Falcon 9 rocket from Launch Complex-39A (LC-39A)  at NASA's Kennedy Space Center in Florida no earlier than NET January 2022.
In fact pad 39A is the same pad and Crew Dragon is the same spacecraft used by SpaceX and NASA to launch government contracted crews to the space station on six-month-long science missions.
The actual launch date is also fully dependent on finding an opening in the busy schedule of visiting vehicles when one of the two required and suitable IDA docking ports is available on the ISS for a short duration docking mission by a Crew Dragon vehicle – as well as approval from this type private mission from the station partners.
In all goes as planned Connor will be the first private mission pilot in the annals of spaceflight.
"Pathy will be Canada's 11th astronaut. Stibbe, a close personal friend of Columbia astronaut Ilan Ramon and a former Israeli Air Force pilot, will be Israel's second. Both will fly as mission specialists," says Axiom.
Stibbe would be the second Israeli to fly in space after Ramon –  who perished in NASA's Columbia Space Shuttle accident in February 2003 along with the entire seven person crew during reentry into Earth's atmosphere shortly before the scheduled runway landing back at KSC.
"This collection of pioneers – the first space crew of its kind – represents a defining moment in humanity's eternal pursuit of exploration and progress," López-Alegría said.
"I know from firsthand experience that what humans encounter in space is profound and propels them to make more meaningful contributions on returning to Earth. And as much as any astronaut who has come before them, the members of this crew have accomplished the sorts of things in life that equip them to accept that responsibility, act on that revelation, and make a truly global impact.
"I look forward to leading this crew and to their next meaningful and productive contributions to the human story, both on orbit and back home."
The private AX-1 mission is expected to have a duration of about 8 days or so.
They will be trained by SpaceX.
The AX-1 flight will be the forerunner to more missions in the future as Axiom expects to manufacture and launch their own private modules to become attached to the ISS – and that would eventually lead to a commercial privately funded Axiom space station in low Earth orbit after the ISS is retired.
"We sought to put together a crew for this historic mission that had demonstrated a lifelong commitment to improving the lives of the people on Earth, and I'm glad to say we've done that with this group," Axiom Space President & CEO Michael Suffredini said.  Suffredini was a past NASA ISS manager.
"This is just the first of several Axiom Space crews whose private missions to the International Space Station will truly inaugurate an expansive future for humans in space – and make a meaningful difference in the world when they return home."
The initial Axiom station modules will be attached to the Harmony node of the ISS as soon as 2024 offering "a commercial expansion of the orbiting lab for which NASA selected Axiom in January 2020."
Watch Ken's continuing reports about Artemis and NASA missions, SpaceX, Starlink, Commercial Crew and Starliner and Crew Dragon and onsite for live reporting of upcoming and recent SpaceX and ULA launches including Crew 1 & 2, Demo-2, ISS, X-37B, Solar Orbiter, Mars 2020 Perseverance and Curiosity rovers, NRO spysats and national security missions and more at the Kennedy Space Center and Cape Canaveral Space Force Station.
Stay tuned here for Ken's continuing Earth and Planetary science and human spaceflight news: www.kenkremer.com –www.spaceupclose.com – twitter @ken_kremer – email: ken at kenkremer.com
Dr. Kremer is a research scientist and journalist based in the KSC area, active in outreach and interviewed regularly on TV and radio about space topics.
………….
Ken's photos are for sale and he is available for lectures and outreach events
Please consider supporting Ken's work by donating at Patreon:
https://www.patreon.com/kenkremer
x