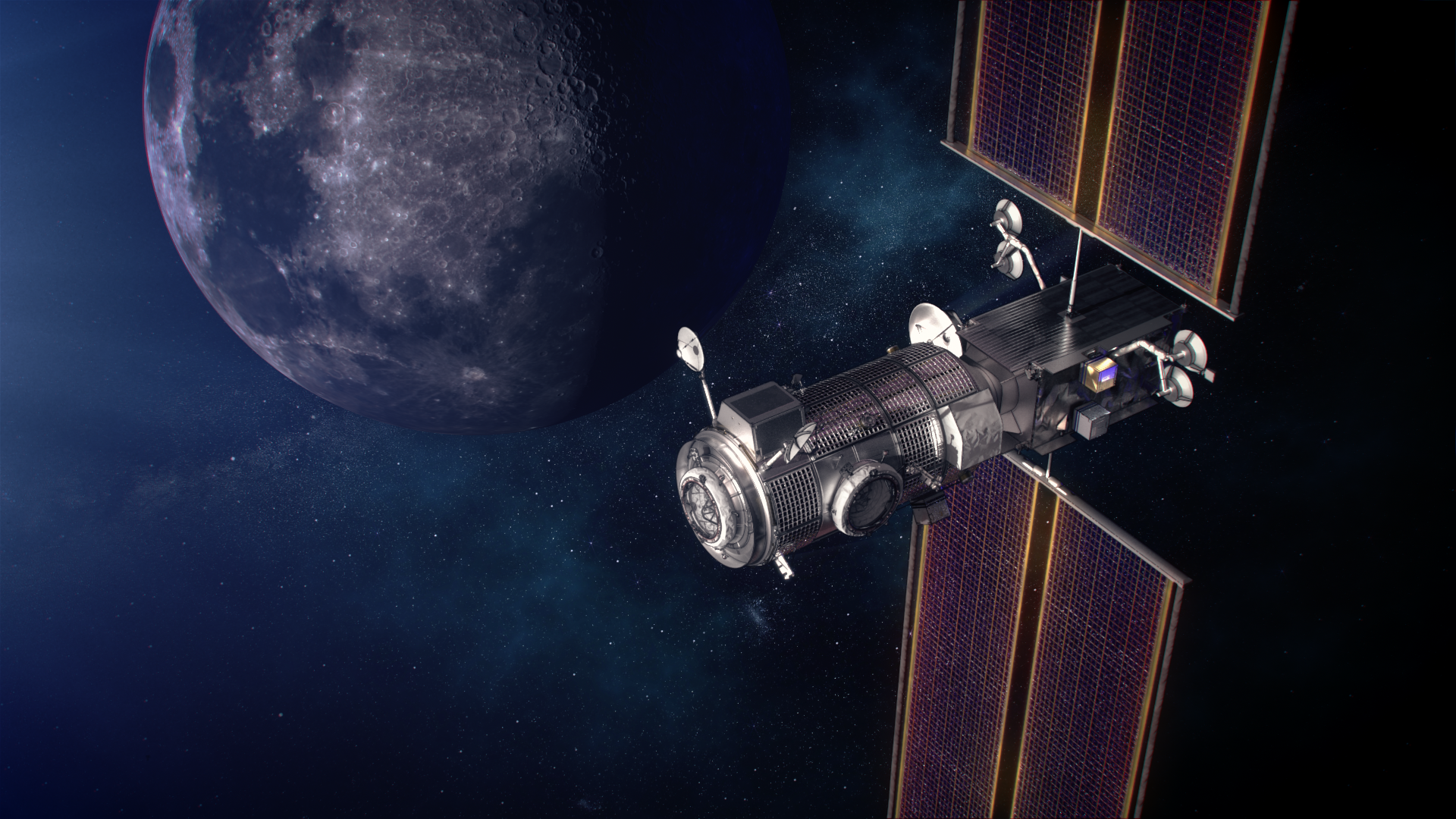 For SpaceUpClose.com & RocketSTEM
CAPE CANAVERAL, FL – NASA has selected the SpaceX Falcon Heavy to launch the first two elements of the Lunar orbiting Gateway platform on a commercial rocket for a flight targeting no earlier than May 2024.
Gateway will become the first permanent mini space station around the moon and be launched into the near-rectilinear halo orbit  for visits by astronaut crews under NASA's Project Artemis human moon landing program.
Gateway is led by NASA with substantial international participation from most of the partners involved with the International Space Station.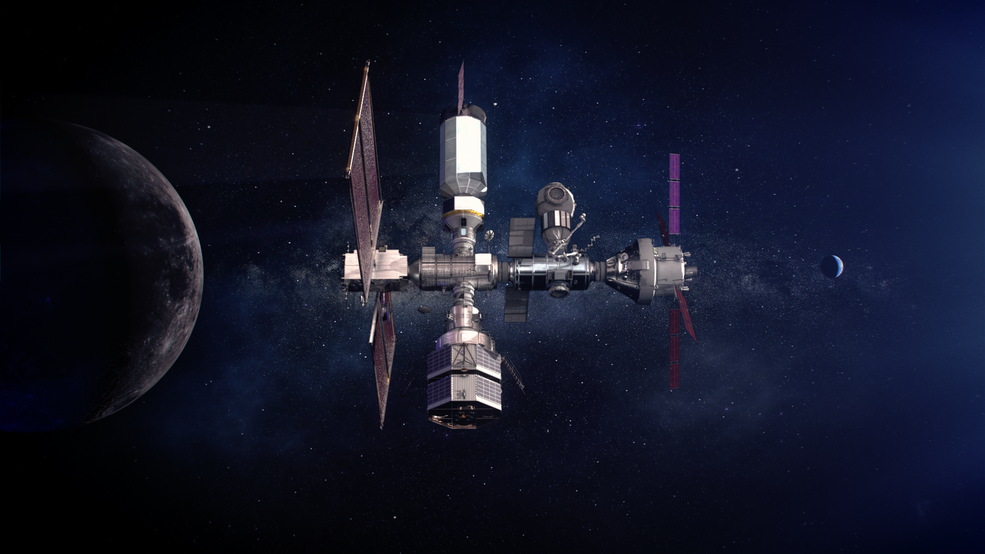 The first two Gateway segments comprise NASA's Power and Propulsion Element (PPE) and Habitation and Logistics Outpost (HALO) that provide power and living quarters and will be visited by astronauts from NASA and partner space agencies docking with NASA's Orion deep space capsule launched by the mammoth Space Launch System (SLS moon rocket from Launch Complex 39A at the Kennedy Space Center in Florida.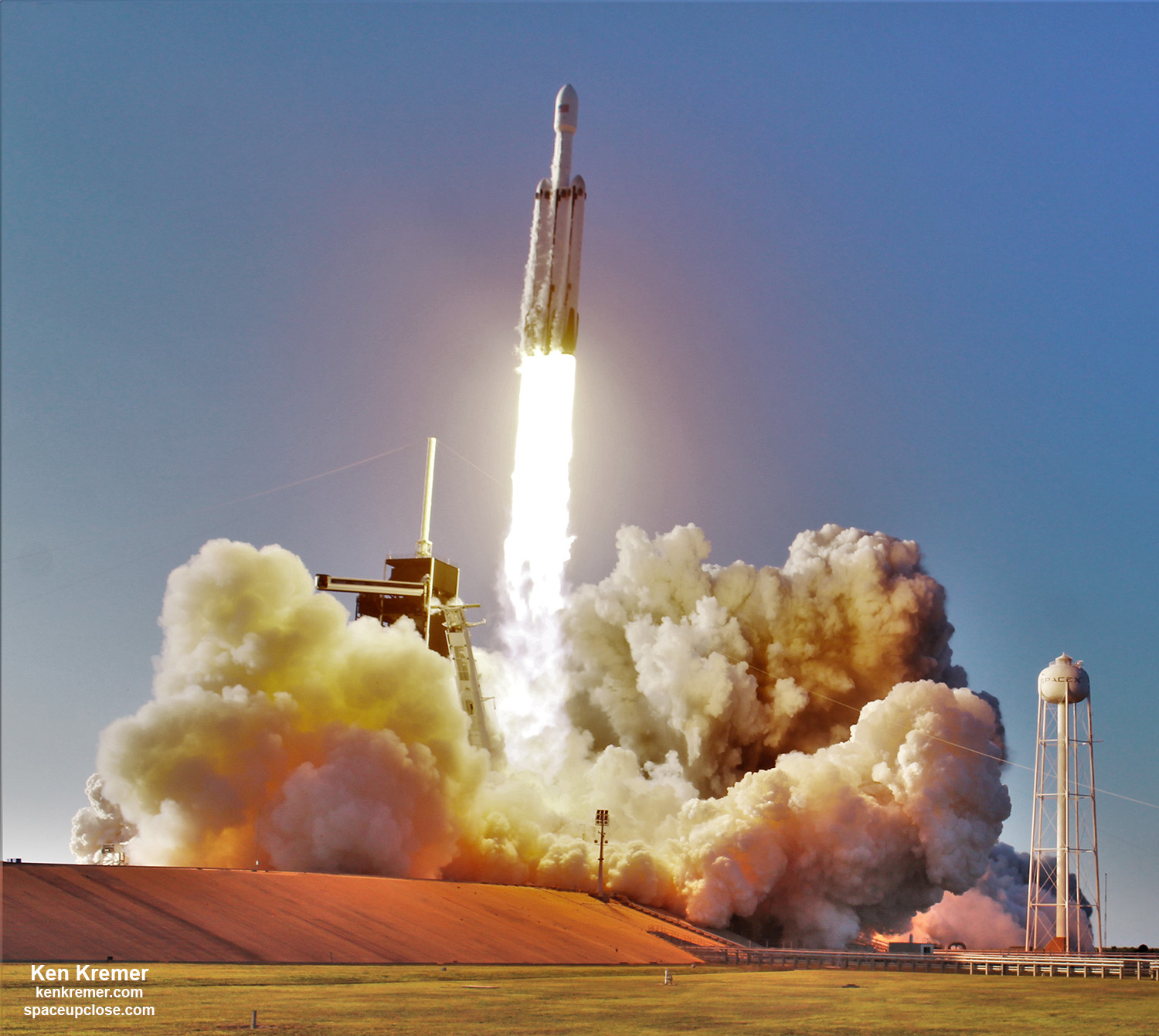 The PPE and HALO are being built commercially under separate contracts previously awarded to Maxar Technologies and Northrop Grumman.
Did you know? ?

The #Artemis Gateway's Power and Propulsion Element (PPE), built by @Maxar, will demonstrate advanced, high-power solar electric propulsion around the Moon, making it four times more powerful than current electric propulsion spacecraft. pic.twitter.com/X4wItm2onQ

— NASA's Artemis Program (@NASAArtemis) February 24, 2021
They will launch in one piece after being integrated together on Earth rather than separately and dock in space – as originally envisioned by NASA and form the foundational elements of the human tended Gateway  lunar outpost.
"As the first long-term orbiting outpost around the Moon, the Gateway is critical to supporting sustainable astronauts missions under the agency's Artemis program," NASA said in a statement.
After integration on Earth, the PPE and HALO are targeted to launch together no earlier than May 2024 on a Falcon Heavy rocket from Launch Complex 39A at NASA's Kennedy Space Center in Florida.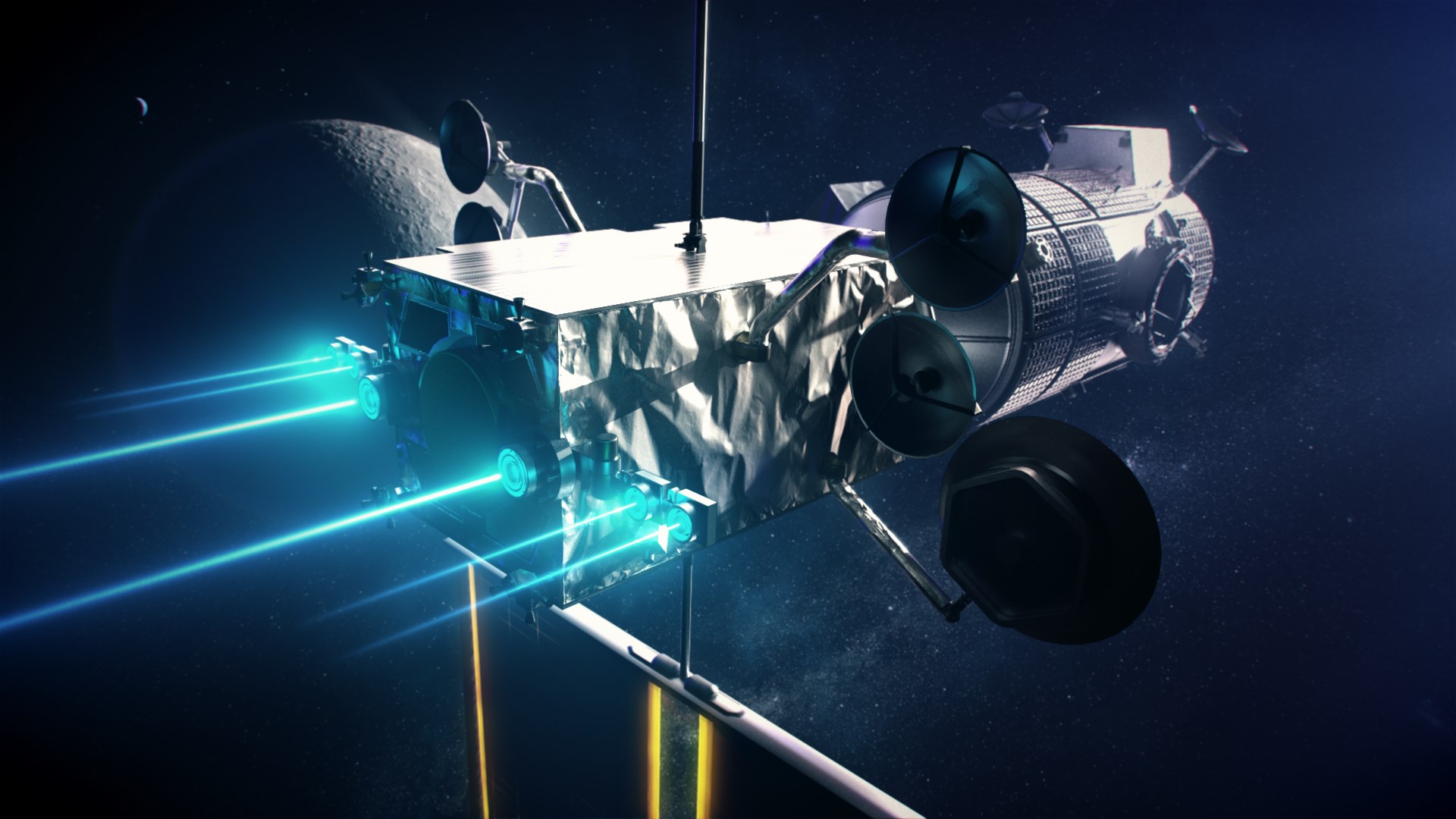 The total cost to NASA is approximately $331.8 million, including the launch service and other mission-related costs.
The PPE is a 60-kilowatt class solar electric propulsion spacecraft that also will provide power, high-speed communications, attitude control, and the capability to move the Gateway to different lunar orbits, providing more access to the Moon's surface than ever before.
NASA previously awarded SpaceX a contract for cargo resupply missions to Gateway in May 2020 using an upgraded version of the Cargo Dragon – named Dragon XL – currently flying  delivery missions to the ISS.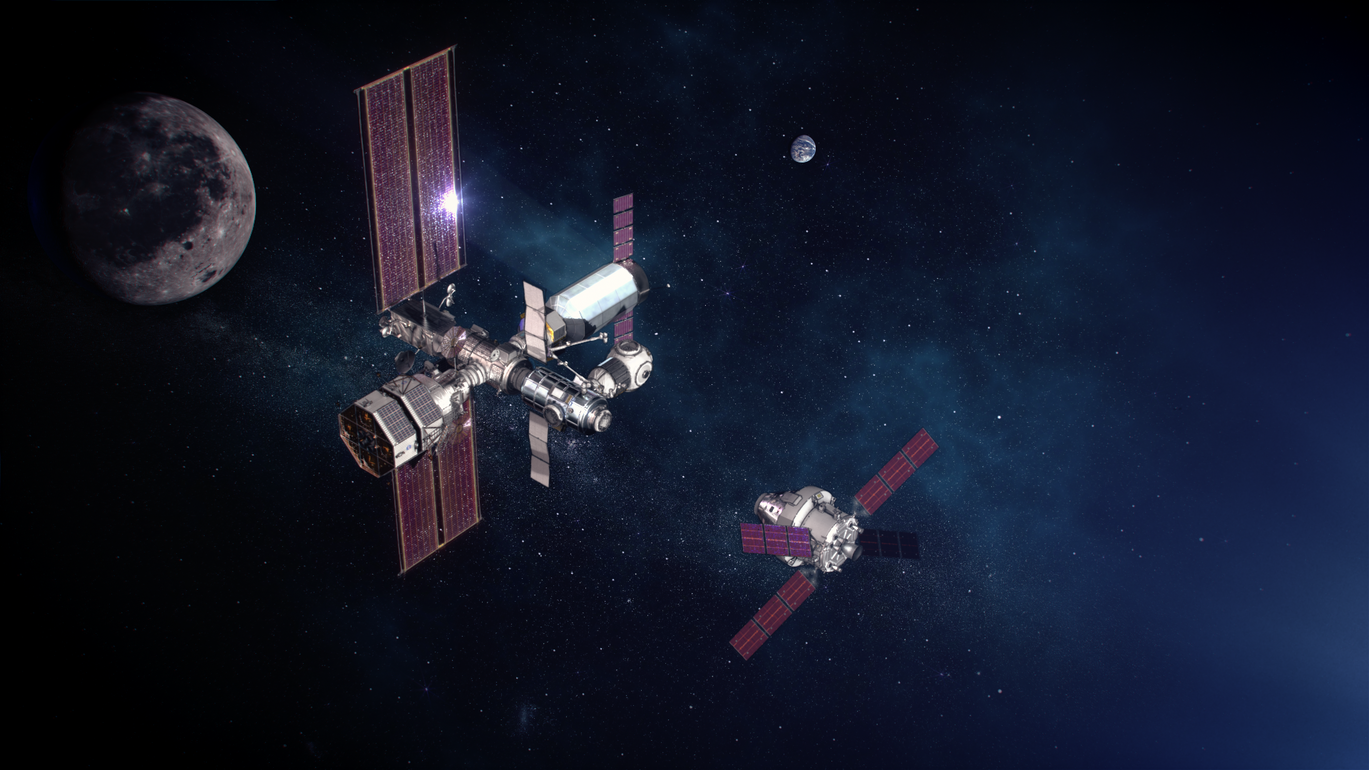 HALO is "the pressurized living quarters where astronauts who visit the Gateway, often on their way to the Moon, will work. It will provide command and control and serve as the docking hub for the outpost," says NASA.
HALO will support science investigations, distribute power, provide communications for visiting vehicles and lunar surface expeditions, and supplement the life support systems aboard Orion, NASA's spacecraft that will deliver Artemis astronauts to the Gateway.
About one-sixth the size of the International Space Station, "the Gateway will function as a way station, located tens of thousands of miles at its farthest distance from the lunar surface, in a near-rectilinear halo orbit. It will serve as a rendezvous point for Artemis astronauts traveling to lunar orbit aboard Orion prior to transit to low-lunar orbit and the surface of the Moon. From this vantage, NASA and its international and commercial partners will conduct unprecedented deep space science and technology investigations."
The HALO is being designed and built by Northrop Grumman Space Systems of Dulles, Virginia, and the PPE is being built by Maxar Technologies of Westminster, Colorado. NASA's Johnson Space Center in Houston manages the Gateway program for the agency. NASA's Glenn Research Center in Cleveland is responsible for management of the PPE, according to NASA.
With newly announced support from the new Biden Administration and the White House NASA continues full speed ahead with Project Artemis and development and construction of the SLS Moon rocket and Orion deep space Crew Module.
The second Green Run test of the SLS core stage for Artemis 1 is now scheduled for NET March after a delay from Feb. 25 caused by issues with the LOX valves.
Assembly of the Orion Crew Module for Artemis 1 is complete and it rolled out for propellent loading in Jan 2021 at the Kennedy Space Center (KSC).
The SLS SRB boosters for Artemis 1 are currently being stacked inside the VAB at KSC.
Just some of the latest steps towards landing humanity on the Moon. ☑️

Recent work supporting the #Artemis I mission includes core stage testing, solid rocket booster stacking, jettison fairing installation and launch countdown testing. pic.twitter.com/73QLQyxO83

— NASA's Artemis Program (@NASAArtemis) February 24, 2021
Watch Ken's continuing reports about Artemis and NASA missions, SpaceX, Starlink, Commercial Crew and Starliner and Crew Dragon and onsite for live reporting of upcoming and recent SpaceX and ULA launches including Crew 1 & 2, Demo-2, ISS, X-37B, Solar Orbiter, Mars 2020 Perseverance and Curiosity rovers, NRO spysats and national security missions and more at the Kennedy Space Center and Cape Canaveral Space Force Station.
Stay tuned here for Ken's continuing Earth and Planetary science and human spaceflight news: www.kenkremer.com –www.spaceupclose.com – twitter @ken_kremer – email: ken at kenkremer.com
Dr. Kremer is a research scientist and journalist based in the KSC area, active in outreach and interviewed regularly on TV and radio about space topics.
………….
Ken's photos are for sale and he is available for lectures and outreach events
Please consider supporting Ken's work by donating at Patreon:
https://www.patreon.com/kenkremer
x