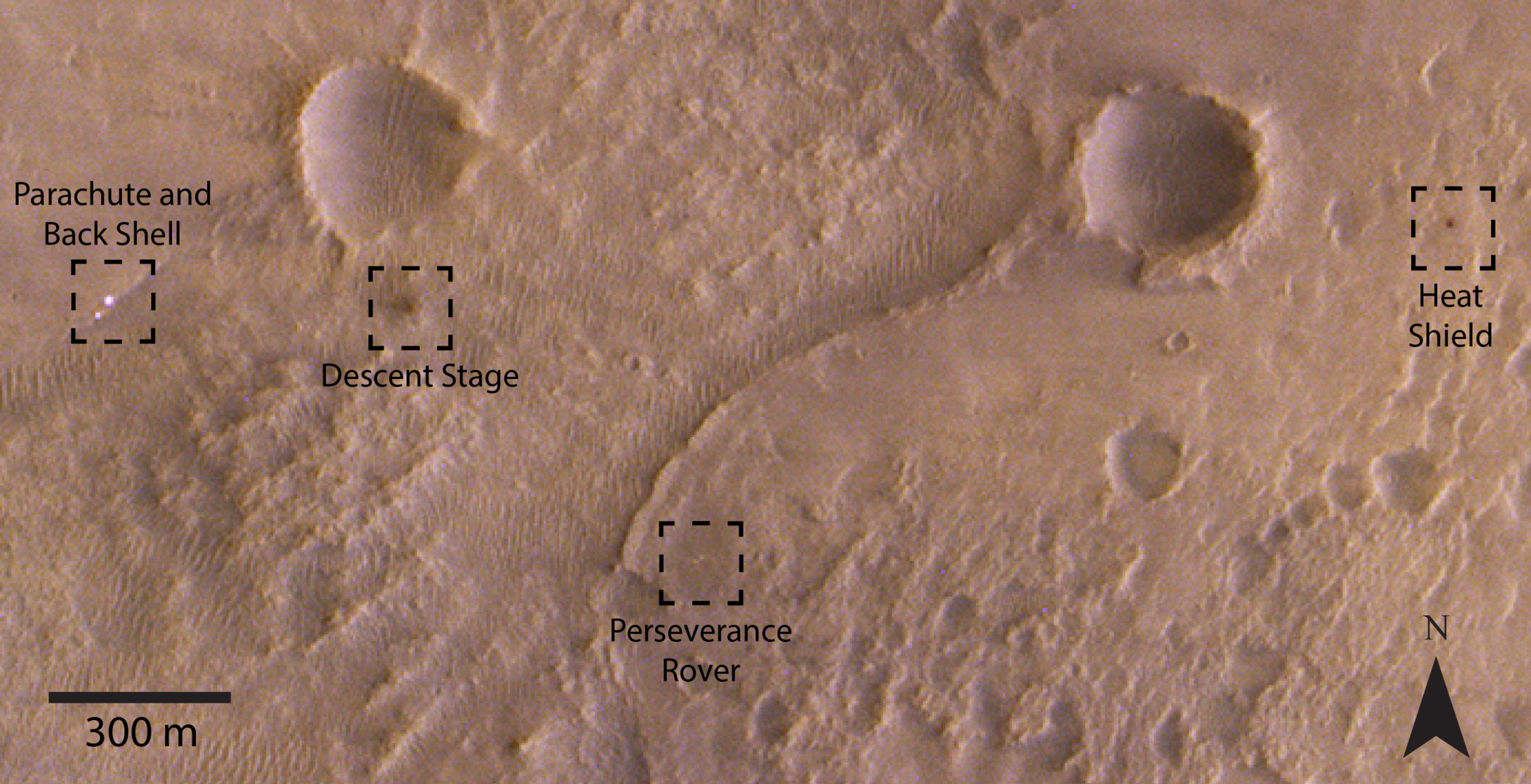 For SpaceUpClose.com & RocketSTEM
CAPE CANAVERAL, FL –  Just a few Sols, or Martian Days, after the surviving the harrowing '7 Minutes of Terror' on Feb. 18, NASA's Mars 2020 Perseverance Rover has been spotted and imaged at her landing site on the surface of the Red Planet by another Martian orbiter namely the ExoMars orbiter along with the parachute, back shell, heat shield and descent stage – complementing another similar surface image snapped by NASA's Mars Reconnaissance Orbiter (MRO).
"The ESA-Roscosmos Trace Gas Orbiter has spotted NASA's Mars 2020 Perseverance rover … in the Jezero Crater region of Mars," ESA said in a press release on Feb 25.
The EXOMars image was captured with the Trace Gas Orbiter's CaSSIS camera on 23 February 2021.
A labelled version of the ExoMars image with Mars Perseverance components seen as dark or bright pixels is shown as the lead image above. It shows the many parts of the Mars 2020 mission landing system that got the rover safely on the ground.
"In this image, the colours have been adjusted to resemble the typical red colour of Mars, as would be seen by a human observer," said ESA.
In addition to the thrilling images ExoMars Trace Gas Orbiter also supports NASA's Mars 2020 Perseverance Rover by receiving uplink of data from the Red Planets surface for hi speed transmission to Earth.
Another unlabeled version is shown below.
"The ExoMars Trace Gas Orbiter provided significant data relay services around the landing of Perseverance, including supporting the return of the videos and imagery taken by the mission's onboard cameras during the descent of the rover to the surface of Mars," ESA said in a statement.
"The orbiter will continue to provide data relay support between Earth and Mars for NASA's surface missions, and for the next ExoMars mission, which will see the European Rosalind Franklin rover and Russian Kazachok surface platform arrive at the Red Planet in 2023."
Meanwhile the ExoMars Trace Gas Orbiter "continues its own science mission, focusing on analysing the planet's atmosphere with a special emphasis on searching for gases that may be linked to active geological or biological processes."
The MRO version captured by the High Resolution Imaging Experiment (HiRISE) camera aboard MRO is seen below.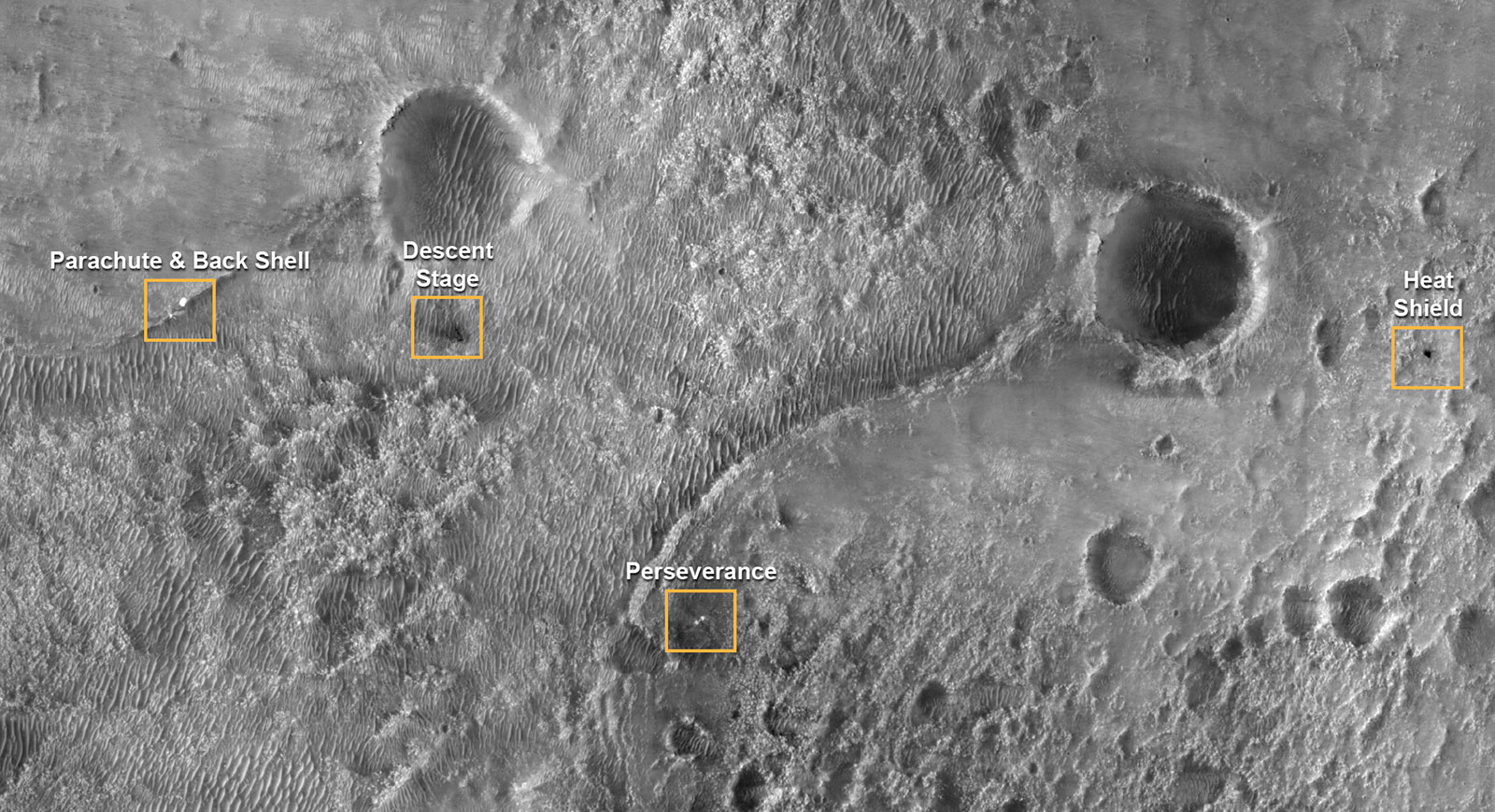 The annotated version points out the locations of the parachute and back shell, the descent stage, the Perseverance rover, and the heat shield. Each inset shows an area about 650 feet (200 meters) across.
The rover itself sits at the center of a blast pattern created by the hovering descent stage that lowered it there using the sky crane maneuver on Feb 18, 2021 at 3:55 p.m. ET.
Scan this image for the various pieces of my landing system, which did their jobs perfectly before coming to rest on Mars. Teams of experts poured years of work into each one. My safe landing is what tells you they nailed it.https://t.co/g1QIh0xIqZ
?: @HiRISE#CountdownToMars pic.twitter.com/2QoFWhKXQr

— NASA's Perseverance Mars Rover (@NASAPersevere) February 22, 2021
ESA is also contributing invaluable help with its other orbiter – the Mars Express orbiter circling the Red Planet since 2005.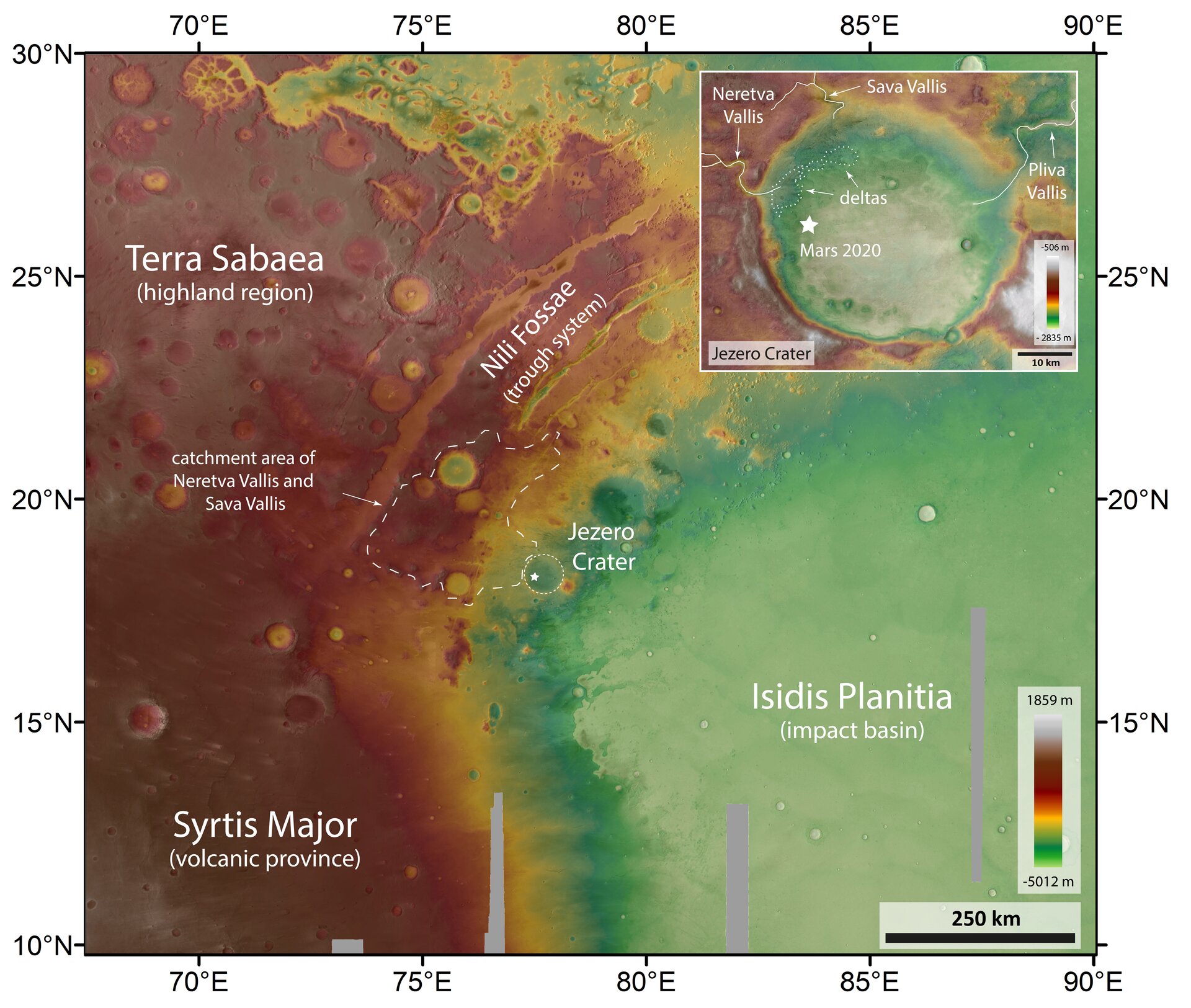 Mars Express has imaged Jezero Crater in high resolution and offers excellent chemical composition data as well.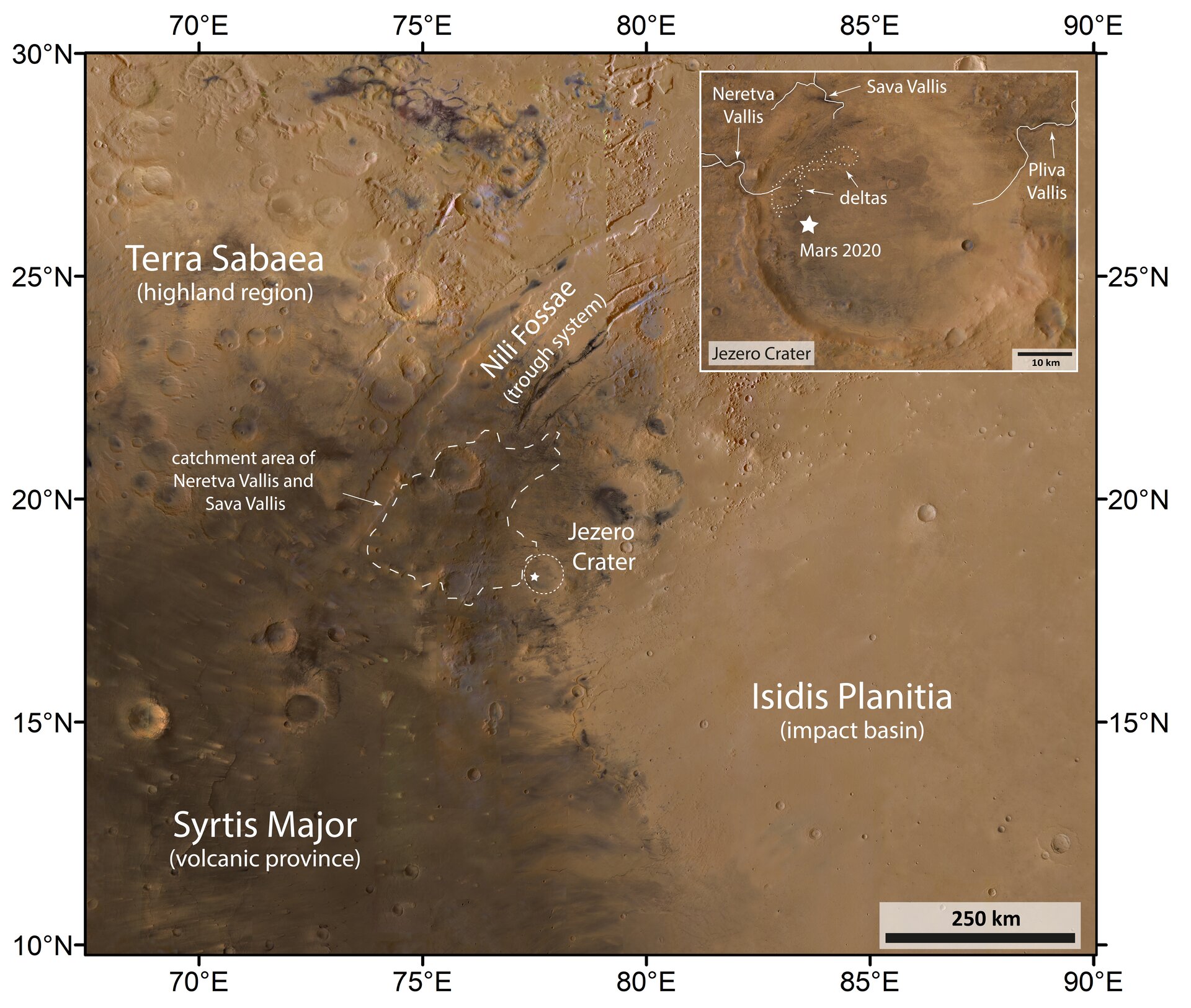 A key objective for Perseverance's mission on Mars is astrobiology, including the search for signs of ancient microbial life.
The key objective of Perseverance is to carry out an astrobiology mission in search for signs of ancient microbial life in the rocks and soil that may contain preserved biosignatures of microbial organisms in the dried out river delta at Jezero Crater where liquid water once flowed more than 3 billion years ago.

The rover will characterize the planet's geology and past climate, pave the way for human exploration of the Red Planet, and be the first mission to collect and cache Martian rock and regolith (broken rock and dust).
The prime rock targets are stromatolites which consist of sedimentary layers on fossilized mats of microorganisms deposited billions of years ago.
Perseverance counts as first leg of a truly ground breaking astrobiology expedition aimed at collecting and caching dozens of pristine soil and rock samples that will be returned to Earth a decade from now in search of tell-tale signs of past life and eventually pave the way for human exploration of the Red Planet in the late 2030s.
Perseverance is that first leg in a multi-mission astrobiology joint venture with ESA to return the first pristine Martian surface samples back to Earth as soon as 2031.
Three future missions currently in the planning stages by NASA in collaboration with ESA will work together to bring the samples back to Earth, where they will undergo in-depth analysis by scientists around the world using equipment far too large and complex to send to the Red Planet.
Watch our live and complete 'Stay Curious' with live Perseverance landing commentary today Feb 18, 2021 as well as earlier programs on Mars Mania on Feb 12.
https://www.facebook.com/175507880819/videos/752176242375043
https://www.facebook.com/175507880819/videos/3246699658764085
Watch Ken's continuing reports about Mars 2020 Perseverance and Curiosity rovers, Artemis and NASA missions, SpaceX, Starlink, Commercial Crew and Starliner and Crew Dragon and onsite for live reporting of upcoming and recent SpaceX and ULA launches including Crew 1 & 2, Demo-2, ISS, X-37B, Solar Orbiter, NRO spysats and national security missions and more at the Kennedy Space Center and Cape Canaveral Space Force Station.
Stay tuned here for Ken's continuing Earth and Planetary science and human spaceflight news: www.kenkremer.com –www.spaceupclose.com – twitter @ken_kremer – email: ken at kenkremer.com
Dr. Kremer is a research scientist and journalist based in the KSC area, active in outreach and interviewed regularly on TV and radio about space topics.
………….
Ken's photos are for sale and he is available for lectures and outreach events
Ken has created hundreds of widely published Mars rover mosaics and lectures also about NASA's Mars rovers
Please consider supporting Ken's work by donating at Patreon:
https://www.patreon.com/kenkremer
x