For SpaceUpClose.com & RocketSTEM
CAPE CANAVERAL, FL –  Three Sols, or Martian Days, after surviving the '7 minutes of Terror' and accomplishing a safe touchdown NASA's Mars 2020 Perseverance rover snapped her first high-definition 360-degree panorama around her Mars landing site and new home at Jezero Crater on Feb. 21, using the rover's Mastcam-Z instrument.
NASA released the Mastcam-Z panorama on Feb. 24 and sponsored a question and answer session with the instrument on NASA TV today, Feb 25.
Mastcam-Z is one of seven state-of-the-art science instruments aboard the six-wheeled 1-ton SUV sized rover which is the most sophisticated and advanced ever sent to explore the surface of Mars and will also characterize its geology and climate.
"I'm taking it all in. This is the first 360º view of my home using Mastcam-Z. This dual, high-definition camera system sits atop my mast and has zoom capability. Inspect tiny details of Jezero Crater with the special interactive viewer at http://go.nasa.gov/2P0fNC4," tweeted Perseverance.
I'm taking it all in. This is the first 360º view of my home using Mastcam-Z. This dual, high-definition camera system sits atop my mast and has zoom capability. Inspect tiny details of Jezero Crater with the special interactive viewer at https://t.co/roDhWK56gj #CountdownToMars pic.twitter.com/TAy28PpG73

— NASA's Perseverance Mars Rover (@NASAPersevere) February 24, 2021
The rover's handlers commanded Perseverance to rotate her mast, or "head," 360 degrees, on Sol 3 allowing the Mastcam-Z instrument to capture 142 individual images taken on the third Martian day of the mission (Feb. 21, 2021).
Overall this is the second stunning panorama taken by Perseverance following the first 360 degree pano taken by the rover's mast mounted Navcams on Feb 20.  All these cameras are located on the mast, which was raised vertical on Sol 2.

Mastcam-Z is a zoomable pair of cameras aboard NASA's Perseverance Mars rover located on the left and right side of the remote sensing mast 9.5 inches (24.1 centimeters) apart and standing at eye level 6 feet, 6 inches (2 meters) above the Martian surface.
The newly released panorama reveals the crater rim and cliff face of an ancient river delta in the distance, explained Prof. Jim Bell, of Arizona State University's School of Earth and Space Exploration, the instrument's principal investigator at today's question and answer session on NASA TV.  ASU leads operations of the Mastcam-Z instrument, working in collaboration with Malin Space Science Systems (MSSS) in San Diego.
"Emotionally we are just blown out of the water by all the imagery and data so far from Perseverance," Jim Bell said at the Q & A session, who is a veteran of five Mars rover missions including Spirit, Opportunity and Curiosity.
The camera system can reveal details as small as 0.1 to 0.2 inches (3 to 5 millimeters) across near the rover and 6.5 to 10 feet (2 to 3 meters) across in the distant slopes along the horizon.

Mastcam-Z is a 2 megapixel pair of cameras that can adjust from wide to zoom views, 360 degrees around as well as up and down, explained Bell.
The key objective of Perseverance is to carry out an astrobiology mission in search for signs of ancient microbial life in the rocks and soil that may contain preserved biosignatures of microbial organisms in the dried out river delta at Jezero Crater where liquid water once flowed more than 3 billion years ago.
The rover will characterize the planet's geology and past climate, pave the way for human exploration of the Red Planet, and be the first mission to collect and cache Martian rock and regolith (broken rock and dust).
The prime rock targets are stromatolites which consist of sedimentary layers on fossilized mats of microorganisms deposited billions of years ago.
Perseverance counts as first leg of a truly ground breaking astrobiology expedition aimed at collecting and caching dozens of pristine soil and rock samples that will be returned to Earth a decade from now in search of tell-tale signs of past life and eventually pave the way for human exploration of the Red Planet in the late 2030s.

And the imagery will get better and better as the sols go forward.
"This first panorama is stitched together from 142 raw images," said Elsa Jensen of Malin Space Science Systems, who leads the uplink operations team that sends commands to Mastcam-Z.
"We will take hundreds of thousands of images in the future."
This 1st and current Mastcam-Z panorama was shot at the lowest resolution with the cameras set to the widest field of view.
"Three times greater resolution is coming for Mastcam-Z," Bell explained.
"So far this is the just left eye."
Upcoming will be the right eye image panorama. And that will enable 3D stereoscopic views!"
"Mastcam-Z will give 3-D stereo imaging at wide angle and all the way to zoom."
The dual-camera system is equipped with a zoom function, allowing the cameras to zoom in, focus, and take high-definition video, as well as panoramic color and 3D images of the Martian surface. With this capability, the robotic astrobiologist can provide a detailed examination of both close and distant objects.
"We're nestled right in a sweet spot, where you can see different features similar in many ways to features found by Spirit, Opportunity, and Curiosity at their landing sites," said Bell.
The dried out river delta and ridge are about 1 kilometer and the rim of Jezero Crater is about 3 km away, said Bell.
This thrilling new pano follows Monday's release by NASA of breathtaking  1st of its kind high definition video and audio captured from the dramatic descent and touchdown of the Perseverance Mars Rover that gives one  a 'You Are There' front row seat to the exciting landing events unfolding in real time on the Red Planet on Feb. 18. Read my story.
The team also previously released a new high resolution image of the NASA's Perseverance Rover landing taken from Mars orbit the day after landing on Feb 19, 2021 by the High Resolution Imaging Experiment (HiRISE) camera aboard NASA's Mars Reconnaissance Orbiter (MRO) that shows the many parts of the Mars 2020 mission landing system that got the rover safely on the ground.
The annotated version below points out the locations of the parachute and back shell, the descent stage, the Perseverance rover, and the heat shield. Each inset shows an area about 650 feet (200 meters) across.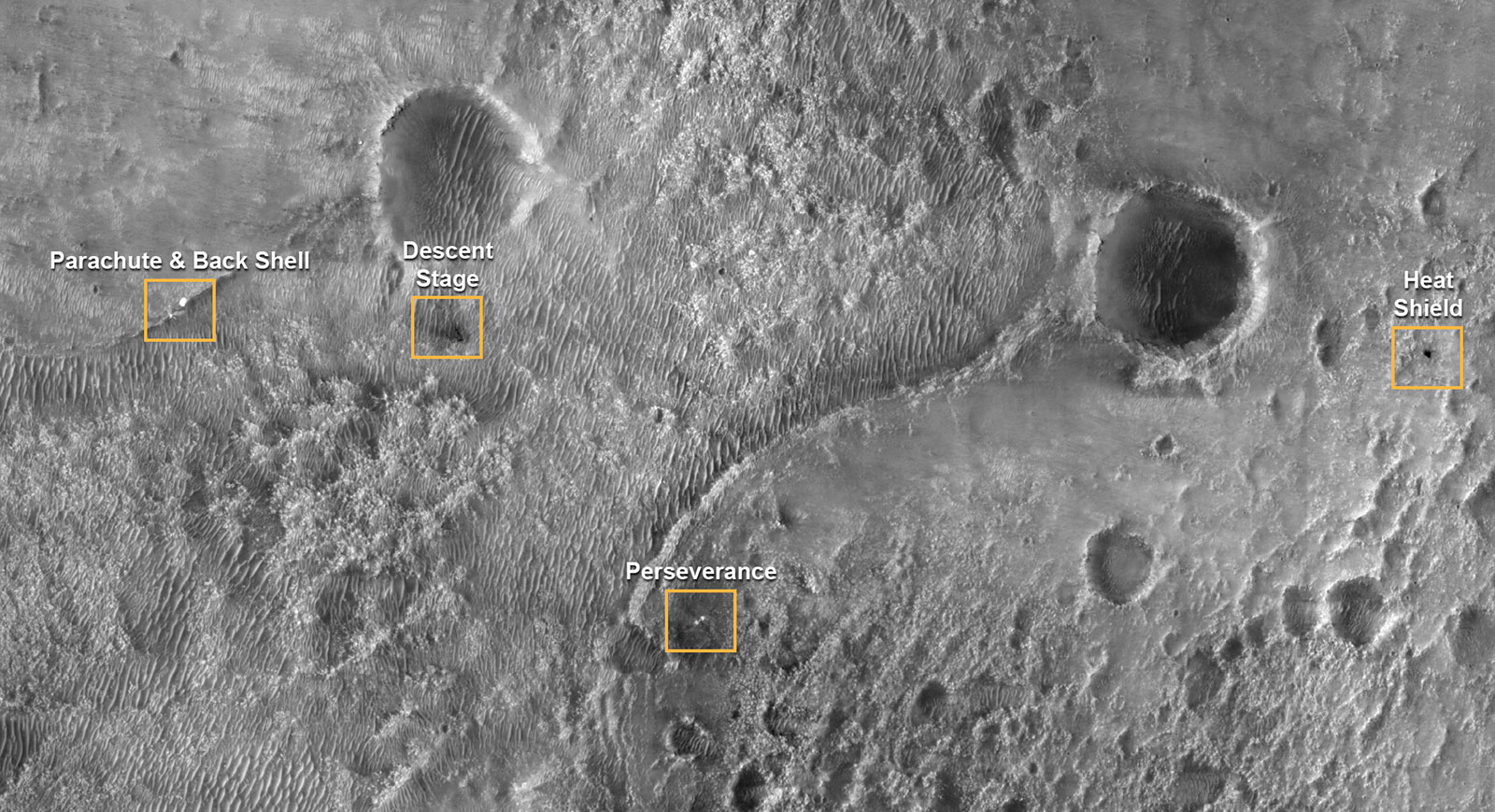 The rover itself sits at the center of a blast pattern created by the hovering descent stage that lowered it there using the sky crane maneuver on Feb 18, 2021 at 3:55 p.m. ET.
Scan this image for the various pieces of my landing system, which did their jobs perfectly before coming to rest on Mars. Teams of experts poured years of work into each one. My safe landing is what tells you they nailed it.https://t.co/g1QIh0xIqZ
?: @HiRISE#CountdownToMars pic.twitter.com/2QoFWhKXQr

— NASA's Perseverance Mars Rover (@NASAPersevere) February 22, 2021
Watch our live and complete 'Stay Curious' with live Perseverance landing commentary today Feb 18, 2021 as well as earlier programs on Mars Mania on Feb 12.
https://www.facebook.com/175507880819/videos/752176242375043
https://www.facebook.com/175507880819/videos/3246699658764085
Watch Ken's continuing reports about Mars 2020 Perseverance and Curiosity rovers, Artemis and NASA missions, SpaceX, Starlink, Commercial Crew and Starliner and Crew Dragon and onsite for live reporting of upcoming and recent SpaceX and ULA launches including Crew 1 & 2, Demo-2, ISS, X-37B, Solar Orbiter, NRO spysats and national security missions and more at the Kennedy Space Center and Cape Canaveral Space Force Station.
Stay tuned here for Ken's continuing Earth and Planetary science and human spaceflight news: www.kenkremer.com –www.spaceupclose.com – twitter @ken_kremer – email: ken at kenkremer.com
Dr. Kremer is a research scientist and journalist based in the KSC area, active in outreach and interviewed regularly on TV and radio about space topics.
………….
Ken's photos are for sale and he is available for lectures and outreach events
Ken has created hundreds of widely published Mars rover mosaics and lectures also about NASA's Mars rovers
Please consider supporting Ken's work by donating at Patreon:
https://www.patreon.com/kenkremer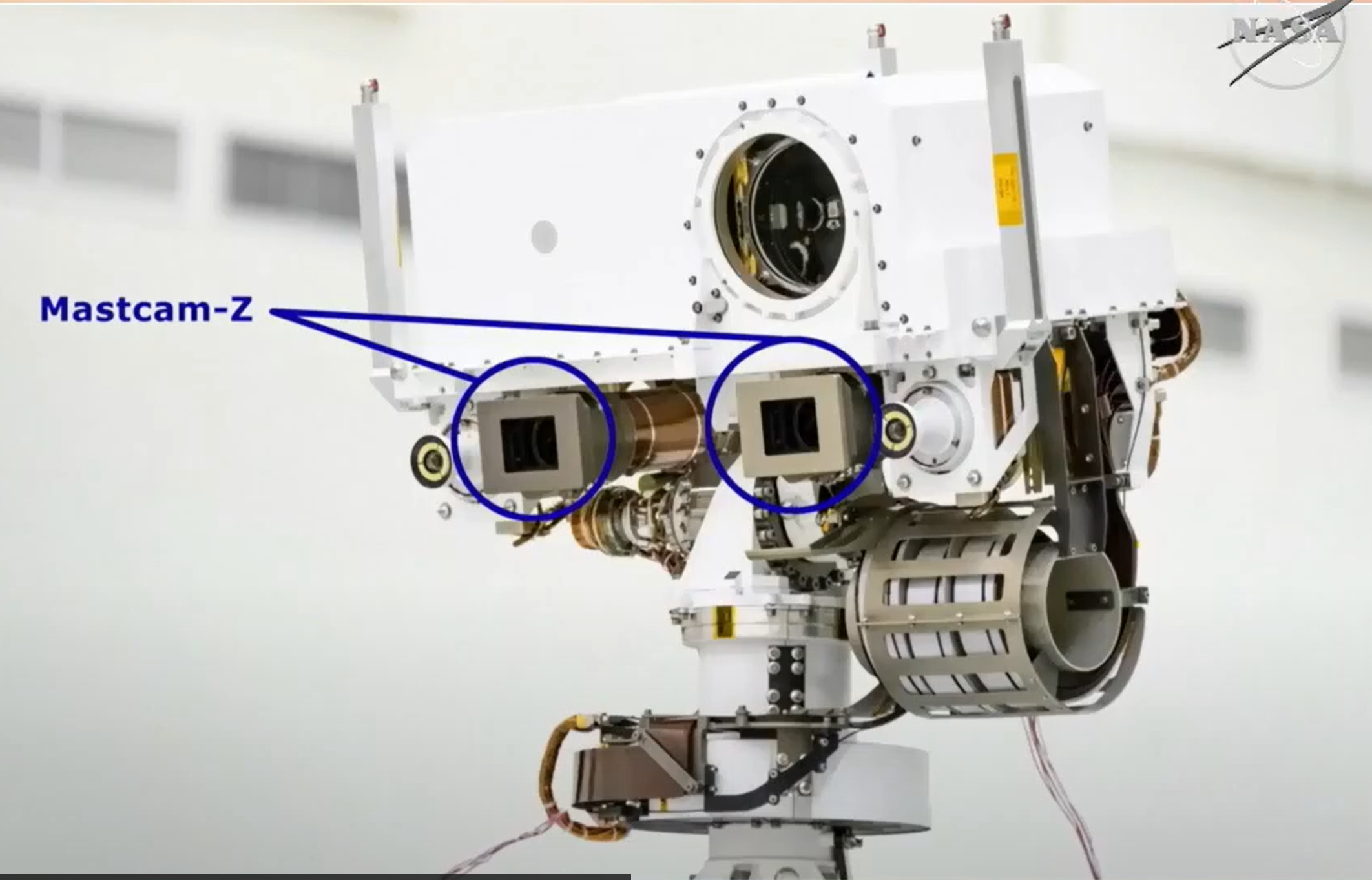 x