TITUSVILLE, FL – The much delayed liftoff of a veteran SpaceX Falcon 9 booster finally took place overnight in the wee hours this morning Thursday March 4 and quickly disappeared behind a thick layer of low clouds and from Florida's Spaceport and successfully delivered the next batch of 60 Starlink internet satellites to low Earth orbit.
The middle-of-the-night blastoff of the flight-proven Falcon 9 occurred during an instantaneous launch window at 3:24:54 a.m. EST (0824:54 GMT)  from Launch Complex-39A on NASA's Kennedy Space Center, Florida.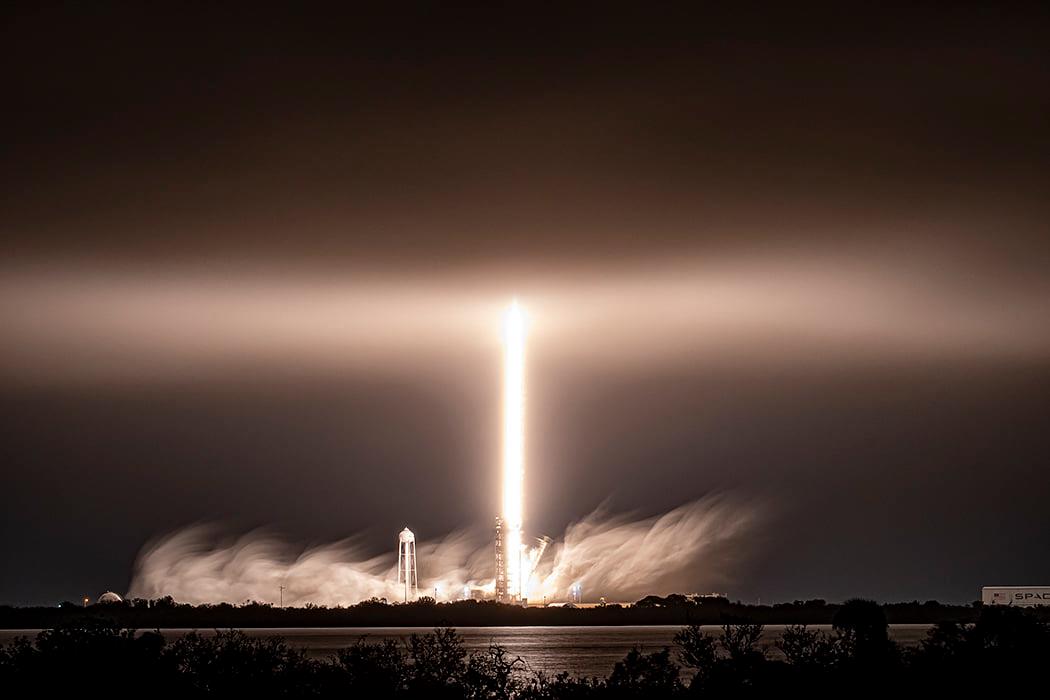 Because of the low clouds at less than 1000 feet and ground haze we only saw the rocket for less than about 10 seconds before at was rapidly hidden from view behind the white clouds that completely obscured and further views of the rocket flames.
Not a star was to be seen by the total white out. Nonetheless we did hear the tremendous roar of the engines about a minute after launch.
Eight and a half minutes after liftoff the Falcon 9 first stage designated as B1049.8 also accomplished its eighth trip to space and back by nailing the soft landing on the sea going droneship 'Of Course I Still Love You'  (OCISLY) in the Atlantic Ocean – thereby setting up a record setting ninth launch in the not too distant future.
Overall this mission marked the 75th landing by land or by sea.
OCISLY was prepositioned in the Atlantic Ocean of the coast of the Carolina's some 400 miles (640 km) northeast of the launch site.
Falcon 9's first stage has landed on the Of Course I Still Love You droneship

— SpaceX (@SpaceX) March 4, 2021
The SpaceX fleet of fairing recovery ships GO Ms. Tree and GO Ms. Chief were also dispatched to the recovery zone.
The Falcon 9 first stage rocket booster supporting this mission previously flew on seven missions including the Iridium-8 mission, Telstar 18 Vantage and five Starlimk missions.
Recycling the 1st stage boosters many times has enabled SpaceX to maintain a rapid launch cadence of nearly 3 launches per month last year and even more planned this year.
The payload fairings are also recycled. One  half previously flew on three Starlink missions and the other half flow on two Starlink missions.
This launch of what is now the 20th Starlink mission designated as V1 L17  was delayed numerous times mostly for technical reasons and also for poor launch and booster recovery weather from the original launch period of late January.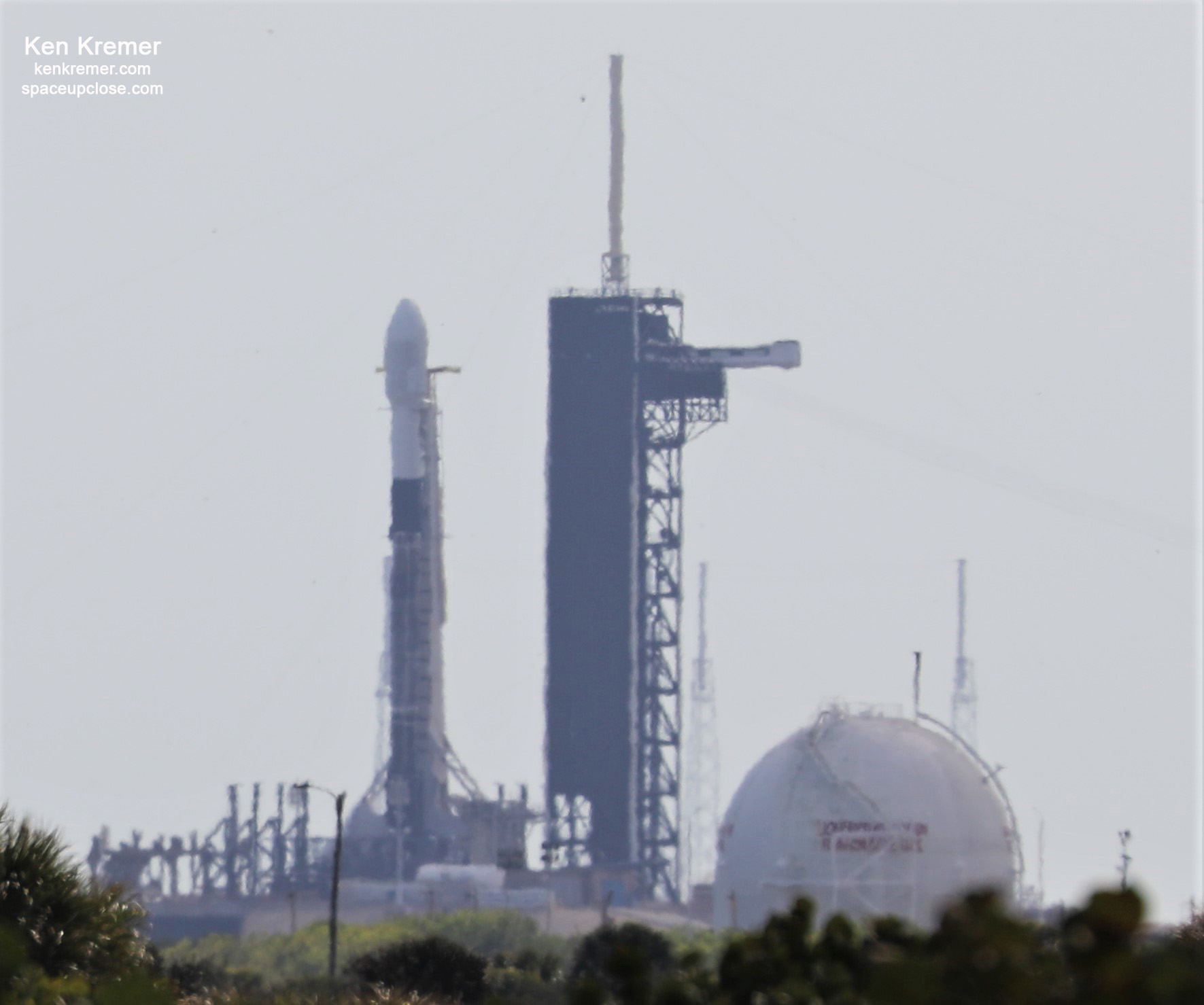 The most recent delay took place Sunday evening Feb 28 with an auto-abort at T Minus 1 min 24 seconds as a nearly full Moon was rising over the Florida Space Coast.
Auto-abort at T-1:24 ahead of tonight's Falcon 9 launch of Starlink; next launch opportunity is tomorrow, March 1 at 8:15 p.m. EST

— SpaceX (@SpaceX) March 1, 2021
The 229-foot-tall (70-meter) flight-proven Falcon 9 rocket was rolled out to pad 39A and then raised and lowered several times for troubleshooting over the past month
As a result of all the delays two other Falcon 9 Starlink missions launched from pad 40 in February 2021 before this one from pad 39A – which was originally to be the 18th Starlink mission.
What would have been a magnificent nighttime display of rocket fire and fury commenced as the 9 Merlin 1D first stage engines roared to life and ignited with 1.7 million pounds of liftoff thrust fueled by liquid oxygen (LOX) and RP-1 propellants.
The Falcon 9 flew off on a northeasterly trajectory.
Liftoff video tweeted by SpaceX:
Liftoff! pic.twitter.com/VVic5UKRnU

— SpaceX (@SpaceX) March 4, 2021
The 60 Starlink satellites deployed from the upper stage as planned just over an hour after liftoff at 4:29 a.m. EST (0929 GMT) while flying 172 miles (278 kilometers) above Earth just south of New Zealand.
SpaceX confirmed deployment of the Starlinks with this video tweet from their live webcast:
Deployment of 60 Starlink satellites confirmed pic.twitter.com/ta7iXyr7BK

— SpaceX (@SpaceX) March 4, 2021
Following this latest 20th batch this brings the total number of Starlink satellites launched to 1,205 internet satellites.  That includes earlier prototypes mostly from the first launch as well as the 10 Starlink sats launched to polar orbit on the last Falcon 9 launch on Transporter-1 mission on Jan. 24. Check out our story and photos.
The actual number of Starlink satellites is estimated to be at least 60 less due to some earlier versions being intentionally deorbited due to malfunctions or other reasons.
Astronomer Jonathan McDowell keeps a running tally of Starlink at this page:
https://planet4589.org/space/stats/megacon/starbad.html
The 500 pound flat panel Starlink satellites are manufactured by SpaceX in Redmond, Washington.
The new mission thus fortifies the Starlink constellation of relay satellites that one day upcoming will offer a competitive alternative to existing broadband services across North America – including the US and Canada
"If you're interested in service, we recently started taking orders on a first-come, first-served basis. To reserve your spot in line, head over to starlink.com for more information," says SpaceX
Starlink offers high sped low latency internet connectivity initially in rural areas at first with little or no service – but that is now expanding across the US and eventually globally with well in excess of 12,000 satellites, says CEO Elon Musk
To see if Starlink is available in your area, visit starlink.com.
Last month, Starlinks were deployed to the Wise County Public School District in rural Virginia, where ~40% of students and teachers did not have internet access at home, helping to broaden connectivity in the area

— SpaceX (@SpaceX) March 1, 2021
Starlink is now delivering initial beta service both domestically and internationally, and will continue expansion to near global coverage of the populated world in 2021 → https://t.co/5suNxFMwGH

— SpaceX (@SpaceX) February 16, 2021
Unbounded by traditional ground infrastructure, Starlink can deliver high-speed broadband internet to locations where access has been unreliable or completely unavailable

— SpaceX (@SpaceX) February 16, 2021
As a result of technical problems with the rocket SpaceX decided to conduct two static fire tests after successfully completing the first one on. Jan. 31.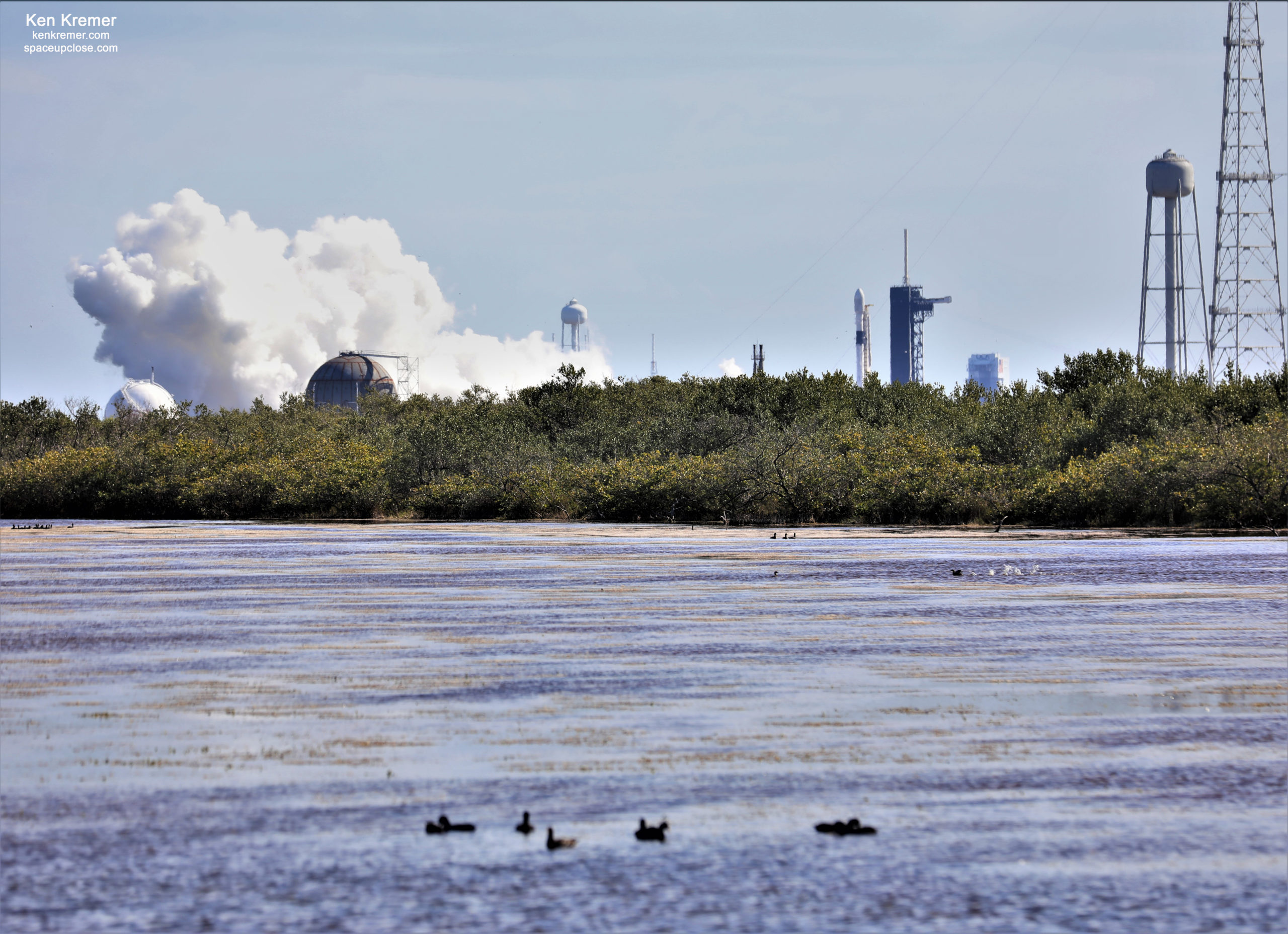 My static fire test photos were featured on WKMG CBS 6 Orlando TV News on multiple broadcasts.
The next SpaceX Starlink launch is NET Monday evening March 8 at about 10:20 p.m. EST from pad 40.
Todays launch was the 6th Falcon 9 launch of the year by SpaceX.
The prior Starlink launch took place from seaside Space Launch Complex 40 (SLC-40) at Cape Canaveral Space Force Station in Florida on February 16.
After the booster landing failed SpaceX temporarily put launches on hold to investigate the root cause.
Watch Ken's continuing reports about Starlink, Mars 2020 Perseverance and Curiosity rovers, Artemis and NASA missions, SpaceX, Commercial Crew Starliner and Crew Dragon and onsite for live reporting of upcoming and recent SpaceX and ULA launches including Crew 1 & 2, Demo-2, ISS, X-37B, Solar Orbiter, NRO spysats and national security missions and more at the Kennedy Space Center and Cape Canaveral Space Force Station.
Stay tuned here for Ken's continuing Earth and Planetary science and human spaceflight news: www.kenkremer.com –www.spaceupclose.com – twitter @ken_kremer – email: ken at kenkremer.com
Dr. Kremer is a research scientist and journalist based in the KSC area, active in outreach and interviewed regularly on TV and radio about space topics.
………….
Ken's photos are for sale and he is available for lectures and outreach events
Please consider supporting Ken's work by donating at Patreon:
https://www.patreon.com/kenkremer