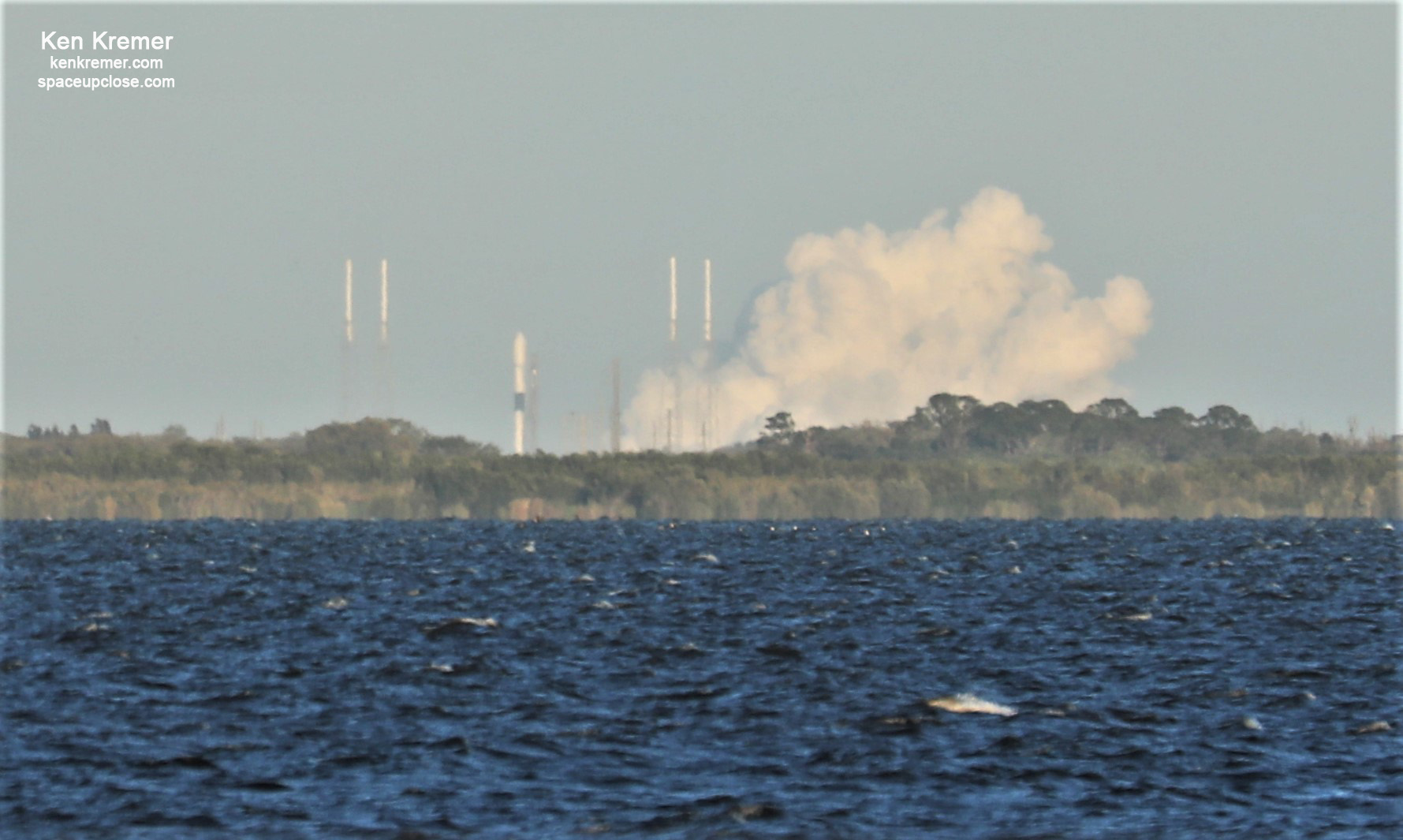 For SpaceUpClose.com & RocketSTEM
TITUSVILLE/CAPE CANAVERAL, FL –  SpaceX successfully conducted a static fire test on a recycled Falcon 9 booster at dusk Monday, March 8, and is now targeting launch of the next batch of 60 Starlink broadband internet satellites for Tuesday evening March 9 from pad 40 on Florida's Spaceport – and the weather looks great for both launch and booster recovery!
UPDATE: SpaceX just tweeted delay to NET Thur Mar 11 at 311 AM ET
So if you have a chance and love rocket launches you may want to make you way to the Space Coast Tuesday in time for a sure-to-be spectacular nighttime blastoff of the veteran booster.
SpaceX is targeting Tuesday, March 9 at 9:58 p.m. EST (0258 GMT Wed. March 10) for launch of its twenty first Starlink mission using Falcon 9 booster B1058 on its sixth flight from Space Launch Complex-40 on Cape Canaveral Air Force Station, in Florida carrying 60 Starlink satellites to low earth orbit during an instantaneous launch window.
The brief hold down static fire test of the veteran 5 x flown 23-story tall Falcon 9 rocket booster raised at pad 40 and fully integrated with the nose cone attached and encapsulating the Starlink payload for the 21th mission was carried out precisely at 6 p.m. Monday (2300 GMT) evening Mar. 8 under extremely clear and serene sunset skies and slightly chilly winds.
I watched the near sunset test Monday from about a dozen miles away across the Indian River lagoon and observed the exhaust plume and expanding vapor cloud emanating from the bottom of the booster wafting away to the south – clearly visible but disappearing into some hanging low clouds within  just about 30 seconds   with choppy waves and surf in the foreground.
From a distance the test appeared normal – however as always we awaited SpaceX confirmation of a good result.
About 90 minutes later SpaceX did confirm a good test and targeted launch for March 9.
Falcon 9 launch of 60 Starlink satellites is targeted for tomorrow, March 9 at 9:58 p.m. EST from Florida. Weather is looking good for launch and landing https://t.co/bJFjLCzWdK

— SpaceX (@SpaceX) March 9, 2021
This 21st Starlink mission is officially designated as V 1 L20.
Enjoy my eyewitness photos of the static fire test at Space UpClose
They were also featured at CBS 6 Orlando TV News.
SpaceX will webcast the Falcon 9 launch live starting about 15 minutes before the planned liftoff:
You can watch the launch webcast  here: spacex.com/launches
All 9 Merlin 1D first stage engines were ignited Monday at 6 p.m. to generate approx. 1.7 million pounds of thrust for about 3 seconds or so
During the hold down static fire test, the rocket's first and second stages are fueled with liquid oxygen and RP-1 propellants just like an actual launch, and a simulated countdown was carried out to the point of a brief engine ignition lasting several seconds or so.
The 229-foot-tall (70-meter) Falcon 9 rocket was raised erect prior to the test and poised for liftoff to deliver the dozens Starlinks to low Earth orbit (LEO).
For many years SpaceX routinely carried out static fire tests.
But they skipped the test for 4 recent launches and resumed for another last week. It is not known why they stopped or why they resumed.
The Falcon 9 first stage rocket booster B 1058 supporting this mission previously supported launch of NASA astronauts Bob Behnken and Doug Hurley to the International Space Station on Demo-2 on its inaugural mission in May 2020, as well as ANASIS-II, CRS-21, Transporter-1, and a Starlink mission.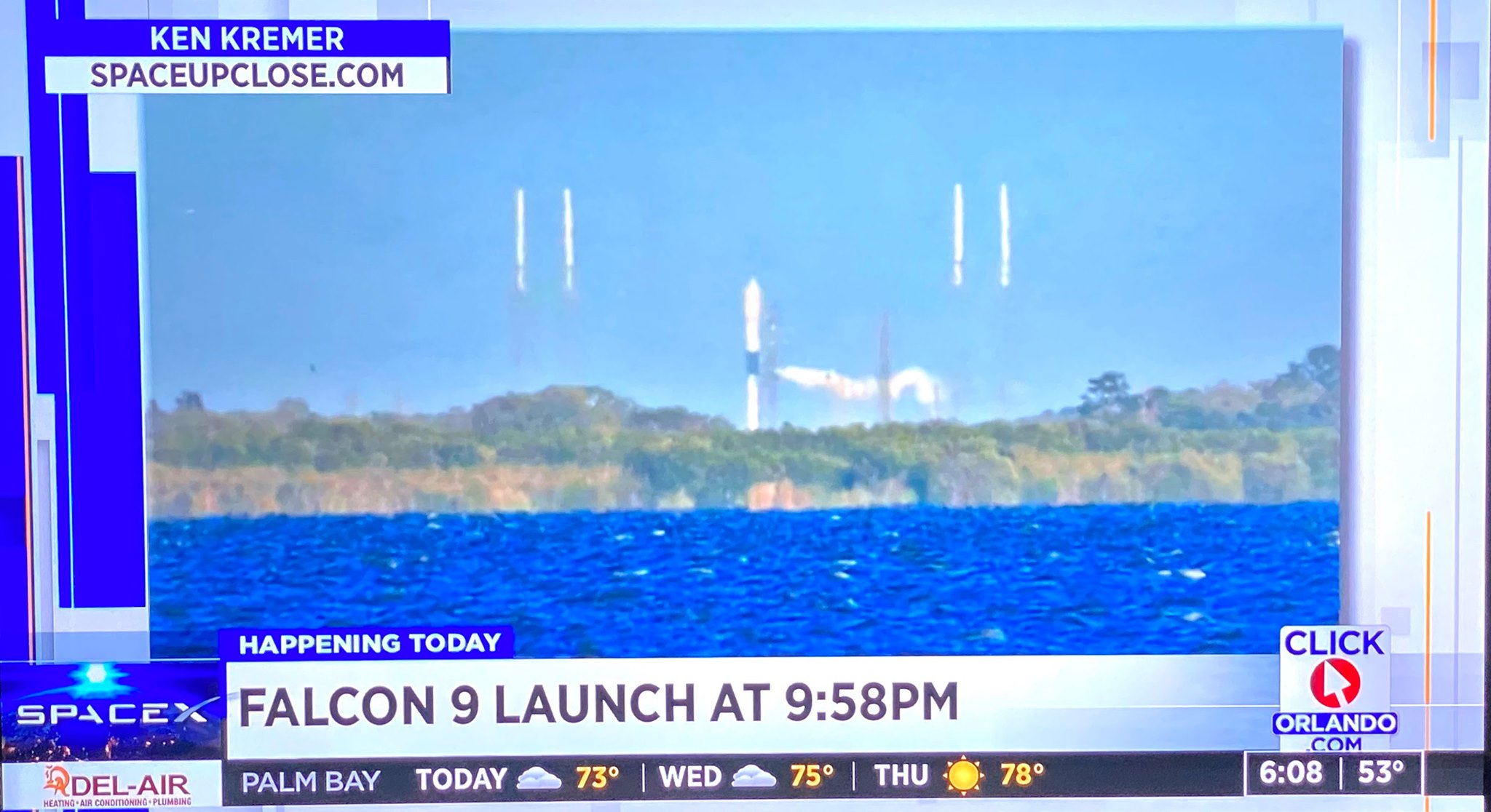 The two-stage Falcon 9 rocket will launch on a northeasterly trajectory from Cape Canaveral targeted to deliver the 60 Starlinks to an initial transfer orbit between 161 miles and 174 miles (260 and 281 kilometers) in altitude.
Recycling the 1st stage boosters many times has enabled SpaceX to maintain a rapid launch cadence of nearly 3 launches per month last year and even more planned this year.
Following stage separation, SpaceX will land Falcon 9's first stage on the "Just Read the Instructions" (JRTI) droneship. JRTI was prepositioned in the Atlantic Ocean of the coast of the Carolina's some 400 miles (640 km) northeast of the launch site.
The payload fairings are also recycled.
One half of Falcon 9's fairing previously flew on the ANASIS-II and SXM-7 missions, and the other half previously supported launch of Sentinel-6A.
This new Starlink launch comes just days after the prior launch from pad 39A last week on Thursday, March 4  that disappeared quickly in less than 10 seconds behind thick nighttime clouds – check out our story.
With the weather odds look looing to be exceptional it's a good time to think about watching in person
At this time the Air Force meteorologists team at the 45th Weather Squadron is forecasting a 90% chance of acceptable conditions at launch time on Tuesday, Mar. 9.
The Primary concerns are Liftoff Winds and the Cumulus Cloud Rule.
In case of a delay for any reason a back up launch window is available on Wednesday, March 10 with an 80% chance of acceptable conditions at launch time.
Starlink promises to offer High-speed, low latency broadband internet across the globe starting in rural areas and expanding.
Starlink is now delivering initial beta service both domestically and internationally, and will continue expansion to near global coverage of the populated world in 2021.
Following that latest 20th batch this brings the total number of Starlink satellites launched to 1,205 internet satellites.  That includes earlier prototypes mostly from the first launch as well as the 10 Starlink sats launched to polar orbit on the last Falcon 9 launch on Transporter-1 mission on Jan. 24. Check out our story and photos.
The actual number of Starlink satellites is estimated to be at least 60 less due to some earlier versions being intentionally deorbited due to malfunctions or other reasons.
Astronomer Jonathan McDowell keeps a running tally of Starlink at this page
https://planet4589.org/space/stats/megacon/starbad.html
The 500 pound flat panel Starlink satellites are manufactured by SpaceX in Redmond, Washington.
The new mission thus fortifies the Starlink constellation of relay satellites that one day upcoming will offer a competitive alternative to existing broadband services across North America – including the US and Canada.
And now its expanding!
"This week, the Starlink team is excited to launch service in Germany and New Zealand for the first time, and expand its existing service in the UK."
Learn more about our international coverage on our webcast, or visit starlink.com to see if Starlink is available in your area.
Initial Starlink service is priced at $99 a month.
The Starlink Starter kit sells for $499 upfront cost to order.
Watch Ken's continuing reports about Starlink, Mars 2020 Perseverance and Curiosity rovers, Artemis and NASA missions, SpaceX, Commercial Crew Starliner and Crew Dragon and onsite for live reporting of upcoming and recent SpaceX and ULA launches including Crew 1 & 2, Demo-2, ISS, X-37B, Solar Orbiter, NRO spysats and national security missions and more at the Kennedy Space Center and Cape Canaveral Space Force Station.
Stay tuned here for Ken's continuing Earth and Planetary science and human spaceflight news: www.kenkremer.com –www.spaceupclose.com – twitter @ken_kremer – email: ken at kenkremer.com
Dr. Kremer is a research scientist and journalist based in the KSC area, active in outreach and interviewed regularly on TV and radio about space topics.
………….
Ken's photos are for sale and he is available for lectures and outreach events
Please consider supporting Ken's work by donating at Patreon:
https://www.patreon.com/kenkremer
x