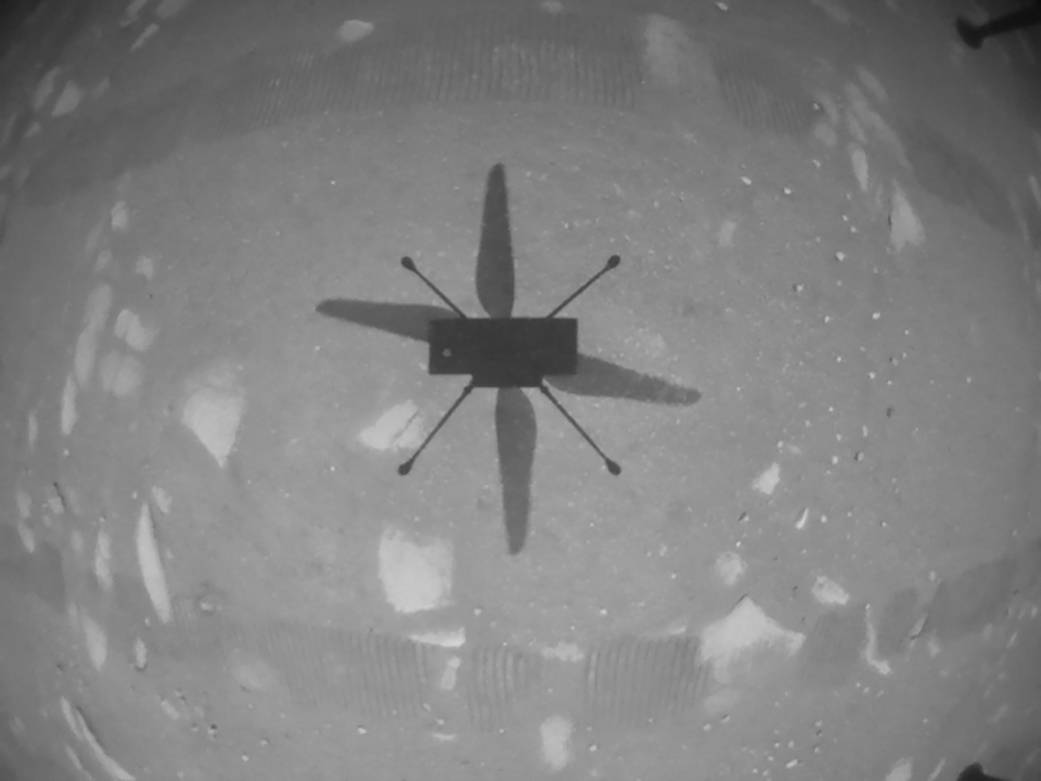 For SpaceUpClose.com & RocketSTEM
CAPE CANAVERAL, FL – In a paradigm shifting moment for space exploration human ingenuity triumphed under the most trying of flight conditions early this Monday morning when NASA's experimental Ingenuity mini helicopter succeeded brilliantly at accomplishing its history making attempt at making the first powered flight by an aircraft beyond Earth – on the Planet Mars!
Solar-powered Ingenuity, the first aircraft dispatched by humanity from Earth performed flawlessly today, April 19, (Sol 58) and became the first aircraft in history to make a powered, controlled flight on another planet.
"We can now say that human beings have flown a rotorcraft on another planet," said a thrilled MiMi Aung, Ingenuity project manager at JPL, during a live NASA JPL webcast at Mission Control moments after the team confirmed the successful flight. "We together flew at Mars and we together now have our Wright Brothers moment."
An absolutely breathtaking black and while still image taken by the helicopter looking down at the surface showing the in-flight drama of its shadow dead center between the Mars rover Perseverance mother ship wheel tracks that delivered Ingenuity to the surface of Jezero Crater was all the confirmation needed of this once in a lifetime first moment – seen in the lead image.
The little rotorcraft that could.??

Ingenuity documented its historic ascent today. Here's the #MarsHelicopter's POV during first flight. That's its shadow on the ground below. pic.twitter.com/wXgLyTDbjm

— NASA JPL (@NASAJPL) April 19, 2021
'The little rotorcraft that could' spun up its rotor blades as commanded, and rose off the surface at Jezero Crater to become airborne 3:34 a.m. EDT (12:34 a.m. PDT) – 12:33 Local Mean Solar Time (Mars time) and took flight fully autonomously in the extremely thin Martian atmosphere with few air molecules – approximately equivalent to 3 times the height of Mount Everest – and under frigid conditions.
The flight time for the 4-pound (1.8-kg) rotorcraft was chosen to optimize energy and flight conditions and maximize the odds of success.
The world watched in bated breath during a live NASA webcast as the Ingenuity team at Mission Control at the agency's Jet Propulsion Laboratory in Southern California monitored the events and finally confirmed the inaugural test flight succeeded after receiving data and imagery transmitted from the helicopter via NASA's Perseverance Mars rover at 6:46 a.m. EDT (3:46 a.m. PDT) – across about 180 million miles (290 million km) of interplanetary space.
Screenshots:Show little rotorcraft that could-#Ingenuity! #MarsHelicopter makes 1st powered flight on another world on #Mars.Rose 3m/10ft & hovers 30sec as 2 rotors spin ca. 2400rpm at 334AM ET. Team celebrates as data/images received back 646AM ET from Ginny&Percy @NASAPersevere pic.twitter.com/jsh07fI8jH

— Ken Kremer (@ken_kremer) April 19, 2021
Among the first data packets back came from altimeter data which indicated Ingenuity climbed to the targeted maximum altitude of 10 feet (3 meters).
Ingenuity then maintained a stable hover for 30 seconds at altitude and turned about 96 degrees showing the four landing legs rotating midair – as can be seen in the detailed NASA JPL video of Mastcam-Z imagery released later today – after NASA quickly posting a shorter video comprising just the first few initial images received soon after the success was confirmed.
Witness the historic moment in the full Mastcam-Z video here:
Witness the historic moment in full. The Mastcam-Z cameras on @NASAPersevere show us the takeoff, hovering and landing of the #MarsHelicopter. pic.twitter.com/ypdIWmC4D1

— NASA JPL (@NASAJPL) April 19, 2021
Here is the initial short Mastcam-Z video released soon after confirmation of success this morning.
You wouldn't believe what I just saw.

More images and video to come…#MarsHelicopterhttps://t.co/PLapgbHeZU pic.twitter.com/mbiOGx4tJZ

— NASA's Perseverance Mars Rover (@NASAPersevere) April 19, 2021
It then descended, touching back down on the surface of Mars after logging a total of 39.1 seconds of flight.
Monday April 19 will go down as a day in history equivalent to the Wright Brothers moment of first flight on Earth at Kitty Hawk back in December 1903.
"Like the Wright Brothers at Kitty Hawk, we know our time to make a difference at Jezero Crater is not yet over. This is just the first great flight," said MiMi Aung Ingenuity project manager.
"The sky is not the limit anymore."
There will only be one history making first flight day on Mars – and today was that day in a triumph for all humanity.
The future application of this first flight moment on Mars will reverberate across the solar system as scientists realize they "have a new tool in the box" said NASA Associate Administrator for Science Thomas Zurbuchen at the post flight media briefing.
Ingenuity is a technology demonstration mission not a science mission – and the future application of this first flight moment on Mars will reverberate across the solar system as scientists realize they "have a new tool in the box."
"It's taking a tool that we haven't been able to use and putting in the box of tools that is available for all of our missions going forward at Mars," said Thomas Zurbuchen, NASA associate administrator for science at the post flight media briefing.. "It opens up new doors."
The successful flight test will eventually lead to more advanced NASA helicopter missions in the future acting as airborne scouts to pave a productive and safe  path forward for future rovers on Mars and then throughout the solar system.
"Ingenuity is the latest in a long and storied tradition of NASA projects achieving a space exploration goal once thought impossible," said acting NASA Administrator Steve Jurczyk.
"The X-15 was a pathfinder for the space shuttle. Mars Pathfinder and its Sojourner rover did the same for three generations of Mars rovers. We don't know exactly where Ingenuity will lead us, but today's results indicate the sky – at least on Mars – may not be the limit."
Relive the first moments when the team realized their successful outcome after over six years of hard work
A red-letter day on the Red Planet! #MarsHelicopter pic.twitter.com/Qow8JwhYEo

— NASA JPL (@NASAJPL) April 19, 2021
The Martian  airfield where the historic flight took place has been named 'Wright Brothers Field' in honor of the Wright Brothers.
"Now, 117 years after the Wright brothers succeeded in making the first flight on our planet, NASA's Ingenuity helicopter has succeeded in performing this amazing feat on another world," Zurbuchen said. "While these two iconic moments in aviation history may be separated by time and 173 million miles of space, they now will forever be linked. As an homage to the two innovative bicycle makers from Dayton, this first of many airfields on other worlds will now be known as Wright Brothers Field, in recognition of the ingenuity and innovation that continue to propel exploration."
A small piece of fabric from the 1903 Wright flyer is loaded aboard Ingenuity below the blades.
Like any good pilot, we've logged the flight, and thanks to @ICAO, we even have designators for #MarsHelicopter's first flight (IGY-1), call sign (INGENUITY) and our backcountry airstrip in Jezero Crater, Mars (JZRO). pic.twitter.com/UWUIDmb9CH

— NASA JPL (@NASAJPL) April 19, 2021
Perseverance had multiple cameras trained on Ingenuity at the appointed flight time, including both wide angle and zoom video imagery from the zoomable, mast mounted Mastcam-Z camera as well as the navigation camera.
Ingenuity also has two cameras mounted looking down and across to Jezero crater to record the historic events.
Today's initial black and while imagery from Ingenuity will be following up by high resolution color imagery expected back on Earth tomorrow.
The data and imagery were received back on Earth transmitted via NASA's MRO orbiter several hours later.
And Ginny has to do all that in the ultra-thin Martian atmosphere less than 1% as dense as Earth's.
Furthermore to continue operating the copter must now continue to survive utterly harsh and frigid Martian nights where overnight temperatures at Jezero Crater plunge down to Antarctica-like temperatures of -130ºF (-90ºC).
Moreover the solar powered chopper is totally reliant for its survival on gathering sufficient power from its life giving solar arrays to keep it alive and healthy and functionally operating.
Now that its deployed, Ingenuity will have 30 Martian days, or sols, (31 Earth days) to conduct its test flight campaign of up to five test flights.
Perseverance had moved a safe distance away and observed the test flight from  211 feet (64.3 meters) away at Van Zyl Overlook – see map below.
I've taken several turns and made about 0.17 miles (270 meters) of wheel tracks from where I started to my current spot overlooking the #MarsHelicopter.

Check in on my location any time with this interactive map: https://t.co/uPsKFhW17J pic.twitter.com/AO5LJu41f0

— NASA's Perseverance Mars Rover (@NASAPersevere) April 15, 2021
Ginny and Percy (nicknames for Ingenuity and Perseverance) are seen together in my new mosaics here about 13 feet (4 meters) apart in imagery taken on April 6, 2021, on Sol 46 of the mission.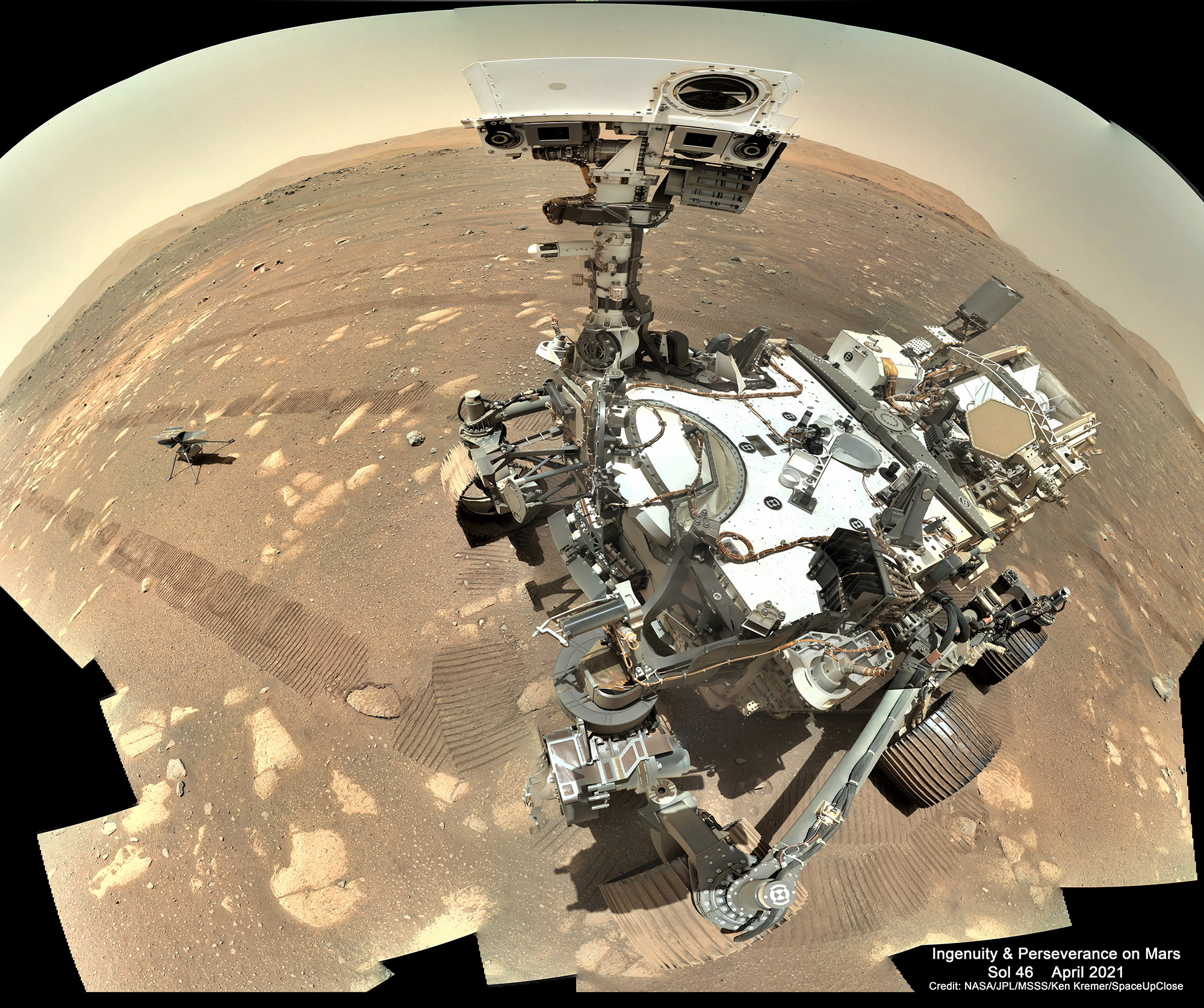 Enjoy my two versions herein of the Sol 46 double selfie view from my stitches of several dozen raw images taken by the high resolution WATSON camera located at the end of the rover's robotic arm, showing wide angle rounded fisheye and flat scenes of NASA's $80 million rotorcraft and the $2.7 Billion SUV sized  rover.
With Ingenuity now deployed on Mars' surface its six lithium ion batteries will be charged solely by the helicopter's own solar panel.
If Ingenuity were to encounter difficulties during its 30-sol (Martian day) mission, it would not impact the science gathering of NASA's Perseverance Mars rover mission.
It is equipped with two 4-foot-wide (1.2-meter-wide) counter rotating blades for lift spinning at about 2,400 rpm and two cameras.
Another challenge arising from the extremely thin Martian artmosphere is because Mars still has significant gravity about 1/3 of Earth with little atmospheric density for lifting.
The Martian 'airfield' chosen for the test flights measures about 10 meters x 10 meters (33 feet x 33-feet) in size and chosen as prime real estate for the test flight because it is smooth, flat and relatively free of obstructions like rocks, large boulders and slopes  which could interfere with a safe landing on the four legs
The first flight is the most important since it will be the first demonstration of powered flight on another world
Four more tests of increasing complexity will follow depending on the results and analysis by the team.
The team plans to push Ingenuity to the limits – higher, faster and farther says Aung.
"We will be pushing the envelope," said Aung. "As we succeed in certain lateral flights, we're going to go further and faster, especially towards the end of the experimental window."
The next flight is scheduled NET Thursday for up to 5 meters in height and some lateral movement of about two meters back and forth.  The 3rd flight could see lateral movement of 50 meters.
On the 5th flight she hopes to fly about 600 meters downrange and back from the takeoff spot
NASA and the JPL team running the mission are limiting Ingenuity to only a 30 sol mission because the rover needs to move on from this technology demonstration experiment to its primary science task of astrobiology aimed at searching for signs of ancient alien microbial life and gathering soil and rock samples at Jezero crater for eventual return to Earth in a decade or so.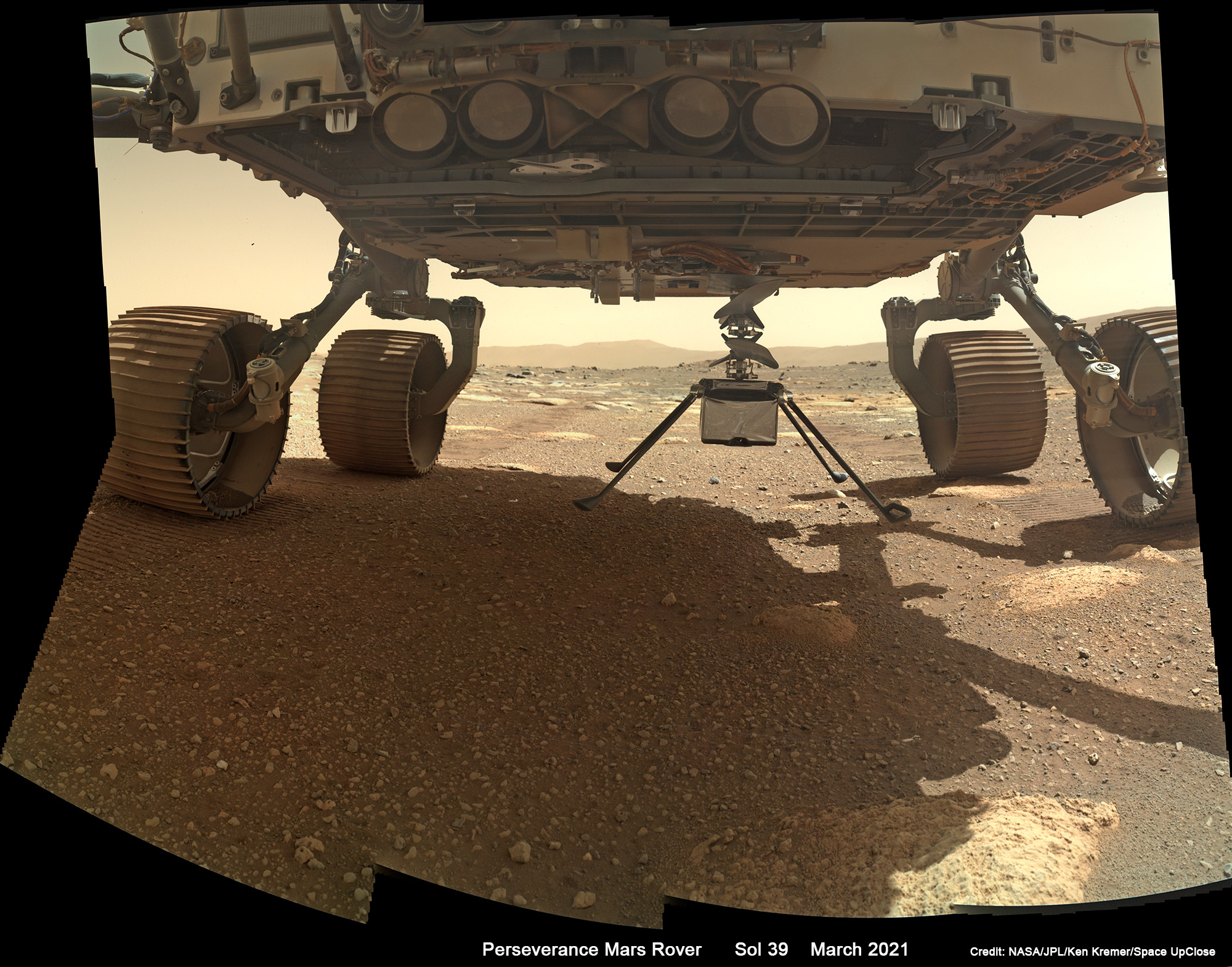 Watch this NASA JPL trailer illustrating the Ingenuity mission:
My commentary about the search for life on Mars and the deployment of the Ingenuity Helicopter was featured in a live interviews on April 9 and March 30 on News Nation Cable TV News Network on 'The Donlon Report' illustrated with my Mars mosaics
Last night @JoeDonlonTV was joined by #Mars expert Dr. @ken_kremer from Space Up Close to talk about the @NASA #PerseveranceRover & the #Ingenuity #MarsHelicopter, which is preparing for the first flight on another planet.#SomethingToThinkAbout #NewsNation #TDR #thedonlonreport pic.twitter.com/YkC1lka8PA

— The Donlon Report (@TheDonlonReport) April 10, 2021
Last night, @JoeDonlonTV was joined by an enthusiastic @ken_kremer, discussing the possibility of finding signs of past life on #Mars, and @NASA's upcoming flight test of #Ingenuity, the #MarsHelicopter. #SomethingToThinkAbout #NewsNation #TDR #thedonlonreport pic.twitter.com/NiMt043em8

— The Donlon Report (@TheDonlonReport) March 31, 2021
The solar powered Ingenuity helicopter is a technology demonstration experiment aimed at attempting the first flight on Mars.
The four legged Ingenuity has a mass of about 4.0 pounds (1.8  kilograms) and stands 1.6 feet or 19 inches (0.49 meters) high.
Watch Ken's continuing reports about Mars 2020 Perseverance and Curiosity rovers, Artemis and NASA missions, SpaceX, Starlink, Commercial Crew and Starliner and Crew Dragon and onsite for live reporting of upcoming and recent SpaceX and ULA launches including Crew 1 & 2, Demo-2, ISS, X-37B, Solar Orbiter, NRO spysats and national security missions and more at the Kennedy Space Center and Cape Canaveral Space Force Station.
Stay tuned here for Ken's continuing Earth and Planetary science and human spaceflight news: www.kenkremer.com –www.spaceupclose.com – twitter @ken_kremer – email: ken at kenkremer.com
Dr. Kremer is a research scientist and journalist based in the KSC area, active in outreach and interviewed regularly on TV and radio about space topics.
………….
Ken's photos are for sale and he is available for lectures and outreach events
Ken has created hundreds of widely published Mars rover mosaics and lectures also about NASA's Mars rovers
Please consider supporting Ken's work by donating at Patreon:
https://www.patreon.com/kenkremer
x