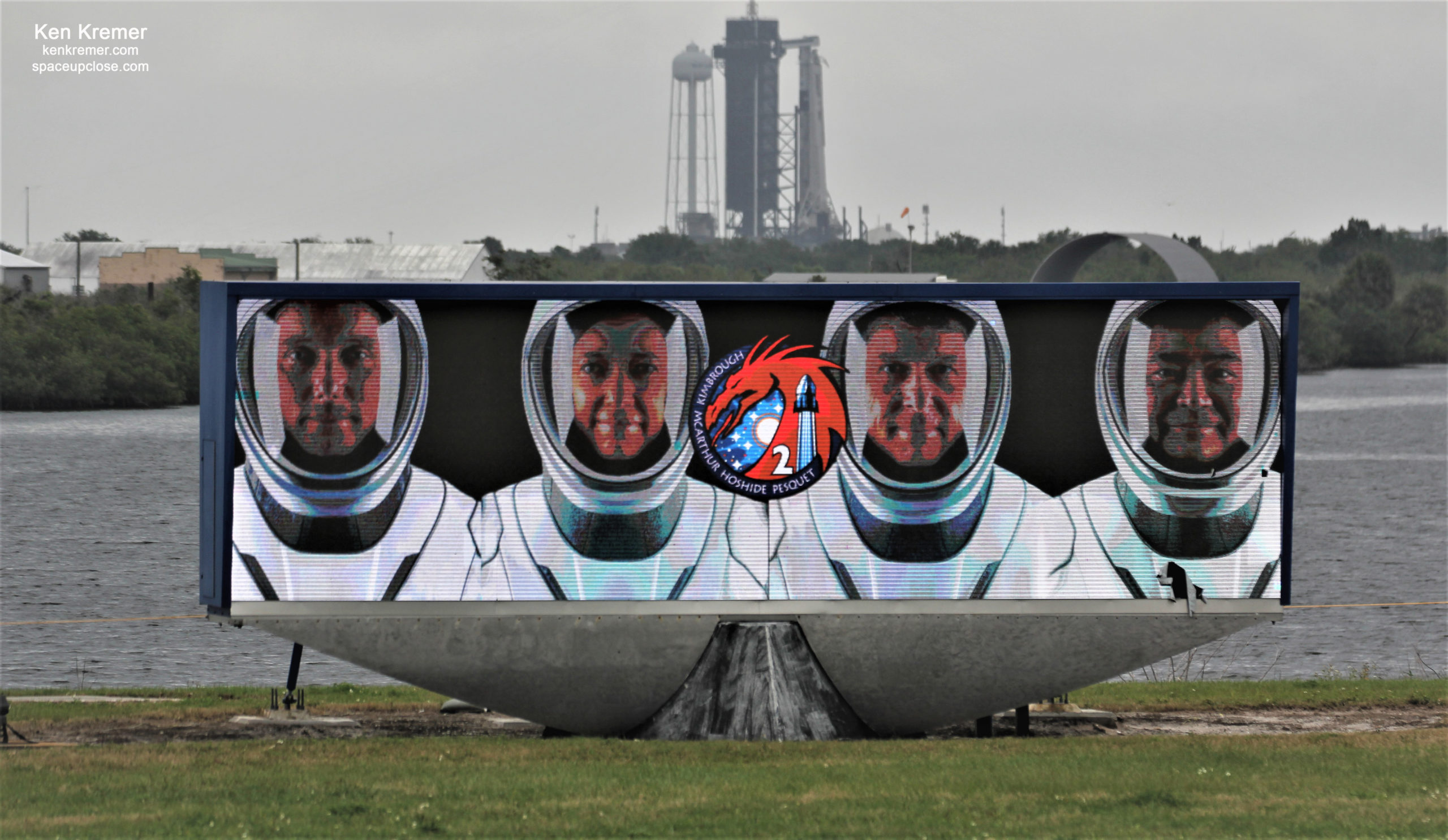 KENNEDY SPACE CENTER, FL –  Poor down range sea weather along the flight path in the recovery zones in case of an emergency abort into the Atlantic Ocean after liftoff forced NASA and SpaceX to postpone launch of the Falcon 9 rocket and Crew Dragon stack carrying a multinational crew of four astronauts bound for the International Space Station (ISS) by one day from Thursday to Friday, April 23, from the Florida Space Coast.
The delay is pretty much as expected following comments from the launch team after completing the Launch Readiness Review (LRR) yesterday, Tuesday, April 20, that the 'GO' for launch was given – warning about the outcome of the down range sea weather which did not look especially promising.  Launch weather itself was very good.
Therefore, liftoff of the SpaceX Falcon 9 rocket and Crew Dragon Endeavor spaceship is retargeted for  5:49 a.m. EDT Friday, April 23, from seaside Launch Complex 39A at the Kennedy Space Center (KSC) in Florida.
Rough sea states with high winds and waves would make recovery of the astronauts extremely difficult in case they had to abort into the northern Atlantic Ocean along the flight path flying in a northeasterly trajectory after blastoff from KSC.
"We're going to have to delay a day, we're not going to be able to launch tomorrow morning," KSC  Director Bob Cabana announced at a media briefing this morning.
"Although the weather's probably going to look great here at the launch site, we're worried about those downrange winds and wave heights in case of an abort should that happen. As soon as this front gets through, it's going to be absolutely beautiful Friday morning, we're going to come out and do it again."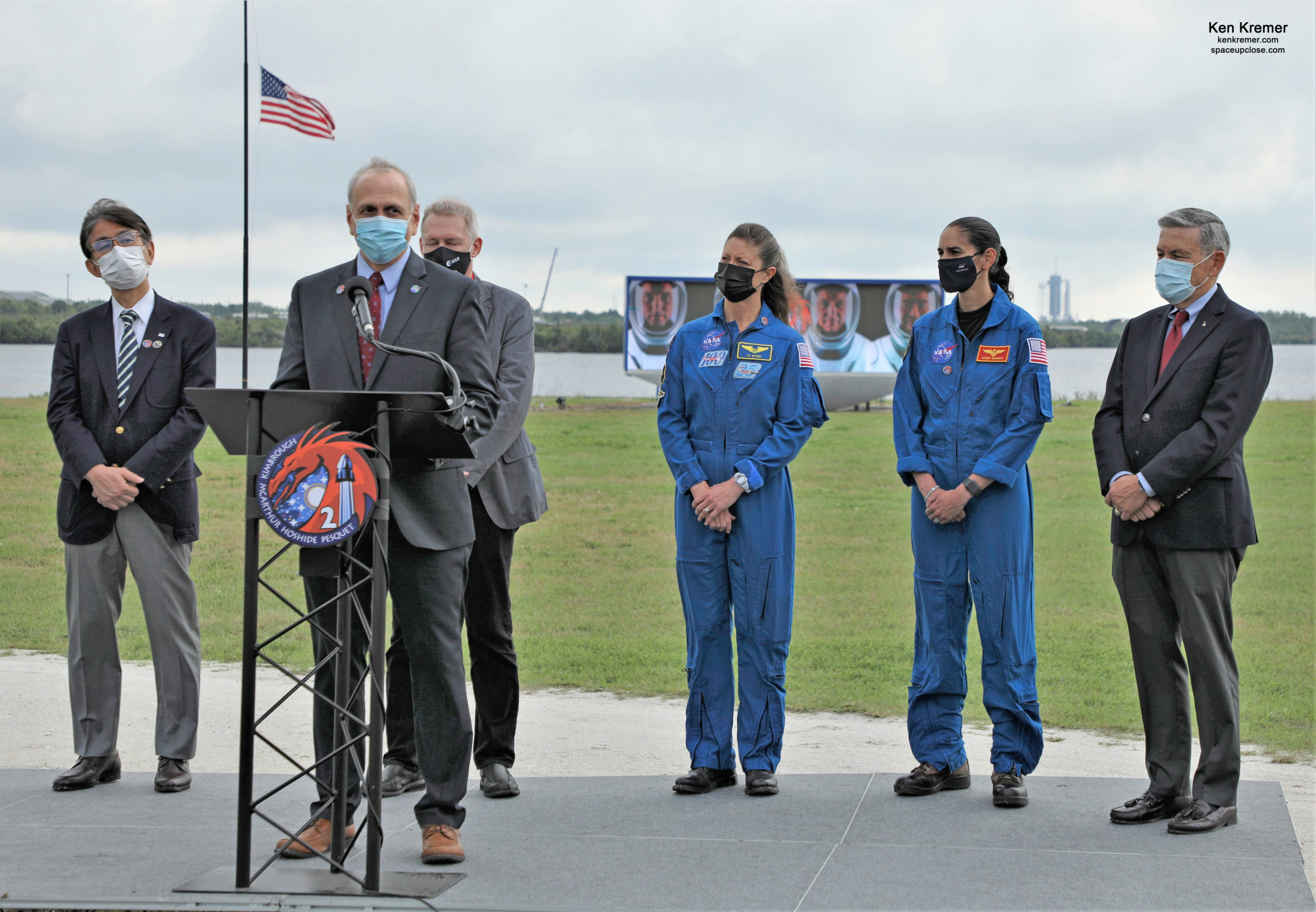 "NASA and SpaceX now are targeting 5:49 a.m. EDT Friday, April 23, for the launch of the agency's Crew-2 mission to the International Space Station due to unfavorable weather conditions along the flight path on Thursday," NASA reported early this morning.
"Although conditions around the launch site were expected to be favorable for liftoff, mission teams also must consider conditions along the flight path and recovery area in the unlikely event of a launch escape."
Launch Update ? @NASA and @SpaceX now are targeting Friday, April 23 at 5:49 a.m. ET for the launch of the Crew-2 mission to the @Space_Station due to unfavorable weather conditions along the flight path on Thursday.

Learn more: https://t.co/GSBum6JjfN pic.twitter.com/ylfQx0u2qT

— NASA Commercial Crew (@Commercial_Crew) April 21, 2021
"We're now scheduled for 'go' on Friday and the crew is ready," said Acting NASA Administrator Steve Jurczyk, at a media breifng today at the Countdown Clock at Kennedy.
"I could not be more proud of the Commercial Crew Program, the SpaceX and NASA teams, and what they've been able to do to enable reliable, safe, effective transportation to and from space. We are looking forward to a great launch."
Crew-2 will remain aboard the ISS for a six month science mission.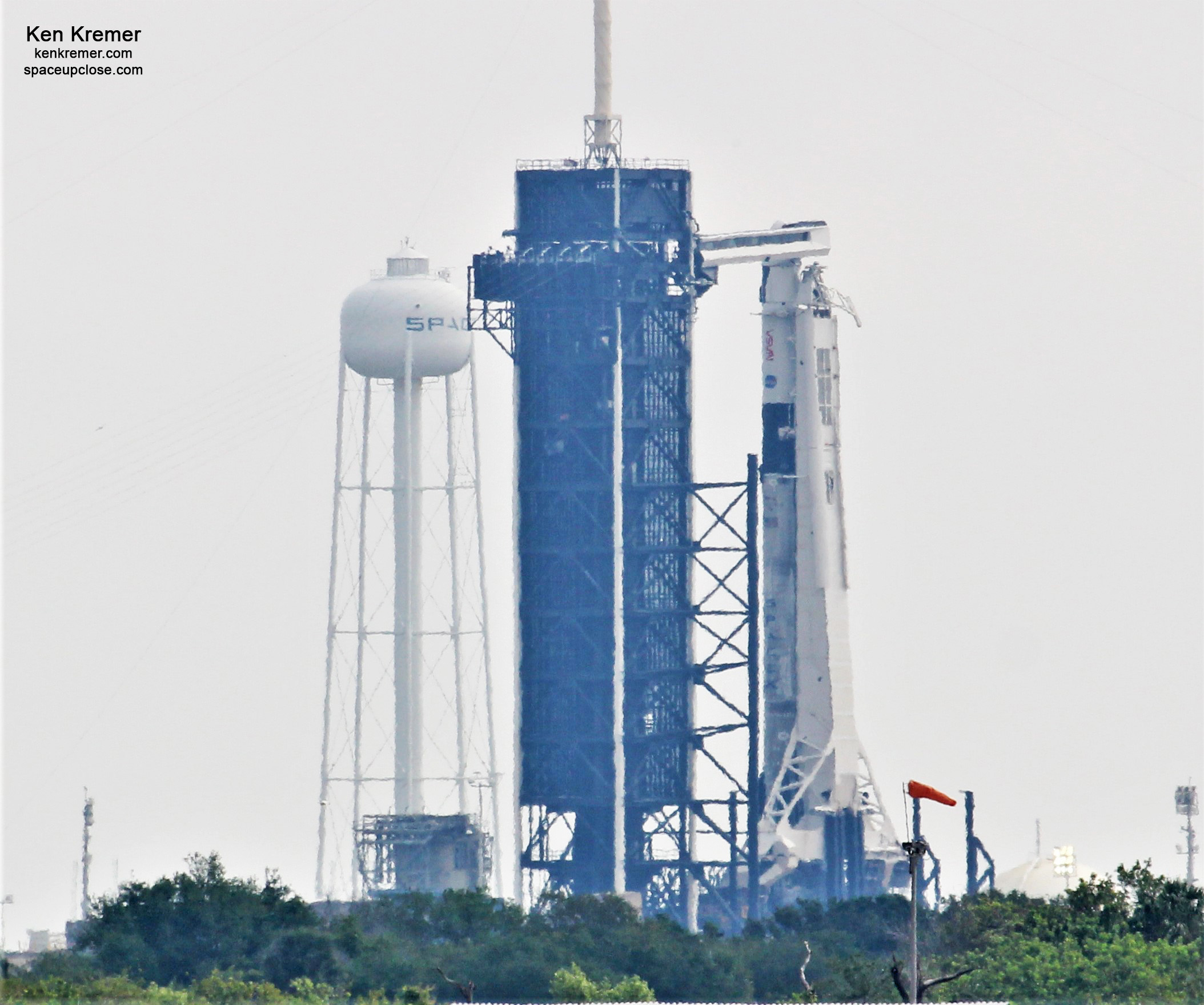 Fridays outlook for launch is definitely better.
The U.S. Space Force 45th Weather Squadron predicts a 90% chance of favorable weather conditions at the launch pad for liftoff of the Crew-2 mission based on Falcon 9 Crew Dragon launch weather criteria.
"Conditions also are expected to improve along the flight path and recovery area for the mission."
The primary weather concerns for the launch area on Friday will be liftoff winds.
"It's not just about launch (weather) when we're launching crew," said Benji Reed, director of human spaceflight for SpaceX, during Tuesday's LRR pre-flight briefing Tuesday.
"We have to worry about the entire ascent trajectory, because if something goes wrong, we want Dragon to be able to escape off of the rocket. And that means they have to be able to come down in the ocean at all points along that potential escape. We're looking at winds and wave height and lightning, all kinds of things to make sure it's right."
The @SpaceX Falcon 9 and Crew Dragon are seen at sunset as preparations continue for the launch of the Crew-2 mission to @Space_Station on Friday, April 23 at 5:49 a.m. EDT. ?: https://t.co/56Am0EzZMa pic.twitter.com/q4q5aHLZf9

— NASA HQ PHOTO (@nasahqphoto) April 22, 2021
The multinational crew includes two NASA astronauts as well as two from international partners as part of the agency's Commercial Crew Program – a first for the CCP program.
The  all veteran Crew-2 mission quartet of spaceflyers is comprised of NASA astronauts Shane Kimbrough and Megan McArthur, along with JAXA (Japan Aerospace Exploration Agency) astronaut Akihiko Hoshide, and ESA (European Space Agency) astronaut Thomas Pesquet.
Crew-2 thus counts as the first commercial crew launch with two international partners as members of the crew.  Crew-1 has one international partner astronaut from Japan
Meet the Crew-2 astronauts:
Meet your Crew-2 astronauts, launching to the @Space_Station this Friday aboard the @SpaceX Crew Dragon: https://t.co/YVKzRVXU8V pic.twitter.com/Vl9C4WSPhx

— NASA (@NASA) April 22, 2021
The Crew-2 mission marks the second operational crew rotation flight of the SpaceX Crew Dragon and Falcon 9 to the ISS.
Overall Crew-2 will be the 3rd Crew Dragon mission to fly astronauts to space and the ISS in the last eleven months -a remarkable achievement after no human missions were flown from US soil in 9 years after NASA's space shuttles retired in July 2011.
The backup launch date of Friday, April 23 was already available in case of a delay for any reason.
After April 23 the teams will stand down for two days.
The next Falcon 9 launch opportunities are on April 26 and 27
The instantaneous launch window moves about 23 to 24 minutes earlier each day of any delay.
The quartet of astronauts will also be the first crew to ride to space aboard a previously-flown Falcon 9 booster and simultaneously a reused Dragon spacecraft.
Both vehicles are manufactured by SpaceX and have been carefully refurbished for this mission to ensure safety and reliability.
Crew-2 will fly aboard the Crew Dragon "Endeavour" spacecraft — the same spaceship flown by veteran NASA astronauts Doug Hurley and Bob Behnken on the Demo-2 mission to the space station last year in May 2020 which was also the first flight of US astronauts from US soil in nearly a decade.
The Falcon 9 1st stage is recycled from the Crew-1 mission.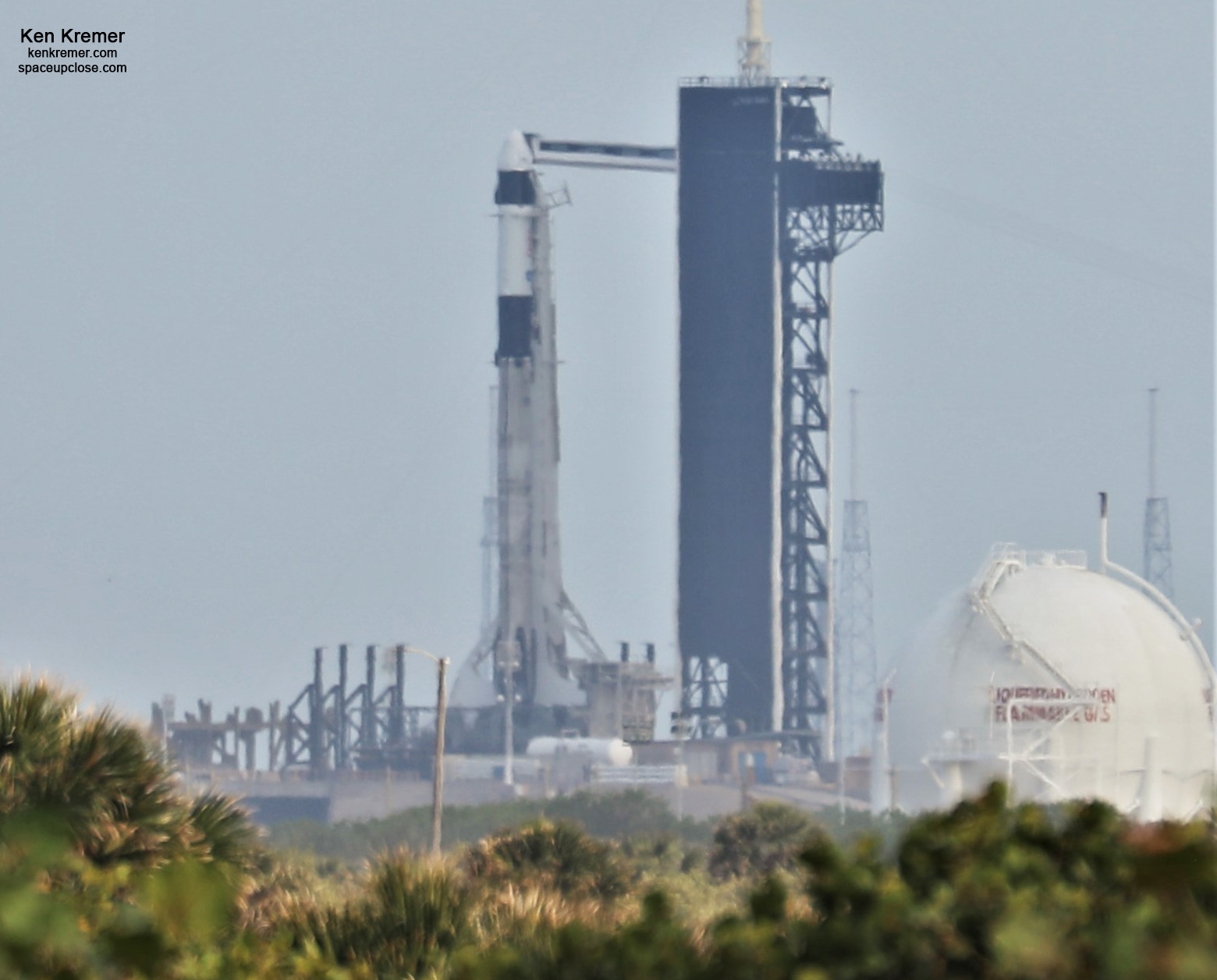 In addition to the quarter of astronauts Crew Dragon will deliver a limited amount of cargo of some 500 pounds including several new science hardware and experiments, including CHIME, a university student-led investigation to study possible causes for suppressed immune response in microgravity. 
Following a launch Friday, the Crew Dragon carrying Kimbrough, McArthur, Hoshide, and Thomas Pesquet is scheduled to dock to the space station about 23 hours later at about 5:10 a.m. Saturday, April 24, at the forward facing port.
They will join Expedition 65 and briefly enlarge the crew complement to 11 astronauts and cosmonauts from Crew-1 and Soyuz MS-18
"NASA and SpaceX will continue to target the undocking and return to Earth of Crew-1 for Wednesday, April 28, after an approximate four-day shift change.
Crew-1 NASA astronauts Michael Hopkins, Victor Glover, and Shannon Walker, along with JAXA astronaut Soichi Noguchi, will undock Crew Dragon Resilience at 5 a.m. and splashdown off the coast of Florida 7.5 hours later at about 12:35 p.m., after 164 days in space. Their return date and time are dependent on having a healthy spacecraft and favorable weather in the selected splashdown zone."
Ken is onsite at KSC for the Crew-2 mission launch on NET April 23.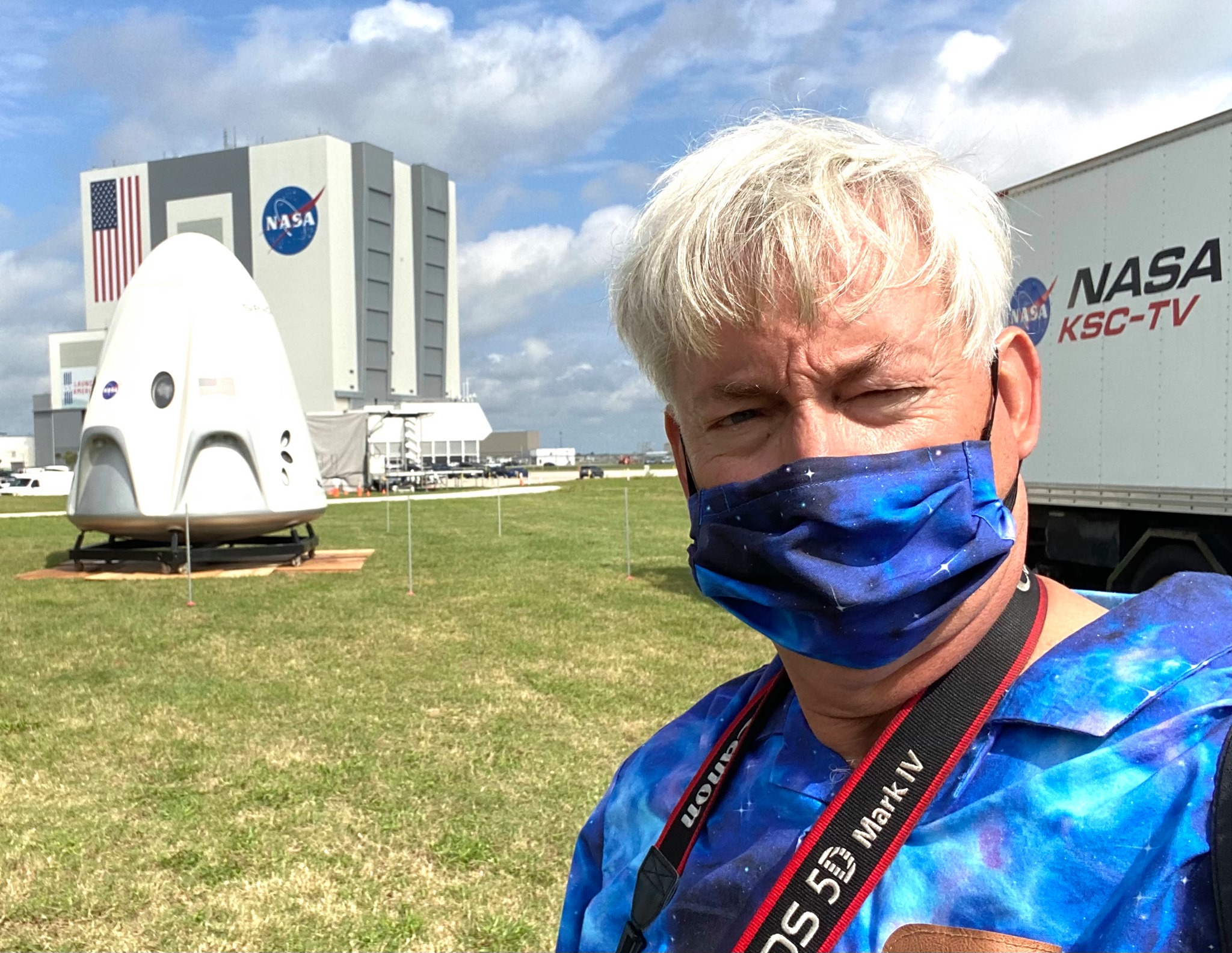 Watch Ken's continuing reports about ISS, Artemis and NASA missions, SpaceX, Starlink, Commercial Crew and Starliner and Crew Dragon and onsite for live reporting of upcoming and recent SpaceX and ULA launches including Crew 1 & 2, Demo-2, ISS, X-37B, Solar Orbiter, Mars 2020 Perseverance and Curiosity rovers, NRO spysats and national security missions and more at the Kennedy Space Center and Cape Canaveral Space Force Station.
Stay tuned here for Ken's continuing Earth and Planetary science and human spaceflight news: www.kenkremer.com –www.spaceupclose.com – twitter @ken_kremer – email: ken at kenkremer.com
Dr. Kremer is a research scientist and journalist based in the KSC area, active in outreach and interviewed regularly on TV and radio about space topics.
………….
Ken's photos are for sale and he is available for lectures and outreach events
Please consider supporting Ken's work by donating at Patreon:
https://www.patreon.com/kenkremer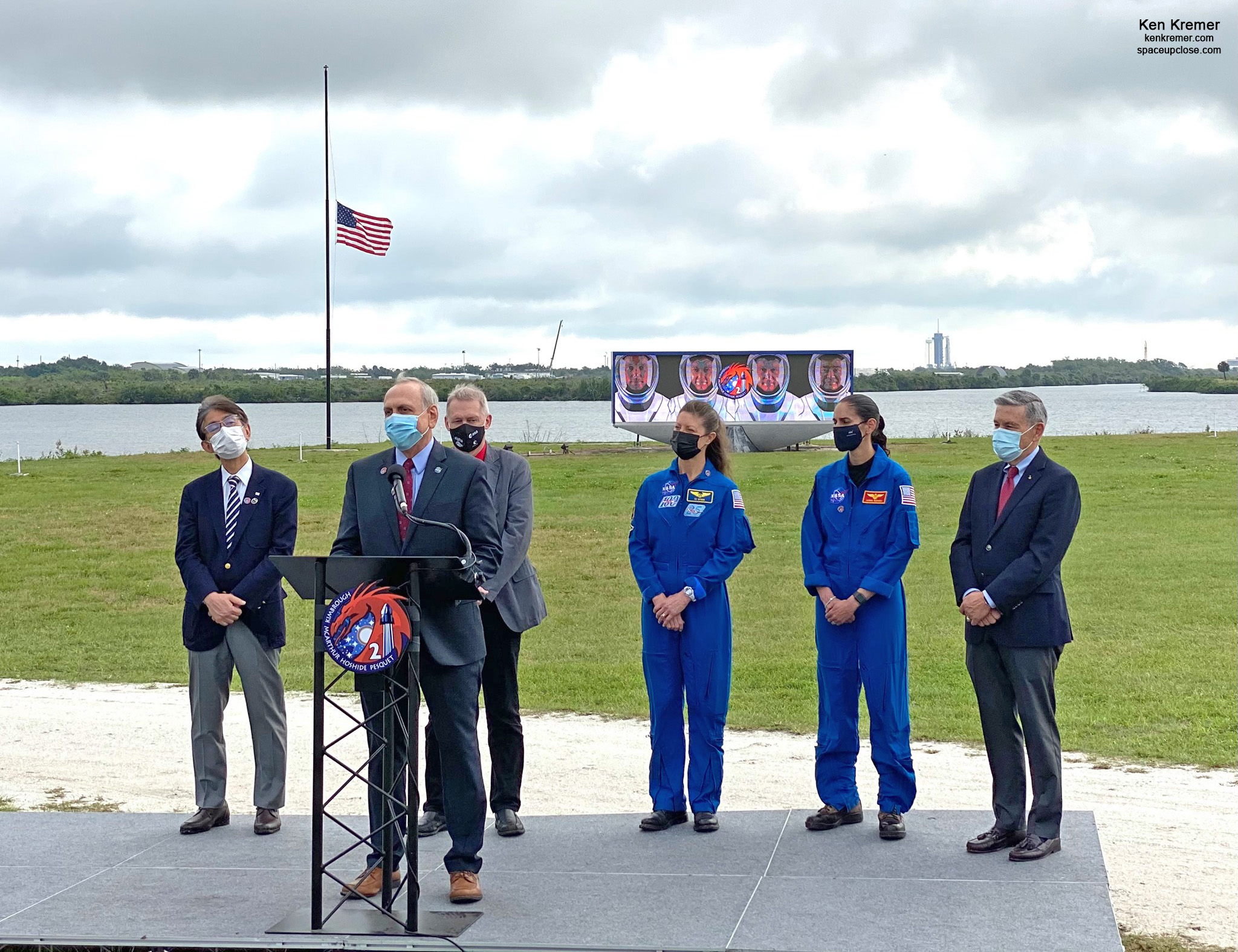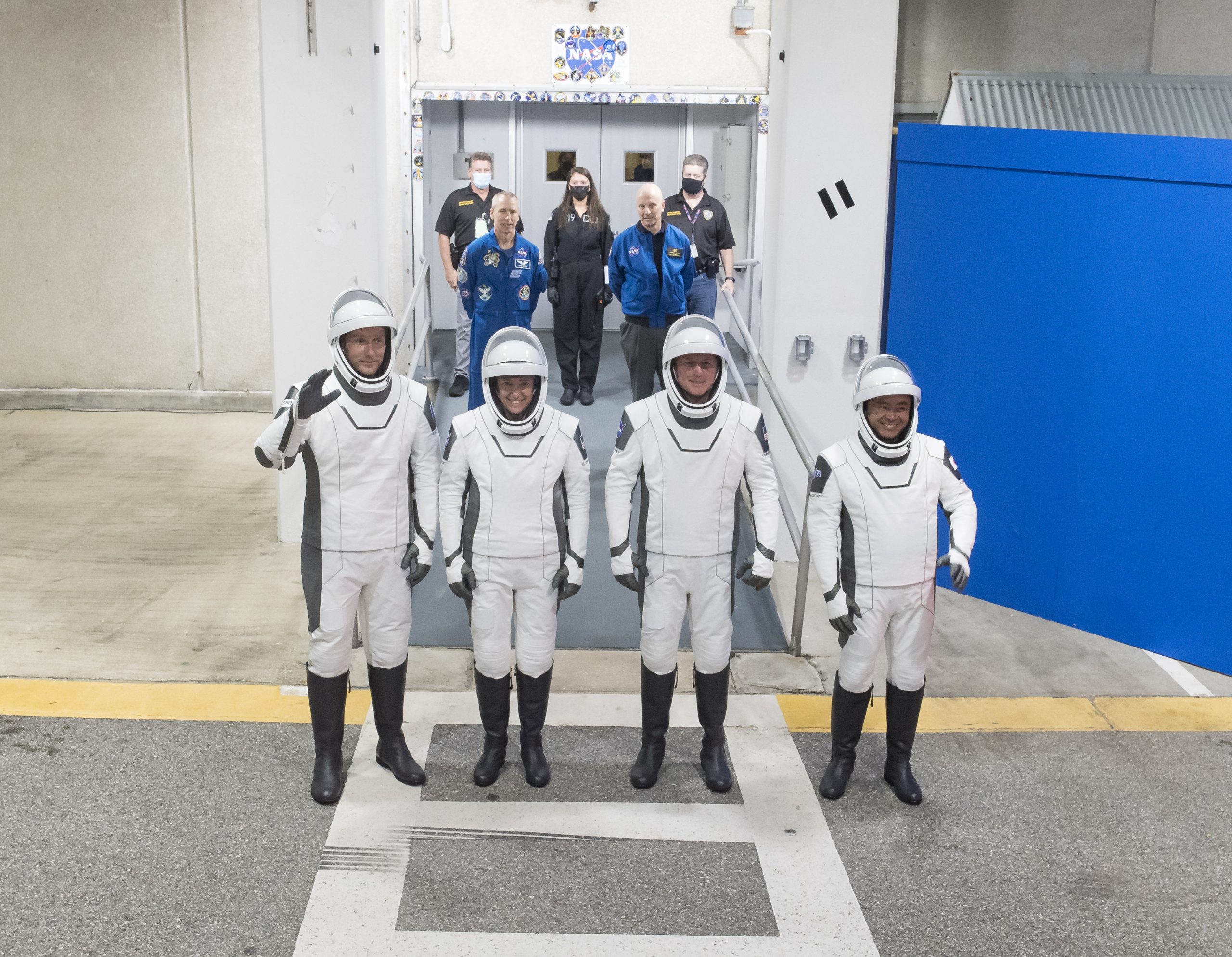 x