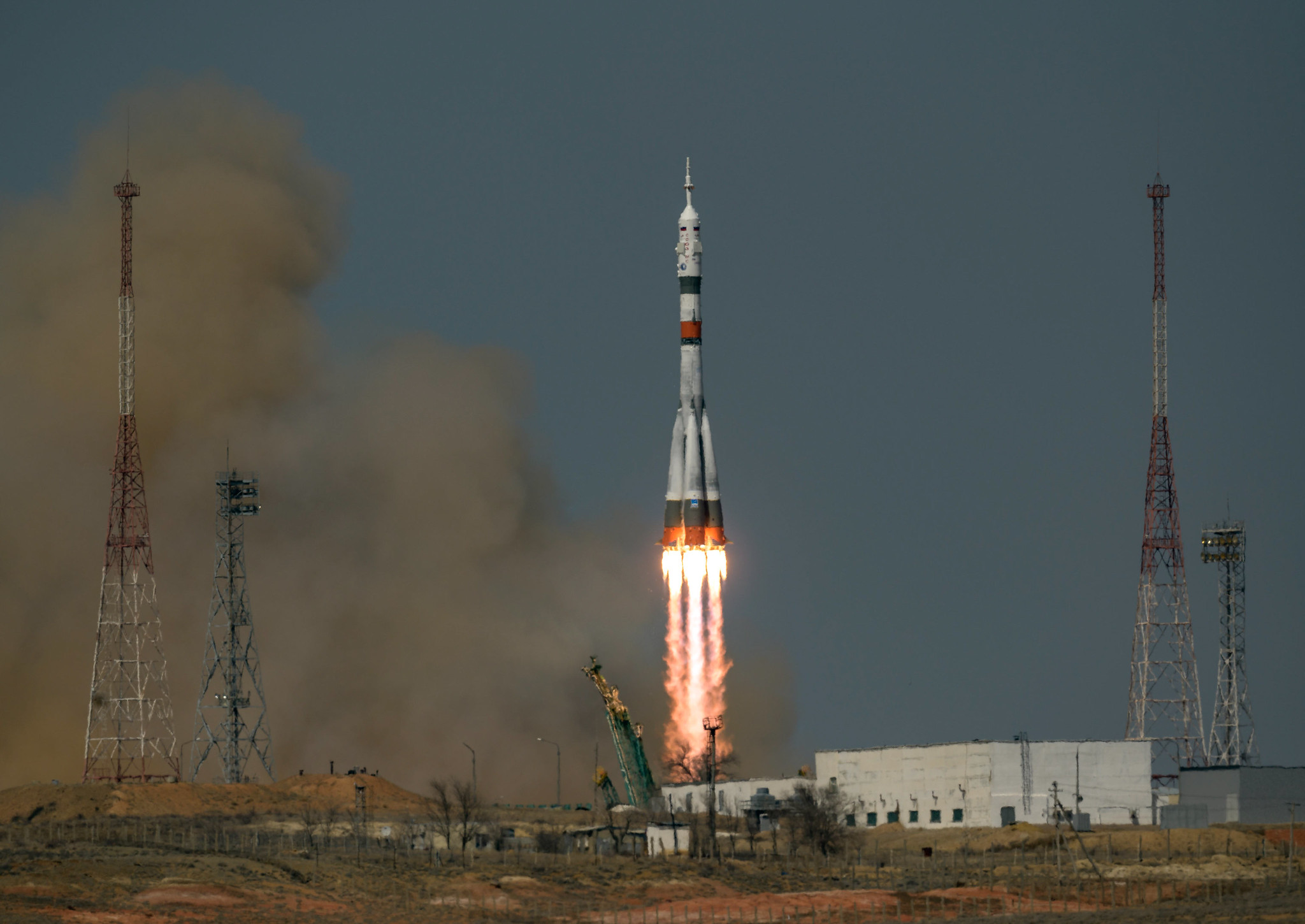 For SpaceUpClose.com & RocketSTEM
CAPE CANAVERAL, FL –  A Russian American trio of spaceflyers blasted off from the Baikonur Cosmodrome in Kazakhstan early Friday morning, April 9, aboard a Soyuz 2.1 a rocket and safely arrived at the International Space Station (ISS) hours later kicking off a busy month of crew swaps in April and briefly enlarging its number of residents to 10 for the coming week.
The Soyuz MS-18 spacecraft carrying NASA astronaut Mark Vande Hei  and Russian cosmonauts Oleg Novitskiy and Pyotr Dubrov of the Russian space agency Roscosmos launched at 3:42 a.m. EDT (12:42 p.m. local time) from the Baikonur Cosmodrome in Kazakhstan bound for the ISS.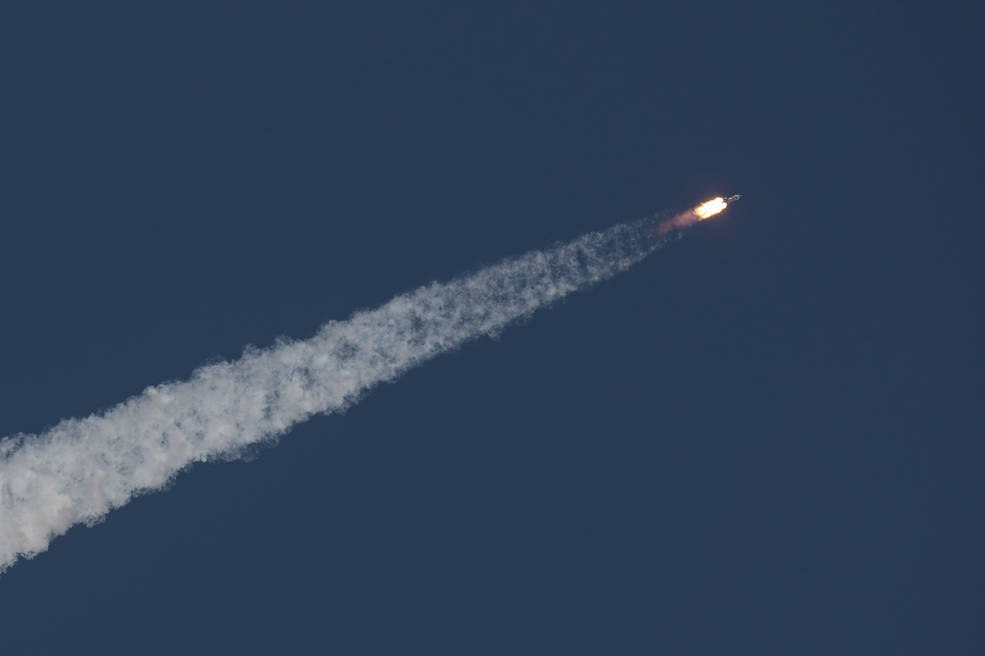 After a fast track orbital chase of two orbits and about three hours the threesome safely and successfully docked to the station's Earth-facing Rassvet module at 7:05 a.m. EDT while both spacecraft were flying about 262 miles (400 km) above northern China.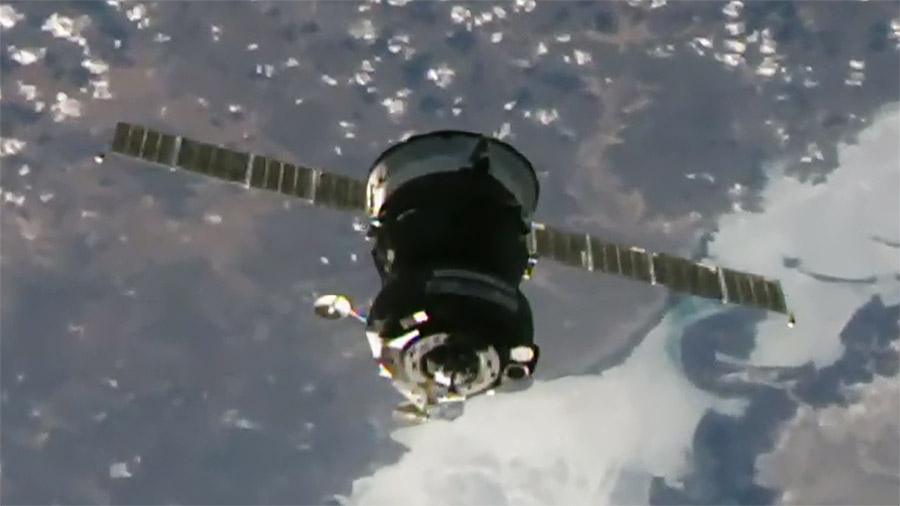 Just two hours later hatches between the massive million pound ISS and the newly arrived Soyuz MS-18 spacecraft were officially opened at 9:20 a.m. EDT as they flew 270 miles (430 km) above the South Pacific.
The hatches are open and the Exp 65 crew has boarded the station expanding the population of the orbital lab to 10 people. More… https://t.co/xJtQbTkIS3 pic.twitter.com/pAZ6ErjOko

— International Space Station (@Space_Station) April 9, 2021
The fast paced record setting  crew swaps include 2 launches and 2 landings by four different spaceships occurring every week in April beginning with todays liftoff.
"This April is a big month in @Space_Station history! For the first time, @NASA_Astronauts are scheduled to launch or land each week in four different spacecraft," NASA tweeted earlier.
4/9 – Exp. 65 launch
4/17 – Exp. 64 landing
4/22 – Crew-2 launch
4/28 – Crew-1 splashdown
This April is a big month in @Space_Station history!

For the first time, @NASA_Astronauts are scheduled to launch or land each week in four different spacecraft.

4/9 – Exp. 65 launch
4/17 – Exp. 64 landing
4/22 – Crew-2 launch
4/28 – Crew-1 splashdownhttps://t.co/CJ31tGbK6P pic.twitter.com/166GnhT1S8

— NASA's Johnson Space Center (@NASA_Johnson) April 2, 2021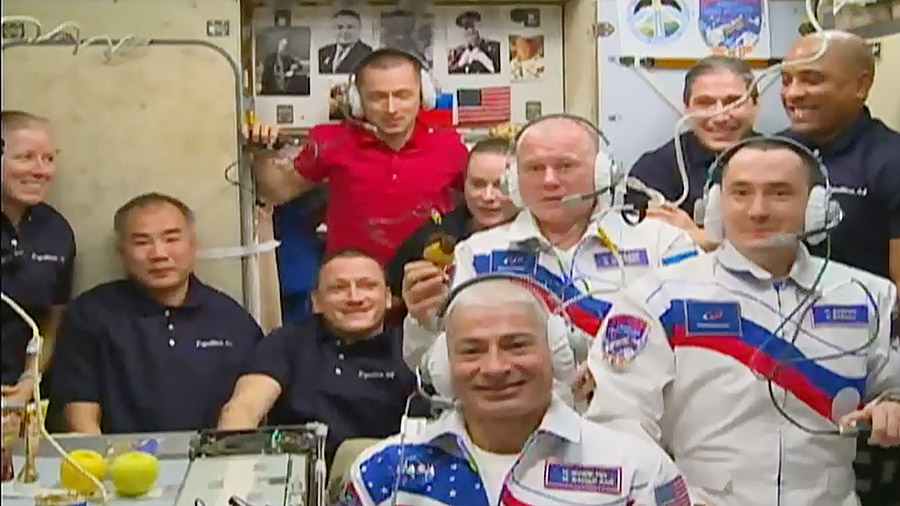 Watch this video recap from NASA:
The Exp 65 crew reached the station today just three hours and 23 minutes after launch. The new crew opened the hatch and entered the orbital lab increasing its population to 10 people. More… https://t.co/xJtQbTCjJB pic.twitter.com/rylTXND3y2

— International Space Station (@Space_Station) April 9, 2021
The new troika lifted off just three days shy of the 60th anniversary of the worlds first human space launch by Russian cosmonaut Yuri Gagarin on April 12, 1961, who become the first man in space.
Since then, over 570 men and women have following in Gagarin's footsteps and flown to space in a myriad of spacecraft from Russia, then the Soviet Union, the United States and China.
Today that fierce Cold War competition has turned to cooperation as Russia, the United States, Europe, Canada and Japan have chosen to work together peacefully to create and sustain the International Space Station – now celebrating the 20th anniversary of continuously operating rotating multinational human crews for 20 years.
Vande Hei, Novitsky and Dubrov join a multinational crew of 7 already serving aboard the orbiting outpost as the Expedition 64 crew who arrive on three different spaceships including two Russian Soyuz and one NASA SpaceX Crew Dragon.
All 7 current residents will be replaced this month
Of the 10 residents now aboard ISS four are from Roscosmos, five are from NASA and one is from JAXA.
From orbit, @Astro_Soichi captured a photo of today's Soyuz launch from Kazakhstan, carrying three new crew members to the @Space_Station! The spacecraft is set to arrive at our orbiting lab in less than three hours: https://t.co/WtPsC9VKDP

— NASA (@NASA) April 9, 2021
NASA Flight Engineer Kate Rubins arrived on the station with Commander Sergey Ryzhikov and Flight Engineer Sergey Kud-Sverchkov of Roscosmos aboard the Soyuz MS-17 spacecraft October 14, 2020.
NASA astronauts Michael Hopkins, Victor Glover, and Shannon Walker, as well as Japan Aerospace Exploration Agency (JAXA) astronaut Soichi Noguchi, have been aboard since arriving as the Crew-1 mission on November 16, 2020, on the SpaceX Crew Dragon Resilience.
The three new crewmates will begin the Expedition 65 mission next week on Friday, April 16, with the departure of Rubins, Ryzhikov and Kud-Sverchkov. Ryzhikov will hand command of the station to Walker during a ceremony with all crew members that is scheduled for 3:45 p.m. April 15
NASA Television will air live handover coverage on the NASA app, and the agency's website.
This marks the second spaceflight for Vande Hei, the third for Novitskiy, and the first for Dubrov. During a six-month stay aboard the orbiting laboratory, the trio will work on science and research in technology development, Earth science, biology, human research, and more.
During Expedition 65, the arrival of Crew-2 aboard the SpaceX Crew Dragon will bring four more members to the International Space Station.
Crew-2 is currently scheduled for launch on Earth Day, Thursday, April 22.
Crew-1, the first long-duration commercial crew mission, will return to Earth on April 28.
Vande Hei was selected as an astronaut in 2009 and is a veteran having flown to space once before on Sept 13, 2017 as an Expedition 53/54 crew member and spent 168 days in space.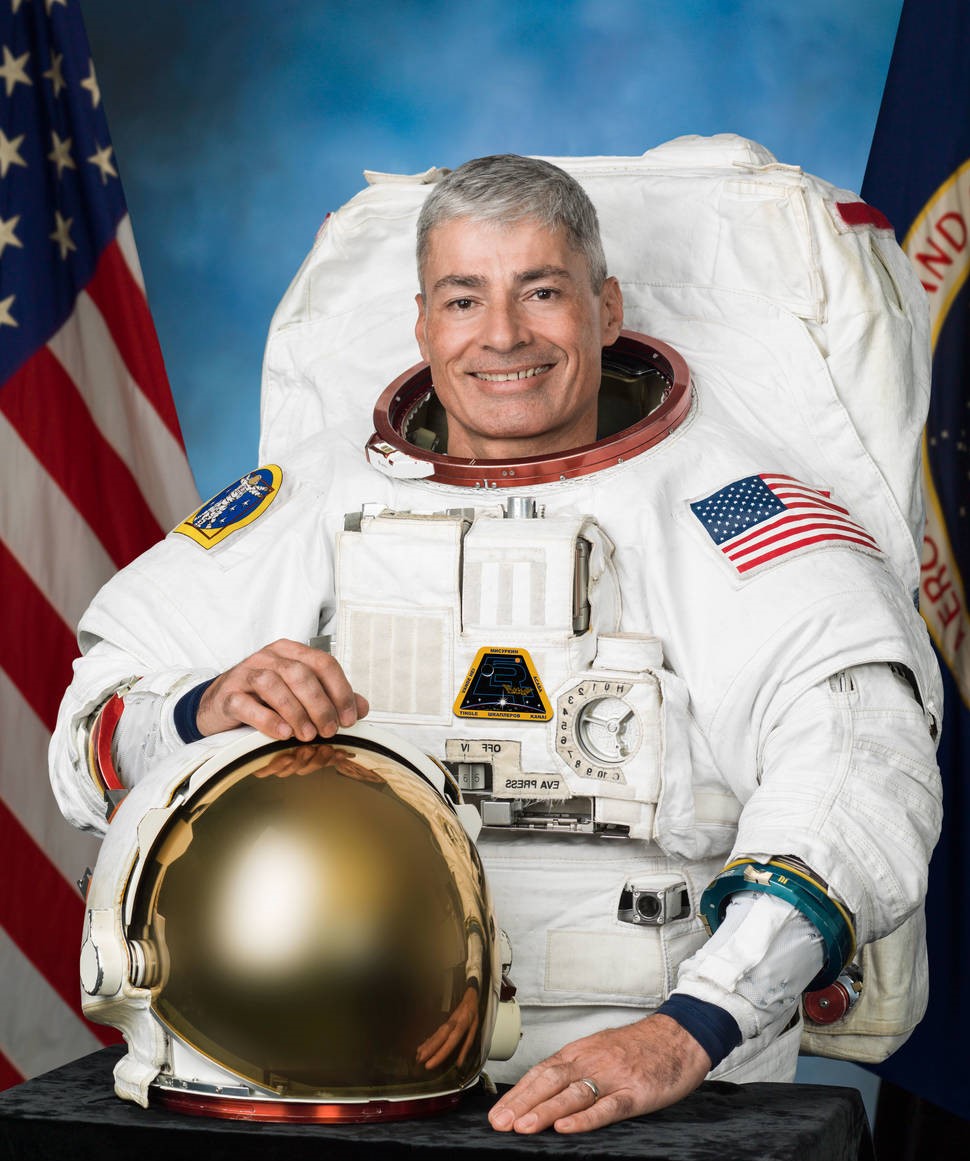 During that mission he conducted four spacewalks, totaling 26 hours and 42 minutes, before his return to Earth Feb. 28, 2018.
During his 6 month mission Vande Hei will work on hundreds of experiments during to benefit life on Earth and learn more about living in space, says NASA.
"The space station is a critical testbed for NASA to understand and overcome the challenges of long-duration spaceflight and those insights gained will help send humans to the Moon and eventually to Mars."
Among the science the crew will conduct during Vande Hei's mission are studies on cotton root systems and Alzheimer's disease, and a technology demonstration of a portable ultrasound device.
In November 2020, the International Space Station surpassed its 20-year milestone of continuous human presence, providing opportunities for unique technological demonstrations and research that help prepare for long-duration missions to the Moon and Mars while also improving life on Earth, according to NASA.
To date, 243 people from 19 countries have visited the orbiting laboratory that has hosted nearly 3,000 research investigations from researchers in 108 countries and areas.
Ken will be onsite at KSC for the Crew-2 mission launch on NET April 22.
Watch Ken's continuing reports about ISS, Artemis and NASA missions, SpaceX, Starlink, Commercial Crew and Starliner and Crew Dragon and onsite for live reporting of upcoming and recent SpaceX and ULA launches including Crew 1 & 2, Demo-2, ISS, X-37B, Solar Orbiter, Mars 2020 Perseverance and Curiosity rovers, NRO spysats and national security missions and more at the Kennedy Space Center and Cape Canaveral Space Force Station.
Stay tuned here for Ken's continuing Earth and Planetary science and human spaceflight news: www.kenkremer.com –www.spaceupclose.com – twitter @ken_kremer – email: ken at kenkremer.com
Dr. Kremer is a research scientist and journalist based in the KSC area, active in outreach and interviewed regularly on TV and radio about space topics.
………….
Ken's photos are for sale and he is available for lectures and outreach events
Please consider supporting Ken's work by donating at Patreon:
https://www.patreon.com/kenkremer
x