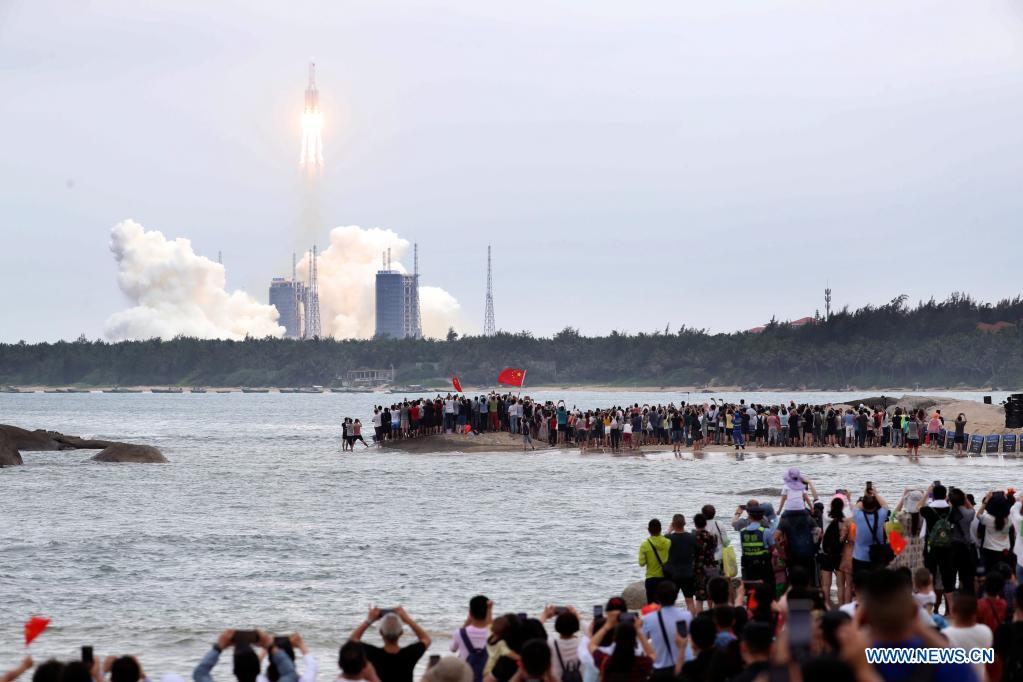 For SpaceUpClose.com & RocketSTEM
CAPE CANAVERAL, FL – China has begun a fast-paced assembly schedule  of the country's new space station with the successful April 29 launch of the massive 22 ton core module named Tianhe to orbit on a Chinese Long March-5B rocket that kicks off a very ambitious series of launches aiming to complete the construction of the station by the end of next year.
In addition the 10-story tall, 23 ton rocket boosters core stage also unexpectedly achieved orbit and will fall back to Earth soon in an apparently uncontrolled manner.
The first station element dubbed the Tianhe module blasted off on China's most powerful rocket the Long March-5B Y2 heavy lifter the Wenchang Spacecraft Launch Site on the coast of the southern island province of Hainan at 11:23 a.m. Beijing Time, Thursday April 29, or 0323 GMT or 11:23 p.m. EDT Wednesday, April 28.
The permanently habited Tiangong Space Station (meaning Heavenly Palace) should see its first human crew of three Chinese astronauts arrive in June for a three-month shakedown mission living aboard.
The new Earth orbiting human outpost will now compete with the International Space Station (ISS) run by the partner space agencies including the US, Russia, Europe, Japan and Canada that is celebrating its 20th year of continuous human occupation.
The 176-foot-tall (53.7-meter) Long March-5B heavy lift rocket delivered Tianhe to low Earth orbit circling about 340–450 km (210–280 mi) above the surface and inclined about 41 degrees north and south of the equator.
Thus it could fall uncontrollably anywhere within that large area including many population centers since China apparently does include thrusters to guide the descent back to Earth or have a restart capability to enable a controlled descent.
Since 70% of the Earth is covered in water the odds of it striking the ground are slim – but not impossible.
The Tianhe core station module measures 16.6 meters in length, and is 4.2 meters in diameter and will house the main living area and crew quarters in addition to the control hub.
With a takeoff mass of 22.5 tons, it is the largest spacecraft developed by China.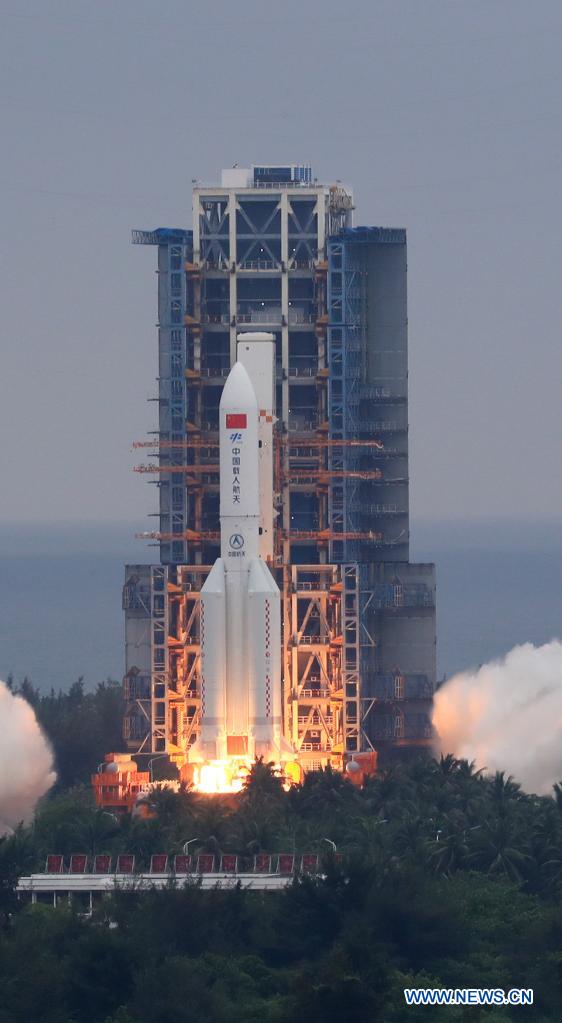 The new Space Station counts as the most ambitious program ever in the history of China's human space flight program.
China plans a series of 11 missions to complete assembly on an accelerated schedule by the end of 2022.
"Tianhe will act as the management and control hub of the space station Tiangong, meaning Heavenly Palace, with a node that could dock with up to three spacecraft at a time for short stays, or two for long," said Bai Linhou, deputy chief designer of the space station at the China Academy of Space Technology (CAST), under the China Aerospace Science and Technology Corporation.
Five space station mission launches are scheduled this year and six in 2022.
The next two launches involve the unmanned cargo resupply mission Tianzhou-2 cargo spacecraft followed by the Shenzhou-12 manned craft.
Each will dock with the Tianhe core module.
The Tianzhou-2 cargo craft will launch on a Long March 7 rocket in May.
The Shenzhou-12 manned craft is schedule to launch in June on a Long March 2F launch vehicle – on the first human mission launch by China since 2016 which docked with the Tiangong 2 mini space station precursor module as they have focused their efforts on manufacturing all the elements of the space station for rapid assembly in orbit
"Three astronauts will be aboard Shenzhou-12 and stay in orbit for three months," Hao Chun, director of the China Manned Space Agency (CMSA), told Xinhua.
"We will transport support materials, necessary spare parts and equipment first, and then our crew."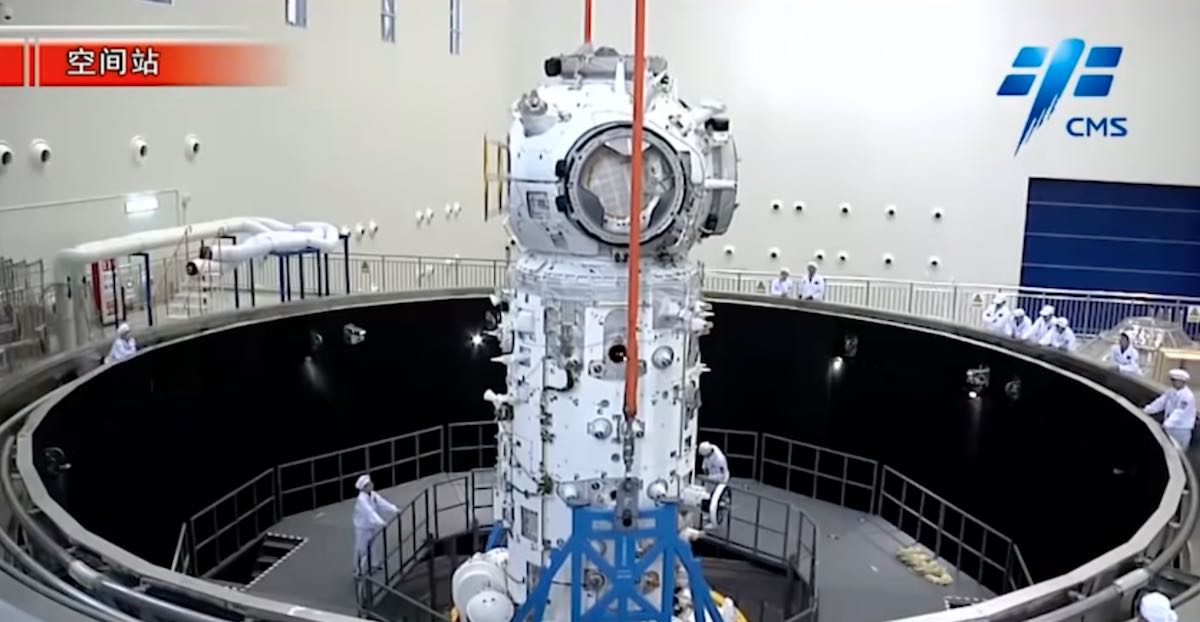 The Tianzhou cargo craft will function similarly to the Russian Progress, US Cygnus and Cargo Dragon and Japanese HTV  resupply vehicles.
Another three person crew will launch later this year on the Shenzhou-13 mission for the start of routine six month stays aboard.
That crew will be supported by launch of another cargo craft dubbed Tianzhou-3 later this year as well to complete the five launches slated for 2021.
Two additional habitable laboratory modules that are similarly sized will be added next year – each with a mass of 20 tons.
They are named the Wentian and Mengtian lab modules.
The space station will take on a T shape when complete with the core module at the center and a lab capsule on each side.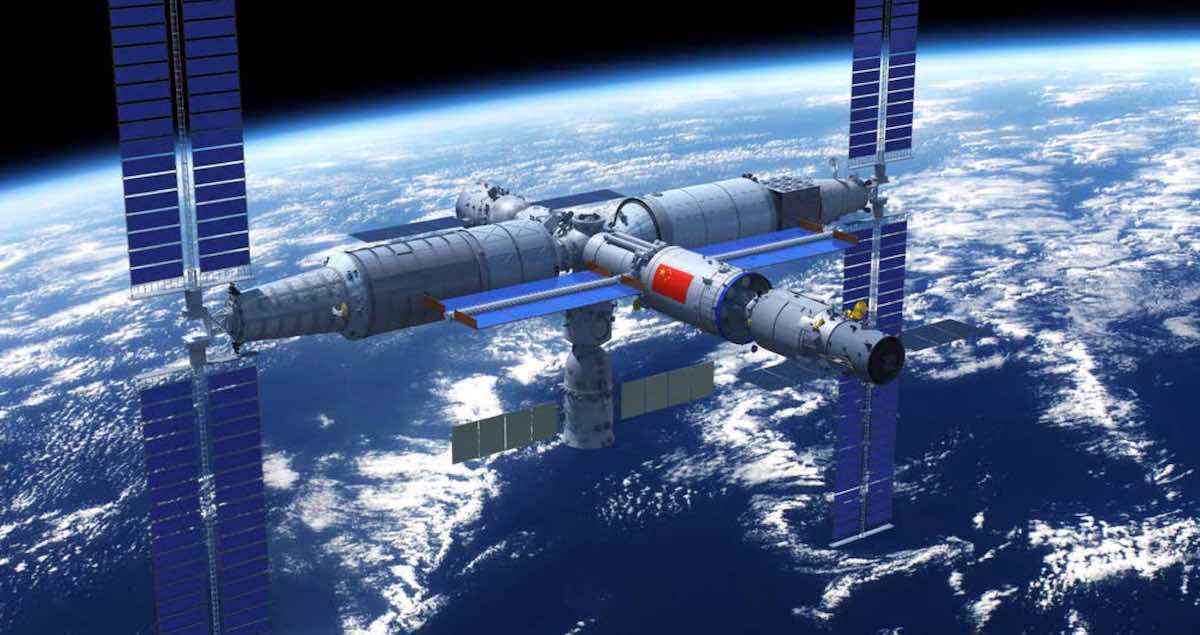 Two additional Tianzhou cargo spacecraft and two additional Shenzhou manned spaceships will also launch next year for a total of six flights in 2022 remaining to complete the construction of the space station.
At times the overall mass will reach to about 100 tons when cargo and manned spacecraft are docked
The launch was shown live on China's state run TV in a late breaking development.
When complete the Tiangong Space Station will be about the size of Russia's Mir space station and 1/5 the size of the ISS.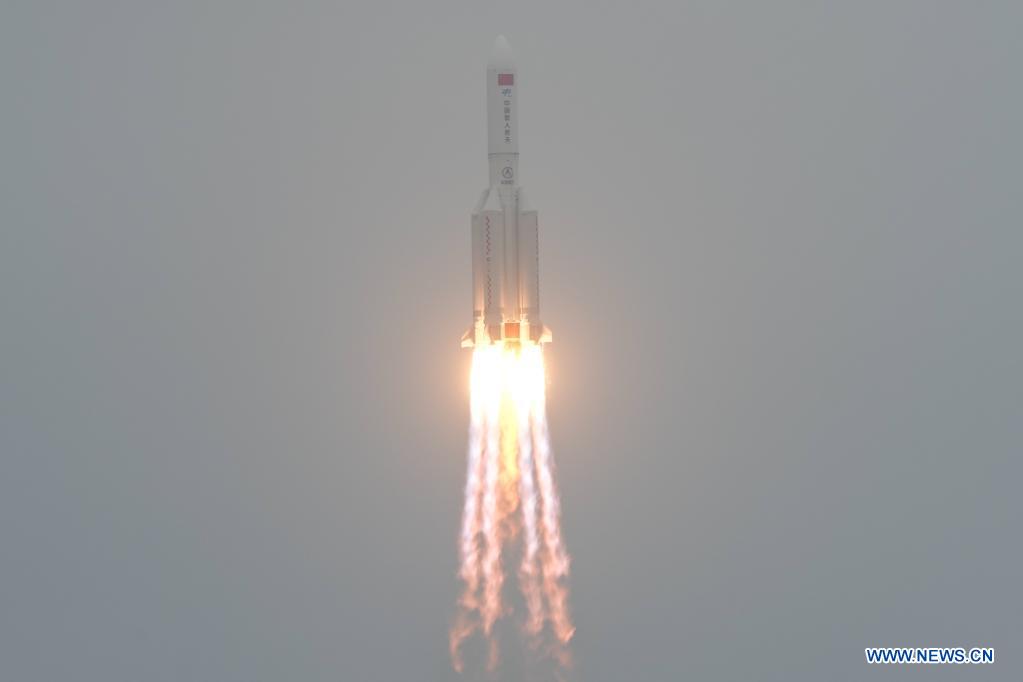 It has been designed for a lifespan of 10 years, but Chinese experts say it could last much longer to 15 years or more with appropriate maintenance and repairs.
The ISS has also lasted much longer than expected and its lifetime has been extended several times already
"We will learn how to assemble, operate and maintain large spacecraft in orbit, and we aim to build Tiangong into a state-level space lab supporting the long stay of astronauts and large-scale scientific, technological and application experiments," Bai told Xinhua Chinese News agency.
"The station is also expected to contribute to the peaceful development and utilization of space resources through international cooperation, as well as to enrich technologies and experience for China's future explorations into deeper space."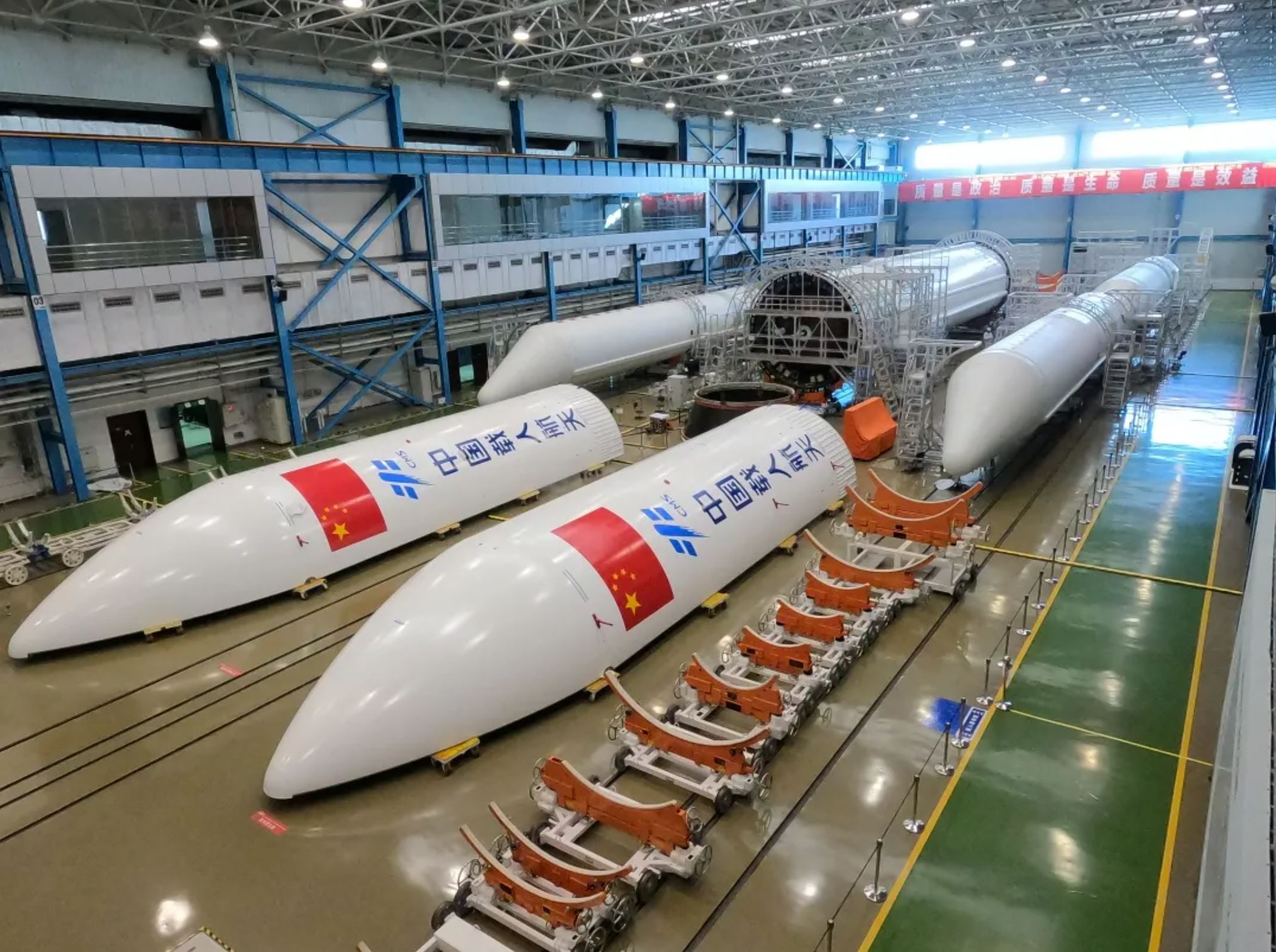 In the future three additional lab modules could be added since docking ports are available
Meanwhile the world watches to see when and where the rockets now tumbling core stage  will reenter Earth's atmosphere and fall uncontrollably – perhaps on May 8 or 9.
A more precise prediction on timing and location will only be possible in the final hours before the plunge
Although the booster will breakup into many pieces upon reentry  some larger parts could survive and impact wherever they land at sea or on land.
Some updates from Jonathan McDowell,  an astrophysicist at the Astrophysics Center at Harvard University:
Chinese media via Reuters: https://t.co/cIi9CX0ewh

I have some comments:

— Jonathan McDowell (@planet4589) May 5, 2021
Update May 7:
Watch a portion of my live commentary on The Donlon Report on News Nation May 7 about the uncontrolled booster re-entry:
"Virtually everybody could be affected by this:" While there's a 70% chance debris from a Chinese rocket will hit water when it falls to Earth, Dr. Ken Kremer says we won't know where it'll land until hours before: More on @TheDonlonReport: https://t.co/jp4MY2dZWZ pic.twitter.com/fh0TBsZ2Hb

— NewsNation Now (@NewsNationNow) May 8, 2021
Watch Ken's continuing reports about Artemis and NASA missions, SLS, Orion, SpaceX, Starlink, Commercial Crew and Starliner and Crew Dragon and onsite for live reporting of upcoming and recent SpaceX and ULA launches including Crew 1 & 2, Demo-2, ISS, X-37B, Solar Orbiter, Mars 2020 Perseverance and Curiosity rovers, NRO spysats and national security missions and more at the Kennedy Space Center and Cape Canaveral Space Force Station.
Stay tuned here for Ken's continuing Earth and Planetary science and human spaceflight news: www.kenkremer.com –www.spaceupclose.com – twitter @ken_kremer – email: ken at kenkremer.com
Dr. Kremer is a research scientist and journalist based in the KSC area, active in outreach and interviewed regularly on TV and radio about space topics.
………….
Ken's photos are for sale and he is available for lectures and outreach events
Please consider supporting Ken's work by purchasing his photos and/or donating at Patreon:
https://www.patreon.com/kenkremer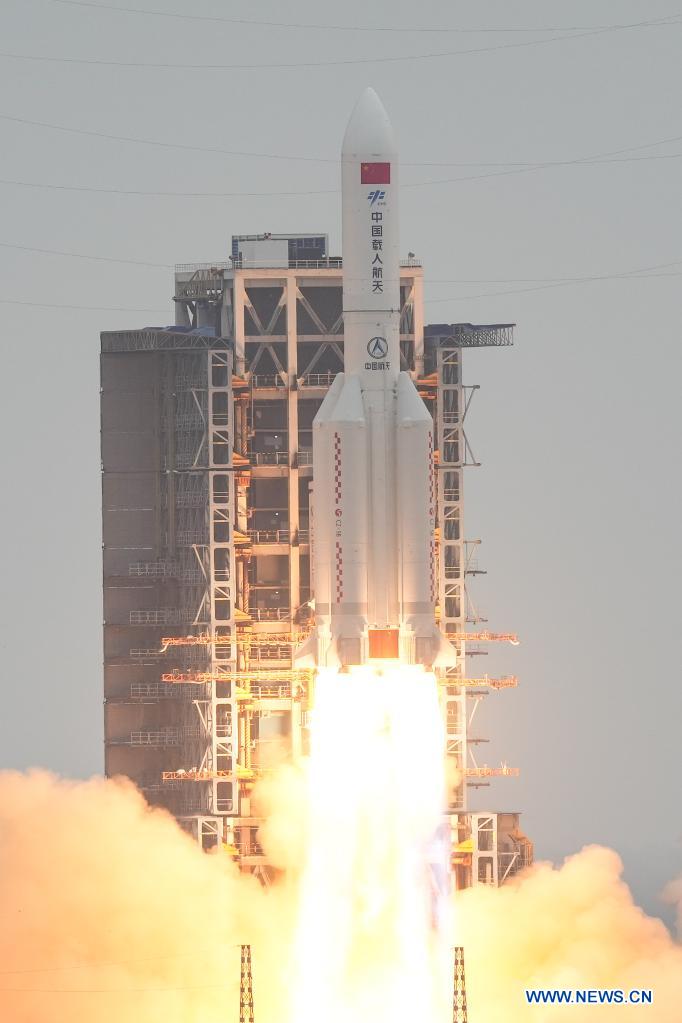 x
x