For SpaceUpClose.com & RocketSTEM
CAPE CANAVERAL, FL –  In another astounding first we can now hear the first sounds of NASA's history making Ingenuity Helicopter whirring rotors while in-flight on Mars in new audio and video and recorded by the Perseverance rover mothership listening and watching nearby during the choppers 4th and most daring and challenging test flight thus far on the alien Red Planet on April 30, or Sol 69 of the mission.
"Sounds of the Mars Helicopter's whirring rotors add another new dimension to the historic project," said NASA officials announcing the latest results of the amazing project that accomplished the first ever demonstration of controlled, powered fight beyond Earth.
Listen closely and carefully a few times to experience the choppers first recorded sounds on the 4th rock from the Sun during the 4th test flight making Ingenuity's longest ever roundtrip flight totaling 872-feet (266-meters) over 117 seconds flying away and returning back to 'Wright Brothers Field.'
"Listen closely. The microphone on @NASAPersevere's SuperCam caught sound during #MarsHelicopter's 4th flight. The rumbling is Martian wind, but those rhythmic hums come from Ingenuity. Scientists made it easier to hear by isolating the 84 Hz blade sound," the NASA JPL team tweeted.
Listen closely?
The microphone on @NASAPersevere's SuperCam caught sound during #MarsHelicopter's 4th flight. The rumbling is Martian wind, but those rhythmic hums come from Ingenuity. Scientists made it easier to hear by isolating the 84 Hz blade sound. https://t.co/uua5h40BPL pic.twitter.com/fGWlMRpVji

— NASA JPL (@NASAJPL) May 7, 2021
These astonishing 'Sounds of Mars' were captured during NASA's Ingenuity choppers extremely challenging 4th test flight on Friday, April 30, by again flying faster and farther than ever before – far surpassing all prelaunch objectives during testing on Earth while making history as humanity's first aircraft to fly beyond Earth during the 1st test flight on April 19.
The humming sounds of the rotorcrafts whirring blades spinning at 2537 rpm along with 'the din of Martian winds was recorded by a microphone included with the SuperCam science instrument mounted on the masthead of the Perseverance rover.
The SuperCam captured audio is combined with video simultaneously captured by the rover's high resolution mast mounted Mastcam-Z imager.
SuperCam is one of two microphones placed aboard Perseverance.
Video Caption: NASA's Perseverance Rover Hears Ingenuity Mars Helicopter in Flight. On April 30, 2021, NASA's Perseverance rover made history as the first spacecraft to record sounds from another spacecraft on another planet. During Ingenuity's fourth flight, a microphone included with the SuperCam instrument aboard Perseverance captured the humming sound of the blades and the din of wind. Credits: NASA/JPL-Caltech/ASU/MSSS/LANL/CNES/CNRS/ISAE-SUPAERO
"The audio is recorded in mono. Scientists made it easier to hear by isolating the 84 hertz helicopter blade sound, reducing the frequencies below 80 hertz and above 90 hertz, and increasing the volume of the remaining signal. Some frequencies were clipped to bring out the helicopter's hum, which is loudest when the helicopter passes through the field of view of the camera," the chopper team reported.
For the 4th test flight Ginny took to the air at 10:49 a.m. EDT (7:49 a.m. PDT, or 12:33 local Mars time) on April 30, or Sol 69 of the mission, and climbed to an altitude of 16 feet (5 meters) as in tests #2 and #3.
Then it flew south for a round trip totaling 872-feet (266-meters) and approximately 436 feet (133 meters) one way each that also lasted a total time in the thin Martian air of 117 seconds, before again safely returning too and softly touching down at 'Wright Brothers Field.'
Thats over 2.5 times more than the 328 feet (100 meters) roundtrip accomplished in Flight #3 and 50% more than previous flight time of 80 seconds.
Watch the 4th flight in imagery from the black and white look down navigation camera installed on Ingenuity here:
The aerial journey continues!?

The #MarsHelicopter will soon embark on a new operations demonstration phase. It'll shift its focus from proving flight is possible on Mars to demonstrating flight operations that future aerial craft could utilize. https://t.co/wH9OHZvIjv pic.twitter.com/Is50qZWhhk

— NASA JPL (@NASAJPL) April 30, 2021
The challenges of flying are incredible because the fully autonomous flight is carried out the extremely thin Martian atmosphere with few air molecules amounting to less than 1% as dense as Earth's– approximately equivalent to 3 times the height of Mount Everest – and under frigid Antarctica-like conditions of minus 90 C (Minus 130 F).
Perseverance was parked 262 feet (80 meters) from the helicopter's takeoff and landing spot during the 4th test flight.
Thus actually being able to capture the sounds of the whirring blades is something of a surprise because in preflight tests they were very low and difficult to discern at such a distance.   the rover mission wasn't sure if the microphone would pick up any sound of the flight.
Even spinning at 2,537 during flight the sound of the helicopter's blades "is greatly muffled by the thin Martian atmosphere. It is further obscured by Martian wind gusts during the initial moments of the flight. Listen closely, though, and the helicopter's hum can be heard faintly above the sound of those winds."
"This is a very good surprise," said David Mimoun, a professor of planetary science at Institut Supérieur de l'Aéronautique et de l'Espace (ISAE-SUPAERO) in Toulouse, France, and science lead for the SuperCam Mars microphone, in a statement.
"We had carried out tests and simulations that told us the microphone would barely pick up the sounds of the helicopter, as the Mars atmosphere damps the sound propagation strongly. We have been lucky to register the helicopter at such a distance. This recording will be a gold mine for our understanding of the Martian atmosphere."
Perseverance touched down at Octavia E. Butler Landing with Ingenuity attached to its belly on Feb. 18, 2021.
The helicopter was deployed to the surface of Jezero Crater on April 3.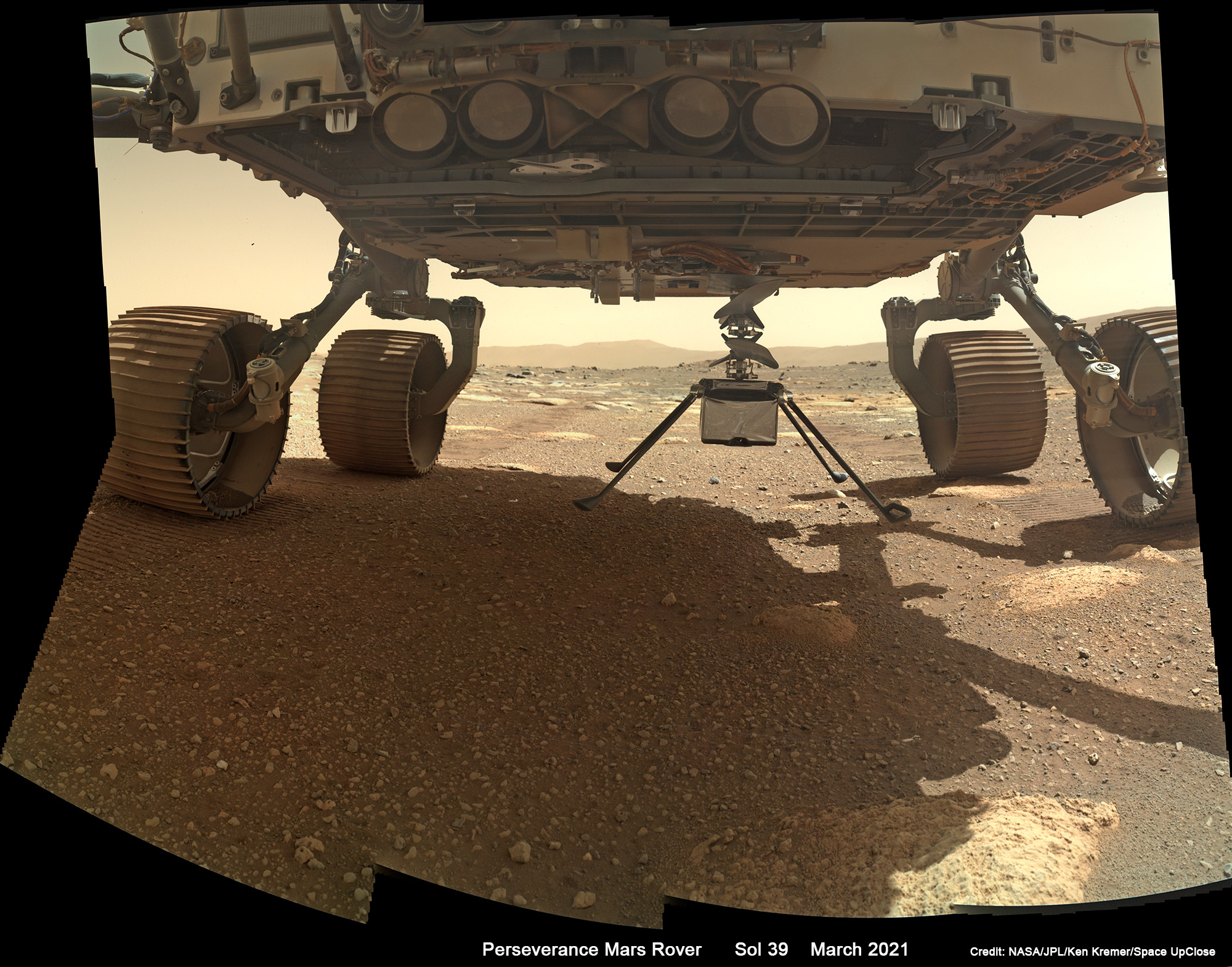 The SuperCam instrument team is led by the Los Alamos National Laboratory in New Mexico, where the instrument's body unit was developed. That part of the instrument includes several spectrometers, control electronics, and software. The mast unit, including the microphone, was developed and built by several laboratories of the CNRS (French research center), ISAE-Supaéro, and French universities under the contracting authority of the Centre National d'Etudes Spatiales (the French space agency). Calibration targets on the rover deck are provided by Spain's University of Valladolid.
'The little rotorcraft that could' seems unstoppable in the feats of science and engineering it accomplishes in the 'Wright Brothers moment' on Mars and spun up its two counter rotating carbon fiber rotor blades to over 2530 rpm
Ingenuity's two counterrotating rotorblades are made of a lightweight carbon fiber foam core to provide lift in the thin Mars atmosphere and measure 4 feet (1.2 meters).
The flight time for the 4-pound (1.8-kg) rotorcraft is chosen to optimize energy and flight conditions and maximize the odds of success.
Perseverance has moved a safe distance away and observes the test flights from about 211 feet (64.3 meters) away at Van Zyl Overlook– see map below.
I've taken several turns and made about 0.17 miles (270 meters) of wheel tracks from where I started to my current spot overlooking the #MarsHelicopter.

Check in on my location any time with this interactive map: https://t.co/uPsKFhW17J pic.twitter.com/AO5LJu41f0

— NASA's Perseverance Mars Rover (@NASAPersevere) April 15, 2021
 Meanwhile enjoy my version of the Sol 46 double selfie mosaic of Ginny and Percy together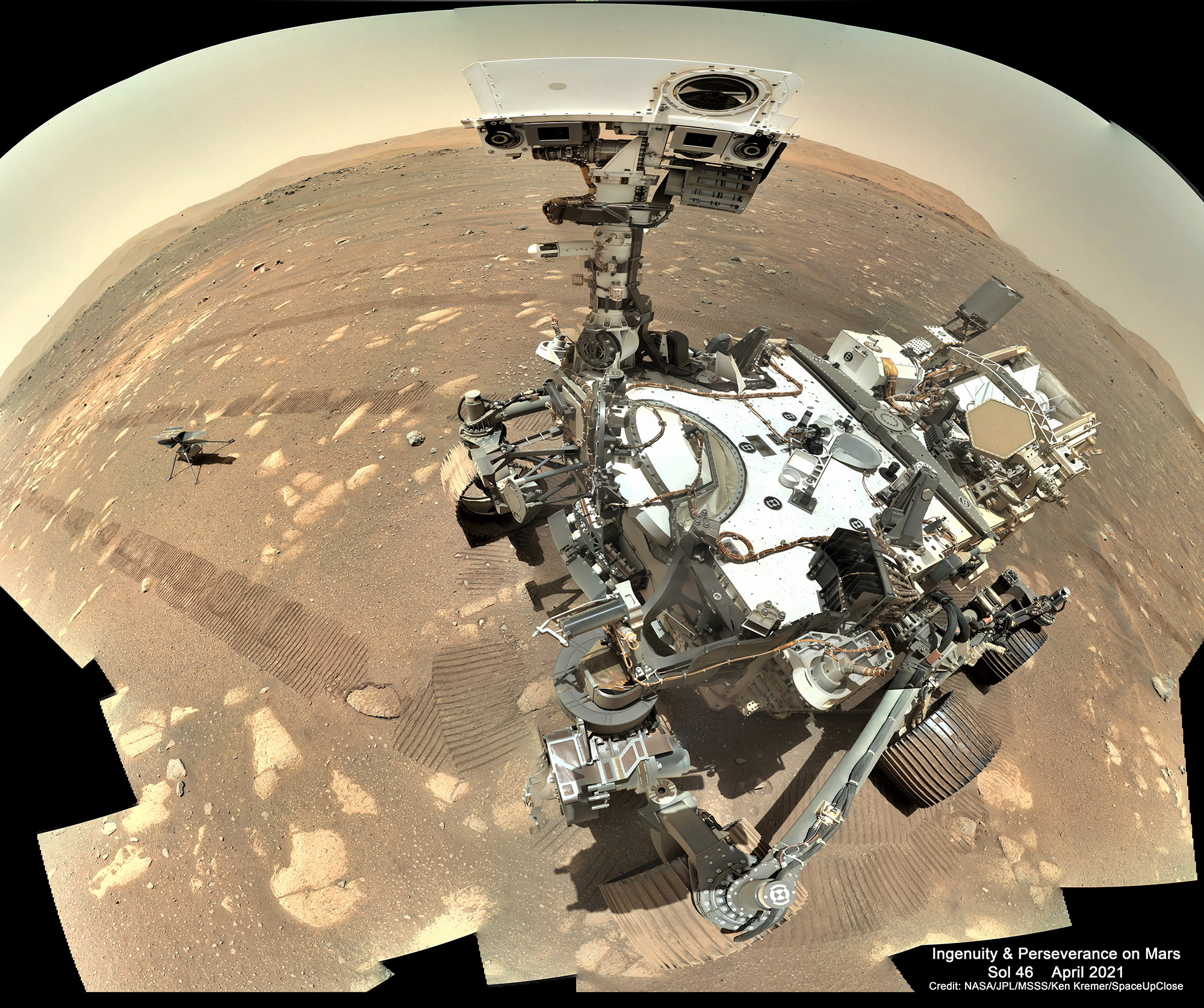 Ginny and Percy (nicknames for Ingenuity and Perseverance) are seen together in my new mosaic here about 13 feet (4 meters) apart in imagery taken on April 6, 2021, on Sol 46 of the mission.
The solar powered Ingenuity helicopter is a technology demonstration experiment aimed at attempting the first flight on Mars.
The four legged Ingenuity has a mass of about 4.0 pounds (1.8  kilograms) and stands 1.6 feet or 19 inches (0.49 meters) high.
Watch Ken's continuing reports about Mars 2020 Perseverance and Curiosity rovers, Artemis and NASA missions, SpaceX, Starlink, Commercial Crew and Starliner and Crew Dragon and onsite for live reporting of upcoming and recent SpaceX and ULA launches including Crew 1 & 2, Demo-2, ISS, X-37B, Solar Orbiter, NRO spysats and national security missions and more at the Kennedy Space Center and Cape Canaveral Space Force Station.
Stay tuned here for Ken's continuing Earth and Planetary science and human spaceflight news: www.kenkremer.com –www.spaceupclose.com – twitter @ken_kremer – email: ken at kenkremer.com
Dr. Kremer is a research scientist and journalist based in the KSC area, active in outreach and interviewed regularly on TV and radio about space topics.
………….
Ken's photos are for sale and he is available for lectures and outreach events
Ken has created hundreds of widely published Mars rover mosaics and lectures also about NASA's Mars rovers
Please consider supporting Ken's work by purchasing his photos and/or donating at Patreon:
https://www.patreon.com/kenkremer
x