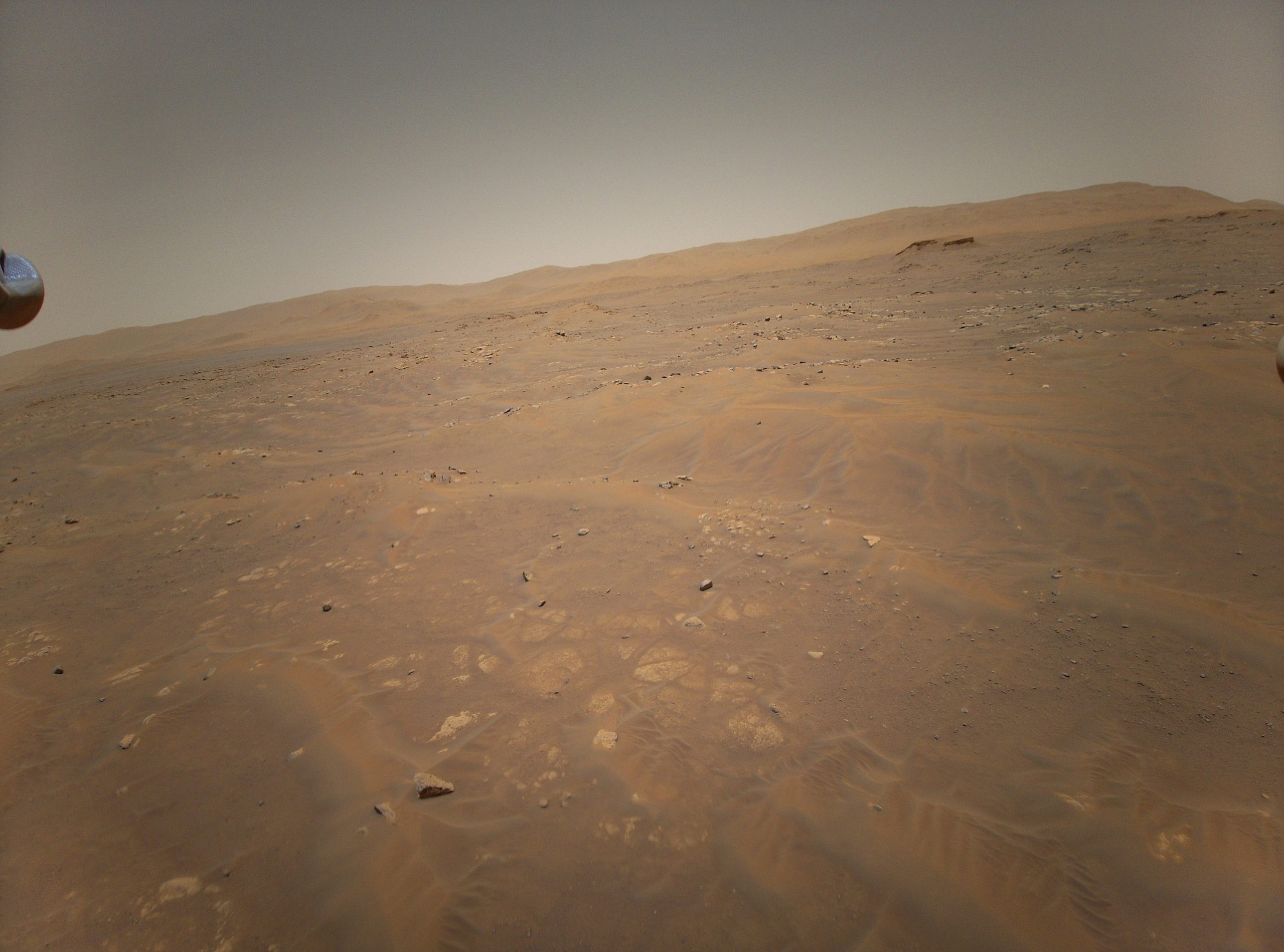 For SpaceUpClose.com & RocketSTEM
CAPE CANAVERAL, FL –  In a test flight challenging beyond anything planned NASA's history making Ingenuity Helicopter 'muscled through' an in-flight anomaly of swinging, pitching and rolling oscillations of some 20 degrees to survive its demanding sixth flight on Mars this week and is ready to press on with reams of unforeseen knowledge gained – under the motto 'Just Keep Flying'.
Ingenuity carried out its stressful 6th test flight on Mars on May 22, or Sol 91 of its joint mission with NASA's Perseverance rover mothership and experienced far more than its JPL handlers had programmed in – on this first flight after transitioning to a newly expanded operational support role as an aerial scout searching for science targets for the six wheeled robot.
"The flight was designed to expand the flight envelope and demonstrate aerial-imaging capabilities by taking stereo images of a region of interest to the west," wrote Håvard Grip, Ingenuity Mars Helicopter Chief Pilot at NASA's Jet Propulsion Laboratory, in a May 27 blog update.
Nearly 1 minute into flight 6 the tiny chopper unexpectedly began adjusting its velocity and tilting back and forth in an oscillating pattern of some 20 degrees – while it was flying at an altitude of 33 feet (10 meters) and moving 492 feet (150 meters) to the southwest at a ground speed of 9 mph (4 meters per second).
Overall it flew 215 meters to land at another new airfield designated as 'Airfield C' and determined in flight based on the imagery captured during the stressful adventure.
"Onboard sensors indicated the rotorcraft encountered roll and pitch excursions of more than 20 degrees, large control inputs, and spikes in power consumption."
Watch this in-flight video taken by Ingenuity:
Just keep flying ?#MarsHelicopter completed its 6th flight. Despite unexpected motion from an image processing issue, Ingenuity muscled through the final ~65 meters of its 215-meter journey, landed safely & is ready to fly again. The chief pilot explains https://t.co/533hn7qixk pic.twitter.com/IHkkjXaHDd

— NASA JPL (@NASAJPL) May 27, 2021
Why? Because a glitch occurred in the pipeline of images being delivered by the navigation camera and one was missed resulting in a timing error that lasted through most of the remaining flight.
"This glitch caused a single image to be lost, but more importantly, it resulted in all later navigation images being delivered with inaccurate timestamps."
"From this point on, each time the navigation algorithm performed a correction based on a navigation image, it was operating on the basis of incorrect information about when the image was taken. The resulting inconsistencies significantly degraded the information used to fly the helicopter, leading to estimates being constantly "corrected" to account for phantom errors. Large oscillations ensued."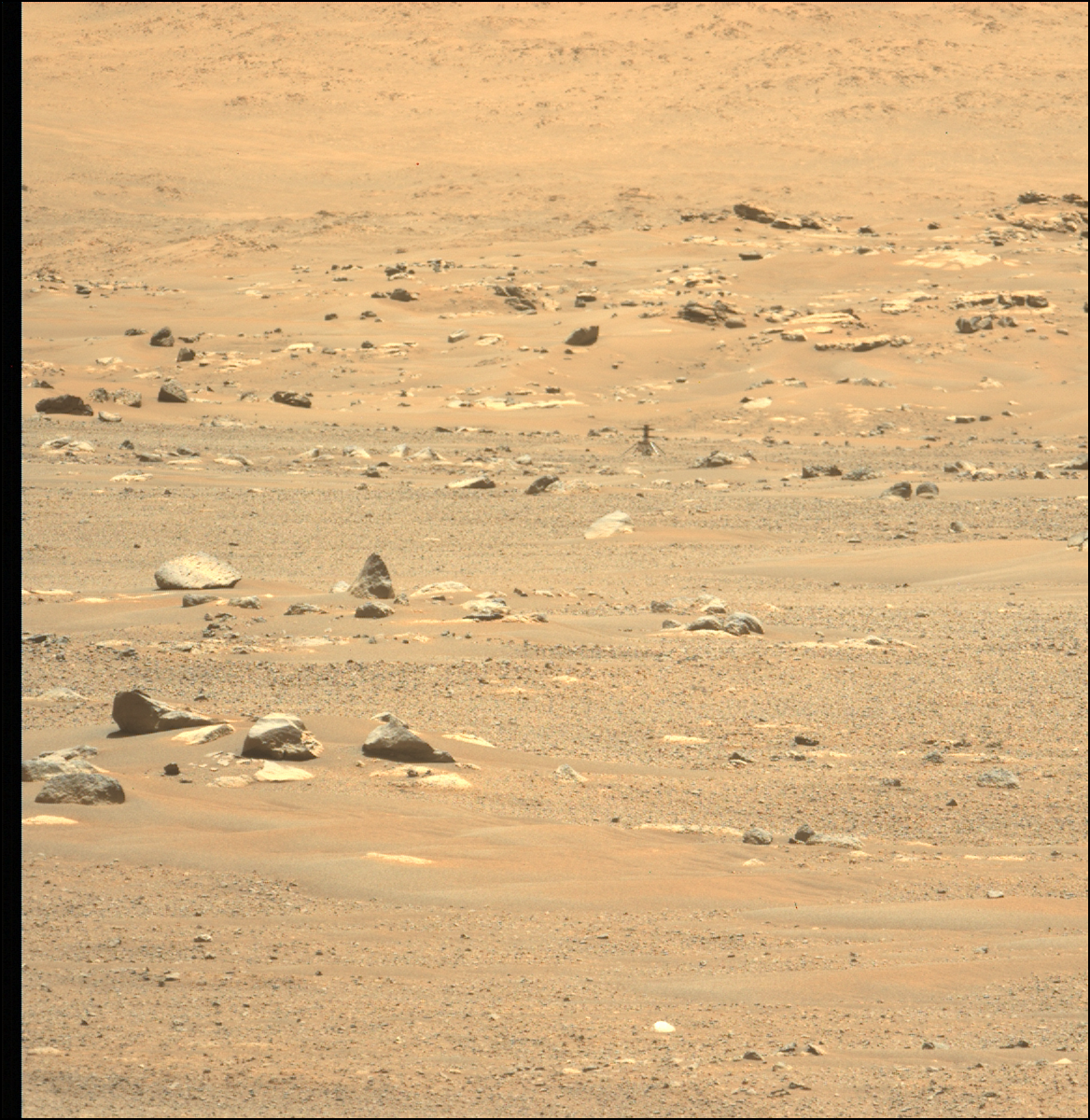 Fortunately, Ingenuity was able to compensate for the anomaly during the remaining flight time and was able to maintain flight and land safely on the surface within approximately 16 feet (5 meters) of the intended landing location, said Gip.
"Looking at the bigger picture, Flight Six ended with Ingenuity safely on the ground because a number of subsystems – the rotor system, the actuators, and the power system – responded to increased demands to keep the helicopter flying."
"In a very real sense, Ingenuity muscled through the situation, and while the flight uncovered a timing vulnerability that will now have to be addressed, it also confirmed the robustness of the system in multiple ways."
The JPL engineering team will fix what went wrong to proceed forward to a 7th flight in a few weeks.

To date Ingenuity has completed 6 history making test flights on Mars proving that flying is possible on the Red Planet despite the ultra thin atmosphere.
The challenges of flying are incredible because the fully autonomous flight is carried out in the extremely thin Martian atmosphere with few air molecules amounting to less than 1% as dense as Earth's– approximately equivalent to 3 times the height of Mount Everest – and under frigid Antarctica-like conditions of minus 90 C (Minus 130 F).
Perseverance touched down at Octavia E. Butler Landing with Ingenuity attached to its belly on Feb. 18, 2021. The helicopter was deployed to the surface of Jezero Crater on April 3.
Since then Ingenuity has far surpassed all prelaunch objectives and far outstripped checkouts during testing on Earth while making history as humanity's first aircraft to fly beyond Earth during the 1st test flight on April 19.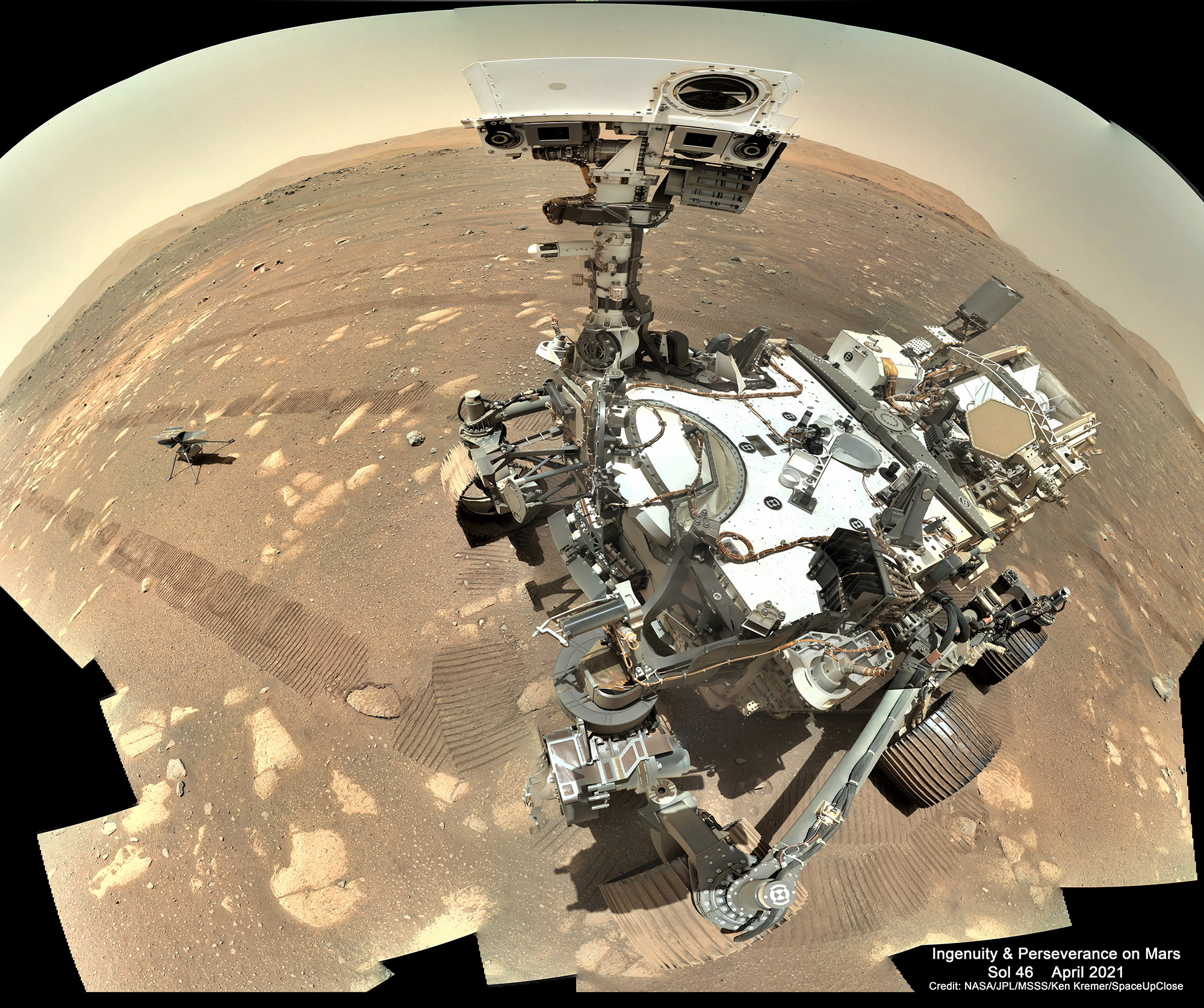 The solar powered Ingenuity helicopter is a technology demonstration experiment aimed at attempting and demonstrating the first flight on Mars.
The four legged Ingenuity has a mass of about 4.0 pounds (1.8  kilograms) and stands 1.6 feet or 19 inches (0.49 meters) high.
Watch Ken's continuing reports about Mars 2020 Perseverance and Curiosity rovers, Artemis and NASA missions, SpaceX, Starlink, Commercial Crew and Starliner and Crew Dragon and onsite for live reporting of upcoming and recent SpaceX and ULA launches including Crew 1 & 2, Demo-2, ISS, X-37B, Solar Orbiter, NRO spysats and national security missions and more at the Kennedy Space Center and Cape Canaveral Space Force Station.
Stay tuned here for Ken's continuing Earth and Planetary science and human spaceflight news: www.kenkremer.com –www.spaceupclose.com – twitter @ken_kremer – email: ken at kenkremer.com
Dr. Kremer is a research scientist and journalist based in the KSC area, active in outreach and interviewed regularly on TV and radio about space topics.
………….
Ken's photos are for sale and he is available for lectures and outreach events
Ken has created hundreds of widely published Mars rover mosaics and lectures also about NASA's Mars rovers
Please consider supporting Ken's work by purchasing his photos and/or donating at Patreon:
https://www.patreon.com/kenkremer
x