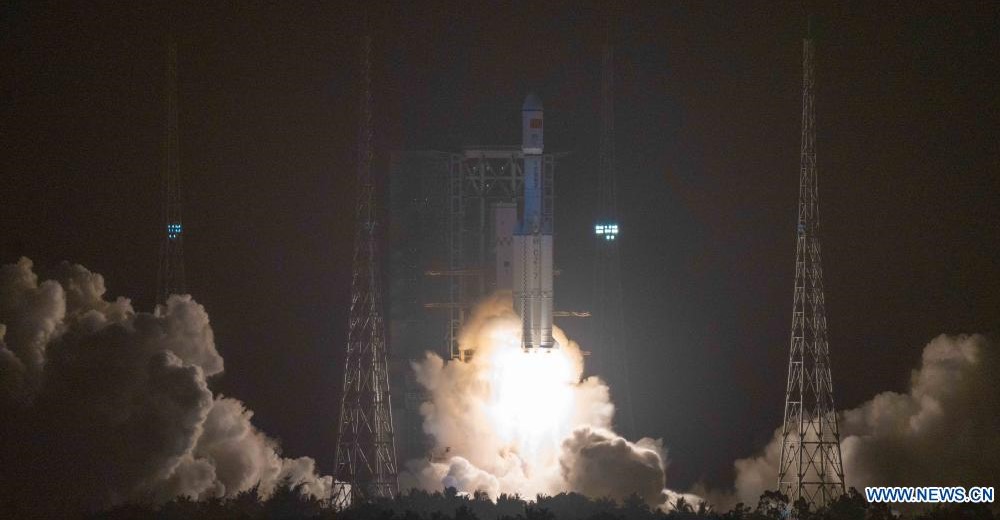 For SpaceUpClose.com & RocketSTEM
CAPE CANAVERAL, FL – China's Tianzhou-2  cargo ship launched Saturday, May 29 and docked successfully eight hours later on Sunday May 30 with the first module of the country's new space station on a mission to deliver nearly seven tons of of supplies, equipment, science, spacesuits and propellant to the fledgling outpost circling in low Earth orbit ahead of the first crew launch slated for June.
The cargo mission once again demonstrates China's prowess in a wide range of advanced space technologies rivalling those of America, Russia, Europe, Canada and Japan and a commitment to building permanent new orbiting crewed space station like the 20 year old International Space Station (ISS).
The Long March-7 Y3 medium-lift rocket, carrying Tianzhou-2, blasted off at 8:55 a.m. EDT, 1255 GMT,  8:55 p.m. Beijing time from the Wenchang Spacecraft Launch Site on the coast of the southern island province of Hainan, according to the China Manned Space Agency.
The Long March 7 rocket generates 1.6 million pounds of liftoff thrust from six kerosene-fueled engines from two on the core stage augmented by four strap-on boosters.
"After 604 seconds, Tianzhou-2 separated from the rocket and entered its designated orbit. At 9:17 p.m. Beijing time, the solar panels of Tianzhou-2 unfolded and began working properly, CMSA said.
"The launch was a complete success."
The launch was delayed from an original target of May 19 for unspecified 'technical reasons.'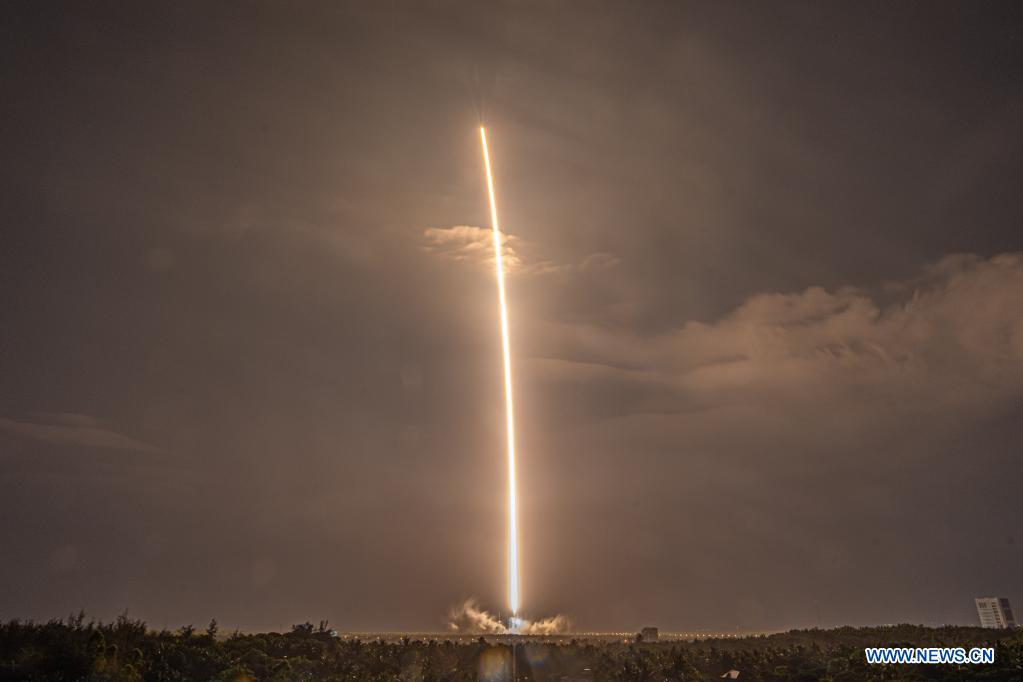 The docking of Tianzhou-2 to Tianhe was fully automated while orbiting at an altitude of approximately 343 km (215 mi) by 371 km (232 mi) and inclined about 41.5 degrees north and south of the equator.
"At 5:01 a.m. Beijing Time, May 30, [5:01 p.m. EDT (2101 GMT) Saturday May 29] Tianzhou-2 and Tianhe completed computer-orchestrated rendezvous and docking. The whole process took approximately eight hours," CMSA said.
This liftoff continues China's fast-paced assembly schedule  of the country's new space station following the successful April 29 launch of the massive 22 ton core module named Tianhe to orbit on a Chinese Long March-5B rocket that kicked off a very ambitious series of 11 launches aiming to complete the construction of the station by the end of next year.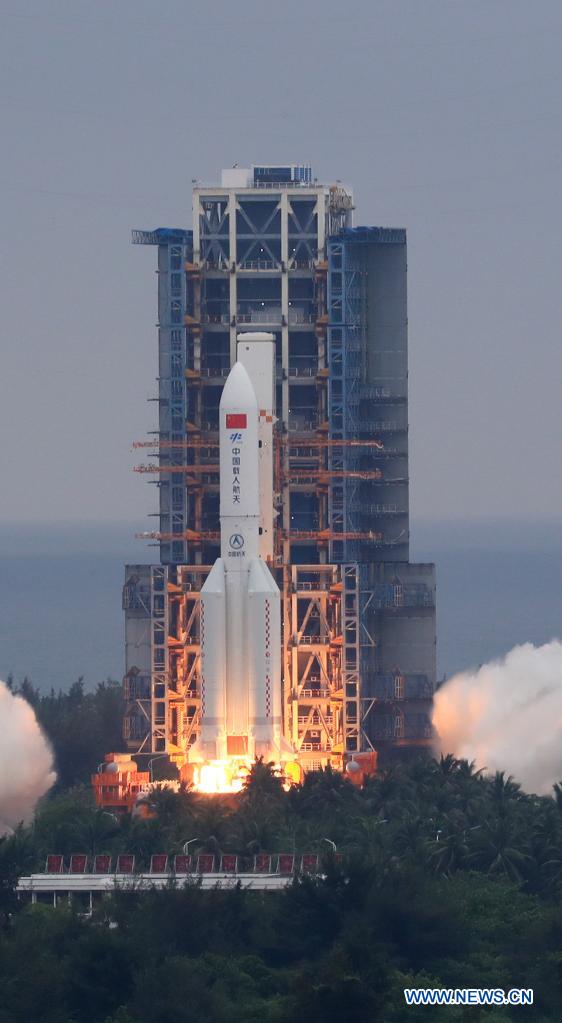 The Tianzhou-2 cargo ship measuring 10.6 meters in length and 3.35 meters maximum diameter has a maximum takeoff weight of 13.5 tons and is loaded with 6.8 tons of supplies, food, materials and science experiments and 1.95 tons propellant.
Tianzhou means "heavenly vessel" in Chinese.
More than 160 large and small packages, including supplies for astronauts and space-science equipment, and two tons of propellant have been loaded into the cargo freighter, according to the China Academy of Space Technology (CAST).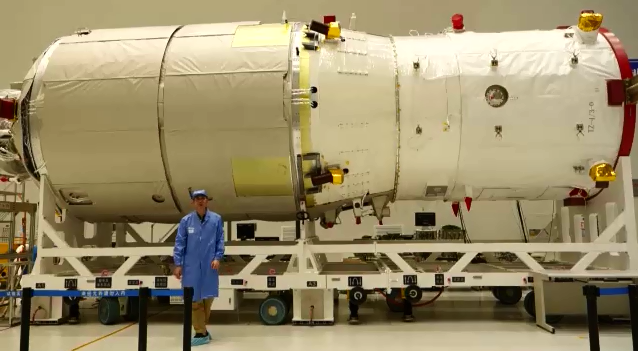 After docking with Tianhe, Tianzhou-2 will transfer propellants to replenish Tianhe's propellant supply ahead of the next crew launch by the Shenzhou-12 manned craft scheduled for June.
The Tianzhou-2 cargo freighter is composed of cargo and propulsion compartments. Supplies are loaded inside the pressurized cargo section, and propellant in the propulsion section.
"During the construction of the space station, cargo spaceships will always be launched ahead of crewed missions," said CMSA Director Hao Chun.
"We will transport support materials, necessary spare parts and equipment first, and then our crew."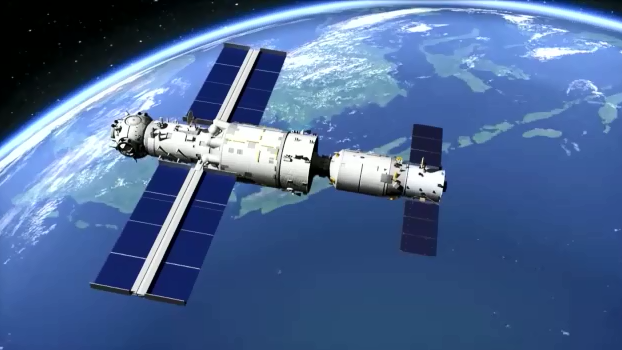 Following the successful docking of Tianzhou-2 to the Tianhe core module, preparations have begun for launch of the Shenzhou-12 crewed spaceship with three astronauts.
They will stay aboard the station for three months and function like ISS crews – unloading the cargo ship of supplies, goods, spare parts, research experiments and more as well as maintaining the station operations.
In addition to supplies for three astronauts, the gear delivered by Tianzhou-2 also includes two spacesuits for extra-vehicular activities, each weighing more than 100 kg, according to Xinhua.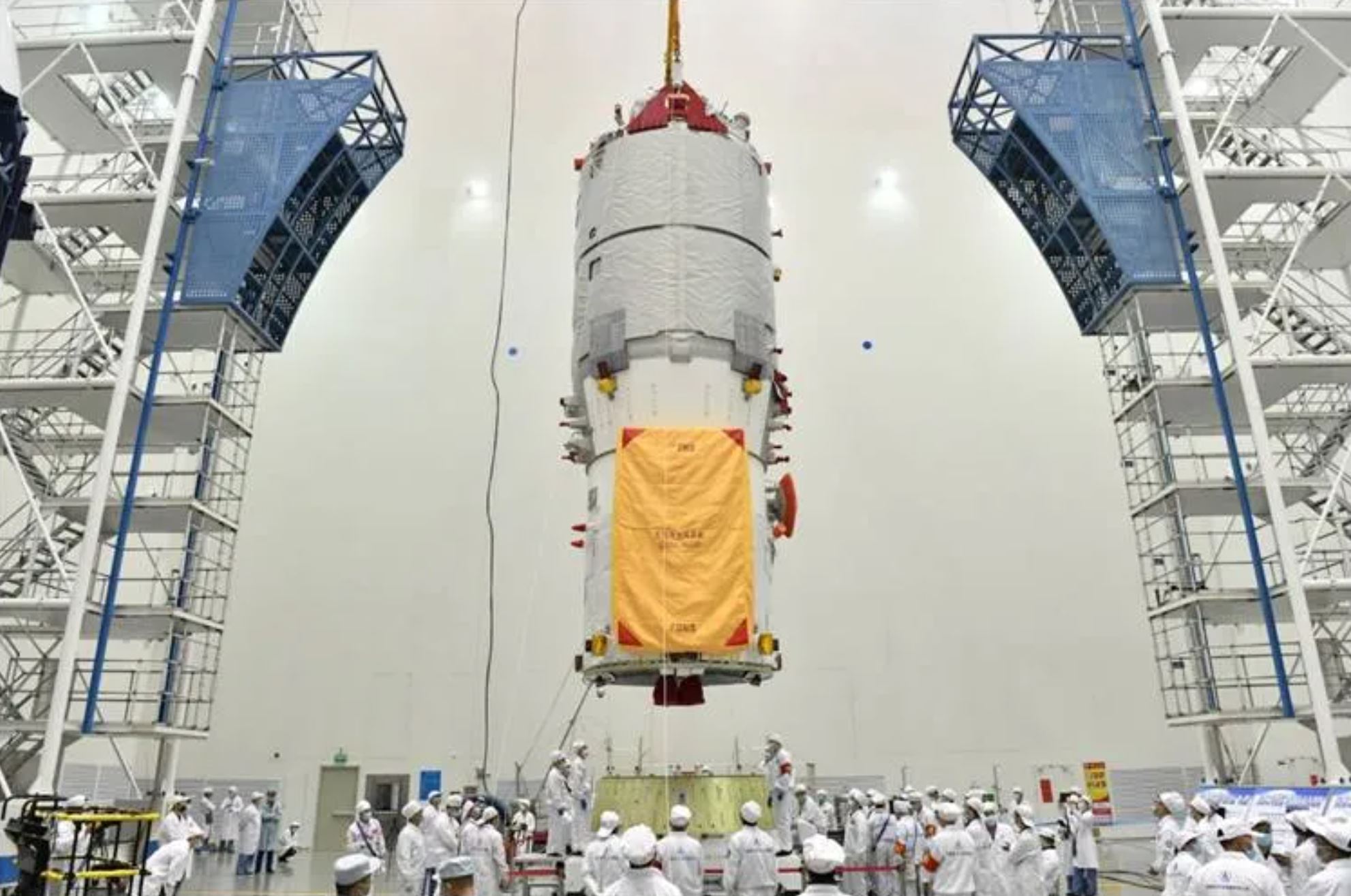 China plans a series of 11 missions to complete assembly on an accelerated schedule by the end of 2022.
"Tianhe will act as the management and control hub of the space station Tiangong, meaning Heavenly Palace, with a node that could dock with up to three spacecraft at a time for short stays, or two for long," said Bai Linhou, deputy chief designer of the space station at the China Academy of Space Technology (CAST), under the China Aerospace Science and Technology Corporation.
Five space station mission launches are scheduled this year and six in 2022.
The Tianzhou cargo craft function similarly to the Russian Progress, US Cygnus and Cargo Dragon and Japanese HTV  resupply vehicles.
Another three person crew will launch later this year on the Shenzhou-13 mission for the start of routine six month stays aboard.
That crew will be supported by launch of another cargo craft dubbed Tianzhou-3 later this year as well to complete the five launches slated for 2021.
Two additional habitable laboratory modules that are similarly sized will be added next year – each with a mass of 20 tons.
They are named the Wentian and Mengtian lab modules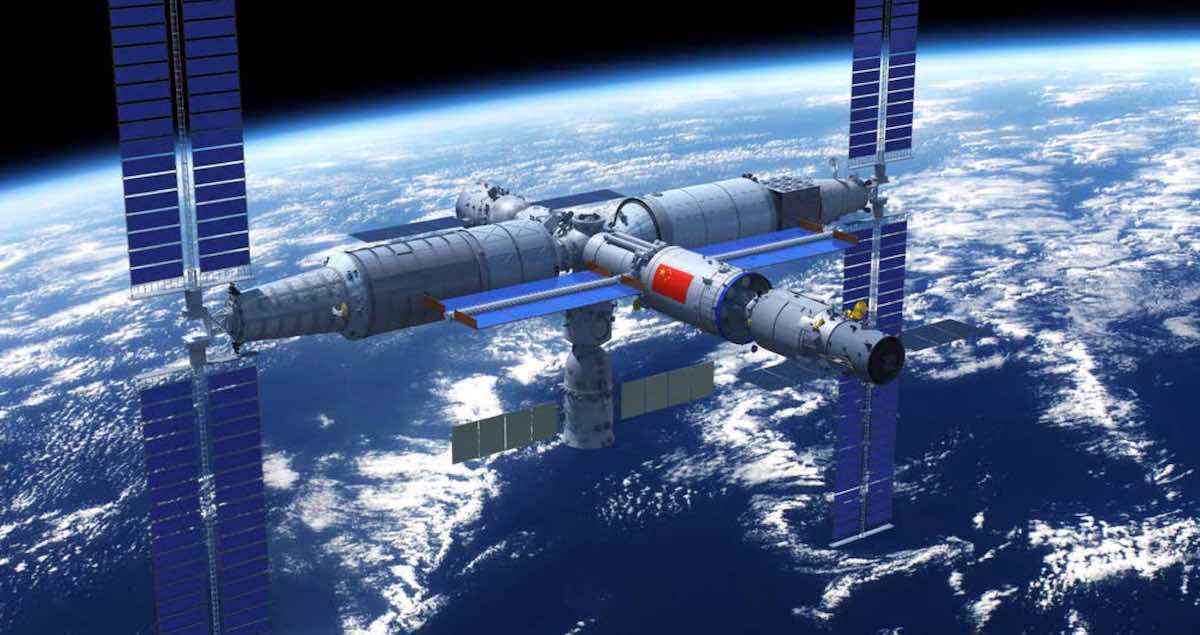 The space station will take on a T shape when complete with the core module at the center and a lab capsule on each side.
At times the overall mass will reach to about 100 tons when cargo and manned spacecraft are docked.
Two additional Tianzhou cargo spacecraft and two additional Shenzhou manned spaceships will also launch next year for a total of six flights in 2022 remaining to complete the construction of the space station.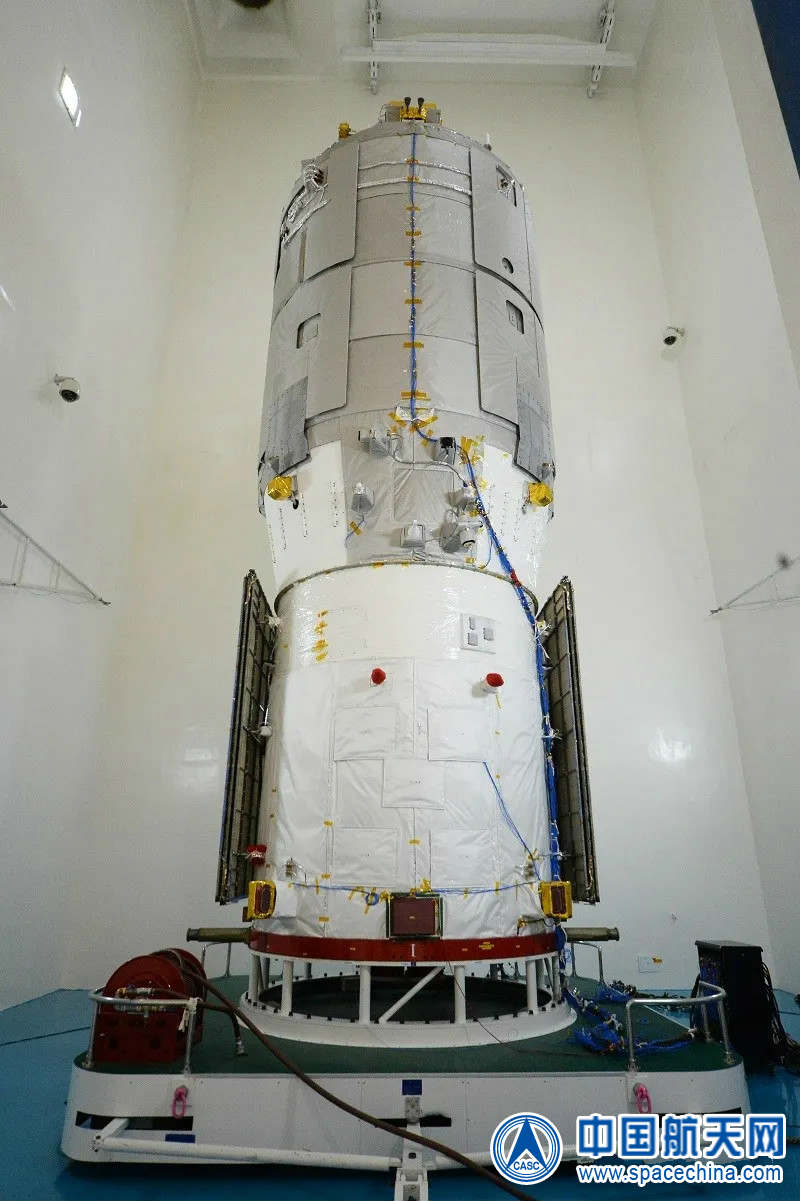 When complete the Tiangong Space Station will be about the size of Russia's Mir space station and 1/5 the size of the ISS.
It has been designed for a lifespan of 10 years, but Chinese experts say it could last much longer to 15 years or more with appropriate maintenance and repairs.
The ISS has also lasted much longer than expected and its lifetime has been extended several times already
Watch Ken's continuing reports about Artemis and NASA missions, SLS, Orion, SpaceX, Starlink, Commercial Crew and Starliner and Crew Dragon and onsite for live reporting of upcoming and recent SpaceX and ULA launches including Crew 1 & 2, Demo-2, ISS, X-37B, Solar Orbiter, Mars 2020 Perseverance and Curiosity rovers, NRO spysats and national security missions and more at the Kennedy Space Center and Cape Canaveral Space Force Station.
Stay tuned here for Ken's continuing Earth and Planetary science and human spaceflight news: www.kenkremer.com –www.spaceupclose.com – twitter @ken_kremer – email: ken at kenkremer.com
Dr. Kremer is a research scientist and journalist based in the KSC area, active in outreach and interviewed regularly on TV and radio about space topics.
………….
Ken's photos are for sale and he is available for lectures and outreach events
Please consider supporting Ken's work by purchasing his photos and/or donating at Patreon:
https://www.patreon.com/kenkremer

x