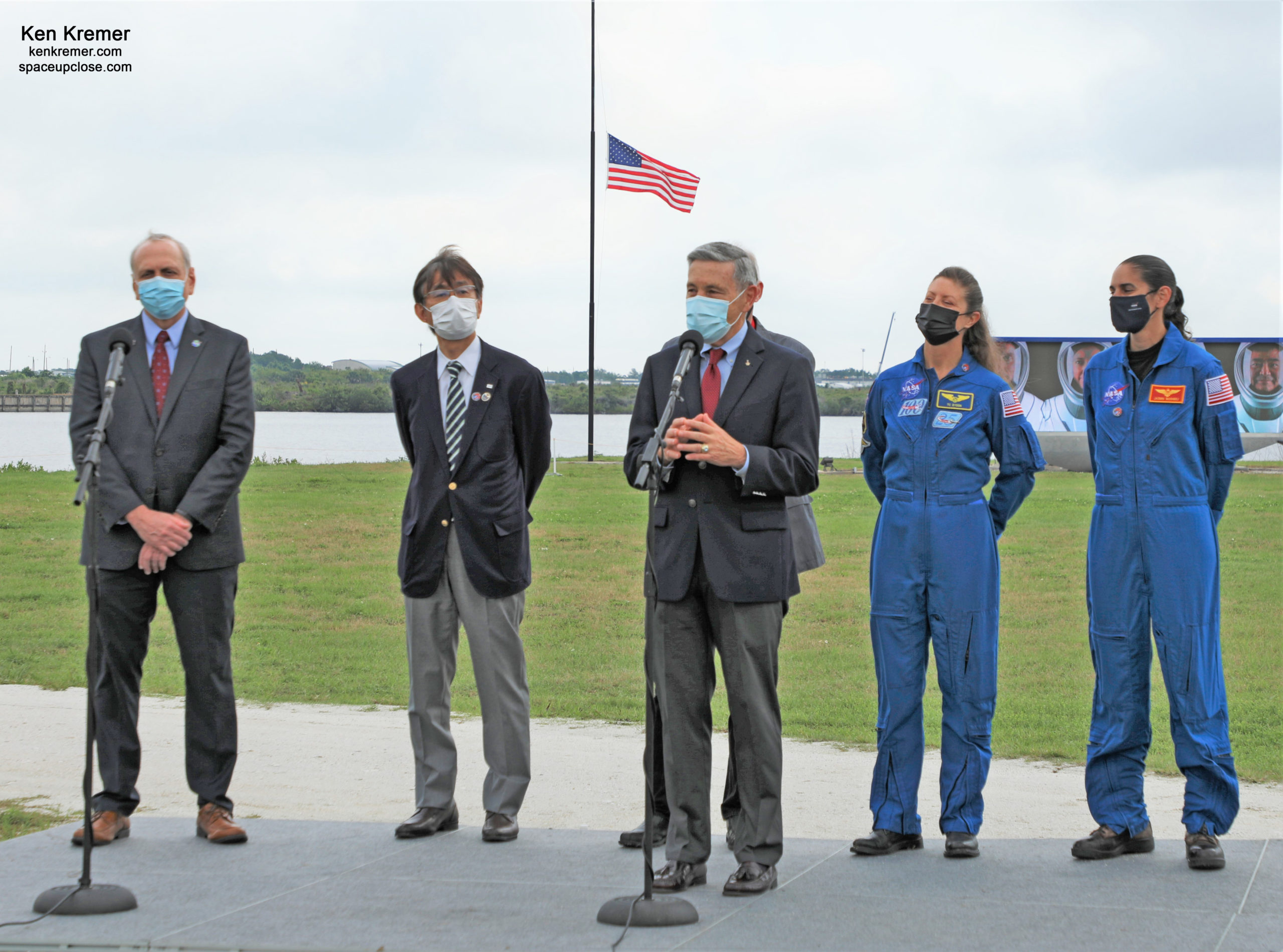 For SpaceUpClose.com & RocketSTEM
KENNEDY SPACE CENTER, FL –  Newly confirmed and sworn in NASA Administrator Sen. Bill Nelson announced that long-time Kennedy Space Center (KSC) Director and veteran Space Shuttle Commander Robert D. Cabana, has been tapped to become NASA Associate Administrator at agency headquarters in Washington, D.C. effective Monday, May 17, replacing Steve Jurczyk who is retiring.
The well liked and highly regarded Bob Cabana, age 72, who flew four space shuttle missions including the first assembly mission for the International Space Station (ISS) back in 1998, has served effectively as director of NASA's Kennedy Space Center in Florida since 2008 and pushed through his vision of transforming KSC into a multi-user spaceport.
"Bob has a relentless determination to expand America's role in space. Under his leadership, Kennedy has emerged as a modern, world class multi-user spaceport, partnering with commercial customers and supporting NASA's science and human exploration missions," Nelson said in a May 10 statement announcing the agency leadership changes.
"Bob is the real deal – he has the vision and management skills to bring NASA to even higher heights."
Cabana's promotion to what is effectively the #3 position at NASA and the highest civil servant position fills a new opening in the position that simultaneously follows on the heels of the announcement of the retirement of current Associate Administrator Steve Jurczyk, who held the position since 2018.
"I'm honored to have been selected by Sen. Nelson to serve as associate administrator of NASA," Cabana said.
"Bill and I have a shared passion for America's space program, and I look forward to serving NASA and our nation in this new capacity. As much as I am going to miss the incredible team at Kennedy, I can't wait to take on this new challenge."
Steve Jurczyk also briefly served as acting NASA Administrator from Jan. 20 at the start of the Biden Administration until this month on May 3, 2021 after the confirmation of Bill Nelson as the 14th NASA Administrator.
Jurczyk will retire on Friday, May 14, after more than three decades of service at NASA.
Jurczyk's term included the NASA SpaceX Crew-2 mission launch of four astronauts to the ISS aboard Crew Dragon Endeavour just last month on April 22
Nelson and Cabana are long time friends since they first met in 1985 while Nelson was training to fly on the space shuttle and Cabana arrived at NASA as an astronaut candidate.
"At Kennedy, Cabana managed all NASA programs and activities at the spaceport, including the team of civil service and contractor employees who operate some of NASA's most critical programs, including its Commercial Crew Program," said NASA in a statement.
"Cabana graduated from the U.S. Naval Academy in 1971 with a degree in mathematics. He was commissioned in the U.S. Marine Corps and completed Naval Flight Officer training in Pensacola in 1972. He was designated a naval aviator in September 1976 and went on to log more than 7,000 hours of flight time in more than 50 different kinds of aircraft."
Janet Petro, who has served as deputy director of Kennedy since 2007, will serve as acting center director in the interim.
"Petro also was central to Kennedy's transition to a multi-user spaceport, leading cross-agency initiatives with the Federal Aviation Administration and U.S. Air Force to streamline government processes, support commercial space operations, increase government efficiency, and limit redundancy."
I have met and interviewed Cabana, Jurczyk and Nelson many times while covering NASA missions
Former 3 term U.S. Senator Bill Nelson (D) from Florida and veteran space flyer was sworn in on May 3, as the 14th NASA Administrator by Vice President Kamala Harris after he was unanimously confirmed by the U.S. Senate the week before following his formal nomination for the prestigious post by President Joe Biden.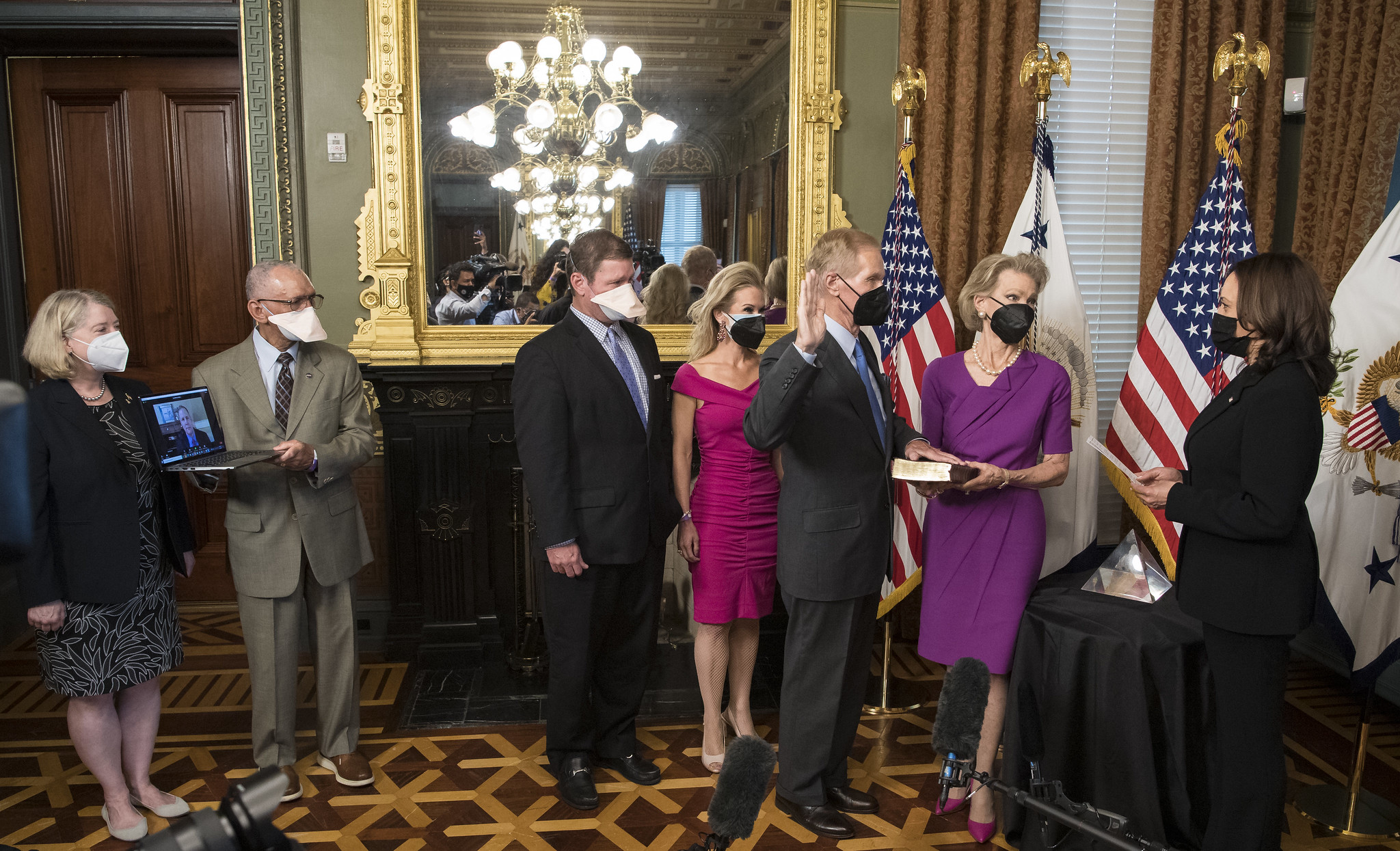 Nelson was sworn in as NASA Administrator by VP Harris after he was given the oath of office in a ceremony that took place at the Eisenhower Executive Office Building near the White House in Washington, D.C. as her first act as Chair of the National Space Council.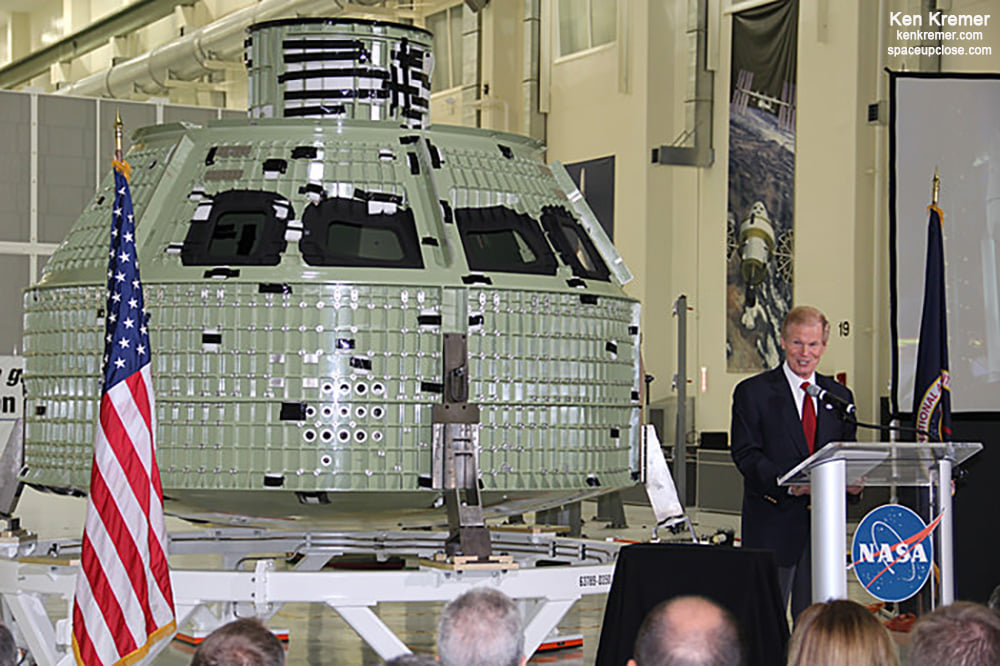 Watch Ken's continuing reports about Artemis and NASA missions, SLS, Orion, SpaceX, Starlink, Commercial Crew and Starliner and Crew Dragon and onsite for live reporting of upcoming and recent SpaceX and ULA launches including Crew 1 & 2, Demo-2, ISS, X-37B, Solar Orbiter, Mars 2020 Perseverance and Curiosity rovers, NRO spysats and national security missions and more at the Kennedy Space Center and Cape Canaveral Space Force Station.
Stay tuned here for Ken's continuing Earth and Planetary science and human spaceflight news: www.kenkremer.com –www.spaceupclose.com – twitter @ken_kremer – email: ken at kenkremer.com
Dr. Kremer is a research scientist and journalist based in the KSC area, active in outreach and interviewed regularly on TV and radio about space topics.
………….
Ken's photos are for sale and he is available for lectures and outreach events
Please consider supporting Ken's work by purchasing his photos and/or donating at Patreon:
https://www.patreon.com/kenkremer
x