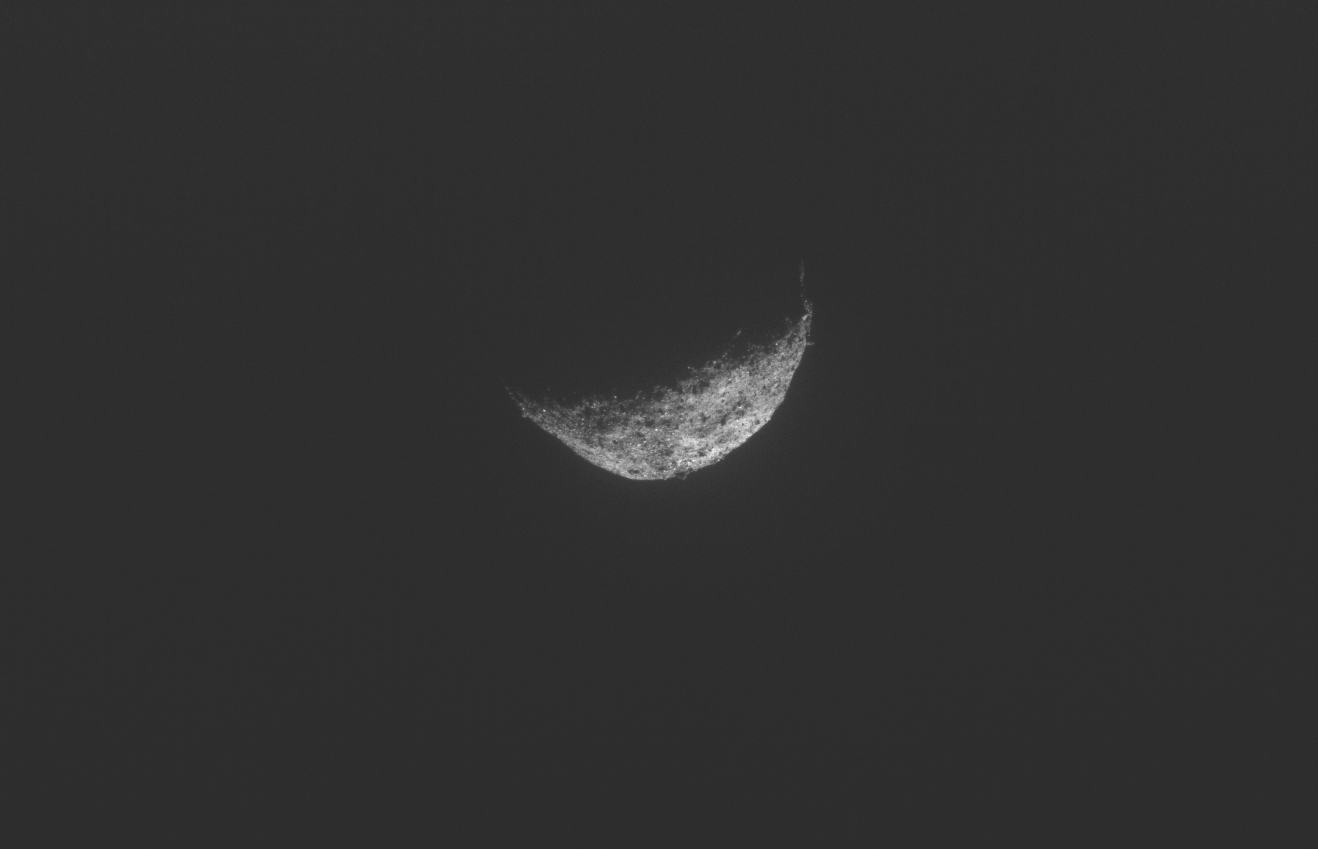 For SpaceUpClose.com & RocketSTEM
CAPE CANAVERAL, FL – NASA's bold and wildly successful OSIRIS-REx spacecraft successful fired up its main engine for seven minutes Monday afternoon, May 10, to bid adieu and depart Asteroid Bennu placing the probe on a trajectory heading for a return to Earth in 2023 and delivery of a treasure trove of pristine primordial asteroid material – but not before snapping a potent parting shot of the ancient 4.5 Billion year old rubble strewn body it called home since arriving in 2018 for unprecedented science investigations and sample gathering.
After nearly five years in space, NASA's Origins, Spectral Interpretation, Resource Identification, Security, Regolith Explorer (OSIRIS-REx) spacecraft is on its way back to Earth with an abundance of rocks and dust from the 510-meter-wide near-Earth asteroid Bennu, NASA officials confirmed during a live webcast of the momentous event Monday.
"On Monday, May 10, at 4:23 p.m. EDT the spacecraft fired its main engines full throttle for seven minutes – its most significant maneuver since it arrived at Bennu in 2018."
"The main engine burn thrust the spacecraft away from the asteroid at 600 miles per hour (nearly 1,000 kilometers per hour), setting it on a 2.5-year cruise towards Earth."
After nearly 5 years in space, @NASASolarSystem's #OSIRISREx mission is heading to Earth with a sample of rocks & dust from a 4.5-billion-year-old asteroid!

? ▪️▪️▪️?️▪️▪️▪️ ?

Check out how its mission #ToBennuAndBack exceeded our expectations: https://t.co/91n38cmQNA pic.twitter.com/bxtT0uXeu3

— NASA (@NASA) May 10, 2021
Before departing OSIRIS-Rex captured a parting shot on April 9 to bid adieu to the crescent Bennu – using the navigation cameras that helped orient the spacecraft in relation to Bennu. Thereafter the navcam was turned off.
"This image, the last one taken by the spacecraft, shows crescent Bennu with its night side merging with the complete black of space as the spacecraft pushed away from Bennu," wrote the team.
This is the last image that OSIRIS-REx took of asteroid Bennu, its companion in space for the past 2.5 years. The image shows crescent Bennu with its night side melting into the black of space.

We're not crying. You're crying ? #ToBennuAndBack https://t.co/334Mx0cHVM pic.twitter.com/VaSfBUADSt

— NASA Solar System (@NASASolarSystem) May 11, 2021
Last October 20, 2020 OSIRIS-Rex completed its primary mission goal when it successfully gathered, stowed and sealed an overflowing huge sample estimated at perhaps a kilogram (2 pounds) or more of asteroid Bennu soil and rocks inside the probes Sample Return Capsule (SRC) for the return trip to Earth.
After a then four year journey of over 200 million miles (321 million km) from Earth and two years in orbit the $1 Billion OSIRIS-REx mission touched and sampled Asteroid Bennu for six seconds at the Nightingale sample site.
Here's a summary of the epic images from the TAG event on Oct 20, 2020:
Check out all the epic videos from yesterday's journey #ToBennuAndBack here: https://t.co/p9ixwbmv4P pic.twitter.com/7YnVd1PgGE

— NASA's OSIRIS-REx (@OSIRISREx) October 21, 2020
OSIRIS-REx counts as NASA's first ever mission aimed at gathering samples of asteroidal dust and pebbles from the surface of an asteroid with the goal of safe  delivery back to Earth in 2023 in a sample return canister for high powered scientific analysis by the most advanced research instruments available.
NASA's first asteroid sample retrieval mission took place on a carbon rich Near Earth Asteroid collecting pristine soil and rock samples dating back to the origin of the solar system 4.5 Billion years ago  and perhaps gives clues to the origin of life on Earth as well.

The May 10 main engine firing placed OSIRIS-Rex on course for a flyby of Earth within about 6,000 miles (approximately 10,000 kilometers) in Sept. 2023 when it will again fire its main engine for release of the sample return capsule and complete its primary mission.
The engine firing will also put it on a trajectory to circle the sun inside of Venus' orbit for a potential extended mission to another asteroid after successfully returning the sample capsule to Earth – since the probe has plenty of fuel remaining.
The team will investigate the feasibility of an extended mission starting this summer now that the probe is on its way back to Earth.
After orbiting the Sun twice, the OSIRIS-REx spacecraft is due to reach Earth Sept. 24, 2023 and release the capsule containing samples of Bennu and separate from the rest of the spacecraft and enter Earth's atmosphere.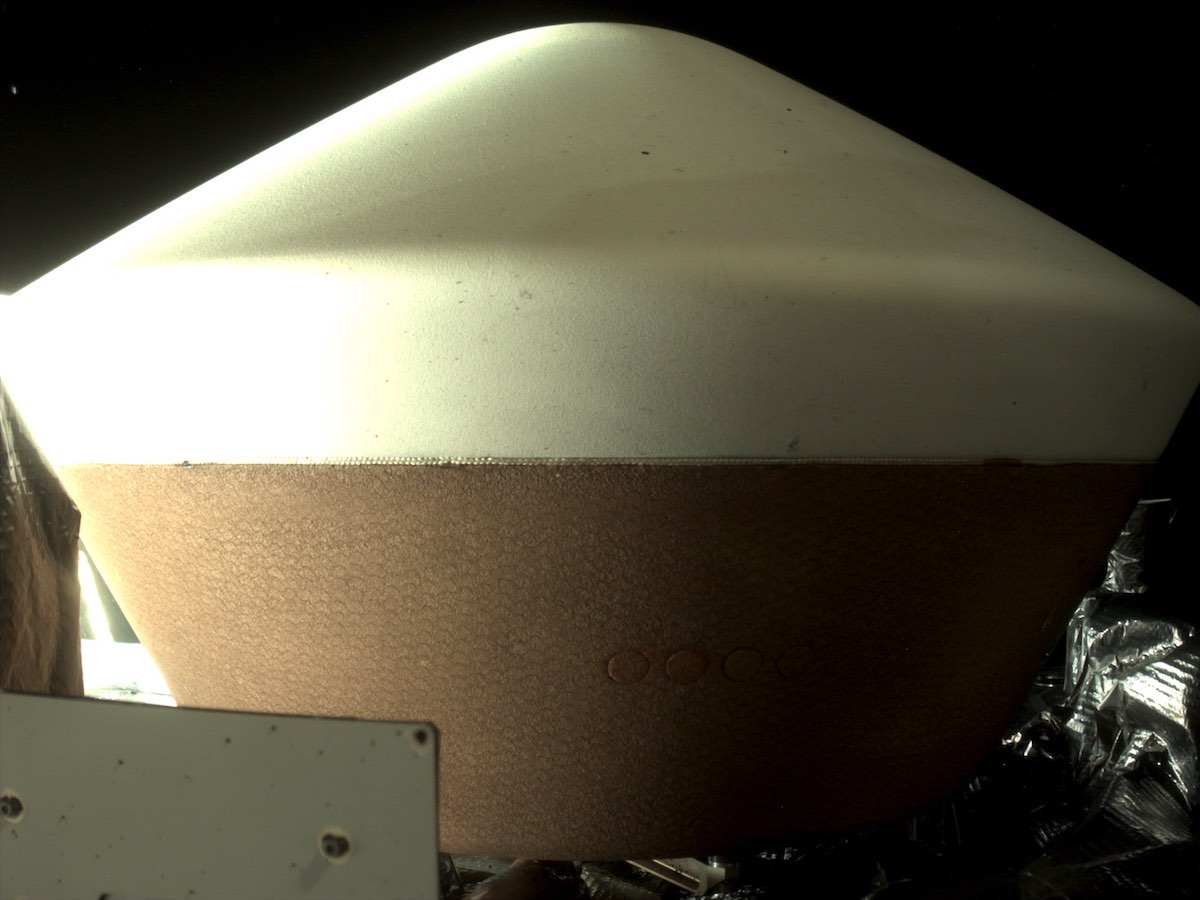 The sample return capsule (SRC) will parachute to the Utah Test and Training Range in Utah's West Desert, where scientists will be waiting to retrieve it.
"OSIRIS-REx's many accomplishments demonstrated the daring and innovate way in which exploration unfolds in real time," said Thomas Zurbuchen, associate administrator for science at NASA Headquarters. "The team rose to the challenge, and now we have a primordial piece of our solar system headed back to Earth where many generations of researchers can unlock its secrets."
So the team's goal ahead is to carefully navigate OSIRIS-Rex back to Earth and deliver the sample return canister for a parachute assisted soft landing intact on the Utah desert.
We've studied Bennu from orbit, and now we're getting ready to dig in, literally. A sample of this primordial rock is now on its way to Earth, where we will analyze it to learn about the origins of our solar system and life on Earth. https://t.co/6zGB6c4lMU #ToBennuAndBack pic.twitter.com/hdajX8ehTr

— NASA Solar System (@NASASolarSystem) May 10, 2021
"Our whole mindset has been, 'Where are we in space relative to Bennu?'" said Mike Moreau, OSIRIS-REx deputy project manager at NASA's Goddard Space Flight Center in Greenbelt, Maryland. "Now our mindset has shifted to 'Where is the spacecraft in relation to Earth?'"
The Nightingale sample site was very small – about the size of 3 parking spots – about 25 feet (8 meters) in diameter.  It was surrounded by a few rather large boulders and rocks inside the crater
Overall Bennu is much more rugged and dominated by rocks and boulders – compared to the simpler smooth beach-sand like consistency expected prelaunch.
So the team had carried out an incredibly detailed analysis of the surface to find a safe sampling spot- as the asteroid is rotating with a period of 4.3 hours
Bennu has an active surface and is ejecting material
The spacecraft has extensively surveyed the asteroid before the mission team selected two possible sample sites. Close examination of these sites  allowed the team to pick one for sample collection – and it succeeded brilliantly at Nightingale
OSIRIS-REx was launched on Sept. 8, 2016 on a United Launch Alliance Atlas V rocket from Cape Canaveral Air Force Station, FL.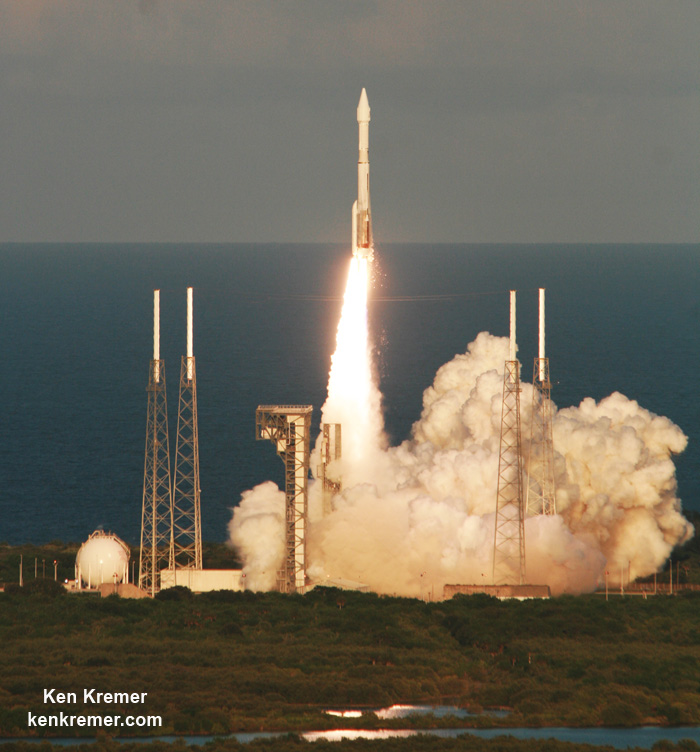 Watch the May 10 edition of Stay Curious' for my live interview about OSIRIS-Rex,  Ingenuity and Perseverance, as well as Artemis, SLS, SpaceX launches and much more
https://www.facebook.com/175507880819/videos/753000855387214
Watch Ken's continuing reports about OSIRIS-REx, Commercial Crew and Artemis and onsite for live reporting of upcoming and recent SpaceX and ULA launches including Demo-2, Starlink, X-37B, Solar Orbiter, Mars 2020 and more at the Kennedy Space Center and Cape Canaveral Space Force Station.
Watch Ken's continuing reports about OSIRIS-REx. Mars 2020 Perseverance and Curiosity rovers, Artemis and NASA missions, SpaceX, Starlink, Commercial Crew and Starliner and Crew Dragon and onsite for live reporting of upcoming and recent SpaceX and ULA launches including Crew 1 & 2, Demo-2, ISS, X-37B, Solar Orbiter, NRO spysats and national security missions and more at the Kennedy Space Center and Cape Canaveral Space Force Station.
Stay tuned here for Ken's continuing Earth and Planetary science and human spaceflight news: www.kenkremer.com –www.spaceupclose.com – twitter @ken_kremer – email: ken at kenkremer.com
Dr. Kremer is a research scientist and journalist based in the KSC area, active in outreach and interviewed regularly on TV and radio about space topics.
………….
Ken's photos are for sale and he is available for lectures and outreach events
Ken has created hundreds of widely published Mars rover mosaics and lectures also about NASA's Mars rovers, human spaceflight and more
Please consider supporting Ken's work by purchasing his photos and/or donating at Patreon:
https://www.patreon.com/kenkremer
Upcoming Outreach Event:
May 15: 11 AM to 3 PM at the American Space Museum, Titusville.  Ask Ken anything about NASA and Space Force missions and launches.  Ken will have a display of his Space and rocket photos and Mars mosaics for sale along  with Jean Wright will have a display of her space themed apparel and face masks for sale to support our ad free space news website – Space UpClose
x