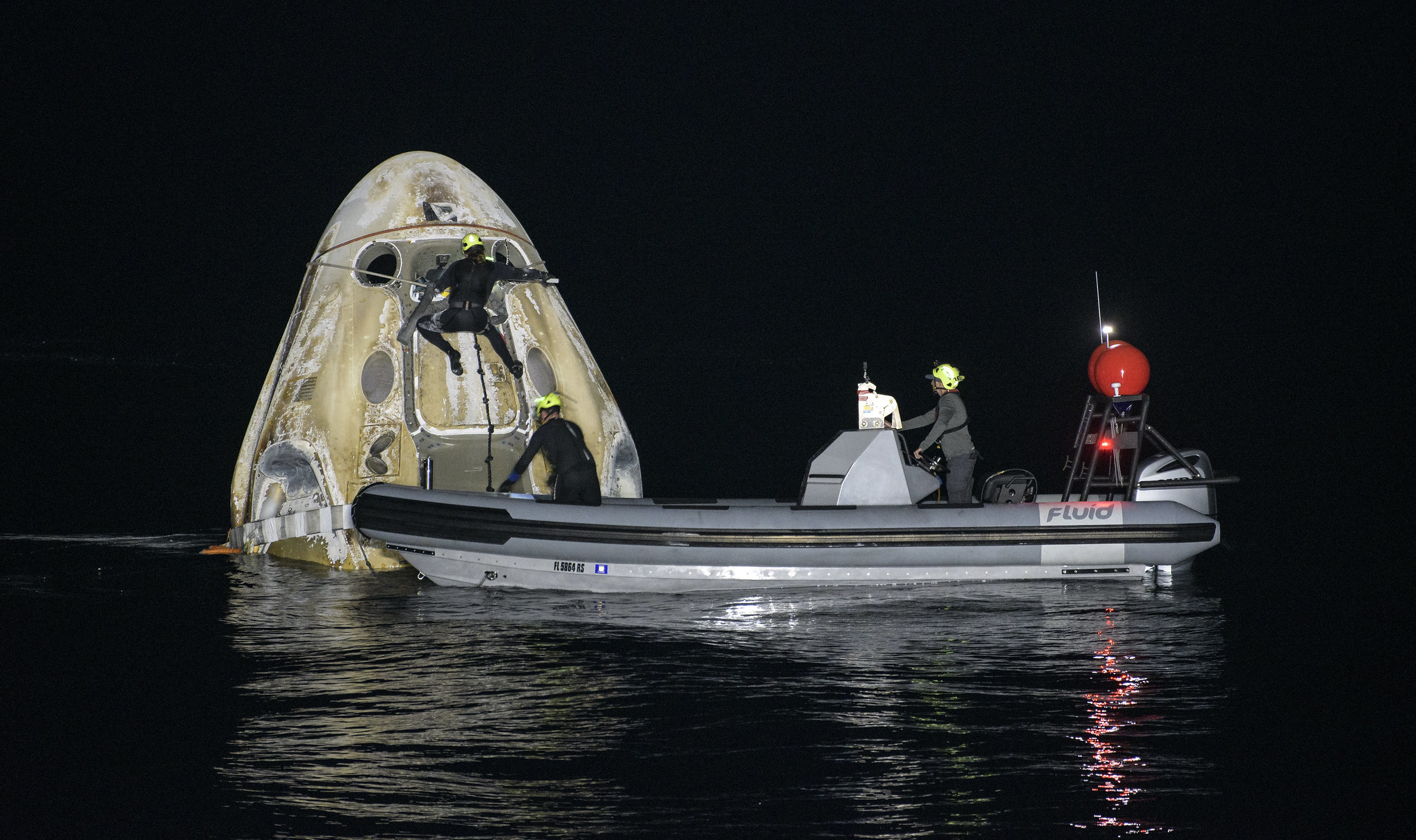 For SpaceUpClose.com & RocketSTEM
CAPE CANAVERAL, FL – After completing a six month science stint aboard the International Space Station (ISS) the four person multinational astronaut team on the NASA Crew-1 mission departed aboard their commercial SpaceX Crew Dragon spacecraft Saturday evening and safely splashed down overnight this morning making the first nighttime water landing of astronauts since NASA's historic Apollo 8 mission to the Moon and back in 1968.
The four astronauts splashed down safely aboard SpaceX Crew Dragon Resilience and returned to Earth in a parachute-assisted splashdown at 2:56 a.m. EDT, Sunday, May 2, off the coast of Panama City, Florida, in the Gulf of Mexico – thereby completing NASA's first commercial crew, long-duration mission aboard the ISS.
All 4 astronauts from NASA and JAXA were healthy and in great spirits and flashed thumbs up as SpaceX recovery crews assisted them exiting the Crew Dragon capsule – looking again like a toasted marshmallow while experiencing and surviving the scorching heats of reentry endured during the plunge through Earth's atmosphere.
The crew of NASA's SpaceX Crew-1 mission is all smiles after splashing down in the Gulf of Mexico. They just returned from spending 168 days in space. pic.twitter.com/FSde4rRFQT

— NASA's Johnson Space Center (@NASA_Johnson) May 2, 2021
The Earth return comes 167 days after the crew members arrived at the orbiting microgravity research laboratory and a total mission time of 168 days in space.
How we feel knowing that the astronauts of NASA's SpaceX Crew-1 mission have safely returned to our home planet. ? pic.twitter.com/CANUXMar9B

— NASA's Johnson Space Center (@NASA_Johnson) May 2, 2021
The NASA SpaceX Crew-1 astronaut quartet comprises NASA astronauts Michael Hopkins, Victor Glover, and Shannon Walker, and Japan Aerospace Exploration Agency astronaut Soichi Noguchi.
Their return was also delayed several times this past week due to poor weather in the recovery zone – thus the four got a bonus mission extension of a few days with the crew on board ISS that was briefly enlarged to 11 following the arrival of NASA SpaceX Crew-2 last week on April 23.
Splashdown at 2:56am ET in the Gulf of Mexico! The @SpaceX #CrewDragon and its four Crew-1 astronauts are safely back on Earth. More… https://t.co/sVOZHFpljh pic.twitter.com/8UswsU9MjX

— International Space Station (@Space_Station) May 2, 2021
NASA's SpaceX Crew-1 mission was the first crew rotation flight of the SpaceX Crew Dragon spacecraft and Falcon 9 rocket with astronauts to the ISS as part of the agency's Commercial Crew Program.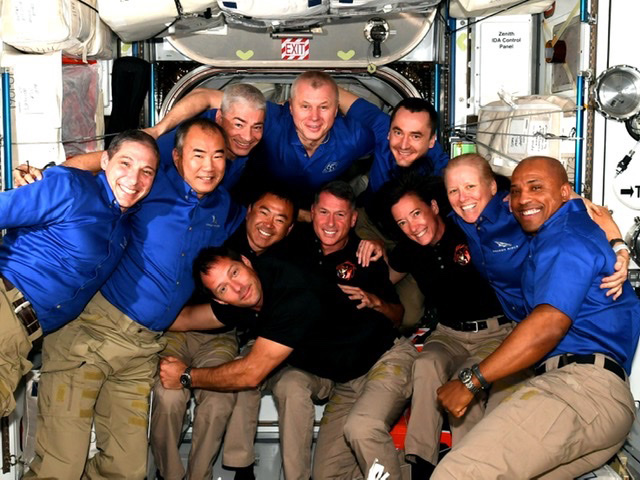 Crew-1 also marks the longest-duration mission of a crewed American spacecraft to date – besting the previous record setting duration of the final Skylab crew on Skylab 4 crew of three who spent 84 days aloft in 1973-74 aboard America's 1st space station and the NASA SpaceX Demo-2 crew of two who spent two months at the station on the 1st Crew Dragon mission last year.
"Welcome home Victor, Michael, Shannon, and Soichi, and congratulations to the teams at NASA and SpaceX who worked so hard to ensure their safe and successful splashdown," said Sen. Bill Nelson, who was confirmed by the Senate to serve as NASA's next Administrator on April 29.
"We've accomplished another incredible spaceflight for America and our commercial and international partners. Safe, reliable transportation to the International Space Station is exactly the vision that NASA had when the agency embarked on the commercial crew program."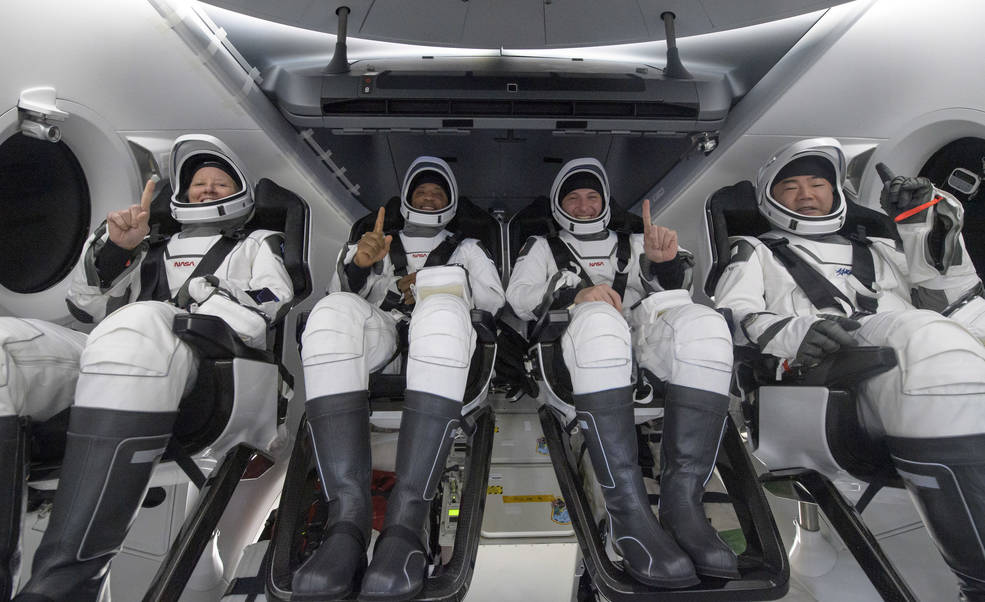 The entire event from undocking to splashdown to hatch opening to astronaut exit was carried live and continuously on NASA TV starting through Saturday afternoon into Sunday overnight this morning.
The hatch of @SpaceX's Dragon Resilience spacecraft is open!

?? Shortly, @NASA_Astronauts @AstroVicGlover, @Astro_illini and Shannon Walker along with @Astro_Soichi of @JAXA_en will take their first breaths of fresh air back on planet Earth. pic.twitter.com/TUKWQdTLsX

— NASA (@NASA) May 2, 2021
Crews aboard SpaceX recovery vessels quickly recovered the spacecraft and astronauts.
The GO Navigator ship used its Dragon nest hoist to haul Crew Dragon Resilience out of the Gulf waters
? @SpaceX's Crew Dragon Resilience spacecraft and its four Crew-1 astronauts are being placed safely inside the Dragon's nest aboard the Go Navigator recovery ship. Up next ➡️ the crew exits the spacecraft. pic.twitter.com/5GEVNWu3VP

— NASA (@NASA) May 2, 2021
After returning to shore, the astronauts will fly back to Houston.
The four astronauts aboard Crew Dragon Resilience officially undocked from the ISS at 8:35 p.m. ET Saturday
Yesterday at 8:35 p.m. ET, @SpaceX's Crew Dragon Resilience undocked from the @Space_Station carrying four astronauts.

Tune in to watch as they return to Earth. Splashdown is scheduled for approximately 2:57 a.m. ET: https://t.co/H0kcgIhtmj pic.twitter.com/9Kd84vO2LN

— NASA Commercial Crew (@Commercial_Crew) May 2, 2021
After undoing 2 sets of 6 hook and latches holding the 2 ship firmly together they then completed a series of 4 departure burn thruster firings to separate their spaceship and back away from the station.
After four short departure burns, Crew Dragon Resilience will fire a 16-minute deorbit burn less than five hours from now. This will slow the spacecraft enough to drop it out of it orbit for a safe splashdown. pic.twitter.com/w2rNjmWkHp

— NASA (@NASA) May 2, 2021
They undocked from the zenith or space facing port of the Harmony module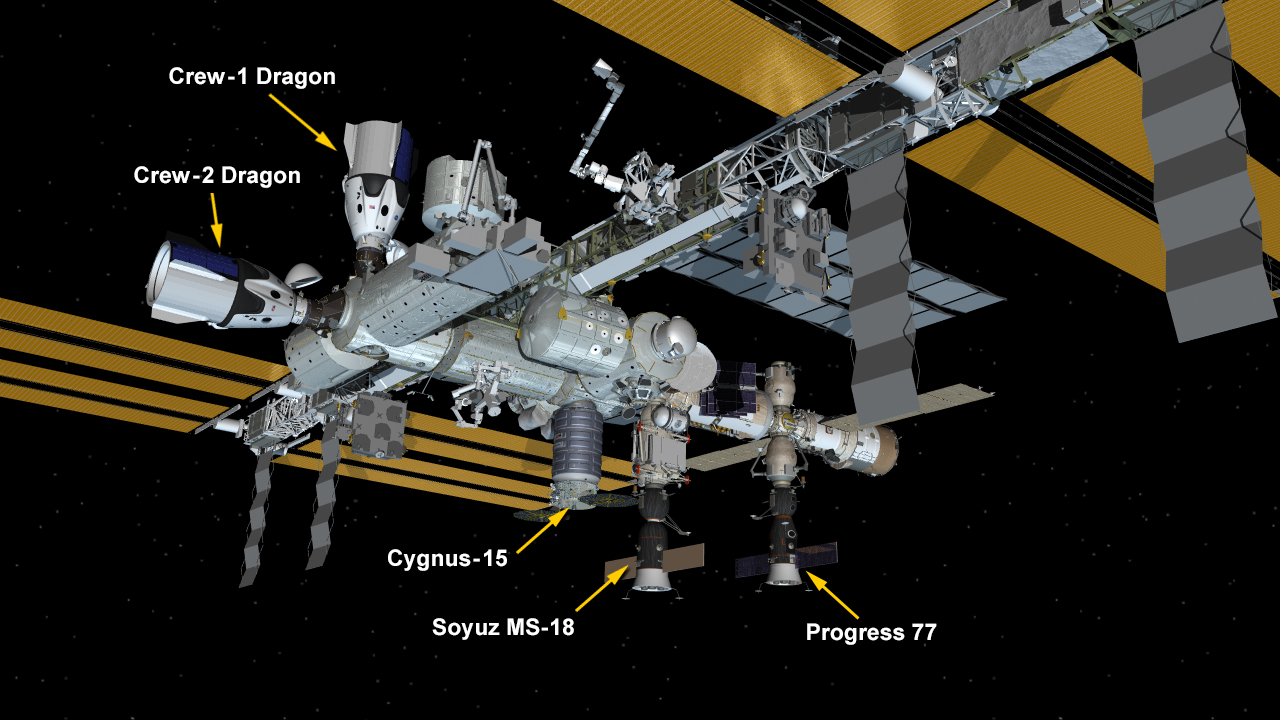 Among their many accomplishments the Crew-1 astronauts also successfully completed the first port relocation of a SpaceX Crew Dragon spacecraft from the forward-facing port to the space-facing port on the Harmony module on the ISS in a flawless maneuver carried out April 5, to ready the orbiting outpost for a busy month of arrivals and departures.
The move allowed for the forward-facing port to receive four Crew-2 astronauts upon their arrival to the station April 24.
Later this year, SpaceX's CRS-22 Commercial Resupply Services mission is scheduled to dock at the newly vacant zenith port as soon as June, bringing with it the first pair of new solar arrays.
NASA's SpaceX Crew-1 mission began with lift off on a new Falcon 9 rocket at 7:27 p.m. EST Sunday Nov. 15 (0027 GMT Monday) from Launch Complex 39A on Florida's Spaceport during an instantaneous launch time – bound for the ISS on a six month science mission.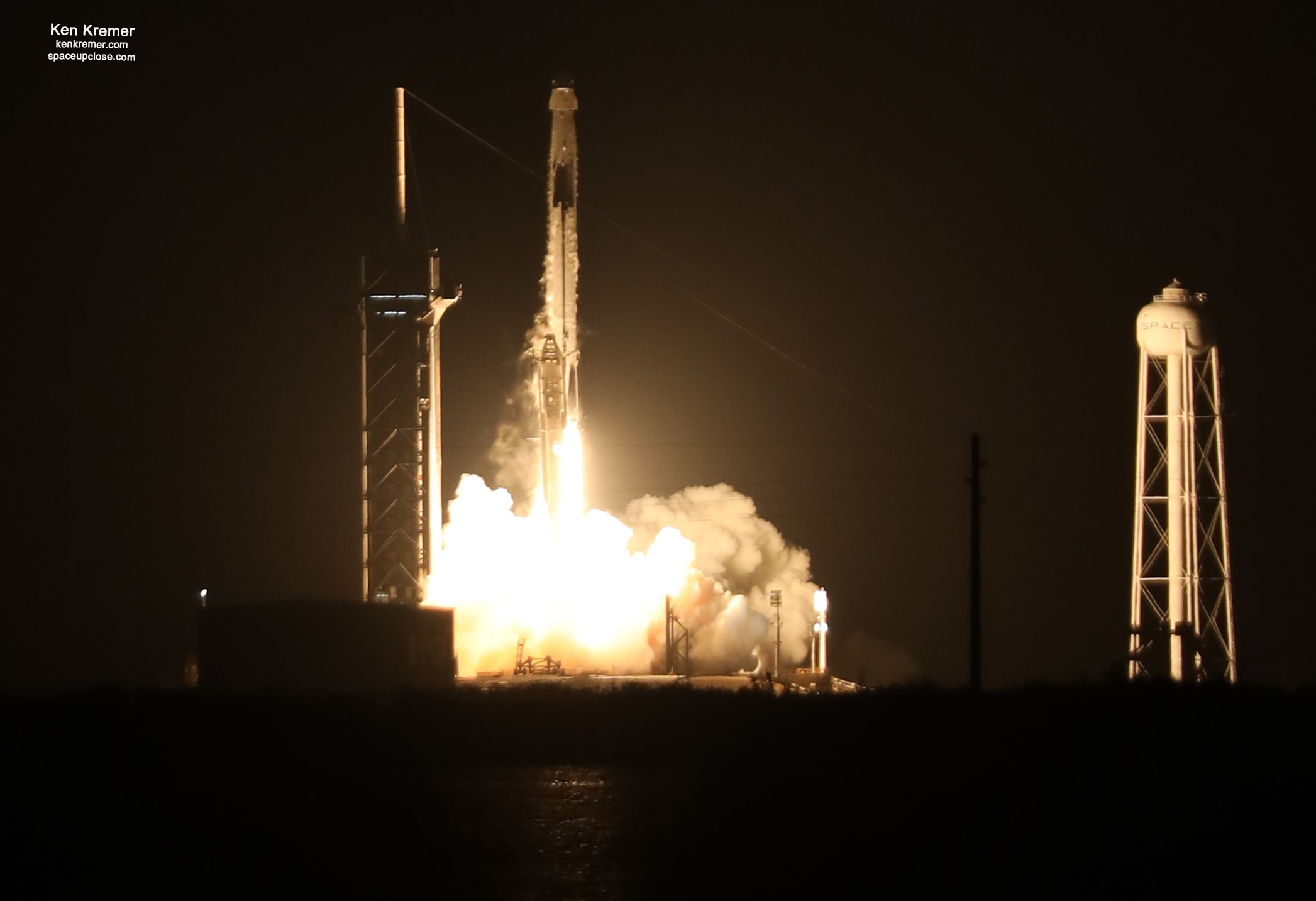 They leave behind the Expedition 65 crew of 7 astronauts and cosmonauts from Crew-2 and Soyuz MS-18
The Crew-2 mission that arrived last week on April 23 is the second of six crewed missions NASA and SpaceX will fly as part of the agency's Commercial Crew Program.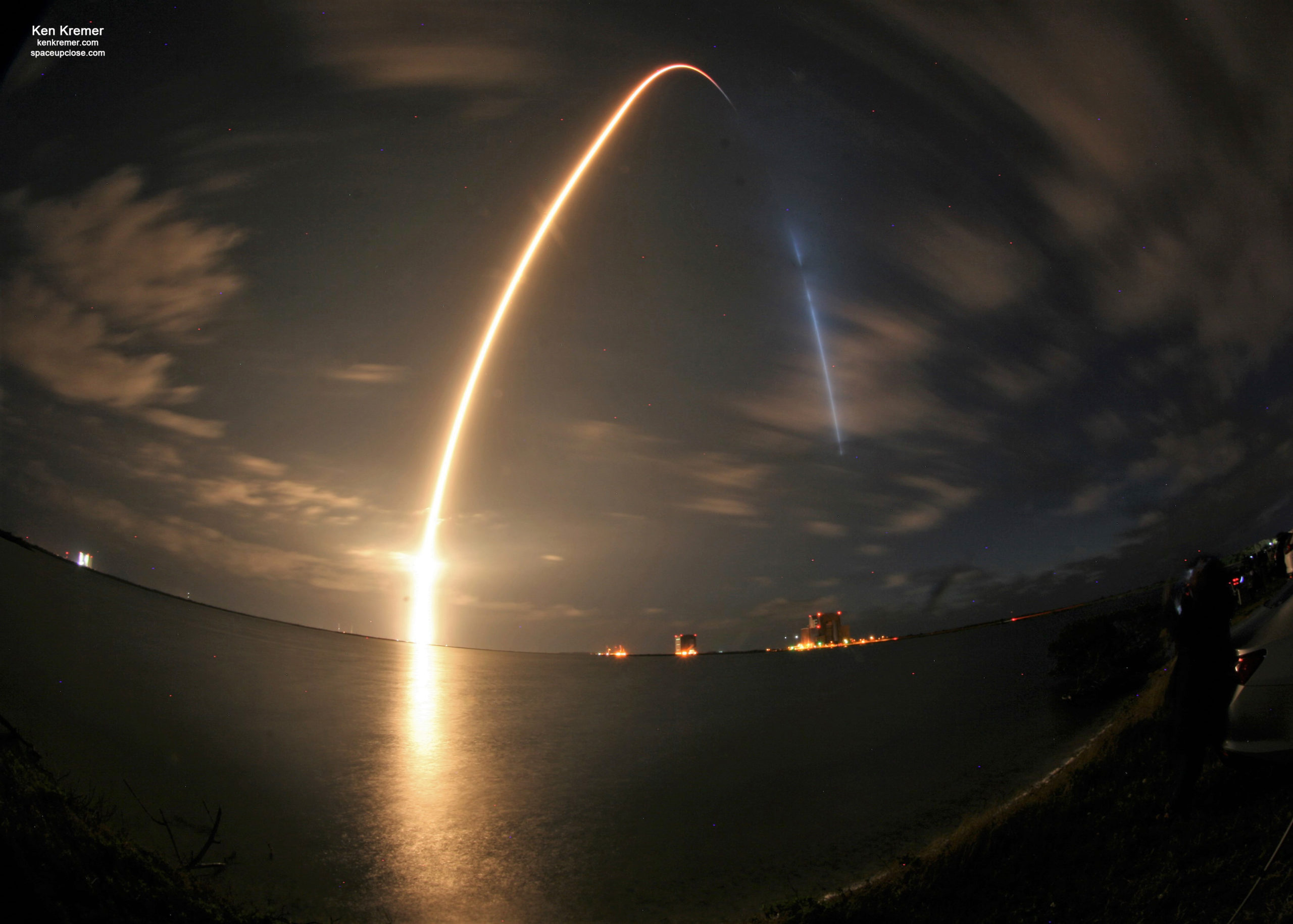 Upon arrival the Crew-2 astronaut team of Kimbrough, McArthur, Hoshide, and Pesquet joined the then current 7 ISS residents including 4 from Crew-1 namely Shannon Walker, Michael Hopkins, and Victor Glover as well as Soichi Noguchi of JAXA and 3 from the recently arrived Soyuz MS-18 launch namely Roscosmos cosmonauts Oleg Novitskiy and Pyotr Dubrov, as well as Mark Vande Hei of NASA.
Crew-2 will remain aboard until fall 2021 and overlap with SpaceX Crew-3 launching in October 2021 – read our earlier Crew-2 and Crew-3 stories.
Watch my live Crew-2 post launch interview on The Donlan Report on News Nation Cable News about the significance of the NASA SpaceX Crew 2 launch to ISS launch, Commercial  Space, Mars rover/helicopter, the future of space travel and Elon Musk's plan to build a city on Mars.
On the heels of the latest successful @SpaceX crew launch to the @Space_Station, @JoeDonlonTV was joined by @Ken_Kremer to talk about the significance of this launch and Elon Musk's plan to build a city on #Mars.#SomethingToThinkAbout #NewsNation #InTheNews #TDR #TheDonlonReport pic.twitter.com/uRFjKLD0cS

— The Donlon Report (@TheDonlonReport) April 24, 2021
Watch my live interview on 'Stay Curious' show about NASA SpaceX Crew 2 mission and NASA Ingenuity Helicopter 1st flight – on April 29 at the American Space Museum Titusville, FL
https://www.facebook.com/175507880819/videos/127636489296749
Ken was onsite at KSC for the Crew-2 mission launch on April 23.
Watch Ken's continuing reports about ISS, Artemis and NASA missions, SpaceX, Starlink, Commercial Crew and Starliner and Crew Dragon and onsite for live reporting of upcoming and recent SpaceX and ULA launches including Crew 1 & 2, Demo-2, ISS, X-37B, Solar Orbiter, Mars 2020 Perseverance and Curiosity rovers, NRO spysats and national security missions and more at the Kennedy Space Center and Cape Canaveral Space Force Station.
Stay tuned here for Ken's continuing Earth and Planetary science and human spaceflight news: www.kenkremer.com –www.spaceupclose.com – twitter @ken_kremer – email: ken at kenkremer.com
Dr. Kremer is a research scientist and journalist based in the KSC area, active in outreach and interviewed regularly on TV and radio about space topics.
………….
Ken's photos are for sale and he is available for lectures and outreach events
Please consider supporting Ken's work by donating at Patreon:
https://www.patreon.com/kenkremer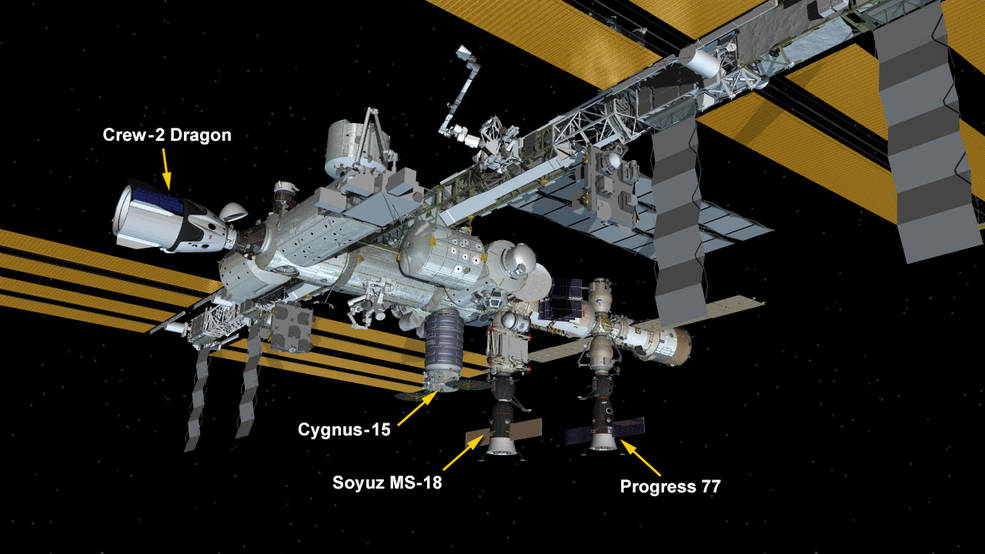 x