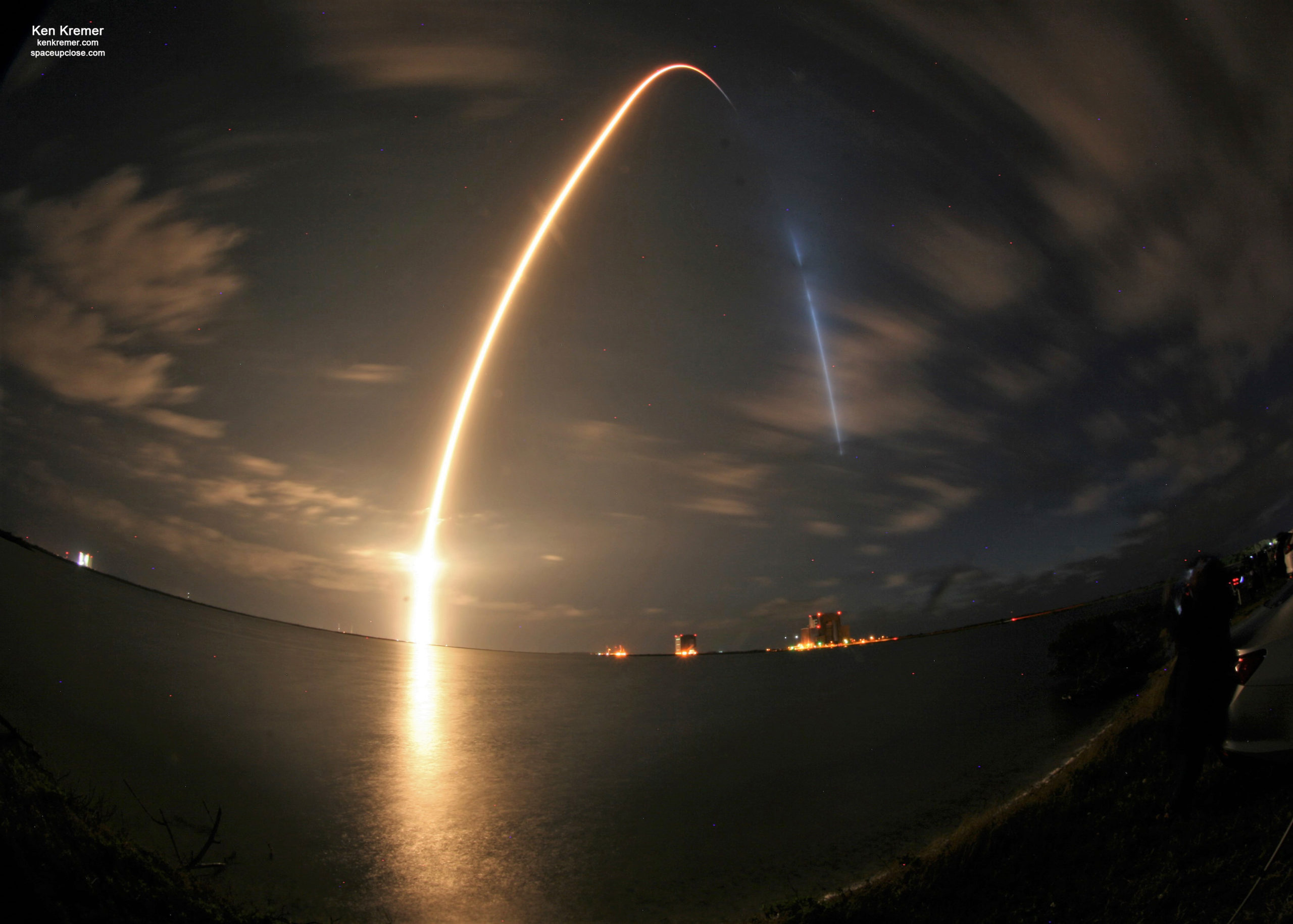 For SpaceUpClose.com & RocketSTEM
KENNEDY SPACE CENTER, FL –  The first ever recycled SpaceX Crew Dragon capsule and Falcon 9 booster utilized for a human spaceflight mission hurled the multinational NASA, ESA and JAXA veteran astronaut quartet to the International Space Station (ISS) for a six month science mission in a stunning predawn launch from the Florida Space Coast this morning.
Flawless liftoff of the SpaceX Falcon 9 rocket and Crew Dragon Endeavor spaceship took place right on time at 5:49 a.m. EDT Friday, April 23, from seaside Launch Complex 39A at the Kennedy Space Center (KSC) in Florida, and produced spectacular sky effects like the 'jelly fish' and 'space angels' phenomena as the rocket rose into daylight and wowed big crowds ringing the space coast viewing sights gathered from across the globe.
NASA's SpaceX Crew-2 astronauts were propelled to orbit following their early morning launch bound for the International Space Station for the second commercial crew rotation mission aboard the microgravity laboratory.
The nine first stage Merlin 1D engines ignited to generate 1.7 million pounds of liftoff thrust powered by LOX and RP-1 propellants.
Eight and a half minutes later the first stage successfully soft landed nailing a touchdown on the OCISLY droneship – opening up another reuse at some point soon.
The multinational crew includes two NASA astronauts as well as two from international partners as part of the agency's Commercial Crew Program – a first for the CCP program.
The  all veteran Crew-2 mission quartet of spaceflyers lofted by the SpaceX Falcon 9 is comprised of NASA astronauts Shane Kimbrough and Megan McArthur along with JAXA (Japan Aerospace Exploration Agency) astronaut Akihiko Hoshide, and ESA (European Space Agency) astronaut Thomas Pesquet.
"It has been an incredible year for NASA and our Commercial Crew Program, with three crewed launches to the space station since last May," said NASA Acting Administrator Steve Jurczyk, at the post launch briefing.
"This is another important milestone for NASA, SpaceX, and our international partners at ESA and JAXA, and for the future of scientific research on board the space station. It will be an exciting moment to see our crews greet one another on station for our first crew handover under the Commercial Crew Program."
The launch was broadcast live on NASA TV
Enjoy our Up Close rocket launch and prelaunch gallery of photos from pad 39A taken by Ken Kremer for Space UpClose. Check back as the gallery grows!
The Crew Dragon Endeavour spacecraft is scheduled to dock autonomously to the forward port of the station's Harmony module about 5:10 a.m. Saturday, April 24, about 23 hours after liftoff.
NASA Television, the NASA App, and the agency's website are providing ongoing live coverage through docking, hatch opening, and the ceremony to welcome the crew aboard the orbital outpost.
"I'm really proud of the SpaceX team and honored to be partnered with NASA and helping JAXA and ESA as well," said Elon Musk, Chief Engineer at SpaceX, at the post launch briefing.
"We're thrilled to be a part of advancing human spaceflight and looking forward to going beyond Earth orbit to the Moon and Mars and helping make humanity a space-faring civilization and a multi-planet species one day."
The Falcon 9 launch had been postponed a day from Thursday, April 22, Earth Day,  due to poor sea weather in the recovery zones in case of an emergency abort into the Atlantic Ocean after liftoff.
Rough sea states with high winds and waves would make recovery of the astronauts extremely difficult in case they had to abort into the northern Atlantic Ocean along the flight path flying in a northeasterly trajectory after blastoff from KSC.
Overall Crew-2 is the 3rd Crew Dragon mission to fly astronauts to space and the ISS in the last eleven months – a remarkable achievement after no human missions were flown from US soil in 9 years after NASA's space shuttles retired in July 2011.
The quartet of astronauts is also the first crew to ride to space aboard a previously-flown Falcon 9 booster and simultaneously a reused Dragon spacecraft.
Both vehicles are manufactured by SpaceX and have been carefully refurbished for this mission to ensure safety and reliability.
Crew-2 flew aboard the Crew Dragon "Endeavour" spacecraft — the same spaceship flown by veteran NASA astronauts Doug Hurley and Bob Behnken on the Demo-2 mission to the space station last year in May 2020 which was also the first flight of US astronauts from US soil in nearly a decade.
The Falcon 9 1st stage B1061.2 is recycled from the Crew-1 mission.
Crew Dragon was developed by SpaceX under a commercial crew program (CCP) contract to NASA
The Crew-2 mission is the second of six crewed missions NASA and SpaceX will fly as part of the agency's Commercial Crew Program.
Crew-2 is also a mission of many firsts outlined by NASA:
First commercial crew mission to fly two international partners;
First commercial crew handover between astronauts on the space station as Crew-1 and Crew-2 astronauts will spend about five days together on station before Crew-1 returns to Earth;
First reuse of the Crew Dragon spacecraft and Falcon 9 rocket on a crew mission –Crew Dragon Endeavour flew the historic Demo-2 mission and the Falcon 9 flew astronauts on the Crew-1 mission; and,
First time two commercial crew spacecraft will be docked to station at the same time.
Crew-1 has one international partner astronaut from Japan
In addition to the quartet of astronauts Crew Dragon will deliver a limited amount of cargo of some 500 pounds including several new science hardware and experiments, including CHIME, a university student-led investigation to study possible causes for suppressed immune response in microgravity.
They will join Expedition 65 and briefly enlarge the crew complement to 11 astronauts and cosmonauts including from Crew-1 and Soyuz MS-18.  That's the most humans on board ISS since the shuttle retirement in 2011
Kimbrough, McArthur, Hoshide, and Pesquet join the current 7 ISS residents including 4 from Crew-1 namely Shannon Walker, Michael Hopkins, and Victor Glover as well as Soichi Noguchi of JAXA and 3 from the recently arrived Soyuz MS-18 launch namely Roscosmos cosmonauts Oleg Novitskiy and Pyotr Dubrov, as well as Mark Vande Hei of NASA.
After a brief four day handover the NASA SpaceX Crew-1 astronauts Walker, Hopkins, Glover, and Noguchi are scheduled to depart and return to Earth on April 28 in Crew Dragon Resilience.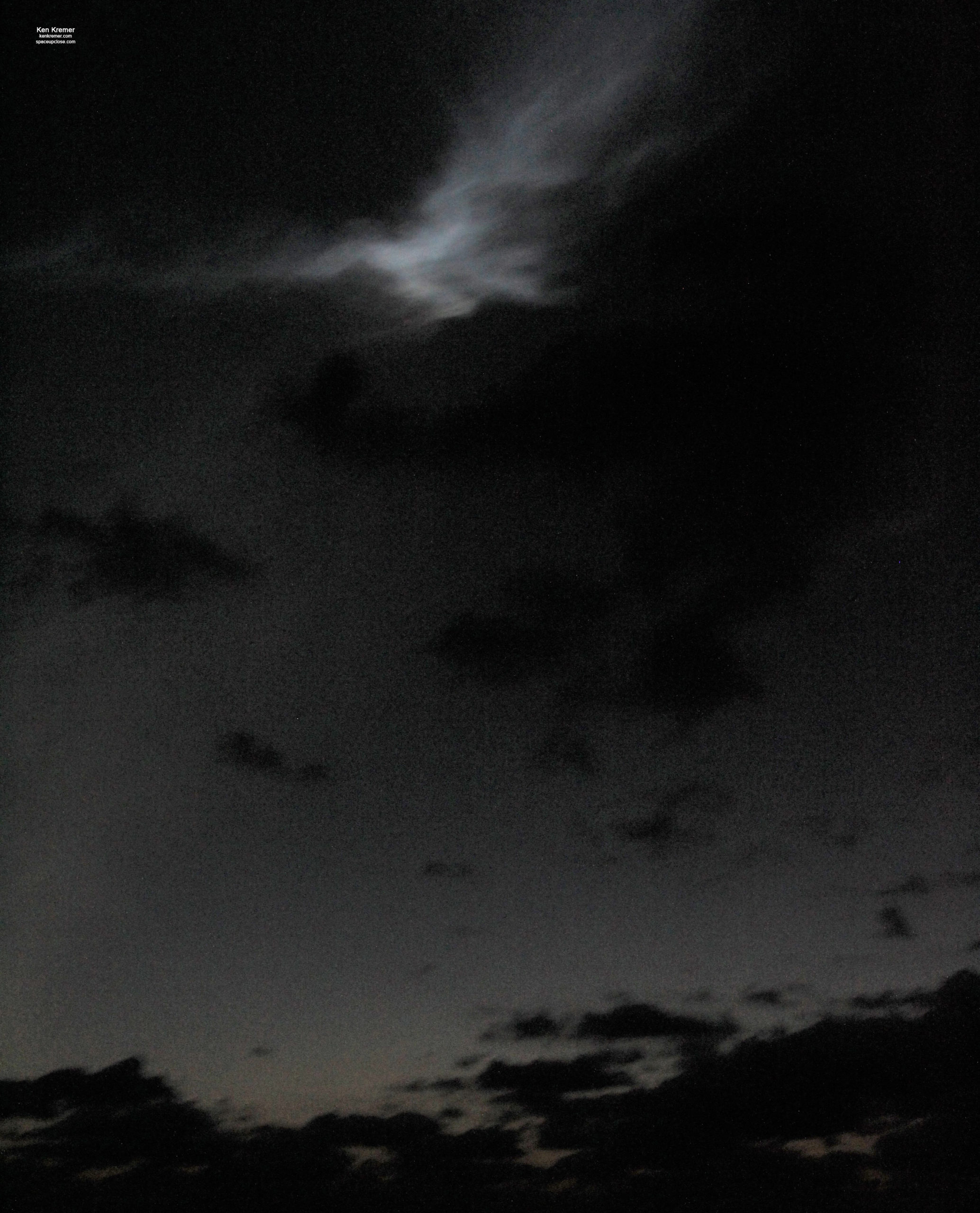 Watch the NASA TV liftoff video tweeted by NASA:
Liftoff! At 5:49 a.m. ET, @astro_kimbrough, @Astro_Megan, @Aki_Hoshide and @Thom_astro launched aboard @SpaceX's Crew Dragon on their journey to the @Space_Station.#LaunchAmerica: https://t.co/A9sbAYtdcB pic.twitter.com/hSOgvRhDkc

— NASA's Kennedy Space Center (@NASAKennedy) April 23, 2021
SpaceX launch photos:
A flight-proven Falcon 9 and Dragon fly four astronauts to the @space_station pic.twitter.com/Skp4j1qbnC

— SpaceX (@SpaceX) April 23, 2021
SpaceX announced they accomplished the 80th successful landing of a first stage booster:
Falcon 9's first stage booster has landed on the Of Course I Still Love You droneship – SpaceX's 80th landing of an orbital class rocket booster

— SpaceX (@SpaceX) April 23, 2021
Watch the main engine cutoff and stage separation in this SpaceX tweet:
Main engine cutoff and stage separation confirmed. Second stage engine burn underway pic.twitter.com/dyvxICjavF

— SpaceX (@SpaceX) April 23, 2021
Crew-2 will remain aboard until fall 2021 and overlap with SpaceX Crew-3 launching in Fall 2021 – read our earlier Crew-3 story.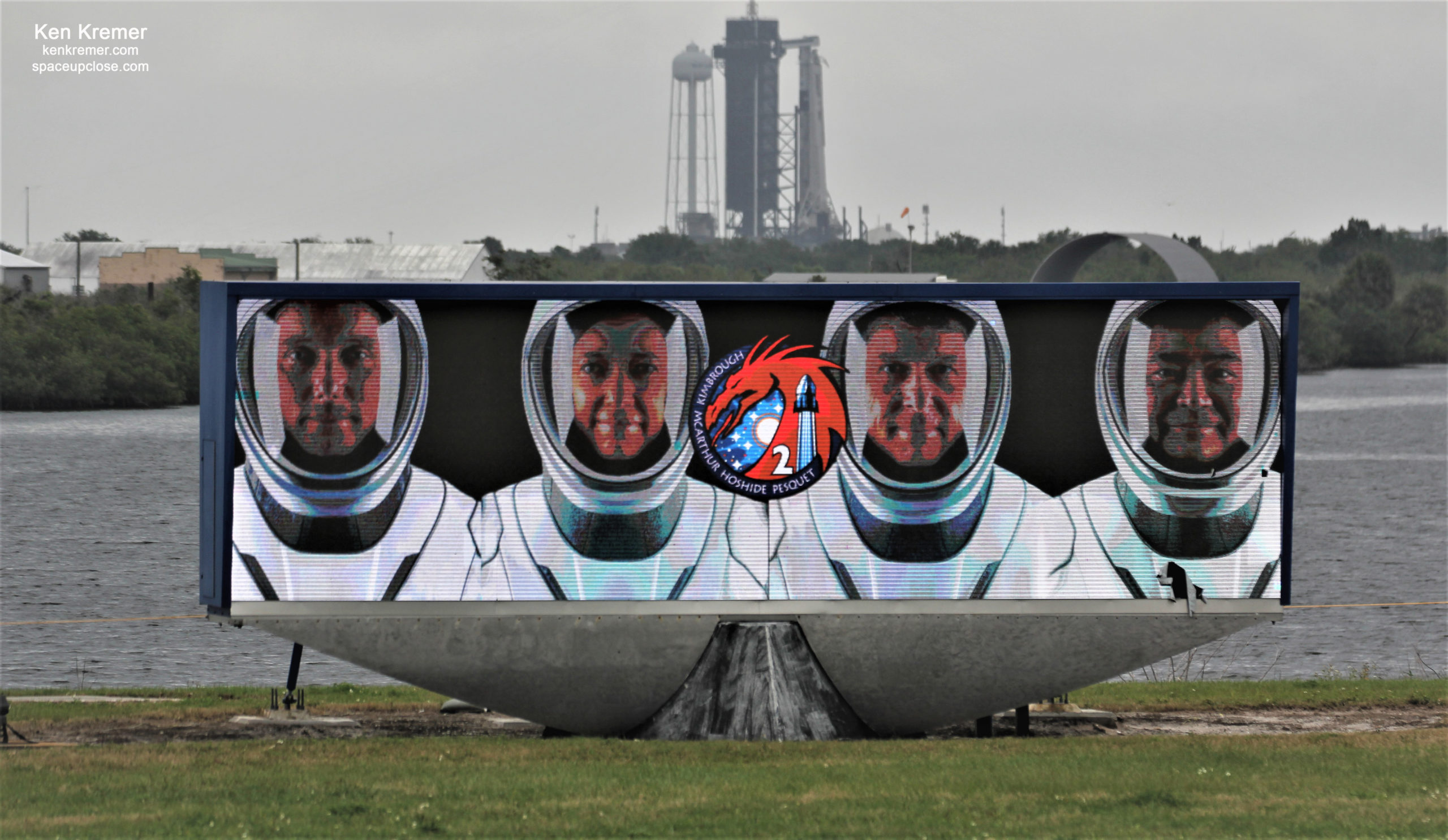 Watch my live post launch interview on The Donlan Report on News Nation Cable News about the significance of the NASA SpaceX Crew 2 launch to ISS launch, Commercial  Space, Mars rover/helicopter, the future of space travel and Elon Musk's plan to build a city on Mars.
On the heels of the latest successful @SpaceX crew launch to the @Space_Station, @JoeDonlonTV was joined by @Ken_Kremer to talk about the significance of this launch and Elon Musk's plan to build a city on #Mars.#SomethingToThinkAbout #NewsNation #InTheNews #TDR #TheDonlonReport pic.twitter.com/uRFjKLD0cS

— The Donlon Report (@TheDonlonReport) April 24, 2021
Watch my live interview on 'Stay Curious' show about NASA SpaceX Crew 2 mission and NASA Ingenuity Helicopter 1st flight – on April 29 at the American Space Museum Titusville, FL
https://www.facebook.com/175507880819/videos/127636489296749
Ken is onsite at KSC for the Crew-2 mission launch on April 23.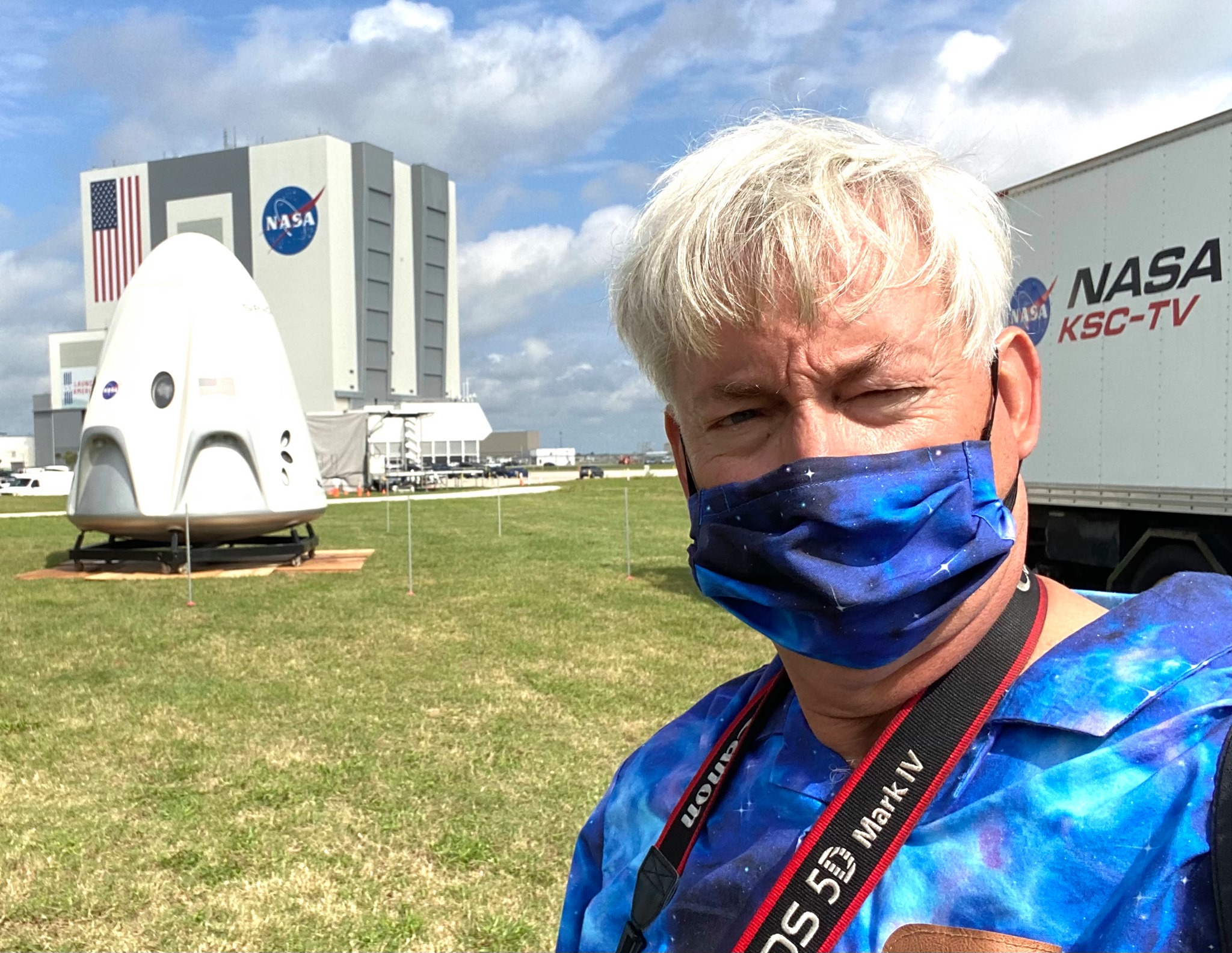 Watch Ken's continuing reports about ISS, Artemis and NASA missions, SpaceX, Starlink, Commercial Crew and Starliner and Crew Dragon and onsite for live reporting of upcoming and recent SpaceX and ULA launches including Crew 1 & 2, Demo-2, ISS, X-37B, Solar Orbiter, Mars 2020 Perseverance and Curiosity rovers, NRO spysats and national security missions and more at the Kennedy Space Center and Cape Canaveral Space Force Station.
Stay tuned here for Ken's continuing Earth and Planetary science and human spaceflight news: www.kenkremer.com –www.spaceupclose.com – twitter @ken_kremer – email: ken at kenkremer.com
Dr. Kremer is a research scientist and journalist based in the KSC area, active in outreach and interviewed regularly on TV and radio about space topics.
………….
Ken's photos are for sale and he is available for lectures and outreach events
Please consider supporting Ken's work by donating at Patreon:
https://www.patreon.com/kenkremer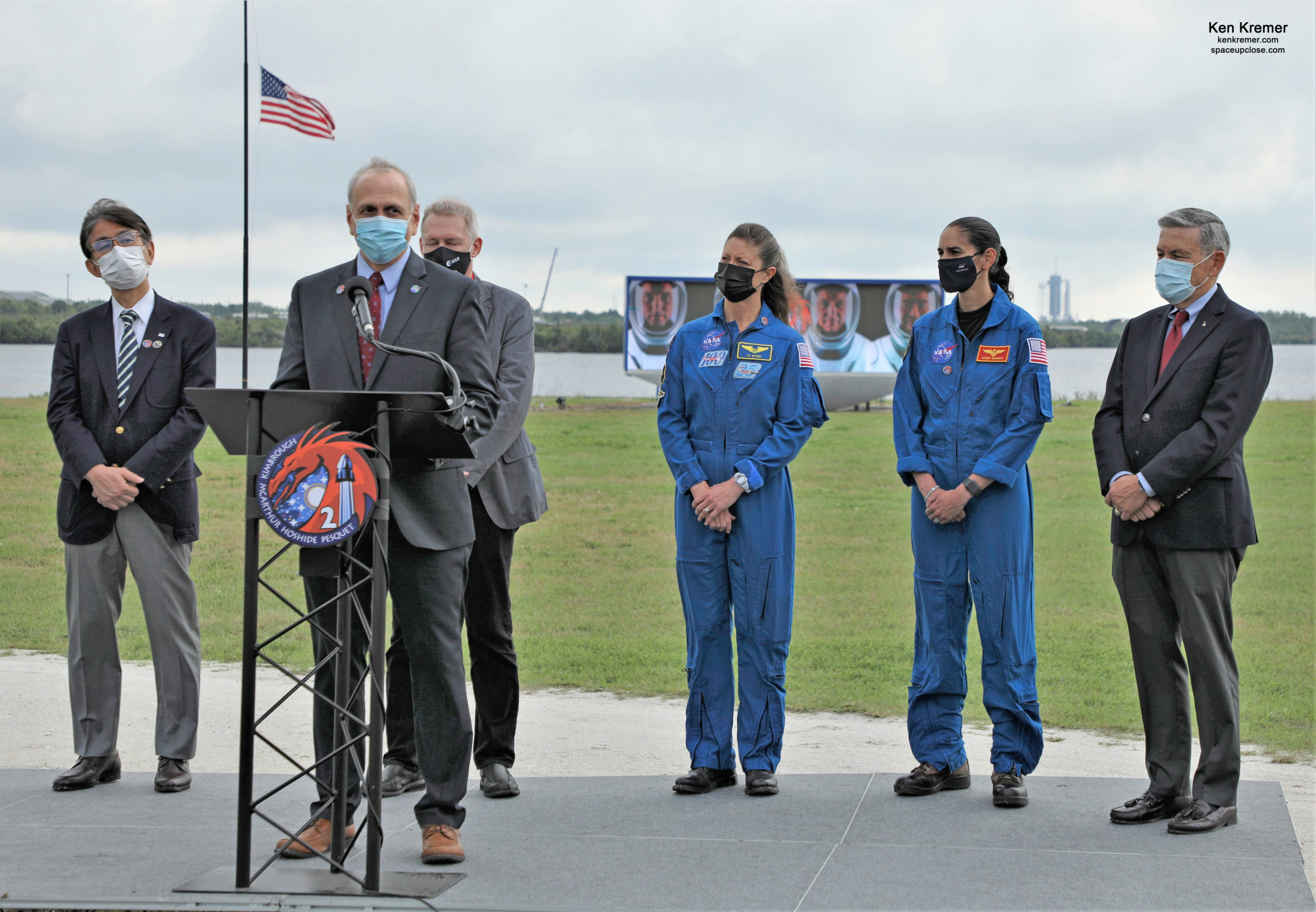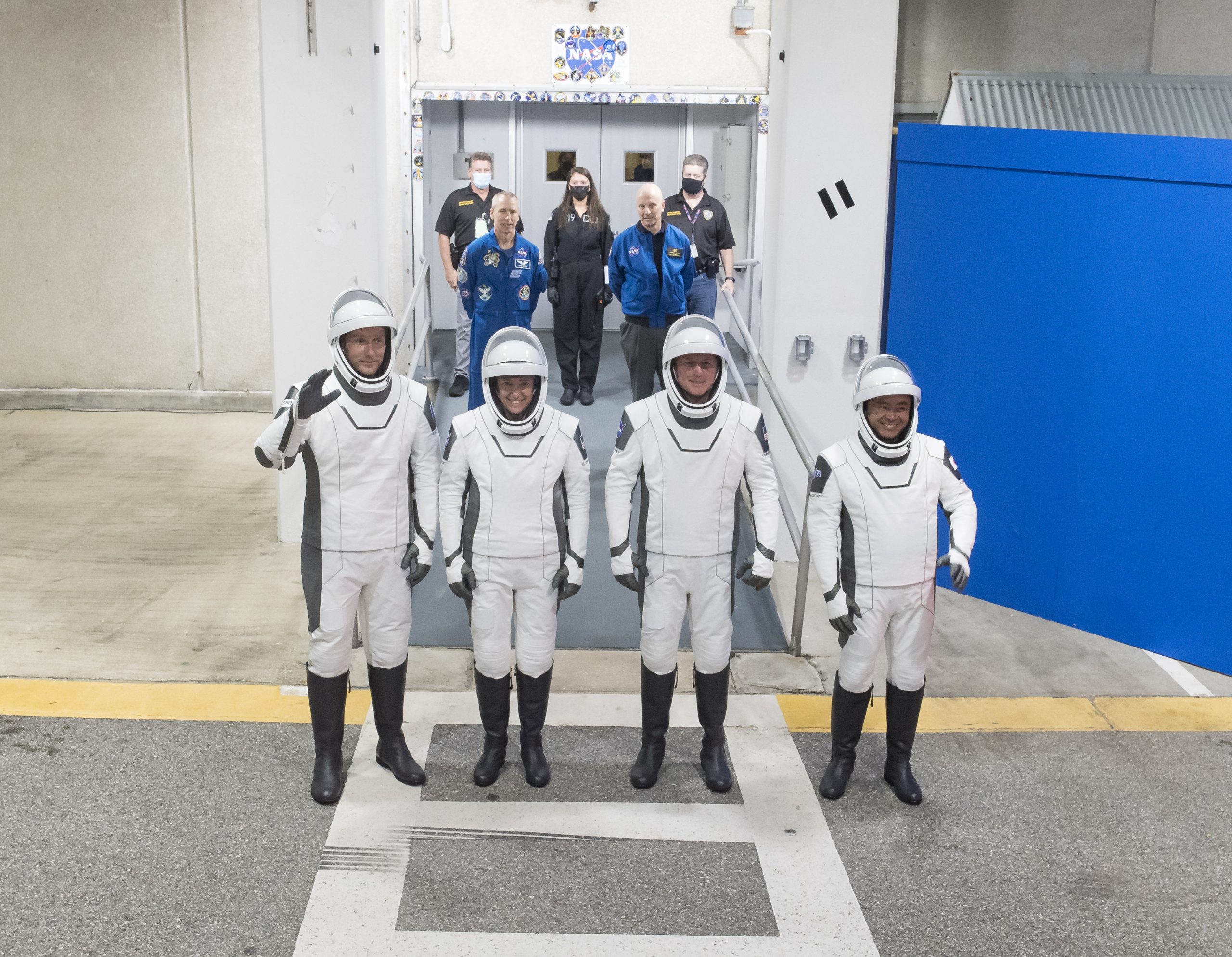 x