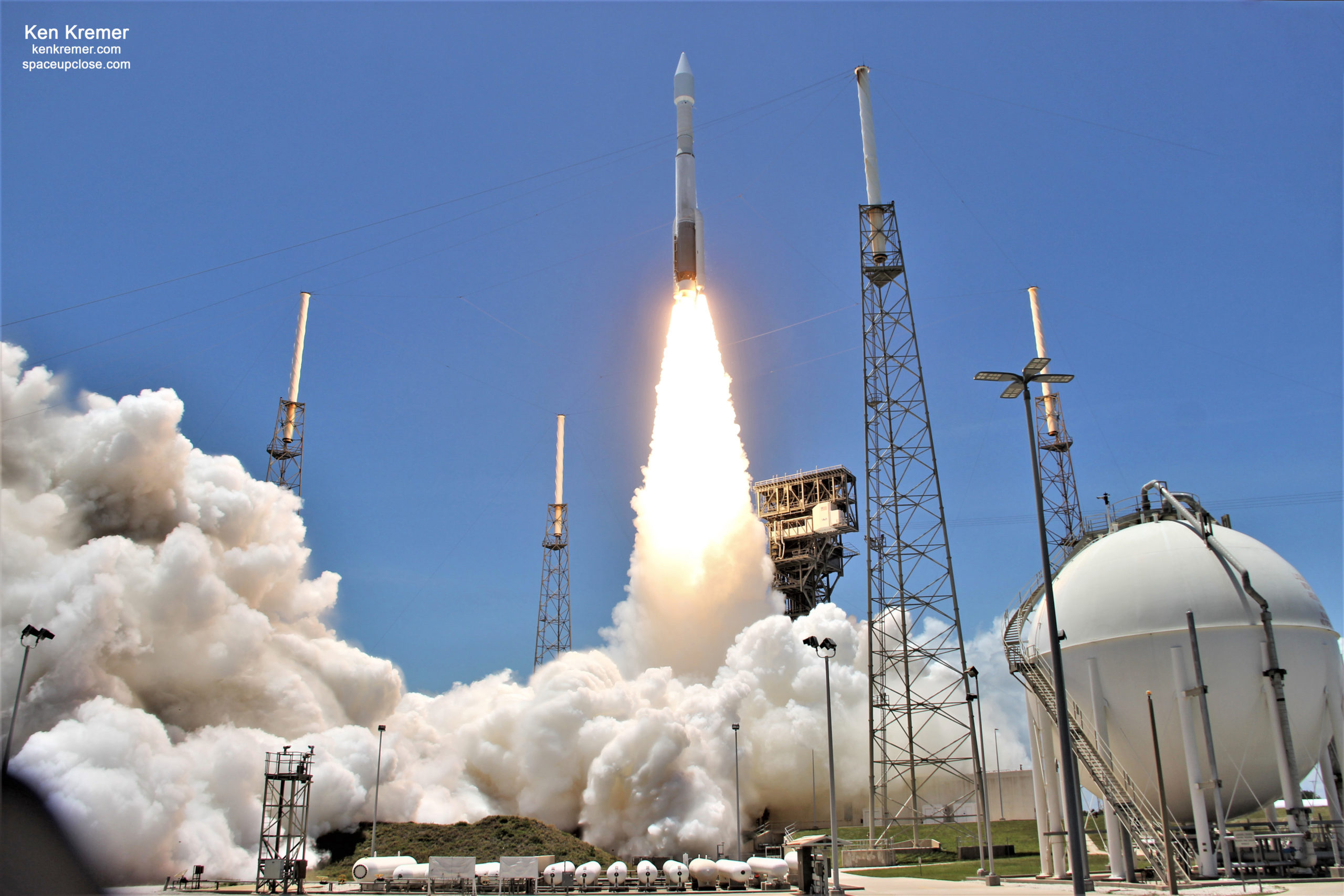 For SpaceUpClose.com & RocketSTEM
CAPE CANAVERAL SPACE FORCE STATION, FL – A United Launch Alliance (ULA) Atlas V rocket put on a dazzling display Monday afternoon, May 18, after liftoff of the billion dollar cyber-hardened, heat detecting early missile warning and defense detection SBIRS GEO-5 satellite for the U.S. Space Force as the 19 story rocket soared overhead into picture perfect clear blue skies belching exhaust from its first stage twin solid rocket motors and engines and successfully delivered the upgraded, cyber-hardened heat detect mission to orbit on a mission critical for U.S. national defense from Florida's busy Spaceport.
SBIRS is the tip of America's missile defense spear – using overhead infrared surveillance for technical intelligence gathering thus enabling the earliest detection of ballistic missile launches from adversaries then relayed to military leaders and the President to bolster situational awareness for strategic analysis and response as warranted.
Spectators ringing Florida's Space Coast were thrilled to witness the thunderous blastoff of the 194-foot-tall (59 meters) ULA Atlas V carrying the upgraded 5-ton SBIRS GEO-5 satellite after a 24 hour delay to investigate anomalous readings with the LOX (liquid oxygen) propellant chilldown operation engineers traced to a ground system issue in the late stages of the Monday's ultimately scrubbed countdown.
Liftoff of the Atlas V on the SBIRS GEO Flight 5 mission for the U.S. Space Force's Space and Missile Systems Center took place Tuesday, May 18 at 1:37 p.m. EDT (1731 GMT) from Space Launch Complex-41 at Cape Canaveral Space Force Station (CCSFS) in Florida.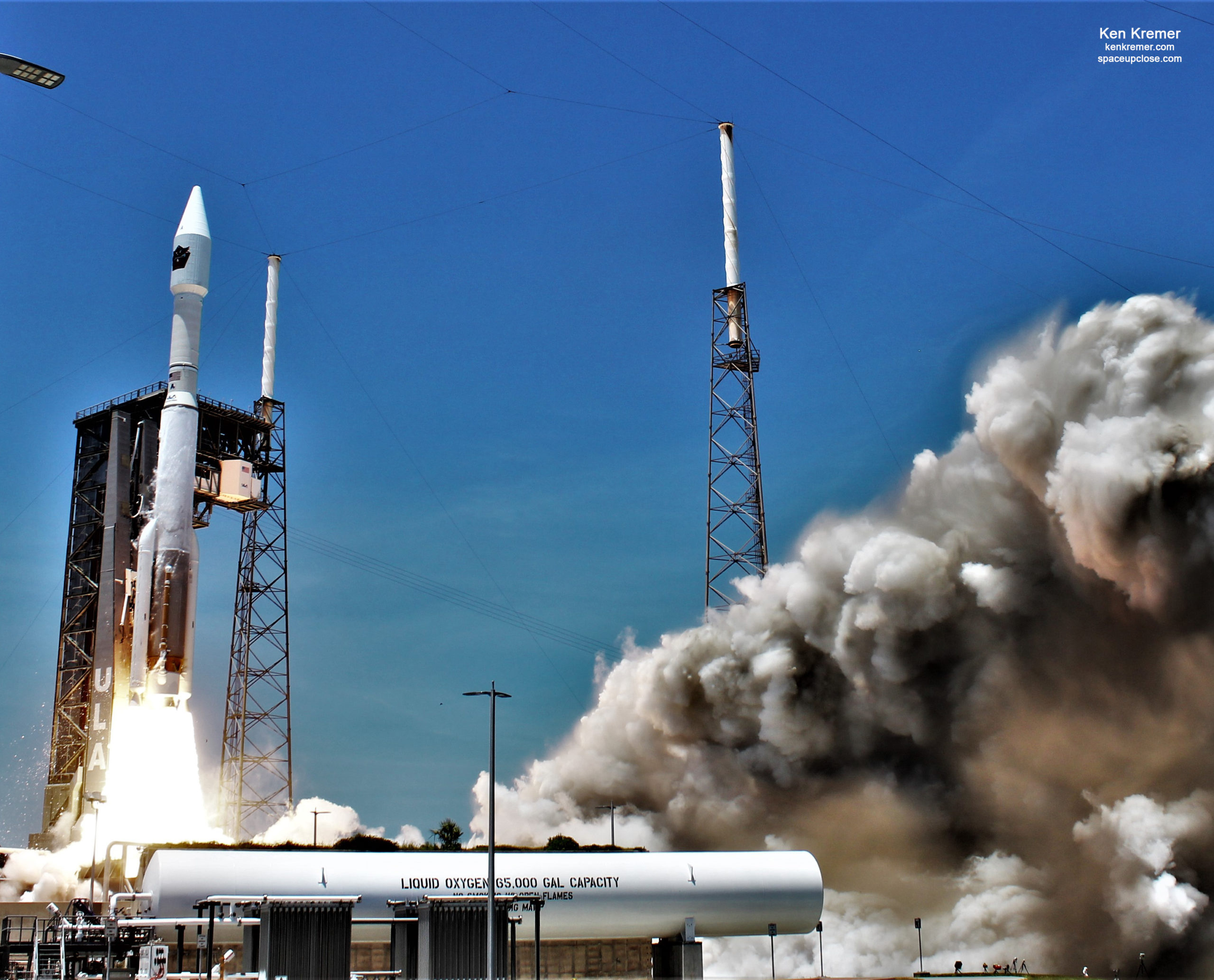 The Atlas V rocket and the Centaur upper stage delivered the SBIRS GEO Flight 5 mission to a highly elliptical geosynchronous transfer orbit (GTO) as planned after separation at about T Plus 45 minutes.
The initial orbit ranged in altitude between 575 miles (925 kilometers) and 22,216 miles (35,753 km), with an inclination angle of 21.14 degrees to the equator.
The spacecraft is healthy, communicating and operating as planned and under control of the Space Force.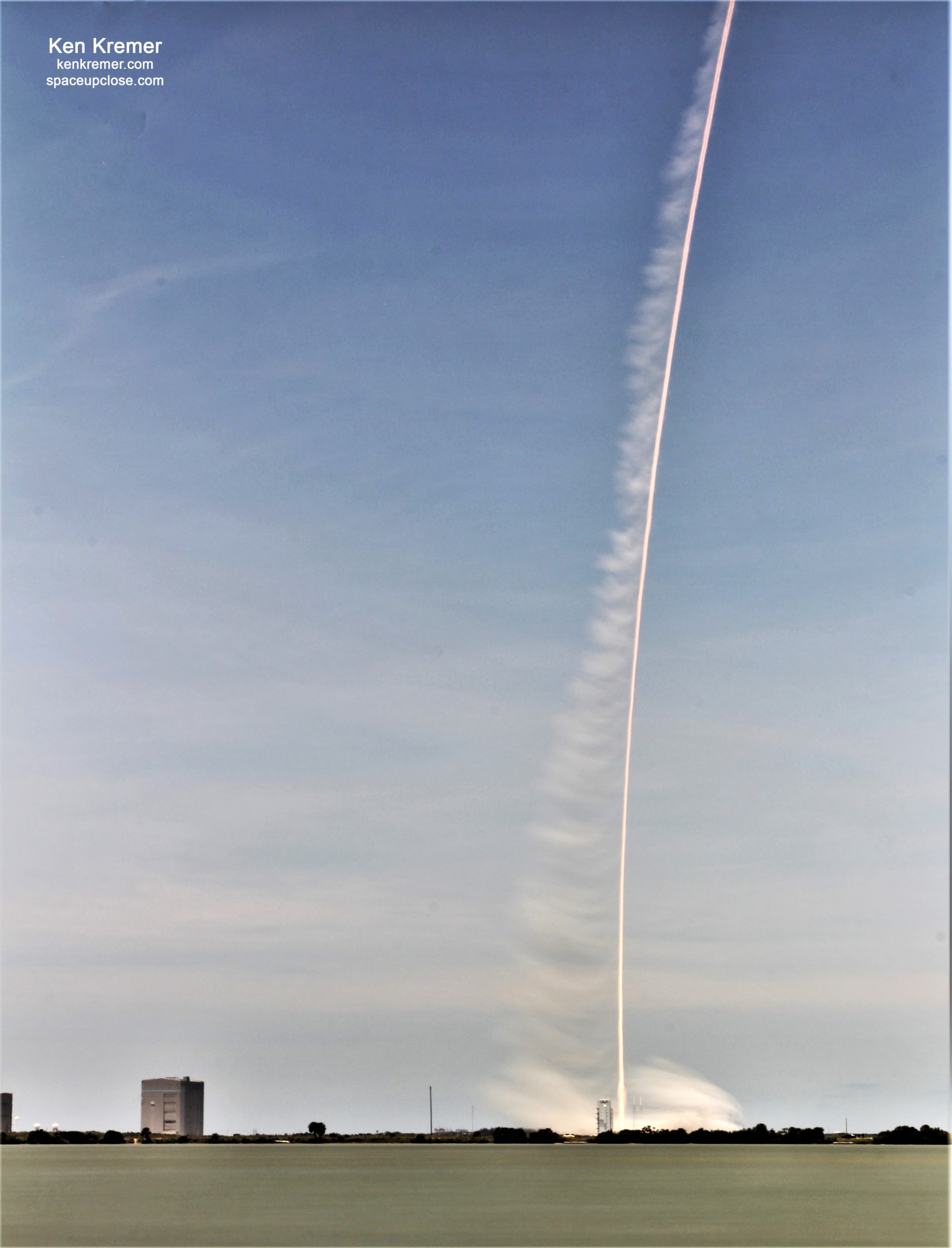 SBIRS GEO-5  will now maneuver to its final operating altitude in geosynchronous Earth  orbit (GEO) using its onboard thrusters.
The satellite will soon deploy the solar arrays and antennas and then undergo checkout of all space craft systems before transitioning to operational use for US national defense.
"Following separation, the spacecraft began a series of orbital maneuvers to propel it to a geosynchronous earth orbit. Once on orbit, engineers will deploy the satellite's solar arrays and antennas. The engineers will then complete checkout and tests in preparation for operational use," the U.S. Space Force's Space and Missile Systems Center, located at the Los Angeles Air Force Base in El Segundo, California, confirmed.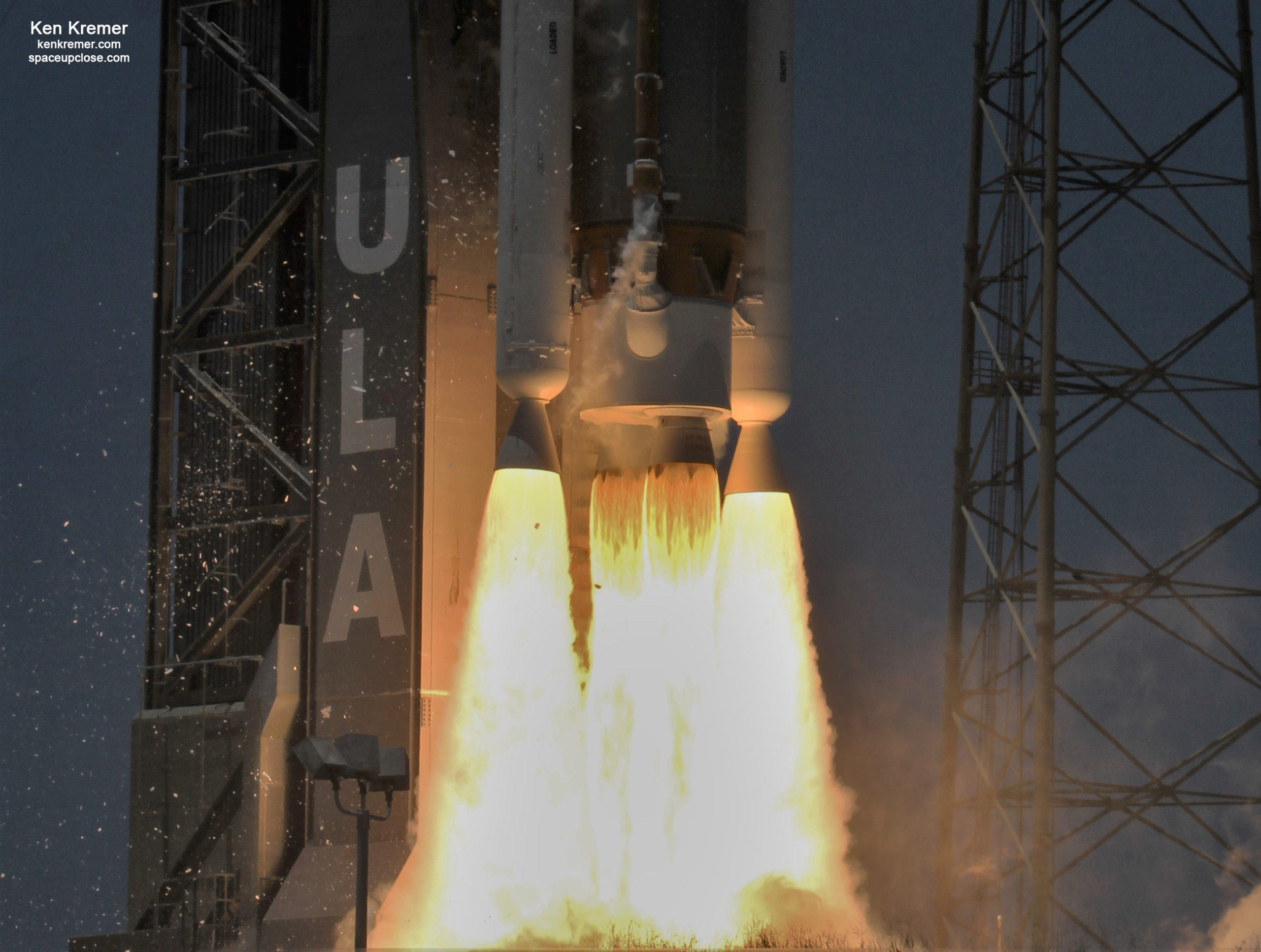 The upgraded SBIRS GEO-5 satellite was manufactured by prime contractor Lockheed Martin and is the most advanced early missile warning and missile detection satellite ever built and deployed – at a cost of approximately $1 Billion.
"Lockheed Martin's First Modernized SBIRS Missile Warning Satellite Now Under U.S. Space Force Control," Lockheed Martin confirmed.
"Following a successful launch from Cape Canaveral Space Force Station in Florida earlier today, the U.S. Space Force's Space Delta 4 operations team is now "talking" with the fifth Space Based Infrared System Geosynchronous Earth Orbit (SBIRS GEO-5) satellite."
"As planned, SBIRS GEO-5 is responding to the Delta's commands. Signal acquisition was confirmed approximately 36 minutes after the satellite's 1:37 p.m. EDT launch aboard a United Launch Alliance (ULA) Atlas V rocket. Now separated from the rocket, the satellite is continuing on to orbit under its own propulsion."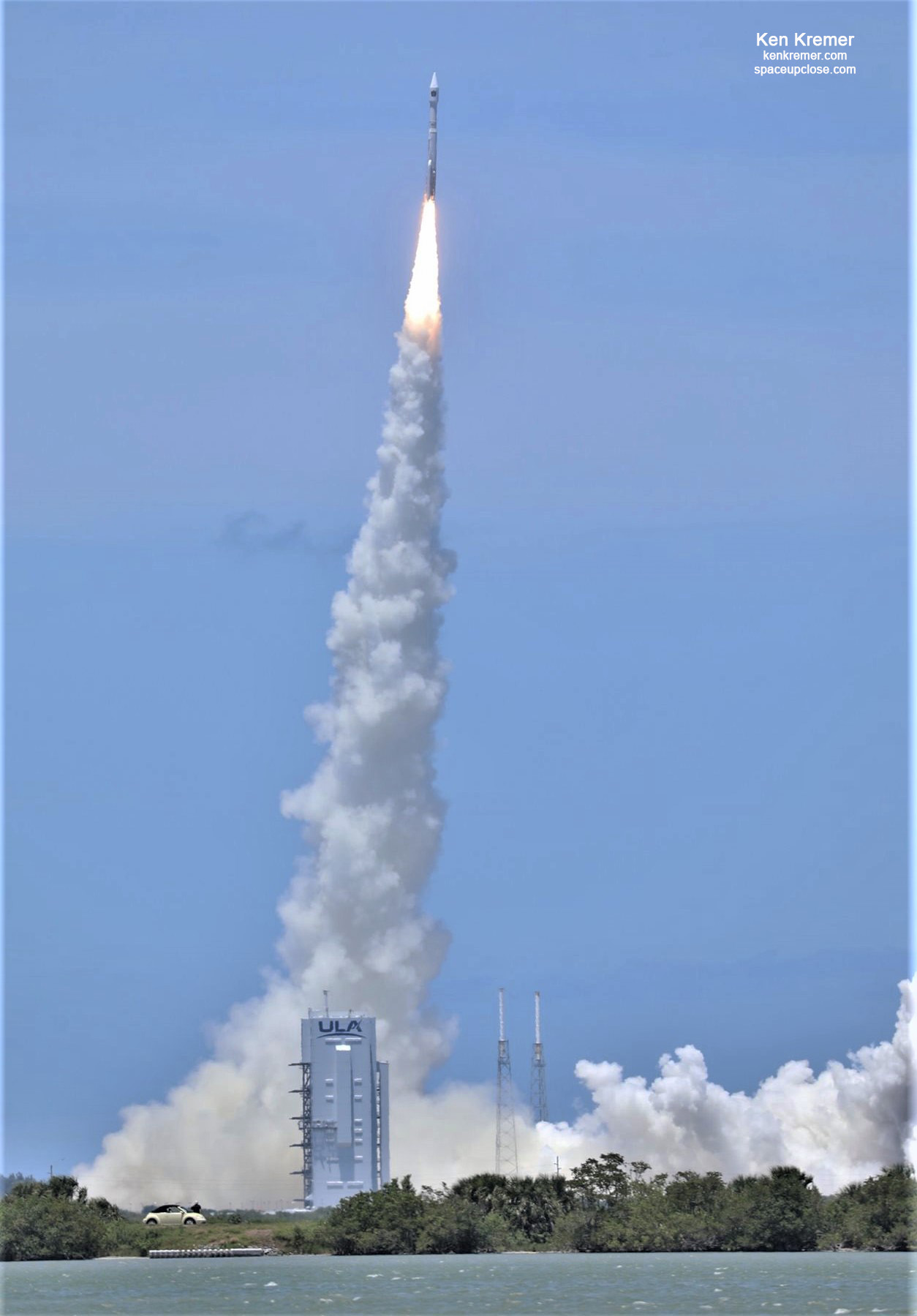 This was the first National Security Space launch from CCSFS this year and more will follow.
SBIRS GEO 5 will add to the constellation of the first four satellites 1 to 4 already operating in geosynchronous orbit (GEO).
"Thanks to the diligent efforts of the government and contractor teams, the SBIRS program has launched another critical asset into the nation's Overhead Persistent Infrared constellation," said Cordell DeLaPena, Jr., U.S. Space Force Program Executive Office for Space Production.
"The SBIRS program not only represents a new era of overhead infrared surveillance offering vital support to the national defense mission, but also the dedication of space acquisition and production professionals to ensuring the U.S. and its allies have increased global situational awareness."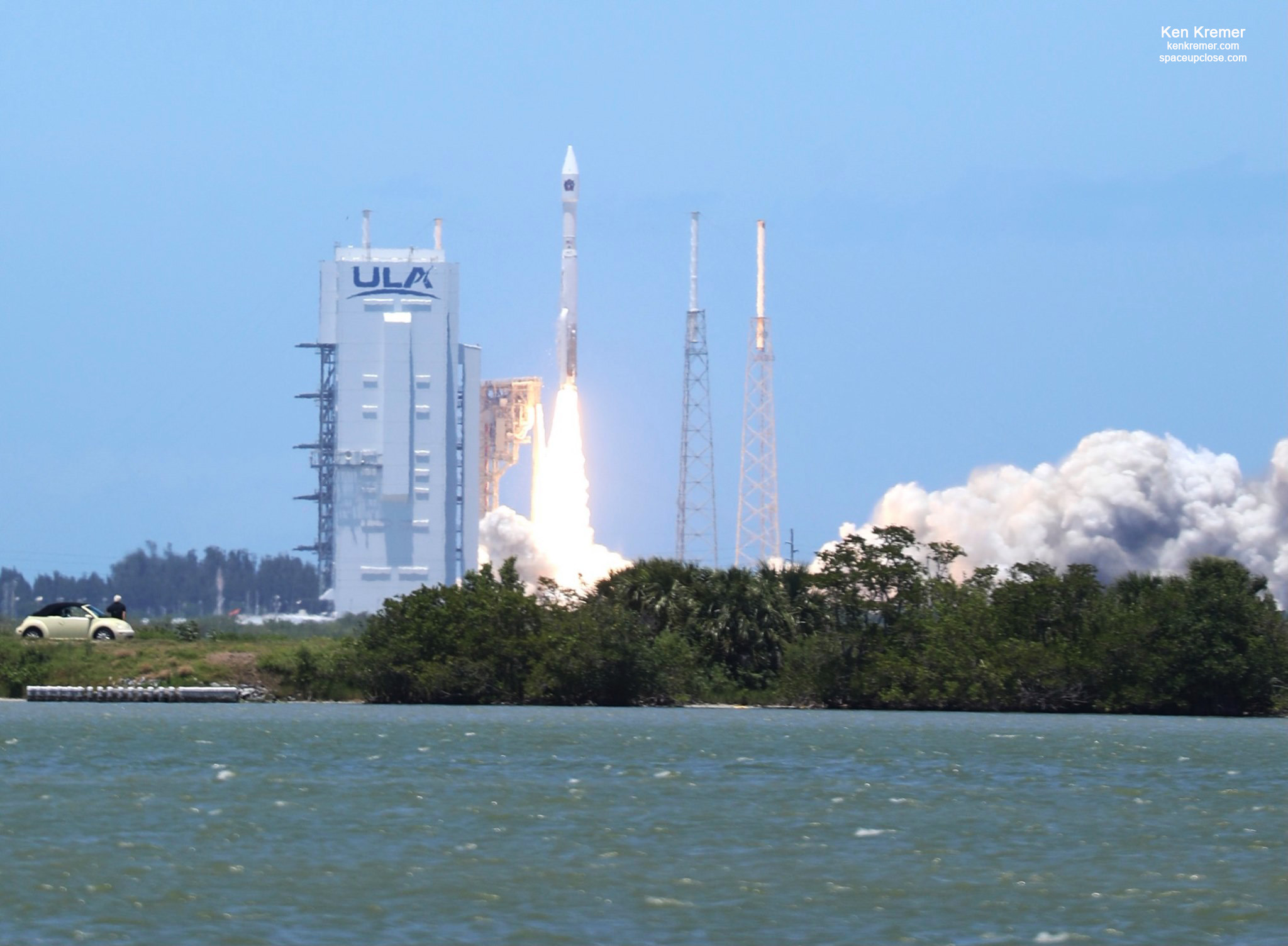 A pair of 12 unit cubesats or Multimission satellite vehicles known as Technology Demonstration Orbiters TDO-3 and TDO-4 carried multiple U.S. government payloads for the U.S. Air Force Academy were also aboard as rideshare payloads and were deployed before the primary SBIRS payload
Check out our launch and prelaunch photos of the Atlas V rocket in flight and vertical at pad 41 for Space UpClose taken by the team of Ken Kremer and Jean Wright.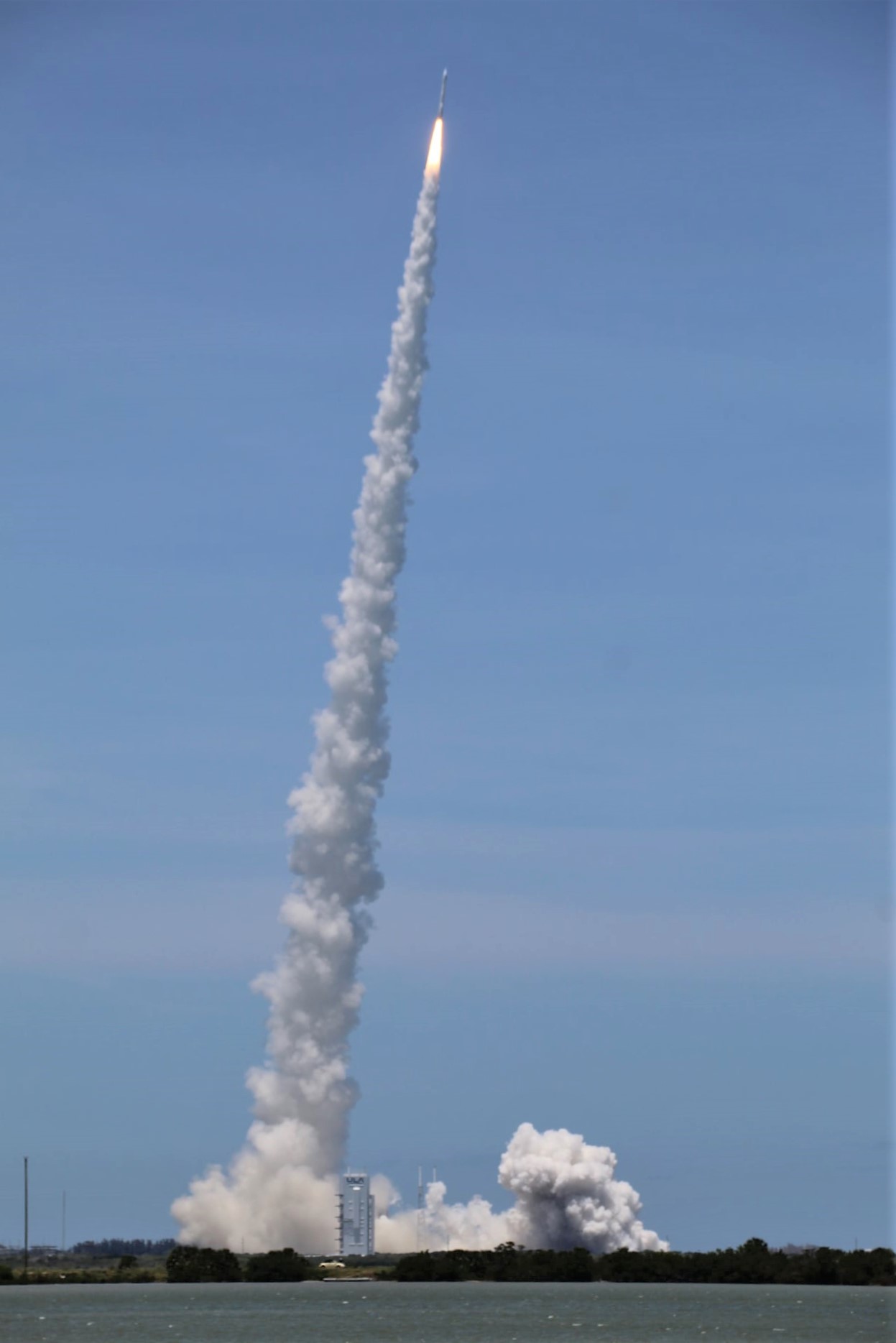 SBIRS GEO-5 is the latest satellite to join the Space Force's orbiting Overhead Persistent Infrared (OPIR) missile warning constellation equipped with powerful scanning and staring surveillance sensors. These 24-7, always-on, orbital guardians detect missile launches, support ballistic missile defense, expand technical intelligence gathering and bolster situational awareness on the battlefield.
"The world is a more threatening place now with more than 1,000 ballistic missile launches occurring globally every year," said Tom McCormick, vice president of Lockheed Martin Space's OPIR Mission Area.
"SBIRS is the tip of the missile defense spear, seeing all those missiles and providing our military the ability to ensure our national security and the safety of our armed forces."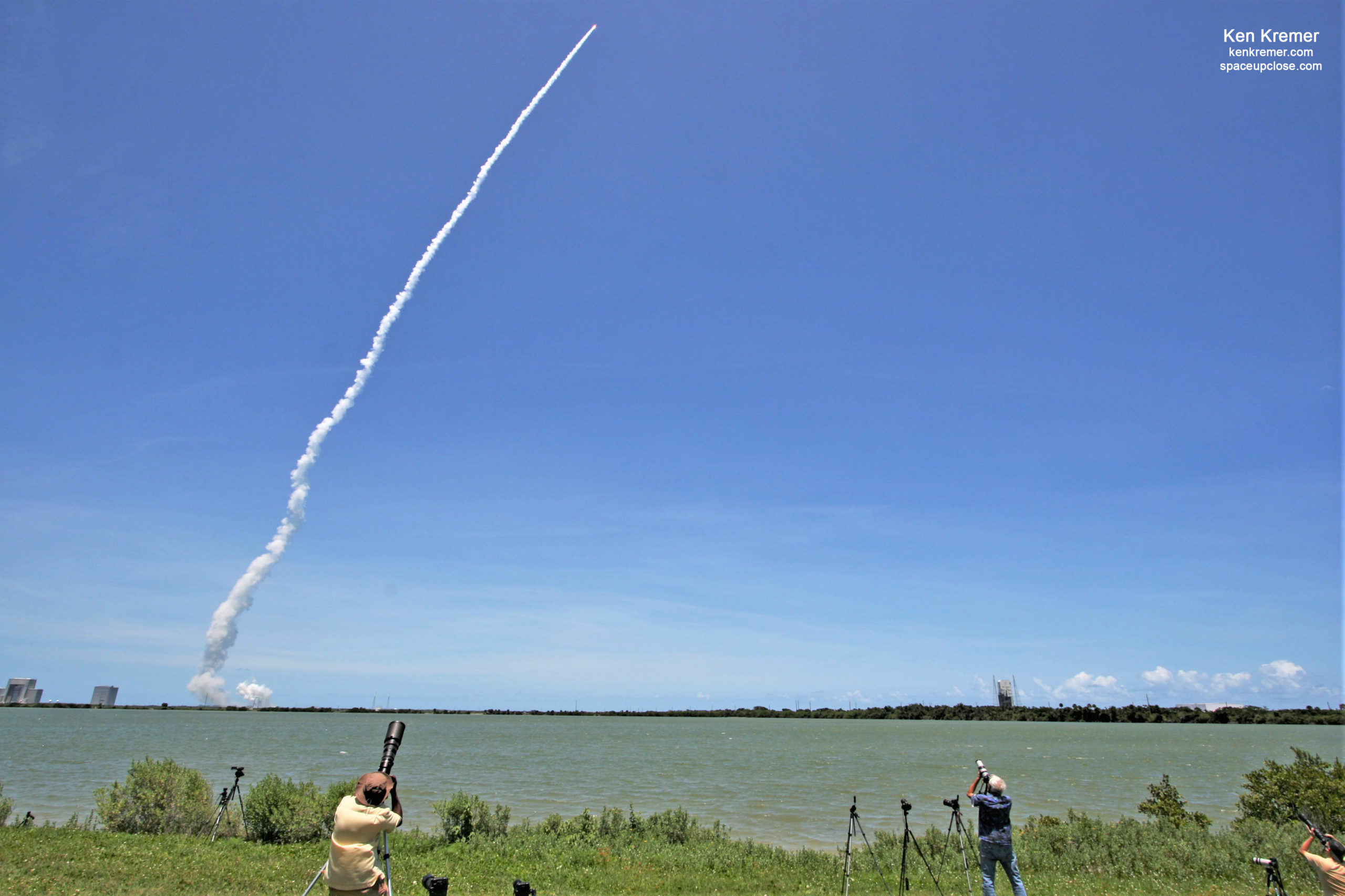 The modernized LM 2100 Combat Bus is an enhanced space vehicle that provides even greater resiliency and cyber-hardening against growing threats, as well as improved spacecraft power, propulsion and electronics, says Lockheed Martin.
The upgraded SBIRS GEO-5 satellite has a mass of about 10,700 pounds (4850  kg) and is the same size as satellites 1 to 4 in the constellation
The fifth Space Based Infrared System Geosynchronous Earth Orbit SBIRS GEO-5 missile detection and early warning satellite launched on a ULA Atlas V 421 rocket.
The Atlas V 421 configuration includes:  The first stage is powered by the Russian-built RD AMROSS RD-180 single engine with dual thrust chambers and dual nozzle that burns liquid oxygen (LOX) and highly refined RP-1 kerosene and generates 820,000 pounds (3.83 mega newtons) of thrust.
The first stage is augmented with two AJ-60A solid rocket boosters that generate 348,000 pounds (158,076 kg) of thrust each.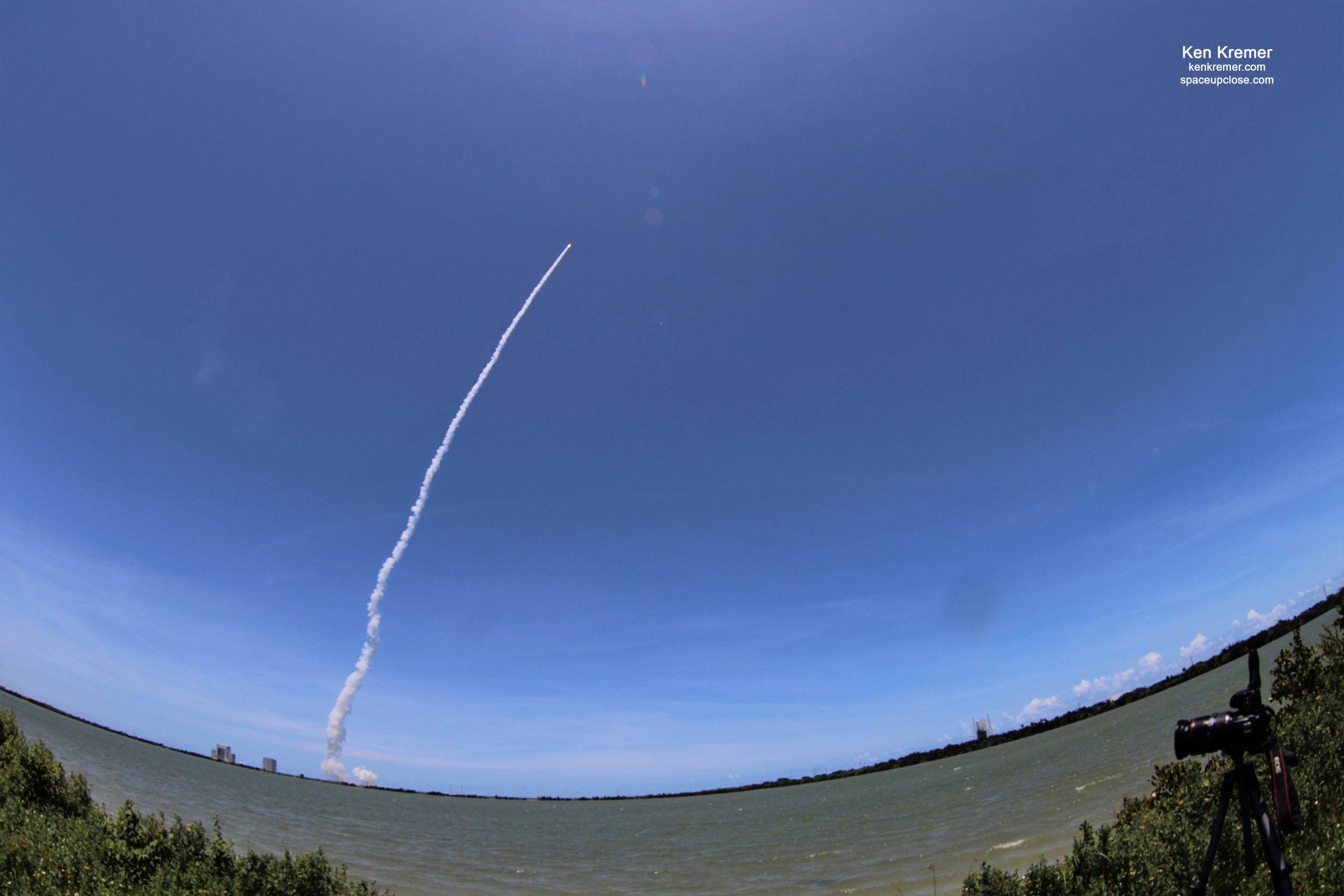 The upper stage is powered by a Centaur with a single engine RL-10C-1-1 provided by Aerojet Rocketdyne that generates 23,825 pounds (160 kilo-newtons) of thrust
The payload fairing is a 13.7-ft (4-m) Extra Extended Payload Fairing (XEPF).
Overall this launch counts as the 144th mission for United Launch Alliance with 100 percent mission success.
Furthermore it is the 87th Atlas V launch and the 8th in the 421 configuration as well as being the 72nd Atlas V to launch from Space Launch Complex-41 in Florida.
.
Thus far the ULA Atlas V rocket successfully launched the first four SBIRS GEO satellites between 2011 and 2018.
The last in the series is being manufactured by Lockheed Martin and will launch next year.
My prelaunch photos from pad 41 were featured on WKMG CBS 6 TV News Orlando: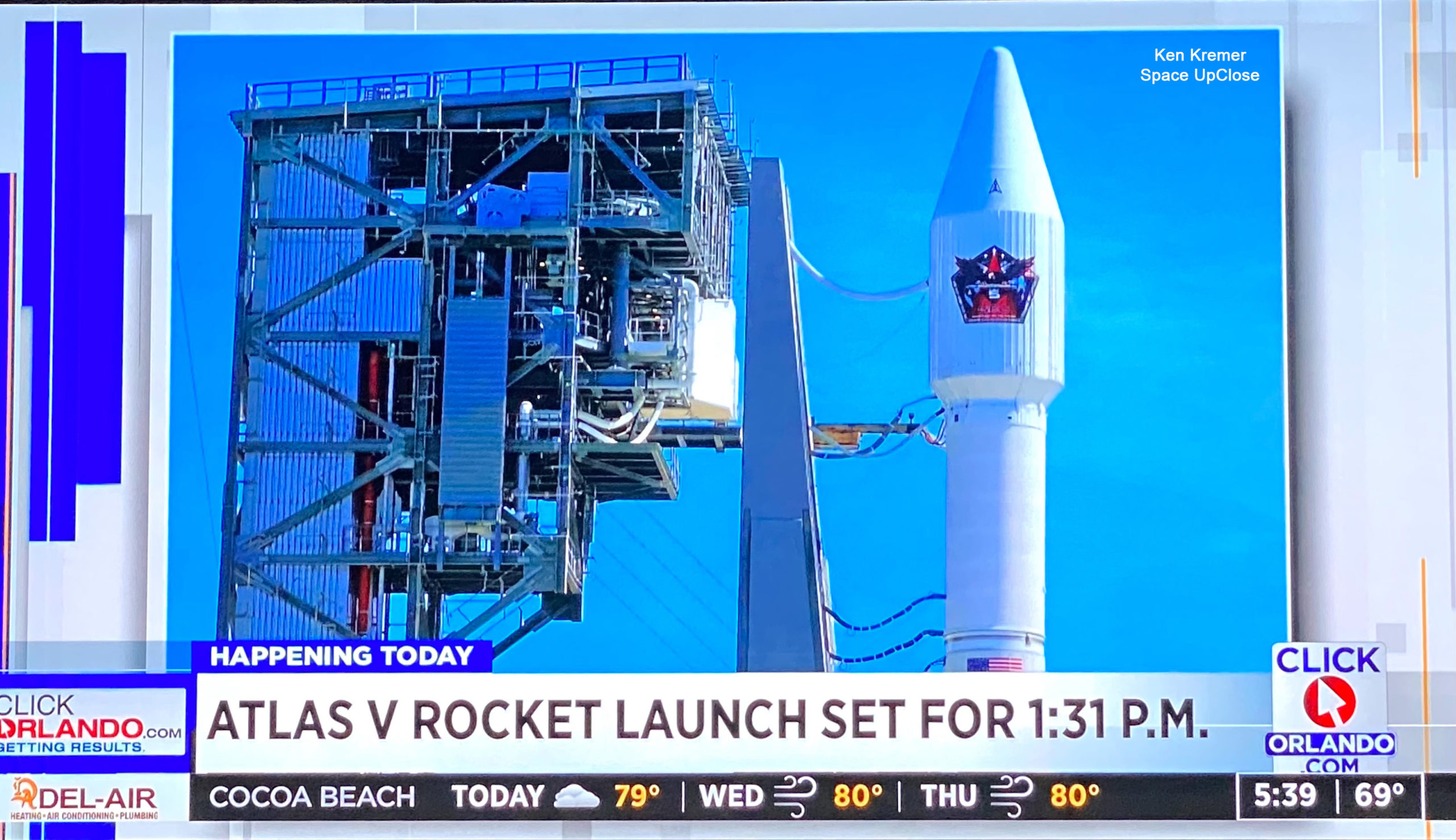 Watch spacecraft separation in this ULA tweet:
Spacecraft Separation✅#AtlasV #SBIRSGEO5 #SBIRS pic.twitter.com/vBtEBToCSd

— ULA (@ulalaunch) May 18, 2021
Launch Highlights from ULA
LAUNCH HIGHLIGHTS! ?

On May 18 at 1:37 p.m. EDT, a ULA #AtlasV lifted the #SBIRS GEO Flight 5 mission for the @SpaceForceDOD @USSF_SMC.

Watch on YouTube: https://t.co/HuQAL9iHiq pic.twitter.com/K2kZ03vtQJ

— ULA (@ulalaunch) May 19, 2021
ULA's next launch is the Space Test Program (STP)-3 mission for the U.S. Space Force's Space and Missile Systems Center, planned for June 23, 2021, from Cape Canaveral Space Force Station, Florida.
Watch Ken's continuing reports about ULA missions, Starlink, Mars 2020 Perseverance and Curiosity rovers, Artemis and NASA missions, SpaceX, Commercial Crew Starliner and Crew Dragon and onsite for live reporting of upcoming and recent SpaceX and ULA launches including Crew 1 & 2, Demo-2, ISS, X-37B, Solar Orbiter, NRO spysats and national security missions and more at the Kennedy Space Center and Cape Canaveral Space Force Station.
Stay tuned here for Ken's continuing Earth and Planetary science and human spaceflight news: www.kenkremer.com –www.spaceupclose.com – twitter @ken_kremer – email: ken at kenkremer.com
Dr. Kremer is a research scientist and journalist based in the KSC area, active in outreach and interviewed regularly on TV and radio about space topics.
………….
Ken's photos are for sale and he is available for lectures and outreach events
Please consider supporting Ken's work by purchasing his photos and/or donating at Patreon:
https://www.patreon.com/kenkremer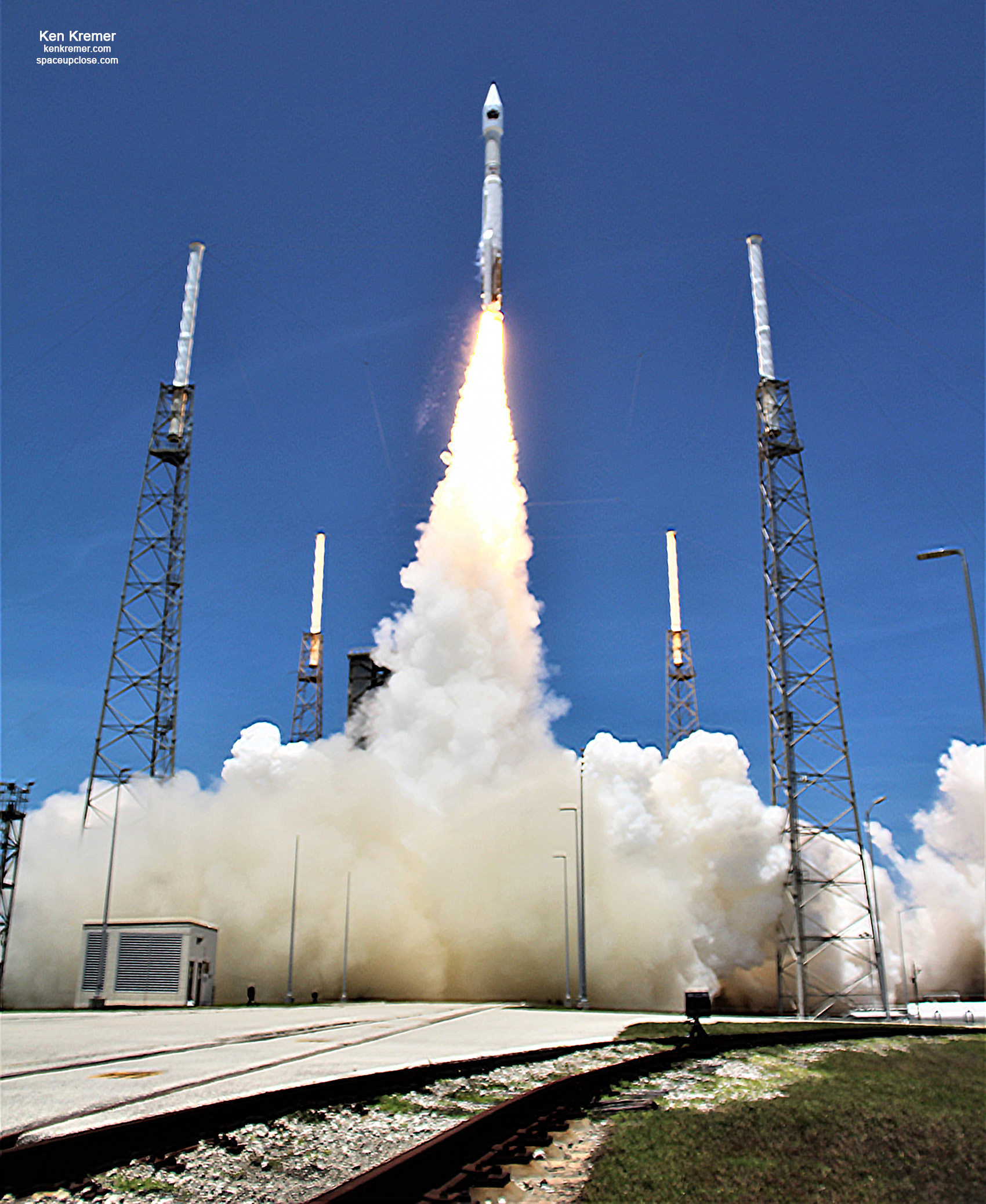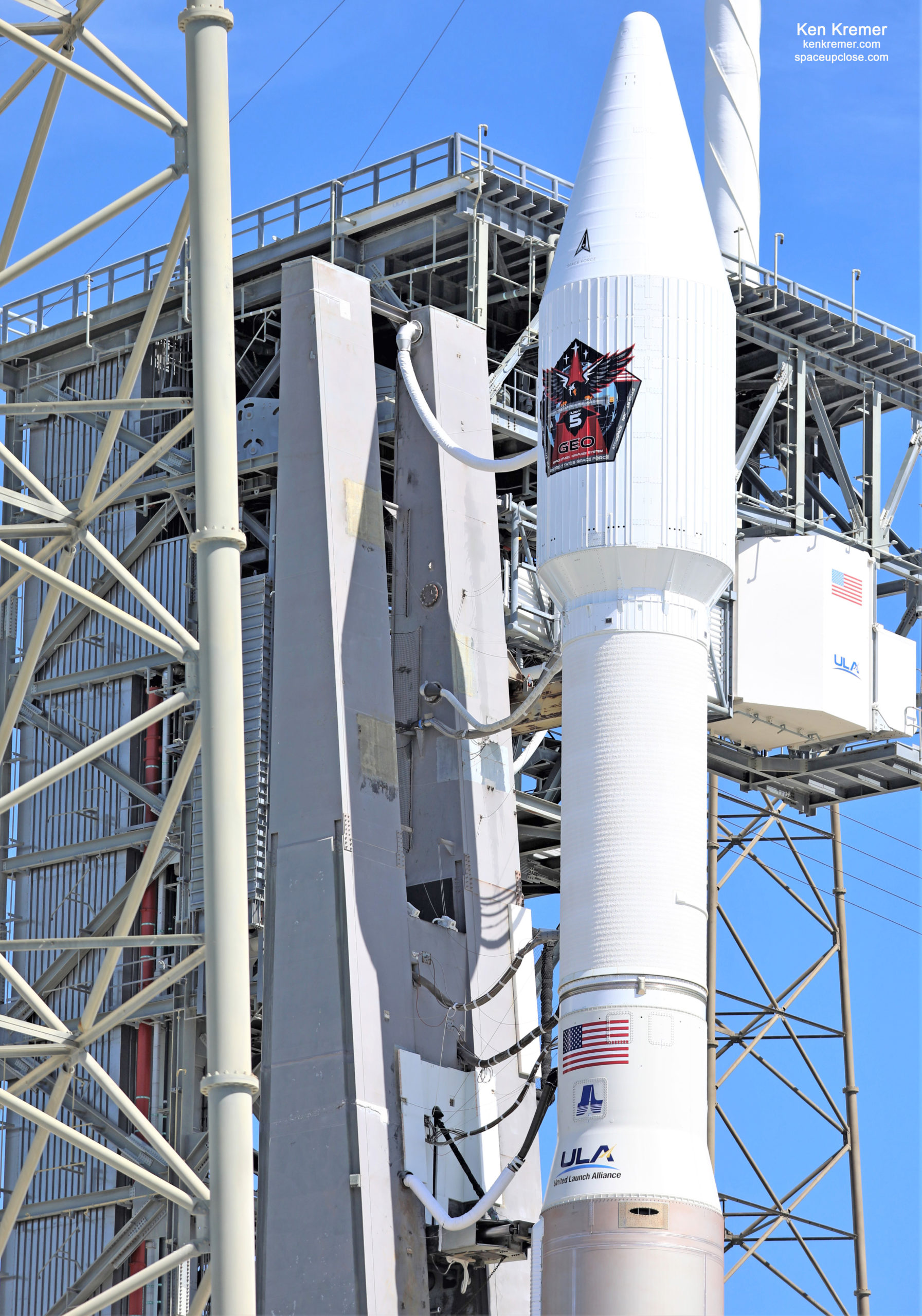 x