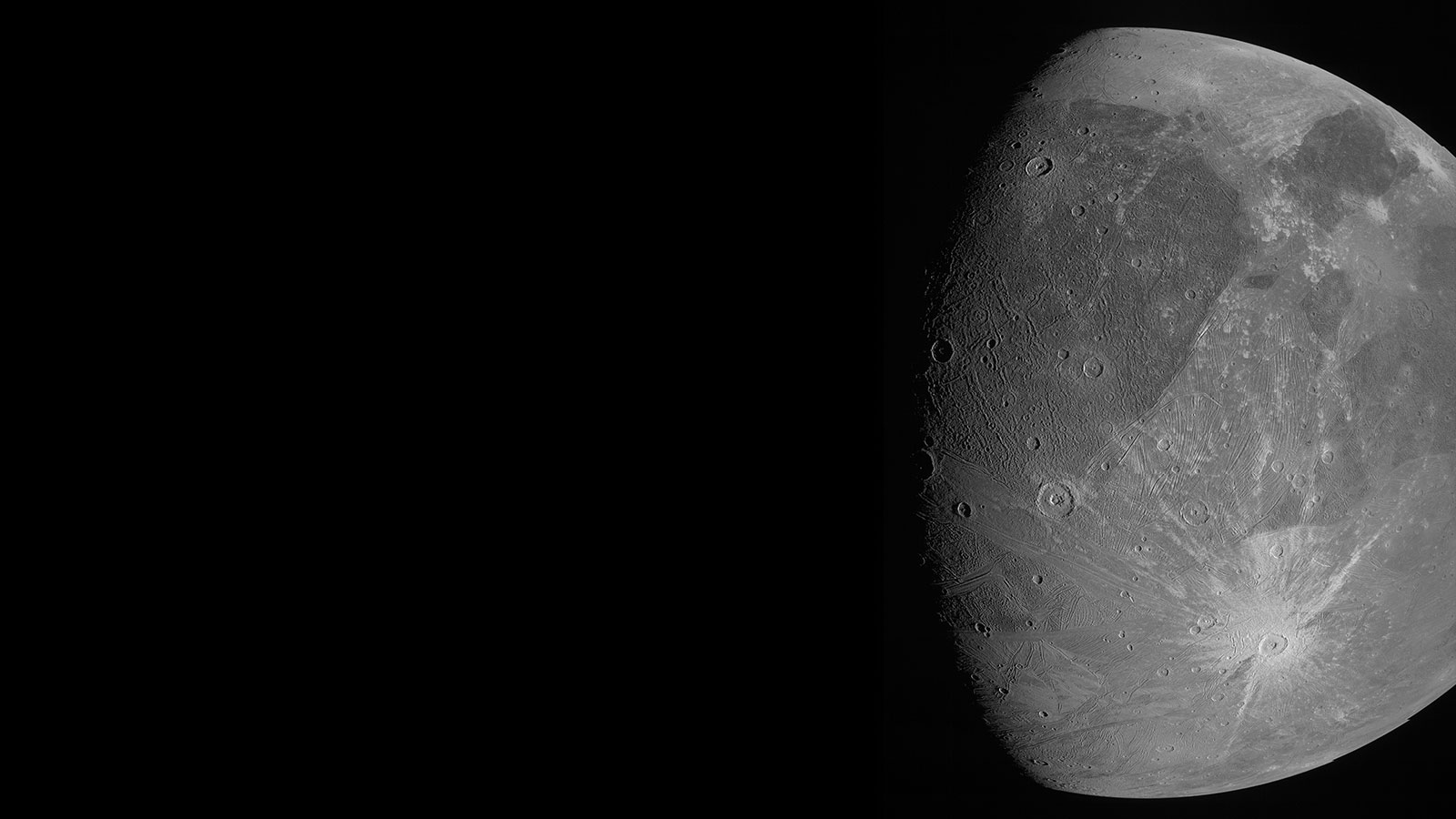 For SpaceUpClose.com & RocketSTEM
CAPE CANAVERAL, FL –  Hello, Ganymede! Its been a long time! NASA's Juno Jupiter Orbiter captured the first up close images of Jupiter's largest moon we've seen in two decades. The spectacular views were gathered during Juno's 'historic' first close flyby of the giant Jovian moon on Monday, June 7.
The first two of as many as five images taken of the 'icy orb' by a pair of onboard cameras on June 7 have now been transmitted back to Earth and been released by NASA
Solar powered Juno flew within 645 miles (1,038 kilometers) of Ganymede's surface during the flyby on June 7 at 1:35 p.m. EDT (1735 GMT) and revealed stunning detail including bright craters, scraggy terrain and tectonic fault lines across the globe – which also counts as the largest moon in our solar system and furthermore is larger than Planet Mercury.
Hello, old friend. Yesterday our #JunoMission made the first close flyby of Jupiter's giant moon Ganymede in more than 20 years, and the first two images have been received on Earth. ? More to come. See details at: https://t.co/zIVMO6waKH pic.twitter.com/2RiW3iSmIp

— NASA Solar System (@NASASolarSystem) June 8, 2021
The photos were taken by Juno's JunoCam imager and its Stellar Reference Unit star camera – and "show the surface in remarkable detail, including craters, clearly distinct dark and bright terrain, and long structural features possibly linked to tectonic faults."
"This is the closest any spacecraft has come to this mammoth moon in a generation," said Juno Principal Investigator Scott Bolton of the Southwest Research Institute in San Antonio, in a statement.
"We are going to take our time before we draw any scientific conclusions, but until then we can simply marvel at this celestial wonder."
? Behold, Ganymede! #JunoMission conducted historic flybys of Jupiter's largest moon and captured these stunning images of the icy orb. The detailed photos show craters, the terrain and long structural features possibly linked to tectonic faults. https://t.co/6HA9W5GvRT pic.twitter.com/CIV8plUxII

— NASA JPL (@NASAJPL) June 8, 2021
The last time we saw up close images of Ganymede was during a close approach by NASA's Galileo Orbiter back on May 20, 2000.
In addition to capturing striking imagery, Juno will carry out a full science campaign with its suite of science instruments to study the moon's composition, ionosphere, magnetosphere, and ice shell.
Juno's measurements of the radiation environment near the moon will also benefit future missions to the Jovian system – like NASA's upcoming Europa Clipper mission and ESA's JUICE orbiter.
Juno's science instruments began collecting data about three hours before the spacecraft's closest approach. Along with the Ultraviolet Spectrograph (UVS) and Jovian Infrared Auroral Mapper (JIRAM) instruments, Juno's Microwave Radiometer's (MWR) will peer into Ganymede's water-ice crust, obtaining data on its composition and temperature, NASA said in a statement.

"The conditions in which we collected the dark side image of Ganymede were ideal for a low-light camera like our Stellar Reference Unit," said Heidi Becker, Juno's radiation monitoring lead at JPL. "So this is a different part of the surface than seen by JunoCam in direct sunlight. It will be fun to see what the two teams can piece together."
The spacecraft will send more images from its Ganymede flyby in the coming days, with JunoCam's raw images being made available here.
"Ganymede's ice shell has some light and dark regions, suggesting that some areas may be pure ice while other areas contain dirty ice," said Bolton. "MWR will provide the first in-depth investigation of how the composition and structure of the ice varies with depth, leading to a better understanding of how the ice shell forms and the ongoing processes that resurface the ice over time."
The results will complement those from ESA's forthcoming JUICE mission, which will look at the ice using radar at different wavelengths when it becomes the first spacecraft to orbit a moon other than Earth's Moon in 2032.
Ganymede is the largest moon in the solar system, bigger even than the planet Mercury. We'll get the closest look at Ganymede we've had in more than 20 years when our #JunoMission makes a close flyby on June 7. Learn more: https://t.co/zMru5iSvCk pic.twitter.com/ZXXl13lXv3

— NASA Solar System (@NASASolarSystem) June 3, 2021
Here are the best maps of Ganymede available to date composed of imagery from NASA's Voyager 1 and 2 and Galileo probes: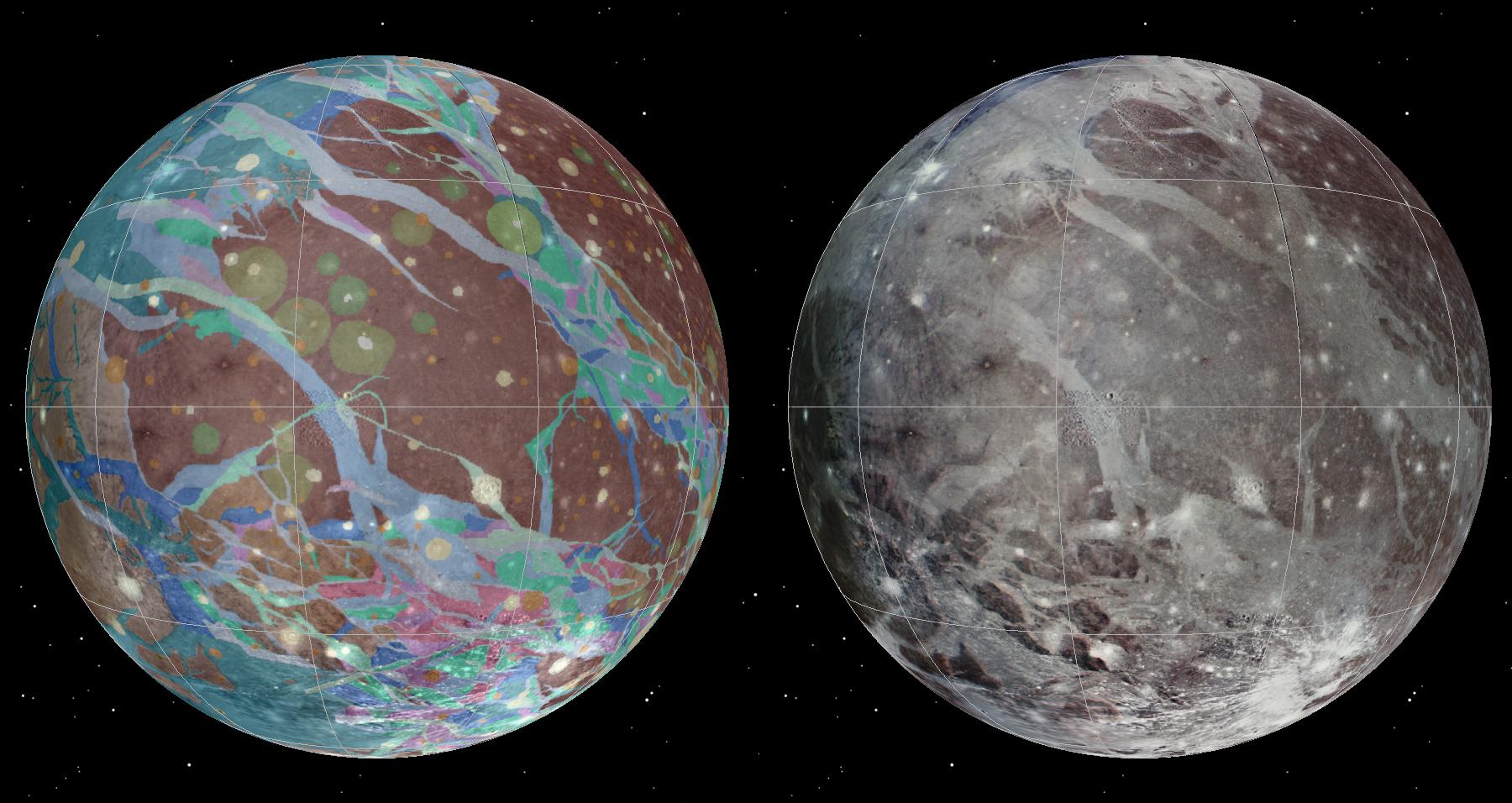 Video Caption: Animation of a rotating globe of Ganymede, with a geologic map superimposed over a global color mosaic.  Credits: USGS Astrogeology Science Center/Wheaton/ASU/NASA/JPL-Caltech
The $1.1 Billion Juno was launched on Aug. 5, 2011 from Cape Canaveral Air Force Station, Florida atop the most powerful version of the Atlas V rocket augmented by 5 solid rocket boosters and built by United Launch Alliance (ULA).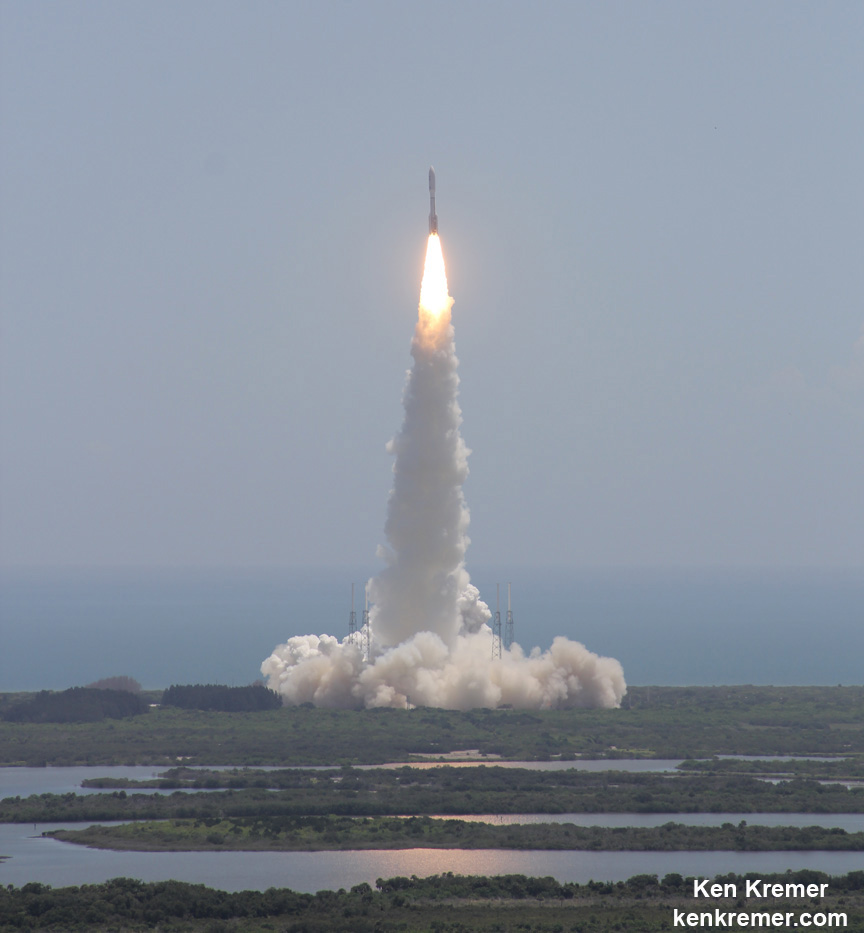 The Juno spacecraft was built by prime contractor Lockheed Martin in Denver.
The last NASA spacecraft to orbit Jupiter was Galileo in 1995. It explored the Jovian system until 2003.
Watch Ken's continuing reports about NASA  Planetary and Space Science, SpaceX Cargo and Crew Dragons, Artemis and NASA missions, SLS, Orion, SpaceX  Starlink, Commercial Crew and Starliner and Crew Dragon and onsite for live reporting of upcoming and recent SpaceX and ULA launches including Crew 1 & 2, ISS, Solar Orbiter, Mars 2020 Perseverance and Curiosity rovers, NRO spysats and national security missions and more at the Kennedy Space Center and Cape Canaveral Space Force Station.
Stay tuned here for Ken's continuing Earth and Planetary science and human spaceflight news: www.kenkremer.com –www.spaceupclose.com – twitter @ken_kremer – email: ken at kenkremer.com
Dr. Kremer is a research scientist and journalist based in the KSC area, active in outreach and interviewed regularly on TV and radio about space topics.
………….
Ken's photos are for sale and he is available for lectures and outreach events
Please consider supporting Ken's work by purchasing his photos and/or donating at Patreon:
https://www.patreon.com/kenkremer
x