For SpaceUpClose.com & RocketSTEM
TITUSVILLE, FL – Just past midnight Sunday, June 6, the SiriusXM SXM-8 digital audio radio satellite was hurled to orbit atop a 'flight-proven' SpaceX Falcon 9 rocket but soon disappeared behind low and thick clouds that mostly obscured the view but nonetheless delighted spectators with the cracking engine roar reverberating around the Florida Space Coast and simultaneously generated a rarely seen and rather eerie 'sun pillar' like feature high in the nighttime sky.
The veteran 229-foot-tall (70-meter) SpaceX Falcon 9 roared to life for the third time Sunday, June 6 at 12:26 a.m. EDT (0426 GMT) for launch of the Maxar built SXM-8 satellite at the opening of the one-hour and 59-minute launch window under cloud draped nighttime skies from Space Launch Complex-40 (SLC-40) on Cape Canaveral Space Force Station, in Florida.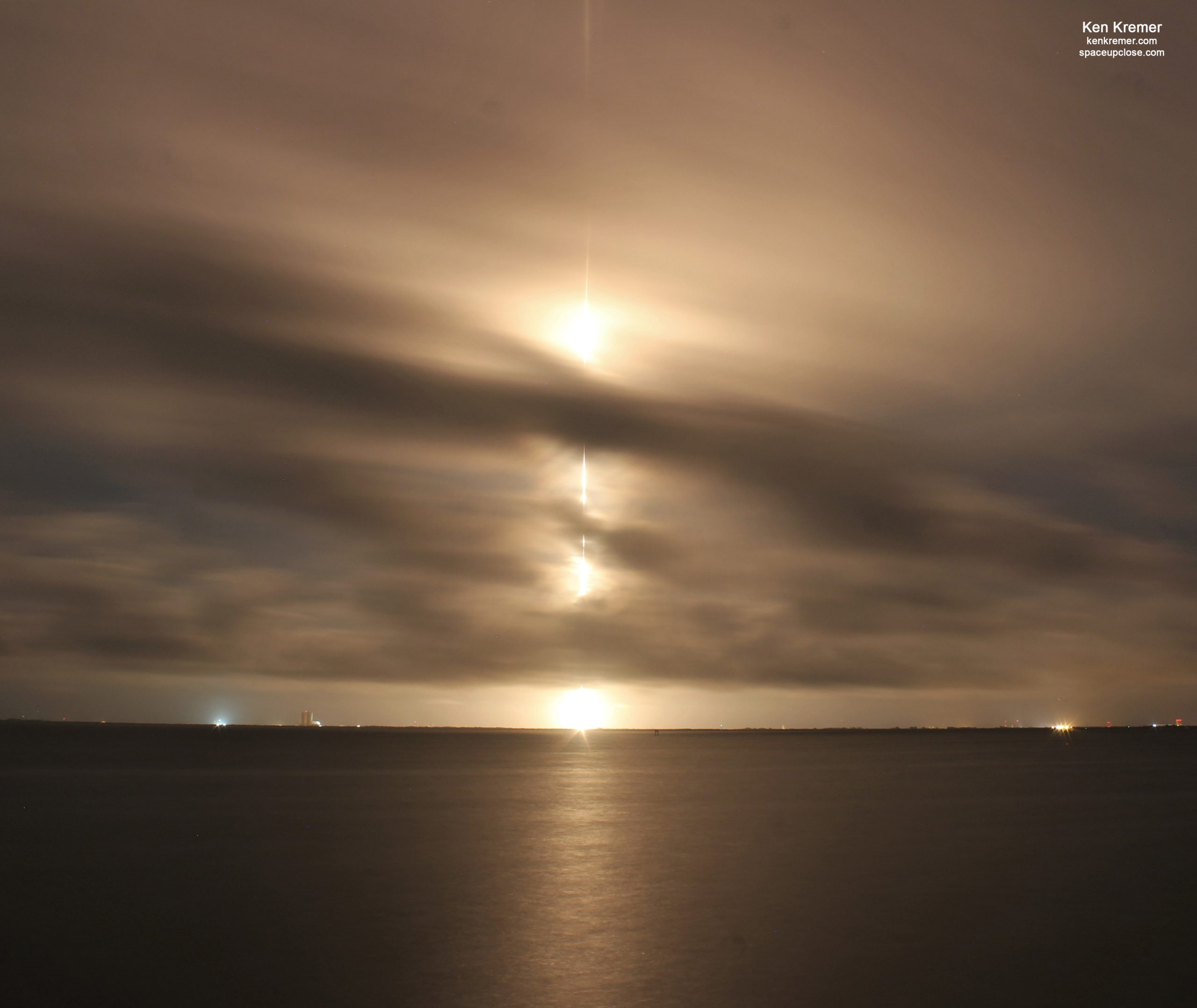 Eight and a half minutes later the 1st stage successfully soft landed on the "Just Read the Instructions" droneship prepositioned in the Atlantic Ocean – thus completing its third trip to space and back after previously hauling 8 astronauts to the International Space Station (ISS) on the high profile and critical Crew-1 and Crew-2 astronaut missions in November 2020 and April 2021 respectively for NASA.
SXM-8 is aimed to deliver entertainment broadcast and data services broadcasts to tens of millions of subscribers across North America after reaching geostationary orbit
This launch follows up on the SXM-7 launch in Dec 2020 which malfunctioned in orbit and was declared a total loss.
This reused first stage booster B1061 launched and landed successfully on its third flight – setting up a fourth in the not too distant future
Falcon 9's first stage booster has landed on the Just Read the Instructions droneship pic.twitter.com/gwz6GIdhns

— SpaceX (@SpaceX) June 6, 2021
The nine Merlin 1D first stage engines fueled by liquid oxygen (LOX) and RP-1 propellants ignited to generate 1.7 million pounds of liftoff thrust and a huge plume of smoke as the rocket rode to orbit.
The rocket soared to space and was briefly visible for about 20 second or so when it flew into the low lying cloud deck, momentarily darting in and out of clouds until they hid the rockets fountain of flames.
For a few short seconds a strange red feature appeared higher in the sky that the National Weather Service in Melbourne, Fl described as resembling a 'sun pillar' formed from a shaft of light from the sun
High clouds didn't prevent a great view of the @SpaceX launch from our office! ??

? Check out the feature resembling a sun pillar right after launch. These shafts of light are normally generated by the sun when it is close to the horizon and cirrus clouds are present #FLwx pic.twitter.com/4B6Pds82fF

— NWS Melbourne (@NWSMelbourne) June 6, 2021
The SXM-8 satellite separated from the second stage and was deployed to geostationary transfer orbit (GTO) as planned 31 minutes after liftoff
Deployment of SXM-8 confirmed pic.twitter.com/3RHYWqU7qS

— SpaceX (@SpaceX) June 6, 2021
Next it was commanded to unfurl its solar panels and is healthy, Maxar confirmed via tweet:
[1 of 2] The Maxar-built SXM-8 geostationary satellite for @SIRIUSXM is performing as expected after a successful launch on a @SpaceX Falcon 9 rocket early this morning and will now commence with on orbit commissioning. https://t.co/1tRK49r9Fn pic.twitter.com/AkEt06QK3v

— Maxar Technologies (@Maxar) June 6, 2021
It soon fired up thrusters to gradually achieve geostationary orbit
[2 of 2] Shortly after launch, SXM-8 deployed its solar arrays, confirmed communications with the ground stations and began firing its thrusters to start its journey to its final orbit. https://t.co/1tRK49r9Fn pic.twitter.com/tUYZNxzRHU

— Maxar Technologies (@Maxar) June 6, 2021
Here are some prelaunch views from the Maxar WorldView-3 geostationary satellite
Today's high off-nadir WorldView-3?️view of the @SpaceX #Falcon9 rocket?that will launch @SIRIUSXM's #SXM8 mission from Space Launch Complex 40 at Cape Canaveral Space Force Station in Florida on Sunday, June 6th. https://t.co/GUMuEhOM97 pic.twitter.com/ejpXUH8295

— Maxar Technologies (@Maxar) June 5, 2021
Preparations for the June 6th launch of @SIRIUSXM's SXM-8 broadcasting #satellite are underway. Seen here on June 3rd is the @SpaceX #Falcon9 rocket at Space Launch Complex 40. pic.twitter.com/600oBLJlk2

— Maxar Technologies (@Maxar) June 4, 2021
Overall the SXM-8 launch marked SpaceX's 18th of 2021 already and their 125th successful mission:
Falcon 9 launches SXM-8 to orbit – SpaceX's 125th successful mission pic.twitter.com/4FyQMh2Ng5

— SpaceX (@SpaceX) June 6, 2021
See our Space UpClose launch views
The approximately 7,000 kg (15,000 pound) SXM-7 radio satellite was successfully launched and is functioning properly, prime contractor Maxar announced in a statement.
The SXM-8 satellite is built on Maxar's 1300-CLASS PLATFORM. SXM-8 is designed to provide service for 15 years or longer.
Once on orbit, SXM-8 will unfurl its large antenna reflector.  This reflector will allow SiriusXM programming to reach mobile radios, such as those in moving vehicles.
"Maxar and SiriusXM have a decades-long relationship, and we're thrilled to deliver the ninth satellite we've built for them since 2000," said Paul Estey, Maxar's Executive Vice President, Space Programs Delivery.
"SXM-8, built on Maxar's proven 1300-class bus, is more than twice as big and powerful as the first-generation SiriusXM constellation built by Maxar."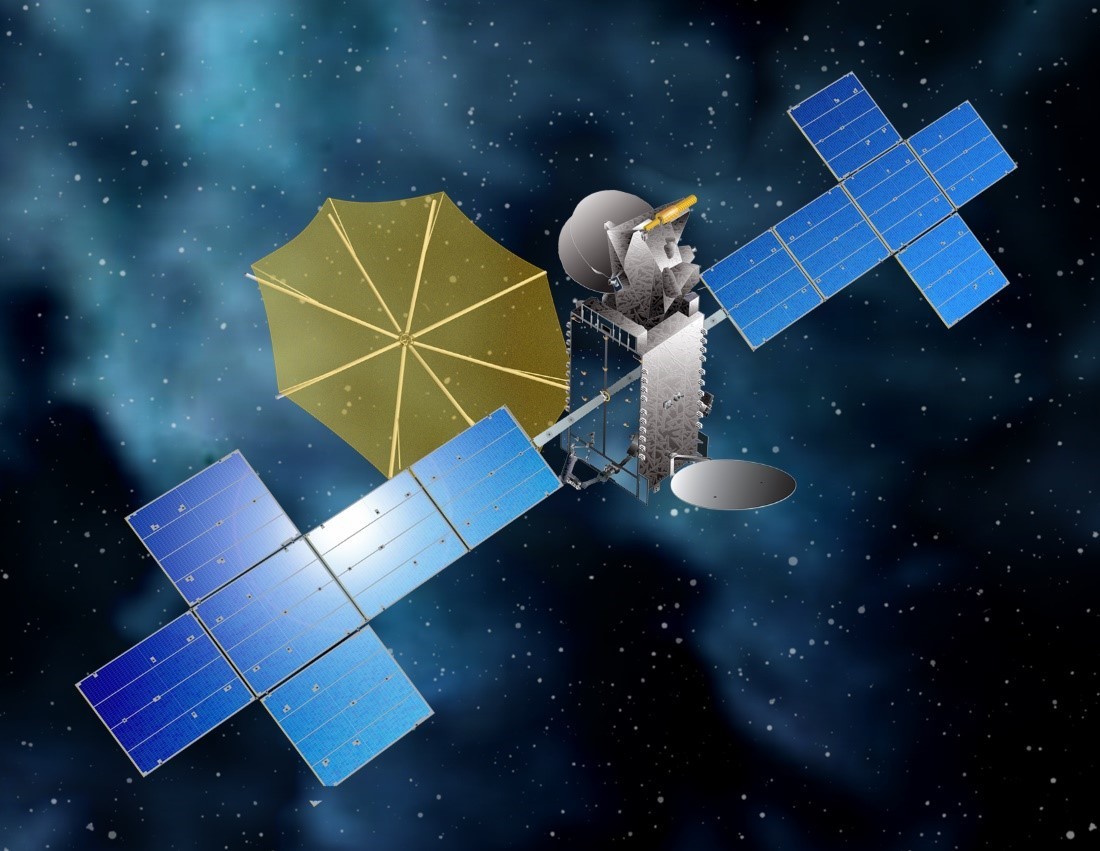 Here is my pre-launch view of the payload fairing from the prior SXM-7 launch taken at pad 40.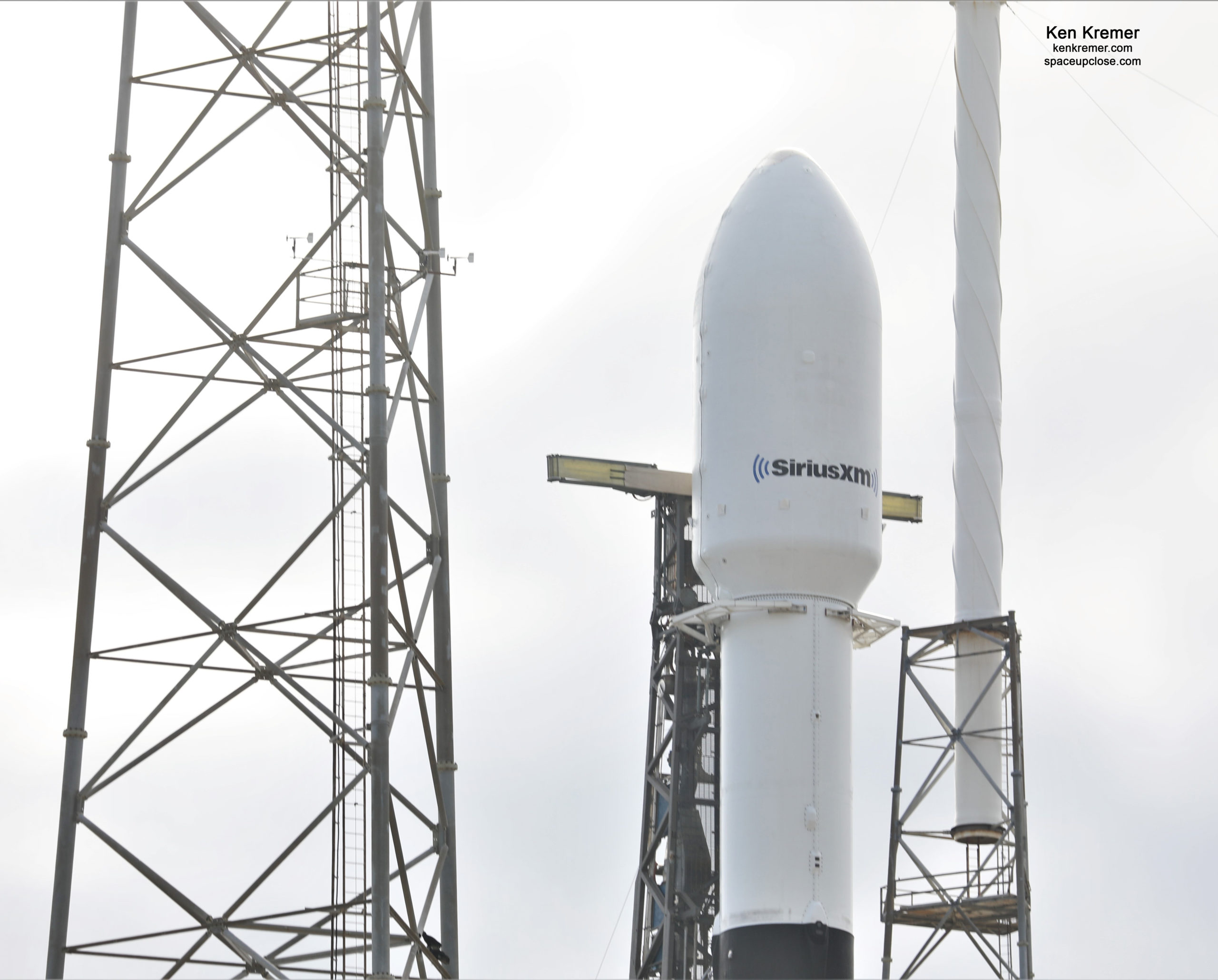 Watch Ken's continuing reports about SpaceX Cargo and Crew Dragons, Artemis and NASA missions, SLS, Orion, SpaceX  Starlink, Commercial Crew and Starliner and Crew Dragon and onsite for live reporting of upcoming and recent SpaceX and ULA launches including Crew 1 & 2, ISS, Solar Orbiter, Mars 2020 Perseverance and Curiosity rovers, NRO spysats and national security missions and more at the Kennedy Space Center and Cape Canaveral Space Force Station.
Stay tuned here for Ken's continuing Earth and Planetary science and human spaceflight news: www.kenkremer.com –www.spaceupclose.com – twitter @ken_kremer – email: ken at kenkremer.com
Dr. Kremer is a research scientist and journalist based in the KSC area, active in outreach and interviewed regularly on TV and radio about space topics.
………….
Ken's photos are for sale and he is available for lectures and outreach events
Please consider supporting Ken's work by purchasing his photos and/or donating at Patreon:
https://www.patreon.com/kenkremer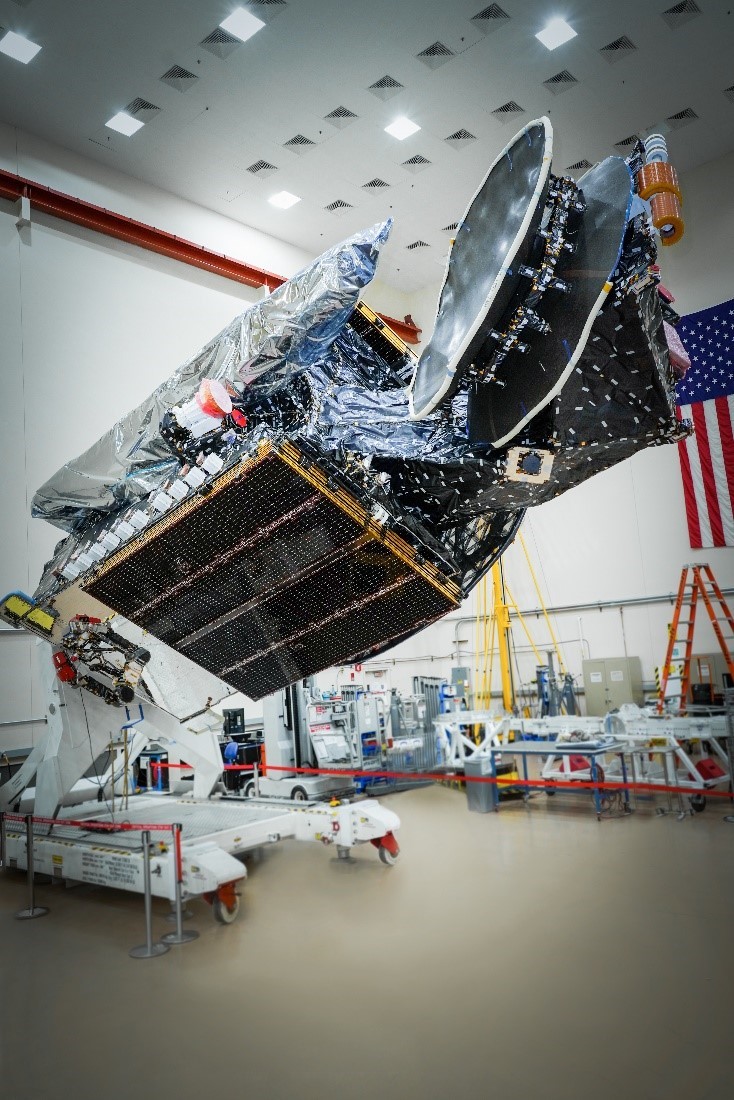 x