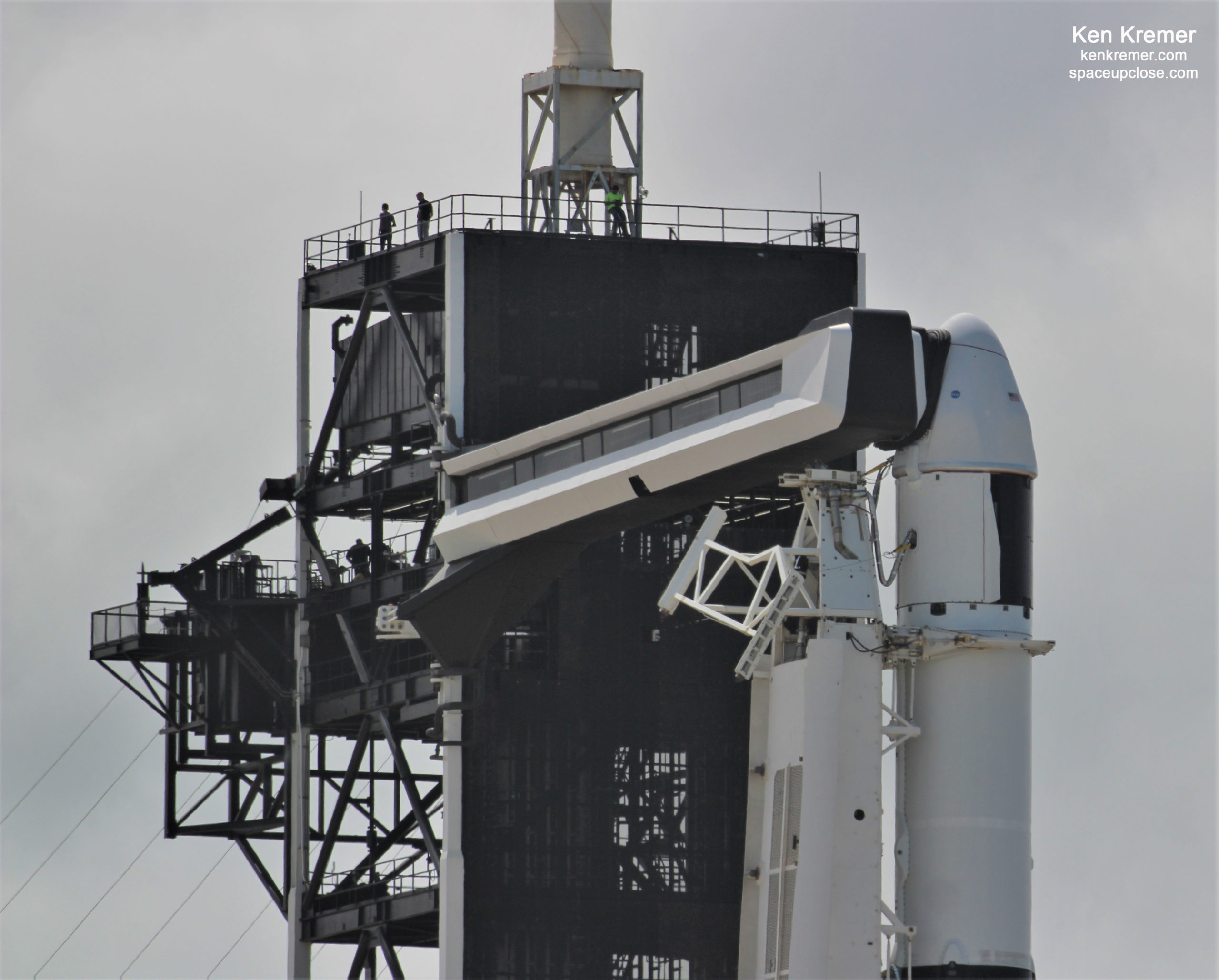 For SpaceUpClose.com & RocketSTEM
KENNEDY SPACE CENTER, FL – A spanking new and non-sooty black and white Falcon 9 rocket is all set to launch a likewise new SpaceX Cargo Dragon delivering over 3.6 tons of new NASA  science and supplies to the 20 year old International Space Station (ISS) on Thursday, June 3, from Florida's Spaceport – if the weather cooperates.
The NASA SpaceX CRS-22 resupply mission to the ISS kicks off a super busy month of launches from Florida's Space Coast totaling five on tap altogether for NASA, the U.S. Space Force, and commercial companies by America's premier rocket providers ULA and SpaceX.
Liftoff of the newly manufactured 215-foot-tall (65-meter) Falcon 9 on the NASA SpaceX CRS-22 Cargo Dragon to the ISS is slated for at 1:29 p.m. EDT (1729 GMT) on June 3 from Launch Complex-39A on NASA's Kennedy Space Center in Florida during an instantaneous launch window.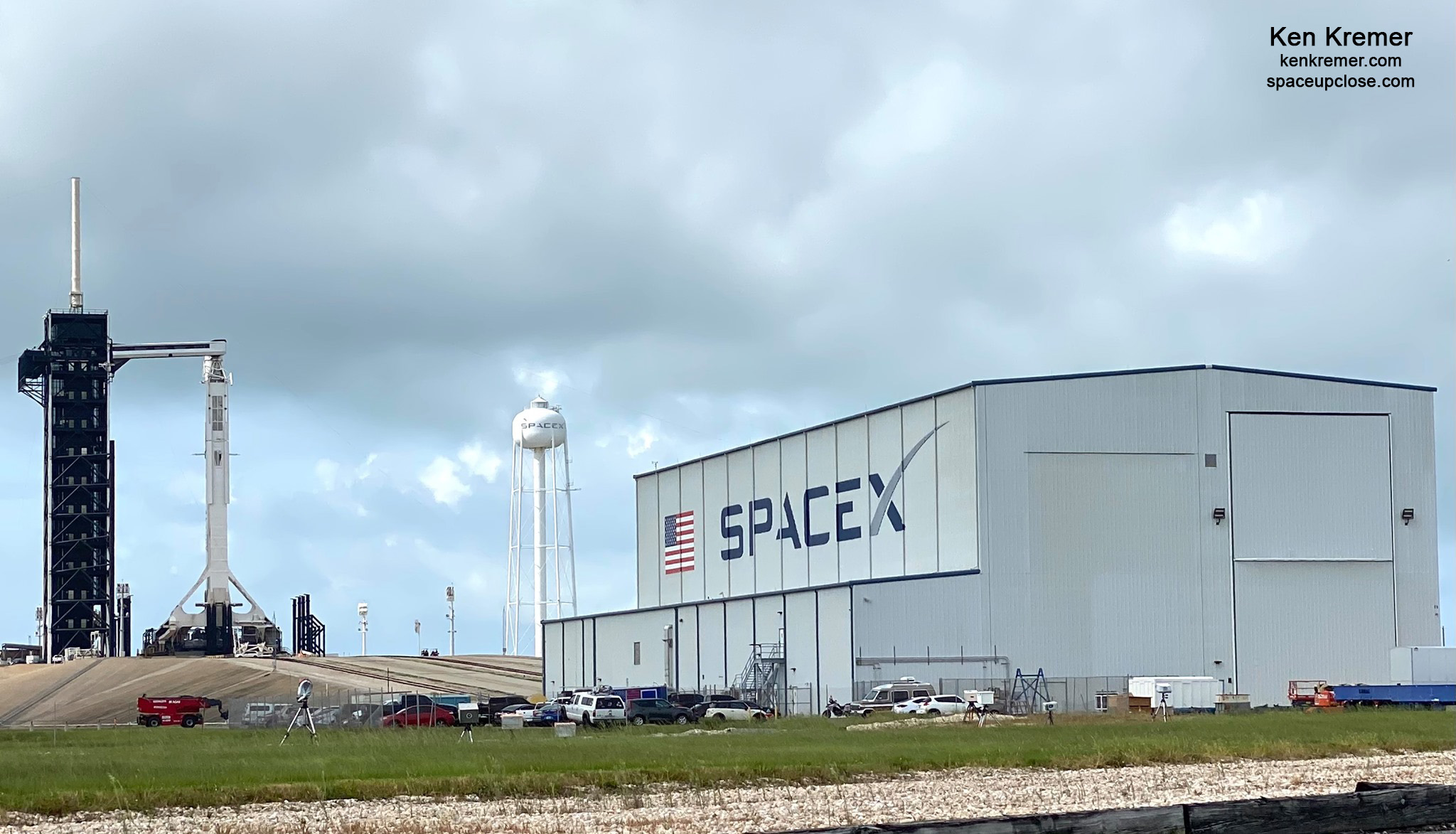 This 22nd cargo delivery mission for NASA to the ISS also marks SpaceX's 17th launch of 2021 – a remarkable unrelenting launch cadence enabled by the routine use of recovered and recycled Falcon 9 first stages.
The @SpaceX #CargoDragon is counting down to a Thursday launch at 1:29pm ET from @NASAKennedy to the station. It arrives Saturday at 5am carrying 7,300 pounds of gear including new science, supplies and solar arrays. More… https://t.co/XZUFcMt6YL pic.twitter.com/GDs9DyqY66

— International Space Station (@Space_Station) June 3, 2021
"This is the 17th mission that SpaceX has launched just in this front half of 2021 this year, and the first one where we're introducing a new booster to the fleet," said Sarah Walker, Dragon mission management director for SpaceX, during the prelaunch media briefing today.
"We're actually surprised when we get to a mission like today's where we're flying a new booster. I think that's really neat."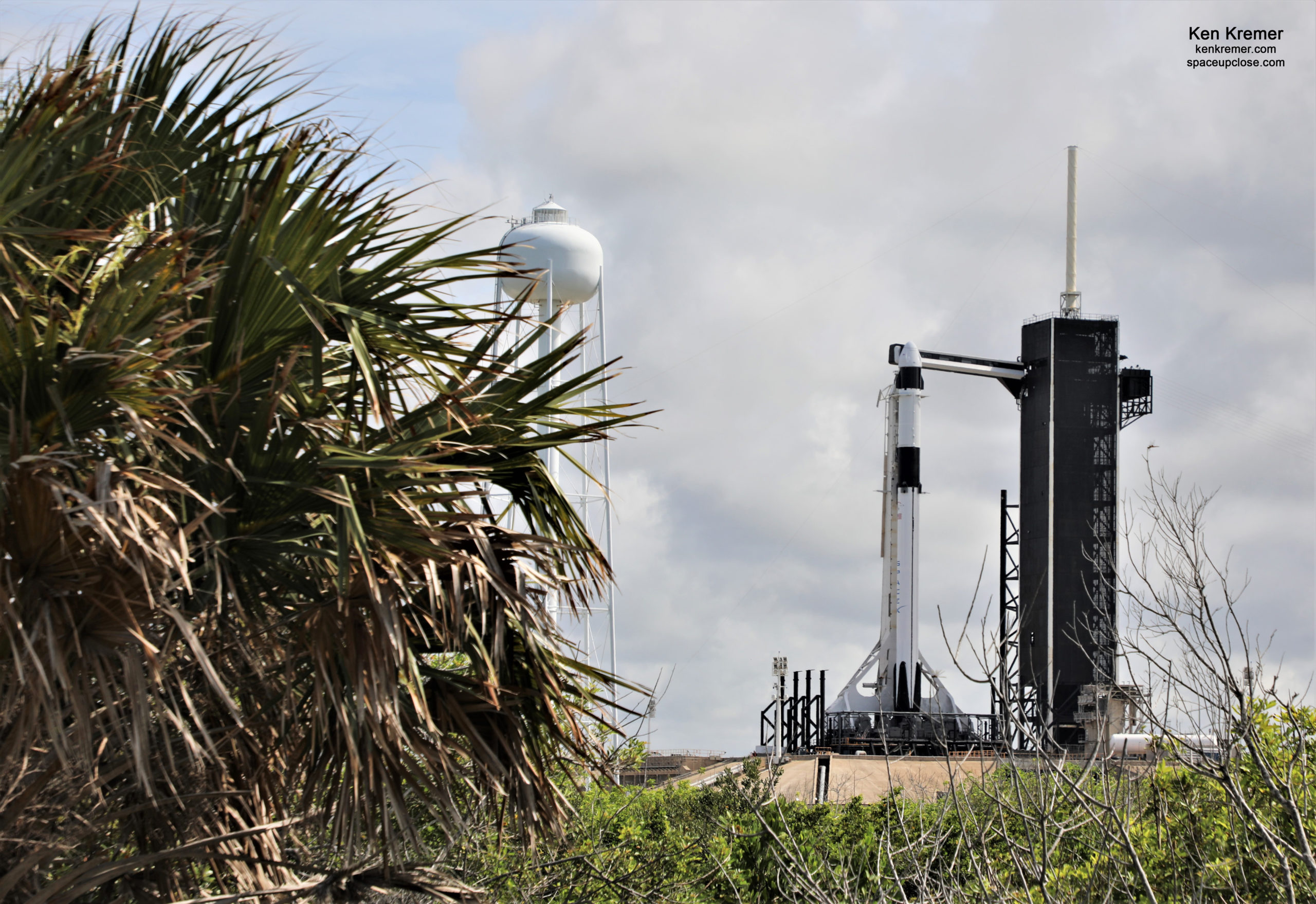 SpaceX routinely reuses boosters to save time and money – so its uncommon to launch a new one and see it shining broght on the pad with no accumulated black and gray soot and grime from the searing soar to space and back.
SpaceX also skipped the normal static fire test for this booster in something of a surprise, although they have skipped several this year in order to save time and quicken the launch cadence.
In the face of a declining weather outlook the launch weather forecast from the 45th Space Delta team has dropped to a very moderate 60% chance of favorable conditions at launch time.
Stormy weather and rain showers are forecast to move into the Cape region overnight and persist through Thursday morning into midday.
The Primary Concerns are the Cumulous Cloud Rule and Flight through precipitation
A back up opportunity is available on June 4 at 1:03 p.m. EDT.
The weather forecast Friday, June 4, remains at 60% GO.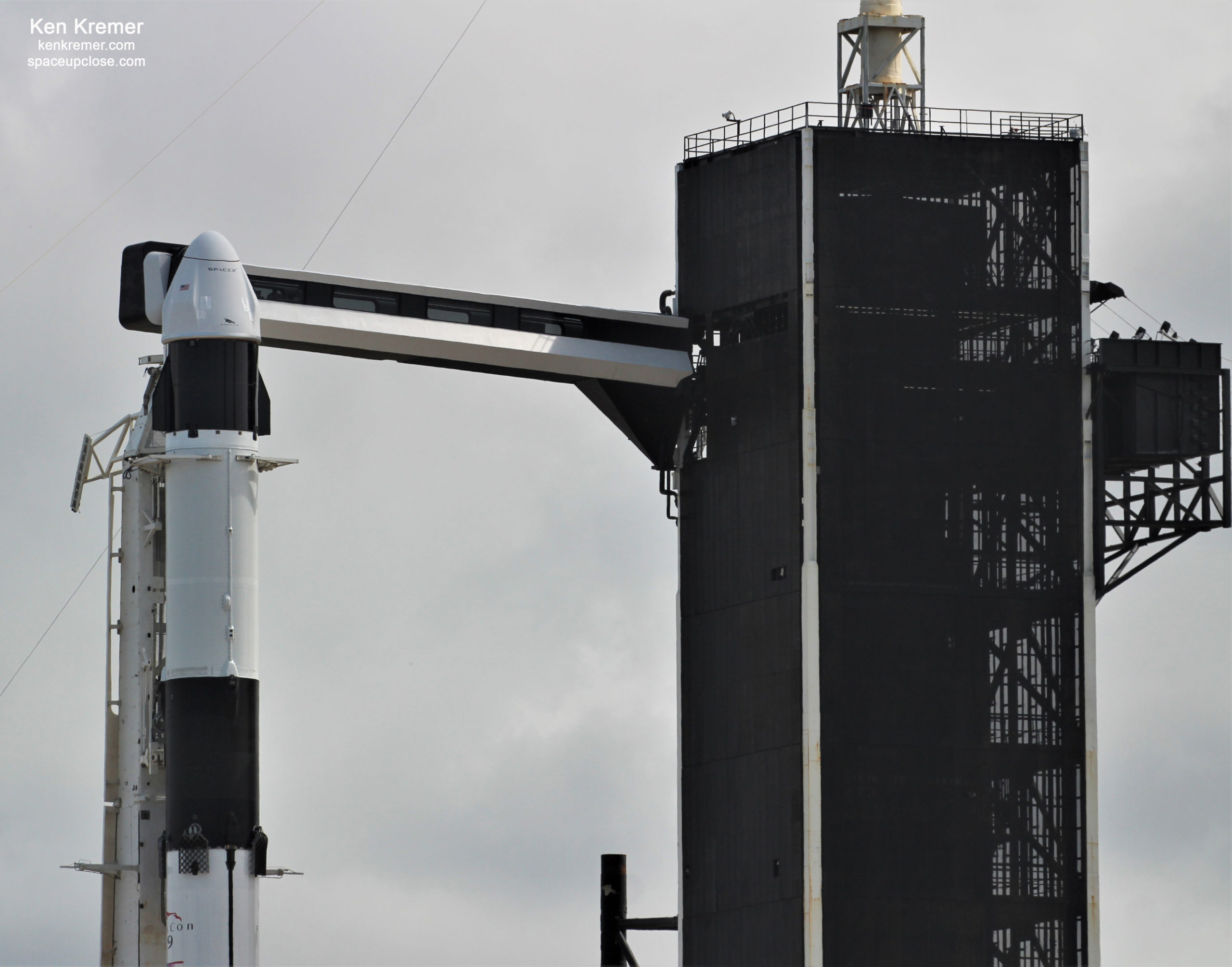 You can watch the launch live on NASA TV, the NASA app, and the agency's website.
Live NASA coverage starts at 1 p.m. ET   http://nasa.gov/nasalive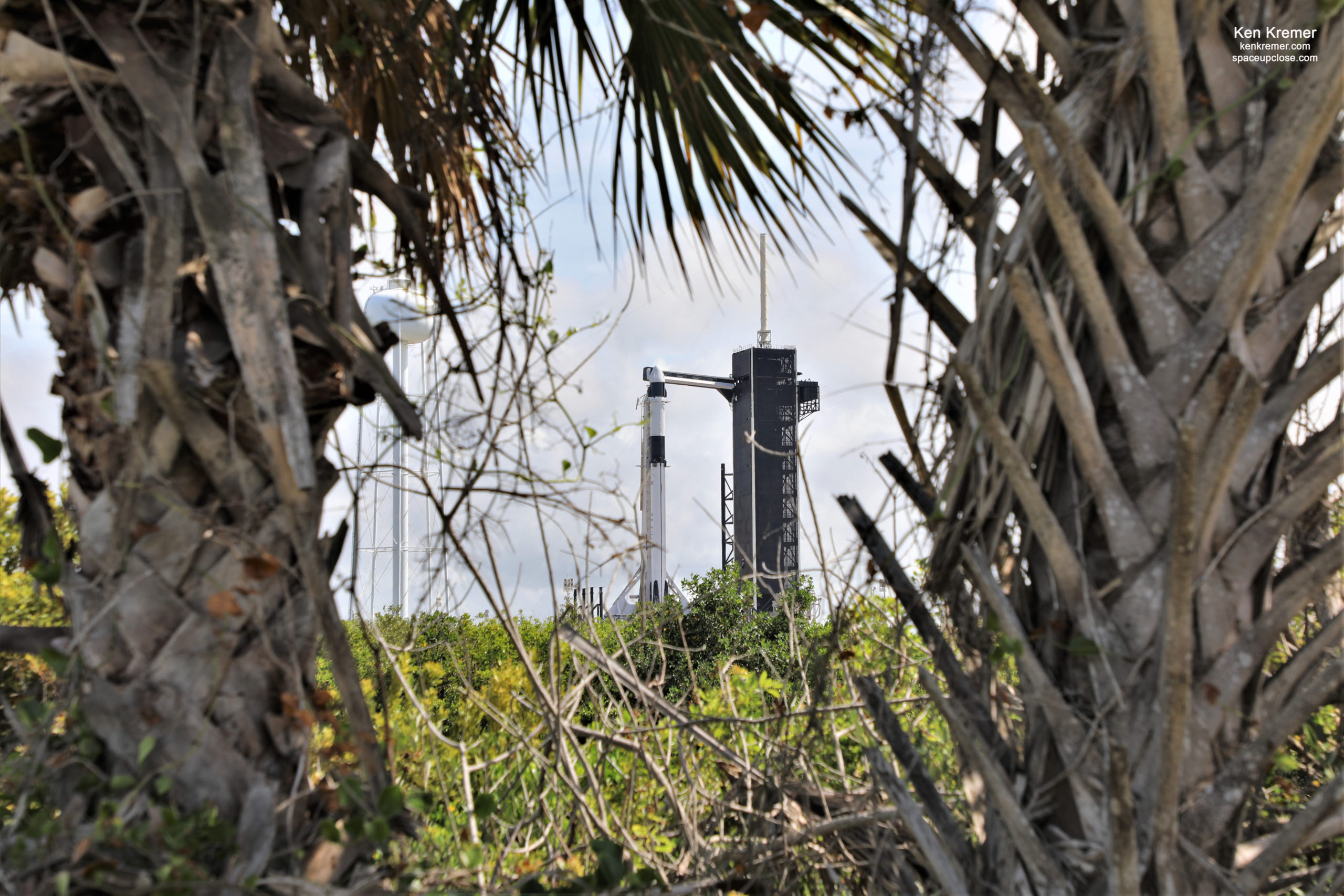 Check out my photos taken this afternoon for Space UpClose during remote camera setup after the Falcon 9/Cargo Dragon was raised vertical for launch
The CRS-22 mission will deliver some 7,300 pounds of science, research, crew supplies, and vehicle hardware, including the new rollout IROSA solar arrays housed in the Dragon trunk section, to the orbital laboratory and its Expedition 65 crew.
Watch this NASA video about 'What's on Board:'
Video Caption: Science Launching on SpaceX's 22nd Cargo Resupply Mission to the Space Station -The 22nd SpaceX cargo resupply mission carrying scientific research and technology demonstrations launches to the International Space Station from NASA's Kennedy Space Center in Florida no earlier than June 3. Experiments aboard include studying how water bears tolerate space, whether microgravity affects symbiotic relationships, analyzing the formation of kidney stones, and more. Learn more: https://go.nasa.gov/3tZdUV3
? Squids
? Water Bears
☀️ Solar Panels
? Butterfly IQ Ultrasound

These are just a few of the experiments and payloads launching to the @Space_Station on the 22nd @SpaceX cargo resupply mission! Learn more: https://t.co/etRbfeuFI5 pic.twitter.com/TwnsITxsH5

— NASA's Kennedy Space Center (@NASAKennedy) May 26, 2021
Among the research creatures on board are water bears and squid hatchings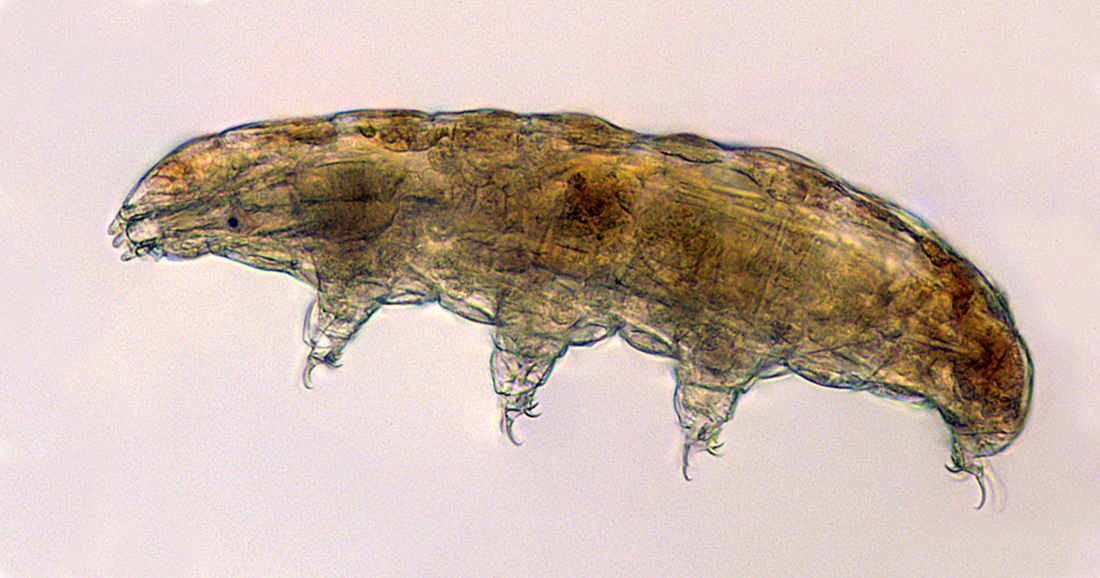 CRS-22 is the 2nd contracted mission under SpaceX's Commercial Resupply Services-2 contract with NASA.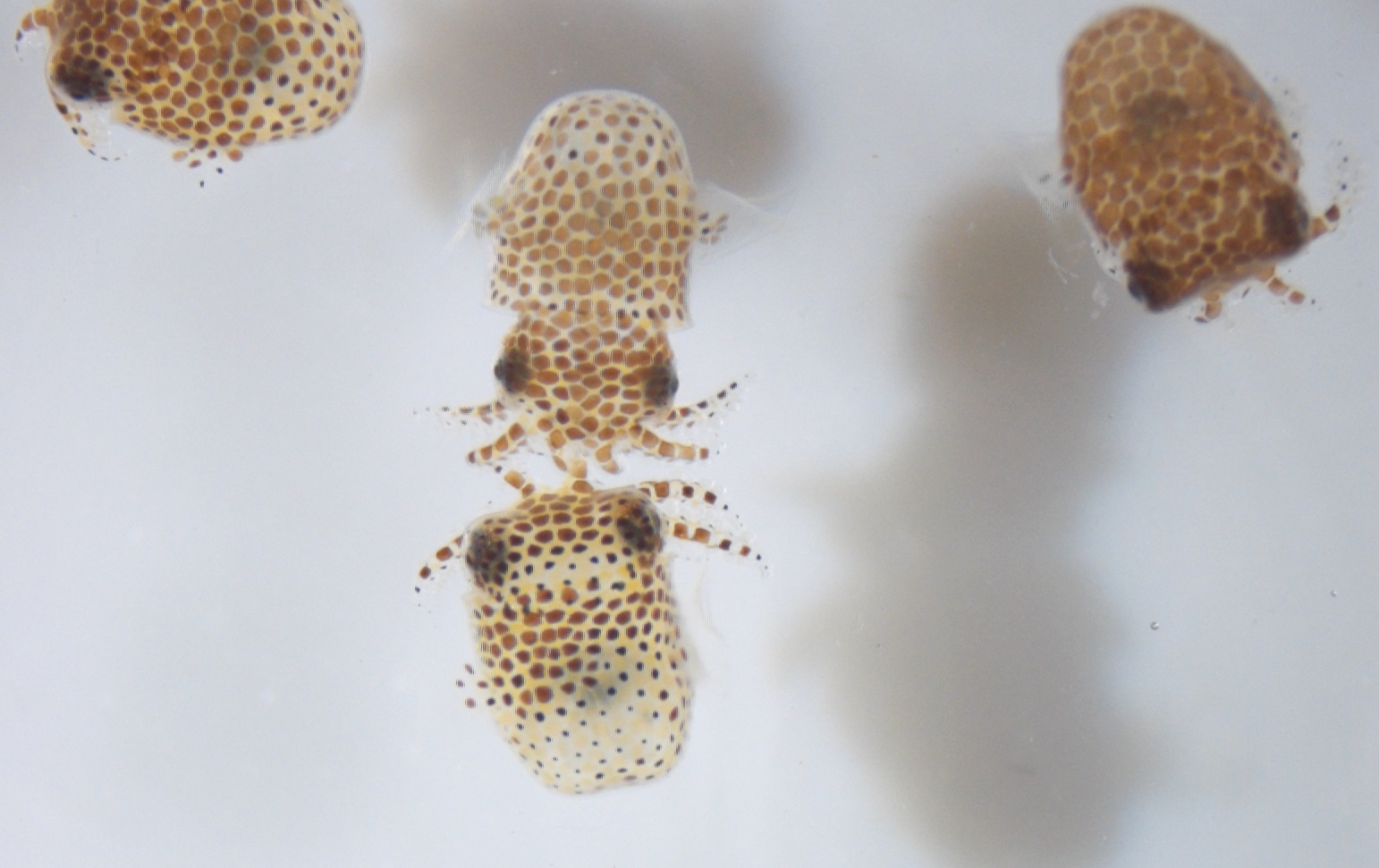 CRS-22 is also the second mission of SpaceX's recently upgraded commercial Cargo Dragon spacecraft bound for the International Space Station (ISS) and her multinational crew of 7 humans.
Altogether six new solar arrays will be delivered to the ISS.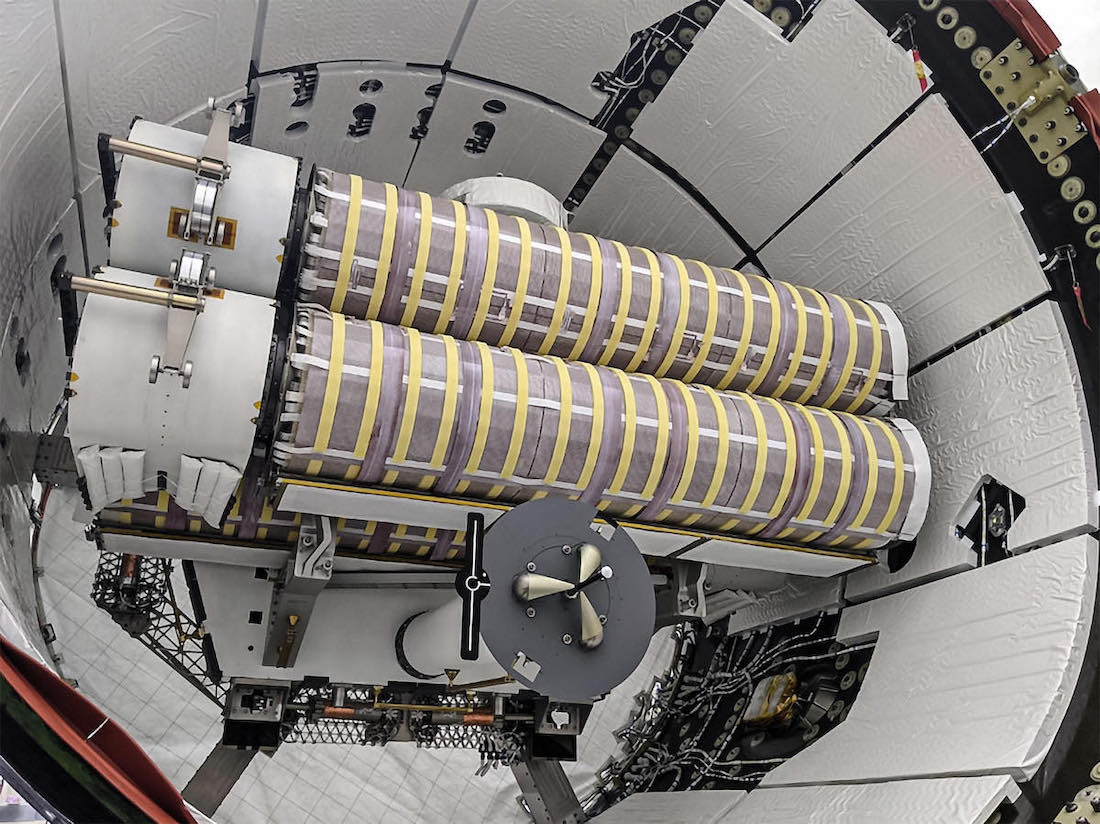 They will be canted about 10 degrees to the original arrays
The new arrays will restore the ISS power level to what the original solar arrays produced and has declined about 20 to 30% since then.
A brand new Falcon 9 1st stage booster B1067 will be used for this mission which will be recovered by landing on the "Of Course I Still Love You" (OCISLY) droneship.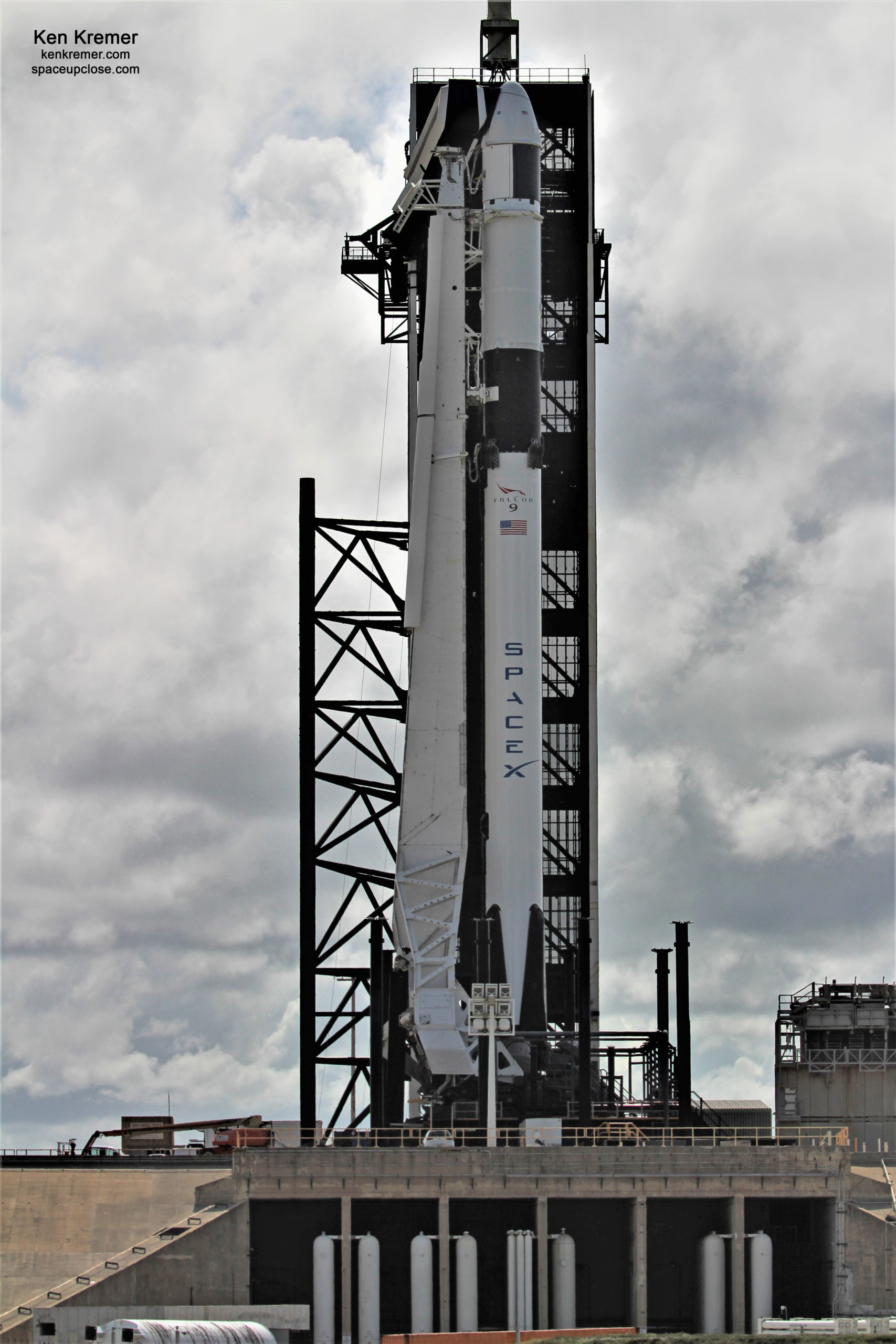 It will then re-used on the NASA SpaceX Crew-3 launch of four multinational astronauts to the ISS slated for NET Oct. 23 likewise from KSC pad 39A
The integrated Falcon 9 rocket and Cargo Dragon was rolled out horizontal to the top of pad 39A on the morning of June 1 and raised vertical many hours later overnight
Falcon 9 and Dragon roll out to Launch Complex 39A ahead of Dragon's 22nd cargo resupply mission to the @Space_Station pic.twitter.com/5svIeVrcZM

— SpaceX (@SpaceX) June 1, 2021
Dragon will separate from Falcon 9's second stage about twelve minutes after liftoff and autonomously dock to the space station on Saturday, June 5 at about 5 a.m. EDT  (0900 GMT).
Coverage of the rendezvous and docking will begin at 3:30 a.m. June 5.
NASA astronauts Shane Kimbrough and Megan McArthur will monitor the arrival of the spacecraft, which will stay aboard the orbiting laboratory for about a month before splashing down and returning about 5300 pounds of critical science and hardware to teams on Earth.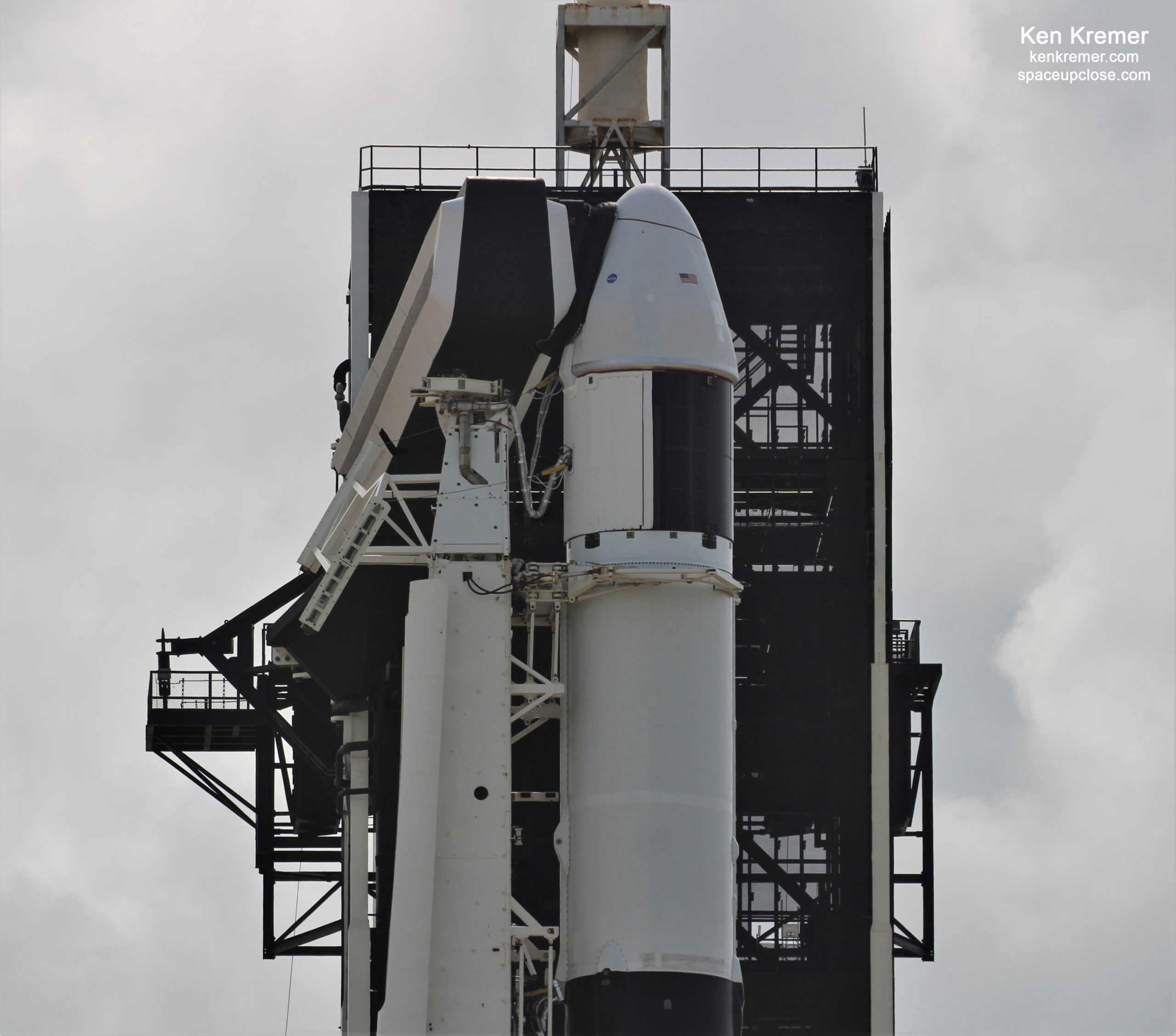 The launch manifest is as follows:
ISS Roll-Out Solar Arrays: 3,042 pounds (1,380 kilograms)
Science Investigations: 2,028 pounds (920 kilograms)
Vehicle Hardware: 760 pounds (345 kilograms)
Crew Supplies: 751 pounds (341 kilograms)
Computer Resources: 129 pounds (58 kilograms)
Spacewalk Equipment: 115 pounds (52 kilograms)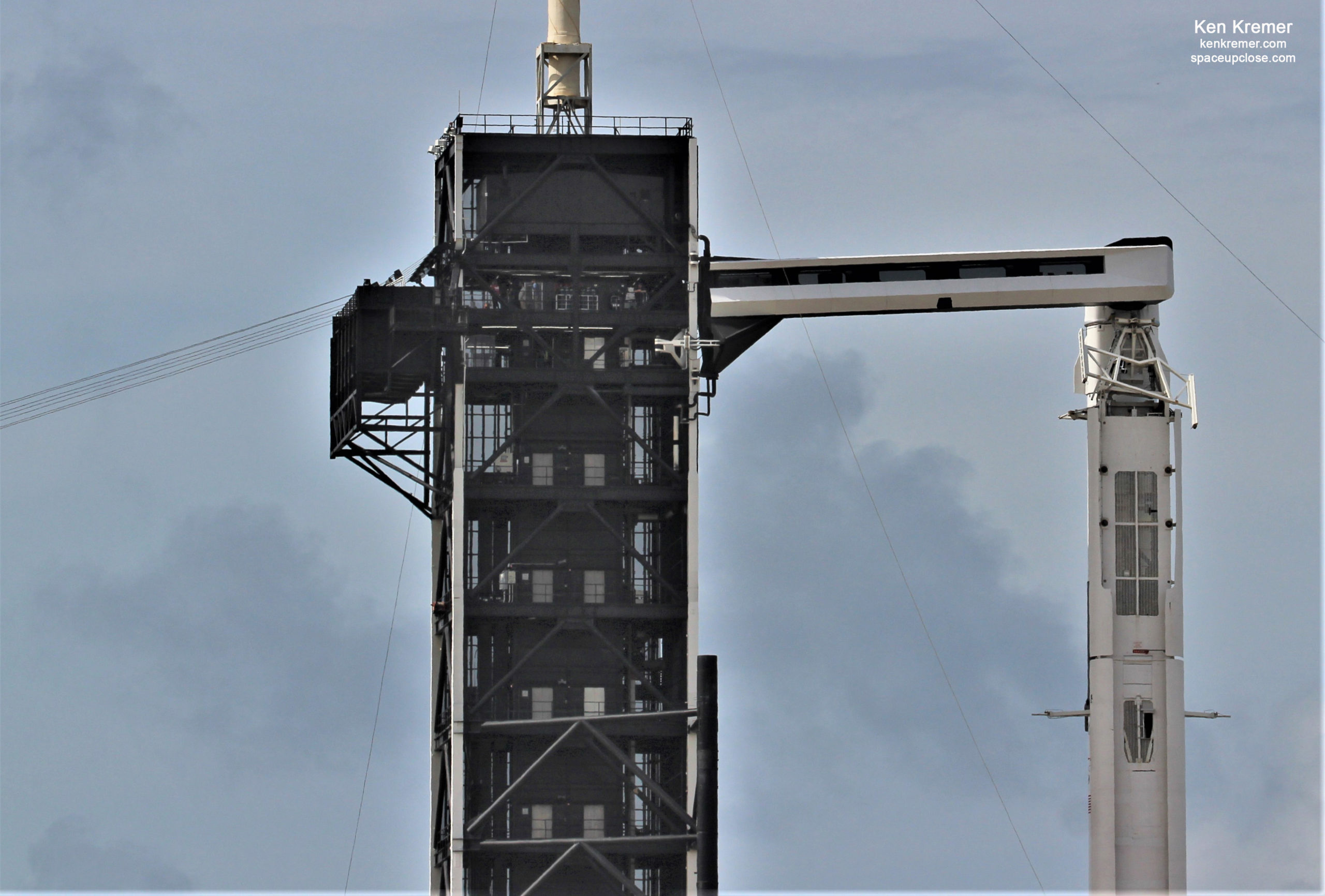 If all goes well this CRS-22 mission will be followed a few days later by the SpaceX Falcon 9 launch of the SXM-8 comsat for Sirius XM tentatively slated for overnight Sunday, June 6 – if all the issues with the payload are resolved. The prior SXM-7 suffered problems in orbit post launch.
Ken is onsite at KSC for live reporting of the CRS-22 mission.
Watch Ken's continuing reports about SpaceX Cargo and Crew Dragons, Artemis and NASA missions, SLS, Orion, SpaceX  Starlink, Commercial Crew and Starliner and Crew Dragon and onsite for live reporting of upcoming and recent SpaceX and ULA launches including Crew 1 & 2, ISS, Solar Orbiter, Mars 2020 Perseverance and Curiosity rovers, NRO spysats and national security missions and more at the Kennedy Space Center and Cape Canaveral Space Force Station.
Stay tuned here for Ken's continuing Earth and Planetary science and human spaceflight news: www.kenkremer.com –www.spaceupclose.com – twitter @ken_kremer – email: ken at kenkremer.com
Dr. Kremer is a research scientist and journalist based in the KSC area, active in outreach and interviewed regularly on TV and radio about space topics.
………….
Ken's photos are for sale and he is available for lectures and outreach events
Please consider supporting Ken's work by purchasing his photos and/or donating at Patreon:
https://www.patreon.com/kenkremer
x