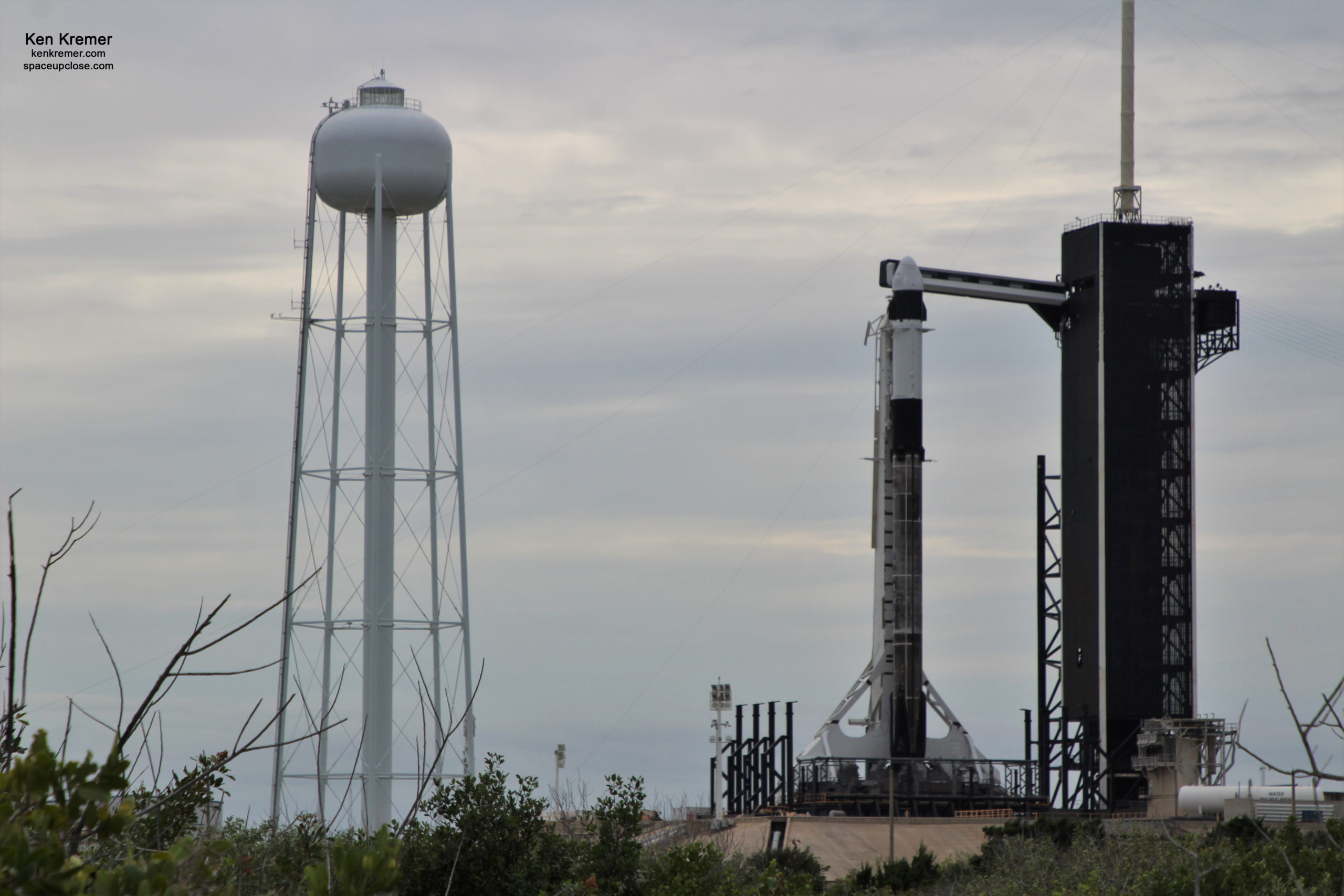 For SpaceUpClose.com & RocketSTEM
KENNEDY SPACE CENTER, FL – June will be a super busy month of launches from Florida's Space Coast totaling five on tap altogether for NASA, the U.S. Space Force, and commercial companies by America's premier rocket providers ULA and SpaceX.
As things stand now space fans can feast – as  the liftoff cadence continues with every week in June featuring a rocket launch on either an Atlas V or Falcon 9 – subject to change by weather and technical glitches.
Furthermore rather remarkably not one will include a Starlink internet satellite mission which has been the overwhelming favorite payload lofted this year on SpaceX's Falcon 9.
To date 17 rockets have blasted off already from the Space Coast in only the first five months of 2021 – which could see a record set as the swift cadence continues to years end.
Overall the June launch manifest includes a slate of four SpaceX Falcon 9s and one ULA Atlas V.
The schedule begins on June 3 with a SpaceX cargo launch for NASA to the International Space Station (ISS) and continues about 1 one per week
Here is an overview:
June 3: SpaceX Falcon 9 Cargo Dragon CRS-22 cargo mission to ISS for NASA at 1:29 p.m. EDT from pad 39A
June 6: SpaceX Falcon 9 SXM-8 comsat launch for Sirius XM at 12:25-2:26 a.m. EDT from pad 40
Jun 17: SpaceX Falcon 9/GPS 3-5 for U.S. Space Force at 6:00-9:00 p.m. EDT from pad 40
June 23: ULA Atlas V Atlas 5/STP-3 for U.S. Space Force from pad 41
Late June: SpaceX Falcon 9 Transporter-2 launch of multiple small payloads for commercial and government customers from pad 40
The first launch involves the NASA SpaceX CRS-22 Cargo Dragon launch to the ISS slated for liftoff at 1:29 p.m. EDT from Launch Complex-39 from NASA's Kennedy Space Center.
A brand new Falcon 9 1st stage will be used for this mission which will be recovered by landing on a droneship and then re-used on the Crew-3 launch of four multinational astronauts to the ISS slated for NET Oct 23 from KSC pad 39A
The launch weather forecast is moderate with a 70% chance of favorable condition at launch time.
A back up launch opportunity is available on June 4.
You can watch the launch live on NASA TV, the NASA app, and the agency's website.
The rocket was rolled out horizontal to the top of pad 39A on the morning of June 1
Falcon 9 and Dragon roll out to Launch Complex 39A ahead of Dragon's 22nd cargo resupply mission to the @Space_Station pic.twitter.com/5svIeVrcZM

— SpaceX (@SpaceX) June 1, 2021
Check out my photos taken after the Falcon 9/Cargo Dragon rollout for Space UpClose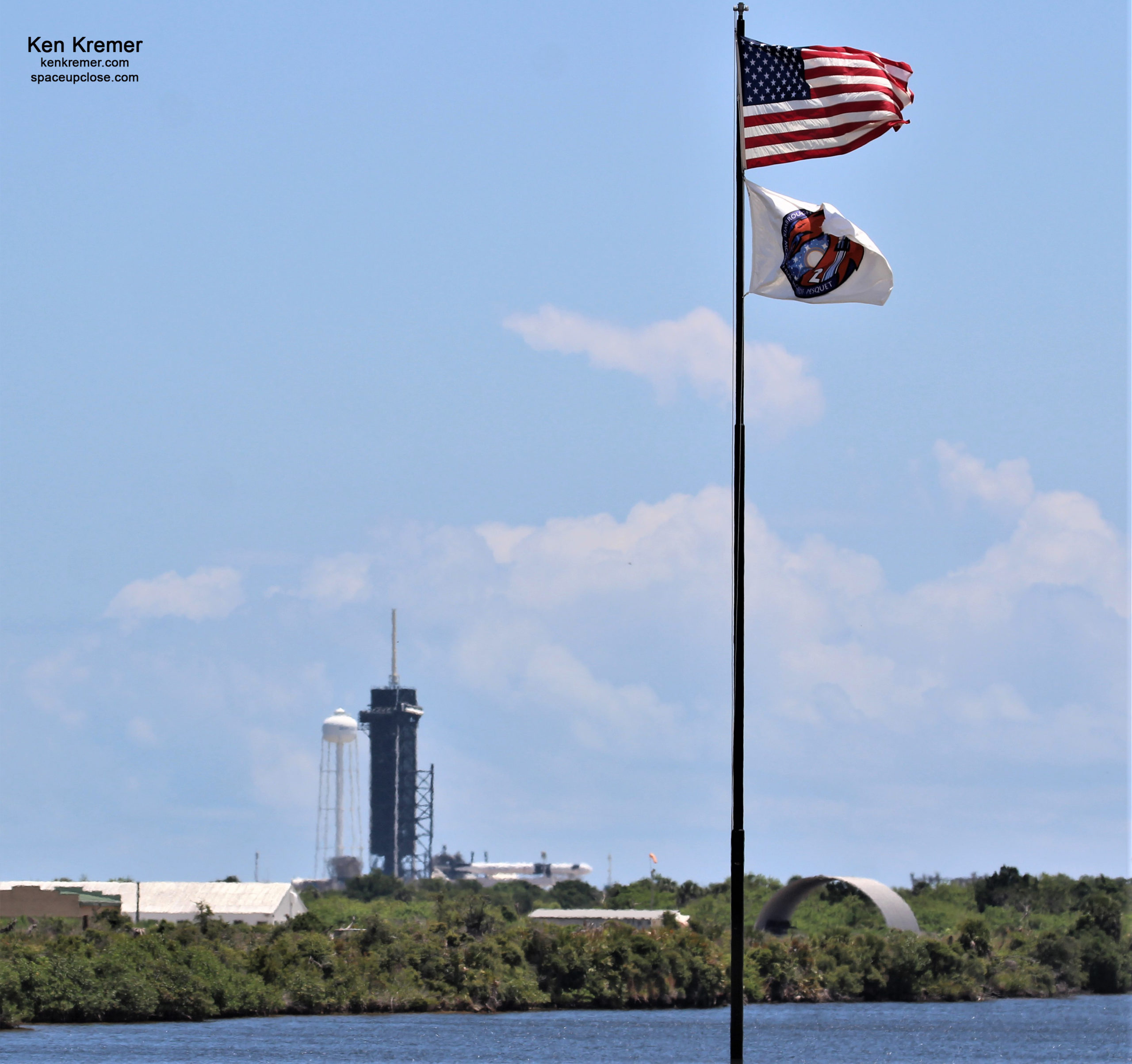 The CRS-22 mission will deliver some 7,300 pounds of science, research, crew supplies, and vehicle hardware, including the new rollout ROSA solar arrays housed in the Dragon trunk section, to the orbital laboratory and its Expedition 65 crew.
CRS-22 is the 2nd contracted mission under SpaceX's Commercial Resupply Services-2 contract with NASA.
CRS-22 is also the second mission of SpaceX's recently upgraded commercial Cargo Dragon spacecraft bound for the International Space Station (ISS) and her multinational crew of 7 humans.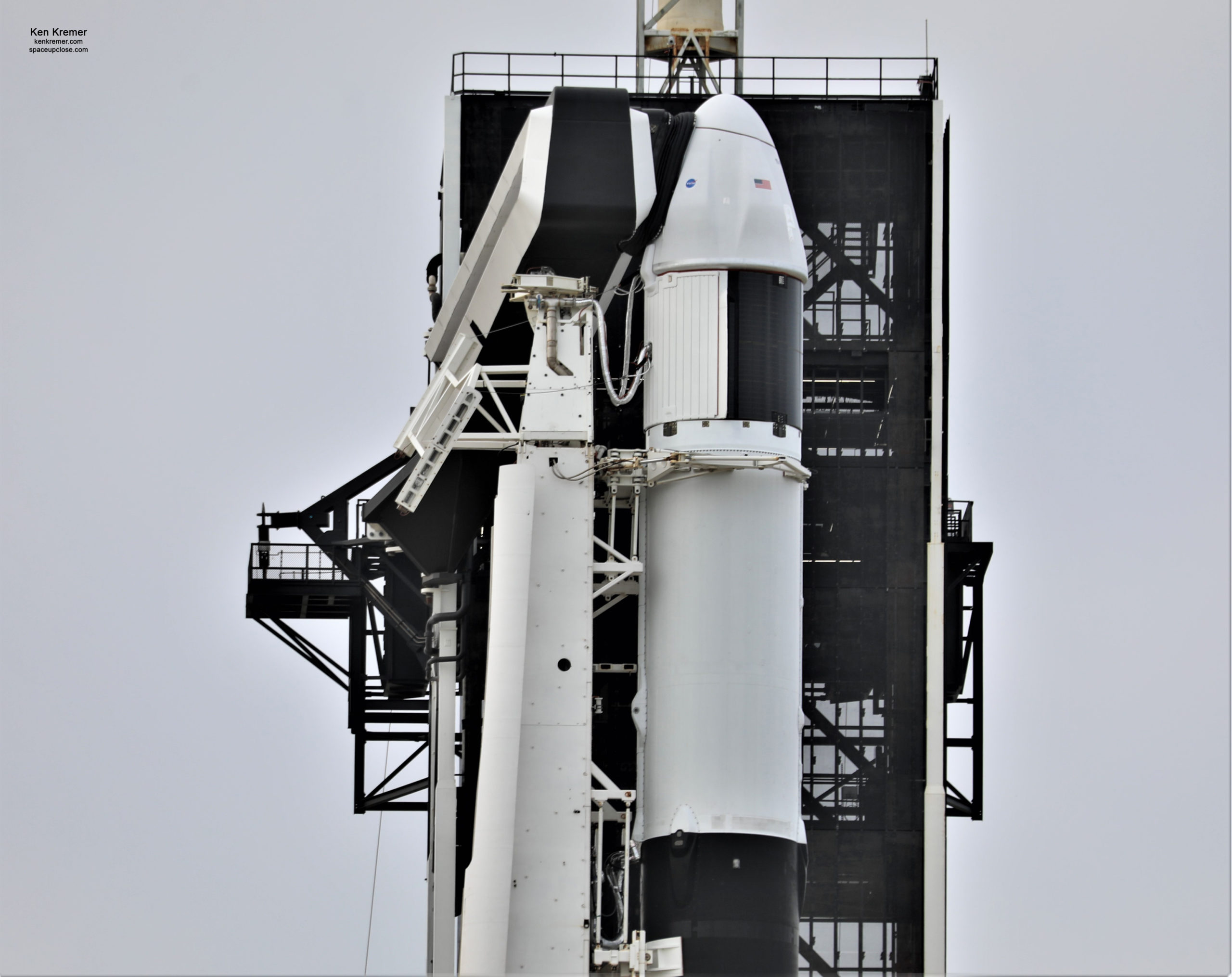 This will be followed a few days later by the SpaceX Falcon 9 launch of the SXM-8 comsat for Sirius XM tentatively slated for overnight Sunday, June 6 – if all the issues with the payload are resolved. The prior SXM-7 suffered problems in orbit post launch.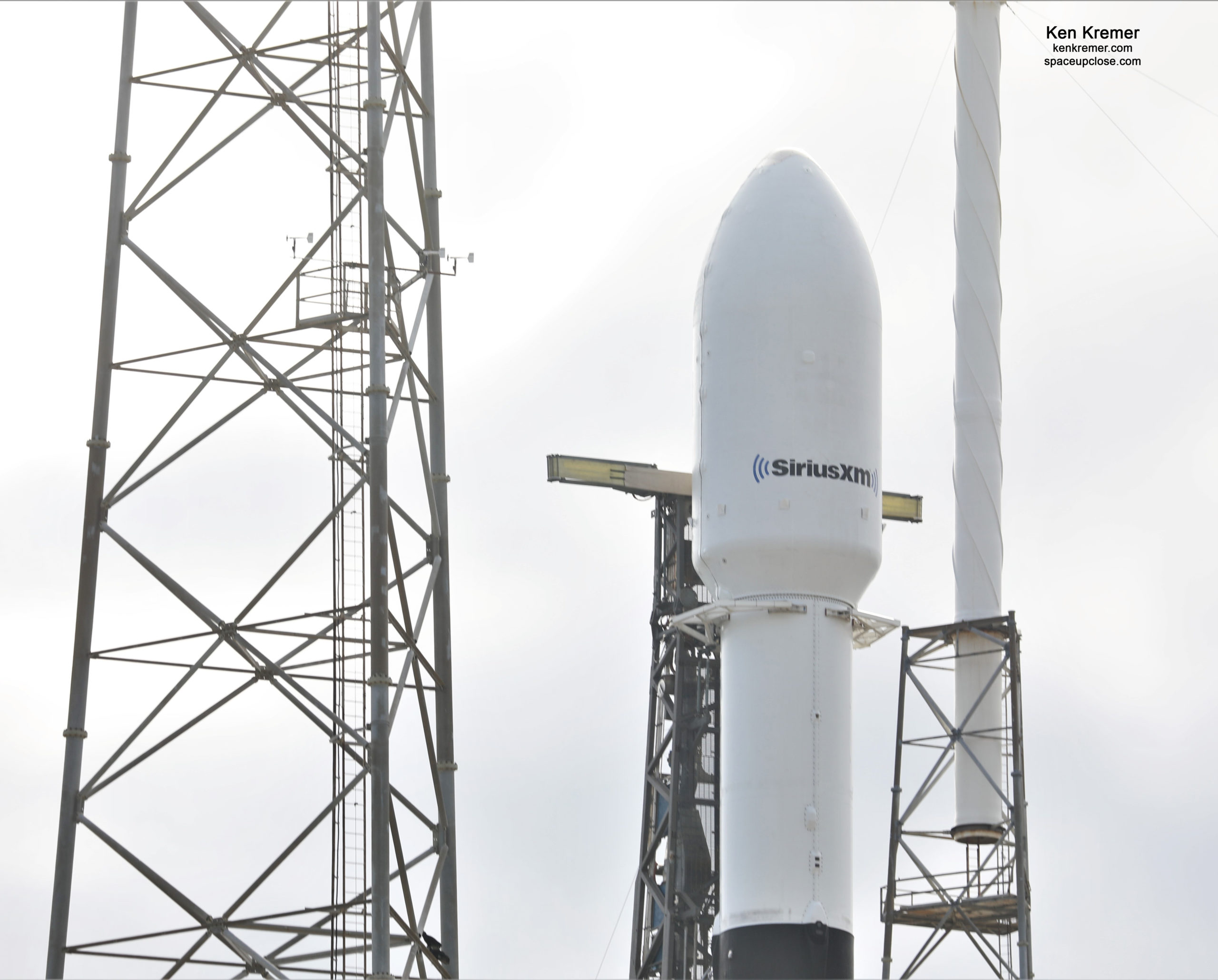 Next up is the third SpaceX Falcon 9 in a row in June – this time for the U.S. Space Force launch the advanced GPS III-5 navigation satellite from pad 40 on the morning of June 17 at 6:00-9:00 p.m. EDT.
Then comes the lone ULA Atlas V launch on June 23 on the STP-3 rideshare mission for U.S. Space Force from pad 41 at a time TBD. It will carry the STPSat 6 satellite carrying multiple experiments and payloads for NASA (involving the Laser Communications Relay Demonstration (LCRD) experiment) as well as the Nuclear Security Administration's Space and Atmospheric Burst Reporting System-3 (SABRS-3) payload or more.
Finally the Transporter-2 mission will tentatively launch in late June with a variety of government and commercial payloads like the prior Transporter-1 rideshare mission earlier this year on Jan. 24.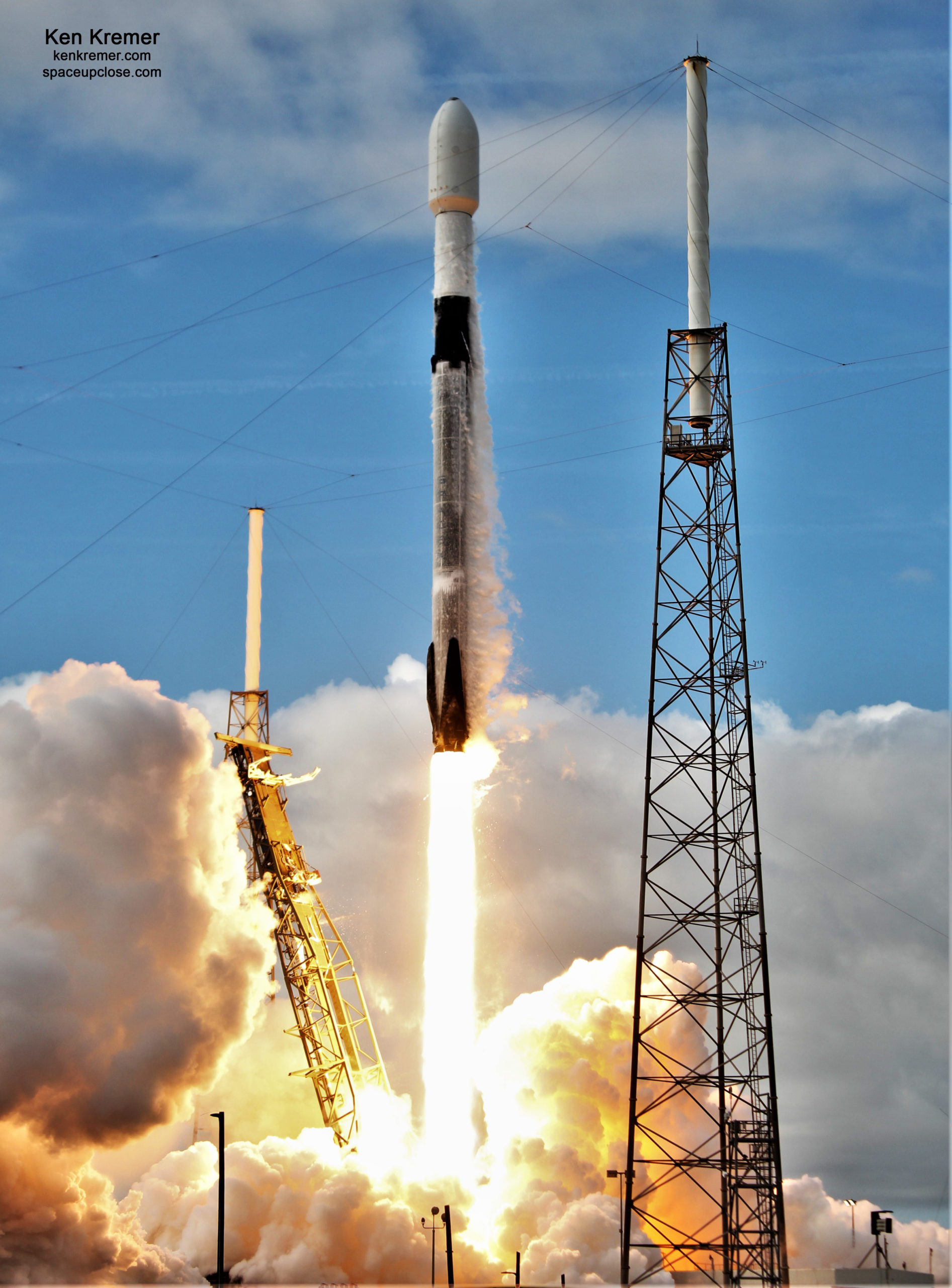 Watch Ken's continuing reports about SpaceX Cargo and Crew Dragons, Artemis and NASA missions, SLS, Orion, SpaceX  Starlink, Commercial Crew and Starliner and Crew Dragon and onsite for live reporting of upcoming and recent SpaceX and ULA launches including Crew 1 & 2, ISS, Solar Orbiter, Mars 2020 Perseverance and Curiosity rovers, NRO spysats and national security missions and more at the Kennedy Space Center and Cape Canaveral Space Force Station.
Stay tuned here for Ken's continuing Earth and Planetary science and human spaceflight news: www.kenkremer.com –www.spaceupclose.com – twitter @ken_kremer – email: ken at kenkremer.com
Dr. Kremer is a research scientist and journalist based in the KSC area, active in outreach and interviewed regularly on TV and radio about space topics.
………….
Ken's photos are for sale and he is available for lectures and outreach events
Please consider supporting Ken's work by purchasing his photos and/or donating at Patreon:
https://www.patreon.com/kenkremer
x