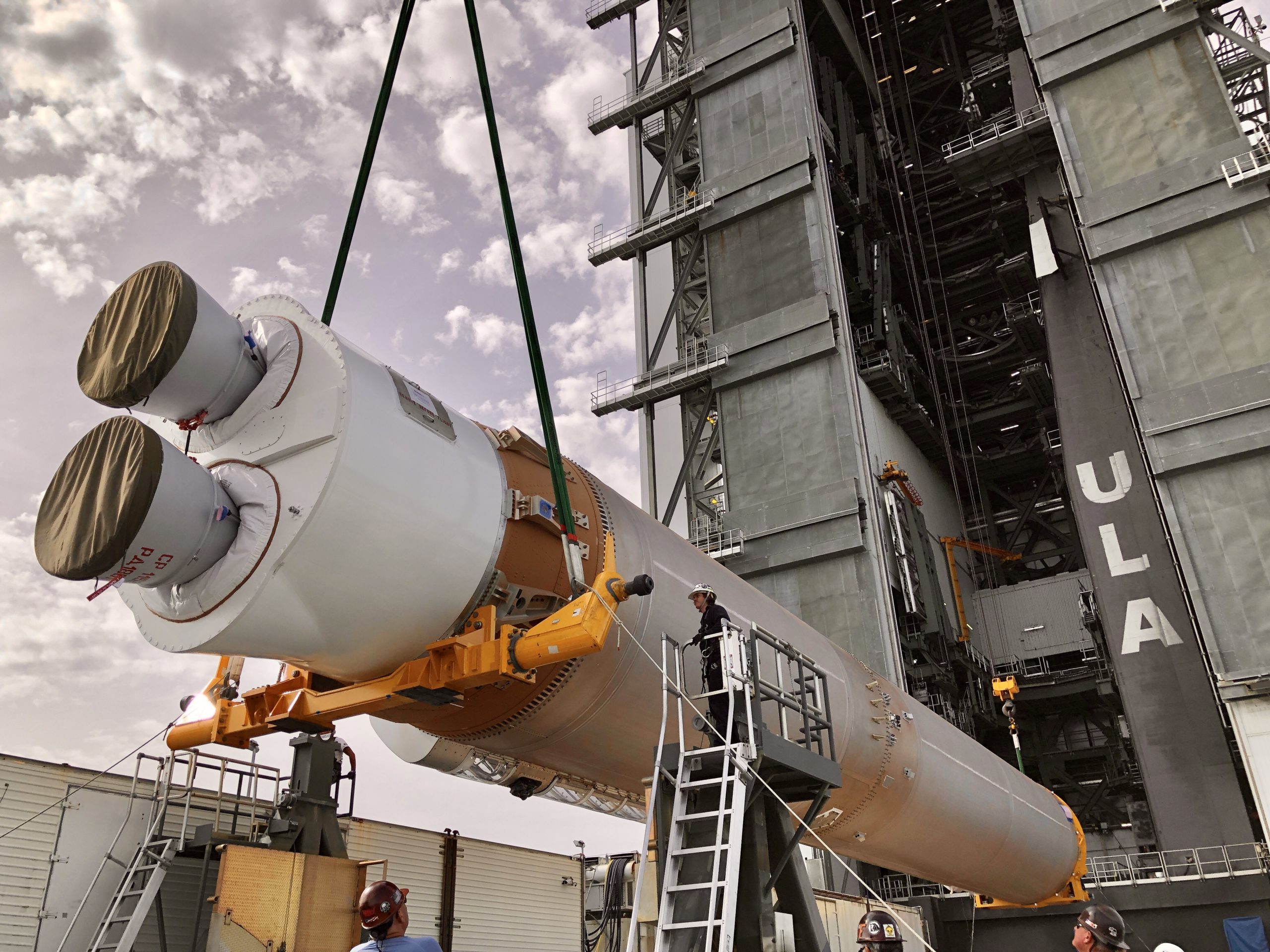 For SpaceUpClose.com & RocketSTEM
CAPE CANAVERAL, FL – United Launch Alliance (ULA) has finished stacking their Atlas V carrier rocket destined for Boeing's second unpiloted Starliner capsule test flight on a critical mission for NASA to prove the commercial system can safely carry astronauts to and from the International Space Station (ISS)  – with liftoff of the OFT-2 flight still remaining on track for July 30 from Florida's Spaceport.
"The uniquely configured Atlas V rocket is assembled following initial stacking operations for the launch of Boeing's CST-100 Starliner spacecraft on the second Orbital Flight Test (OFT-2) mission," rocket builder ULA confirmed on July 9.
Launch of Boeing's commercial CST-100 Starliner spacecraft on the Orbital Flight Test-2 (OFT-2) is slated for 2:53 p.m. EDT (1853 GMT) on Friday, July 30 on a ULA Atlas V from Space Launch Complex-41 on Cape Canaveral Space Force Station, Florida.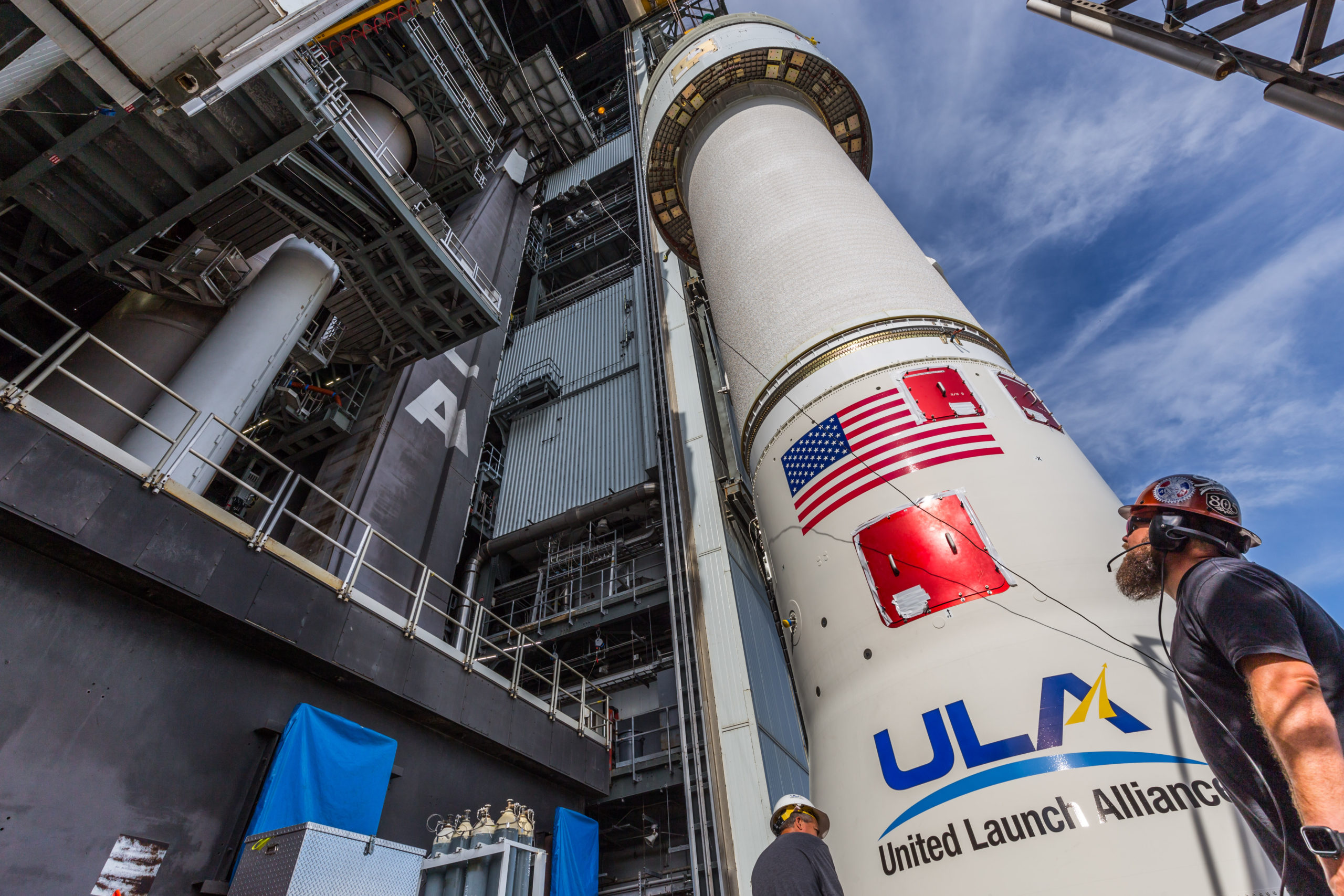 The OFT-2 launch follows up on the botched first orbital test flight (OFT) of the commercial astronaut space taxi in Dec. 2019 that failed to reach the station and experienced numerous problems shortly after separation from the ULA Atlas V which performed flawlessly.
OFT-2 is thus essentially a 'redo' flight and Boeing is performing the OFT-2 mission at its own expense to prove its worth and viability and safety to NASA for launching humans to space and back
Engineers and technicians have spent the past few weeks stacking components of the Atlas rocket to complete its assembly ahead of arrival of the Starliner OFT-2 commercial crew vehicle which will be rolled out to pad 41 soon for stacking and integration activities.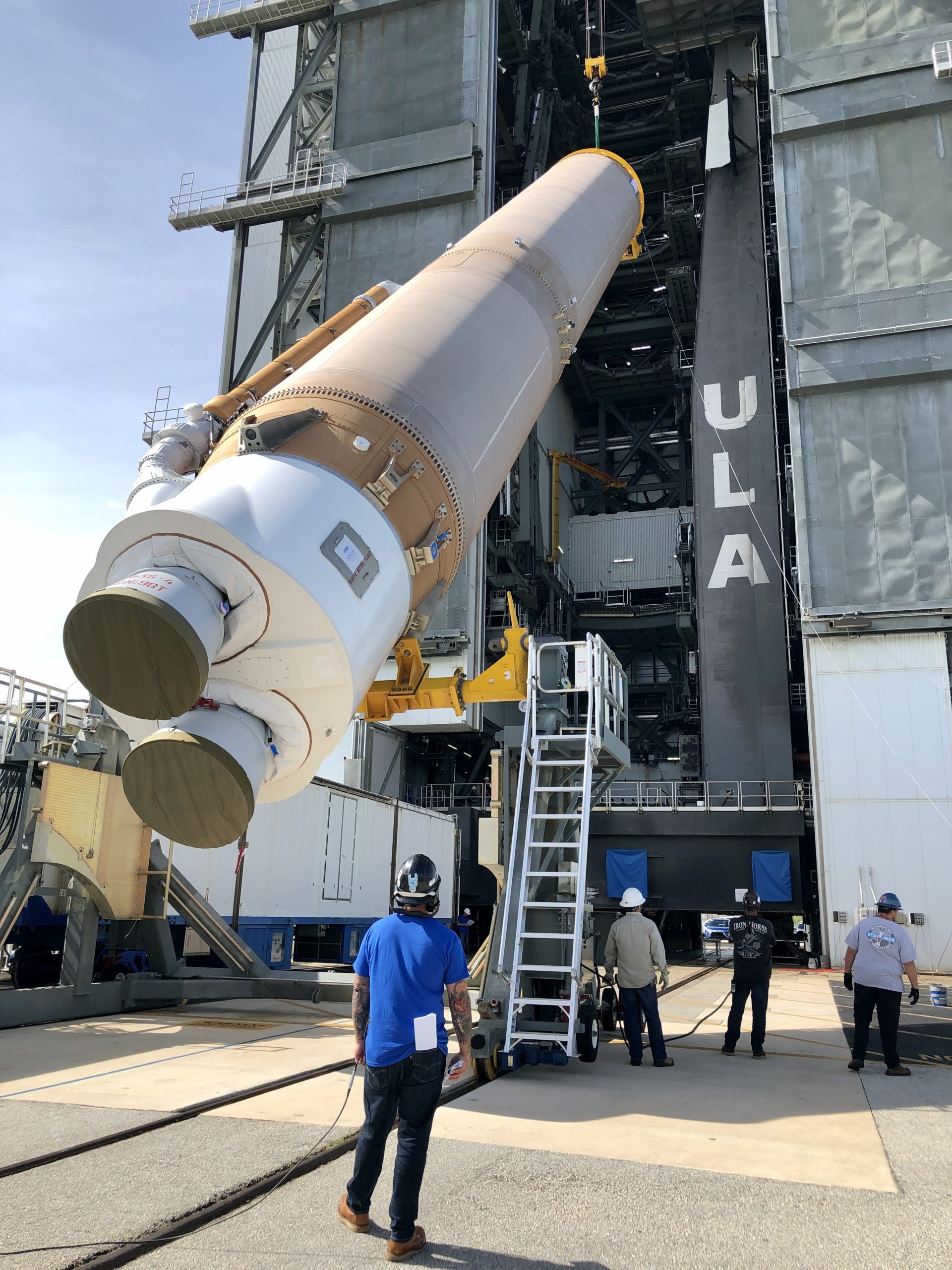 The mission involves only the second flight of Atlas V's N22 variant featuring two solid rocket boosters (SRBs), two RL10 engines on the Centaur upper stage and a Launch Vehicle Adapter that connects Starliner to the rocket.
The configuration provides the necessary performance to deliver Starliner to the desired trajectory in space to reach the ISS.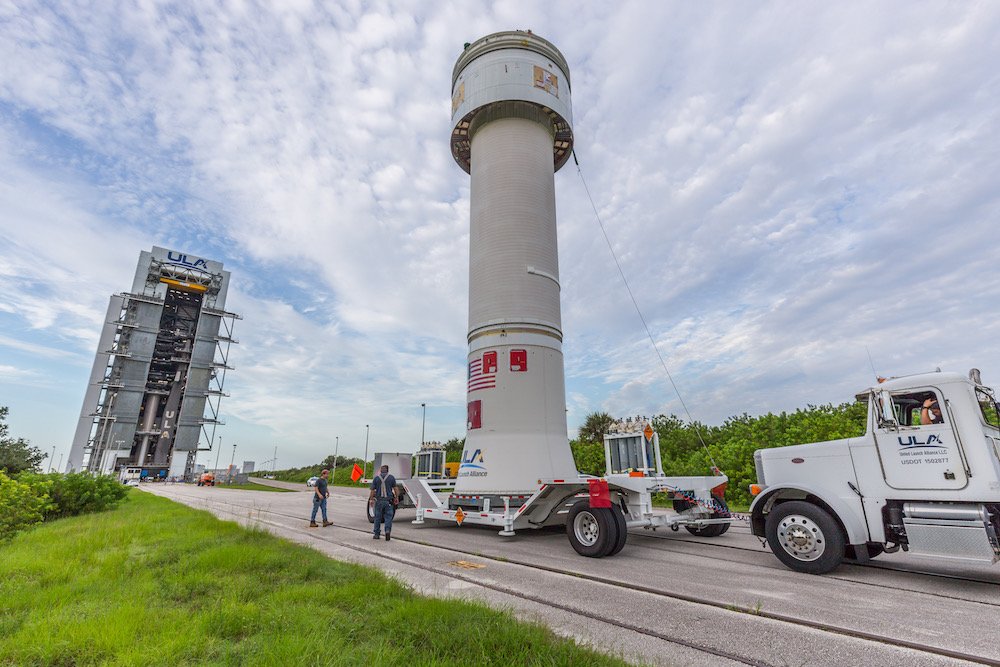 This Atlas V is designated AV-082 and arrived at the Cape from ULA's factory in Decatur, Ala., on June 1, 2019, to support a Starliner launch.
Atlas V assembly and stacking operation began at pad 41 on June 17, when the first stage was brought to the 30-story-tall Vertical Integration Facility (VIF) and hoisted aboard the Mobile Launch Platform (MLP).
At the VIF, "two cranes grappled both ends of the 107-foot-long stage so that it could be lifted free from its carrier. Next, the aft portion was secured in a special dolly that rides rail tracks, allowing the rocket to be rotated from horizontal to upright by the overhead crane while also the rear inched closer to the VIF," according to a ULA description.
"Once vertical, the aft structure was disengaged and the crane holding the forward end of the rocket slowly and carefully hoisted the stage into the VIF and positioned it aboard the MLP. This achieved the Launch Vehicle on Stand (LVOS), a milestone that officially begins the launch campaign and signals another mission is right around the corner."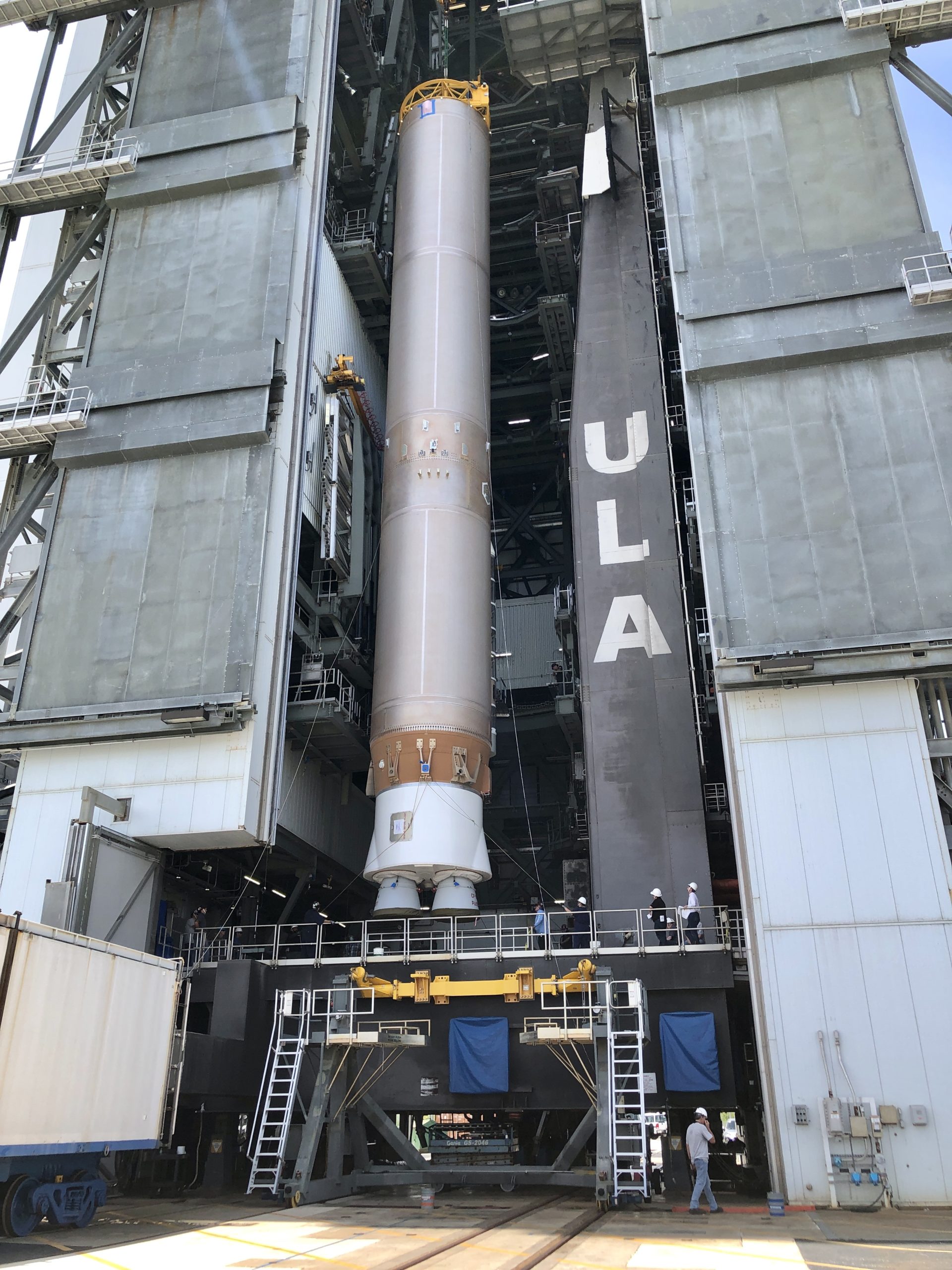 "The twin SRBs were attached on Tuesday July 6, and Thursday July 8, to opposite sides of the stage. Manufactured by Aerojet Rocketdyne, the AJ-60 boosters will provide nearly half of the energy at liftoff to power the million-pound rocket and Starliner spacecraft into the sky.
On July 9, "the Offsite Vertical Integration (OVI) structure, which consists of the interstage, Dual Engine Centaur upper stage and Launch Vehicle Adapter, was lifted atop the first stage to finish the initial buildup of the vehicle. Centaur will produce 44,000 pounds of thrust from its two RL10A-4-2 cryogenic engines to accelerate Starliner to the prescribed trajectory."
About 31 minutes after launch if all goes well, Starliner will reach its preliminary orbit and then preform a series of carefully choreographed thruster firing to catch up with the station for rendezvous and docking operation about 24 hours later on Saturday.
Starliner is scheduled to dock to the space station at 3:06 p.m. Saturday, July 31.
Prelaunch activities, launch, and docking will air live on NASA Television, the NASA app, and the agency's website.
Starliner will carry more than 400 pounds of NASA cargo and crew supplies to the space station and return to Earth with more than 550 pounds of cargo, including reusable Nitrogen Oxygen Recharge System (NORS) tanks that provide breathable air to station crew members, says NASA.
The goal of a second uncrewed test flight OFT-2 is to verify the Starliner CST-100 commercial space taxi is safe and reliable enough to be entrusted to launch NASA astronauts in the future to the International Space Station (ISS) – perhaps by years end.
The original OFT test flight failed to dock at the ISS as planned following launch on 20 December 2019 when a mission elapsed timing error caused the maneuvering thruster to fire longer than planned and expend excess precious fuel and place the ship in the wrong orbit minutes after liftoff on the ULA Atlas V  – which performed flawlessly.
Starliner suffered quite a few other technical failures – especially on the return to Earth where the separation from the service module almost ended in a catastrophic collision  but did finally end with a safe parachute assisted landing at White Sands Space Harbor, New Mexico.
Boeing did not run a full end-to-end mission rehearsal prior to the original OFT mission which would have revealed several of the problems that ultimately doomed the test flight.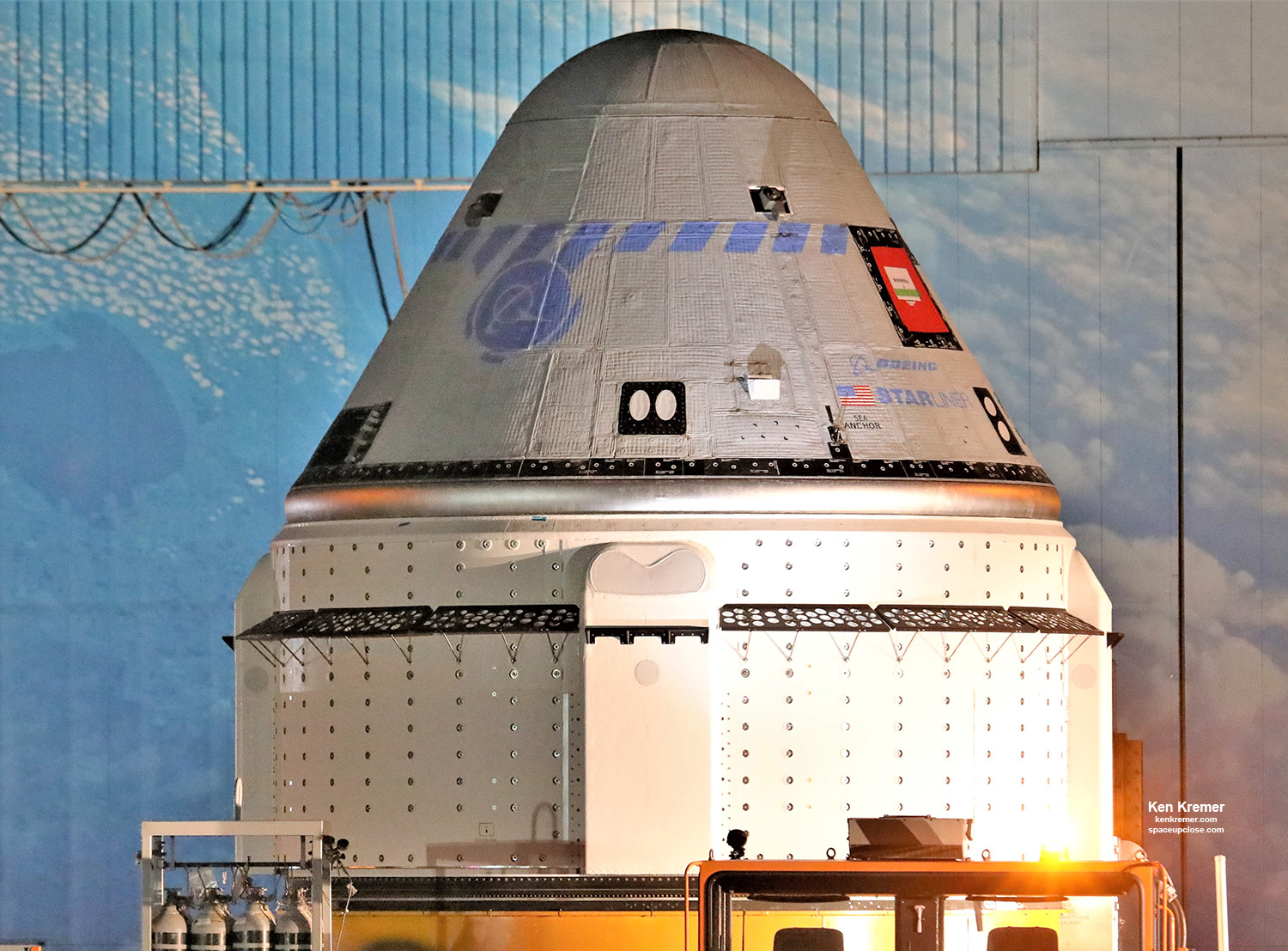 Boeing will fly this second uncrewed Starliner mission OFT-2 at their own expense of some $420 million on an Atlas V targeting liftoff July 30 to prove to NASA the vehicle is safe and reliable.
Following Starliner's unsuccessful OFT mission a joint NASA-Boeing Independent Review Team (IRT) was formed to conduct a complete review, determine the causes of the failures and make recommendation to solve all the issues.
The IRT issued a report with some 80 recommendations and corrective action that were all implemented, said NASA.
The Starliner OFT-2 vehicle is nearly ready to roll out to pad 41 after completion of operation to measuring the vehicles 'weight and balance' confirmed Chris Ferguson, former NASA Shuttle Commander and astronaut and now Boeing director, Starliner Mission Operations and Integration/Crew Systems.
"#Starliner team in action leading up to Orbital Flight Test-2. 'Weight and balance' complete….loaded onto @ulalaunch transport for 10 mile ride to waiting Atlas V," Ferguson tweeted.
Can't wait to lift #Starliner #OFT2 to space on #AtlasV! Launch is scheduled for July 30, 2021 at 2:53 p.m. EDT https://t.co/VIynIdVS23 https://t.co/yK0cMPvkDl

— ULA (@ulalaunch) July 16, 2021
Boeing confirms that Starliner is now ready to roll out from its CP3F factory to pad 41  Saturday early morning starting around 3 a.m. ET.
#Starliner is ready to roll out tomorrow for mate to the @ulalaunch #AtlasV.

Teams weighed and lifted the spacecraft onto its transport vehicle for the early morning trek to ULA in preparation for rocket integration and flight.

More: https://t.co/zrFqxAjdCo pic.twitter.com/baGY91NPjg

— Boeing Space (@BoeingSpace) July 16, 2021
I will be at the rollout – reporting and photographing all the exciting action for Space UpClose. Watch for my articles and social media posts.
Two of the three NASA astronauts who will fly on the first crewed Starliner mission dubbed CFT (Crew Flight Test) were also present at Boeing to watch.
How cool! @BoeingSpace 's #OFT2 beautiful Starliner- all dressed up and ready to meet @ulalaunch's #AtlasV later this week. And then off to space they will go. @NASA will have some amazing coverage- stay tuned! #Flighttest #spaceflight pic.twitter.com/RDGViG1cDE

— Col. Mike Fincke (@AstroIronMike) July 14, 2021
The Atlas V components for CFT arrived at the Cape launch site on June 21 after unloading from the rocket delivery ship in Port Canaveral, FL – read our story illustrated with our photos.
The Starliner spacecraft is comprised of the reusable crew module and service module and will travel about 10 miles from Boeing's Commercial Crew and Cargo Processing Facility (C3PF) at NASA's Kennedy Space Center to United Launch Alliance's Vertical Integration Facility (VIF) at Cape Canaveral Space Force Station for hoisting aboard the Atlas V rocket.
"ULA's motorized payload transporter, adapted to carry Starliner, will move at a top speed of 5 mph, heading from the former space shuttle hangar eastward to the beach and then southward to Space Launch Complex-41," said Boeing in a statement.
Overall OFT-2 marks the 145th mission for United Launch Alliance and the 88th Atlas V launch.
Watch Ken's continuing reports about Starliner and Commercial Crew and Crew Dragon, Artemis and NASA missions, SLS, Orion, SpaceX, Starlink from onsite for live reporting of upcoming and recent SpaceX and ULA launches including Crew 1 & 2, Demo-2, ISS, X-37B, Solar Orbiter, Mars 2020 Perseverance and Curiosity rovers, NRO spysats and more national security missions and more at the Kennedy Space Center and Cape Canaveral Space Force Station.
Stay tuned here for Ken's continuing Earth and Planetary science and human spaceflight news: www.kenkremer.com –www.spaceupclose.com – twitter @ken_kremer – email: ken at kenkremer.com
Dr. Kremer is a research scientist and journalist based in the KSC area, active in outreach and interviewed regularly on TV and radio about space topics.
………….
Ken's photos are for sale and he is available for lectures and outreach events
Please consider supporting Ken's work by purchasing his photos and/or donating at Patreon:
https://www.patreon.com/kenkremer
x