CAPE CANAVERAL, FL – NASA's Perseverance rover has at last successfully cored and stored its first Martian rock on Sept, 1 on its second attempt to collect samples on the Red Planet – a history making achievement that will eventually result in the first samples of the 4th rock from the sun being returned to Earth a decade from now for high powered analysis with state of the art science instruments and helping to determine if Mars ever supported microbial life past or present.
Images taken the rovers navigation camera and transmitted back to the team on Sept. 1, 2021 or Sol 190, confirmed the sample acquisition from the rock  nicknamed "Rochette" was successful at placing the sample into the dedicated acquisition tube.
The sample core site on "Rochette" is nicknamed "Montdenier."
"NASA has a history of setting ambitious goals and then accomplishing them, reflecting our nation's commitment to discovery and innovation," said NASA Administrator Bill Nelson, in a statement.
"This is a momentous achievement and I can't wait to see the incredible discoveries produced by Perseverance and our team."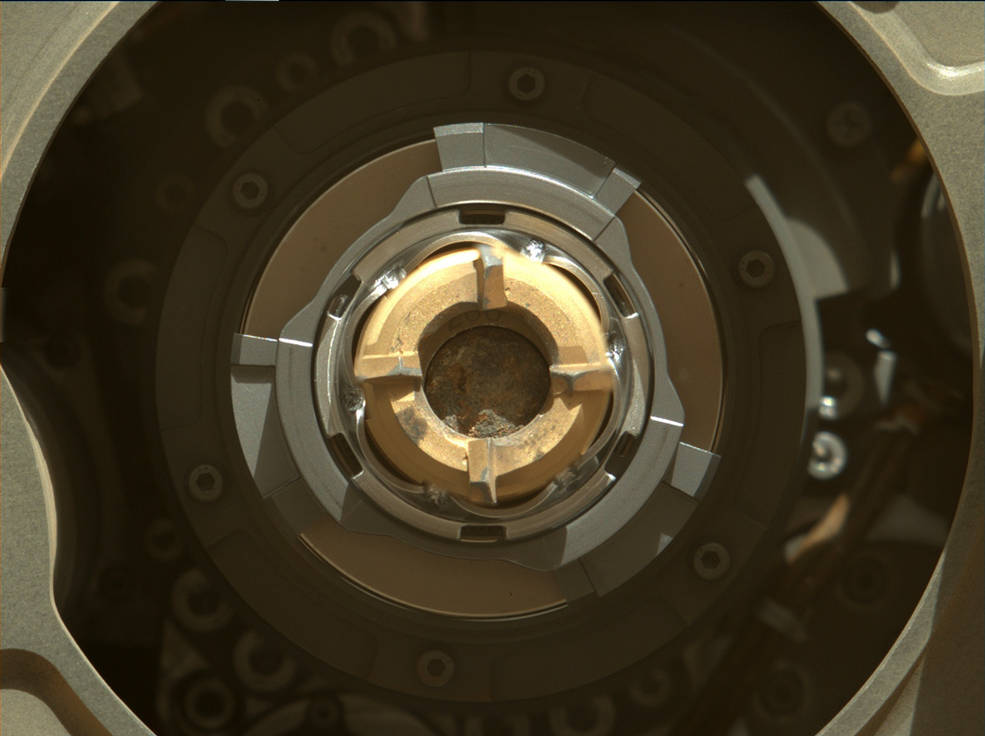 The core sample was taken by Perseverance in the "Crater Floor Fractured Rough" (CFFR) geologic unit in Mars' Jezero Crater – the rovers landing site.
The @NASAPersevere rover has successfully cored its first rock. The six-wheeled scientist has been directed to take more photos before moving forward with the process of collecting its first scientifically-selected Mars sample.

Stay tuned: https://t.co/PFHmTfoAkJ pic.twitter.com/W4AdeAxuTr

— NASA JPL (@NASAJPL) September 3, 2021
The core is now enclosed in an airtight titanium sample tube, making it available as one of the samples for retrieval in the future during the upcoming Mars Sample Return campaign planned by NASA and ESA (European Space Agency) during a series of future missions to return the rover's sample tubes to Earth by 2031 at the earliest.
?Congratulations @NASAPersevere and team! Our Mars rover has sealed and stored its very first sample and is now carrying a piece of the Red Planet. More on this important milestone and why this sample is of high science value: https://t.co/YWu1Tn4xK5 https://t.co/WndxLque63

— NASA JPL (@NASAJPL) September 6, 2021
These samples would be the first set of scientifically identified and selected materials returned to our planet from another, say officials.
The rover made a first attempt to collect a sample in early August, but the rock crumbled during the process of drilling and coring, said NASA.
"The mission attempted to capture their first record of the crater floor on Aug. 6 from a rock that ultimately proved too crumbly, breaking into powder and fragments of material too small to be retained in the sample tube before it was sealed and stored within the rover."
Perseverance then drove 1,493 feet (455 meters) to a new sample collection site at a ridge nicknamed "Citadelle" – French for "castle," a reference to how this craggy spot overlooks Jezero Crater's floor.
"For its second attempt, the rover drove to a different location where the team selected a rock that the the Perseverance team nicknamed "Rochette." The sample collection process began Sept. 1, and Rochette held up better."
The team commanded Perseverance to take before and after images of the sample acquisition tube and the  rock  nicknamed "Rochette."
Additional images downlinked after the historic drilling event showed an intact sample present in the tube after coring.
Perseverance first used her 7-foot-long (2-meter-long) robotic arm to abrade the surface of the rock nicknamed "Rochette," to allow the science team to look inside and determine whether they want to capture a sample with the rover's coring bit.
The sample tubes are slightly thicker than a pencil. The samples are then sealed in one of the 42 remaining titanium tubes aboard the rover.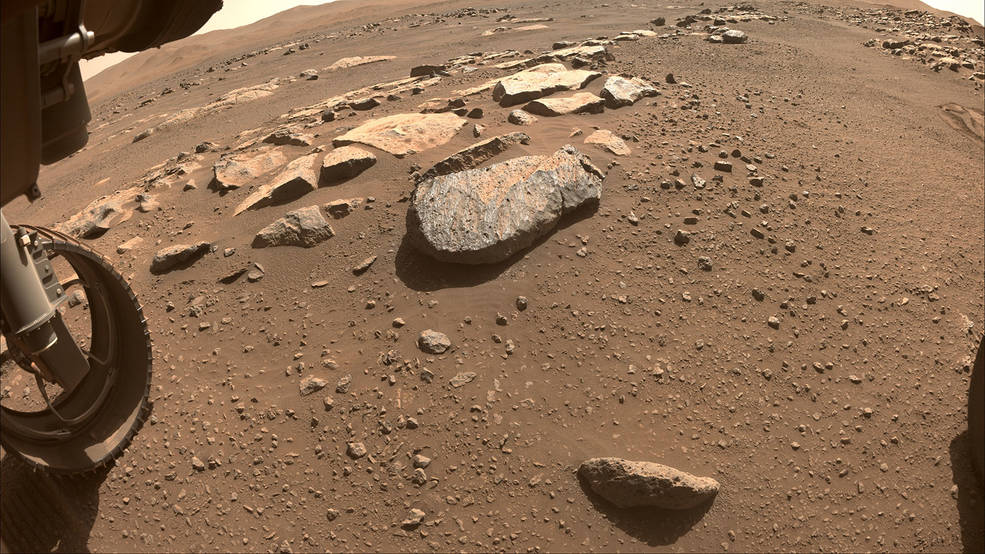 "For all of NASA science, this is truly a historic moment," said Thomas Zurbuchen, associate administrator for science at NASA Headquarters in Washington, in a statement.
"Just as the Apollo Moon missions demonstrated the enduring scientific value of returning samples from other worlds for analysis here on our planet, we will be doing the same with the samples Perseverance collects as part of our Mars Sample Return program. Using the most sophisticated science instruments on Earth, we expect jaw-dropping discoveries across a broad set of science areas, including exploration into the question of whether life once existed on Mars."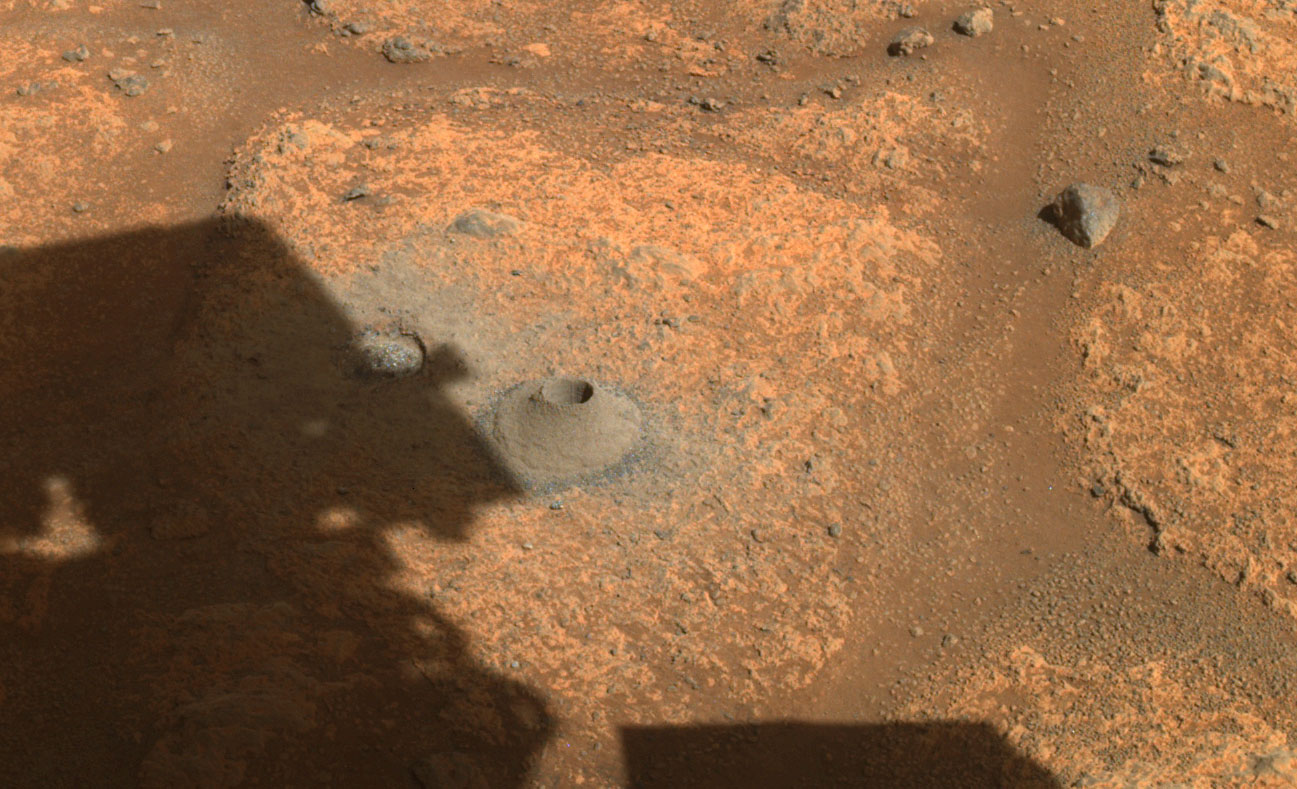 Altogether the rover carries 43 titanium sample tubes for sample collection while its exploring Jezero Crater, where it will be gathering samples of rock and regolith (broken rock and dust) for future analysis on Earth.
Hard work paid off after the team persevered after the first unsuccessful sample coring attempt at a paver rock named 'Rubion' and learned lessons to improve the coring chances the next time around by adjusting sample collection operating procedures at the  rock  nicknamed "Rochette."
"While this is not the 'hole-in-one' we hoped for, there is always risk with breaking new ground," said Thomas Zurbuchen, associate administrator of NASA's Science Mission Directorate in Washington, after the first unsuccessful attempt.
"I'm confident we have the right team working this, and we will persevere toward a solution to ensure future success."
Watch Ken's continuing reports about Mars 2020 Perseverance and Curiosity rovers, Artemis and NASA missions, SLS, Orion, SpaceX, ULA, Starlink, Commercial Crew and Starliner and Crew Dragon and onsite for live reporting of upcoming and recent SpaceX and ULA launches including Crew 1 & 2, Demo-2, ISS, X-37B, Solar Orbiter, NRO spysats and national security missions and more at the Kennedy Space Center and Cape Canaveral Space Force Station.
Stay tuned here for Ken's continuing Earth and Planetary science and human spaceflight news: www.kenkremer.com –www.spaceupclose.com – twitter @ken_kremer – email: ken at kenkremer.com
Dr. Kremer is a research scientist and journalist based in the KSC area, active in outreach and interviewed regularly on TV and radio about space topics.
………….
Ken's photos are for sale and he is available for lectures and outreach events
Ken has created hundreds of widely published Mars rover mosaics and lectures also about NASA's Mars rovers
Please consider supporting Ken's work by purchasing his photos and/or donating at Patreon or Paypal:
https://www.patreon.com/kenkremer
x