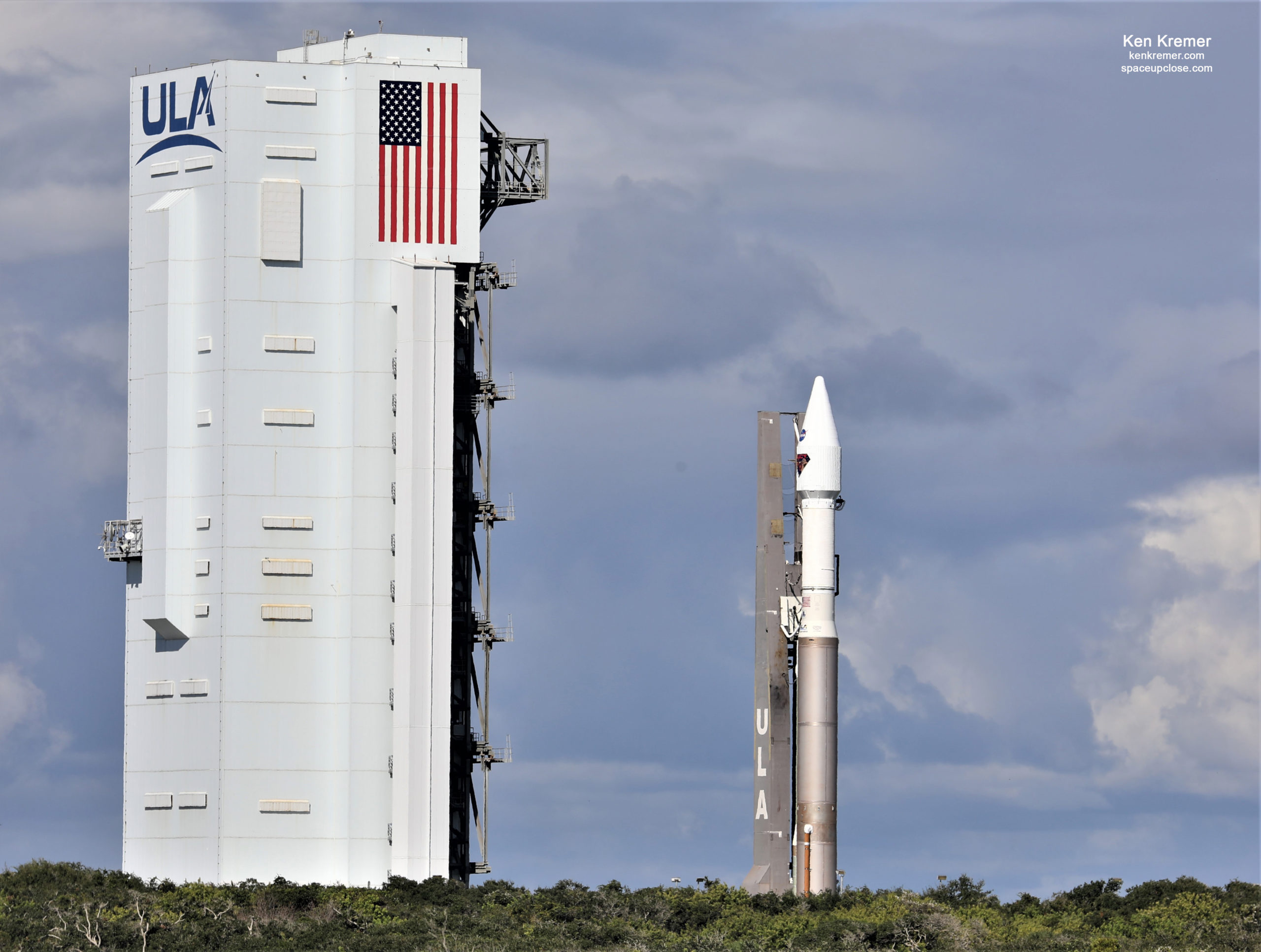 For SpaceUpClose.com & RocketSTEM
KENNEDY SPACE CENTER/CAPE CANAVERAL SPACE FORCE STATION, FL – NASA's Lucy science probe has rolled out to the launch pad on the first ever mission to explore the Trojan asteroids – fossilized remnants leftover from the birth of our Solar System some 4.5 Billion years ago sharing Jupiter's orbit. Lucy is launching pre-sunrise on Sat. Oct. 16
Lucy rolled out for liftoff bolted atop a United Launch Alliance ULA) Atlas V rocket starting from the Vertical Integration Facility (VIF) out to launch pad 41 Thursday morning, Oct 14, standing on the Mobile Launch Platform on Florida's Space Coast aiming to explore.
The ULA Atlas V was moved on rail tracks pushed by a pair of twin track mobiles about 1800 ft (600 m) starting about 10;40 a.m. ET.
The Atlas V arrived at pad 41 about 40 minutes later at 11:20 a.m.
The joint ULA and @NASA_LSP team completed all of today's planned activities for rollout day and powered down the #AtlasV rocket. The next event will be starting the countdown on Friday night. https://t.co/RPT8Xwp5Cp#CountdownToLaunch pic.twitter.com/hMQ8xN49Ep

— ULA (@ulalaunch) October 14, 2021
Enjoy our gallery of rollout photos taken for Space UpClose.
Launch is scheduled for 5:34 a.m. EDT on Saturday, Oct. 16, 2021, just before sunrise on a ULA Atlas V rocket from Space Launch Complex 41 at Cape Canaveral Space Force Station in Florida.
The launch opportunity runs until 6:49 a.m. on Oct. 16 and the overall launch window last just over three weeks.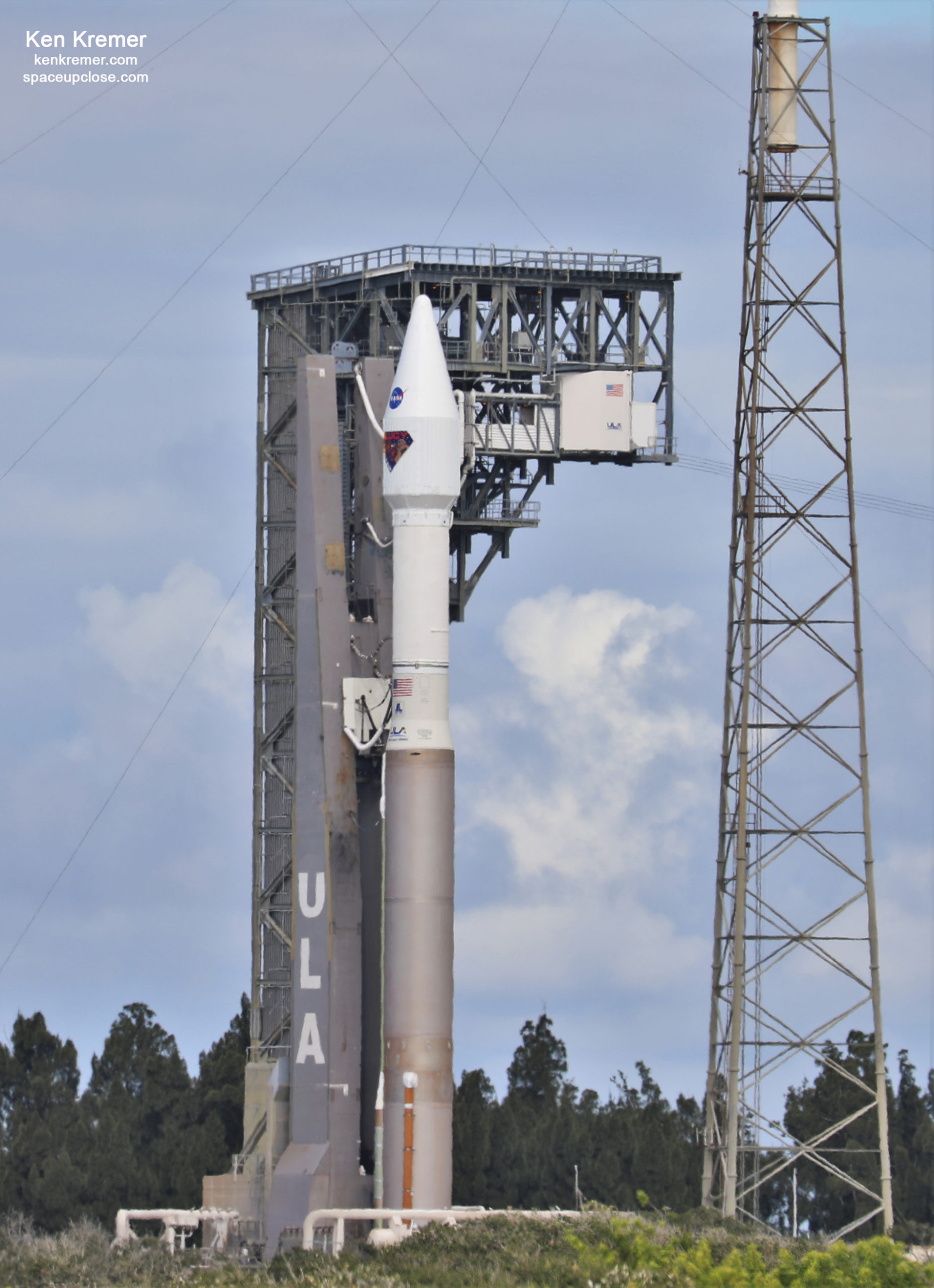 Weather outlook is currently 90% GO per US Space Force meteorologists
NASA's Lucy is an ambitious probe unprecedented scope utilizing a 'once-in-a-lifetime planetary launch window' that will explore seven pristine Trojan asteroids orbiting ahead of and behind Planet Jupiter at the L4 and L5 Lagrange points and one main belt asteroid during a mission spanning 12 years.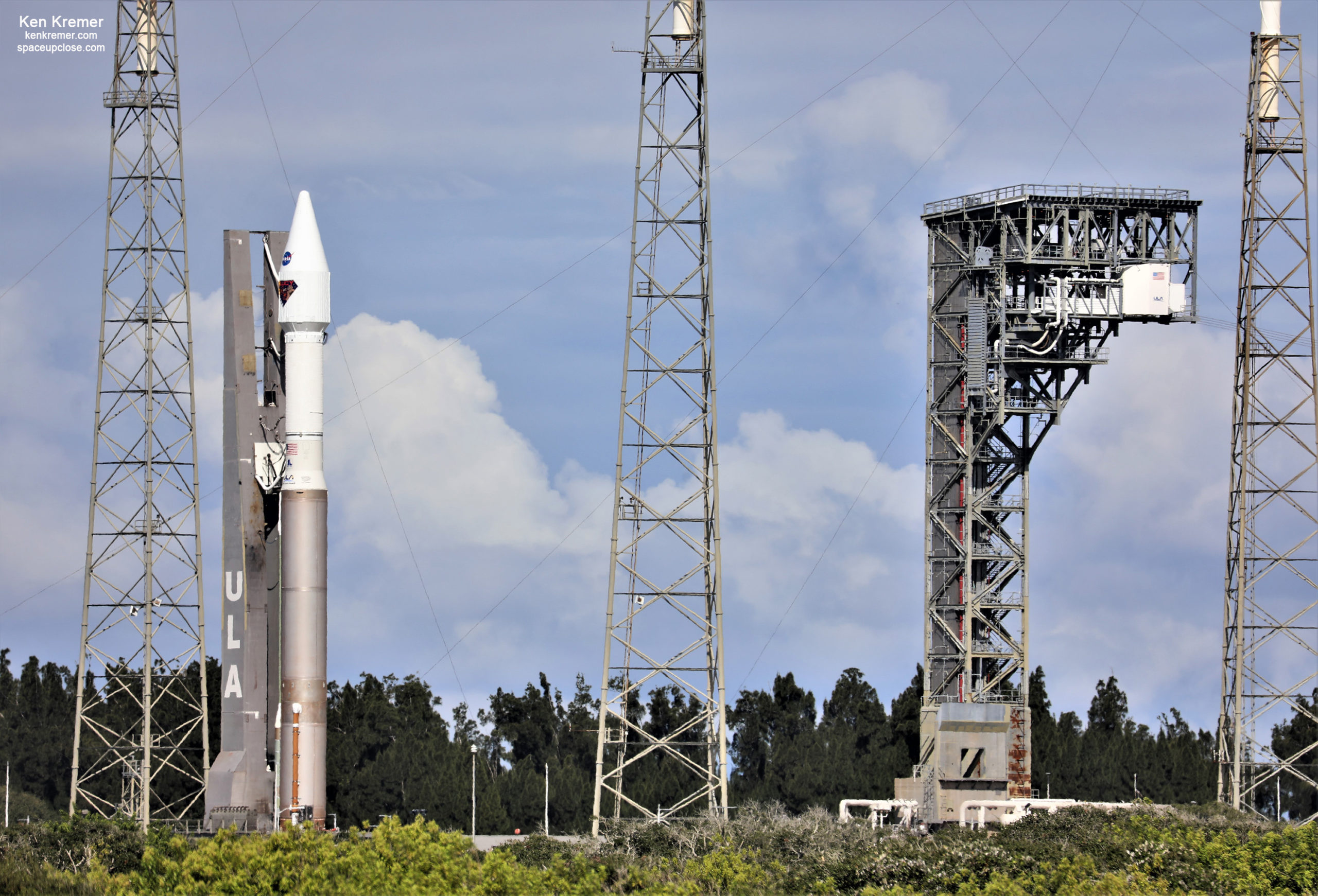 Read our full story about the Lucy mission and goals and the cleanroom visit and photo gallery here.
My photos of Lucy in the clean room have been featured on WFTV ABC 9 Orlando in multiple broadcasts leading up to launch.
https://www.wftv.com/news/local/lucy-mission-launch-set-saturday-has-90-favorable-weather-conditions/5C6XPMGN4BDXFNO3ARRX6GEEQY/
My rollout photos have been featured on WKMG CBS 6 Orlando
Ken Kremer interview on 'Stay Curious' space show Oct. 6 at the American Space Museum, Titusville, Florida.
https://www.facebook.com/SpaceWalkOfFame/videos/686060975688731
Ken is onsite at NASA's Kennedy Space Center for reporting about the Lucy mission
Watch Ken's continuing reports about Lucy Asteroid mission, Blue Origin and Space Tourism, SpaceX Cargo and Crew Dragons, Artemis and NASA missions, SLS, Orion, SpaceX  Starlink, Commercial Crew and Starliner and Crew Dragon and onsite for live reporting of upcoming and recent SpaceX and ULA launches including Crew 1 & 2 & 3, ISS, Solar Orbiter, Mars 2020 Perseverance and Curiosity rovers, NRO spysats and national security missions and more at the Kennedy Space Center and Cape Canaveral Space Force Station.
Stay tuned here for Ken's continuing Earth and Planetary science and human spaceflight news: www.kenkremer.com –www.spaceupclose.com – twitter @ken_kremer – email: ken at kenkremer.com
Dr. Kremer is a research scientist and journalist based in the KSC area, active in outreach and interviewed regularly on TV and radio about space topics.
………….
Ken's photos are for sale and he is available for lectures and outreach events
Please consider supporting Ken's work by purchasing his photos and/or donating at Patreon:
https://www.patreon.com/kenkremer
x