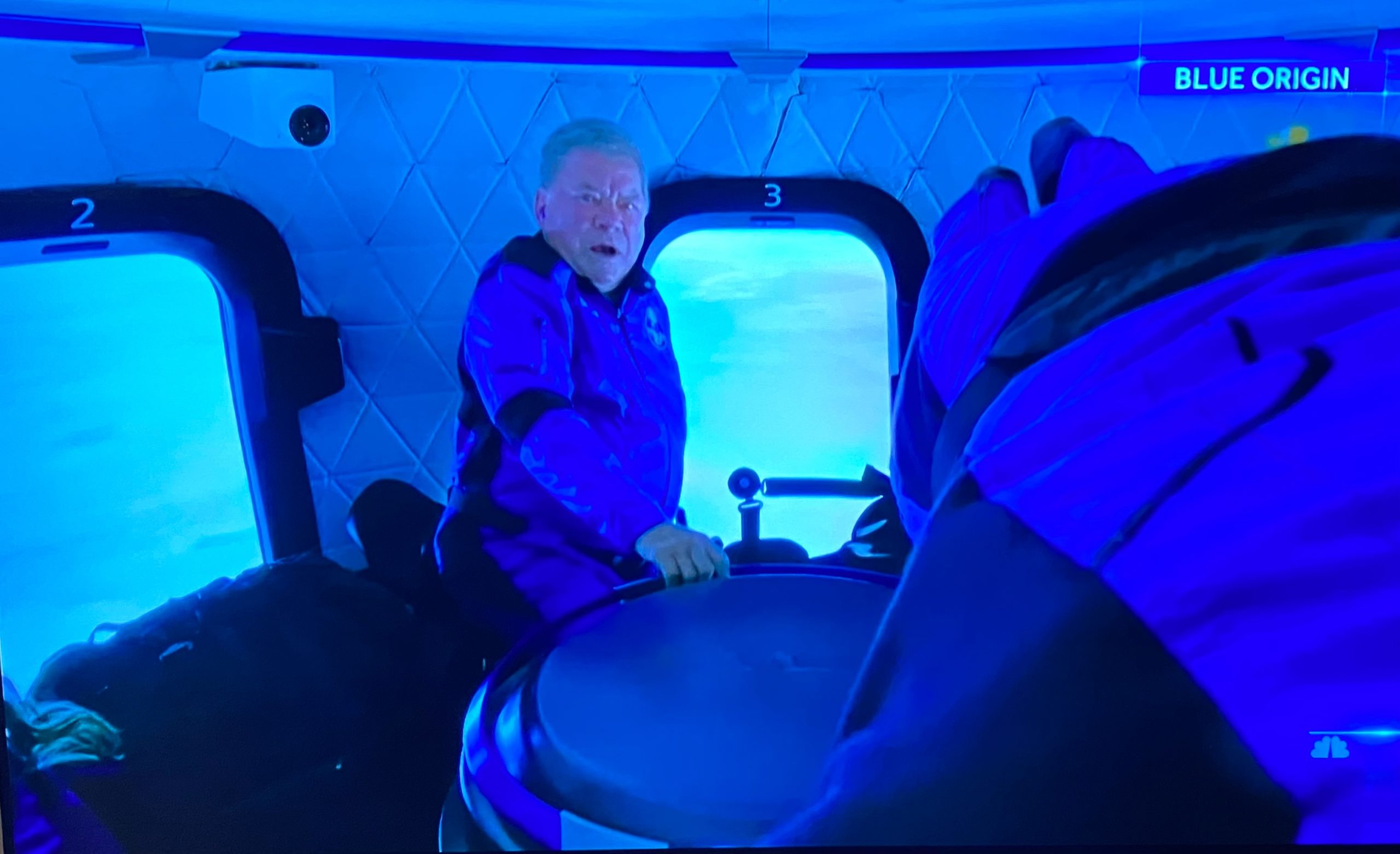 For SpaceUpClose.com & RocketSTEM
CAPE CANAVERAL, FL – William Shatner aka Capt. James Kirk of Star Trek launched to space successfully today, Oct. 13, riding on an emotional journey to the final frontier as the oldest the human ever- aboard a Blue Origin rocket who development was financed by billionaire Jeff Bezos rocket! And he emerged profoundly changed by the experience after safely landing.
World famous Star Trek actor William Shatner turned science fiction into science fact today by 'boldly going' to the edge of space  for real where few have gone before aboard the 'RSS First Step' after acting in many space adventures throughout his illustrious and lengthy career.
Less than 600 humans have been to space.
Shatner was overwhelmed. Post-landing he spoke the most emotionally heartfelt commentary I've ever heard from any astronaut about why we all need to go to space & see the fragile Earth to preserve its beauty and save it from destruction and pollution.
"Everybody in the world needs to see this," Shatner said in joyful thanks to Jeff Bezos in post landing remarks.
He was profoundly changed – saying We're protected only by a very thin line between the blue atmosphere and the blackness of space he equated to death.
"It was unbelievable, unbelievable. … To see the blue air cover go whip by and you're staring into blackness, that's the thing. The covering of blue, this sheet, this blanket, this comforter of blue that we have around us, we think oh, that's blue sky and then suddenly you shoot through it all as though you whip off a sheet when you're asleep, and you're looking into blackness."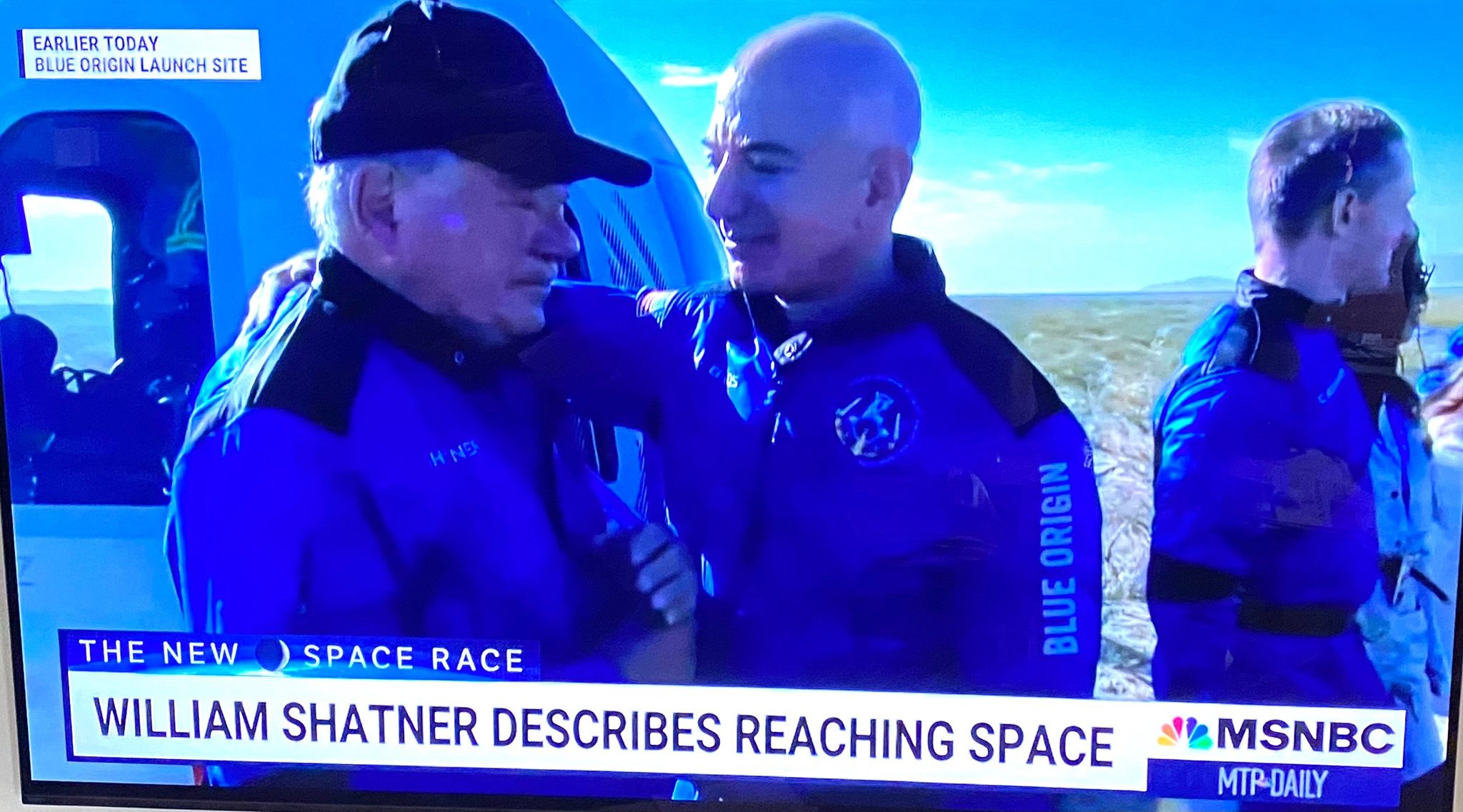 Shatner is renowned world wide famous for his portrayal of Captain James T. Kirk as commanding officer aboard the fictional starship USS Enterprise in numerous fictional space adventures  in the original version of the breakthrough science fiction TV series Star Trek which spawned a worldwide cultural phenomenon and multiple follow-on TV shows and 7 movies since it originally premiered in 1966.
"What you have given me is the most profound experience I can imagine," Shatner told Bezos, with tears in his eyes grateful for the opportunity which was gifted to him by Bezos. 
"I'm so filled with emotion about what just happened. I just, it's extraordinary, extraordinary. I hope I never recover from this, I hope that I can maintain what I feel now, I don't want to lose it.
"It's so, so much larger than the me and life. It hasn't got anything to do with a little green planet, a blue orb, it has to do with the enormity and the quickness and the suddenness of life and death. Oh my God."
After several unexpected holds to complete the rocket readiness verification reviews ans seating of the crew aboard the crew capsule liftoff took place at 9:49 a.m. CDT / 10:49 a.m. EDT / 14:49 UTC from Launch Site One in remote West Texas near the town of Van Horn.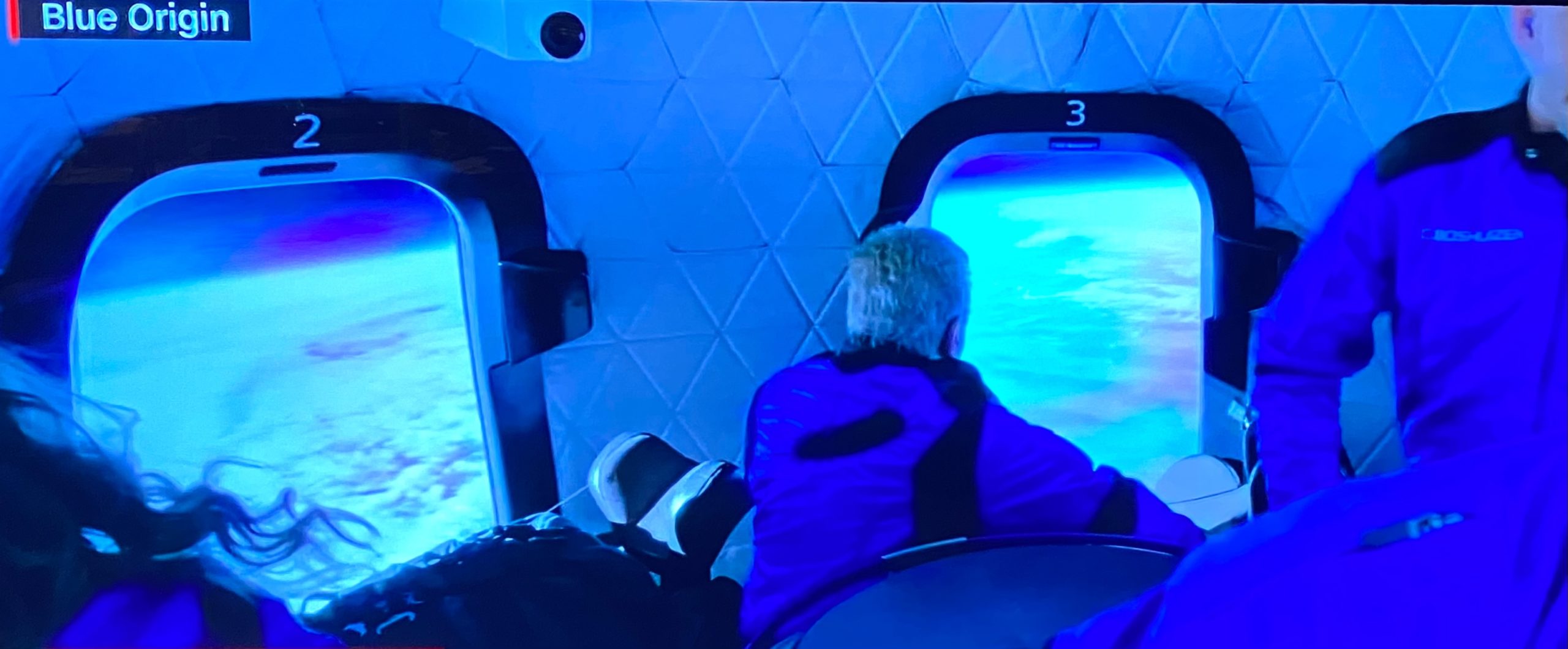 The Blue Origin mission dubbed NS-18 counts as only the second trip of the new suborbital commercial rocket and capsule built by Blue Origin following the inaugural flight with Bezos himself in July.
Watch Shatner and crew enjoying the profound view of Earth at apogee and weightless in flight in this video released by Blue Origin:
"This was the voyage of the RSS First Step today. Its mission: encounter Earth from incredible views at apogee," Blue Origin tweeted.
This was the voyage of the RSS First Step today. Its mission: encounter Earth from incredible views at apogee pic.twitter.com/Gzsnkv97K9

— Blue Origin (@blueorigin) October 13, 2021
The NS-18 flight included four crew members, Dr. Chris Boshuizen, Glen de Vries, Audrey Powers, and William Shatner, as well as thousands of postcards from Blue Origin's foundation, Club for the Future.
Inside the New Shepard capsule they reached an altitude of 66 miles (107 km) while traveling at a top speed of some 2235 mph (3597 km/h).
They experienced weightlessness for up to 4 minutes – and the sight of the beautiful and fragile Earth and its curvature and gazing into the blackness and vastness of outer space.
Watch this landing video from Blue Origin:
"Another safe landing in the West Texas desert. What a day, congrats to the crew of #NS18," tweeted Blue Origin.
Another safe landing in the West Texas desert. What a day, congrats to the crew of #NS18. pic.twitter.com/j0LjGc8yoW

— Blue Origin (@blueorigin) October 13, 2021
Blue Origin successfully completed New Shepard's first human flight on July 20 with four private citizens onboard including Billionaire Jeff Bezos, his brother Mark Bezos, aviation pioneer Wally Funk and Dutch teenager Oliver Daemen.
New Shepard's first human flight launched at 9:12 a.m. EDT on July 20th  from Blue Origin's rocket test site facility near Van Horn in West Texas – coinciding with the 52nd anniversary of the 1st human moon landing on NASA's Apollo 11 in 1969.
The crew of the Bezos brothers, Funk and Daemen all officially became astronauts when they passed the Kármán Line, the internationally recognized boundary of outer space 62 miles (100 km) above Earth with no discernable atmosphere.
Blue Origin says they are planning one more crewed flight this year, with several more crewed flights planned for 2022.
Blue Origin has also opened a website for those wishing to apply to fly on New Shepard – please visit Blue Origin website.
Here are some Key Mission Statistics from Blue Origin:
Crew capsule apogee: 347,539 ft AGL / 351,186 ft MSL (106 km AGL / 107 km MSL)
Booster apogee: 347,160 ft AGL / 350,807 ft MSL (106 km AGL / 107 km MSL)
Official launch time: 9:49 AM CDT / 14:49 UTC
CC Landing Time: 9:59 AM CDT / 14:59 UTC
Mission elapsed time: 10 min 17 sec
Max ascent velocity: 2,235 mph / 3,597 km/h
I'm a big fan of Star Trek since the original series premiere in 1966 which ran for 3 seasons until it was cancelled by dumb NBC network executives in 1969.
My commentary was featured in an interview on WKMG CBS 6 News Orlando on Oct. 4 about Star Trek actor William Shatner going to space on Jeff Bezos Blue Origin rocket at the age to 90.
"I was inspired by NASA and Star Trek to become a research scientist," I told CBS 6.
Video link: https://www.clickorlando.com/entertainment/2021/10/04/star-trek-actor-william-shatner-90-rocketing-into-space-next-week/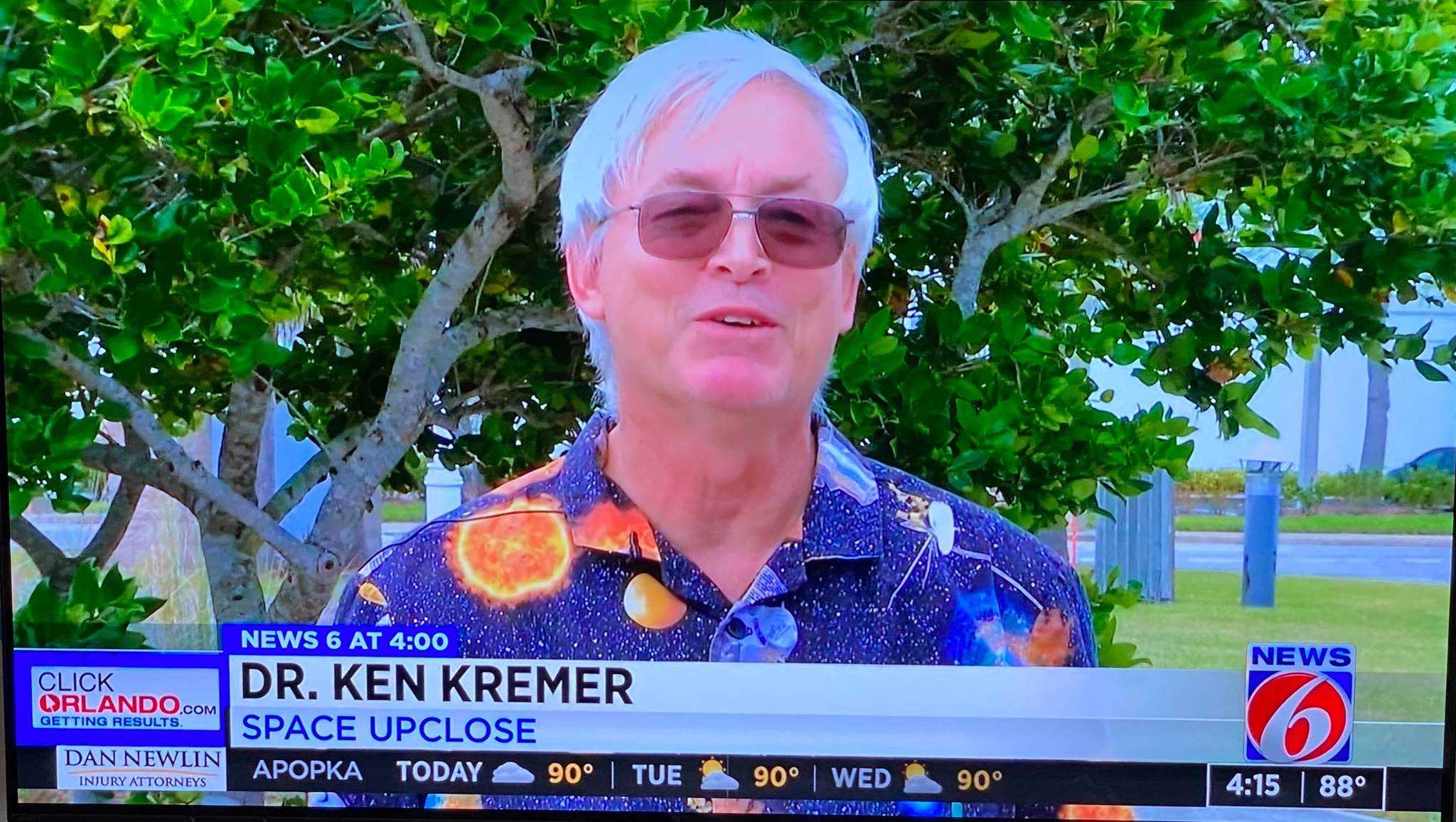 Watch Ken's continuing reports about Blue Origin and Space Tourism, SpaceX Cargo and Crew Dragons, Artemis and NASA missions, SLS, Orion, SpaceX  Starlink, Commercial Crew and Starliner and Crew Dragon and onsite for live reporting of upcoming and recent SpaceX and ULA launches including Crew 1 & 2 & 3, ISS, Solar Orbiter, Mars 2020 Perseverance and Curiosity rovers, NRO spysats and national security missions and more at the Kennedy Space Center and Cape Canaveral Space Force Station.
Stay tuned here for Ken's continuing Earth and Planetary science and human spaceflight news: www.kenkremer.com –www.spaceupclose.com – twitter @ken_kremer – email: ken at kenkremer.com
Dr. Kremer is a research scientist and journalist based in the KSC area, active in outreach and interviewed regularly on TV and radio about space topics.
………….
Ken's photos are for sale and he is available for lectures and outreach events
Please consider supporting Ken's work by purchasing his photos and/or donating at Patreon: