For SpaceUpClose.com & RocketSTEM
KENNEDY SPACE CENTER, FL –  After some 200 days in orbit NASA's SpaceX Crew-2 team of four multinational astronauts from the US, France and Japan safely splashed down in the Gulf of Mexico off the coast of Florida Monday nearby Pensacola aboard the Crew Dragon Endeavour spacecraft Monday evening, Nov. 8, at about 10:33 p.m. ET (0333 GMT on Nov. 9), at last departing their home for the past six months – the International Space Station (ISS) – after several delays related to weather as well as juggling the competing priorities with the new Crew-3 mission launch from Florida's other coast namely the Space Coast.
Crew-2 completed NASA's second long-duration commercial crew mission and second SpaceX crew rotation mission to the orbiting research outpost.
🐉🌎 Welcome home, Crew-2! Crew Dragon Endeavour successfully splashed down off the coast of Pensacola, Florida at 10:33pm ET: https://t.co/Fz1bcSczxD pic.twitter.com/zgncqWggKu

— NASA Commercial Crew (@Commercial_Crew) November 9, 2021
The mission set a record for the longest spaceflight by a U.S. crewed spacecraft. The international crew of four spent over 199 days in orbit, surpassing the old record of 168 days set by NASA's SpaceX Crew-1 mission earlier this year – by more than a month.
"Endeavour, on behalf of SpaceX, welcome back to planet Earth," Mission Control radioed to the crew after the Dragon capsule safely splashed in the Gulf of Mexico.
The astronaut quartert of NASA astronauts Shane Kimbrough and Megan McArthur, JAXA (Japan Aerospace Exploration Agency) astronaut Akihiko Hoshide, and ESA (European Space Agency) astronaut Thomas Pesquet returned to Earth in a parachute-assisted splashdown at 10:33 p.m. EST off the coast of Pensacola, Florida – just over eight hours after undocking from the space station at about 2:05 p.m. ET.
Everything appeared to go very well with the exception a slow inflation of one of the four main parachutes.
NASA long range, high resolution infrared cameras captured absolutely dramatic and stunning views of Crew Dragon descent, parachute unfurling and splashdown into very calm, glass-like flat seas in the Gulf.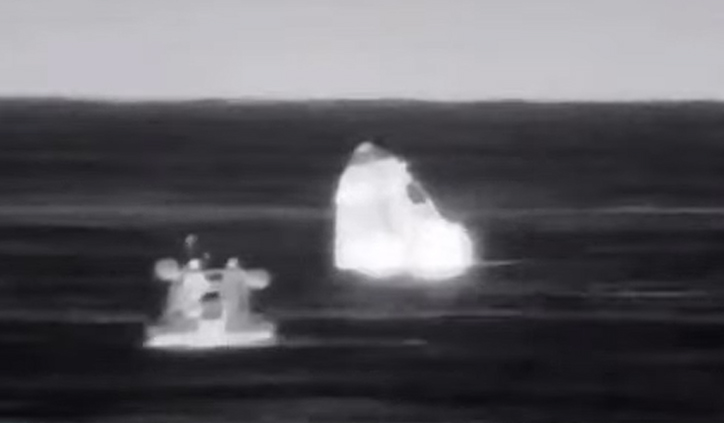 The crew was in great spirits and appeared to be in high health after half a year experiencing weightlessness in low Earth orbit.
The entire sequence from undocking to splashdown was broadcast live on NASA TV
Crews aboard SpaceX recovery vessels successfully quickly recovered the spacecraft and astronauts and hoisted it on board the SpaceX GO Navigator vessel in record time of about 40 minutes.
The @SpaceX Crew Dragon Endeavour vehicle has been successfully lifted out of the water and placed in the "Dragon's Nest" aboard the recovery vessel. pic.twitter.com/7alK4mRiJU

— NASA (@NASA) November 9, 2021
All four astronauts were in high spirits and high health and quickly exited Crew Dragon Endeavour assisted by SpaceX recovery team members.
Smiles, thumbs up, and peace signs. The @SpaceX Crew-2 astronauts are happy to be home after six months in space. pic.twitter.com/W9ziABkq0k

— NASA (@NASA) November 9, 2021
"We're happy to have Shane, Megan, Aki, and Thomas safely back on Earth after another successful, record-setting long-duration mission to the International Space Station," said NASA administrator Bill Nelson, in a statement.
"Congratulations to the teams at NASA and SpaceX who worked so hard to ensure their successful splashdown. NASA's Commercial Crew Program continues to demonstrate safe, reliable transportation to conduct important science and maintenance on the space station."
NASA astronaut Megan tweeted about departing on Day 200 in space with photos of Guin-Guin
Day 200! Guin-Guin🐧and all of #Crew2 are ready to head home. Thank you to everyone who made this mission possible, and worked hard to make it a success. Thank you also for sharing in the journey with us. Next stop: 🌎 pic.twitter.com/4BQcvR7mrP

— Megan McArthur (@Astro_Megan) November 8, 2021
Skywatchers captured glorious photos of the Crew Dragon creating a fireball streak during the final moments of the descent and splashdown.
The @SpaceX Crew Dragon spacecraft is seen as it returns from space off the cost of Florida with #Crew2 astronauts @astro_kimbrough, @Astro_Megan, @Thom_astro, & @Aki_Hoshide after spending over six months aboard @Space_Station! More📷 https://t.co/274TuZrwkS pic.twitter.com/yg61yGCuHy

— NASA HQ PHOTO (@nasahqphoto) November 9, 2021
After returning to shore, the astronauts will fly back to NASA's Johnson Space Center in Houston.
Pesquet will fly back to Europe
The Crew-2 mission launched April 23 on a Falcon 9 rocket from NASA's Kennedy Space Center in Florida. Crew Dragon Endeavour docked to the Harmony module's forward port of the space station April 24, nearly 24-hours after liftoff.
Kimbrough, McArthur, Hoshide, and Pesquet traveled 84,653,119 statute miles during their mission, stayed 198 days aboard the space station, and completed 3,194 orbits around Earth.
Crew-2 contributed to hundreds of experiments for months aboard the @Space_Station. Here's a look at some of the science that just splashed down with them, ranging from medical @ISS_Research to the first chiles grown in space: https://t.co/QhpdA03kYR pic.twitter.com/jdoPcN290S

— NASA (@NASA) November 9, 2021
Here are more NASA photos from the Crew-2 splashdown:
Check out the additional images from the @SpaceX Crew Dragon Endeavour splashdown from @Space_Station with #Crew2 @NASA_Astronauts @astro_kimbrough and @Astro_Megan, @esa astronaut@Thom_astro, & @JAXA_en astronaut @Aki_Hoshide. 📷https://t.co/274TuZrwkS pic.twitter.com/uvJ386VoCm

— NASA HQ PHOTO (@nasahqphoto) November 9, 2021
More from NASA:
Throughout their mission, the Crew-2 astronauts contributed to a host of science and maintenance activities, scientific investigations, and technology demonstrations. In addition, they conducted four spacewalks and multiple public engagement events while aboard the orbiting laboratory. They studied how gaseous flames behave in microgravity, grew hatch green chiles in the station's Plant Habitat Facility, installed free-flying robotic assistants, and even donned virtual reality goggles to test new methods of exercising in space, among many other scientific activities. The astronauts took hundreds of pictures of Earth as part of the Crew Earth Observation investigation, one of the longest-running investigations aboard the space station, which contributes to tracking of natural disasters and changes to our home planet.
Kimbrough, Hoshide, and Pesquet also completed four spacewalks to install, deploy, or otherwise prepare for installation of ISS Roll-out Solar Arrays. This brought the total number of spacewalks for Kimbrough, Hoshide, and Pesquet to nine, four, and six, respectively. The fourth spacewalk, conducted by Hoshide and Pesquet on Sept. 12, was the first in the history of the space station that did not include an American or Russian.
On July 21, all four Crew-2 astronauts boarded Endeavour for a port relocation maneuver, moving their spacecraft from the forward-facing port to the space-facing port on the station's Harmony module.
The Crew-2 flight is part of NASA's Commercial Crew Program, which has worked with the U.S. aerospace industry to launch astronauts on American rockets and spacecraft from American soil to the space station. The splashdown of Crew-2 comes just before the launch of NASA's SpaceX Crew-3 mission, currently scheduled for no earlier than Wednesday, Nov. 10, on another long duration mission of approximately six months.
Endeavour will return for inspection and processing to SpaceX's Dragon Lair in Florida, where teams will examine the spacecraft's data and performance throughout the flight.
…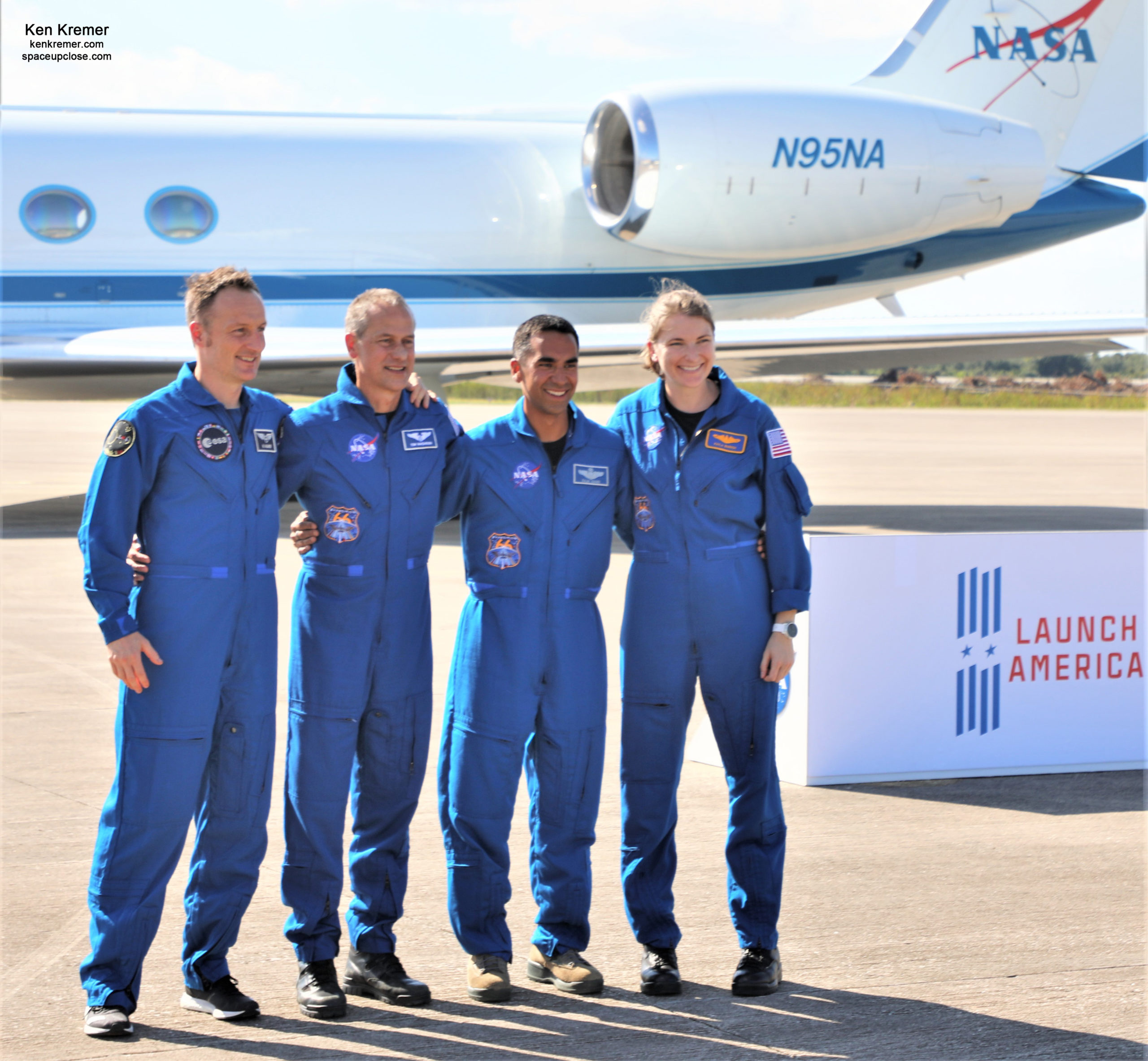 Crew-3 is currently targeting launch NET Nov. 10 at 9:03 PM ET from the Kennedy Space Center on the next crew rotation mission.
Thereafter the next NASA and SpaceX crew rotation mission is Crew-4, currently targeted for launch in April 2022. Crew-3 astronauts are scheduled to return to Earth shortly after welcoming their Crew-4 colleagues to the orbiting laboratory.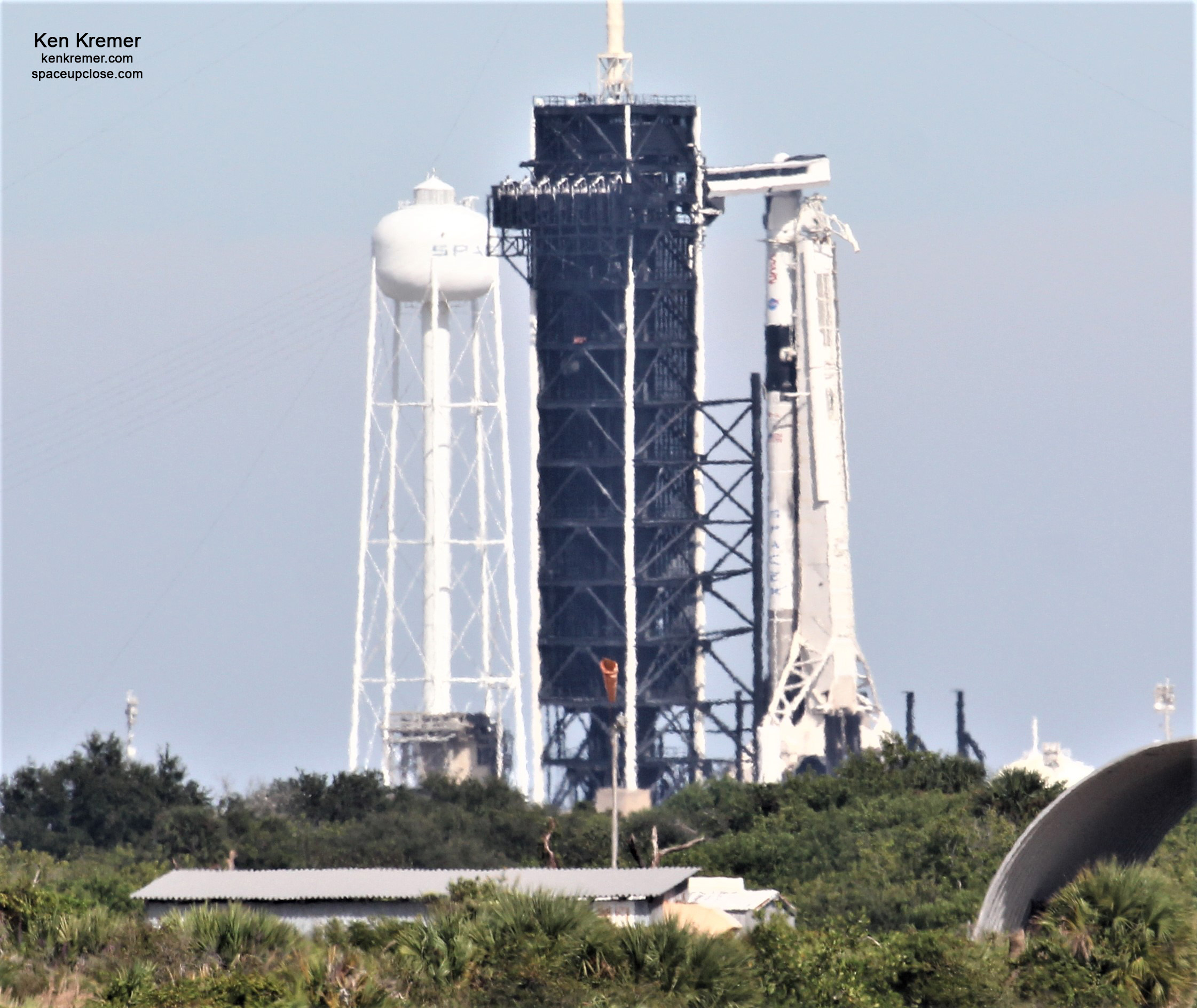 Ken's comments about the Crew-2 & Crew-3 missions were featured on local CBS, NBC and Fox TV News outlets in Orlando:
Nov. 8 & 9 broadcasts on WESH 2 NBC and Fox 35:
https://www.wesh.com/article/crew-2-splashdown-monday/38192367
https://www.fox35orlando.com/video/999350
Nov. 5 broadcast on WKMG CBS 6 Orlando TV News:
https://www.clickorlando.com/news/local/2021/11/05/spacex-nasa-weigh-astronaut-rotation-schedule-as-bad-weather-continues-launch-delay/
Ken's photos of the static fire test for upcoming Crew-3 were featured on WKMG CBS 6 Orlando TV News
Ken is onsite at KSC for the Crew-3 mission launch campaign
Watch Ken's continuing reports about SpaceX Crew and Cargo Dragons, Artemis, SLS, Orion and NASA missions, Lucy Asteroid mission, Blue Origin and Space Tourism, SpaceX  Starlink, Commercial Crew and Starliner and Crew Dragon and onsite for live reporting of upcoming and recent SpaceX and ULA launches including Crew 1 & 2 & 3, ISS, Solar Orbiter, Mars 2020 Perseverance and Curiosity rovers, NRO spysats and national security missions and more at the Kennedy Space Center and Cape Canaveral Space Force Station.
Stay tuned here for Ken's continuing Earth and Planetary science and human spaceflight news: www.kenkremer.com –www.spaceupclose.com – twitter @ken_kremer – email: ken at kenkremer.com
Dr. Kremer is a research scientist and journalist based in the KSC area, active in outreach and interviewed regularly on TV and radio about space topics.
………….
Ken's photos are for sale and he is available for lectures and outreach events
Please consider supporting Ken's work by purchasing his photos and/or donating at Patreon:
https://www.patreon.com/kenkremer
x