For SpaceUpClose.com & RocketSTEM
KENNEDY SPACE CENTER, FL –  After a week and a half of delays for weather and a 'minor medical issue' affecting one of the four multinational Crew-3 crew members, NASA and SpaceX are poised for a dramatic nighttime liftoff of the team of NASA and ESA astronauts from America and Germany for a half year science mission from Florida's Spaceport to the International Space Station (ISS) Wednesday evening, Nov. 10 – originally planned as a Halloween morning treat.
NASA officials gave the GO for Crew-3 launch at a late Wednesday night media briefing after completing the requisite Launch Readiness Review (LRR).
"We took our time tonight, with the launch readiness review to really go through the data," Steve Stich, NASA's Commercial Crew Program manager," said at the media briefing.
"And we don't see any issues going into tomorrow's launch. We are GO for launch at 9:03 p.m. Wednesday."
NASA's SpaceX Crew-3 mission is targeting launch 9:03 p.m. EST Wednesday, Nov. 10 (0203 GMT on Nov. 11), on a SpaceX Falcon 9 rocket integrated with a SpaceX Crew Dragon commercial crew astronaut ferry ship to the ISS orbiting research laboratory from Launch Complex 39A at NASA's Kennedy Space Center in Florida.
"The @SpaceX #Crew3 mission is targeting a launch with four @Commercial_Crew astronauts to the station at 9:03pm ET from @NASAKennedy today," NASA ISS officials tweeted.
The @SpaceX #Crew3 mission is targeting a launch with four @Commercial_Crew astronauts to the station at 9:03pm ET from @NASAKennedy today. https://t.co/NLgZe1Syk2

— International Space Station (@Space_Station) November 10, 2021
Falcon 9 and Crew Dragon Endurance will fly on a northeasterly trajectory along the US East Coast inclined 51 degrees to the equator rendezvous with the ISS Thursday evening.
Wednesday's hoped for Crew-3 launch also comes very closely on the heels of the safe splashdown just 48 hours ago Monday evening, Nov. 8, of NASA's SpaceX Crew-2 team of four multinational astronauts from the US, France and Japan in the Gulf of Mexico off the coast of Florida nearby Pensacola after some 200 days in orbit aboard the Crew Dragon Endeavour spacecraft, at about 10:33 p.m. ET (0333 GMT on Nov. 9).
Crew-2 at last departed their space station home for the past six months – after several delays related to weather and 'minor crew medical issues' as NASA and SpaceX facing a dilemma juggling the competing priorities with the old Crew-2 mission on orbit and new Crew-3 mission set to head to the ISS from Florida's other coast namely the Space Coast.
Everything appeared to go very well with Crew-2 splashdown with the exception a slow inflation of one of the four main parachutes – and that parachute was the subject of extensive discussion and analysis at the LRR since it fully inflated about 75 seconds later than the other three.
"It performed essentially the way it was designed to perform," Bill Gerstenmaier, vice president of build and flight reliability at SpaceX, said about the parachutes at the media briefing.
"We don't see anything that's off-nominal that concerns us from a parachute standpoint."
Slower deployment and inflation is a "known condition" seen in some previous tests.
Weather is currently looking rather favorable for Wednesday night's launch with the right conditions for launch on the SpaceX Crew Dragon Endurance spacecraft and its recycled Falcon 9 rocket from Launch Complex 39A at the agency's Kennedy Space Center (KSC) in Florida.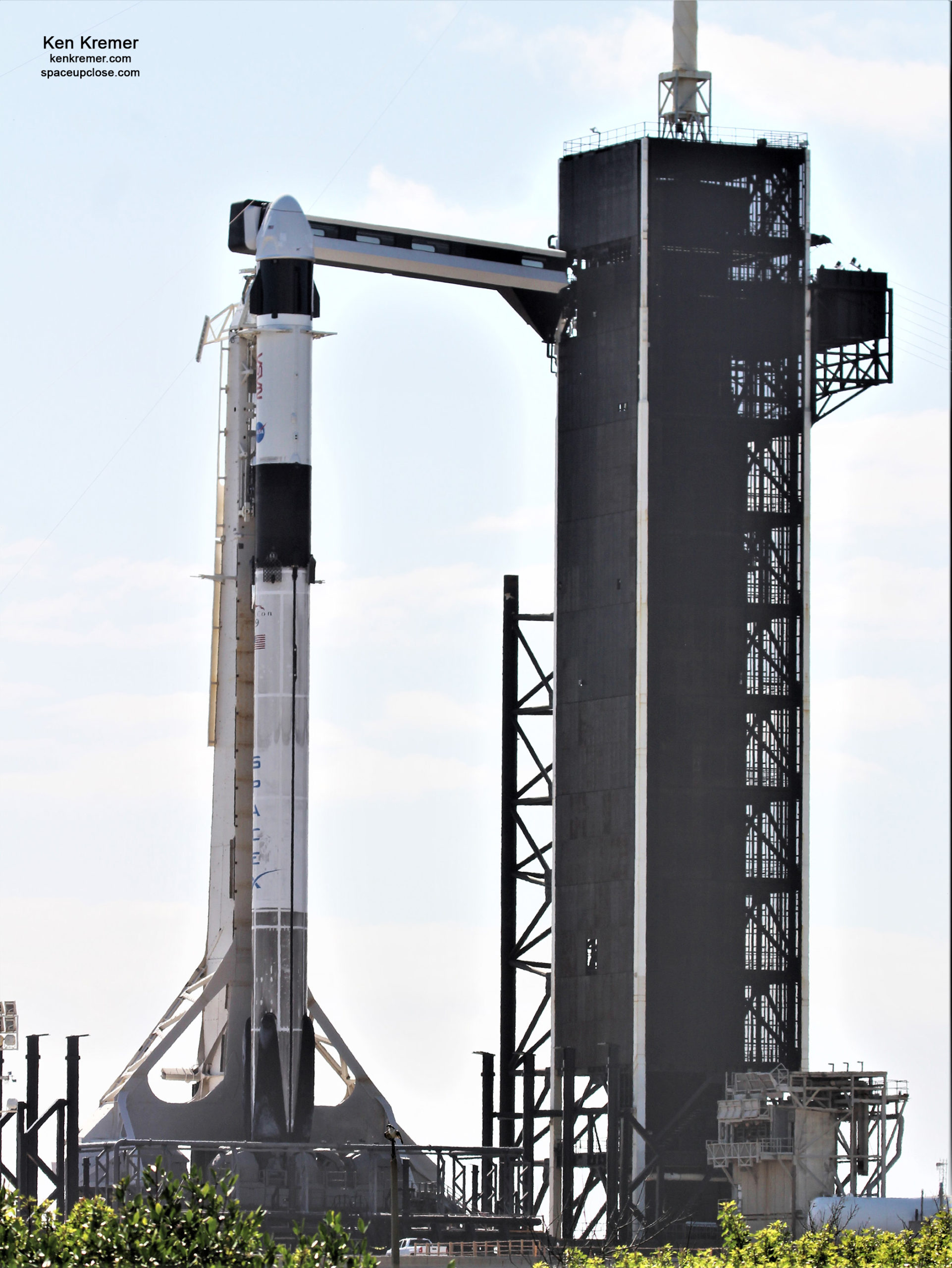 The quartet of NASA and ESA astronauts from America and Germany who will soon launch to the International Space Station (ISS) Nov. 10 as part of NASA's SpaceX Crew-3 mission already arrived some two weeks ago on Tuesday afternoon, Oct. 26, at NASA's Kennedy Space Center in Florida from their Texas training base to meet the media and undergo final training and preparations ahead of the then targeted Halloween morning liftoff – and the German astronaut on board will be the 600th person to reach space.
The multinational Crew-3 team comprising NASA astronauts Raja Chari, Tom Marshburn, and Kayla Barron, along with ESA (European Space Agency) astronaut Matthias Maurer from Germany, landed at the Launch and Landing Facility (formerly the SLF Shuttle Landing Facility  aboard a NASA Gulfstream jet at the agency's Kennedy Space Center after departing earlier that day from Ellington Field near the agency's Johnson Space Center in Houston.
You can watch the Crew-3 launch live on NASA TV
NASA TV live coverage of the Crew-3 launch begins at 8:45 p.m. ET Tuesday evening Nov. 2 (0045 GMT Nov. 3).
NASA TV live coverage will begin at 4:45 p.m. Wednesday, Nov. 10. For NASA TV downlink information, schedules, and links to streaming video, visit:
Tonight, @NASA's @SpaceX #Crew3 mission launches to the @Space_Station with @Astro_Raja, @AstroMarshburn, Kayla Barron, and @astro_matthias aboard a Crew Dragon spacecraft.

Tune in:
• 4:45pm ET: Coverage begins
• 9:03pm ET: Liftoff

💻: https://t.co/YeWrpz41EN pic.twitter.com/C05cp05IrO

— NASA Commercial Crew (@Commercial_Crew) November 10, 2021
Enjoy our gallery of up close Falcon 9 and Crew Dragon photos taken at pad 39A during our media remote camera setup, press site photos as well as the static fire test, rocket at pad 39A and astronaut arrival photos taken by Ken Kremer for Space UpClose.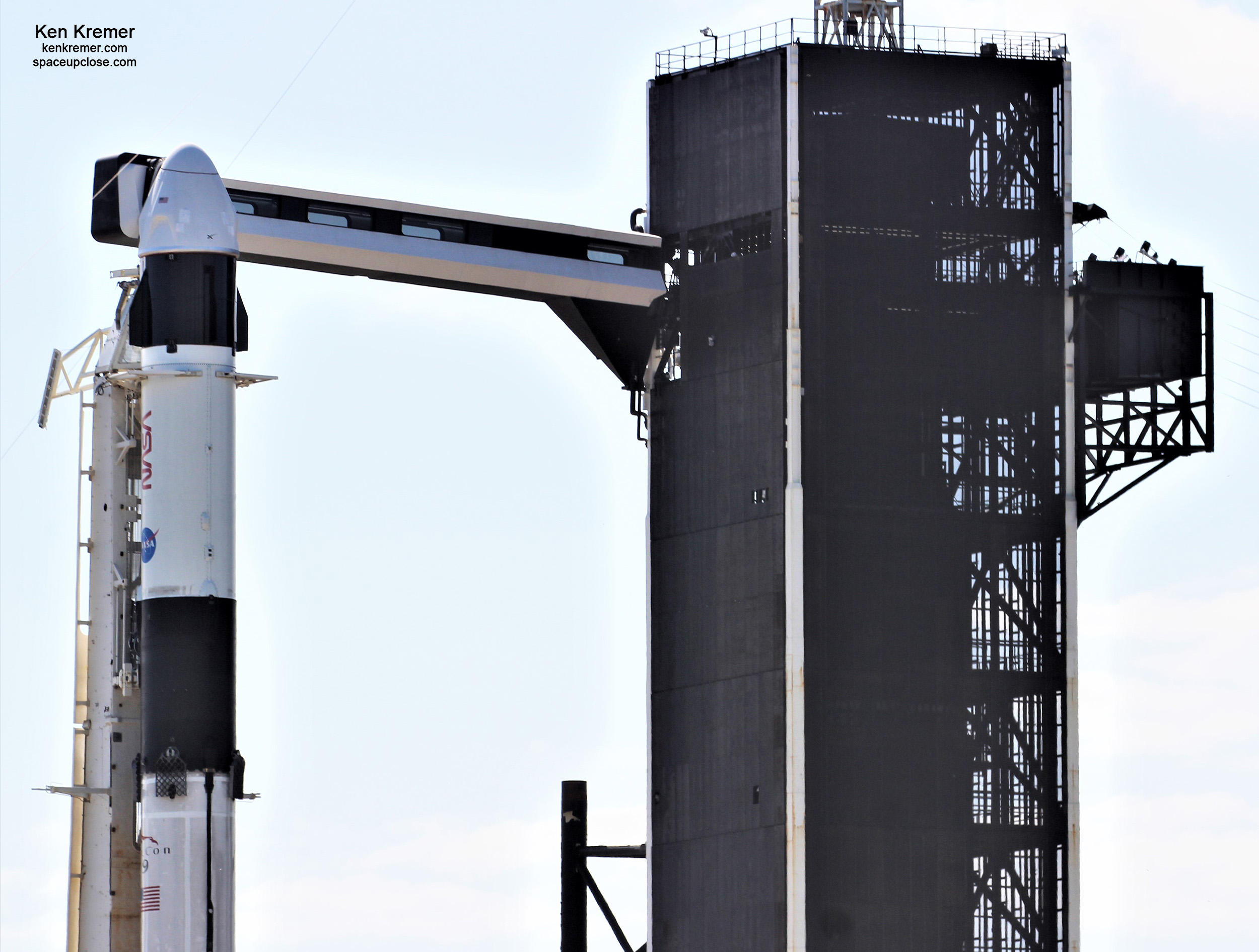 The weather outlook from Space Force meteorologists is currently forecast as 70% GO and rated as low risk for ascent abort along the in-flight trajectory in case of a rocket emergency forcing a Crew Dragon separation and splashdown in the Atlantic Ocean, and also low risk related to 1st stage Falcon 9 booster recovery.
Primary Concerns are: Cumulus Cloud Rule and Flight Through Precipitation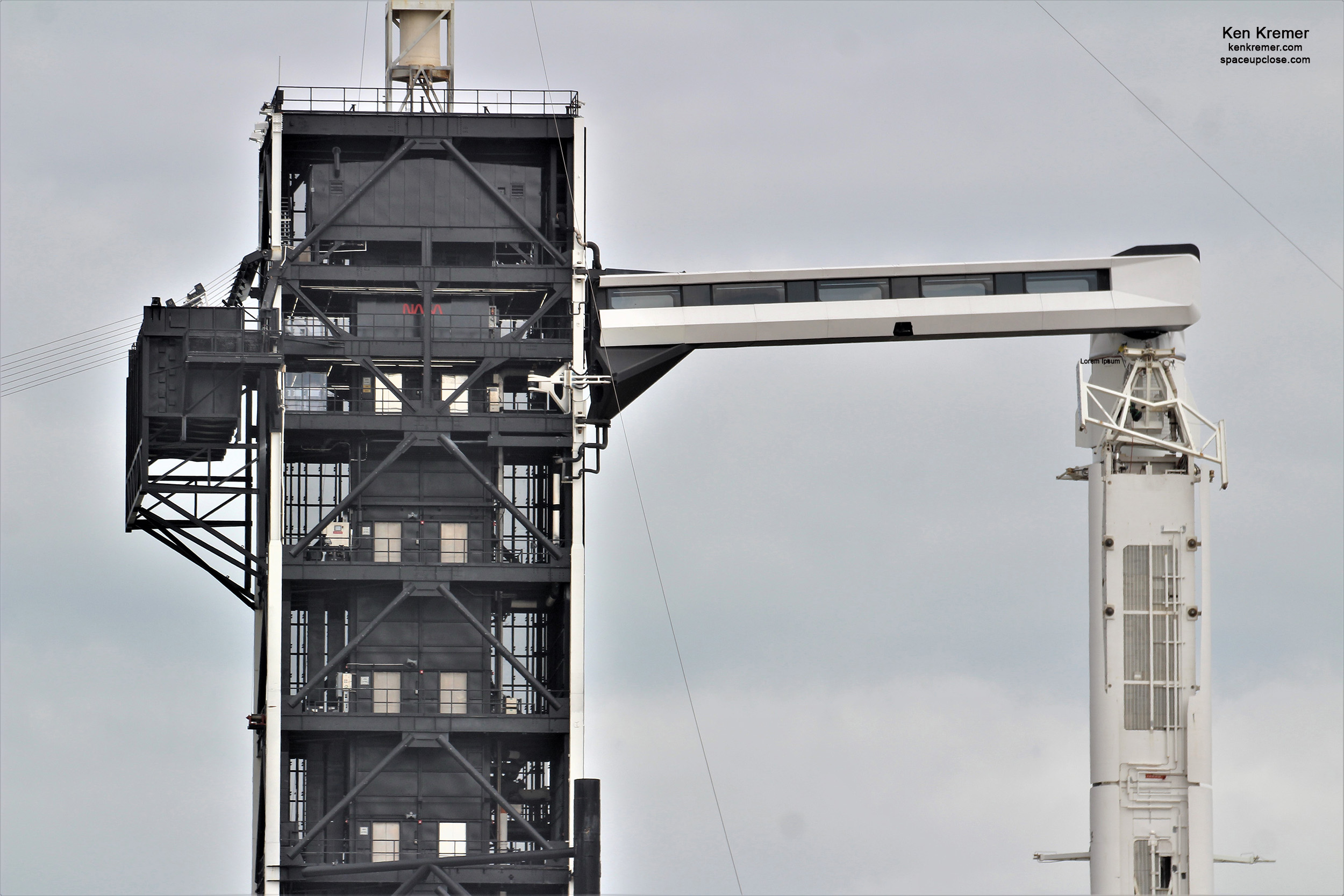 Liftoff of the NASA ESA SpaceX Crew-3 crew rotation mission to the ISS had already been reset multiple times – skipping the originally planned and hoped for Halloween treat liftoff Sunday, Oct. 31 – due to poor downrange weather invading the northern Atlantic Ocean with a "large storm system elevating winds and waves" along the trajectory where the SpaceX Crew Dragon capsule would fly and have to abort in case of a launch emergency problem with the rocket.
NASA said the "minor medical issue" was not an emergency and not related to the Covid-19 pandemic.  The agency also did not identify which of the four astronaut crew members from America and Germany was involved.
NASA did not release any further information on the minor medical issue or which crew member was involved at the post-LRR briefing.
If Crew Dragon Endurance launches Wednesday, Nov. 10 and all  goes well the Crew-3 astronauts will rendezvous and dock with the station at the forward facing port on the Harmony node around 22 hours later 7:10 p.m. Thursday, Nov. 11.
The Crew-3 astronauts will become the third crew to fly a full-duration six-month long science mission to the orbiting laboratory on a SpaceX Crew Dragon, the fourth to the station and the 5th human spaceflight overall on a SpaceX Crew Dragon.
With the continuing launch delays NASA decided against a direct on orbit handover from the Crew-2  astronauts already on board to the Crew-3 astronauts.
The 215-foot (65-meter)) Falcon 9 rocket was rolled out and up the incline to pad 39A some two weeks ago Wednesday morning Oct. 27 from the hangar outside the pad perimeter fence and raised erect noontime prior to the Oct. 28 static fire engine test
Meanwhile the crew participated in a countdown dry dress rehearsal at the agency's Kennedy Space Center in Florida which simulated launch day activities with suit up, driving to the pad in Teslas, going up the elevator and boarding the capsule for seating by the closeout crew – minus the propellant loading.
Chari, Maurer, and Barron will all be flying as rookies on their first spaceflight each and are designated as astronauts 599, 600 and 601.
Matthias Maurer from Germany will enjoy the distinction of being the 600th human to reach space when he launches on Halloween with the Crew-3 quartet.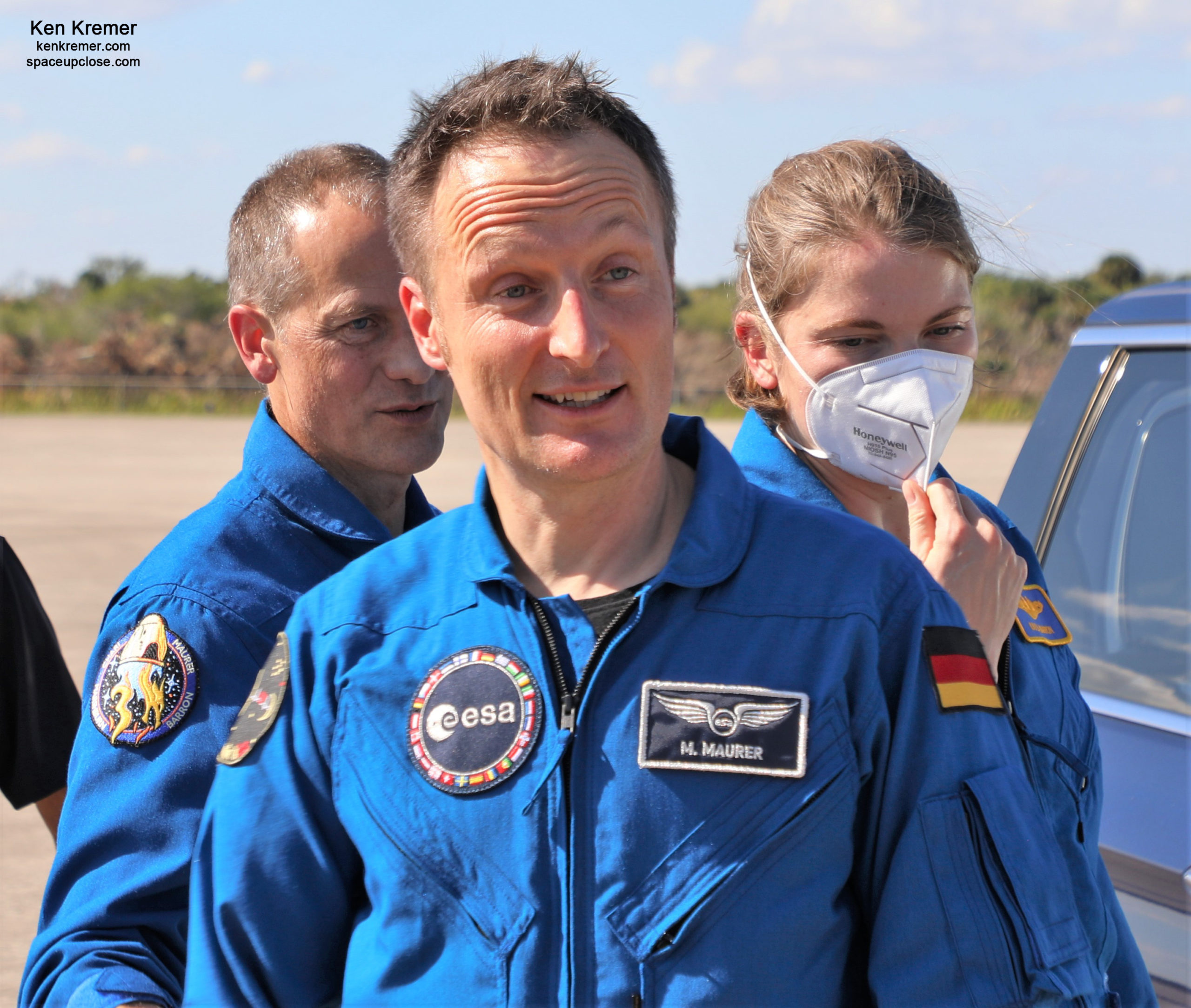 Chari will be the 599th and Barron will be the 601st person to reach space since 1961 when Soviet cosmonaut Yuri Gagarin became the first human into space reaching orbit at the dawn of the Space Age.
Maurer's mission is named Cosmic Kiss. The mission's name "is a declaration of love for space, for the Space Station as a link between humanity and the cosmos and for what people there do and will do in the future. At the same time, it stands for the value of exploring space in partnership, and for the respectful and sustainable treatment of Earth."
Ken's comments about the Crew-2 & Crew-3 missions were featured on local CBS, NBC and Fox TV News outlets in Orlando:
Nov. 8 & 9 broadcasts on WESH 2 NBC and Fox 35:
https://www.wesh.com/article/crew-2-splashdown-monday/38192367
https://www.fox35orlando.com/video/999350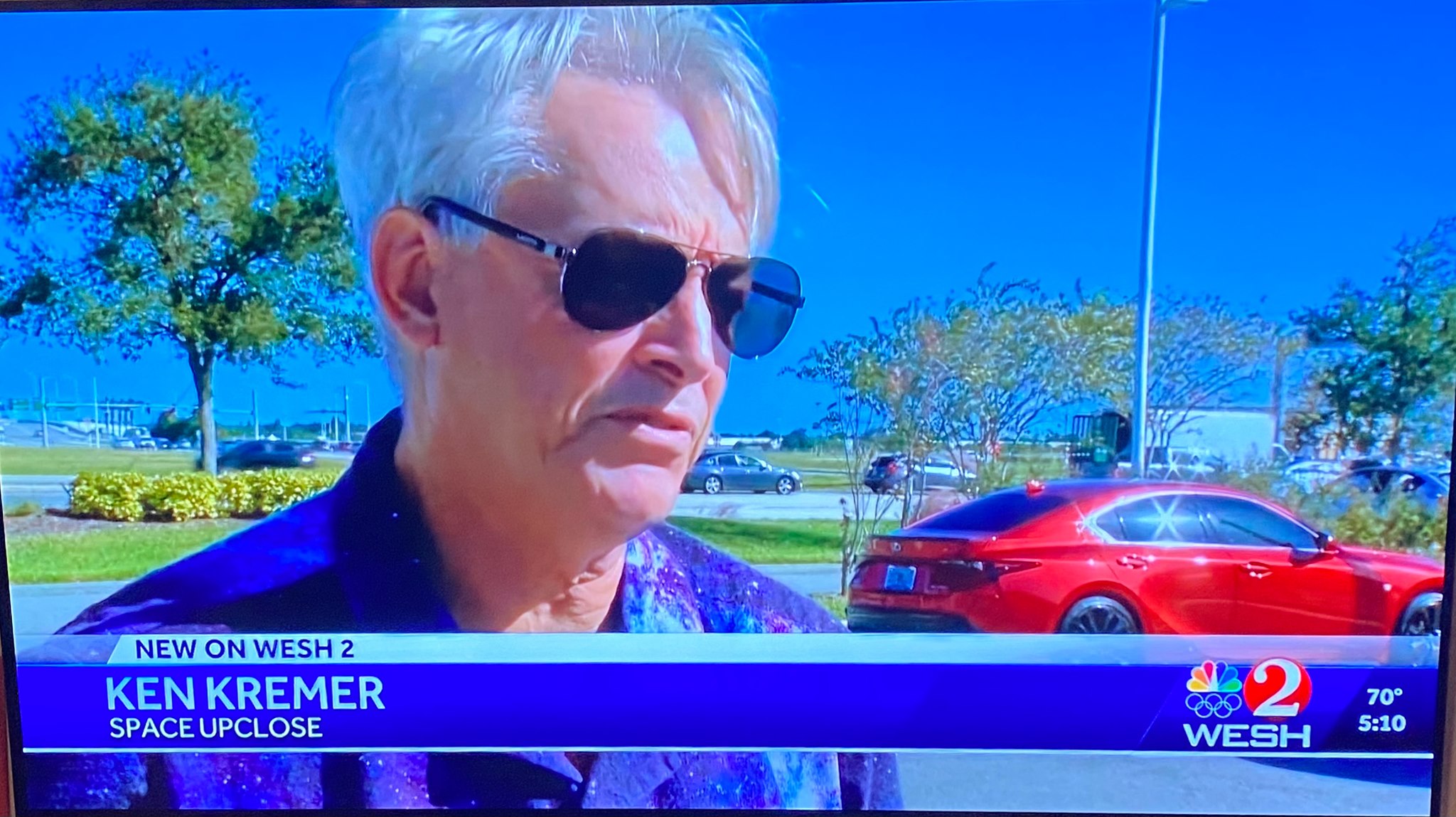 Nov. 5 broadcast on WKMG CBS 6 Orlando TV News:
https://www.clickorlando.com/news/local/2021/11/05/spacex-nasa-weigh-astronaut-rotation-schedule-as-bad-weather-continues-launch-delay/
Ken's photos of the static fire test were featured on WKMG CBS 6 Orlando TV News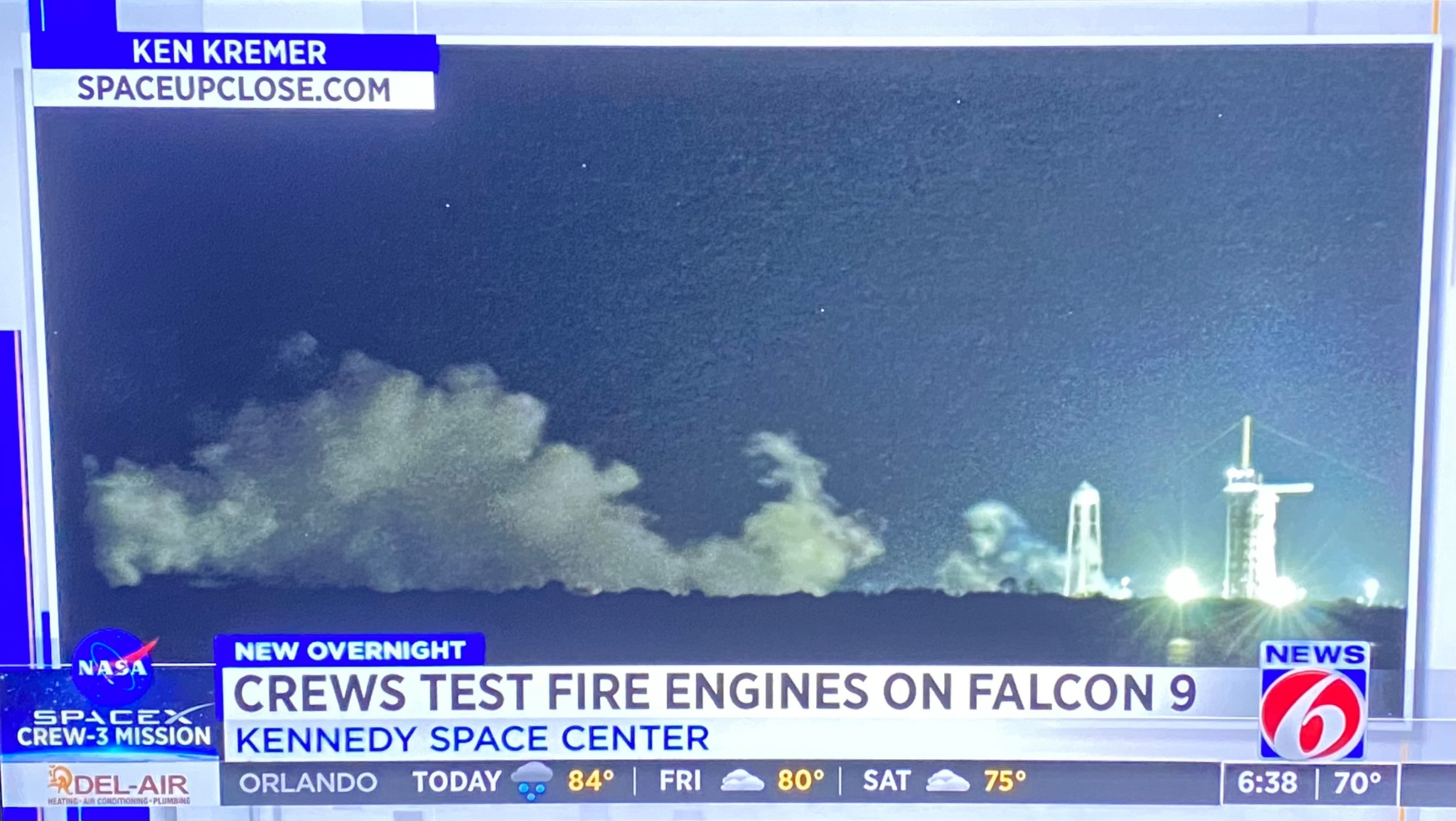 Ken is onsite at KSC for the Crew-3 mission launch campaign
Watch Ken's continuing reports about SpaceX Crew and Cargo Dragons, Artemis, SLS, Orion and NASA missions, Lucy Asteroid mission, Blue Origin and Space Tourism, SpaceX  Starlink, Commercial Crew and Starliner and Crew Dragon and onsite for live reporting of upcoming and recent SpaceX and ULA launches including Crew 1 & 2 & 3, ISS, Solar Orbiter, Mars 2020 Perseverance and Curiosity rovers, NRO spysats and national security missions and more at the Kennedy Space Center and Cape Canaveral Space Force Station.
Stay tuned here for Ken's continuing Earth and Planetary science and human spaceflight news: www.kenkremer.com –www.spaceupclose.com – twitter @ken_kremer – email: ken at kenkremer.com
Dr. Kremer is a research scientist and journalist based in the KSC area, active in outreach and interviewed regularly on TV and radio about space topics.
………….
Ken's photos are for sale and he is available for lectures and outreach events
Please consider supporting Ken's work by purchasing his photos and/or donating at Patreon:
https://www.patreon.com/kenkremer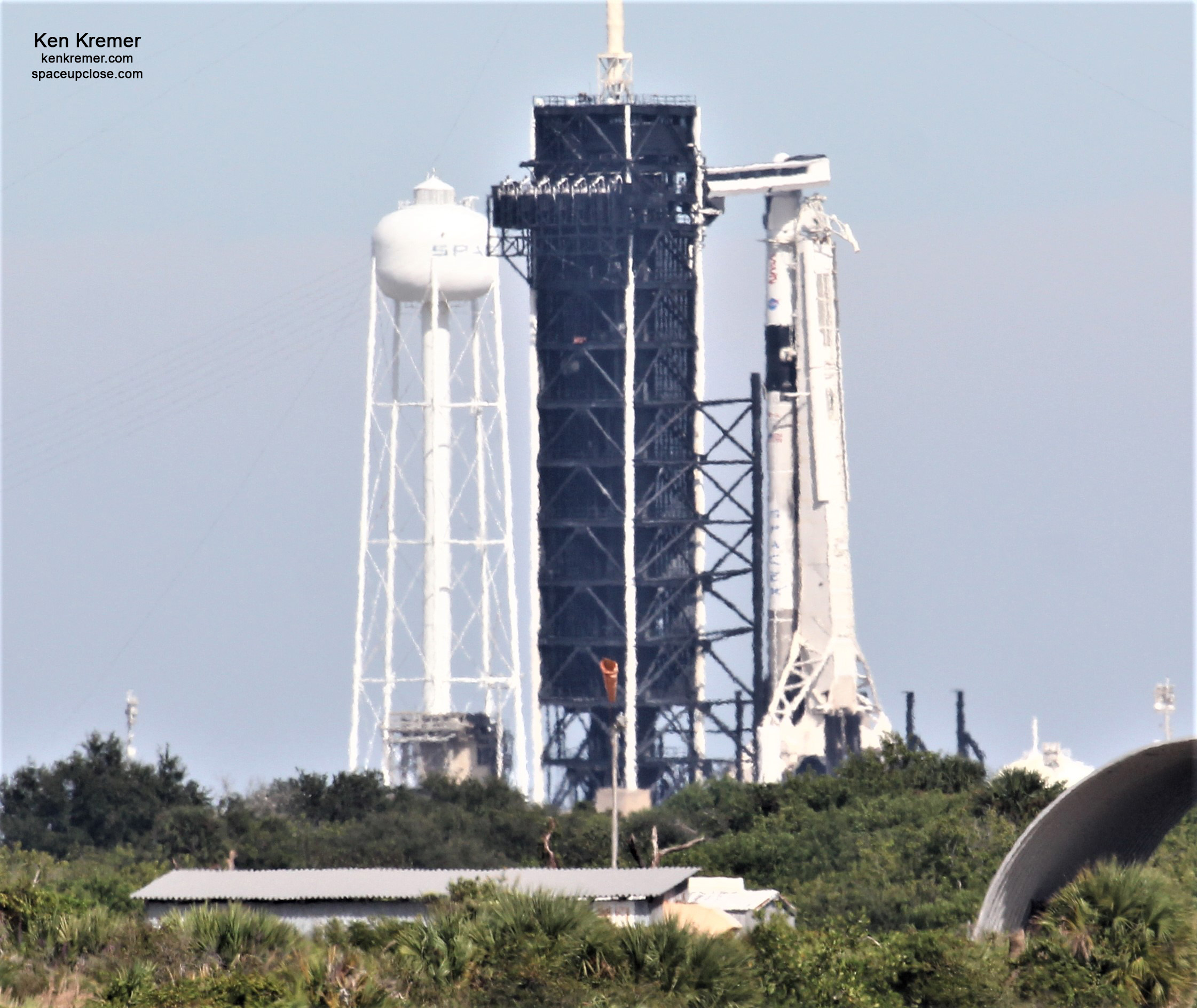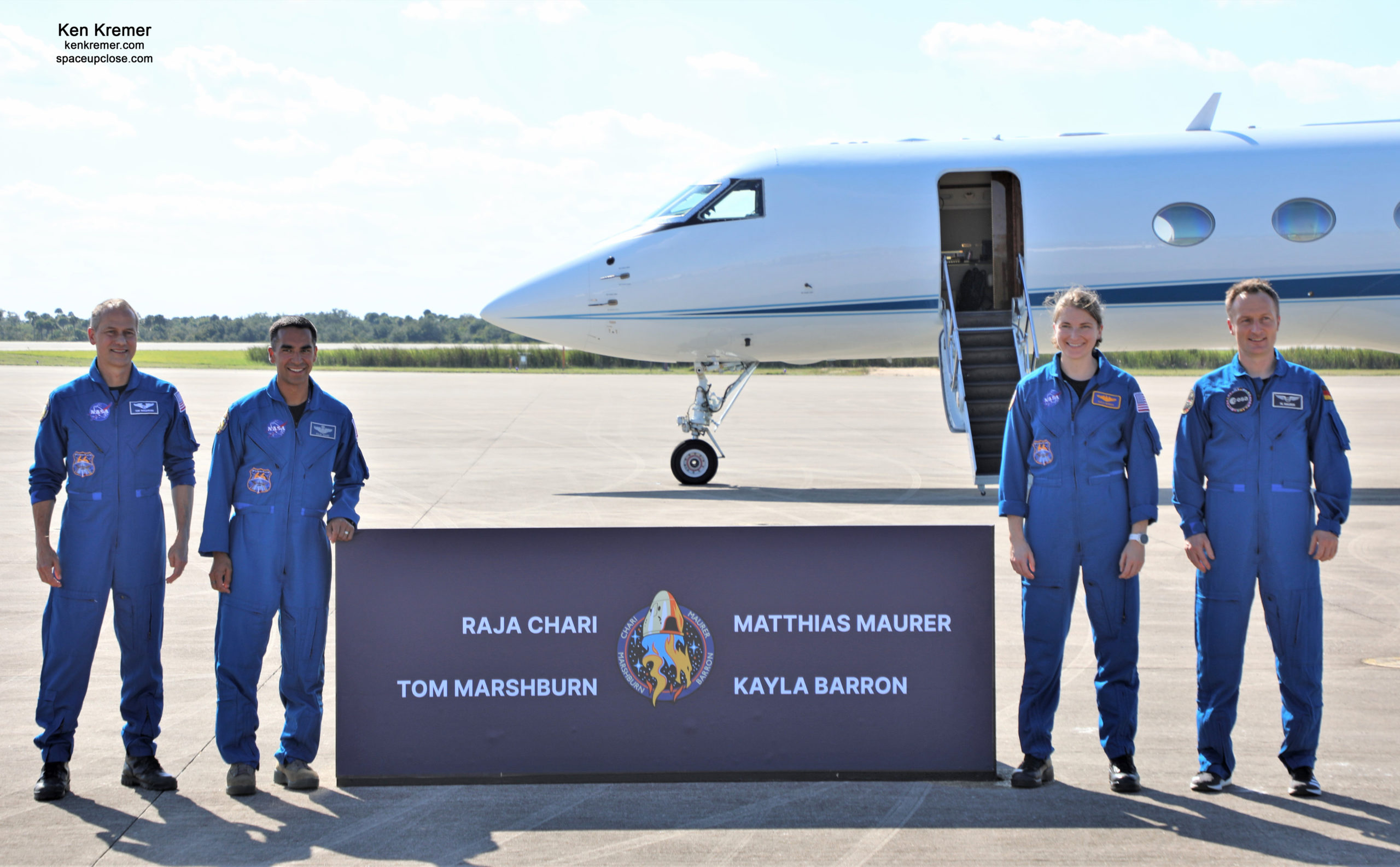 x