For SpaceUpClose.com & RocketSTEM
CAPE CANAVERAL SPACE FORCE STATION, FL – Following a late, same day confirmation a 9x recycled SpaceX Falcon 9 lifted off with a jam packed nose cone loaded with 4 dozen upgraded Starlink internet satellites and two Black Sky earth imaging observation satellites just past sunset at dinnertime Thursday evening, Dec. 2 from Florida's Space Coast – starting an extraordinarily  busy December boom of five blastoffs closing out the year.
And SpaceX nailed the 1st stage booster landing too!
Unlike recent Sunshine State launches obscured by clouds and fog this reused Falcon 9 launch put on a spectacular sky show under picture perfect weather conditions into a cloud-free twilight night sky delighting spectators with a multi-minute unobstructed view of another amazing SpaceX launch
Blastoff of the 'flight-proven' SpaceX Falcon 9 on the Starlink 4-3 mission took place right on time exactly at 6:12 p.m. EST (2312 GMT) from Space Launch Complex-40 on Cape Canaveral Space Force Station in Florida during an instantaneous launch window.
The 229 foot tall (70 meters) Falcon 9 lifted off with 1.7 million pounds of thrust generated by 9 Merlin main engines fueled by RP-1 kerosene and liquid oxygen propellants.
Falcon 9 flew away and aloft on a northeasterly trajectory at an inclination of 53.2 degress into the second Starlink orbital shell
The payload comprised 48 upgraded Starlink internet communications satellites manufactured by SpaceX in their Redmond, Washington production facility – enlarging the existing and burgeoning broadband constellation to nearly 1900 launched thus far.
Also on board were two geospatial intelligence Earth imaging observation satellites from Black Sky
The Black Sky satellites weigh approximately 121 pounds (55 kilograms) each and increase the current on orbit constellation to 10 – after two were launched recently by Rocket lab on Nov. 17.
Two more are launching soon on another Rocket Lab launch to raise the constellation to an even dozen.
With two more satellites on orbit, $BKSY is on track toward a 12-satellite constellation by year's end! Thanks for the ride @SpaceX and @SpaceflightInc! pic.twitter.com/7dEq7TztcS

— BlackSky (@BlackSky_Inc) December 3, 2021
Here's what Black Sky imaging is capable of – showing Falcon 9 prelaunch on pad 40:
No humans in the loop. Spectra AI auto-tasked our constellation and grabbed this image of today's @SpaceX launch with BlackSky's satellites.$BKSY Constellation: "We see you #Falcon9'er. C'mon up, the weather's fine!"#setandforget #tipandcue pic.twitter.com/6BTnB9D1ny

— BlackSky (@BlackSky_Inc) December 2, 2021
Thursday's launch was the 2nd for the upgraded Starlink following the 4-1 mission with 53 internet sats launched on Nov. 13 with lifted off through dense fog – see our story and photos.
Enjoy our Starlink 4-3 mission pre-launch and launch photos from the Space UpClose team of Ken Kremer and Jean Wright.
This brings the total number of SpaceX Falcon 9 launches this year to 27.
The 27th Falcon 9 launch in 2021 marked a new record – breaking the prior record of 26 set in 2020
With several more launches on the horizon before years end from both US coasts – that record is certain to grow!
Three more Falcon 9 launches are planned from Florida this month starting with NASA's IXPE X-Ray science mission on Dec. 9, Turksat 5B on Dec. 18 and NASA's CRS-24 resupply mission to the ISS set for Dec. 21.
The second stage fired for some six minutes and then coasted about another hour to inject initially the Black Skt satellites at 1 hour 3 minutes and 1 hour 6 minutes respectively followed by the Starlinks at 1 hour 29 minutes placing them  into their preliminary orbit.
The deployments occurred while the stage was flying outside the range of SpaceX ground stations
After deploying their solar panels to charge the batteries via solar power they will rise over time as krypton ion thrusters fire to raise them to about an altitude about 341-mile-high (550-kilometer), into a 53-degree inclination orbit
The 2 Black Sky satellites were deployed as planned:
Deployment of BlackSky satellites confirmed

— SpaceX (@SpaceX) December 3, 2021
The 48 Starlinks were all deployed as planned at about T + 1 hour 29 minutes, 28 seconds:
Deployment of 48 Starlink satellites confirmed

— SpaceX (@SpaceX) December 3, 2021
SpaceX also successfully nailed the landing of the Falcon 9 first stage booster designated as B1060 – now successfully completing its 9th trip to space and back and setting up a 10th launch at some point in the not too distant future.
Falcon 9 first stage B1060 previously launched eight times: first on GPS III-3 for the U.S. Space Force, followed by Turksat 5A, Transporter-2, and five Starlink missions.
This brings the total number of SpaceX launches this year to 27 – with several more on the horizon before years end from both US coasts.
The first and second stages separated approximately two-and-a-half minutes into flight.
The first stage then began its maneuvers for a propulsive soft landing using the center engine.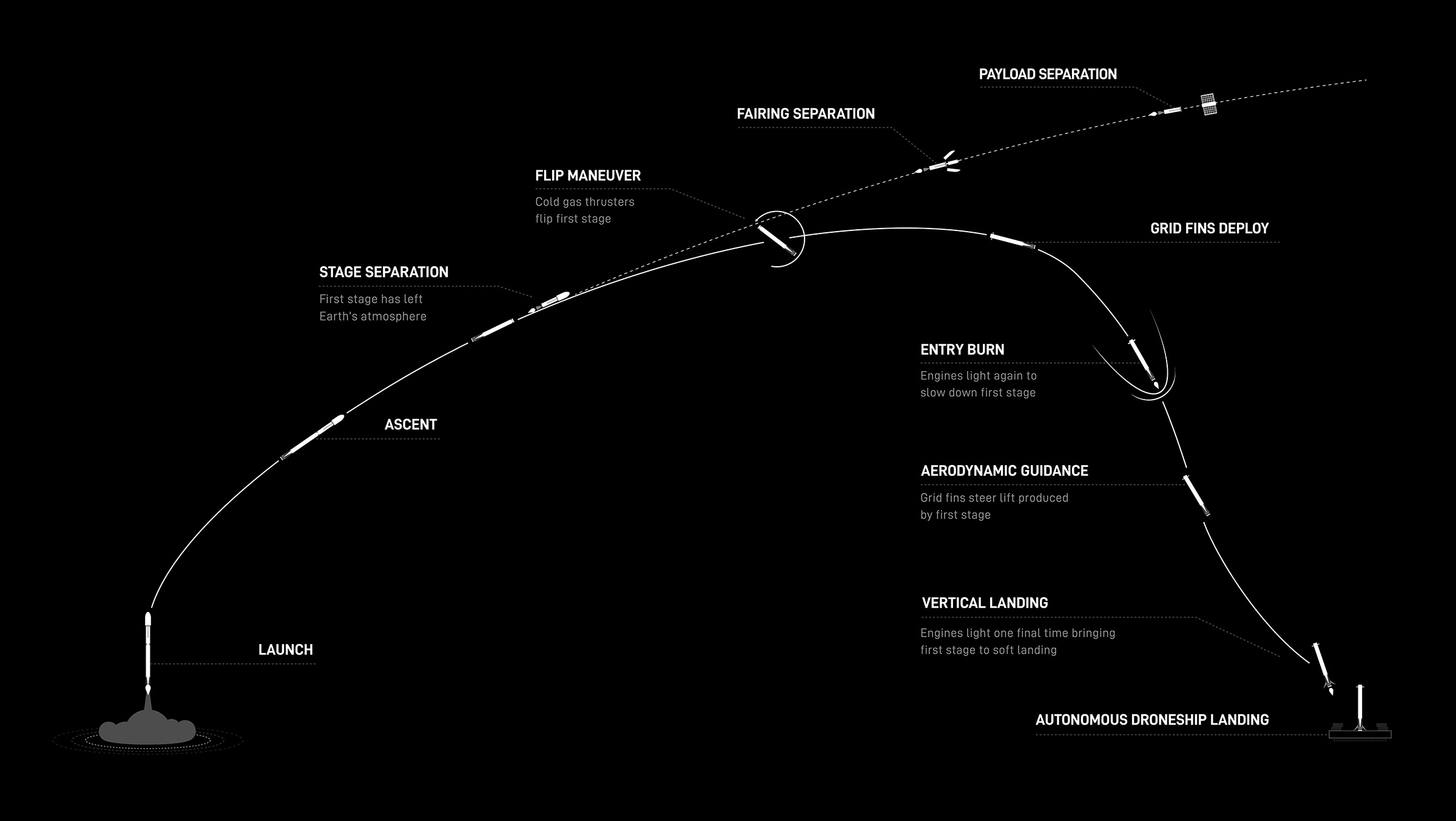 Following stage separation, SpaceX landed Falcon 9's first stage on the A Shortfall of Gravitas (ASOG) droneship, which was prepositioned in the Atlantic Ocean off the coast of the Carolinas over 400 miles (650 km) downrange from the Cape launch site.
This new batch of Starlink satellites has been upgraded with laser-based systems to enable better communicate with each other in orbit and be less ground dependent.
Overall the Starlink 4-3 mission was the 32nd Falcon 9 launch dedicated to carrying Starlink satellites to orbit for their high speed, low latency, low cost global broadband internet network service.
Altogether this brings the total number of Starlink satellites launched to orbit to 1,892 in the past two and a half years.
The first stage B1060 successfully soft-landed on the A Shortfall of Gravitas (ASOG)) drone ship as planned some eight and a half minutes after liftoff – making 89 successful booster landings overall
"The Falcon has landed," SpaceX webcast announcer said on the live broadcast.
"You can hear the cheer and applause and there's the visual; this first stage booster has landed a total of nine times."
"Falcon 9's first stage has landed on the A Shortfall of Gravitas droneship," SpaceX tweeted.
Falcon 9's first stage has landed on the A Shortfall of Gravitas droneship pic.twitter.com/mvnvL25hrf

— SpaceX (@SpaceX) December 2, 2021
The launch was delayed a day from Wednesday, Dec. 1 for unknown reasons.
SpaceX only completed the static fire test at 630 p.m. Wednesday.  It had been planned for Monday evening initially.
Liftoff video from SpaceX:
Liftoff! pic.twitter.com/7ZlakB8pSk

— SpaceX (@SpaceX) December 2, 2021
Ken's prelaunch commentary and photos of the Falcon 9 raised at pad 40 were featured on WFTV ABC 9 Orlando TV News
Ken is onsite at Cape Canaveral Space Force Station for the Starlink mission launch campaign
Watch Ken's continuing reports about SpaceX  Starlink , SpaceX Crew and Cargo Dragons, Artemis, SLS, Orion and NASA missions, DART,  Lucy Asteroid mission, Blue Origin and Space Tourism, Commercial Crew and Starliner and Crew Dragon and onsite for live reporting of upcoming and recent SpaceX and ULA launches including Crew 1 & 2 & 3, ISS, Solar Orbiter, Mars 2020 Perseverance and Curiosity rovers, NRO spysats and national security missions and more at the Kennedy Space Center and Cape Canaveral Space Force Station.
Stay tuned here for Ken's continuing Earth and Planetary science and human spaceflight news: www.kenkremer.com –www.spaceupclose.com – twitter @ken_kremer – email: ken at kenkremer.com
Dr. Kremer is a research scientist and journalist based in the KSC area, active in outreach and interviewed regularly on TV and radio about space topics.
………….
Ken's photos are for sale and he is available for lectures and outreach events
Please consider supporting Ken's work by purchasing his photos and/or donating at Patreon:
https://www.patreon.com/kenkremer
x