For SpaceUpClose.com & RocketSTEM
CAPE CANAVERAL SPACE FORCE STATION, FL –  After a days delay due to totally overcast and showery weather and with a dense Saturday morning fog spread all across the central Florida region, the thick layer of ground fog lifted just enough in literally the final minutes to unveil the tip of the payload housing nose cone enabling SpaceX to pierce the fog and launch the next batch of upgraded Starlink internet satellites into a new orbital shell on a veteran Falcon 9 rocket.
Blastoff of the recycled SpaceX Falcon 9 on the Starlink 4-1 mission took place right on time punching through deep Cape fog at 7:19:30 a.m. EST (1219:30 GMT) from Space Launch Complex-40 on Cape Canaveral Space Force Station in Florida during an instantaneous launch window.
The fog hanging over the pad and Cape region cleared just in the nick of time as the sun rose to unveil the tip of the four lightning masts and the top of the Falcon 9 nose cone to reveal its location just is it cleared the pad – not visible in the launch photos.
The 229 foot tall (70 meters) Falcon 9 lifted off with 1.7 million pounds of thrust generated by 9 Merlin main engines fueled by RP-1 kerosene and liquid oxygen propellants.
The payload comprised 53 Starlink internet communications satellites manufactured by SpaceX in their Redmond, Washington production facility – enlarging the existing and burgeoning broadband constellation.
SpaceX also nailed the landing of the Falcon 9 first stage booster designated as B1058 – now successfully completing its 9th trip to space and back.
Falcon 9 first stage B1058 previously launched eight times: first on the Crew Demo-2 launch with NASA of astronauts Doug Hurley and Bob Behnken on SpaceX's first crewed mission to orbit and the ISS, followed by ANASIS-11, CRS-21 cargo resupply to ISS for NASA, Transporter-1, and now five Starlink missions.
The Starlink launch also marks as the second by a SpaceX Falcon 9 rocket this week – following the NASA ESA Crew-3 mission launch by just two and a half days which lifted off Wednesday evening Nov. 10, at 9:03 p.m. EST (0203 GMT on Nov. 11, from nearby pad 39A, with a quartet of US and German astronauts and later successfully docked at the International Space Station barely 22 hours later on Thursday evening, Nov. 11.
This brings the total number of SpaceX launches this year to 25 – with several more on the horizon before years end from both US coasts.
The first and second stages separated approximately two-and-a-half minutes into flight.
The first stage then began its maneuvers for a propulsive soft landing using the center engine.
The second stage fired for some six minutes and then coasted about another seven minutes to inject the Starlinks into their preliminary orbit of about 141 miles (227 kilometers) over the North Atlantic Ocean.
After deploying their solar panels to charge the batteries via solar power they will rise over time as krypton ion thrusters fire to raise them to about 335 miles (540 kilometers) altitude.
The Starlinks were all deployed as planned at about T + 15 minutes, 31 seconds:
Deployment of 53 Starlink satellites confirmed pic.twitter.com/bnYtOqUUfC

— SpaceX (@SpaceX) November 13, 2021
This new batch of Starlink satellites has been upgraded with laser-based systems to enable better communicate with each other in orbit and be less ground dependent.
Overall the Starlink 4-1 mission was the 31st Falcon 9 launch dedicated to carrying Starlink satellites to orbit for their global broadband internet network service.
Altogether this brings the total number Starlink satellites launched to orbit to 1,844 in the past two and a half years.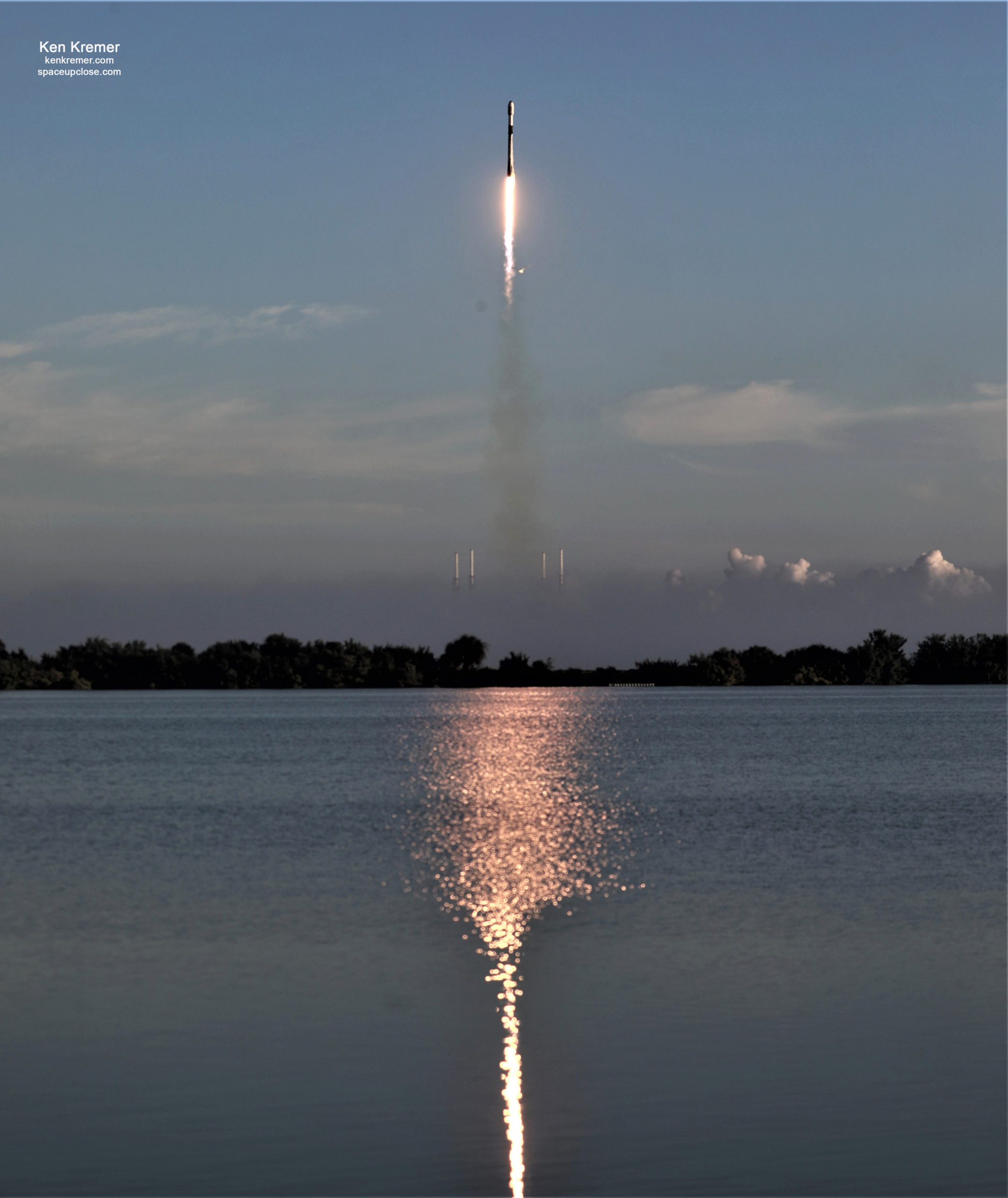 Enjoy our Starlink 4-1 mission pre-launch and launch photos from the Space UpClose team of Ken Kremer and Jean Wright.
The first stage B1058 successfully soft-landed on the Just Read the Instructions (JRTI) drone ship as planned some eight and a half minutes after liftoff – making 87 successfully booster landings overall.
"Falcon has landed," SpaceX Dragon propulsion engineer Youmei Zhou said during live SpaceX launch webcast.
"This marks the 87th overall successful recovery of a Falcon 9 first stage."
"Falcon 9's first stage has landed on the Just Read the Instructions droneship," SpaceX tweeted.
Falcon 9's first stage has landed on the Just Read the Instructions droneship

— SpaceX (@SpaceX) November 13, 2021
JRT was prepositioned off the Carolina's coast ahead of launch.
The launch was delayed a day from Friday because of poor local Cape launch and downrange booster recovery weather.
Ken's post launch comments about Crew-3 and Starlink preview and Falcon 9 rocket photos were featured on local ABC WFTV, NBC WESH 2 and Fox 35 TV News outlets in Orlando on Nov. 10 & 11:
https://www.wftv.com/news/local/crew-3-set-dock-iss-ahead-schedule/WTWJDQPWPVCKZIRHW6Y7QMNCOY/
https://www.wesh.com/article/crew-3-launch-wednesday/38212223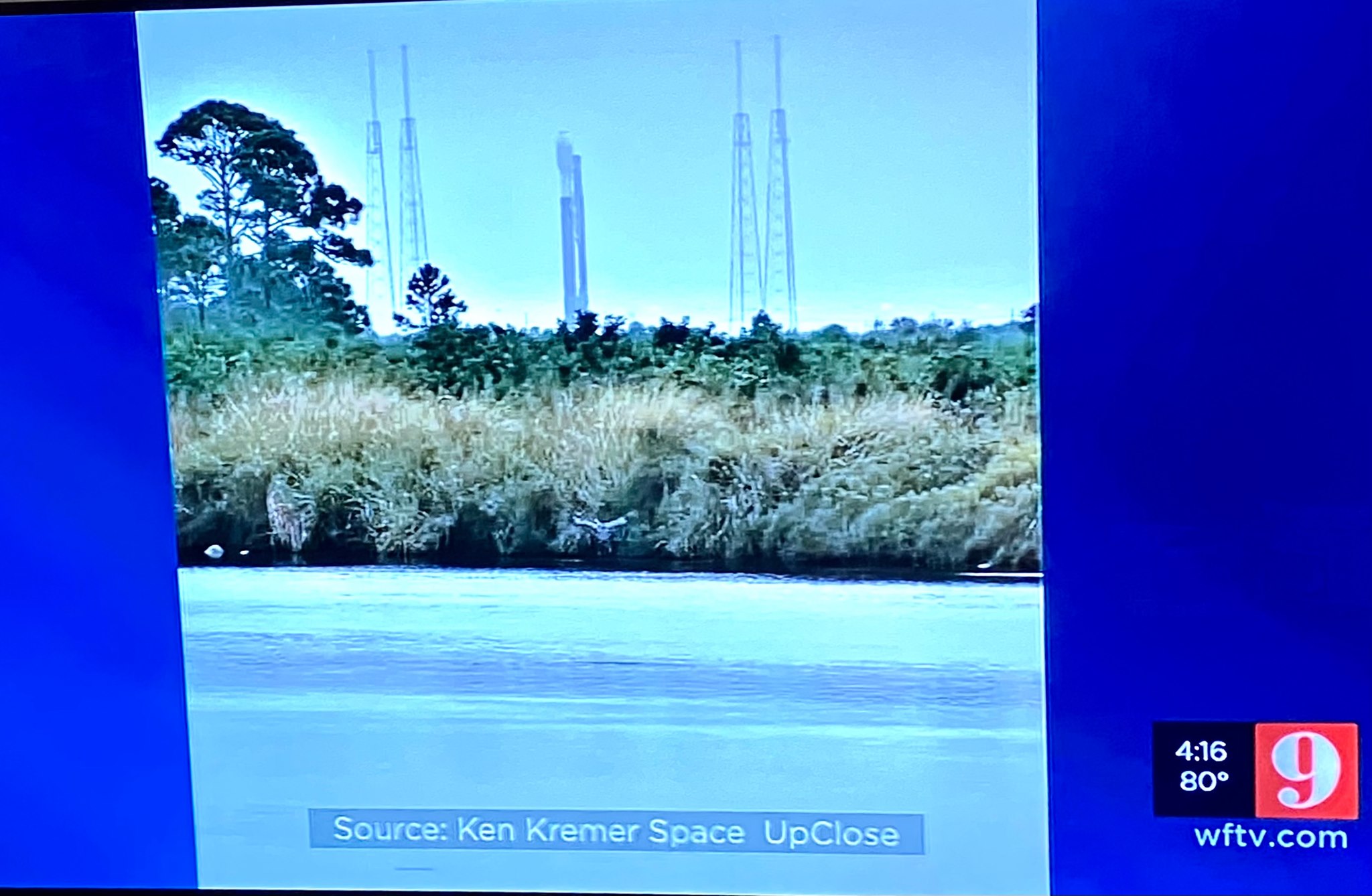 Ken's prelaunch comments about the Crew-2 & Crew-3 missions were featured on local CBS, NBC and Fox TV News outlets in Orlando:
Nov. 8 & 9 broadcasts on WESH 2 NBC and Fox 35:
https://www.wesh.com/article/crew-2-splashdown-monday/38192367
https://www.fox35orlando.com/video/999350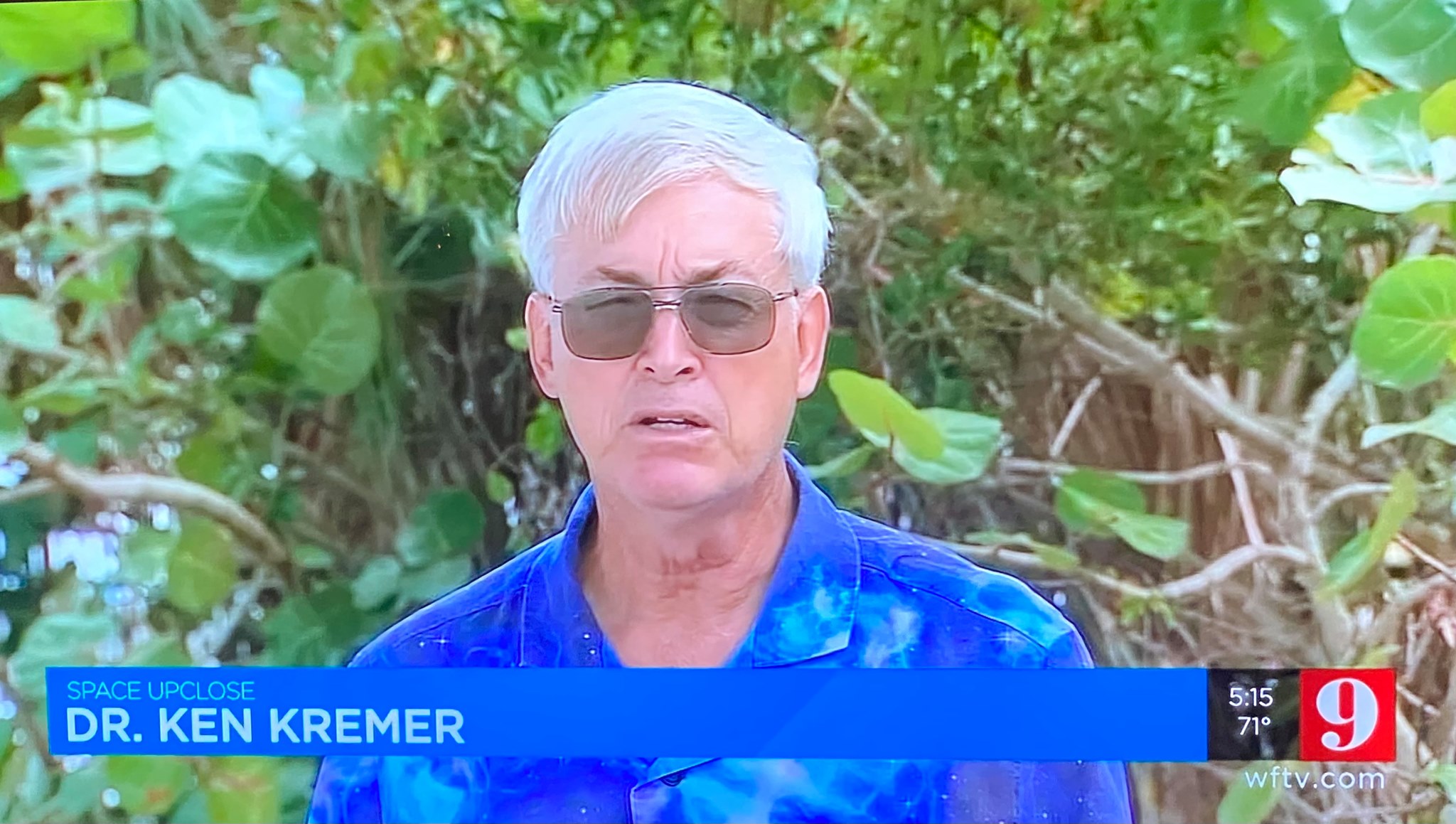 Nov. 5 broadcast on WKMG CBS 6 Orlando TV News:
https://www.clickorlando.com/news/local/2021/11/05/spacex-nasa-weigh-astronaut-rotation-schedule-as-bad-weather-continues-launch-delay/
Ken's photos of the static fire test were featured on WKMG CBS 6 Orlando TV News
Ken is onsite at KSC for the Crew-3 mission launch campaign
Watch Ken's continuing reports about SpaceX Crew and Cargo Dragons, Artemis, SLS, Orion and NASA missions, Lucy Asteroid mission, Blue Origin and Space Tourism, SpaceX  Starlink, Commercial Crew and Starliner and Crew Dragon and onsite for live reporting of upcoming and recent SpaceX and ULA launches including Crew 1 & 2 & 3, ISS, Solar Orbiter, Mars 2020 Perseverance and Curiosity rovers, NRO spysats and national security missions and more at the Kennedy Space Center and Cape Canaveral Space Force Station.
Stay tuned here for Ken's continuing Earth and Planetary science and human spaceflight news: www.kenkremer.com –www.spaceupclose.com – twitter @ken_kremer – email: ken at kenkremer.com
Dr. Kremer is a research scientist and journalist based in the KSC area, active in outreach and interviewed regularly on TV and radio about space topics.
………….
Ken's photos are for sale and he is available for lectures and outreach events
Please consider supporting Ken's work by purchasing his photos and/or donating at Patreon:
https://www.patreon.com/kenkremer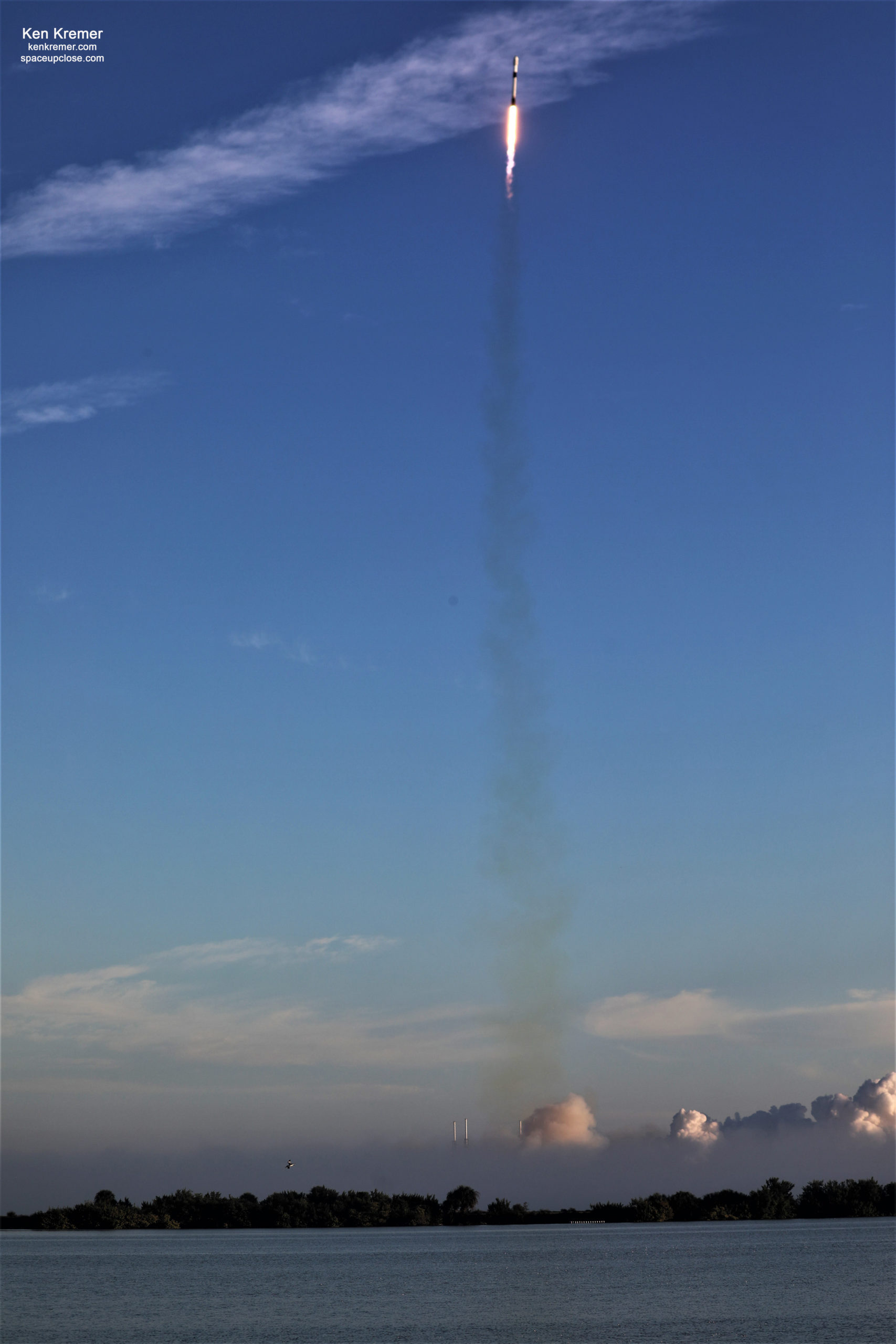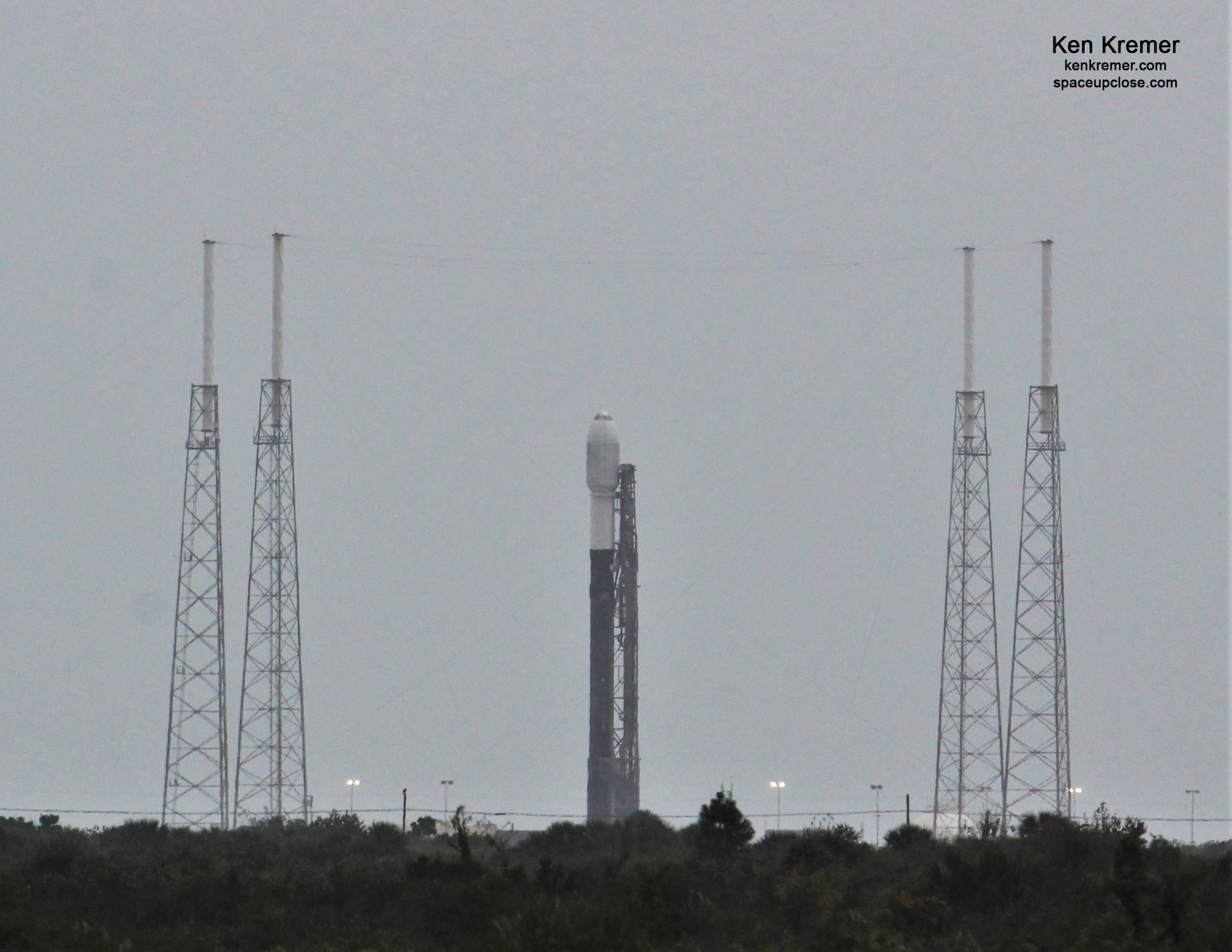 x