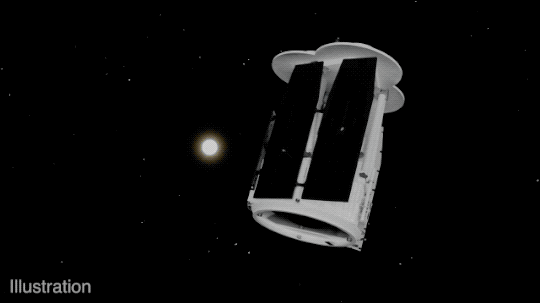 For SpaceUpClose.com & RocketSTEM
CAPE CANAVERAL/KENNEDY SPACE CENTER, FL –  NASA's newest X-ray observatory – the Imaging X-ray Polarimetry Explorer, or IXPE – extended its origami like boom successfully Dec. 15 that had been folded up for launch inside the nose cone of the Falcon 9 carrier rocket and thereby enabling IXPE to soon carry out its unprecedented science mission to study the most extreme and violent X-Ray objects in the universe such as supermassive black holes and neutron stars.
IXPE launched flawlessly last week just past midnight, on Thursday, Dec. 9 tucked up snugly inside the nose cone of reused SpaceX Falcon 9 rocket from the Kennedy Space Center on Florida's Space Coast under outstanding weather conditions.
The boom holds the telescopes mirrors and three identical telescopes and had to be extended about 13 feet (4 meters) away from the detectors at the base placing the mirrors at the right distance to focus X-ray light onto IXPE's detectors.
That's too large to fit inside some rocket fairings.
"When it launched, our newest X-ray observatory #IXPE was folded up inside its rocket's nose like origami! Now it has successfully unfolded, extending the boom that puts the mirrors at the right distance to focus X-ray light onto its detectors," NASA tweeted. 
🚀 When it launched, our newest X-ray observatory #IXPE was folded up inside its rocket's nose like origami! Now it has successfully unfolded, extending the boom that puts the mirrors at the right distance to focus X-ray light onto its detectors. 🥳 More: https://t.co/fNL3yCER6h pic.twitter.com/wBwuLAbsUq

— NASA Universe (@NASAUniverse) December 16, 2021
Before launch IXPE's long boom had to be folded up, like origami, into a 12-inch (0.3-meter) cannister. Then it had to stretch out again in orbit post launch.
Following the boom deployment IXPE is now a big step closer to carrying out its X-Ray science mission.
"For those of us in the space game, moving parts are always frightening," said Martin Weisskopf, IXPE's principal investigator at NASA's Marshall Space Flight Center. "Right now, I'm smiling from ear to ear."
IXPE is the first satellite dedicated to measuring the polarization of X-rays from a variety of cosmic sources, such as black holes and neutron stars.
NASA's #IXPE mission extended its boom successfully on Dec. 15, giving the observatory the ability to see high-energy X-rays. The mission is now one step closer to studying some of the most energetic and mysterious places in the universe in a new way: https://t.co/j7cQttqW22 https://t.co/OwDE0fN7tt

— Thomas Zurbuchen (@Dr_ThomasZ) December 16, 2021
The IXPE observatory features three identical telescopes, each with a mirror assembly and a polarization-sensitive detector.
With the boom now deployed, the team can now move to the the next step where mission specialists will focus on commissioning the telescopes, preparing them for the spacecraft's first science.
Although the $214 million IXPE telescope is rather small in size like a refrigerator it has a big goal.
The IXPE observatory is NASA's 1st probe dedicated to measuring and studying the polarization of X-rays coming to us from some of the universe's most extreme and mysterious sources including supernova remnants, supermassive black holes, dead stars known as pulsars and dozens of other high-energy objects.
It has a mass of just 727 pounds (330 kilograms) and measures 1.1 m (3 ft 7 in) in diameter and 5.2 m (17 ft) tall. When the solar arrays are fully deployed it measures 2.7 m (8 ft 10 in).
IXPE fills only a very small volume inside the Falcon 9 payload shroud.
In fact IXPE is the smallest dedicated payload ever launched on a Falcon 9.
IXPE is an international science mission conducted as a joint effort with the Italian Space Agency (ASI).  ASI supplied the state-of-the-art detectors
IXPE promises to reveal hidden X-ray features of the universe's most energetic objects like black holes and supernovae – and provide insight into our understanding of X-ray production in objects such as neutron stars and pulsar wind nebulae, as well as stellar and supermassive black holes," according to NASA officials.
The Falcon 9 launched on a highly energetic trajectory to place the low mass IXPE into a circular orbit of approximately 372 miles (600 kilometers) altitude and use a 'dogleg' change of plane maneuver from the launch inclination of 28.5 degrees to achieve a 0 degree inclination with respect to the Earth's equator.
This change of plane required most of the Falcon 9s fuel and prevented a landing of the first stage on the Cape.
By using an orbit hugging the equator it will minimize the X-ray instrument's exposure to radiation in the South Atlantic Anomaly, the region where the inner Van Allen Radiation belt comes closest to Earth's surface.
Watch this NASA video explaining what polarization means:
Our newest orbiting observatory will study the universe's polarized X-rays. But why does it matter if an X-ray is polarized… and what does being "polarized" mean, anyway?@NASAUniverse has the explanation on how #IXPE is upgrading NASA's X-ray vision: https://t.co/gY20aNJj0s pic.twitter.com/nODp1TnDFQ

— NASA (@NASA) December 10, 2021
Enjoy our UpClose launch and pre-launch pad 39A photos of the SpaceX Falcon 9 hosting IXPE taken by Ken Kremer for Space UpClose during our media remote camera setup.
NASA selected IXPE as a Small Explorer mission in 2017.
The IXPE project is a collaboration between NASA and the Italian Space Agency. NASA's Marshall Space Flight Center in Huntsville, Alabama manages the IXPE mission. Ball Aerospace, headquartered in Broomfield, Colorado, manages spacecraft operations with support from the University of Colorado at Boulder.
Ball Aerospace built the spacecraft.
The launch is managed by NASA's Launch Services Program, based at Kennedy.
NASA's Goddard Space Flight Center in Greenbelt, Maryland, manages the Explorers Program for the agency's Science Mission Directorate in Washington.
IXPE is the second SpaceX Falcon 9 mission to launch in a week from the Cape following the Starlink 4-3 launch on Dec. 2
SpaceX has two more launches planned from KSC before the end of the year
Turksat-5B comsat is scheduled for Dec. 18 from pad 40 and the NASA CRS-24 resupply mission to the ISS on Dec. 21
Watch Ken's continuing reports about IXPE, DART, National Security missions SpaceX Crew and Cargo Dragons, Artemis, SLS, Orion and NASA missions, Lucy Asteroid mission, SpaceX Starlink, Blue Origin and Space Tourism, Commercial Crew and Starliner and Crew Dragon and onsite for live reporting of upcoming and recent SpaceX and ULA launches including Crew 1 & 2 & 3, ISS, Solar Orbiter, Mars 2020 Perseverance and Curiosity rovers, NRO spysats and national security missions and more at the Kennedy Space Center and Cape Canaveral Space Force Station.
Stay tuned here for Ken's continuing Earth and Planetary science and human spaceflight news: www.kenkremer.com –www.spaceupclose.com – twitter @ken_kremer – email: ken at kenkremer.com
Dr. Kremer is a research scientist and journalist based in the KSC area, active in outreach and interviewed regularly on TV and radio about space topics.
………….
Ken's photos are for sale and he is available for lectures and outreach events
Please consider supporting Ken's work by purchasing his photos and/or donating at Patreon:
https://www.patreon.com/kenkremer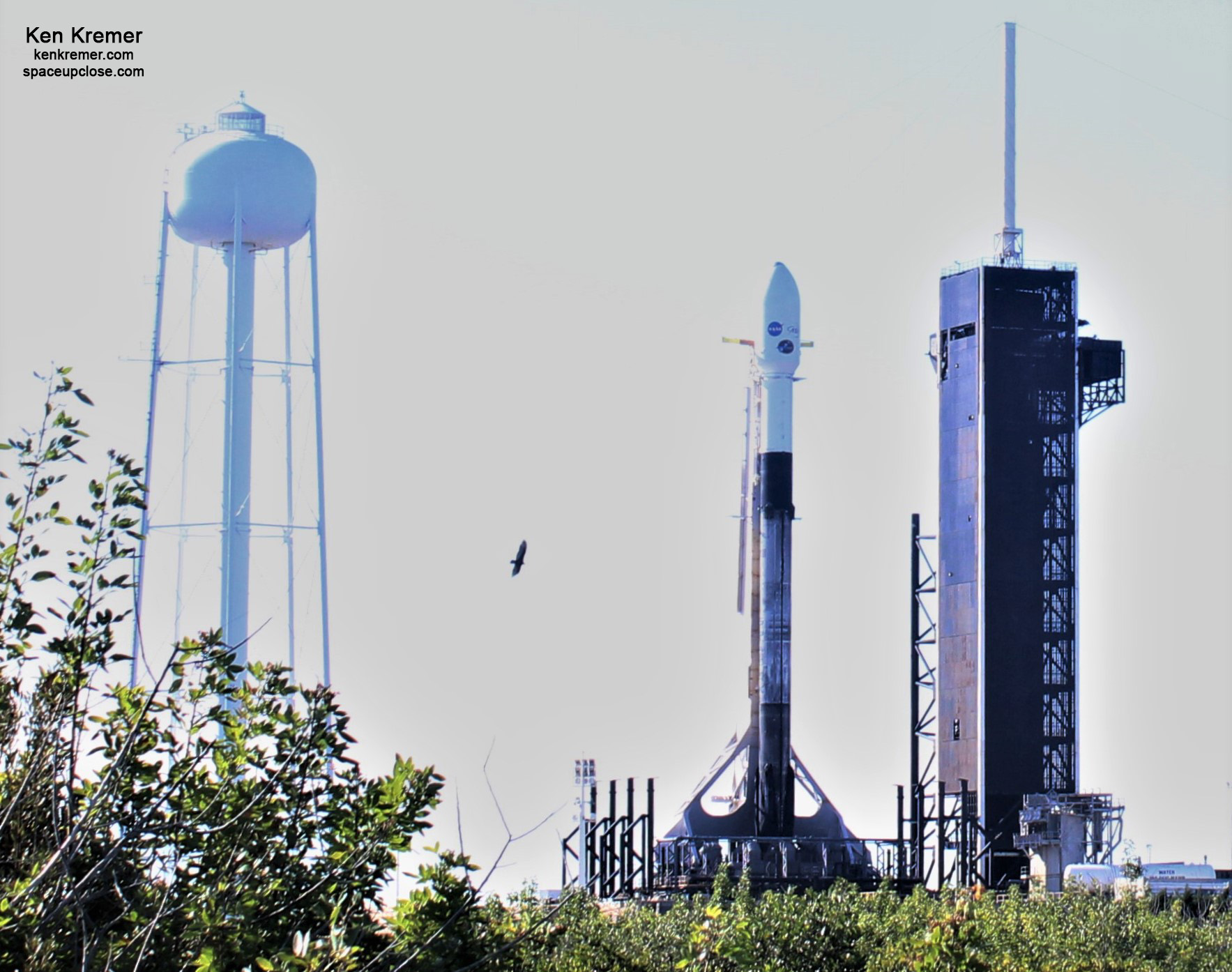 x