For SpaceUpClose.com & RocketSTEM
CAPE CANAVERAL, FL – NASA's James Webb Space Telescope (JWST) has been fueled with propellants to steer itself in space and carry out its groundbreaking science observations and is nearly ready for flight as launch preparations were resumed following a payload processing incident in mid-November that delayed the scheduled launch date on an Arianespace Ariane 5 rocket from Kourou, French Guiana by about one week – and is now targeted for later December.
Webb will operate in a halo orbit at the L2 Lagrange point approx. 1 million miles (1.6 million km) from Earth after liftoff and about a 1-month journey.
Launch processing for the $9.8 Billion Webb observatory had been interrupted in November following an incident that occurred during launch preparations that resulted in unexpected vibrations impacting the entire telescope assembly.
The incident occurred during operations at the satellite preparation facility in Kourou, French Guiana, performed under Arianespace overall responsibility which is responsible for the JWST launch campaign.
"Technicians were preparing to attach Webb to the launch vehicle adapter, which is used to integrate the observatory with the upper stage of the Ariane 5 rocket. A sudden, unplanned release of a clamp band – which secures Webb to the launch vehicle adapter – caused a vibration throughout the observatory," NASA officials said.
"The NASA-led anomaly review board was immediately convened to investigate and instituted additional testing to determine with certainty the incident did not damage any components."
Following this additional testing completed by engineering teams at the request of NASA and the telescope mission partners the results confirmed on Nov. 24 that NASA's James Webb Space Telescope was ready for flight and could resume to the next stage of launch preparations – then targeted for launch on Wednesday, Dec. 22, at 7:20 a.m. EST.
"On Wednesday, Nov. 24, engineering teams completed these tests, and a NASA-led anomaly review board concluded no observatory components were damaged in the incident. A "consent to fuel" review was held, and NASA gave approval to begin fueling the observatory," NASA announced.
The James Webb Space Telescope is on track for a launch date of Dec. 22.

Additional testing, which was conducted due to an incident in launch preparations, concluded no observatory components were damaged. Observatory fueling operations begin on Nov. 25: https://t.co/3E4UopkVZG pic.twitter.com/aPZJPIBtCQ

— NASA Webb Telescope (@NASAWebb) November 25, 2021
Fueling operations began Nov. 25 and were expected to take about 10 days until around Dec. 3.
Technicians then began fueling operations for the Webb Telescope inside the payload preparation facility at Europe's Spaceport in French Guiana ahead of its launch on the Ariane 5 rocket.
🦃 ❤️ From our Webb family to yours, we hope you had a wonderful #Thanksgiving!

For this week's blog post, we asked people from across our mission why they're thankful for the Webb telescope. Here's what they said: https://t.co/mBz8I4RGgF pic.twitter.com/fjUtwXeUdr

— NASA Webb Telescope (@NASAWebb) November 26, 2021
Webb fueling operations were completed by ground team technicians by Dec. 3 with the propellant it will use "to steer itself while in space and make critical course-corrections after separation from Ariane 5, to maintain its prescribed orbit about one and a half million kilometres from Earth (1 million miles), and to repoint the observatory and manage its momentum during operations," ESA officials said.
In preparation for launch later this month, ground teams have successfully completed the delicate operation of loading @NASAWebb with the propellant it will use to steer itself while in space. One step closer to liftoff!

Learn more: https://t.co/zyoBrYVQGp #UnfoldTheUniverse pic.twitter.com/Tq0s7ALLEi

— Thomas Zurbuchen (@Dr_ThomasZ) December 6, 2021
The propellant tanks were filled separately with 292 pounds (133 kilograms) of dinitrogen tetroxide oxidiser and 369 pounds (168 kilograms) of hydrazine. Oxidiser improves the burn efficiency of the hydrazine fuel.
"In order to make critical course corrections shortly after launch, to maintain its prescribed orbit nearly 1 million miles from Earth, and to repoint the observatory and manage its momentum during operations, Webb was built with a total of 12 rocket thrusters. These rocket thrusters use either hydrazine fuel or a special mixture of hydrazine fuel and dinitrogen tetroxide oxidizer."
To safely handle these extremely toxic propellants, Webb was moved to the fueling section of the Ariane payload preparation facility at Europe's Spaceport in French Guiana to fuel the extremely toxic propellants.
Specialists wore Self-Contained Atmospheric Protective Ensemble, or "SCAPE," suits while loading the observatory.
Webb is all fueled up & ready to #unfoldtheuniverse! Why does Webb carry propellant? How is it used? Read the answers, plus learn about the challenges unique to fueling Webb in a blog by integration, test, & commissioning project scientist Randy Kimble: https://t.co/KYXHnVHwFD pic.twitter.com/d3dt00KoJ4

— NASA Webb Telescope (@NASAWebb) December 6, 2021
"The loading of propellants into the Webb observatory is complete at the Arianespace launch facilities in Kourou, French Guiana. This is an important step in the path toward launch," said Randy Kimble, NASA Webb integration, test, and commissioning project scientist.
"The vast majority of the launch energy required to send Webb to its operating orbit around the Sun-Earth Lagrange point L2 will be provided by the massive Ariane 5 rocket. Nevertheless, the observatory carries propellants of its own. After being released from the launcher, Webb will use its own system of small rocket thrusters to fine-tune its approach to its final halo orbit around the L2 point (illustrated below), where the telescope and instruments will cool in the shade of the enormous sunshield, protected from the heat of the Sun, Earth, and Moon. Mid-Course Correction maneuvers for refining the trajectory are planned (nominally) for 12.5 hours and 2.5 days after launch, with a third one month later, to ease Webb into its L2 orbit. Those same thrusters will be used periodically throughout the mission to maintain that orbit, with small maneuvers called 'station keeping.'
"A second set of smaller thrusters on the observatory compensate for momentum buildup caused by the pressure of solar radiation onto the large area of the sunshield. Although Webb is designed to keep that pressure well balanced, angular momentum builds up as the telescope points at different targets, so occasional, small momentum-unloading maneuvers are required to keep the observatory's reaction wheels within their proper operating ranges. Reaction wheels are flywheels in the Webb spacecraft that help keep the payload's orientation stable."
"Propellant loading was the final major operation for the observatory itself, before it moves to the Final Assembly Building (BAF is the French acronym) for integration with the Ariane 5 launch vehicle."
Watch this cool video of the fueling operation:
What does a "gas station" look like for the world's largest space telescope? ⛽

Watch the James Webb Space Telescope get moved to its fueling area in part 5 of its Journey to Space. Next stop: the vehicle assembly building, where Webb will be placed on top of its rocket! 🚀 pic.twitter.com/JWL02qq0zK

— NASA Webb Telescope (@NASAWebb) December 6, 2021
The next step is to place it on top of the Ariane 5 rocket
⛽ Teams have finished loading the James Webb Space Telescope with the fuel it will use to steer itself in space! Webb will soon be placed on top of its @Ariane5 rocket for launch on Dec. 22: https://t.co/oUUEEByeGL

Credit: © ESA-CNES-Arianespace/Optique video du CSG – P Piron pic.twitter.com/6wkYlYcdvO

— NASA Webb Telescope (@NASAWebb) December 6, 2021
NASA is planning extensive prelaunch and launch coverage of the JWST mission.
Details here:
https://www.nasa.gov/mission_pages/webb/main/index.html
https://www.nasa.gov/feature/nasa-invites-public-to-share-excitement-of-webb-space-telescope-launch
Live countdown commentary and launch broadcast will begin at 5:50 a.m. EST and air on NASA Television and the agency's website, as well as YouTube, Twitter, Facebook, LinkedIn, Twitch, Daily Motion, Theta.TV and NASA's App.
The Webb Telescope is a joint international collaborative project between NASA, the European Space Agency (ESA) and the Canadian Space Agency (CSA).
Webb is designed to look at the first light of the Universe and will be able to peer back in time to when the first stars and first galaxies were forming.  It will also study the history of our universe and the formation of our solar system as well as other solar systems and exoplanets, some of which may be capable of supporting life on planets similar to Earth.
"It will explore every phase of cosmic history – from within our solar system to the most distant observable galaxies in the early universe, and everything in between. Webb will reveal new and unexpected discoveries, and help humanity understand the origins of the universe and our place in it," says NASA.
I observed JWST many times while under construction at NASA Goddard Spaceflight Center in Greenbelt, MD.
This photo shows the science instrument/mirror module in the Goddard cleanroom after installation of the 18 primary mirrors was completed.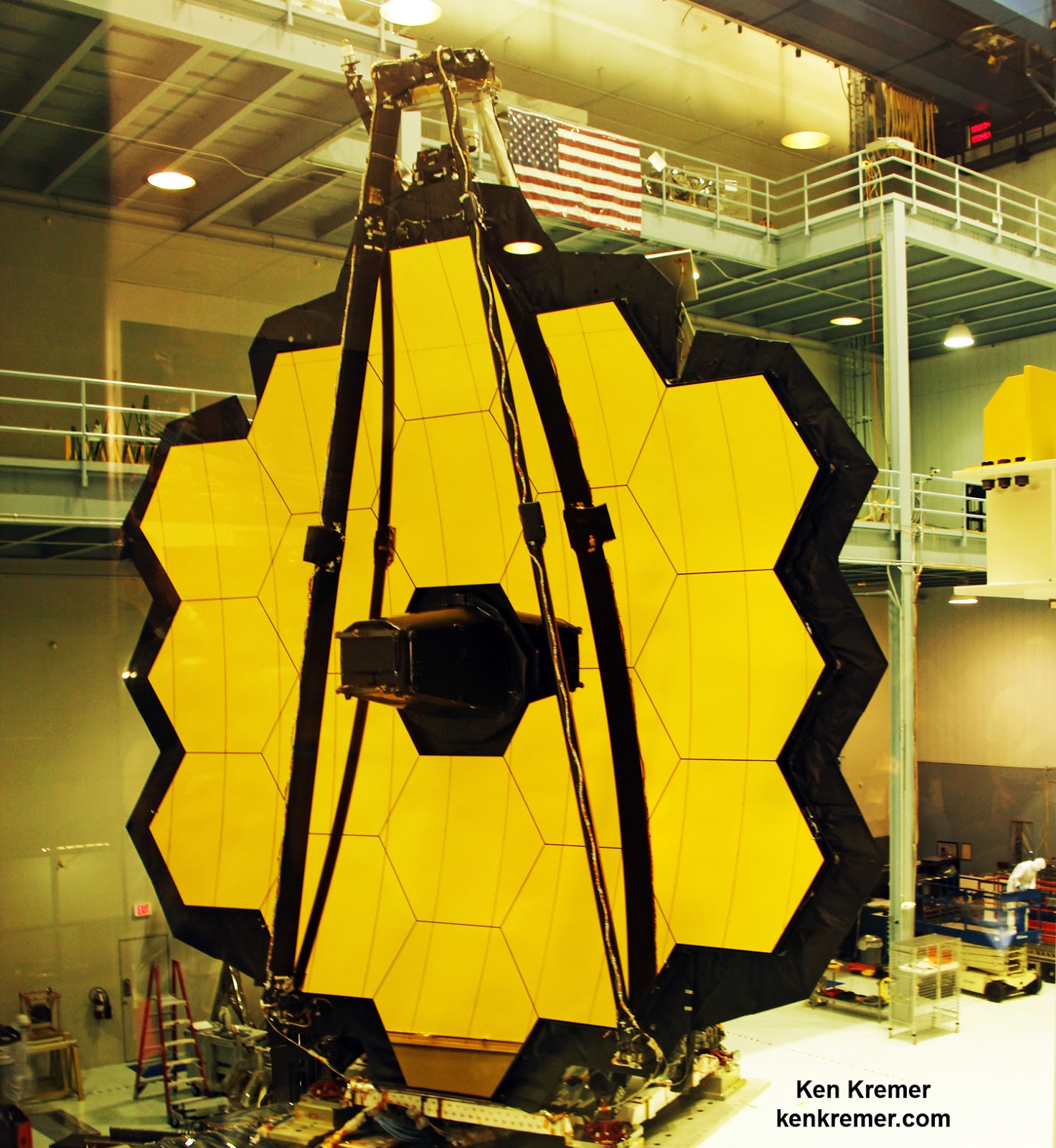 JWST is the largest, most powerful and most complex space telescope ever built. It will serve as the scientific successor to NASA's world famous and phenomenally successful Hubble Space Telescope (HST).
It will be launched on an Ariane 5 rocket, folded up like origami inside the nose cone which measures 5.4 meters in diameter and 17 meters tall.
Given that Ariane 5's fairing is 5.4 meters in diameter and 17 meters tall; do you know the telescope's dimensions?#WebbFliesAriane #ArianeGroup #Ariane5 pic.twitter.com/a1YXySOnNA

— ArianeGroup (@ArianeGroup) December 10, 2021
Watch this space for my ongoing reports on JWST mirrors, science, construction and testing.
Watch Ken's continuing reports about JWST, IXPE, DART, SpaceX Crew and Cargo Dragons, Artemis, SLS, Orion and NASA missions, Lucy Asteroid mission, SpaceX Starlink, Blue Origin and Space Tourism, Commercial Crew and Starliner and Crew Dragon and onsite for live reporting of upcoming and recent SpaceX and ULA launches including Crew 1 & 2 & 3, ISS, Solar Orbiter, Mars 2020 Perseverance and Curiosity rovers, NRO spysats and national security missions and more at the Kennedy Space Center and Cape Canaveral Space Force Station.
Stay tuned here for Ken's continuing Earth and Planetary science and human spaceflight news: www.kenkremer.com –www.spaceupclose.com – twitter @ken_kremer – email: ken at kenkremer.com
Dr. Kremer is a research scientist and journalist based in the KSC area, active in outreach and interviewed regularly on TV and radio about space topics.
………….
Ken's photos are for sale and he is available for lectures and outreach events
Please consider supporting Ken's work by purchasing his photos and/or donating at Patreon:
https://www.patreon.com/kenkremer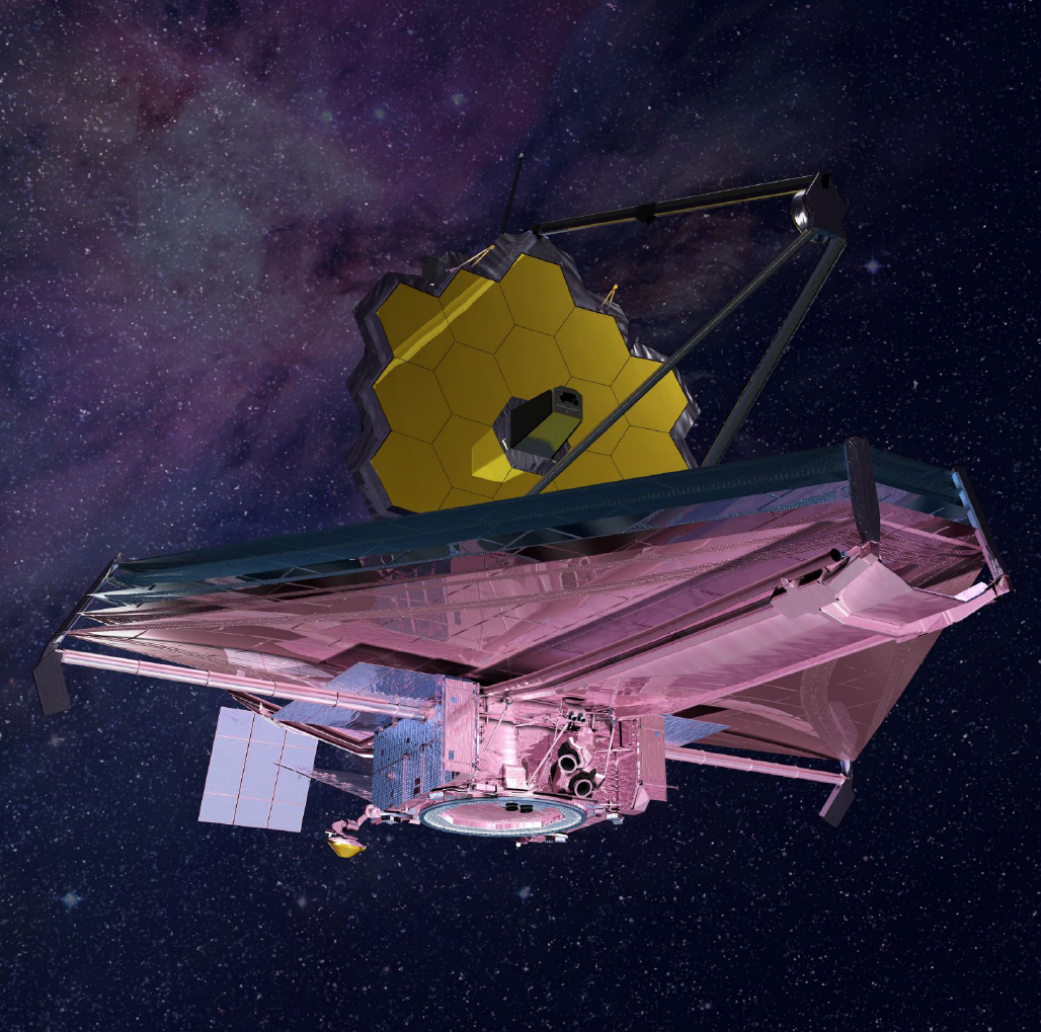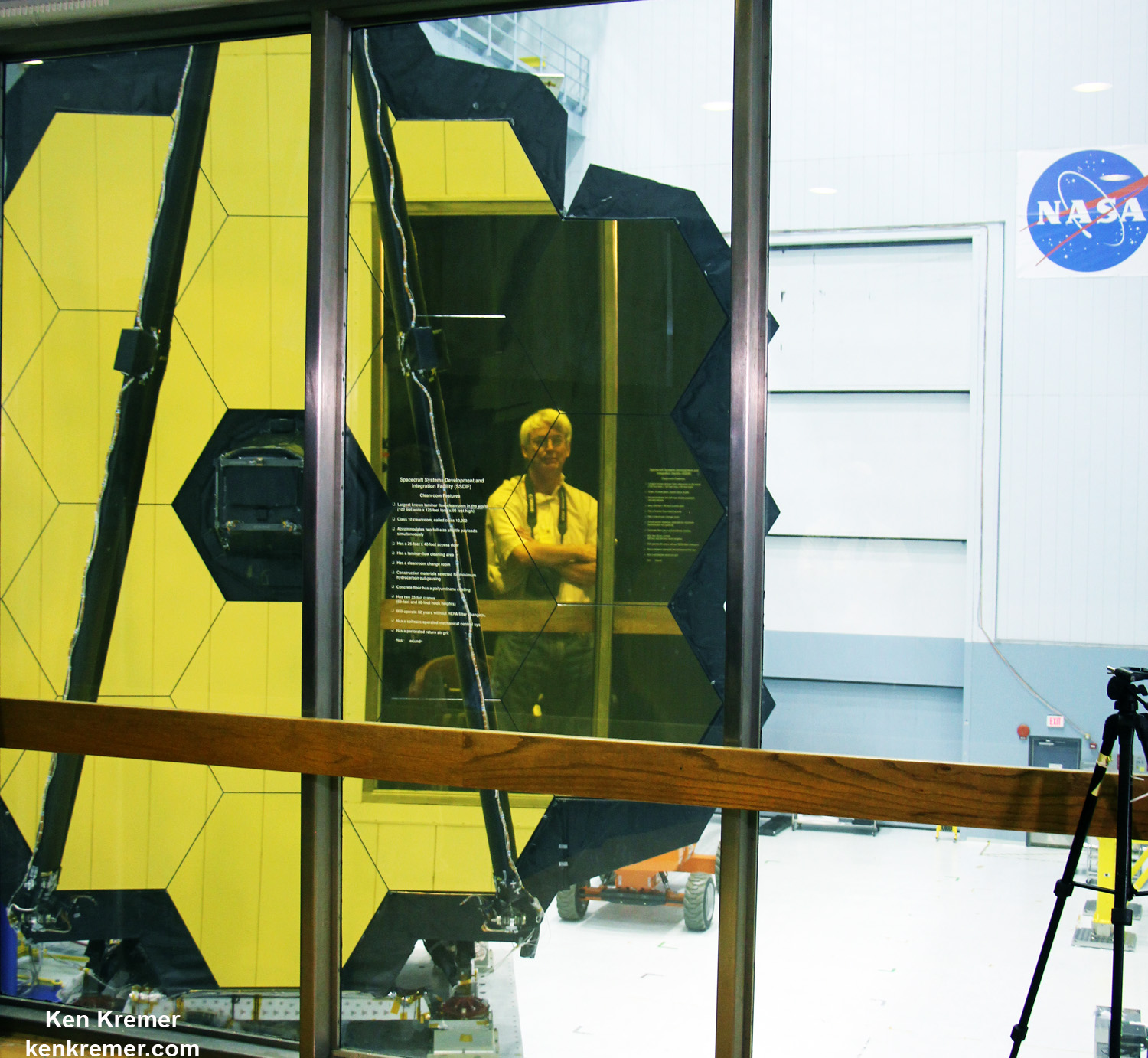 x