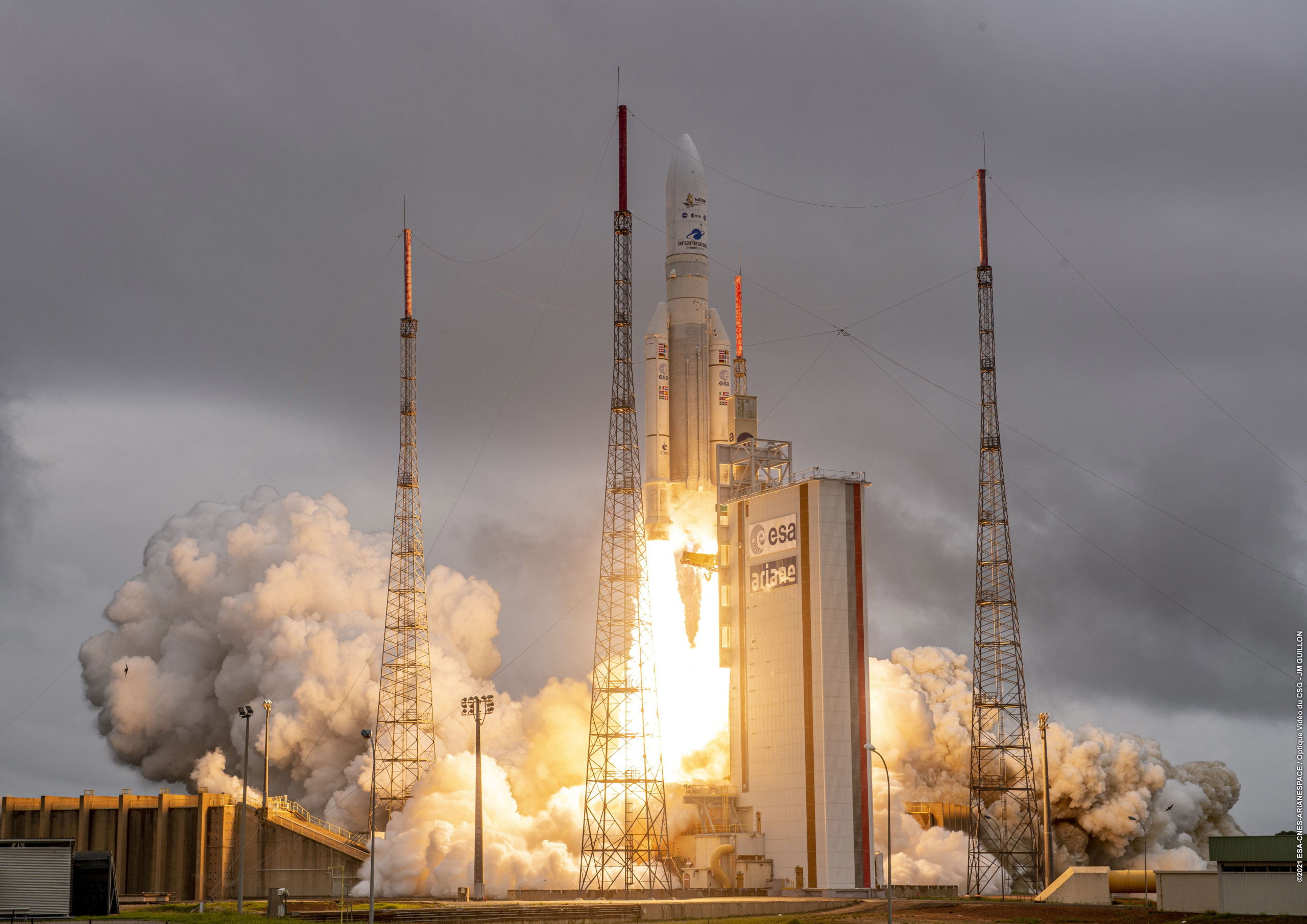 CAPE CANAVERAL, FL – After much blood, sweat and tears expended over two decades in the making, NASA's mammoth James Webb Space Telescope (JWST) launched at last on Christmas morning, Saturday, Dec. 25, from the Guiana Space Center in South America on a robotic mission as a cosmic time machine peering back to nearly the beginning of time to see first light and explore the formation of the first stars and galaxies in our Universe – while operating from a unique orbital perch a million miles (1.5 million km) from Earth.
Webb is truly a Christmas gift to all humanity – and a Christmas miracle as the stars aligned!
The giant school bus sized and nearly 6.8-ton (6.2-metric ton) infrared observatory has huge ambitions – despite being billions over budget and years behind schedule and faced down cancellation from short-sighted budget cutters in Congress.
It seeks to ask and answer the big questions – Who we are? How did we come to be?  by looking back to the birth of the Universe
The $9.8 Billion Webb observatory – intricately folded up like origami inside the nose cone – launched at 7:20 a.m. EST (9:20 a.m. GFT  / 1220 GMT / 13:20 CET). Saturday, Dec. 25, on a 55 m (180 ft) tall Arianespace Ariane 5 rocket from Europe's jungle Spaceport at the ELA-3 launch complex in Kourou, French Guiana, on the northeastern coast of South America.
"Liftoff from a tropical rainforest to the edge of time itself, James Webb begins a voyage back to the birth of the universe," said NASA commentator Rob Navius during a live broadcast on NASA TV upon liftoff of Webb.
President Biden sent his congratulations soon after liftoff!
Congratulations @NASA and all who made today's launch of the James Webb telescope possible. Webb is a shining example of the power of what we can accomplish when we dream big. We've always known that this project would be a risky endeavor, but with big risk comes big rewards.

— President Biden (@POTUS) December 25, 2021
Webb is joint effort between NASA, ESA (European Space Agency) and CSA (Canadian Space Agency).
"The James Webb Space Telescope represents the ambition that NASA and our partners maintain to propel us forward into the future," said NASA Administrator Bill Nelson.
"The promise of Webb is not what we know we will discover; it's what we don't yet understand or can't yet fathom about our universe. I can't wait to see what it uncovers!"
Webb is in many respects a time machine looking back to the formation of the Universe over 13.5 Billion years ago and how we came to be and evolve over the eons.
We have LIFTOFF of the @NASAWebb Space Telescope!

At 7:20am ET (12:20 UTC), the beginning of a new, exciting decade of science climbed to the sky. Webb's mission to #UnfoldTheUniverse will change our understanding of space as we know it. pic.twitter.com/Al8Wi5c0K6

— NASA (@NASA) December 25, 2021
"The Webb observatory is NASA's revolutionary flagship mission to seek the light from the first galaxies in the early universe and to explore our own solar system, as well as planets orbiting other stars, called exoplanets," say NASA officials.
The infrared observatory will study every phase of cosmic history—from within our solar system to the most distant observable galaxies in the early universe  starting within about 200 million years of the Big Bang and see first light from the birth of the first stars and galaxies.
It will look at exoplanets and analyze their composition and atmospheres and search for signs of life like water, oxygen and organic molecules in unprecedented resolution with a quartet of state-of-the-art science instruments provided by NASA, ESA and CSA.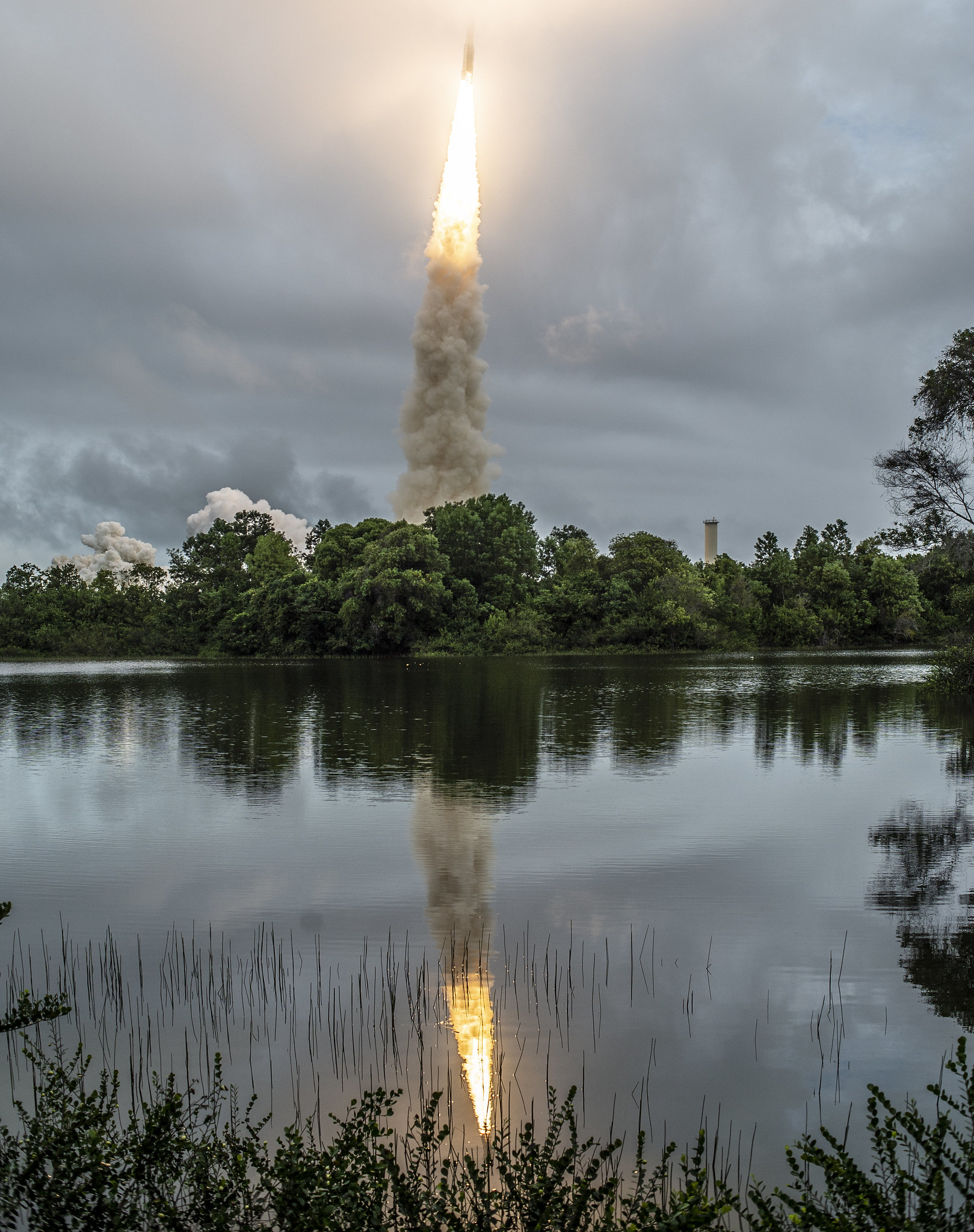 Ground teams began receiving telemetry data from Webb about five minutes after launch.
The Arianespace Ariane 5 rocket performed as expected, separating from the observatory 27 minutes into the flight.
Here it is: humanity's final look at @NASAWebb as it heads into deep space to answer our biggest questions. Alone in the vastness of space, Webb will soon begin an approximately two-week process to deploy its antennas, mirrors, and sunshield. #UnfoldTheUniverse pic.twitter.com/DErMXJhNQd

— NASA (@NASA) December 25, 2021
The observatory was released from the upper stage at an altitude of approximately 870 miles (1,400 kilometers).
Approximately 30 minutes after launch, Webb unfolded its single life-giving solar array, and mission managers confirmed that the solar array was providing power to the observatory to keep it healthy and functioning.
✅ Milestone achieved. @NASAWebb is safely in space, powered on, and communicating with ground controllers.

The space telescope is now on its way to #UnfoldTheUniverse at its final destination one million miles (1.5 million km) away from Earth. pic.twitter.com/gqICd0Xojz

— NASA (@NASA) December 25, 2021
After solar array deployment, mission operators successfully established a communications link with the observatory via the Malindi ground station in Kenya, and ground control at the Space Telescope Science Institute in Baltimore did send the first commands to the spacecraft, NASA reported.
Engineers and ground controllers will conduct the first of three mid-course correction burns about 12 hours and 30 minutes after launch, firing Webb's thrusters to maneuver the spacecraft on an optimal trajectory toward its destination in orbit about 1 million miles (1.5 mil km) from Earth at the L2 Lagrange point
"I want to congratulate the team on this incredible achievement – Webb's launch marks a significant moment not only for NASA, but for thousands of people worldwide who dedicated their time and talent to this mission over the years," said Thomas Zurbuchen, associate administrator for the Science Mission Directorate at NASA Headquarters in Washington.
"Webb's scientific promise is now closer than it ever has been. We are poised on the edge of a truly exciting time of discovery, of things we've never before seen or imagined."
Merry Christmas! We got you a new telescope.

The James Webb Space Telescope launched today, beginning a one-million-mile journey to see 13.5 billion years into the past. Follow @NASAWebb and join the quest to #UnfoldTheUniverse: https://t.co/TlYpoUHdJu pic.twitter.com/ilwWPuIJun

— NASA (@NASA) December 25, 2021
Thus all the key milestones after liftoff were all accomplished and Ariane 5 performed flawlessly:
~9 minutes: main stage separation
~27 minutes: upper stage separation
~33 minutes: solar array deployed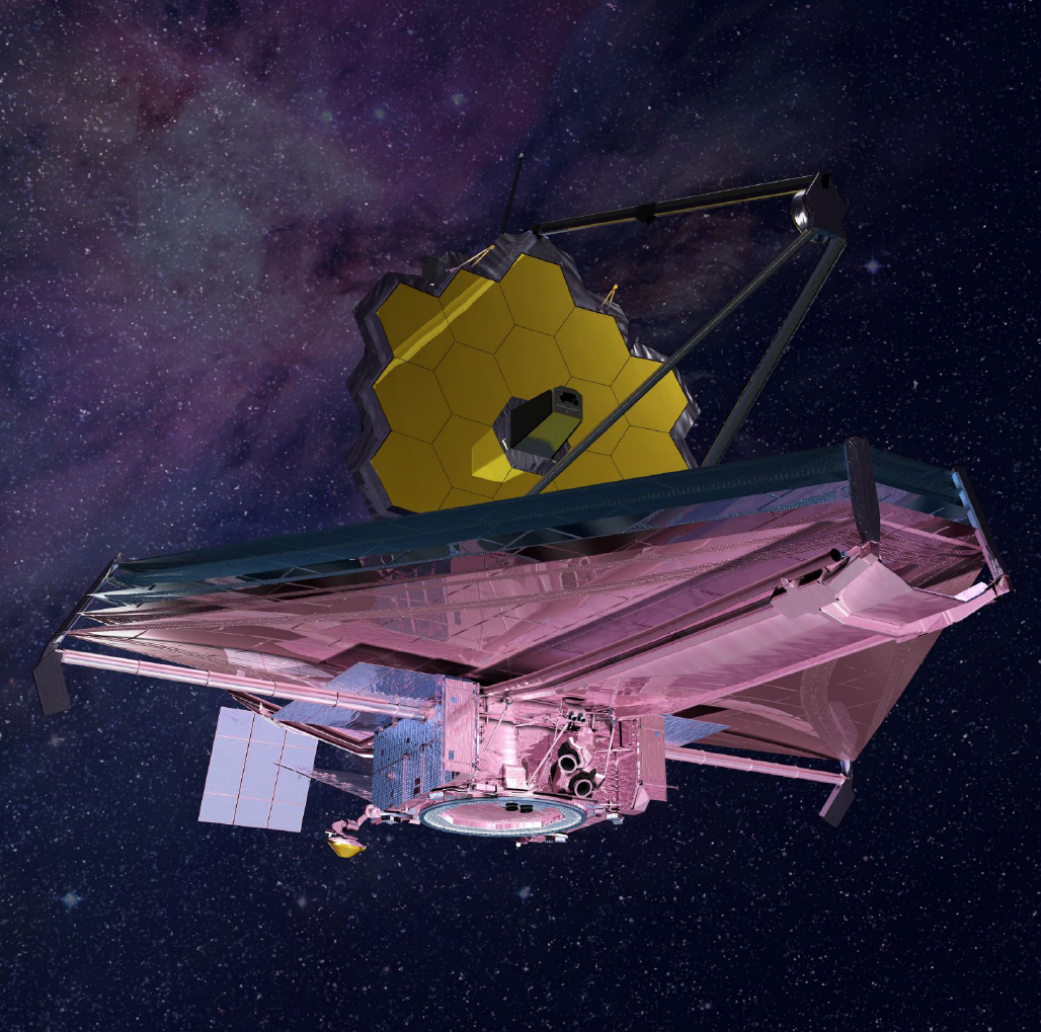 The massive $10 Billion observatory will soon take its first steps in pursuit of cosmological discovery and explore the origins of the Universe.
But before Webb can accomplish any of its groundbreaking science it must first open up from its folded-up origami like configuration and fully deploy its antennas, sunshade and mirrors.
Think of Webb as a 'Transformer' in space.
The hugely complex month-long unfurling process of origami-like folded Webb starts soon in the next few days.
And it must voyage out a million miles (1.5 million km) beyond Earth to its final observing destination in a halo orbit at L2 by firing thrusters to accomplish a trio of mid course correction maneuvers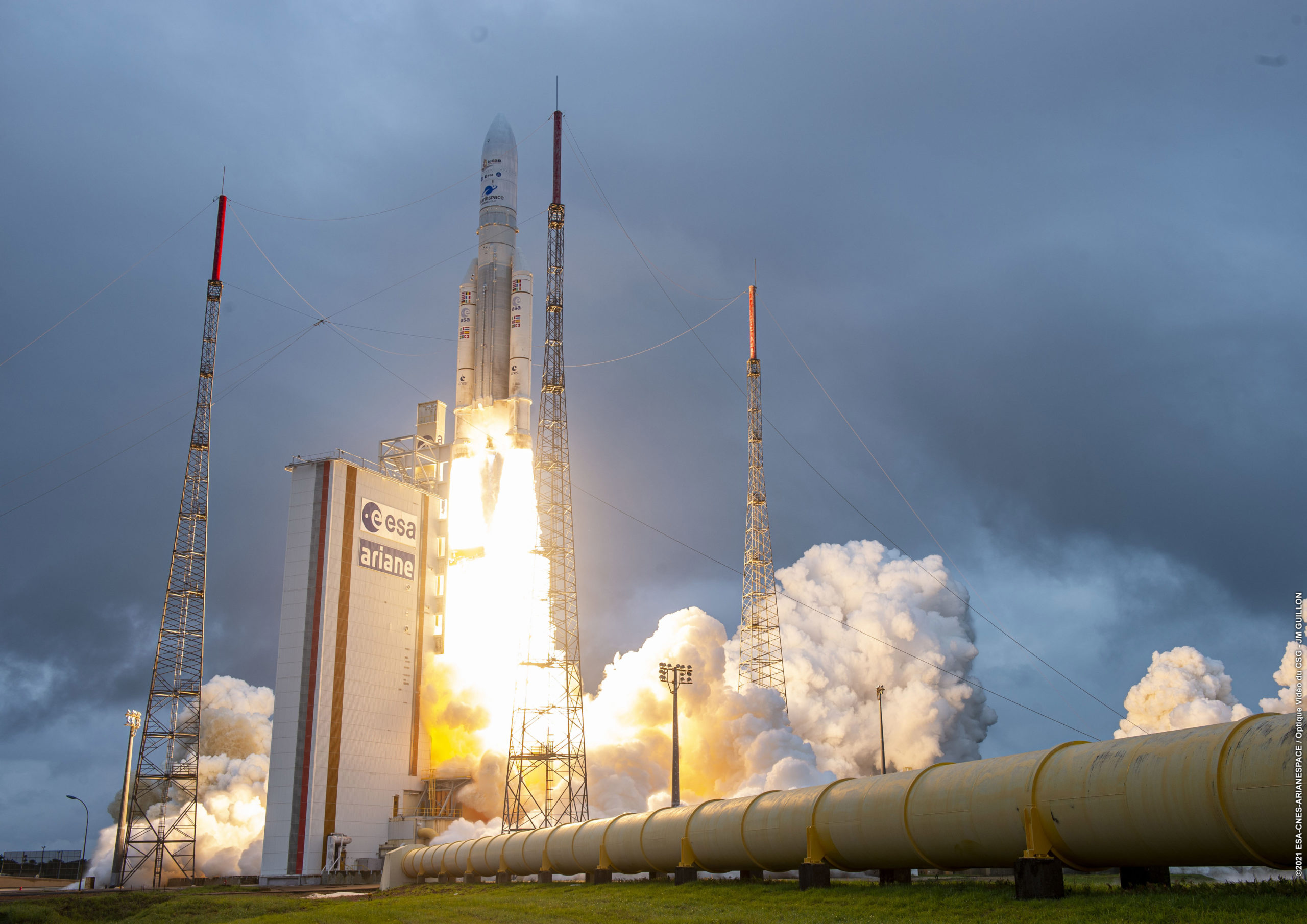 The first mid-course maneuver (MCC-1a) is scheduled about 12.5 hours post launch.
"The launch of the Webb Space Telescope is a pivotal moment – this is just the beginning for the Webb mission," said Gregory L. Robinson, Webb's program director at NASA Headquarters.
"Now we will watch Webb's highly anticipated and critical 29 days on the edge. When the spacecraft unfurls in space, Webb will undergo the most difficult and complex deployment sequence ever attempted in space. Once commissioning is complete, we will see awe-inspiring images that will capture our imagination."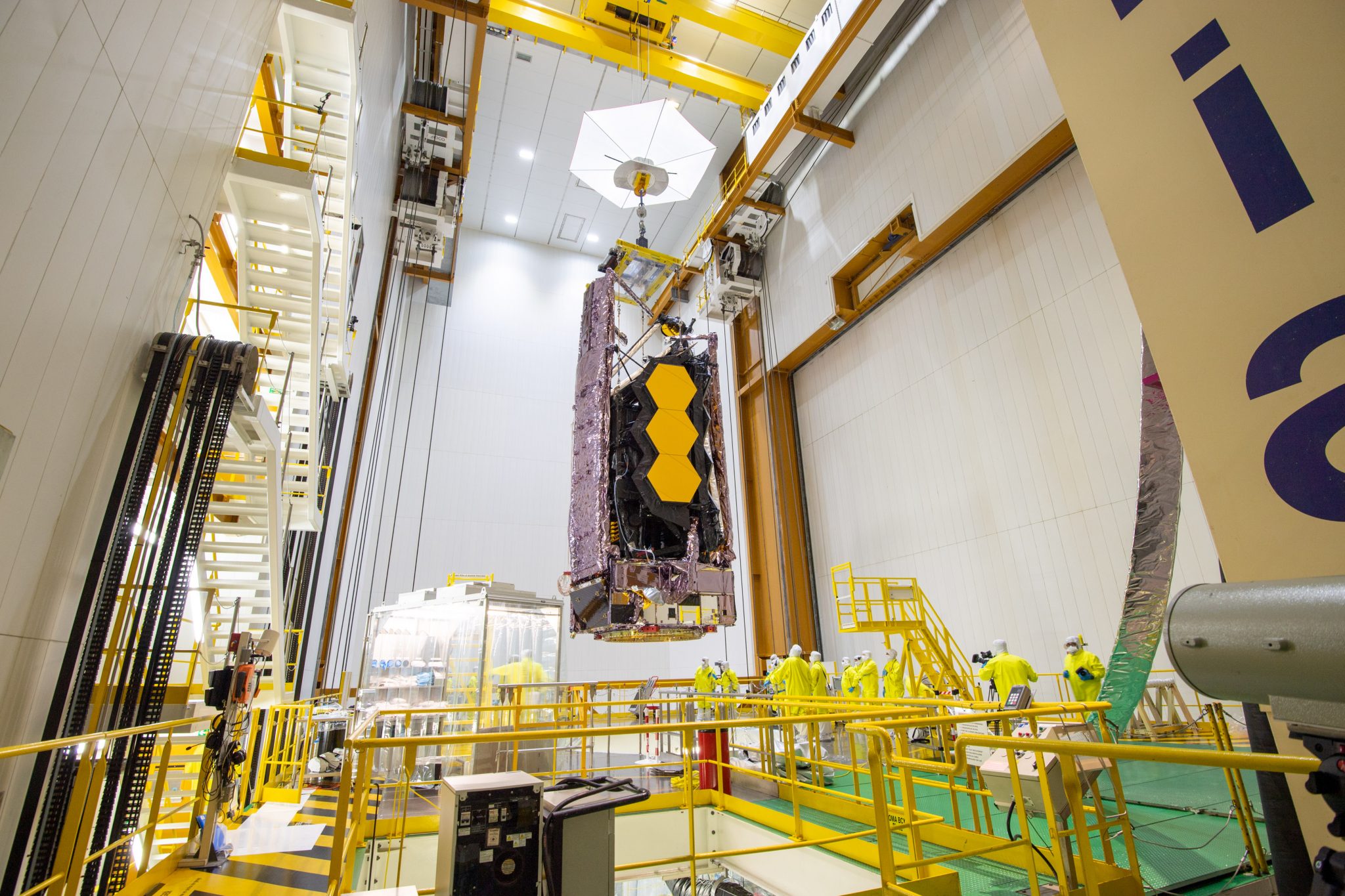 Thereafter the next steps at 1 to 3 days post launch are release of motion test of the gimballed antenna assemble and start of sunshade pallet deployments and the second mid-course maneuver.
JWST is the largest, most powerful and most complex space telescope ever built.
It is also the most expensive science instrument ever costing nearly $10 Billion.
It will operate in a halo orbit at the L2 Lagrange point approx. 1 million miles (1.6 million km) from Earth after liftoff and about a 1-month journey.
It will serve as the scientific successor to NASA's world famous and phenomenally successful Hubble Space Telescope (HST).
Webb is 100 times more powerful than Hubble and the primary mirror is 6 times bigger.
Hubble is still operating well 31 years after launch from NASA's Space Shuttle into low Earth orbit and a series of 5 extremely complex and daring repair and upgrade missions by NASA astronauts
Webb was launched on an Ariane 5 rocket, folded up like origami inside the nose cone which measures 5.4 meters in diameter and 17 meters tall.
Given that Ariane 5's fairing is 5.4 meters in diameter and 17 meters tall; do you know the telescope's dimensions?#WebbFliesAriane #ArianeGroup #Ariane5 pic.twitter.com/a1YXySOnNA

— ArianeGroup (@ArianeGroup) December 10, 2021
At some points the clearances for the intricately folded up telescope inside the Ariane 5 rockets nose cone are as little as 8 inches as the observatory shakes, rattles and rolls during blastoff.
Any damage would have doomed the observatory
So ESA and Arianespace modified the Ariane 5 nose cose and deployment to prevent catastrophe.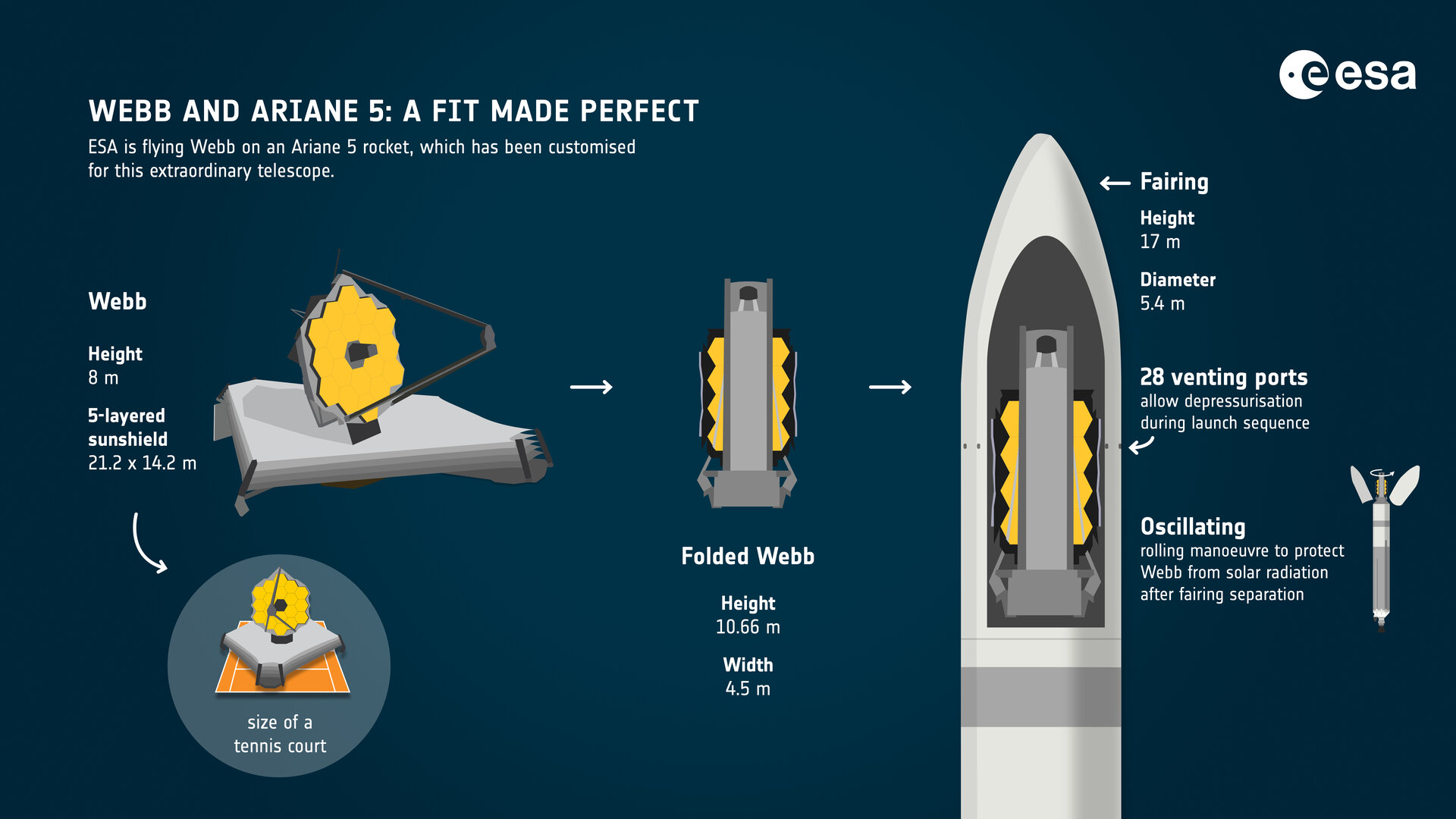 This NASA video details the complex deployment sequence of JWST post launch remotely controlled from Earth:
Video Caption: Engineers on the ground will remotely orchestrate a complex sequence of deployments in the hours and days immediately after the launch of the James Webb Space Telescope. This animation shows the nominal sequence for these deployments. Music Credit: Universal Production Music "Connecting Ideas Instrumental" Credit: NASA's Goddard Space Flight Center
Webb is designed for a 5-year lifetime at L2.
If all goes well NASA and scientists hope it can be extended to a 10-year mission life.
Unlike Hubble, Webb is not designed for astronaut servicing to fix or upgrade the massive observatory.
Webbs primary mirror is comprised of 18 segmented gold coated individual mirror segment that measure 21.3 feet (6.5 meters) in diameter when unfurled – 6 times wider than Hubble!
Webb is equipped with 4 state-of-the-art science observing instruments.
In space it is protected by a tennis court sized sunshade of 5 layers – each the thickness of a human hair and made of Kapton.
They will be carefully deployed post launch to an area measuring 21 meters by 14 meters.
They will cool the telescope and its science instruments to near absolute zero required to operate its infrared cameras and spectrometers and so that the instruments dont detect the telescope itself from the heat it radiates thus interfering with research operations
The largest space observatory in history will carry an ultra-cool camera aboard: the MIRI instrument. It's one of four scientific instruments on @NASAWebb, and to operate, it must be cooled to almost the coldest temperature matter can reach!
Why so cold?👉 https://t.co/pvw3er8r0N pic.twitter.com/gEQNUk785B

— NASA JPL (@NASAJPL) December 15, 2021
At L2 the sunshield can always block light and heat from both the Sun and Earth from reaching the telescope and its instruments and protect the telescope's optics from any heat sources that could interfere with its sight. Because Webb is an infrared telescope, its mirrors and sensors need to be kept at extremely cold temperatures to detect faint heat signals from distant objects in the universe and not the telescope.
There are some 344 single point failures that could doom the telescope if not accomplished successfully over the next 30 days as it journeys to its destination orbit 1 million miles (1.6 million km) away.
Next step is commissioning of the telescope and all its hardware and science instruments.
Routine operations and first images are expected to start in about 6 months.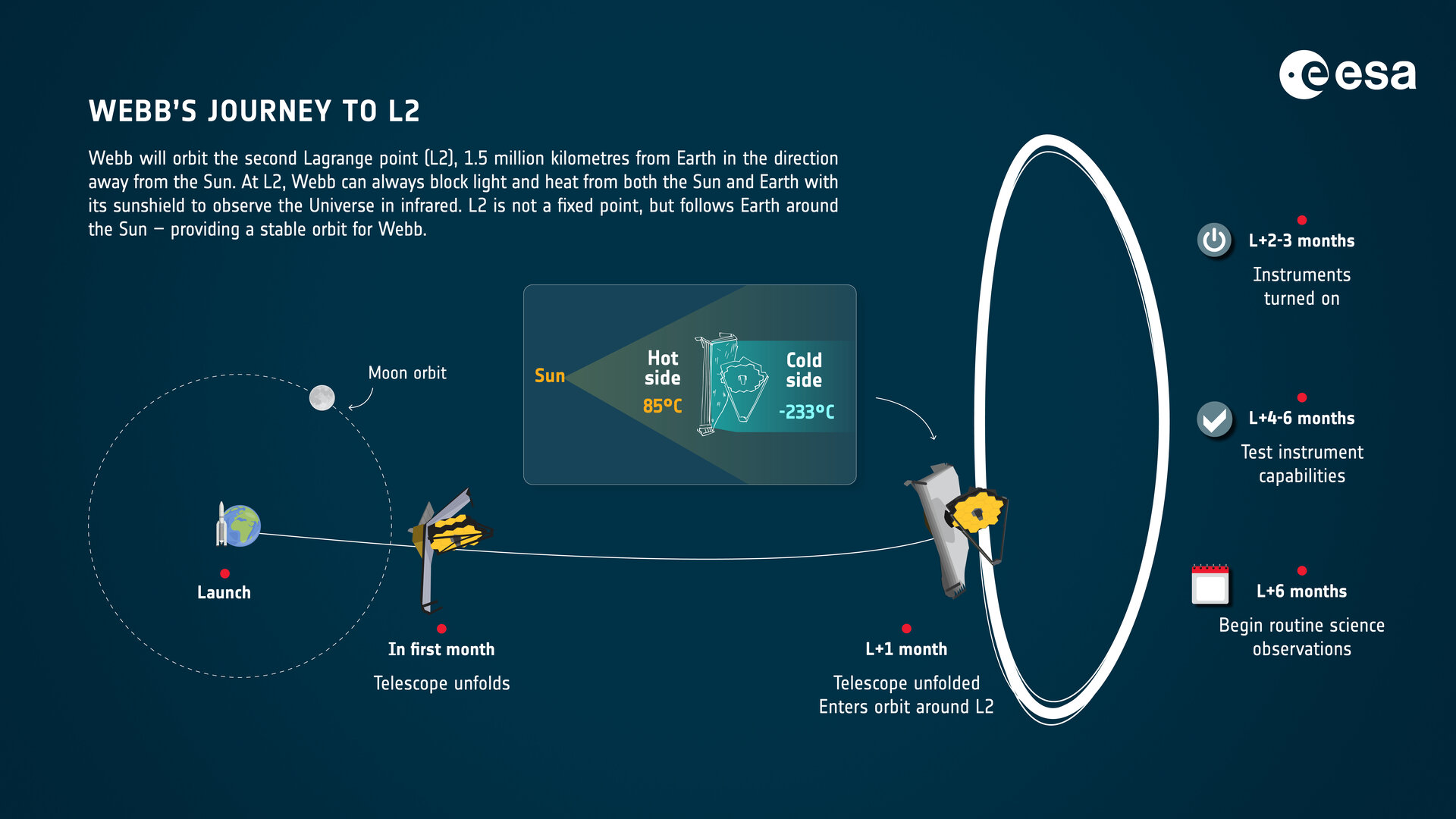 This Ariane 5 mission is numbered VA256 by Arianespace.
The 56 m tall (180-foot-tall) two stage rocket is fueled by liquid hydrogen (LH2) and liquid oxygen (LOX).
Overall it is the 256th launch of an Ariane rocket since Dec. 24, 1979, and the 112th flight of an Ariane 5 since its debut in 1996.
I observed JWST many times while under construction at NASA Goddard Spaceflight Center in Greenbelt, MD.
This photo shows the science instrument/mirror module in the Goddard cleanroom after installation of the 18 primary mirrors was completed.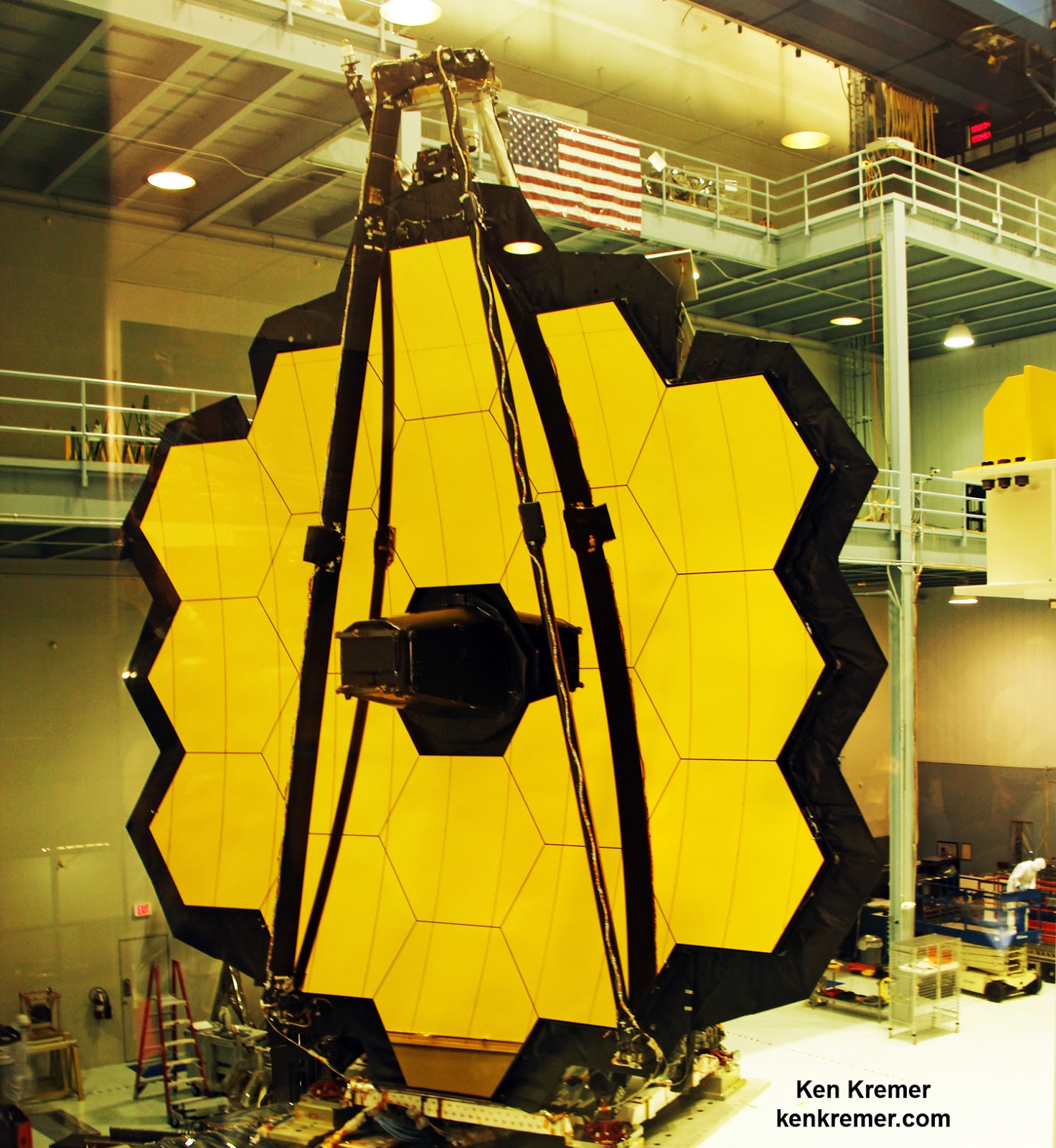 Watch this space for my ongoing reports on JWST mission and science.
Watch Ken's continuing reports about JWST, IXPE, DART, SpaceX Crew and Cargo Dragons, Artemis, SLS, Orion and NASA missions, Lucy Asteroid mission, SpaceX Starlink, Blue Origin and Space Tourism, Commercial Crew and Starliner and Crew Dragon and onsite for live reporting of upcoming and recent SpaceX and ULA launches including Crew 1 & 2 & 3, ISS, Solar Orbiter, Mars 2020 Perseverance and Curiosity rovers, NRO spysats and national security missions and more at the Kennedy Space Center and Cape Canaveral Space Force Station.
Stay tuned here for Ken's continuing Earth and Planetary science and human spaceflight news: www.kenkremer.com –www.spaceupclose.com – twitter @ken_kremer – email: ken at kenkremer.com
Dr. Kremer is a research scientist and journalist based in the KSC area, active in outreach and interviewed regularly on TV and radio about space topics.
………….
Ken's photos are for sale and he is available for lectures and outreach events
Please consider supporting Ken's work by purchasing his photos and/or donating at Patreon:
https://www.patreon.com/kenkremer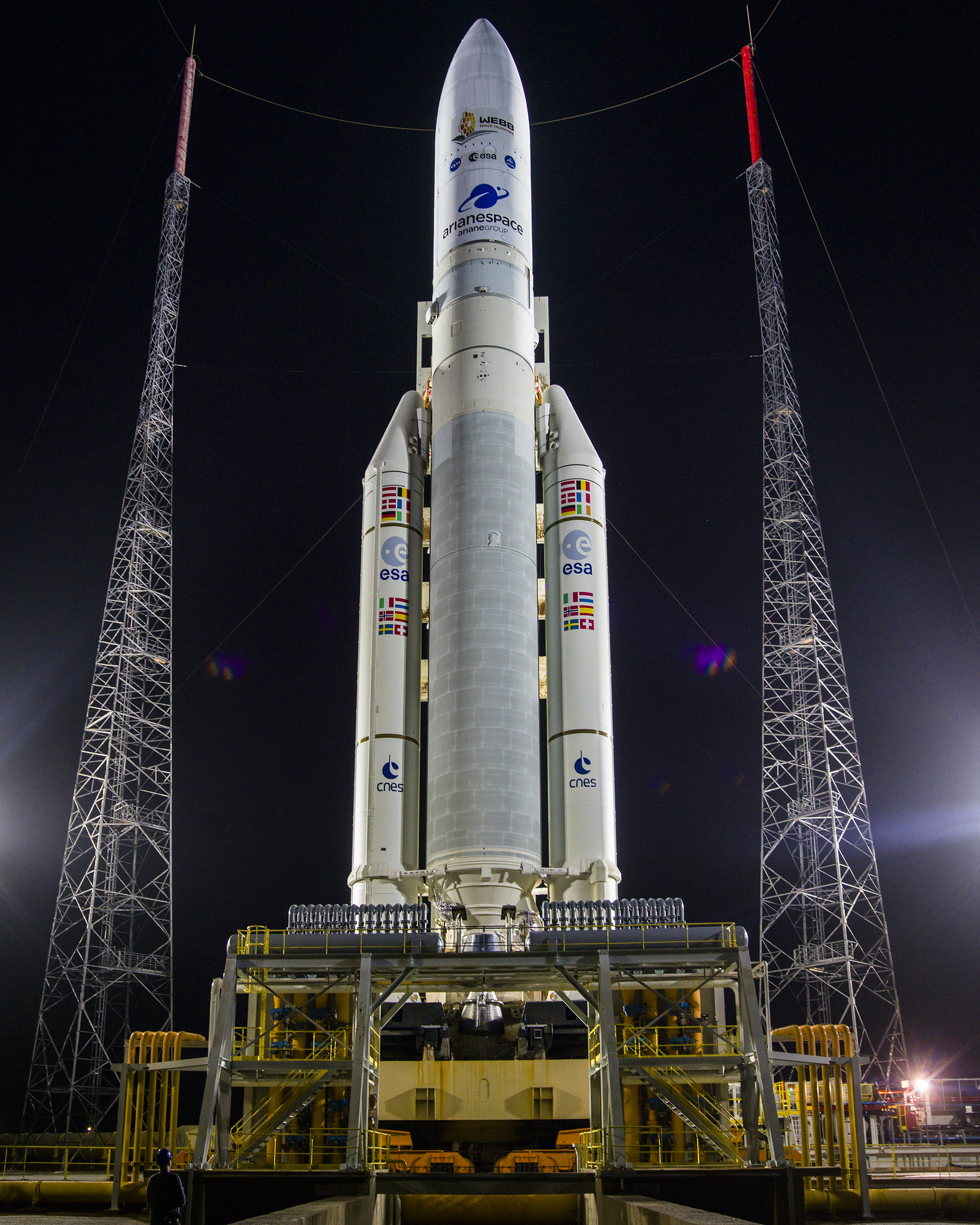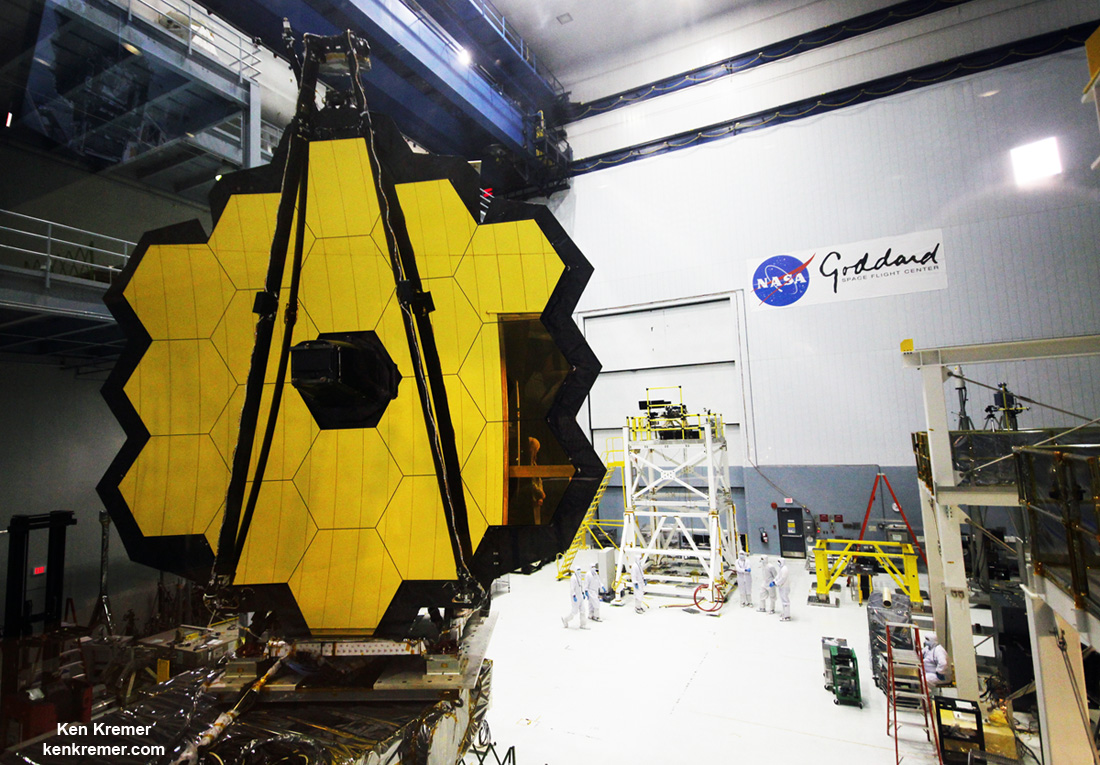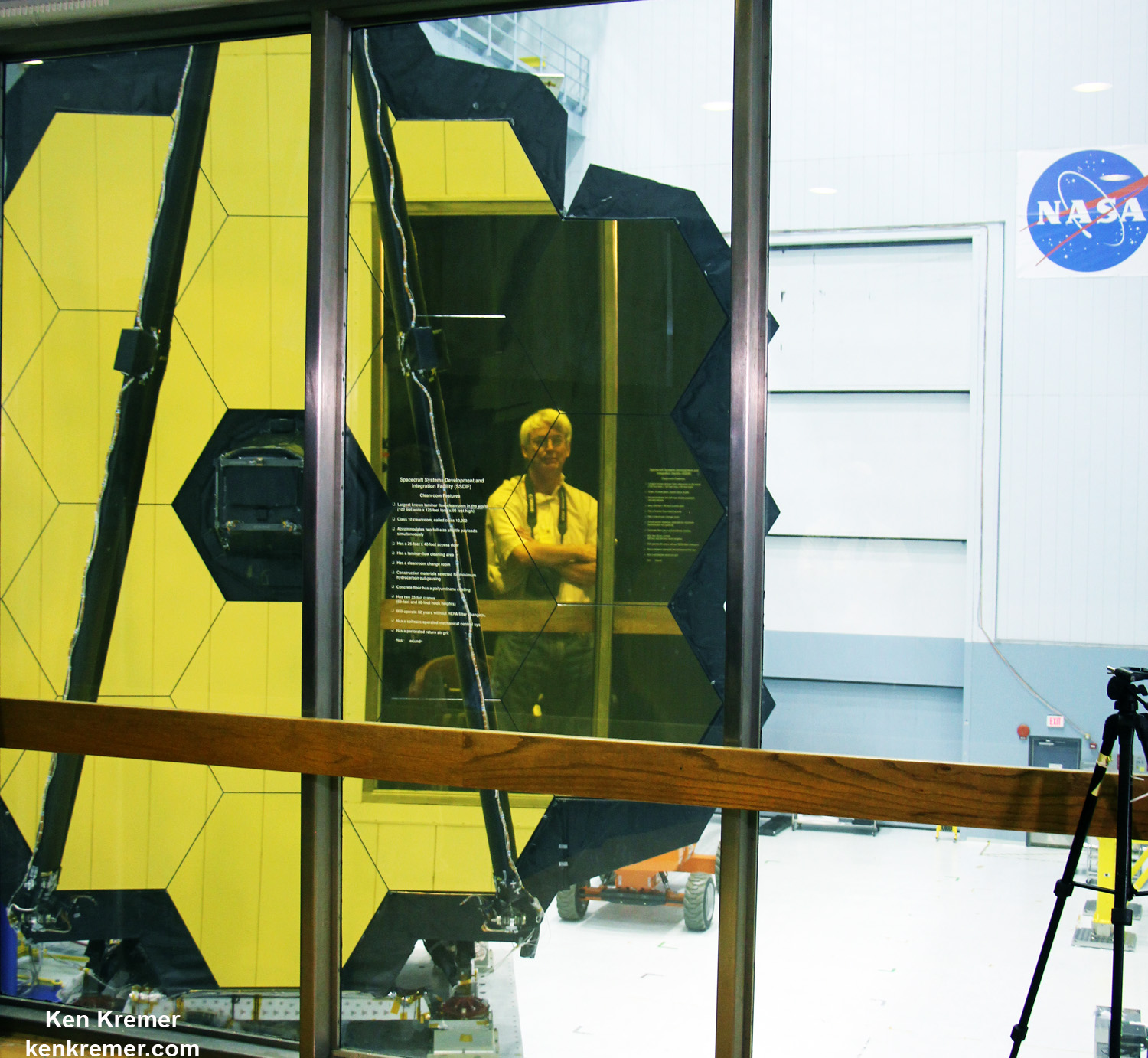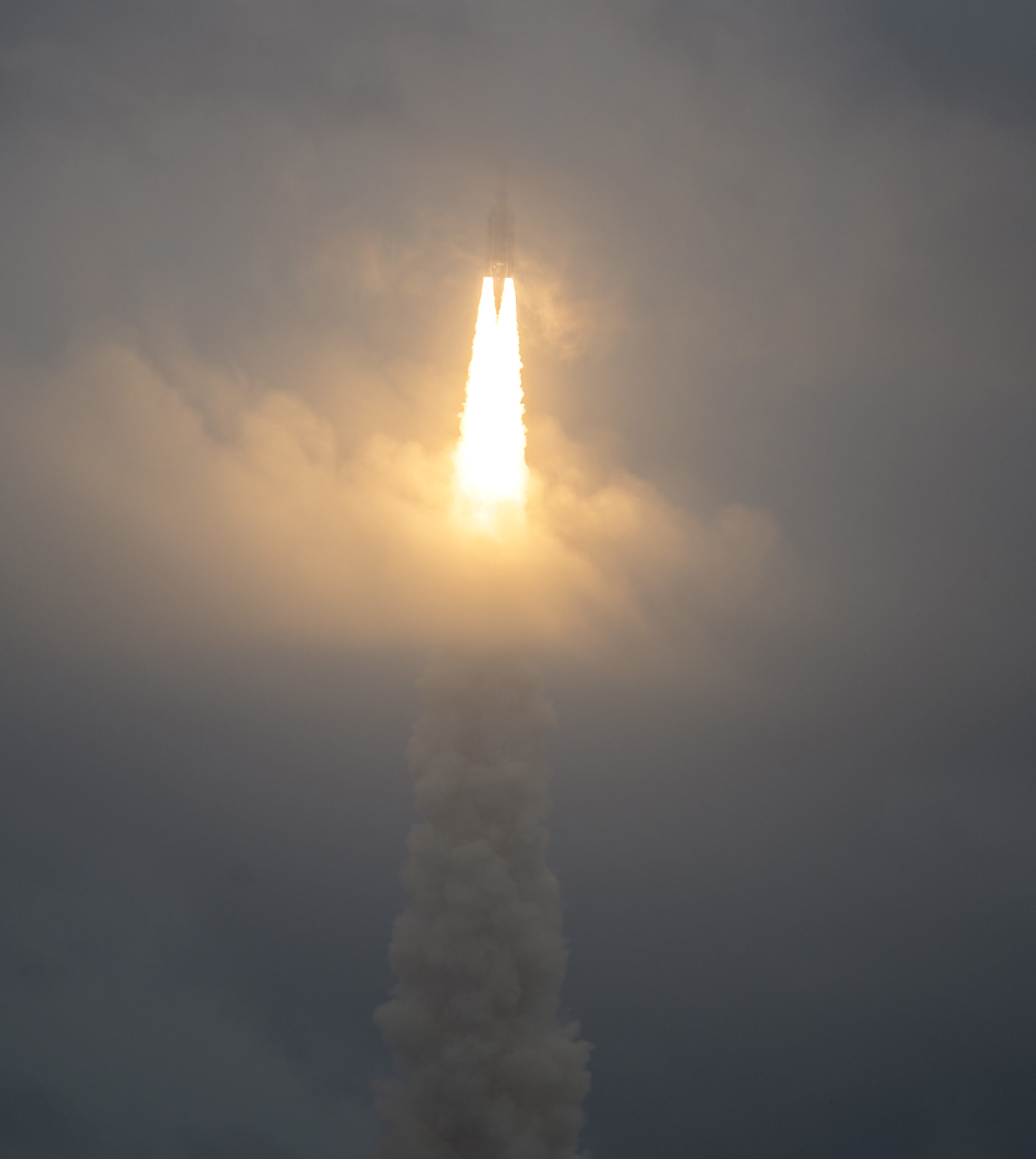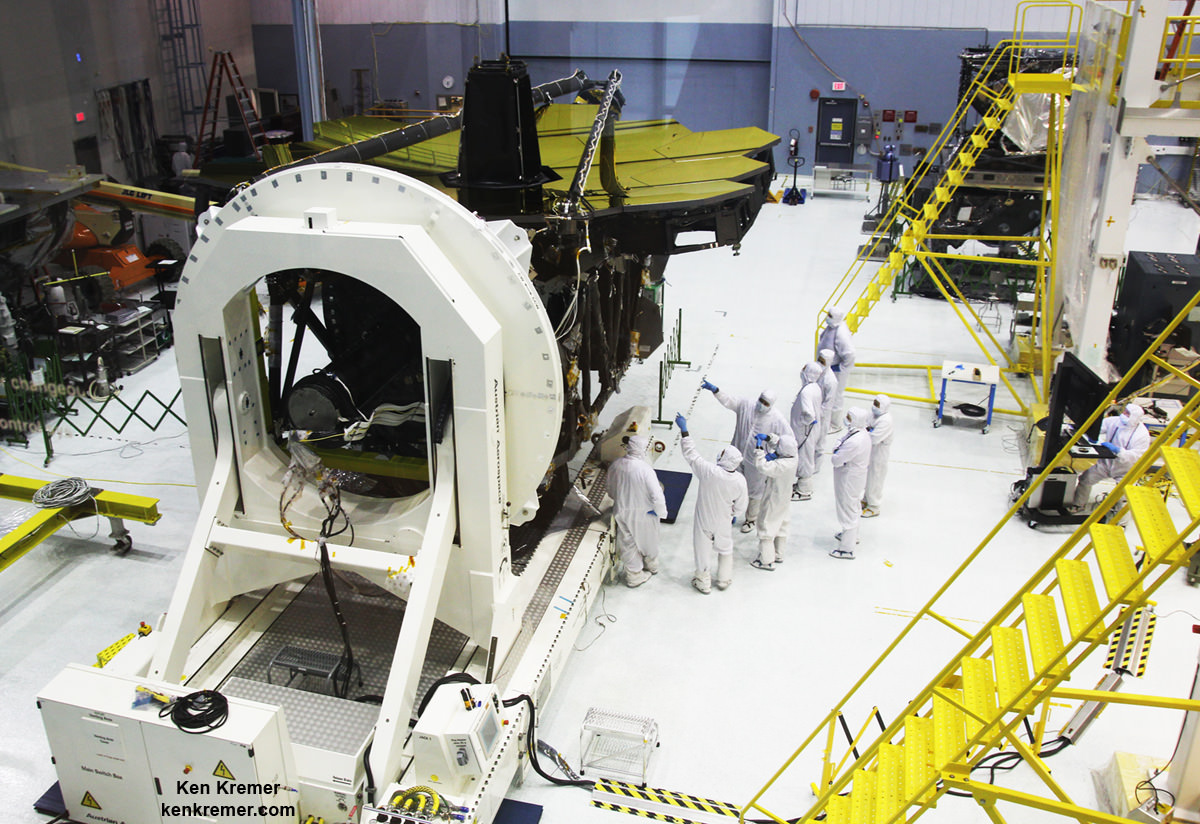 x