For SpaceUpClose.com & RocketSTEM
KENNEDY SPACE CENTER/CAPE CANAVERAL SPACE FORCE STATION, FL – A twice used Falcon Heavy side core which SpaceX has converted for use as a single stick Falcon 9 first stage core for the first time is now reassigned and set to launch an Italian Earth observing radar satellite as soon as just after sunset Friday, Jan. 28, following this evenings launch scrub due to dismal weather, Thursday, Jan. 27, swirling all over Florida's Space Coast.
Fridays weather outlook is also iffy at this point but hopefully improves
Launch of the converted recycled Falcon 9 booster rocket and the COSMO-SkyMed Second Generation FM2 Earth observing radar mission (CSG-2) payload to polar orbit from Space Launch Complex 40 (SLC-40) at Cape Canaveral Space Force Station, Florida is re-slated for an instantaneous launch window at 6:11 p.m. EST, or 1811 GMT, on Friday, January 28, 2022 – weather permitting.
The scrub was called when dreary weather in the form of drenching rain, thick low level clouds and excessive wind gusts forced a scrub by the SpaceX launch team.
SpaceX confirmed today that the Falcon 9 first stage booster supporting this CSG-2 mission previously supported the Falcon Heavy launches of the Arabsat-6A communications satellite and U.S. military STP-2 (Space Test Program-2) rideshare as side cores for those launches conducted in April and June 2019 respectively.
Notably this CSG-2 mission launch marks the first time conversion of a Falcon Heavy side mounted strap-on first stage side core to a lone Falcon 9 first stage core.
The now converted first stage booster core is designated as B1052
We recently witnessed B1052 being rolled on the Kennedy Space Center (KSC) on its journey past the VAB and launch pads 39A and B on its way out to pad 40 on Dec. 8, 2021.
At that time last month the upper stage was already attached to the first stage and the top was sheathed in a protective covering – but its launch assignment was unknown.
Its rather rare to see such a first stage  and second stage combo
Enjoy our photos taken at KSC by Ken Kremer for Space UpClose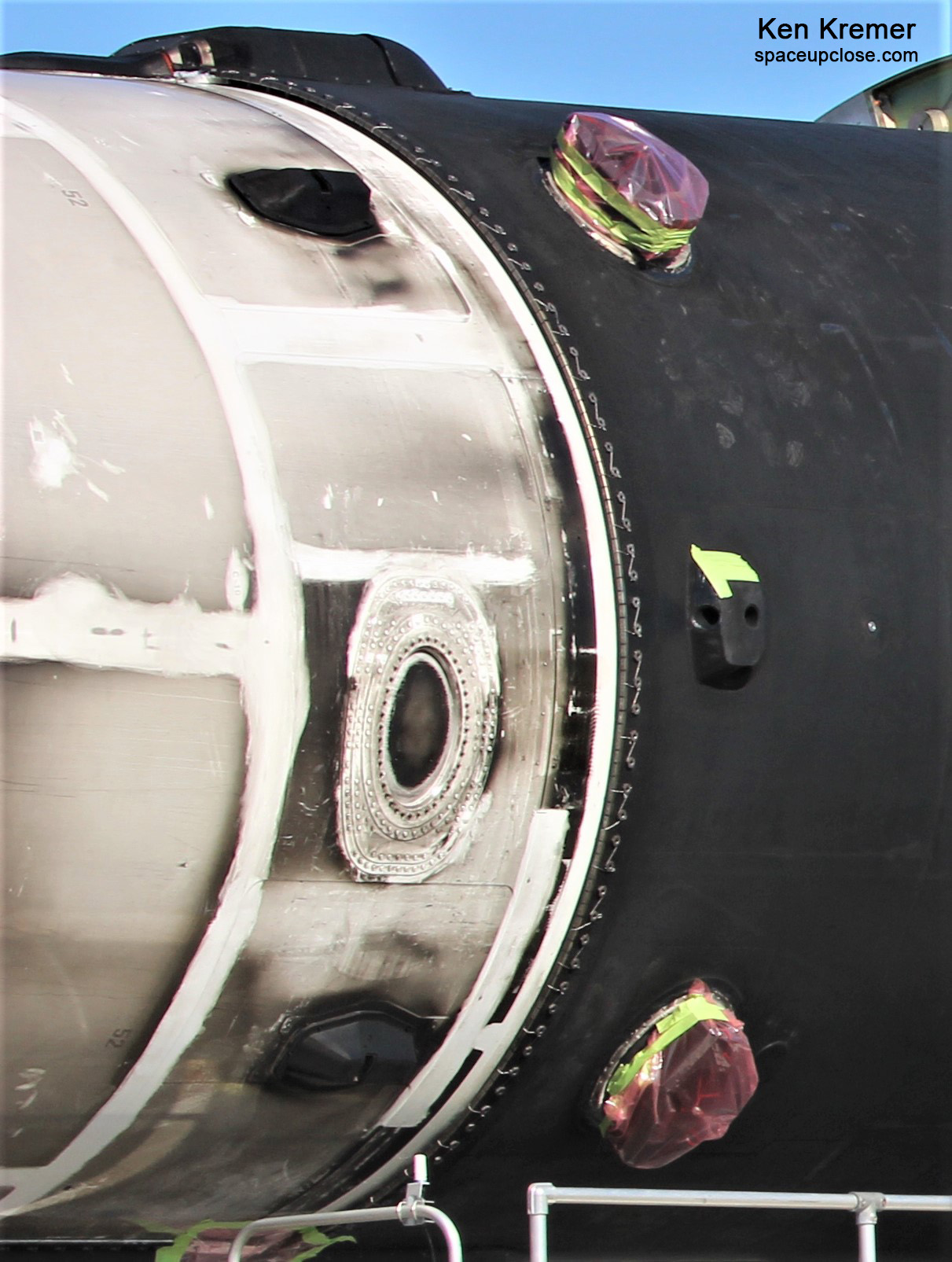 Ultimately B1052 was parked at SpaceX's pad 40 awaiting its turn for liftoff on its maiden Falcon 9 mission
When booster B1052 previously flew as a side mounted strap on the Falcon Heavy Arabsat-6A and STP-2 missions it was capped with a nose cone.
The side boosters generated 1.7 million pounds of thrust out of a total of about 5 million pounds of liftoff thrust and fired for 2 minutes before being jettisoned.
The 15-story-tall twin side cores carried out very daring propulsive soft touchdowns almost simultaneously and side by side at Landing Zones 1 and 2 back on Cape Canaveral Space Force Station some eight minutes after liftoff and about 9 miles south of pad 39A.
The Falcon Heavy is currently the most powerful rocket in the world.
See our photos herein of the Falcon Heavy launches and landings of the Arabsat-6A and STP-2 missions from Launch Complex-39A on the Kennedy Space Center and  Landing Zones 1 and 2 on Cape Canaveral Space Force Station, Florida.
Enjoy our Falcon Heavy launch and landing gallery with erstwhile B1052 side core taken by Ken Kremer for Space UpClose.
COSMO-SkyMed Second Generation (CSG-2) will launch on a south polar trajectory and be delivered to a sun-synchronous polar orbit to an altitude of about 385 miles (620 km) and an inclination of 97.8 degrees
The path to launch was cleared following a successful hold down static fire test conducted by SpaceX engineers on Sunday, Jan. 23 at precisely 12 Noon – as witnessed by this author.
Watch Ken's continuing reports about SpaceX  Starlink , SpaceX Crew and Cargo Dragons, Artemis, SLS, Orion and NASA missions, DART,  Lucy Asteroid mission, Blue Origin and Space Tourism, Commercial Crew and Starliner and Crew Dragon and onsite for live reporting of upcoming and recent SpaceX and ULA launches including Crew 1 & 2 & 3, ISS, Solar Orbiter, Mars 2020 Perseverance and Curiosity rovers, NRO spysats and national security missions and more at the Kennedy Space Center and Cape Canaveral Space Force Station.
Stay tuned here for Ken's continuing Earth and Planetary science and human spaceflight news: www.kenkremer.com –www.spaceupclose.com – twitter @ken_kremer – email: ken at kenkremer.com
Dr. Kremer is a research scientist and journalist based in the KSC area, active in outreach and interviewed regularly on TV and radio about space topics.
………….
Ken's photos are for sale and he is available for lectures and outreach events
Please consider supporting Ken's work by purchasing his photos and/or donating at Patreon:
https://www.patreon.com/kenkremer
x