For SpaceUpClose.com & RocketSTEM
UPDATE: Launch has scrubbed 2 more times due to poor weather and is currently targeting  Sun Jan 30 at 611 PM.
CAPE CANAVERAL SPACE FORCE STATION, FL – SpaceX is retargeting launch of its 4th Falcon 9 rocket of this month to Friday evening, January 28, just past sunset carrying the COSMO-SkyMed radar remote sensing satellite (CSG-2) mission for the Italian Space Agency (ASI) to low Earth orbit flying southwards from Florida's Spaceport following a weather scrub Thursday – thus continuing an absolutely blistering launch pace this year that could very well exceed the record setting 31 liftoffs achieved in 2021.
Quite notably a twice used Falcon Heavy side core which SpaceX has converted for use as a single stick Falcon 9 first stage core for the first time is now reassigned to this launch of CGS-2.
Furthermore, beyond flying on a rare southerly trajectory it also features a daring and dramatic propulsive RTLS soft land landing of the first stage Falcon 9 booster back at the Cape just minutes after sunset with screaming sonic booms too some eight minutes later – for the 2nd time this month!
Sunset is at 5:58 p.m. EST
But it all depends on the weather – which remains iffy at the moment with thick overcast clouds and rain swirling over Florida's Space Coast
Launch of the converted recycled Falcon 9 booster rocket and the COSMO-SkyMed Second Generation FM2 Earth observing radar mission (CSG-2) payload to polar orbit from Space Launch Complex 40 (SLC-40) at Cape Canaveral Space Force Station, Florida is re-slated for an instantaneous launch window at 6:11 p.m. EST, or 2311 GMT, on Friday, January 28, 2022 – weather permitting.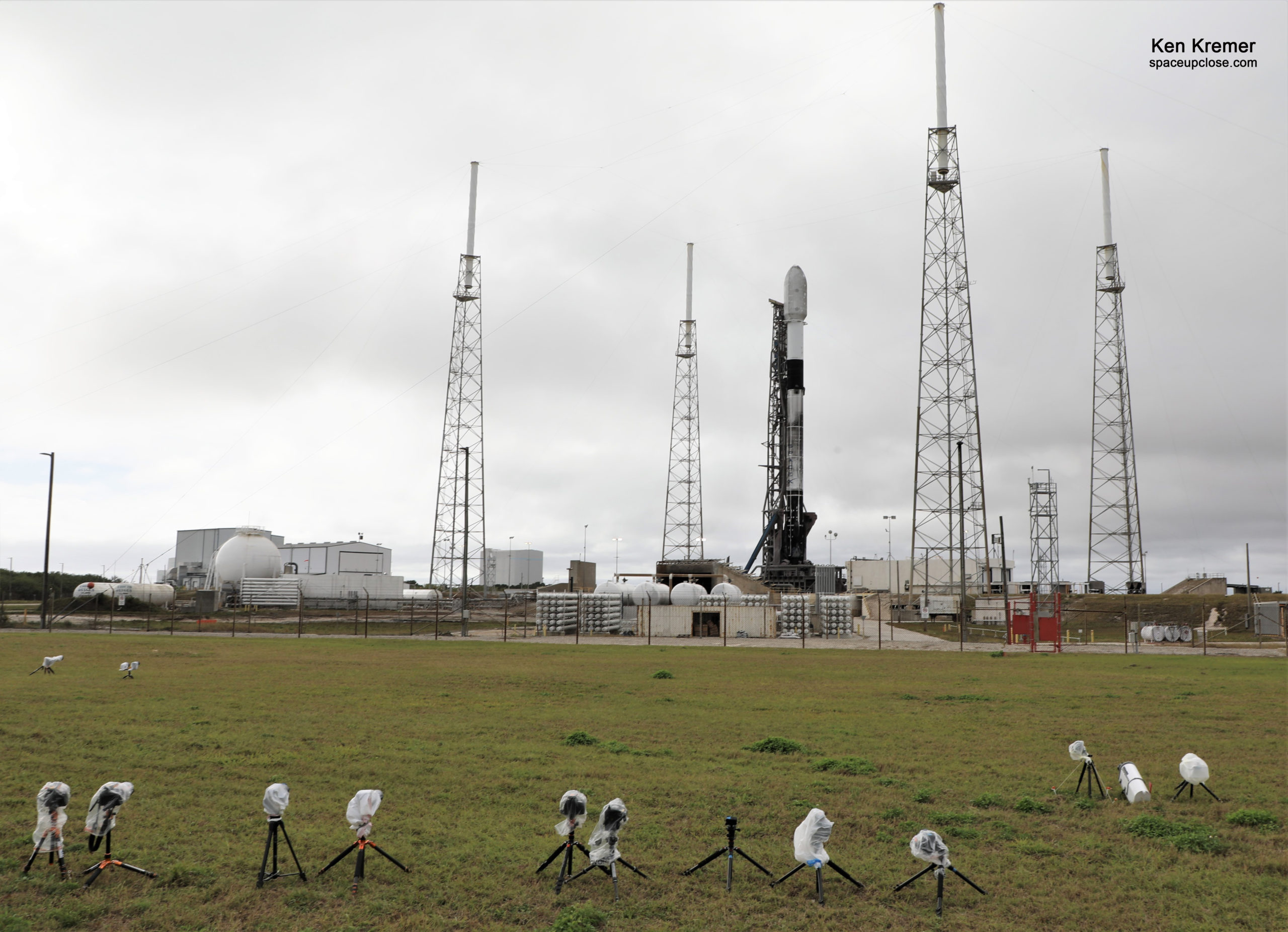 Thursday's scrub was called when dreary weather in the form of drenching rain, thick low level clouds and excessive wind gusts forced a scrub by the SpaceX launch team.
SpaceX confirmed Thursday that the Falcon 9 first stage booster supporting this CSG-2 mission previously supported the Falcon Heavy launches of the Arabsat-6A communications satellite and U.S. military STP-2 (Space Test Program-2) rideshare as side cores for those launches conducted in April and June 2019 respectively.
Enjoy our photos of the Falcon 9 rocket integrated with the  COSMO-SkyMed Second Generation Earth observing radar mission taken at pad 40 on Jan. 27.
Read our earlier CSG-2 articles for complete details.
Both payload fairing halves are also recycled from earlier missions- as can be seen by their sooty coatings on my photos.
One fairing half supporting this mission previously supported Transporter-1, Transporter-2, and one Starlink mission
The other half previously supported SAOCOM 1B, Transporter-2, and one Starlink mission.
You can watch all the action via a SpaceX live webcast that will begin about 15 minutes prior to liftoff – starting around 5:55 p.m.:
The COSMO-SkyMed radar remote sensing satellite is sponsored by the Italian government, the Italian Space Agency (ASI) and the Italian Ministry of Defense and will serve civilian, government, institutional and military needs.
2nd #COSMOSkyMed Second Generation satellite will be launched soon! Designed to meet the requirements of both commercial & institutional customers, COSMO-SkyMed Second Generation system is a crown jewel in @Thales_Alenia_S' fleet of radar #EarthObservation observation satellites pic.twitter.com/T4fbMXM9If

— Thales Alenia Space (@Thales_Alenia_S) January 24, 2022
COSMO-SkyMed was built by prime contractor Thales-Alenia
It is a state-of-the-art Earth observing satellite with dual civilian and military uses
"2nd COSMO-SKYMED Second Generation satellite our company has built will be launched soon. It is a state-of-the-art radar-based Earth Observation satellite with a dual-use mission that is dedicated to @ASI_spazio & @MinisteroDifesa"@massimoc_square #BBESpaceConf pic.twitter.com/twjLhciwss

— Thales Alenia Space (@Thales_Alenia_S) January 26, 2022
COSMO-SkyMed is an Italian built Earth observation satellite program. These satellites are equipped with state-of-the-art radar technology, synthetic aperture radars, which will help provide data on a global scale for a variety of different applications. This means improved ocean monitoring, cartography, environmental protection, and more.
Falcon 9 will amazingly fly on a southerly trajectory for the 4th time this month.
For many  years there were no south polar trajectory launches from the Cape
Most recently the Transporter-3 mission concluded with a land landing at LZ-1 on Jan. 13
Normally launches from Kennedy and the Cape avoid the southerly trajectory to avoid populated areas and thus prevent polar launches.
In fact the Space Force issued a 'Southerly Trajectory Launch Alert'!
‼ SOUTHERLY TRAJECTORY LAUNCH ALERT ‼
Tomorrow evening, SLD 45 will support the COSMO-SkyMed launch, which will feature a southerly trajectory. This means launch hazard areas will contain different locations than previous launches & will be larger than normal for your safety. pic.twitter.com/tU5ttQL9ew

— Space Launch Delta 45 (@SLDelta45) January 26, 2022
Watch Ken's continuing reports about SpaceX  Starlink , SpaceX Crew and Cargo Dragons, Artemis, SLS, Orion and NASA missions, DART,  Lucy Asteroid mission, Blue Origin and Space Tourism, Commercial Crew and Starliner and Crew Dragon and onsite for live reporting of upcoming and recent SpaceX and ULA launches including Crew 1 & 2 & 3, ISS, Solar Orbiter, Mars 2020 Perseverance and Curiosity rovers, NRO spysats and national security missions and more at the Kennedy Space Center and Cape Canaveral Space Force Station.
Stay tuned here for Ken's continuing Earth and Planetary science and human spaceflight news: www.kenkremer.com –www.spaceupclose.com – twitter @ken_kremer – email: ken at kenkremer.com
Dr. Kremer is a research scientist and journalist based in the KSC area, active in outreach and interviewed regularly on TV and radio about space topics.
………….
Ken's photos are for sale and he is available for lectures and outreach events
Please consider supporting Ken's work by purchasing his photos and/or donating at Patreon:
https://www.patreon.com/kenkremer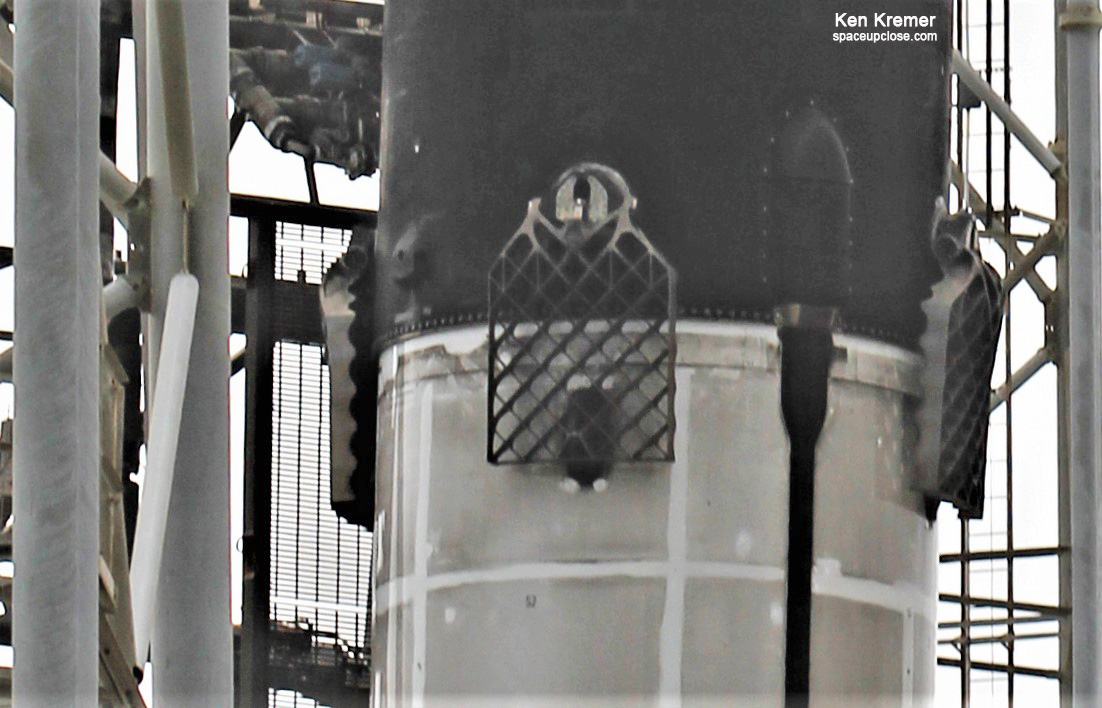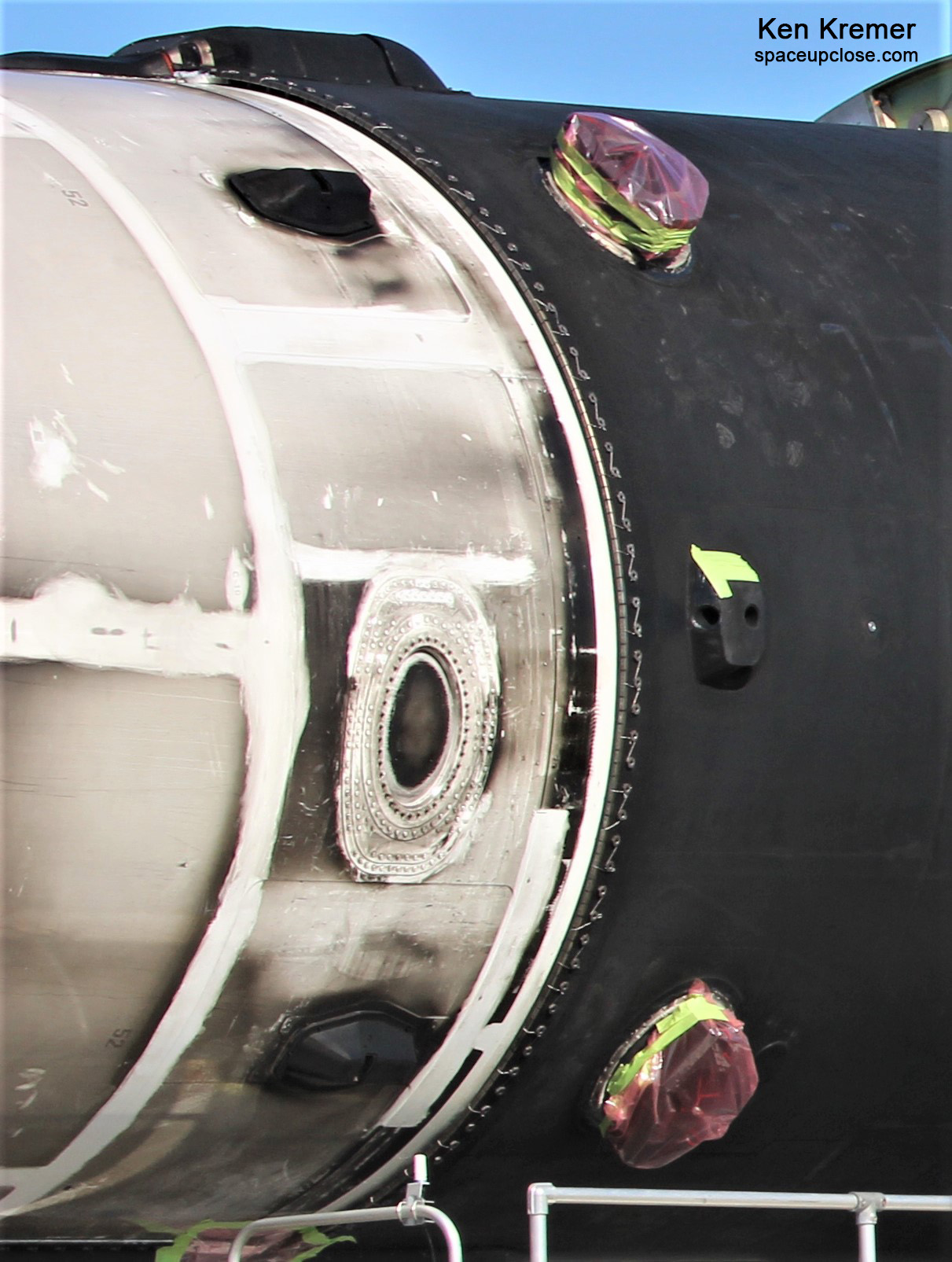 x