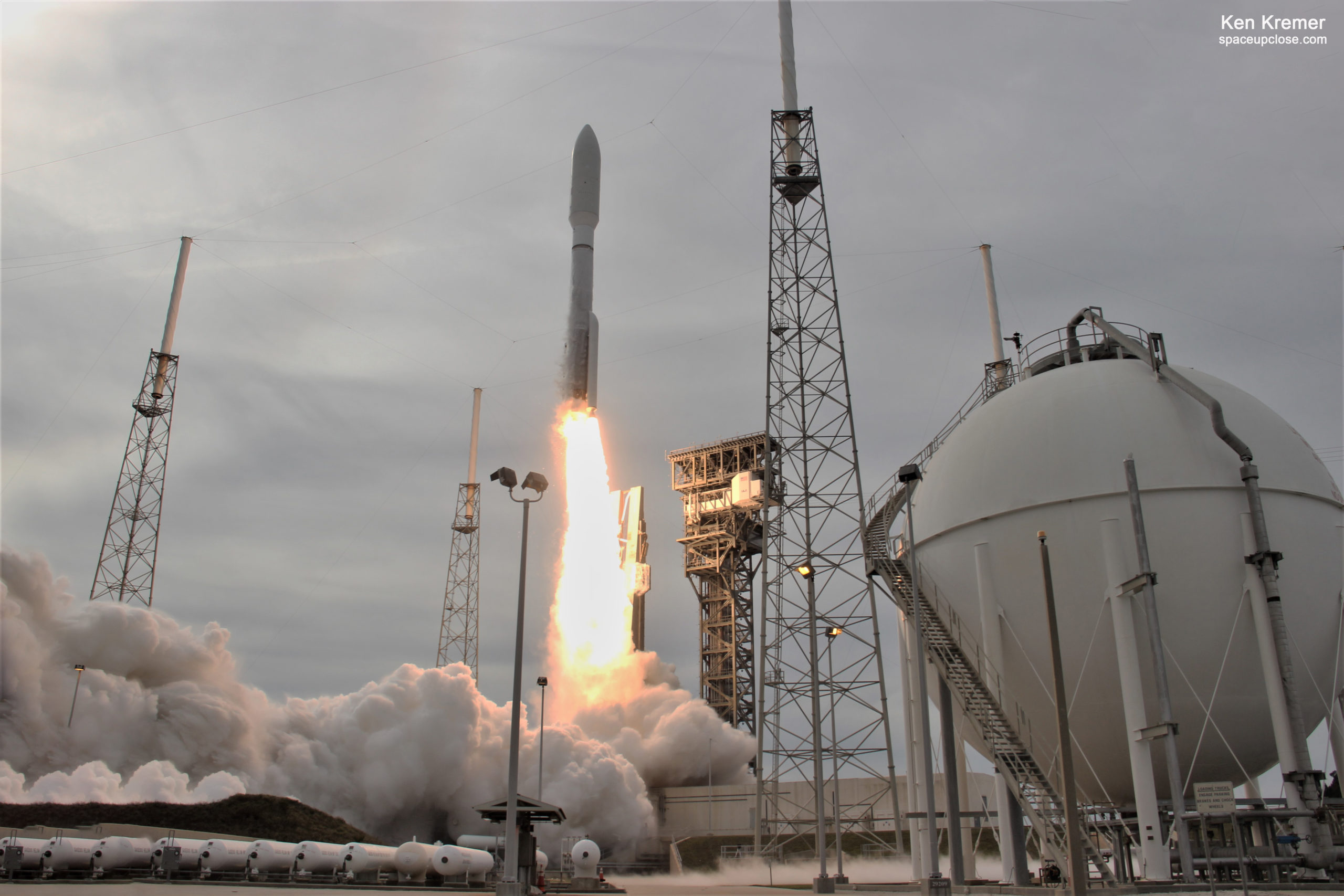 For SpaceUpClose.com & RocketSTEM
CAPE CANAVERAL SPACE FORCE STATION, FL –  The unflown 'Big Slider' version of ULA's Atlas V rocket made its maiden and lone launch and successfully delivered a twin pair of once-classified military tracking surveillance satellites that observe other already orbiting satellites akin to a 'Neighborhood Watch' to near-geosynchronous orbit    for the U.S. Space Force during a spectacular Friday afternoon (Jan. 21) blastoff from Florida's Spaceport that stunned with a huge trail of exhaust ascending into gloomy gray overcast skies despite soon obscuring the rocket from view.
Hordes of spectators ringed the Space Coast to catch a glimpse of the mighty rocket that managed to thread a threatening weather needle as conditions cleared sufficiently in the final hours leading up to liftoff.
We enjoyed roughly 2 minutes of grandeur before the Big Slider disappeared into the gray maw of glory.
Liftoff of ULA Atlas V launch carrying the USSF-8 mission for the U.S. Space Force took place as planned Fri., Jan. 21 at 2 p.m. EST (1900 GMT) from Space Launch Complex-41 at Cape Canaveral Space Force Station in Florida.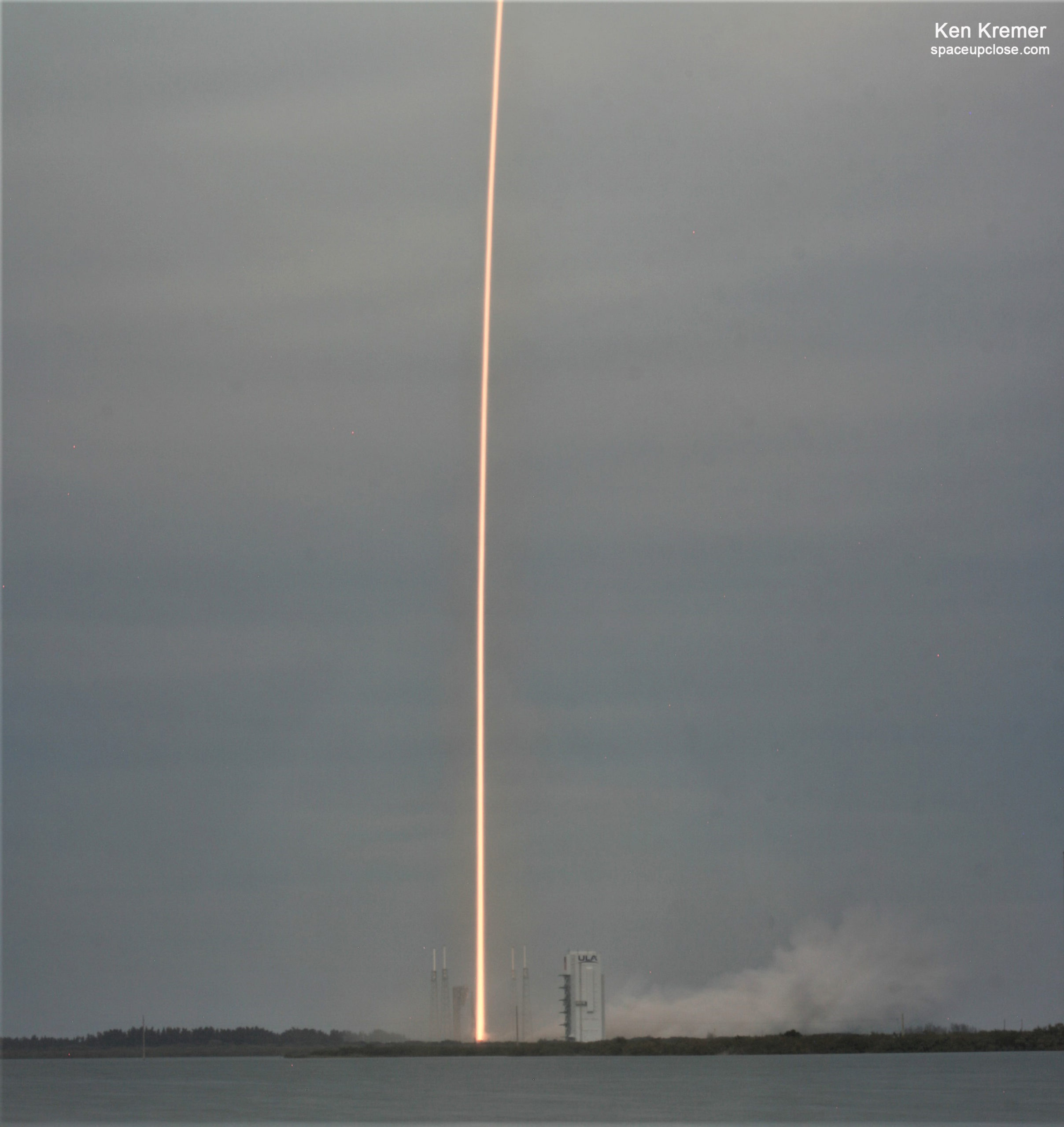 The ULA Atlas V thundered off pad 41 with approximately 1.2 million pounds of combined first stage thrust from the single solid rocket booster (SRB) and the dual chamber dual nozzle RD-180 engine in the 551 version known as the 'Big Slider' – on this critical U.S. National Security for the U.S. Space Force.
USSF-8 marks for the firm's 1st launch of 2022 and continues ULA's 100% success record blasting off 148 times!
Enjoy our ULA Atlas V USSF-8 mission launch and pre-launch pad photos from the Space UpClose team of Ken Kremer and Jean Wright.
The 'Big Slider' version of ULA's venerable Atlas V flew for the first and only time in the previously unused 511 variant configuration comprising a 5-meter-wide diameter payload fairing and just a single solid rocket booster augmenting the first stage thrust.
The twin Northrop Grumman-built Geosynchronous Space Situational Awareness Program military tracking satellites known as GSSAP-5 and -6 comprising the USSF-8 mission and encapsulated inside the 5-meter diameter nose cone were delivered directly to near-geosynchronous orbit approximately 22,300 miles (36,000 km) above the equator – concluding some 7 hours after launch.
"The evolving threat to our space environment requires new levels of resiliency and survivability, autonomy and automation, and unprecedented levels of integration and networking," said Lt. Gen. Michael A. Guetlein, commander of Space Systems Command, in a statement.
"Today's successful launch will enhance our capabilities in space domain awareness and our space-based space domain awareness architecture. Congratulations to the USSF-8 integrated team and all mission partners on a successful launch."
ULA Atlas V USSF-8 also counts as the 2nd Space Coast launch this week following the SpaceX Starlink 4-6 on Jan. 18.
The GSSAP 5/-6 satellites are part of a constellation that provides rapid space surveillance of other already orbiting man-made satellites including from U.S. adversaries too enable quicker and more accurate tracking to enhance U.S national security needs for the President and military leaders
"The way I describe it is a neighborhood watch capability," said Gen. John "Jay' Raymond, the chief of space operations and the highest-ranking officer in the Space Force. "It allows us to better understand what's going on in the domain, especially in a really critical orbit like geosynchronous orbit."
They join four other GSSAP satellites launched earlier on ULA Delta IV rockets
"The GSSAP-5/-6 satellites join a constellation currently supporting U.S. Space Command's space surveillance operations as a dedicated Space Surveillance Network sensor. GSSAP also supports the Combined Force Space Component Command by collecting space domain awareness data, allowing for more accurate tracking and characterization of man-made orbiting objects. GSSAP is led by SSC's Special Programs directorate," said the Space Systems Command.
The Atlas V flew east after liftoff and headed downrange over the Atlantic Ocean.
The solid rocket booster separated at two minutes into flight and the payload fairing halves were jettisoned at four minutes and 27 seconds.
The GSSAP 5 & 6 satellites were released as planned at T+plus 6 hours, 35 minutes and T+plus 6 hours, 35 minutes after liftoff, concluding at 8:45 p.m. EST Friday (0145 GMT Saturday).
Moments after liftoff the Atlas V did visibly lift off slightly sideways doing a powerslide with asymmetric torque resulting from the canted nozzle of the single side mounted solid rocket motor that will be compensated for by the RD-180 engine
Watch ULA CEO Tory Bruno describe the capabilities of 'Big Slider' Atlas V variant
#ToryTalk // #USSF8 will be the one and only mission to fly on our mighty #AtlasV 511, known as "Big Slider." @torybruno explains how this unique configuration will provide just the right amount of thrust to deliver the twin spacecraft directly to near-geosynchronous orbit. pic.twitter.com/nfDp9kCMh6

— ULA (@ulalaunch) January 19, 2022
GSSAP satellites  greatly improve US ability to rapidly detect, warn, characterize, and attribute disturbances to space systems in the geosynchronous environment, and enable spaceflight safety to assist in avoiding satellite collisions.
"ULA continues to launch national security assets into highly complex orbits. The USSF-8 mission was successfully delivered to near-geosynchronous orbit after a nearly 7-hour mission," said Gary Wentz, ULA vice president of Government and Commercial Programs, in a statement.
"We want to thank the U.S. Space Force and our mission partners for their teamwork for the successful launch and delivery to orbit."
Unique to this mission is the first and only planned flight of the Atlas V 511 configuration. – dubbed the 'Big Slider.'
The 511 is the only unflown configuration in the Atlas family and is launching just this once before the next generation Vulcan Centaur takes over.
The Atlas V vehicle's  height with the 5-meter short PLF is approximately 196 ft (59.7 m).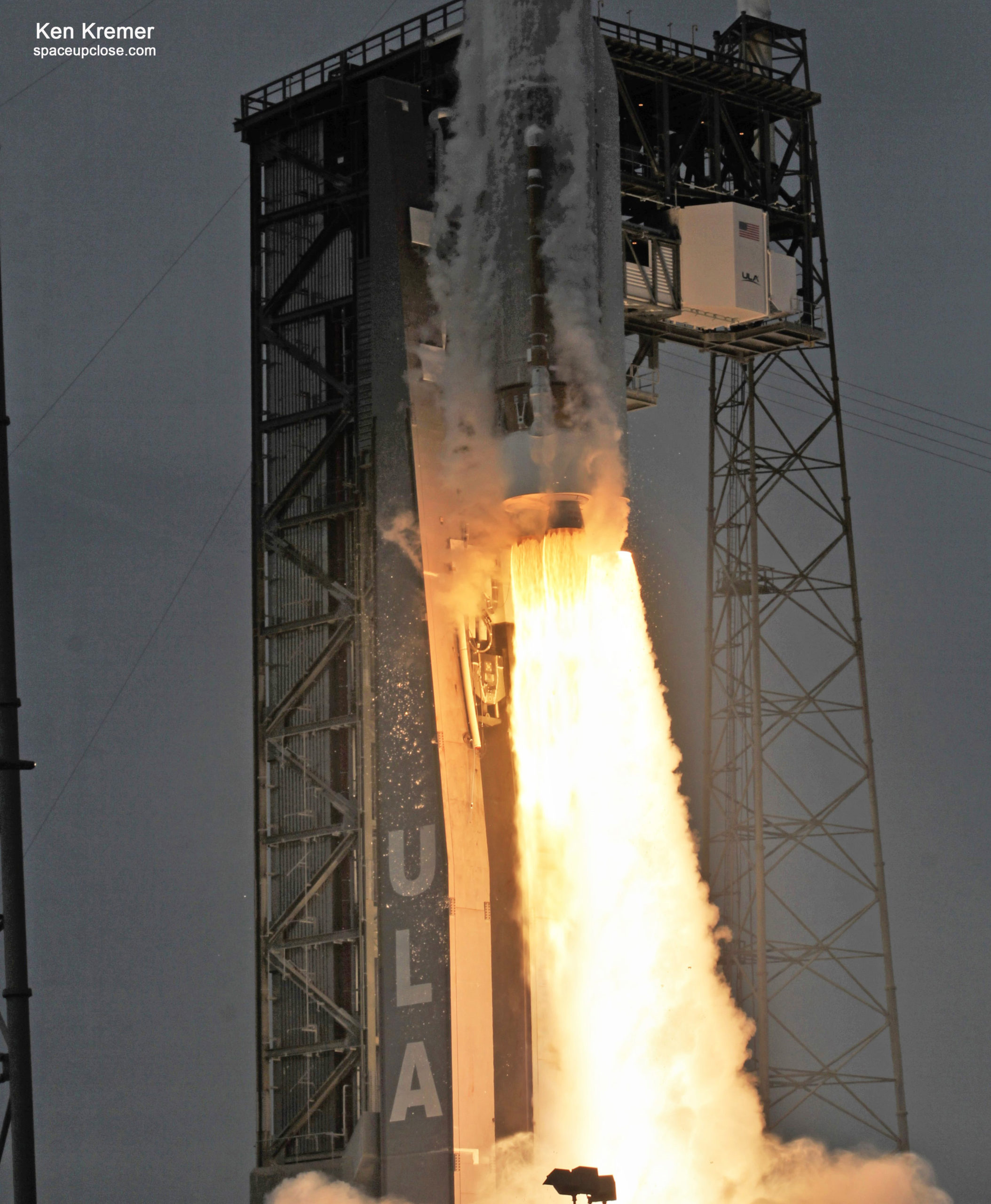 The Atlas V 1st stage booster for this mission is powered by the Russian-made RD AMROSS RD-180 engine. Aerojet Rocketdyne provided the RL10C-1 engine for the Centaur upper stage and Northrop Grumman provided the Graphite Epoxy Motor (GEM) 63 solid rocket booster.
This counts as the 91st launch of the Atlas V rocket. To date ULA has launched 148 times with 100 percent mission success.
Ken's prelaunch photos of the ULA Atlas V for USSF-8 taken at pad 41 were featured at WKMG CBS 6 News Orlando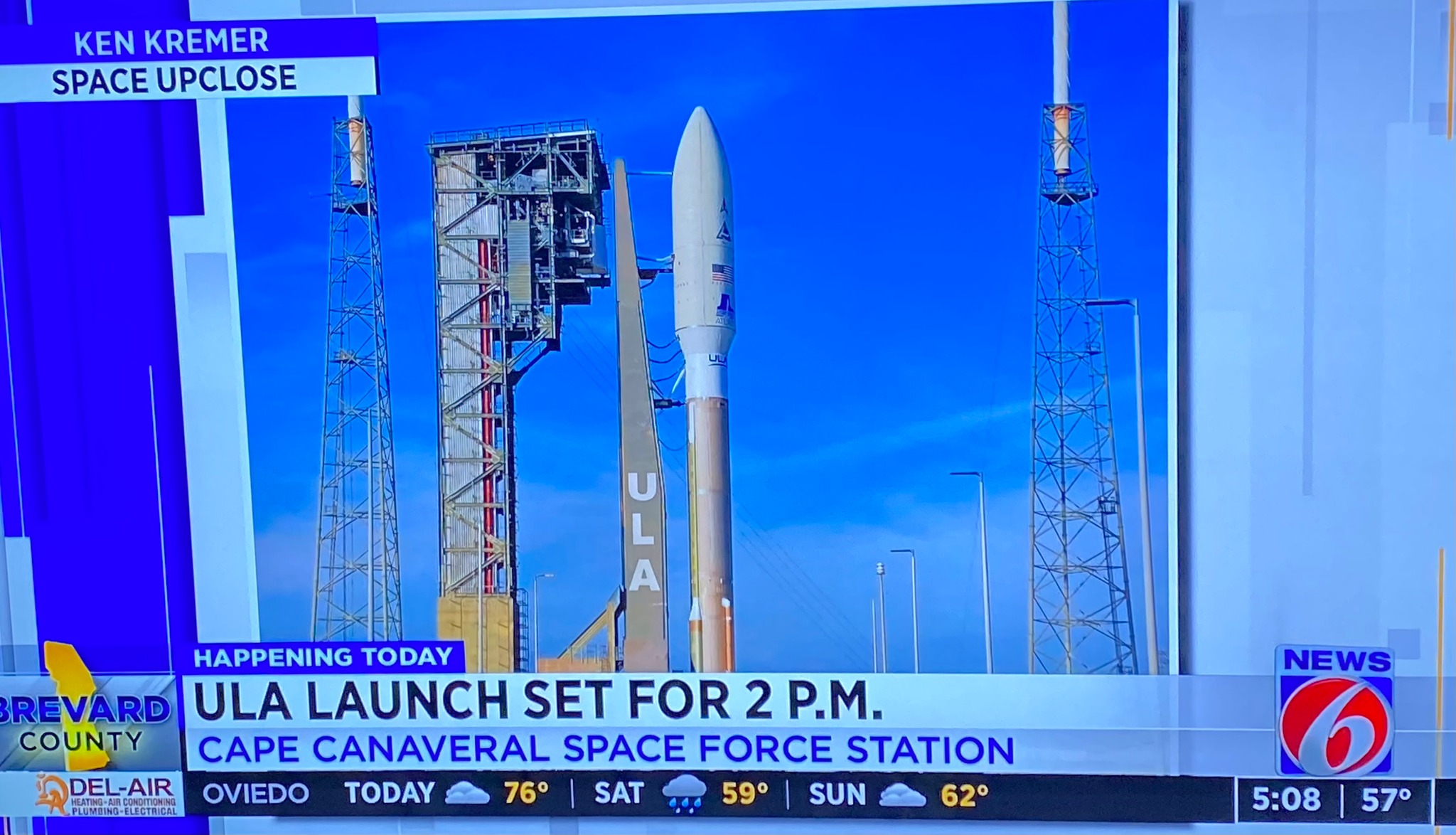 Watch Ken's continuing reports about National Security missions, SpaceX  Starlink , SpaceX Crew and Cargo Dragons, Artemis, SLS, Orion and NASA missions, JWST, DART,  Lucy Asteroid mission, Blue Origin and Space Tourism, Commercial Crew and Starliner and Crew Dragon and onsite for live reporting of upcoming and recent SpaceX and ULA launches including Crew 1 & 2 & 3, ISS, Solar Orbiter, Mars 2020 Perseverance and Curiosity rovers, NRO spysats and national security missions and more at the Kennedy Space Center and Cape Canaveral Space Force Station.
Stay tuned here for Ken's continuing Earth and Planetary science and human spaceflight news: www.kenkremer.com –www.spaceupclose.com – twitter @ken_kremer – email: ken at kenkremer.com
Dr. Kremer is a research scientist and journalist based in the KSC area, active in outreach and interviewed regularly on TV and radio about space topics.
………….
Ken's photos are for sale and he is available for lectures and outreach events
Please consider supporting Ken's work by purchasing his photos and/or donating at Patreon:
https://www.patreon.com/kenkremer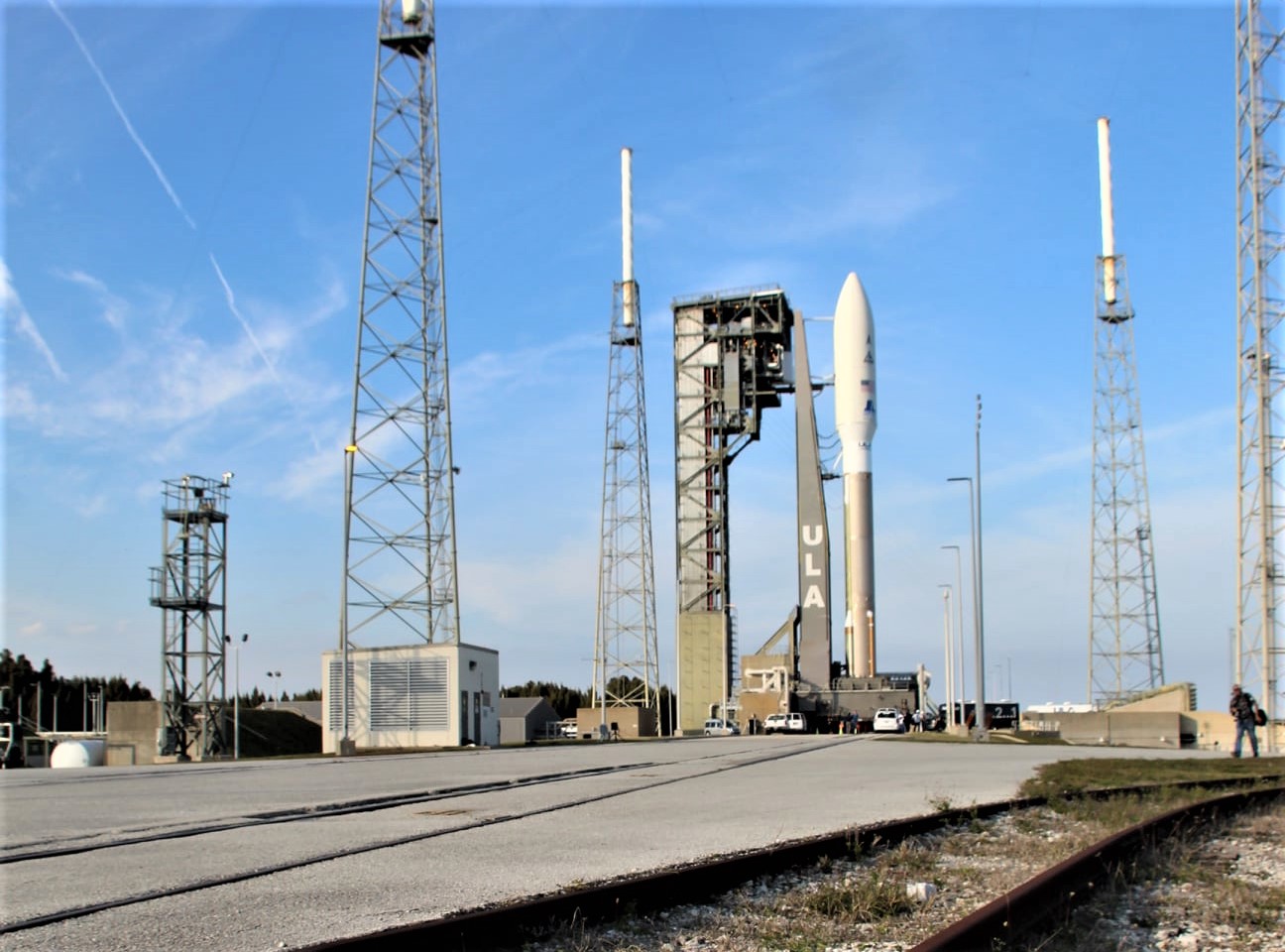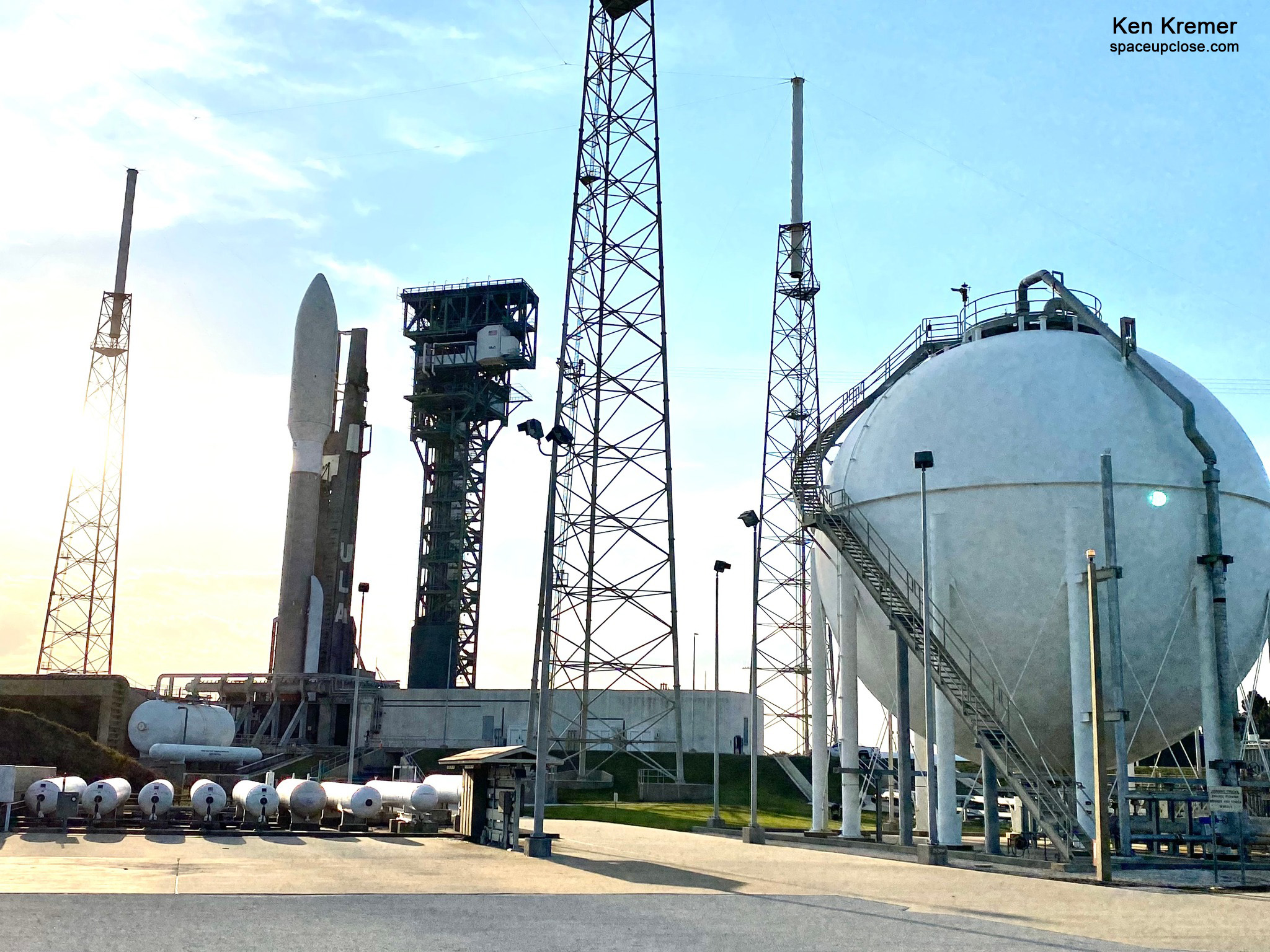 x