For SpaceUpClose.com & RocketSTEM
CAPE CANAVERAL SPACE FORCE STATION, FL –  The unflown 'Big Slider' version of ULA's Atlas V rocket is ready to make its launch debut Friday afternoon, Jan. 21, carrying a twin pair of classified military tracking surveillance satellites to orbit for the U.S. Space Force for the firm's 1st launch of 2022 – and its from Florida's Spaceport!
The 'Big Slider' version of ULA's venerable Atlas V will fly for the first and only time in the previously unused 511 variant configuration comprising a 5 meter wide diameter payload fairing and just a single solid rocket booster augmenting the first stage.
The weather outlook is decent and improved to 80% GO for ULA's 1st launch of 2022 from the Florida Space Coast – in the latest update.
ULA Atlas V USSF-8 also counts as the 2nd Space Coast launch this week following the SpaceX Starlink 4-6 on Jan. 18.
Liftoff of ULA Atlas V launch carrying the USSF-8 mission for the U.S. Space Force is planned for Fri., Jan. 21 at 2 p.m. EST from Space Launch Complex-41 at Cape Canaveral Space Force Station in Florida.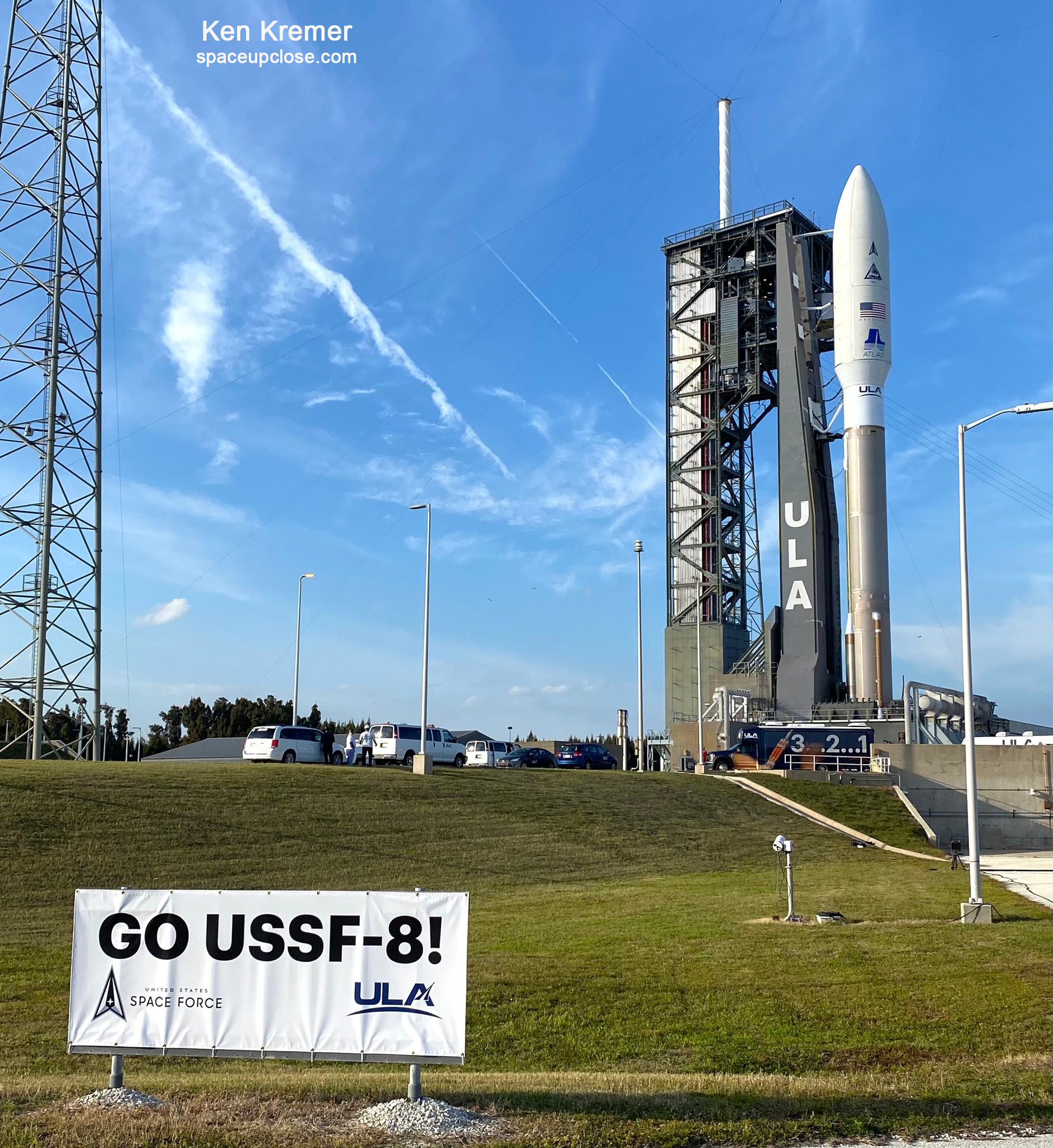 The exact launch window has not been made public at this time
The twin Northrop Grumman-built Geosynchronous Space Situational Awareness Program military tracking satellites GSSAP-5 and -6 comprising the USSF-8 mission are encapsulated inside the 5-meter diameter nose cone and will deliver the twin spacecraft directly to near-geosynchronous orbit approximately 22,300 miles (36,000 km) above the equator.
The latest forecast from U.S. Space Force meteorologists at the 45th Space Wing show a 70 percent chance of favorable weather conditions for launch.
The primary concerns are Thick Cloud Layer Rule and Cumulus Cloud Rule.
A backup launch opportunity exists on Sat. Jan 22.  With a slightly poorer weather outlook
The overall probability of violating weather constraints for 24-hour delay is 40%, thus 60% GO
The primary concern on Jan. 22 is the Thick Cloud Layer Rule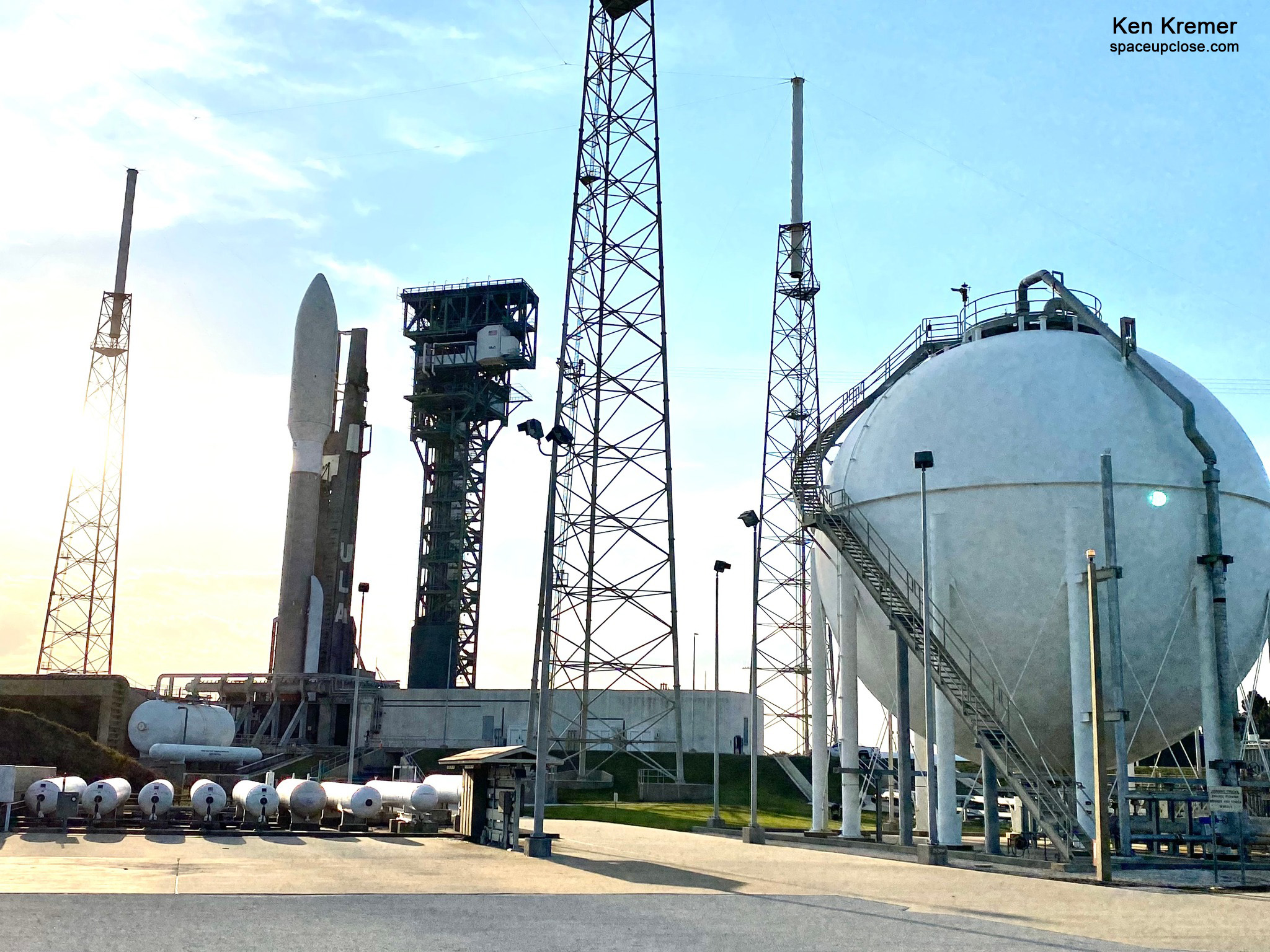 You can watch the launch live on a ULA Launch Broadcast
ULA live broadcast coverage of launch is available starting at 1:40 p.m. EST at www.ulalaunch.com.
Live launch updates available at: www.ulalaunch.com
Also at: www.facebook.com/ulalaunch, twitter.com/ulalaunch and instagram.com/ulalaunch
Watch ULA CEO Tory Bruno describe the capabilities of 'Big Slider' of Atlas V variant
#ToryTalk // #USSF8 will be the one and only mission to fly on our mighty #AtlasV 511, known as "Big Slider." @torybruno explains how this unique configuration will provide just the right amount of thrust to deliver the twin spacecraft directly to near-geosynchronous orbit. pic.twitter.com/nfDp9kCMh6

— ULA (@ulalaunch) January 19, 2022
The Atlas V will visibly lift off slightly sideways with asymmetric torque that will be compensated for by the canted nozzle of the single side mounted solid rocket motor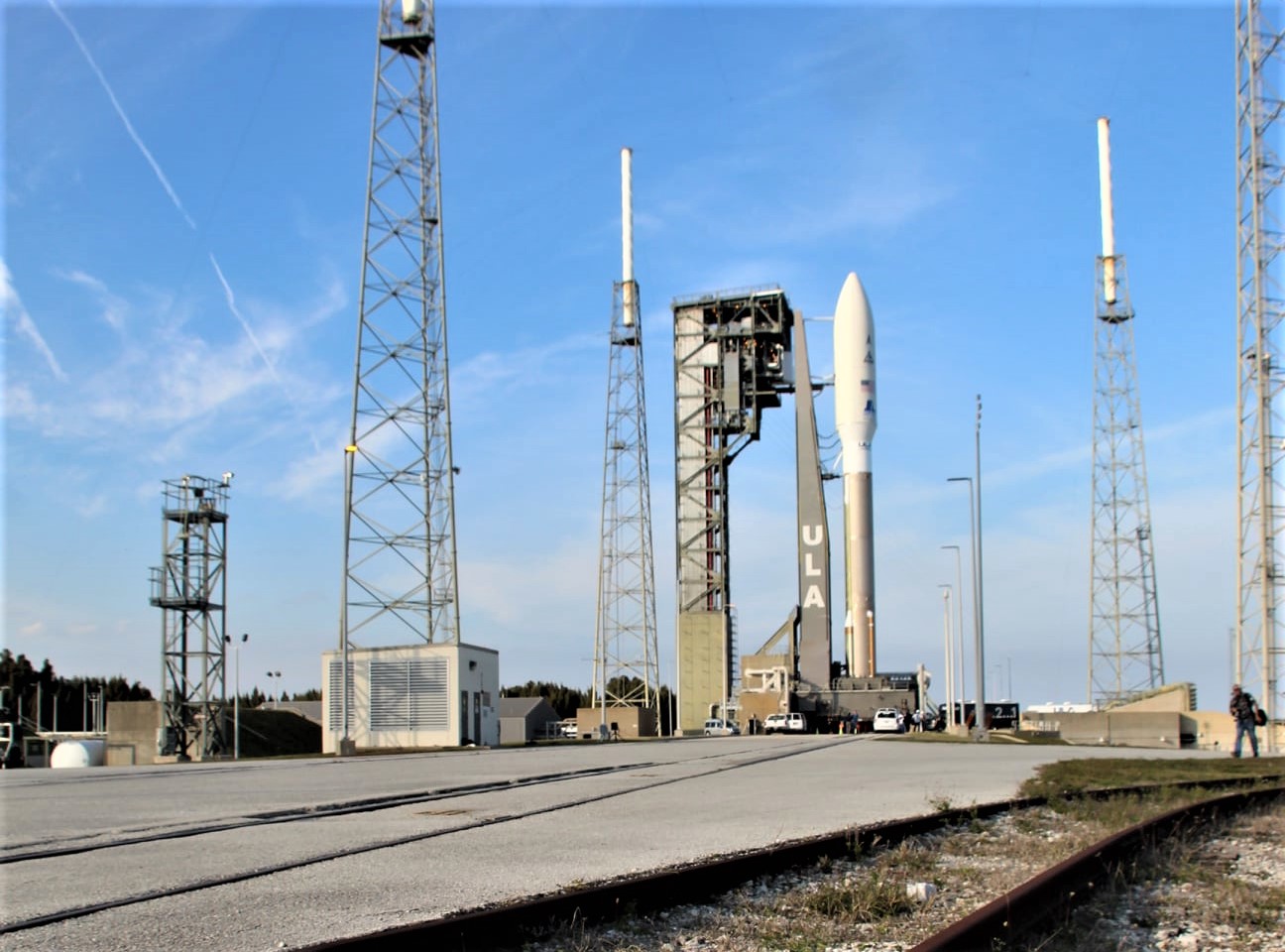 "The U.S. Space Force's Space Systems Command, together with United Launch Alliance and its mission partners, are preparing to launch the fifth and sixth Northrop Grumman-built Geosynchronous Space Situational Awareness Program (GSSAP) satellites aboard an Atlas V 551 launch vehicle from Cape Canaveral Space Force Station, Florida on Jan. 21," said the Space Force.
"The mission, called United States Space Force (USSF)-8, will deliver two satellites, GSSAP-5 and -6, into orbit to further the Space Domain Awareness (SDA) mission."
Watch this excellent description of the 'Big Slider' by @torybruno describing 1st/only time launch of #ULA #AtlasV in 511 config – 5m fairing + 1 SRB as it slides slight sideways w asymm torque upon Liftoff targeting 2 PM Jan 21 on #USSF8 mission @SpaceForceDoD @ulalaunch https://t.co/3Xl5wXtjz2

— Ken Kremer (@ken_kremer) January 21, 2022
"GSSAP satellites are a space-based capability operating in a near-geosynchronous orbit supporting the U.S. Space Command space surveillance operations as a dedicated Space Surveillance network (SSN) sensor. These satellites provide neighborhood watch services in the Geosynchronous Earth Orbit (GEO) improving flight safety for all spacefaring nations operating in that orbit. Enhanced position knowledge of satellites at that distance improves the ability to warn a spacecraft owner/operator if there is another object anticipated to approach too closely and create a hazardous situation," said ULA.
"Data from the GSSAP will uniquely contribute to timely and accurate orbital predictions, enhancing our knowledge of the GEO environment and further enabling space flight safety including satellite collision avoidance."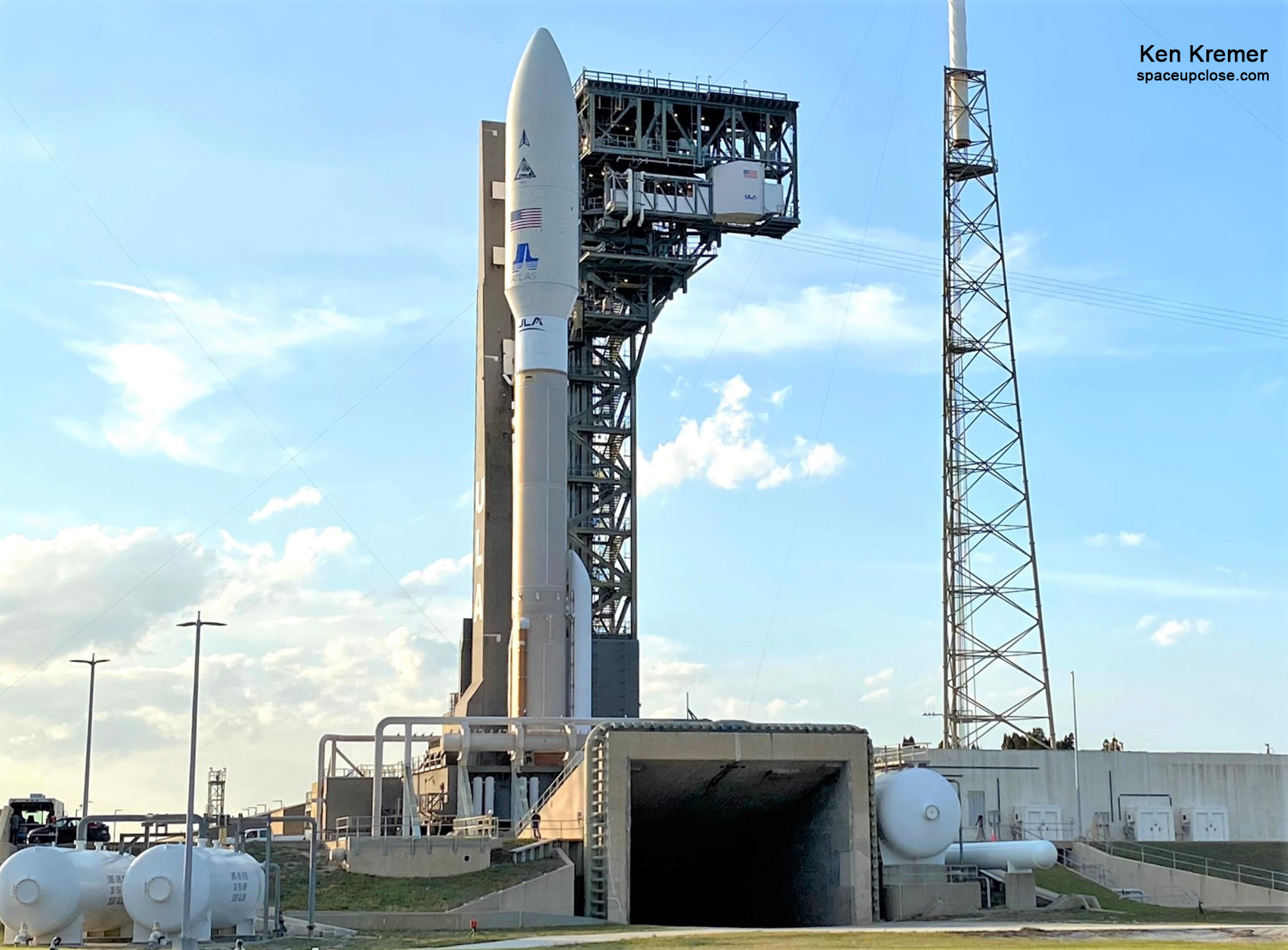 Unique to this mission is the first and only planned flight of the Atlas V 511 configuration.
The 511 is the only unflown configuration in the Atlas family and will launch just this once before the next generation Vulcan Centaur taken over.
The Atlas V vehicle's  height with the 5-meter short PLF is approximately 196 ft (59.7 m).
The Atlas V 1st stage booster for this mission is powered by the Russian-made RD AMROSS RD-180 engine. Aerojet Rocketdyne provided the RL10C-1 engine for the Centaur upper stage and Northrop Grumman provided the Graphite Epoxy Motor (GEM) 63 solid rocket booster.
This will be the 91st launch of the Atlas V rocket. To date ULA has launched 147 times with 100 percent mission success.
Ken's prelaunch photos of the ULA Atlas V for USSF-8 taken at pad 41 were featured at WKMG CBS 6 News Orlando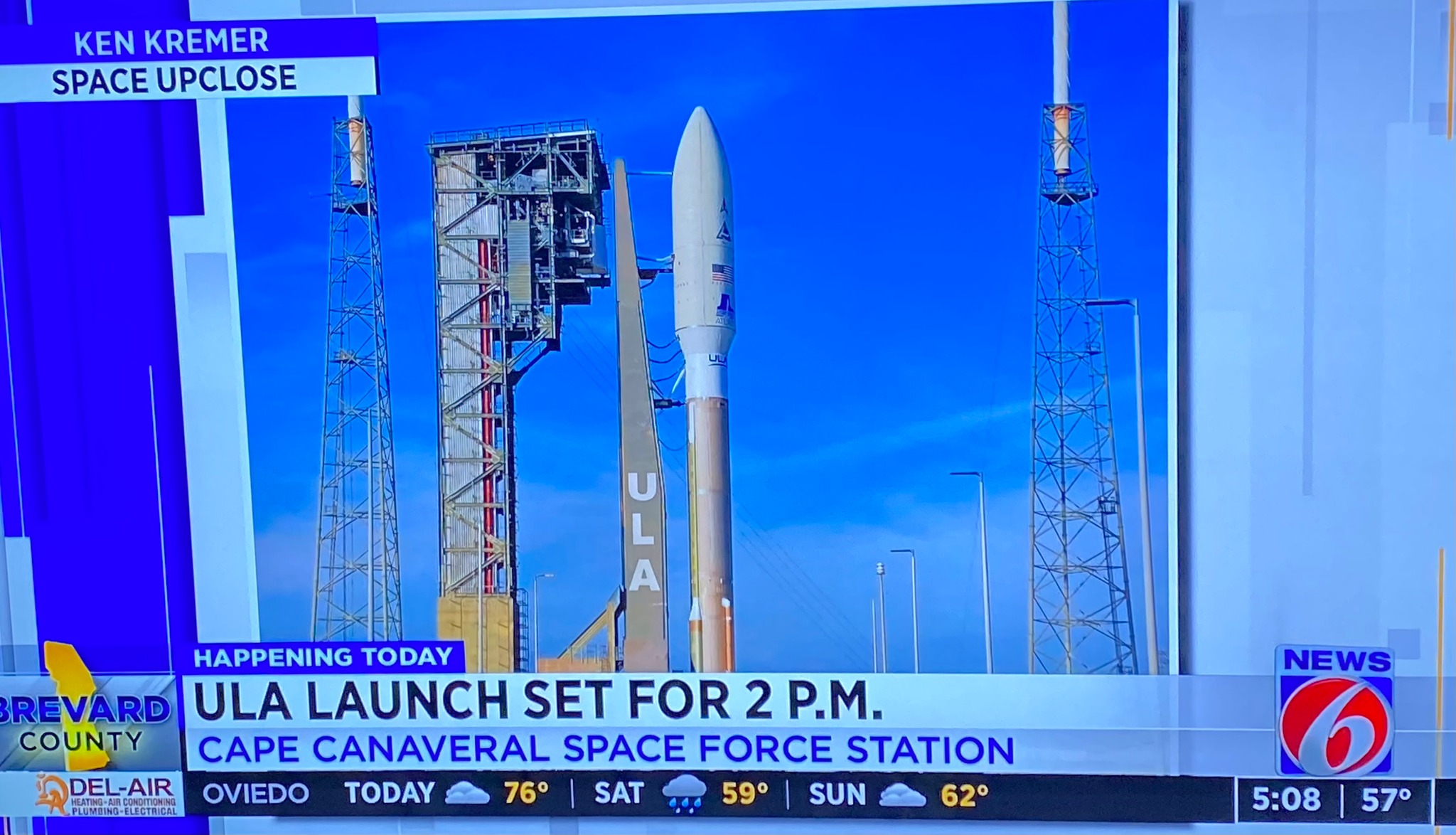 Watch Ken's continuing reports about National Security missions, SpaceX  Starlink , SpaceX Crew and Cargo Dragons, Artemis, SLS, Orion and NASA missions, JWST, DART,  Lucy Asteroid mission, Blue Origin and Space Tourism, Commercial Crew and Starliner and Crew Dragon and onsite for live reporting of upcoming and recent SpaceX and ULA launches including Crew 1 & 2 & 3, ISS, Solar Orbiter, Mars 2020 Perseverance and Curiosity rovers, NRO spysats and national security missions and more at the Kennedy Space Center and Cape Canaveral Space Force Station.
Stay tuned here for Ken's continuing Earth and Planetary science and human spaceflight news: www.kenkremer.com –www.spaceupclose.com – twitter @ken_kremer – email: ken at kenkremer.com
Dr. Kremer is a research scientist and journalist based in the KSC area, active in outreach and interviewed regularly on TV and radio about space topics.
………….
Ken's photos are for sale and he is available for lectures and outreach events
Please consider supporting Ken's work by purchasing his photos and/or donating at Patreon:
https://www.patreon.com/kenkremer
x
x