For SpaceUpClose.com & RocketSTEM
KENNEDY SPACE CENTER, FL –  SpaceX launched its third Falcon 9 rocket in three days at lunch time Thursday, Feb. 3 and  successfully delivered the next batch of Starlink high speed internet satellites to low Earth orbit while flying on a once rare southernly trajectory from Florida's Spaceport – continuing a blistering launch pace opening 2022.
The veteran SpaceX Falcon 9 roared aloft into picture perfect skies on a beautiful weekday afternoon from pad 39A on NASA's Kennedy Space Center and nailed a landing on an ocean going droneship some eight minutes later in the Atlantic Ocean.
Launch of the 229 foot tall (70 meter) Falcon 9 took place Thursday, Feb. 3 at 1:13 p.m. EST (1813 GMT) from Launch Complex 39A (LC-39A) at Kennedy Space Center in Florida carrying a payload of 49 Starlink broad band high speed internet satellites to low Earth orbit on the Starlink 4-7 mission – during an instantaneous launch window.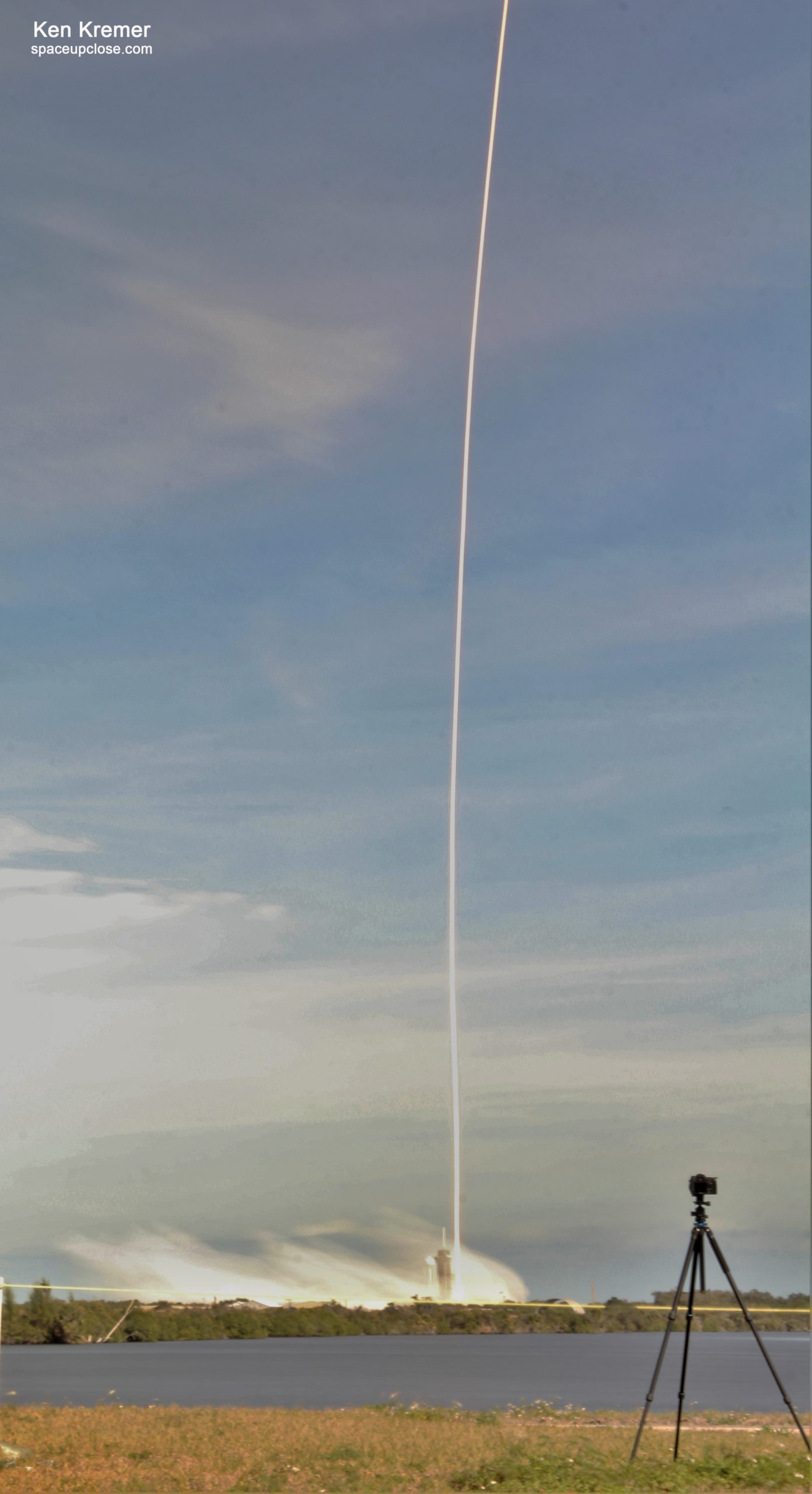 Earlier this week SpaceX launched Italy's COSMO-SkyMed radar remote sensing satellite (CSG-2) mission to polar orbit for the Italian Space Agency (ASI) on the fifth try Monday evening, Jan. 31, from pad 40 at the Cape and next launched a secret classified NRO spy satellite NROL-87 from Vandenberg Space Force Base on Feb. 2
The cluster of 9 Merlin 1D first stage engines generated 1.7 million pounds of liftoff thrust upon ignition fueled by LOX and RP-1 propellants.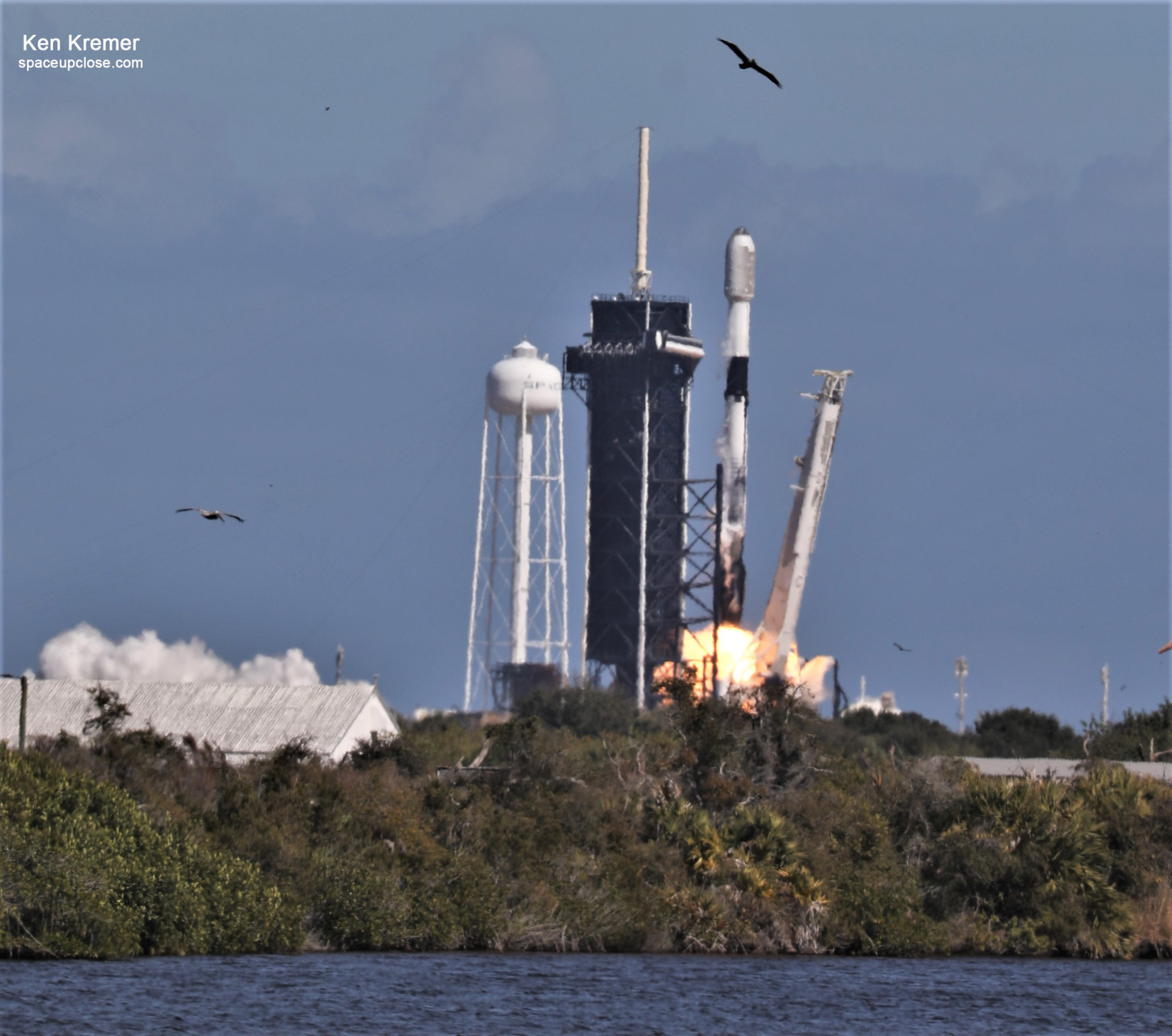 The rocket flew on a southern trajectory along Florida's eastern coast over the Atlantic Ocean and may have been visible from cities like Miami and Fort Lauderdale given the crystal clear skies
Following stage separation, SpaceX landed Falcon 9's first stage on the A Shortfall of Gravitas (ASOG) droneship, which was prepositioned in the Atlantic Ocean near the Bahamas.
Falcon 9's first stage has landed on the A Shortfall of Gravitas droneship

— SpaceX (@SpaceX) February 3, 2022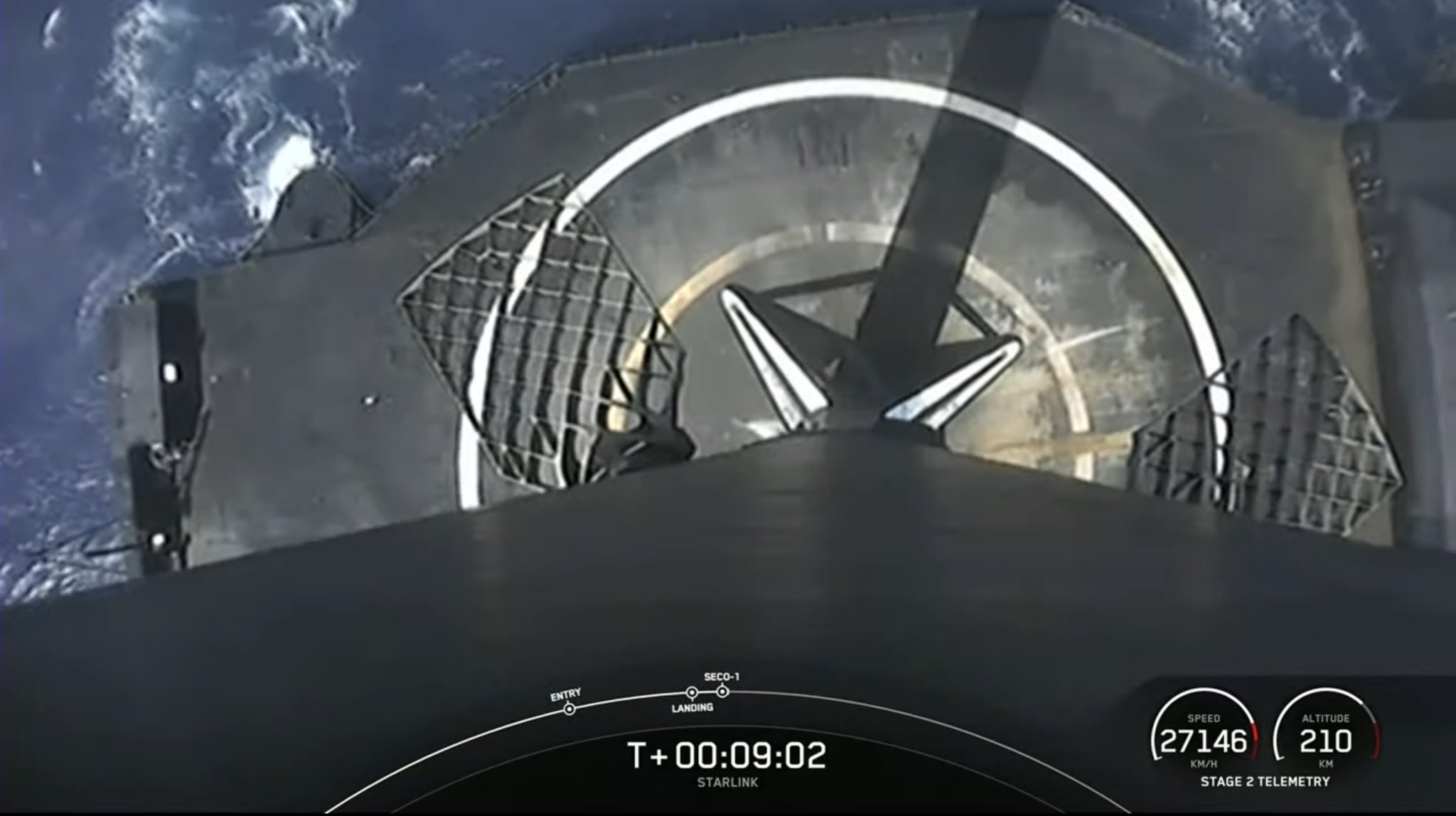 The Falcon 9 first stage booster designated as tail number B1061 has now flown to space and back six times.
This booster which previously launched Crew-1, Crew-2, SXM-8, CRS-23, and most recently NASA's IXPE X-Ray observatory to orbit.
The Starlink satellites were released from the upper stage at T+plus 15 minutes, 31 seconds, into an orbit ranging in altitude between 130 miles and 210 miles (210 by 339 kilometers) at an inclination of 53.2 degrees to the equator.
However the upper stage was out of range of ground communications at that time so deployment confirmation didn't come until 90 minutes later.
Deployment of 49 Starlink satellites confirmed

— SpaceX (@SpaceX) February 3, 2022
They will unfurl their solar panels
Then they will gradually raise their orbits to into their operational orbit at an altitude of 335 miles (540 kilometers) using ion thrusters
The fairings for this mission were also recycled.
One fairing half previously supported five Starlink missions, and the other half previously supported Transporter-1 and two Starlink missions.
The payload comprises 49 upgraded Starlink internet communications satellites manufactured by SpaceX in their Redmond, Washington production facility – enlarging the existing and burgeoning broadband constellation to over 2000 launched thus far.
This Starlink 4-6 mission counts as the 36th Starlink internet satellite mission and raises the total number of Starlink satellites launched to 2,091, including prototypes and test versions.
A running tally is maintained by astrophysicist Jonathan McDowell of Harvard
https://planet4589.org/space/stats/star/starstats.html
The SpaceX Falcon 9 flew away and aloft on a rare southerly trajectory heading southeast and just north of the Bahamas at an inclination of 53.2 degrees into the second of five Starlink orbital 'shells.'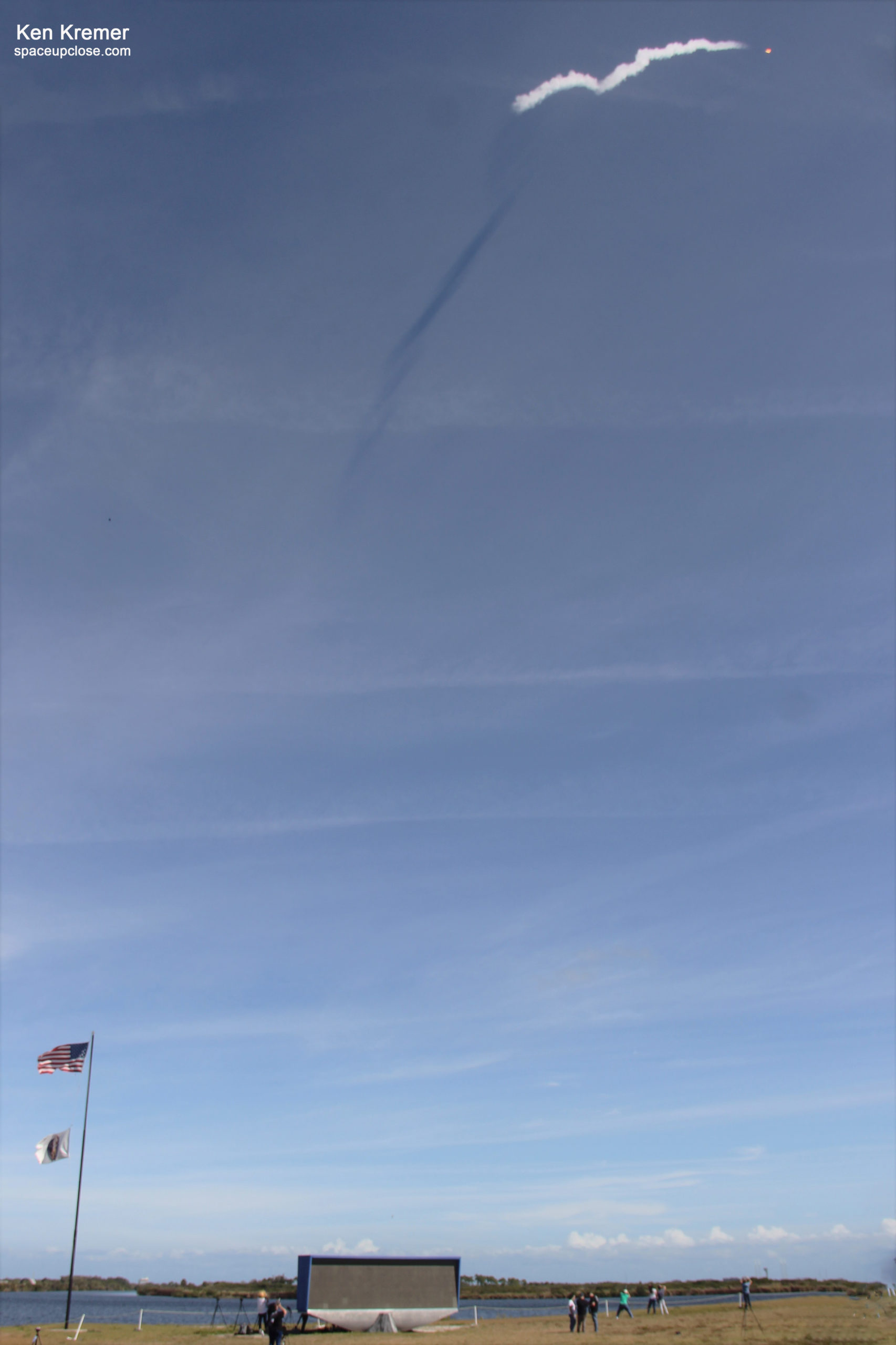 The goal of SpaceX's Starlink constellation is to provide low cost, high-speed, low-latency broadband connectivity around the world.
SpaceX is targeting an initial constellation of about 4,400 satellites authorized by the FCC that could grow to literally 30,000 or more over time.
Normally launches from Kennedy and the Cape avoid the southerly trajectory to avoid populated areas and thus prevent polar launches in the past.
However improvements in rocket maneuvering technology and innovation by SpaceX has enabled the use of the southern corridor and south polar launches favored for science and some surveillance missions because they provide a different global view of Earth.
The first southerly launch from the Cape involved Saocom-1B in 2019 and they have now flown three more since then.
The southeasterly route is also more favorable for booster landings and fairing recoveries in the winter months says SpaceX compared to the harsher weather off the Carolina's coast
Cosmo SkyMed from the Italian Space Agency (ASI) finally flew on the fifth try Monday evening, Jan. 31, following a trio of weather scrubs and a fourth due to a gigantic commercial cruise ship willfully violating the well-advertised maritime hazard exclusion zone just off shore of Florida's Space Coast.
My Falcon 9 at pad 40 photos for Cosmo SkyMed earlier in the week were featured at WFTV ABC 9 News Orlando and as Image of the Day at Alive Universe on Jan. 30:
https://aliveuniverse.today/immagine-del-giorno/6317-che-sia-la-volta-buona
Ken's commentary about the mission and delay cause by the cruise ship was featured at  WFTV ABC 9 News Orlando and WKMG CBS 6 Orlando:
https://www.clickorlando.com/news/local/2022/01/31/coast-guard-starts-investigation-of-royal-caribbean-ship-that-caused-spacex-scrub/
https://www.wftv.com/news/video-cruise-ship-entering-hazard-area-during-launch-window-leads-investigation/f19b3cf3-4451-435d-985f-e7ff65c409e5/
Watch Ken's continuing reports about SpaceX  Starlink , SpaceX Crew and Cargo Dragons, Artemis, SLS, Orion and NASA missions, DART,  Lucy Asteroid mission, Blue Origin and Space Tourism, Commercial Crew and Starliner and Crew Dragon and onsite for live reporting of upcoming and recent SpaceX and ULA launches including Crew 1 & 2 & 3, ISS, Solar Orbiter, Mars 2020 Perseverance and Curiosity rovers, NRO spysats and national security missions and more at the Kennedy Space Center and Cape Canaveral Space Force Station.
Stay tuned here for Ken's continuing Earth and Planetary science and human spaceflight news: www.kenkremer.com –www.spaceupclose.com – twitter @ken_kremer – email: ken at kenkremer.com
Dr. Kremer is a research scientist and journalist based in the KSC area, active in outreach and interviewed regularly on TV and radio about space topics.
………….
Ken's photos are for sale and he is available for lectures and outreach events
Please consider supporting Ken's work by purchasing his photos and/or donating at Patreon:
https://www.patreon.com/kenkremer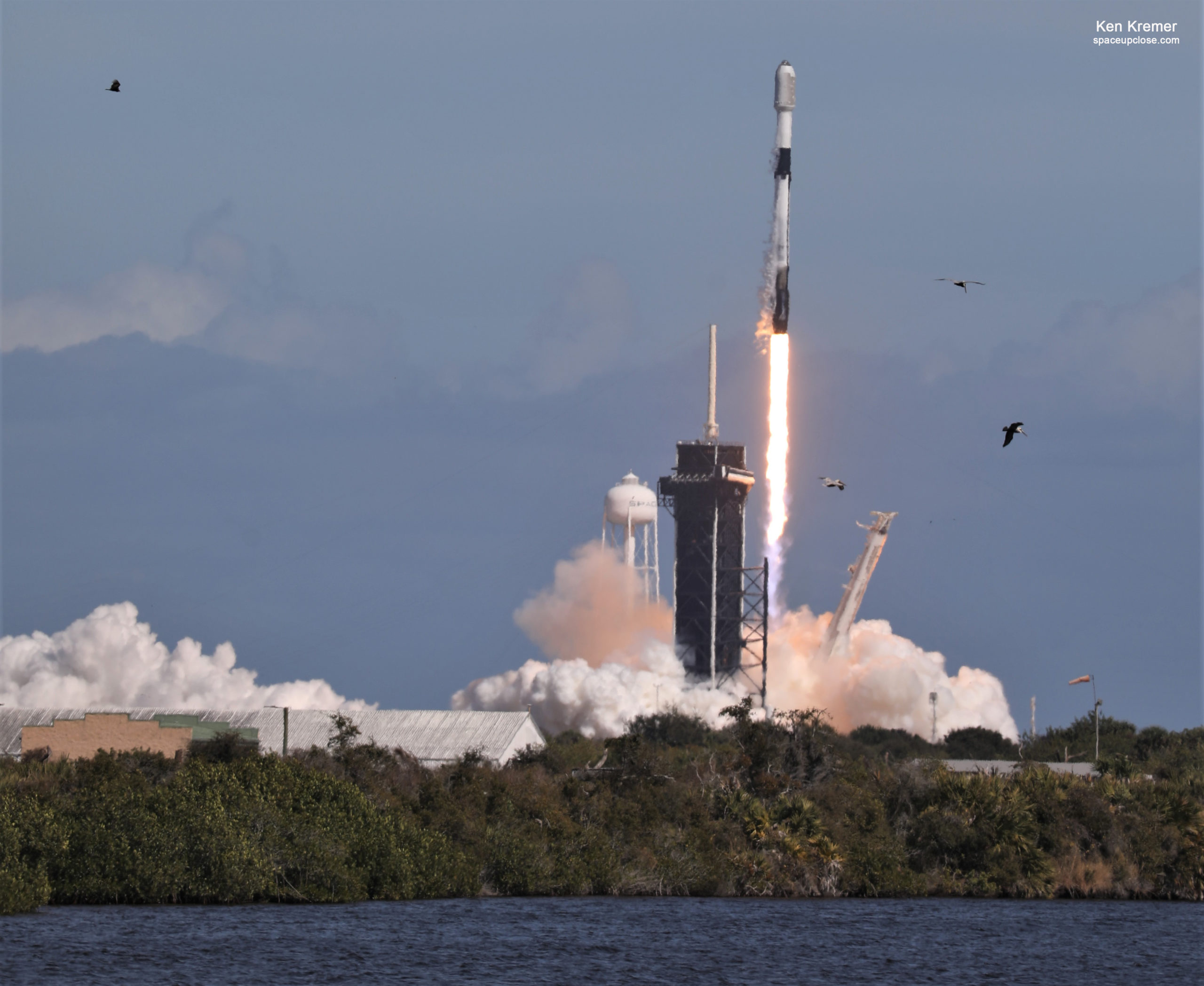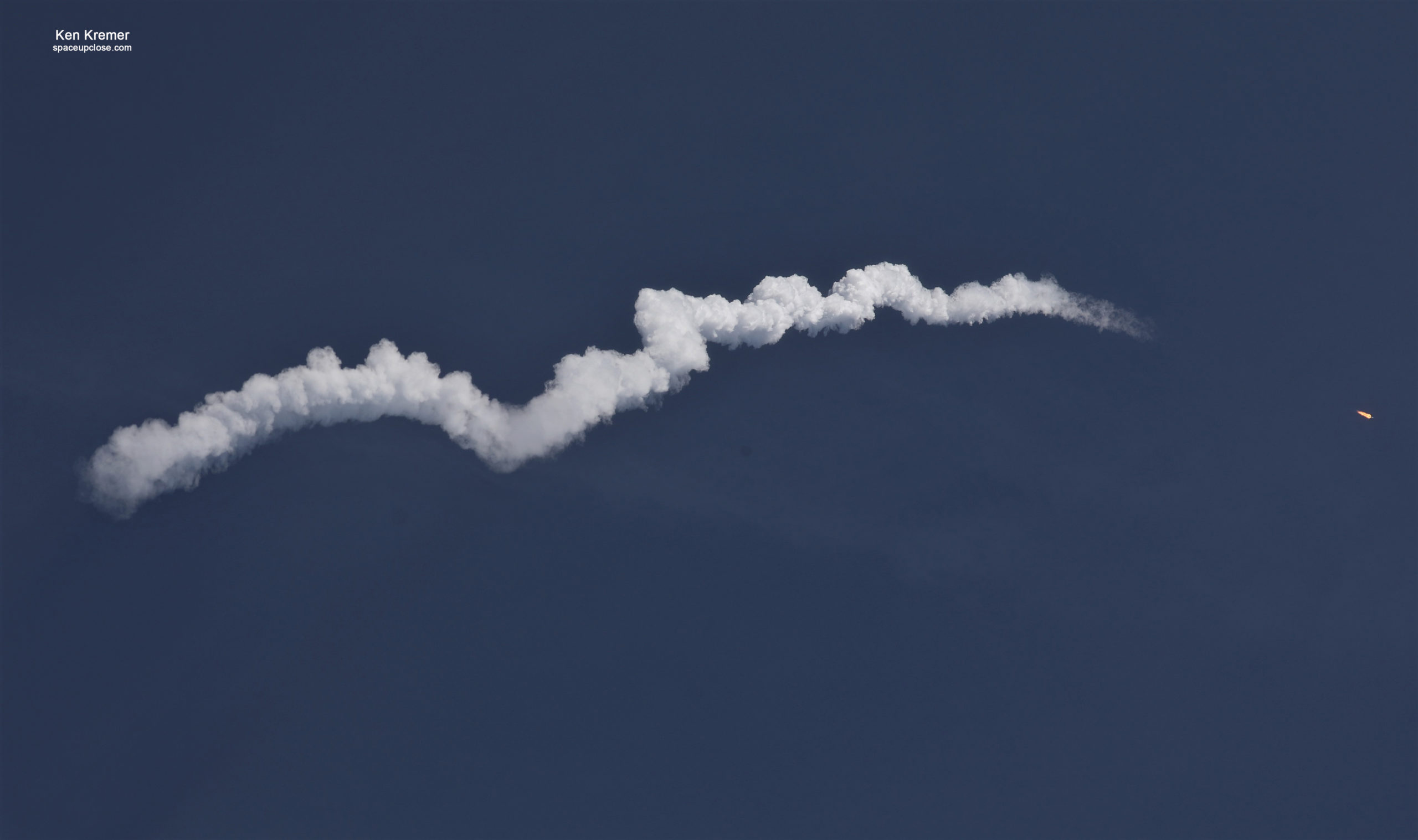 x