For SpaceUpClose.com & RocketSTEM
CAPE CANAVERAL SPACE FORCE STATION, FL – Under picture perfect sunset skies SpaceX staged a spectacular Falcon 9 rocket launch carrying the Italy's COSMO-SkyMed radar remote sensing satellite (CSG-2) mission to polar orbit for the Italian Space Agency (ASI) on the fifth try Monday evening, Jan. 31, following a trio of weather scrubs and a fourth due to a gigantic commercial cruise ship willfully violating the well-advertised maritime hazard exclusion zone just off shore of Florida's Space Coast.
Furthermore, eight minutes later the recycled Falcon 9 first stage booster accomplished a dazzling ground landing back at the Cape after soaring aloft on a rare southerly trajectory – thrilling tens of thousands of spectators Monday who left disappointed the night before when the Royal Caribbean owned 'Harmony of the Seas' mega cruise ship purposefully entered the exclusion zone and forced a launch scrub by SpaceX at T Minus 33 seconds on Sunday evening, Jan. 31.
Launch of the converted recycled Falcon 9 booster rocket and the COSMO-SkyMed Second Generation FM2 Earth observing radar mission (CSG-2) payload to polar orbit from Space Launch Complex 40 (SLC-40) at Cape Canaveral Space Force Station, Florida took place at 6:11 p.m. EST, or 2311 GMT, on Monday, January 31, 2022 – during an instantaneous launch window.
The cluster of 9 Merlin 1D first stage engines generated 1.7 million pounds of liftoff thrust upon ignition fueled by LOX and RP-1 propellants.
The 4,850 pound ( 2.2 metric tons) Italian COSMO-SkyMed second generation satellite was delivered to polar low Earth orbit (LEO) about an hour after liftoff flying on a rare southerly polar trajectory.
It is the second in a constellation of four upgraded satellites.
COSMO-SkyMed Second Generation (CSG-2) launched on a south polar trajectory and was delivered to a sun-synchronous polar orbit to an altitude of about 385 miles (620 km) and an inclination of 97.8 degrees.
Crystal clear evening skies afforded absolutely stunning views of the space 'jelly fish' nebula like feature spawned from the incandescent rocket exhaust plume during stage separation of the first and second stages easily visible high in the skies and illuminated by the sun while soaring overhead Cape Canaveral and the Space Coast – just 10 minutes after sunset.
The first stage then carried out the flip maneuver firing cold gas nitrogen thrusters to turn around for a ground touchdown
The 15 story tall spent booster also carried out boost back and landing burns firing a subset of the Merlin 1D engines  for a precision guided touchdown at Landing Zone-1 (LZ-1) around 6 miles (9 km) south of pad 40.
The second stage continued to orbit firing some six minutes carrying the Italian payload to LEO.
The payload fairing halves were jettisoned nearly four minutes after liftoff.
The Coast Guard is now investigating the scrub incident created by the crew commanding the Royal Caribbean owned 'Harmony of the Seas' cruise ship despite numerous announcements and officially published NOTMAR notices to mariners – with thousands of passengers on board who would have been at risk in the event of a rocket emergency sailing in a spot where they never should have been had they simply read the notices.
Furthermore the ship only had to wait 1 hour to depart from Port Canaveral in order to avoid this utterly avoidable sad incident preventing numerous excited folks from experiencing a once in a life time opportunity to witness and SpaceX launch and landing back at Cape Canaveral.
This marked the 4th Falcon 9 rocket of January – continuing an absolutely blistering launch pace this year that could very well exceed the record setting 31 liftoffs achieved by SpaceX in 2021.
A fifth Falcon 9 due to carry another batch of Starlink internets satellites a day later was shifted into February after the repeated month ending scubs
The COSMO-SkyMed radar remote sensing satellite is sponsored by the Italian government, the Italian Space Agency (ASI) and the Italian Ministry of Defense and will serve civilian, government, institutional and military needs.
2nd #COSMOSkyMed Second Generation satellite will be launched soon! Designed to meet the requirements of both commercial & institutional customers, COSMO-SkyMed Second Generation system is a crown jewel in @Thales_Alenia_S' fleet of radar #EarthObservation observation satellites pic.twitter.com/T4fbMXM9If

— Thales Alenia Space (@Thales_Alenia_S) January 24, 2022
COSMO-SkyMed was built by prime contractor Thales-Alenia
It is a state-of-the-art Earth observing satellite with dual civilian and military uses
"2nd COSMO-SKYMED Second Generation satellite our company has built will be launched soon. It is a state-of-the-art radar-based Earth Observation satellite with a dual-use mission that is dedicated to @ASI_spazio & @MinisteroDifesa"@massimoc_square #BBESpaceConf pic.twitter.com/twjLhciwss

— Thales Alenia Space (@Thales_Alenia_S) January 26, 2022
COSMO-SkyMed is an Italian built Earth observation satellite program. These satellites are equipped with state-of-the-art radar technology, synthetic aperture radars, which will help provide data on a global scale for a variety of different applications. This means improved ocean monitoring, cartography, environmental protection, and more.
Quite notably a twice used Falcon Heavy side core which SpaceX has converted for use as a single stick Falcon 9 first stage core for the first time is now reassigned to this launch of CGS-2.
The now converted first stage booster core is designated as B1052.
The '52' markings are clearly visible on my photos
Falcon 9 is 1st stage booster B1052 converted from twice launching as a Falcon Heavy side core
SpaceX confirmed that the Falcon 9 first stage booster supporting this CSG-2 mission previously supported the Falcon Heavy launches of the Arabsat-6A communications satellite and U.S. military STP-2 (Space Test Program-2) rideshare as side cores for those launches conducted in April and June 2019 respectively.
Notably this CSG-2 mission launch marks the first time conversion of a Falcon Heavy side mounted strap-on first stage side core to a lone Falcon 9 first stage core.
We recently witnessed B1052 being rolled on the Kennedy Space Center (KSC) on its journey rolling past the VAB and launch pads 39A and B on its way out to pad 40 on Dec. 8, 2021.
At that time last month the upper stage was already attached to the first stage and the top was sheathed in a protective covering – but its launch assignment was unknown.
Its rather rare to see such a first stage and second stage combo
Enjoy our launch and prelaunch pad photos taken by Ken Kremer and Jean Wright for Space UpClose
Both payload fairing halves are also recycled from earlier missions- as can be seen by their sooty coatings on my photos.
One fairing half supporting this mission previously supported Transporter-1, Transporter-2, and one Starlink mission
The other half previously supported SAOCOM 1B, Transporter-2, and one Starlink mission.
Ultimately B1052 was parked at SpaceX's pad 40 awaiting its turn for liftoff on its maiden Falcon 9 mission
When booster B1052 previously flew as a side mounted strap on the Falcon Heavy Arabsat-6A and STP-2 missions it was capped with a nose cone.
COSMO-SkyMed launched to low Earth orbit flying southwards on a south polar trajectory from Florida's Spaceport on Monday evening.
Furthermore, beyond flying on a rare southerly trajectory it also featured a daring and dramatic propulsive RTLS soft land landing of the first stage Falcon 9 booster back at the Cape just minutes after sunset with screaming sonic booms too some eight minutes later – for the 2nd time this month!
The path to launch was cleared following a successful hold down static fire test conducted by SpaceX engineers on Sunday, Jan. 23 at precisely 12 Noon – as witnessed by this author.
My Falcon 9 at pad 40 photos were featured at WFTV ABC 9 News Orlando and as Image of the Day at Alive Universe on Jan. 30:
https://aliveuniverse.today/immagine-del-giorno/6317-che-sia-la-volta-buona
Ken commentary about the mission and delay cause by the cruise ship was featured at  WFTV ABC 9 News Orlando and WKMG CBS 6 Orlando:
https://www.clickorlando.com/news/local/2022/01/31/coast-guard-starts-investigation-of-royal-caribbean-ship-that-caused-spacex-scrub/
https://www.wftv.com/news/video-cruise-ship-entering-hazard-area-during-launch-window-leads-investigation/f19b3cf3-4451-435d-985f-e7ff65c409e5/
Watch Ken's continuing reports about SpaceX  Starlink , SpaceX Crew and Cargo Dragons, Artemis, SLS, Orion and NASA missions, DART,  Lucy Asteroid mission, Blue Origin and Space Tourism, Commercial Crew and Starliner and Crew Dragon and onsite for live reporting of upcoming and recent SpaceX and ULA launches including Crew 1 & 2 & 3, ISS, Solar Orbiter, Mars 2020 Perseverance and Curiosity rovers, NRO spysats and national security missions and more at the Kennedy Space Center and Cape Canaveral Space Force Station.
Stay tuned here for Ken's continuing Earth and Planetary science and human spaceflight news: www.kenkremer.com –www.spaceupclose.com – twitter @ken_kremer – email: ken at kenkremer.com
Dr. Kremer is a research scientist and journalist based in the KSC area, active in outreach and interviewed regularly on TV and radio about space topics.
………….
Ken's photos are for sale and he is available for lectures and outreach events
Please consider supporting Ken's work by purchasing his photos and/or donating at Patreon:
https://www.patreon.com/kenkremer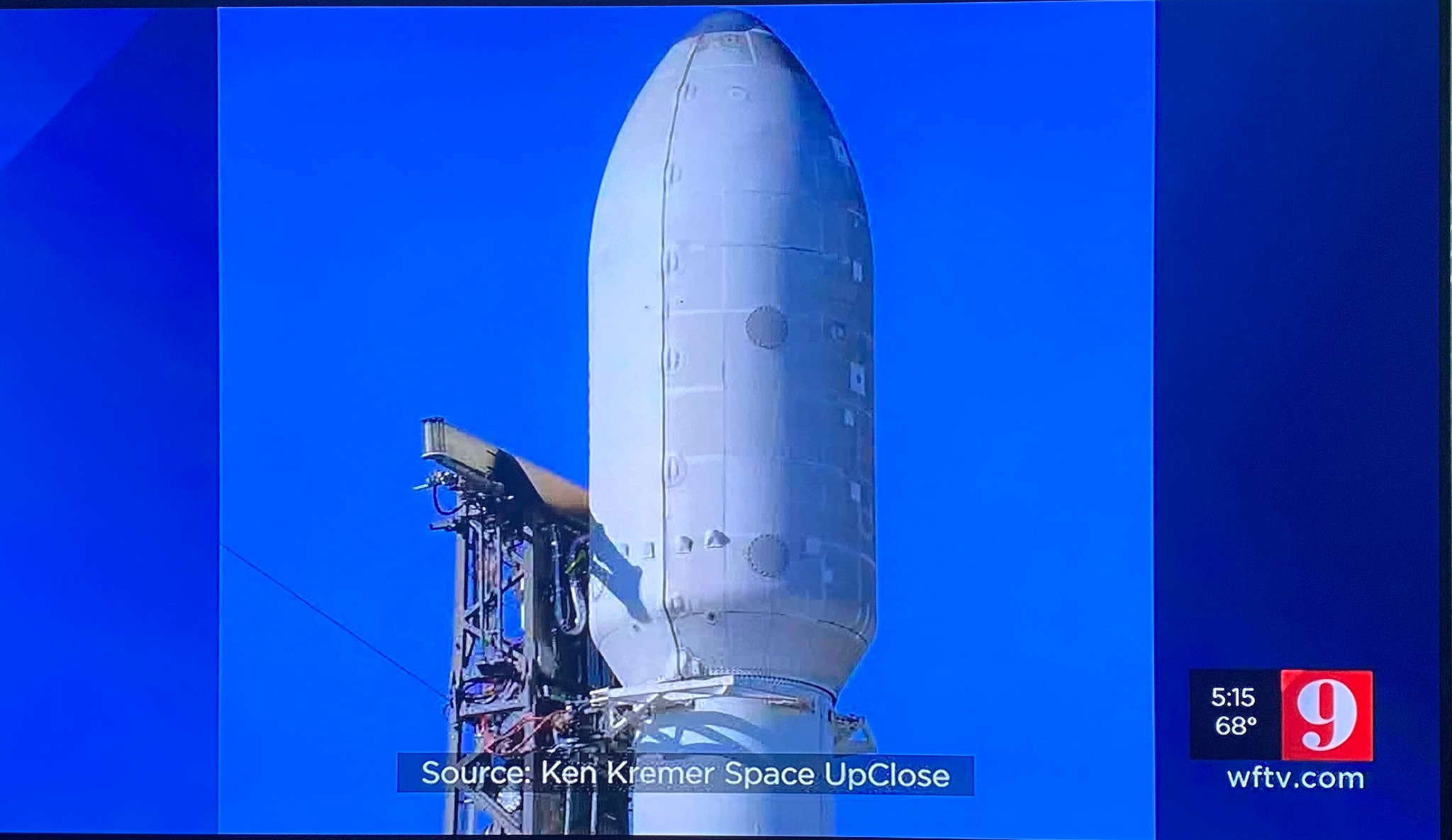 x