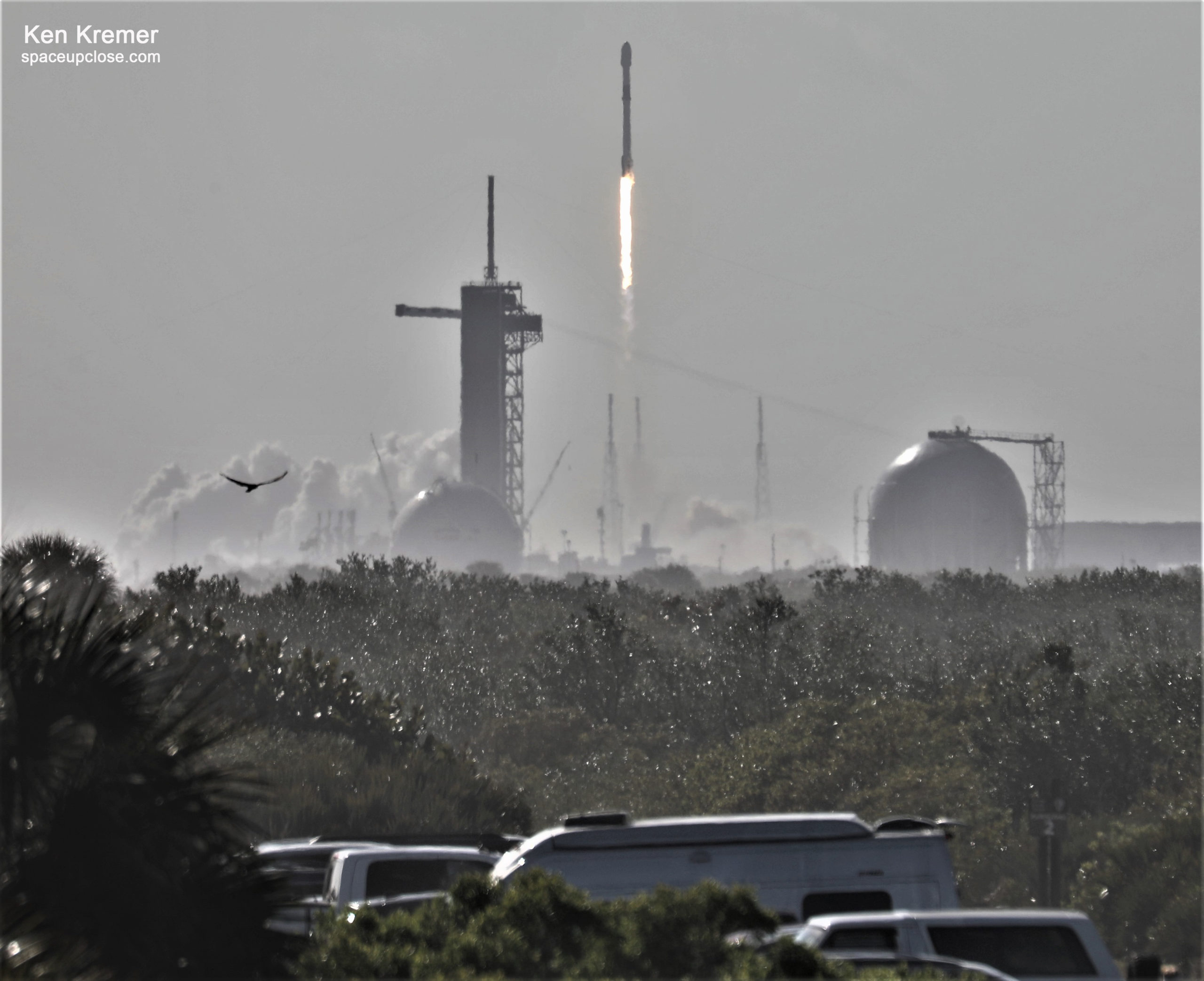 For SpaceUpClose.com & RocketSTEM
PLAYALINDA BEACH, FL –  SpaceX launched the next batch of Starlink high speed internet satellites to low Earth orbit on Monday morning, Feb 21, while flying on a once rare southernly trajectory from Florida's Spaceport – using only the second ever Falcon 9 booster to launch 11 times!
SpaceX also launched this set of Starlink into a somewhat higher orbit after most of the last batch was lost to a geomagnetic storm that increased atmospheric  drag and prematurely pulled nearly 40 of them back down towards a destructive reentry just days after liftoff.
The booster also nailed the landing some eight minutes later on the oceangoing droneship 'A Shortfall of Gravitas (ASOG) positioned in the Atlantic Ocean.
Launch of the 229 foot tall (70 meter) Falcon 9 took place Monday, Feb. 21 at 9:44 a.m. EST (1444 GMT) from Space Launch Complex 40 (SLC-4-) at Cape Canaveral Space Force Station in Florida carrying a payload of 46 Starlink broad band high speed internet satellites to low Earth orbit on the Starlink 4-8 mission – during an instantaneous launch window.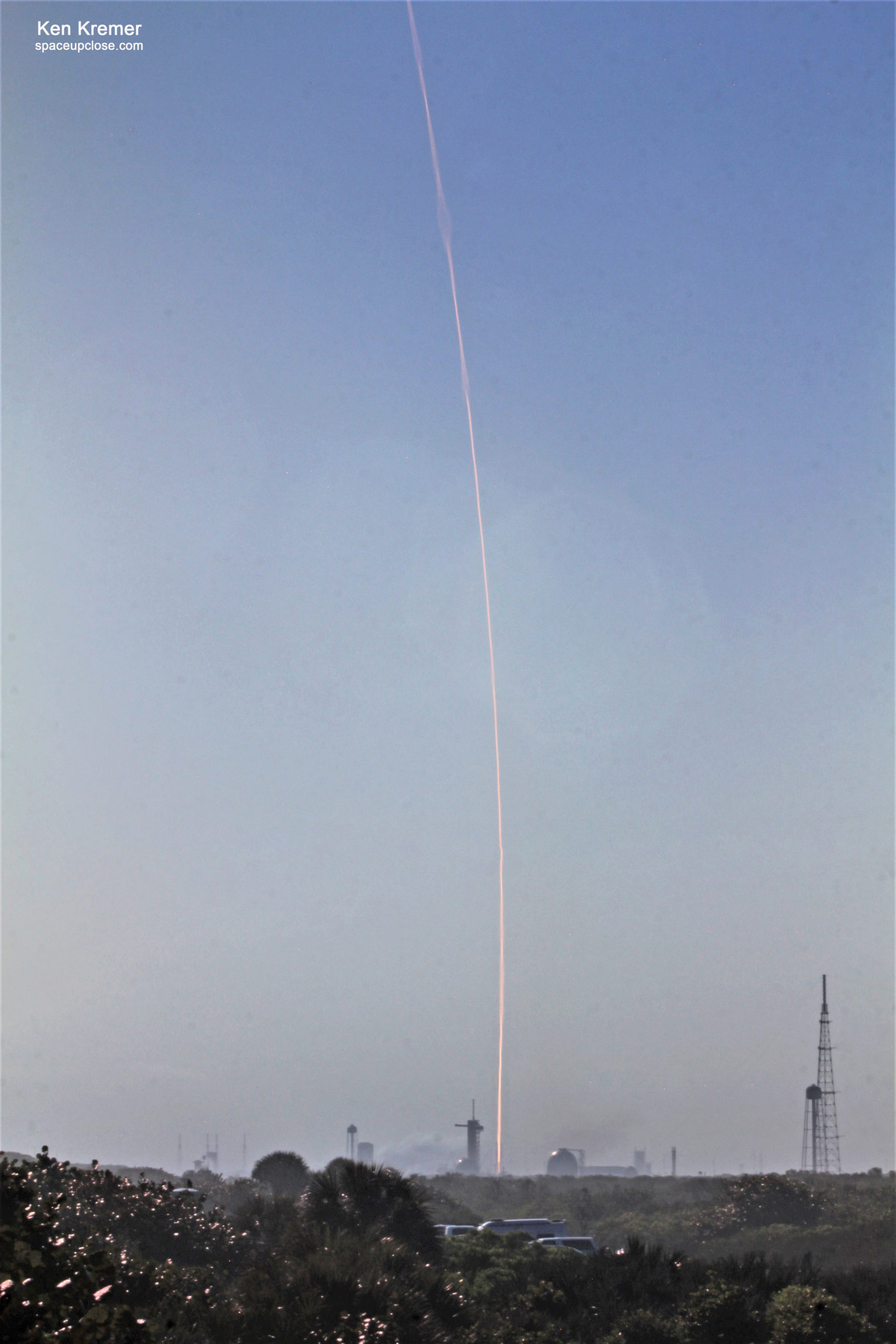 The launch was delayed a day by poor booster recovery weather from Sunday
But hordes of spectators were rewarded with a beautiful breakfast time blastoff into clear blue cloud free but sun glare filled skies on Monday, Feb. 21 – continuing a blistering launch pace opening 2022.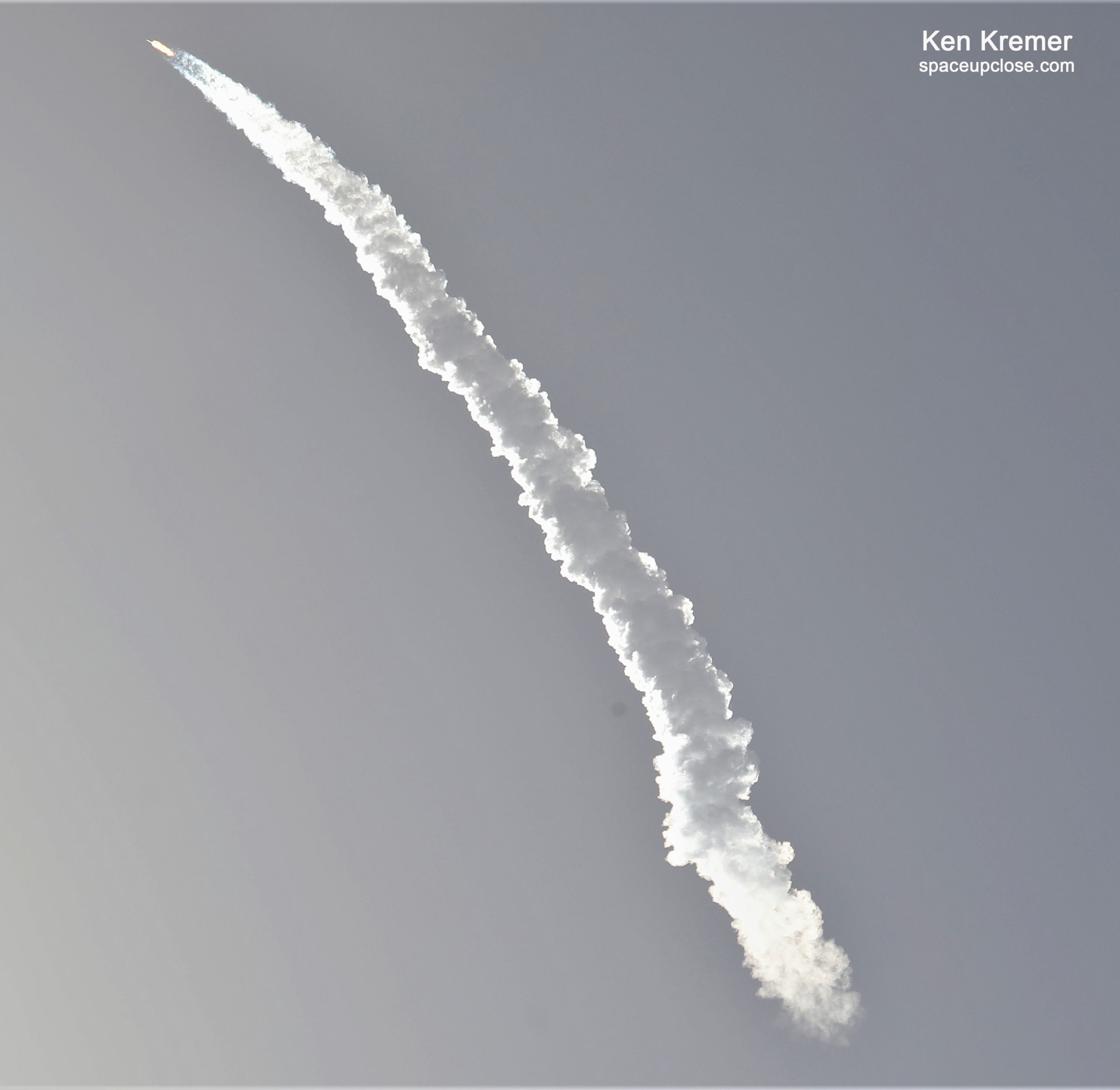 This mission marked SpaceX's seventh launch in the first seven weeks of 2022, continuing a phrenetic pace that bolster the firms  stated goal of achieving approximately 52 mission this year – significantly more than the already record breaking 31 launches achieved in 2021.
The cluster of 9 Merlin 1D first stage engines generated 1.7 million pounds of liftoff thrust upon ignition fueled by LOX and RP-1 propellants.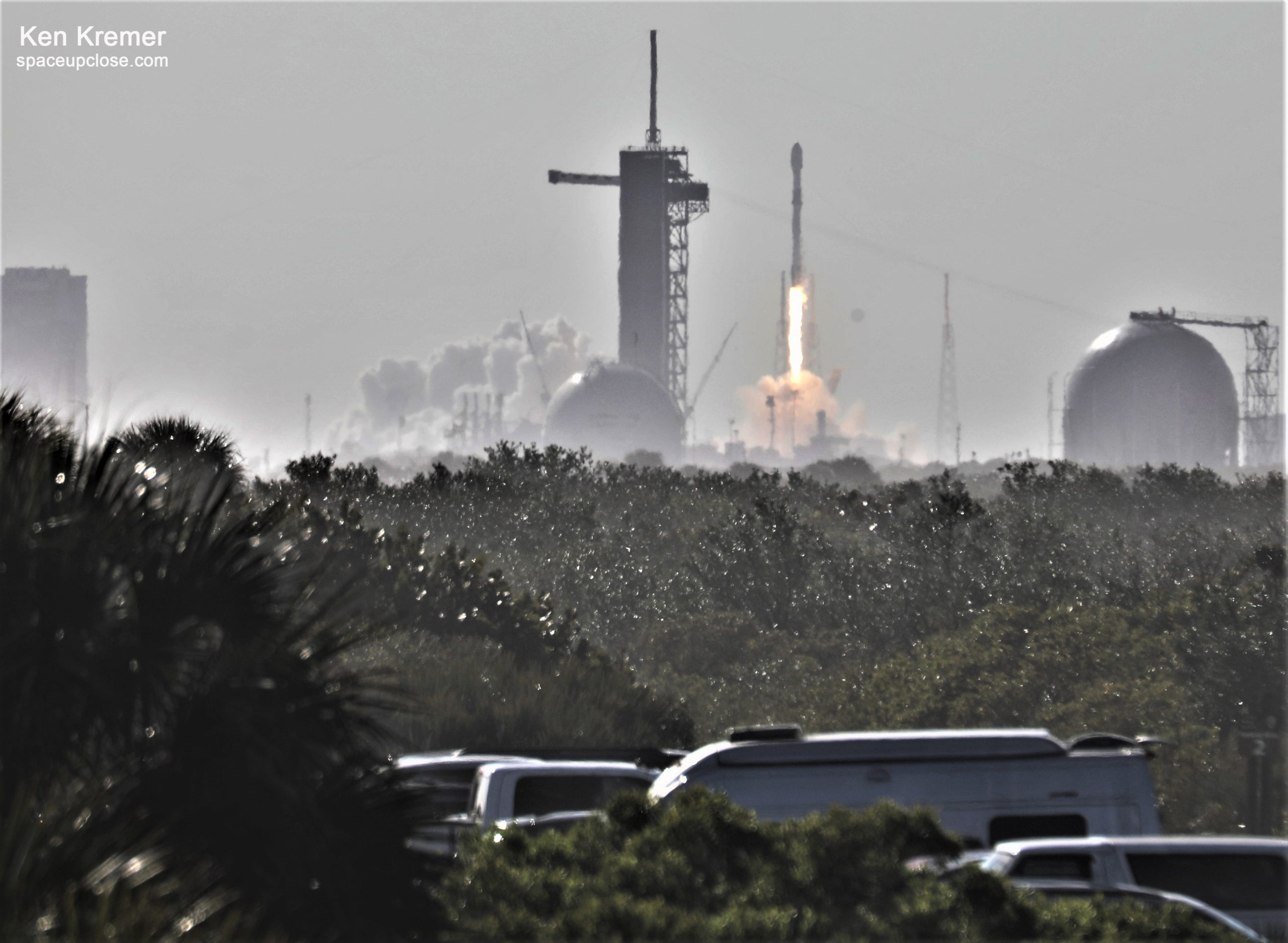 The rocket flew on a southern trajectory along Florida's eastern coast over the Atlantic Ocean and may have been visible from cities like Miami and Fort Lauderdale given the crystal clear skies
Following stage separation, SpaceX landed Falcon 9's first stage on the A Shortfall of Gravitas (ASOG) droneship, which was prepositioned in the Atlantic Ocean near the Bahamas.
Falcon 9's first stage has landed on the A Shortfall of Gravitas droneship

— SpaceX (@SpaceX) February 21, 2022
Enjoy our launch photos of the Starlink 4-8 mission taken by Ken Kremer for Space UpClose
The Falcon 9 first stage booster designated as tail number B1058 has now flown to space and back eleven times.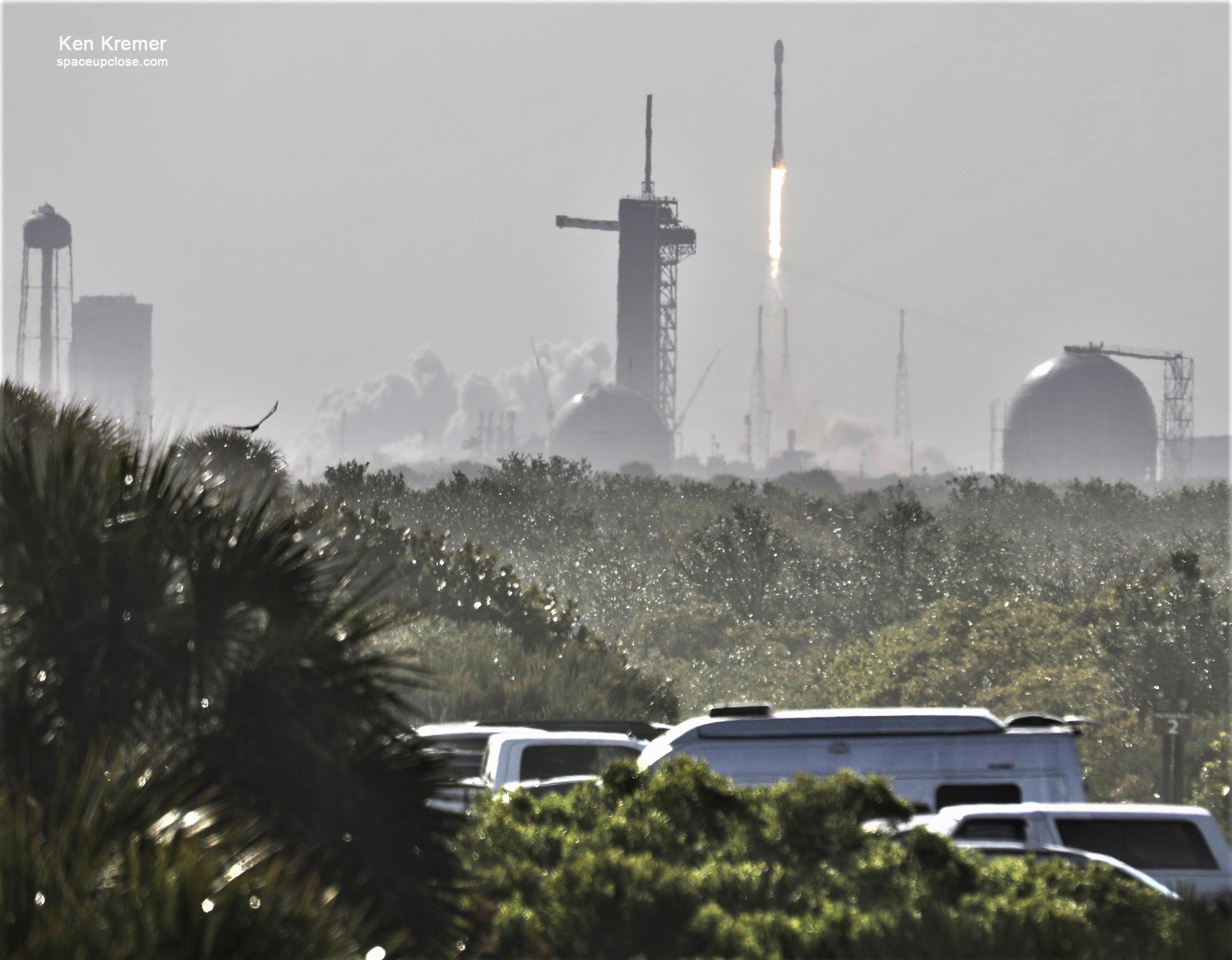 This first stage booster B1058 previously launched Crew Demo-2, ANASIS-II, CRS-21, Transporter-1  five Starlink missions and most recently Transporter-3 on Jan. 13 when it also did an RTLS touchdown at Landing Zone-1 – see our earlier story and photos.
B1058 is the second Falcon 9 to launch 11 times.
Presumably it will be inspected and refurbished for a 1th flight at some future date TBD.
The Falcon 9 upper stage completed its first firing (SECO-1) at T + 8 minutes 47 seconds after reaching preliminary orbit
It then very briefly refired (SECO-2) at T + 56 minutes at 10:47 a.m. EST (1547 GMT) to deliver the Starlinks to at a higher orbit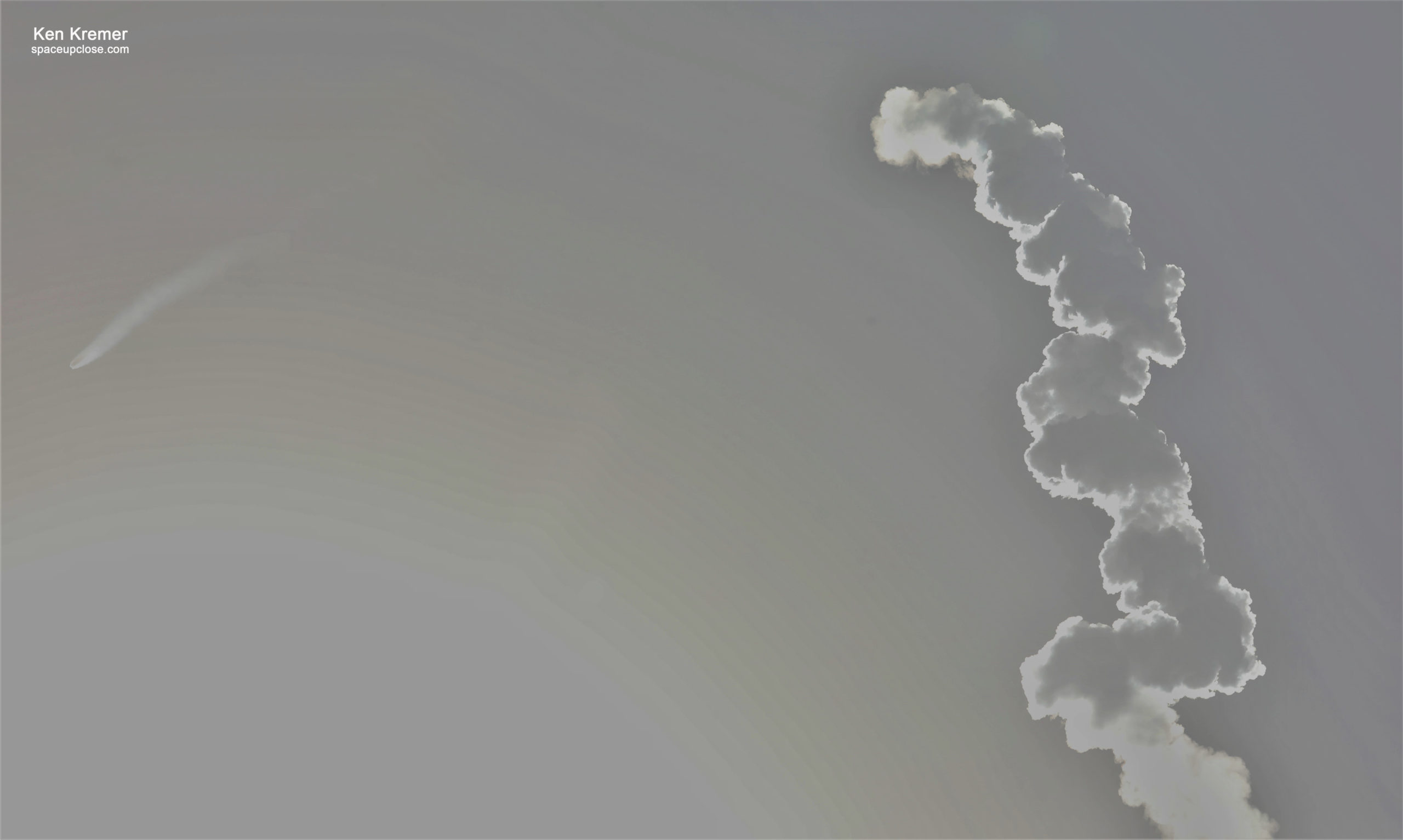 Because of the need to fire the upper stage a second time the payload number of Starlinks abroad had to be reduced from 49 to 46 when launching on this southern trajectory which is done due to better booster landing weather near the Bahamas vs, off the coast of the Carolinas when launching northeasterly.
The 46 flat-paneled and flat packed Starlink satellites were released from the upper stage at T+1 hour 2 minutes, 55 seconds at an inclination of 53.2 degrees to the equator.
However the upper stage was out of range of ground station communications at that time  so deployment confirmation by SpaceX didn't come until the Falcon 9 passed over a tracking site in Alaska.
Deployment of 46 Starlink satellites confirmed

— SpaceX (@SpaceX) February 21, 2022
The roughly quarter ton solar powered Starlink satellites will use their krypton fueled ion thrusters to reach their operational altitude of about 335 miles (540 kilometers).
The payload comprises 46 upgraded Starlink internet communications satellites manufactured by SpaceX in their Redmond, Washington production facility – enlarging the existing and burgeoning broadband constellation to over 2100 launched thus far.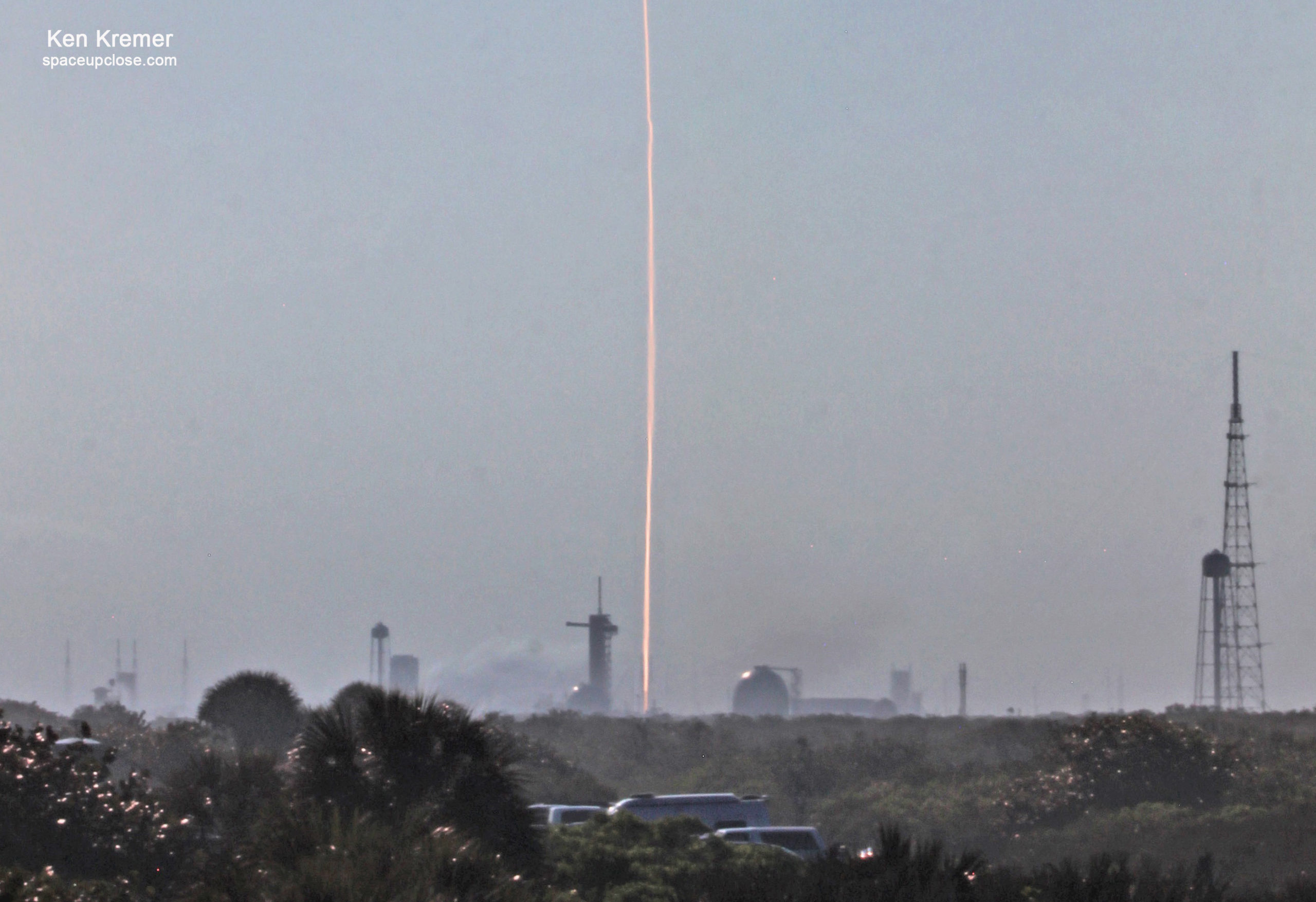 This Starlink 4-8 mission counts as the 38th Starlink internet satellite mission and raises the total number of Starlink satellites launched to 2,137, including prototypes and test versions.
A running tally is maintained by astrophysicist Jonathan McDowell of Harvard
https://planet4589.org/space/stats/star/starstats.html
Approximately 1920 of them remain in orbit and 1895 are still working and about 1552 are actually operational
The SpaceX Falcon 9 flew away and aloft on a southerly trajectory heading southeast and just north of the Bahamas at an inclination of 53.2 degrees into the second of five Starlink orbital 'shells.'
The goal of SpaceX's Starlink constellation is to provide low cost, high-speed, low-latency broadband connectivity around the world.
SpaceX is targeting an initial constellation of about 4,400 satellites authorized by the FCC that could grow to literally 30,000 or more over time.
The payload fairings for this mission were also recycled.
This was the fourth flight for both fairing halves supporting this mission.
SpaceX will launch Starlinks from Vandenberg on Feb 25.
The next Starlink launch from Florida is set for Mar. 3 from KSC pad 39A
Watch this Starlink 4-8 liftoff video from SpaceX:
Liftoff! pic.twitter.com/XIDjbJtDPz

— SpaceX (@SpaceX) February 21, 2022
Two of my images were featured at Alive Universe as image of the Day
https://aliveuniverse.today/immagine-del-giorno/6395-starlink-ci-riprova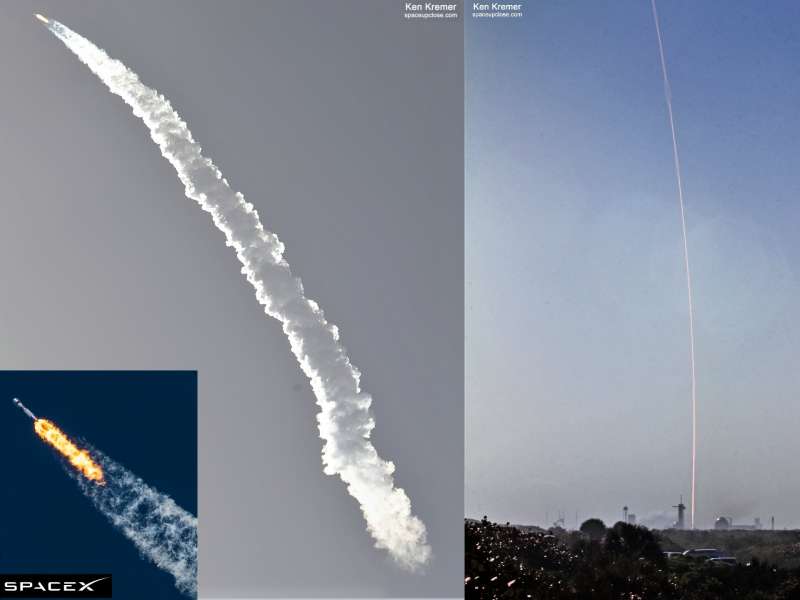 Watch Ken's continuing reports about SpaceX  Starlink , SpaceX Crew and Cargo Dragons, Artemis, SLS, Orion and NASA missions, DART,  Lucy Asteroid mission, Blue Origin and Space Tourism, Commercial Crew and Starliner and Crew Dragon and onsite for live reporting of upcoming and recent SpaceX and ULA launches including Crew 1 & 2 & 3, ISS, Solar Orbiter, Mars 2020 Perseverance and Curiosity rovers, NRO spysats and national security missions and more at the Kennedy Space Center and Cape Canaveral Space Force Station.
Stay tuned here for Ken's continuing Earth and Planetary science and human spaceflight news: www.kenkremer.com –www.spaceupclose.com – twitter @ken_kremer – email: ken at kenkremer.com
Dr. Kremer is a research scientist and journalist based in the KSC area, active in outreach and interviewed regularly on TV and radio about space topics.
………….
Ken's photos are for sale and he is available for lectures and outreach events
Please consider supporting Ken's work by purchasing his photos and/or donating at Patreon:
https://www.patreon.com/kenkremer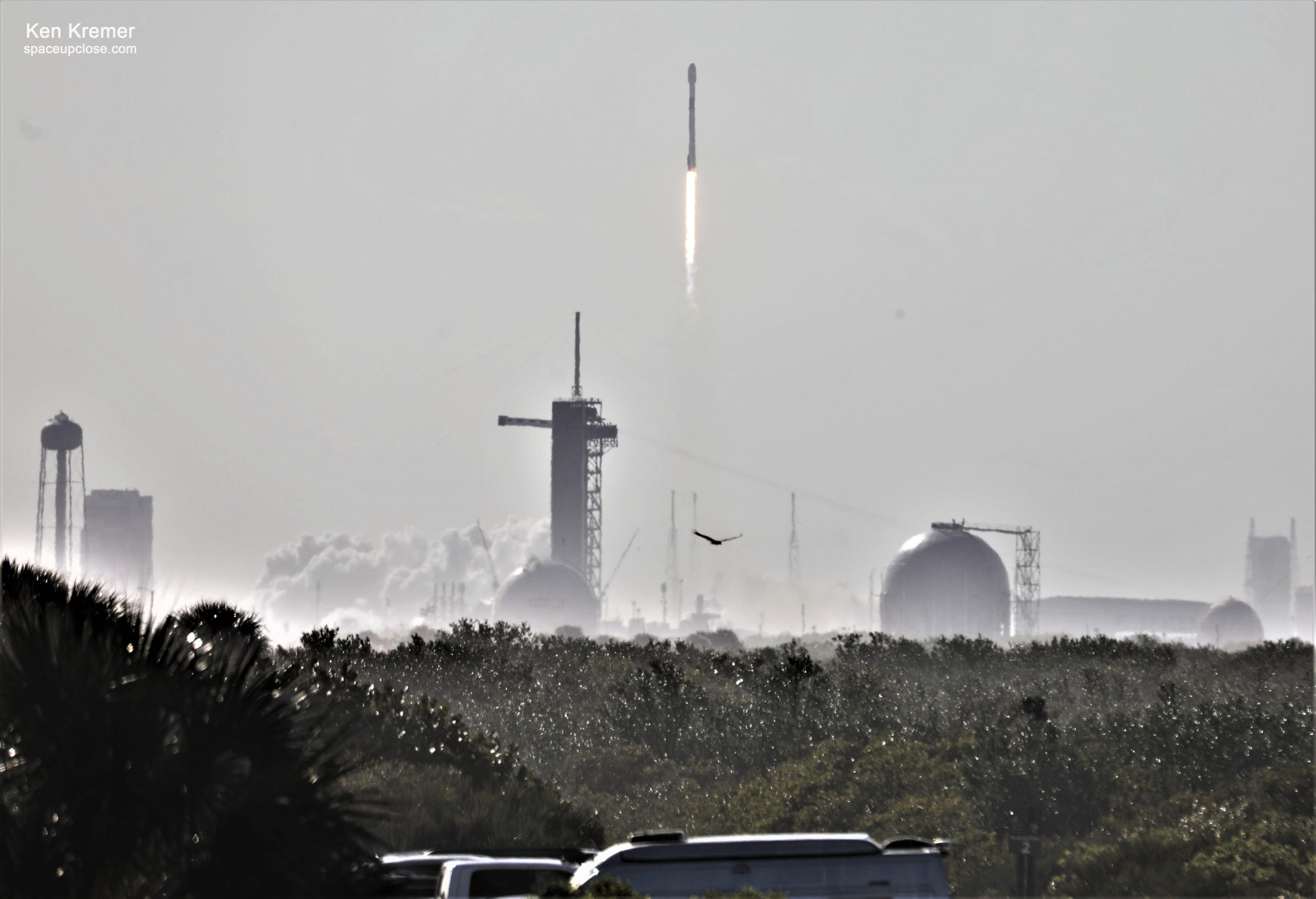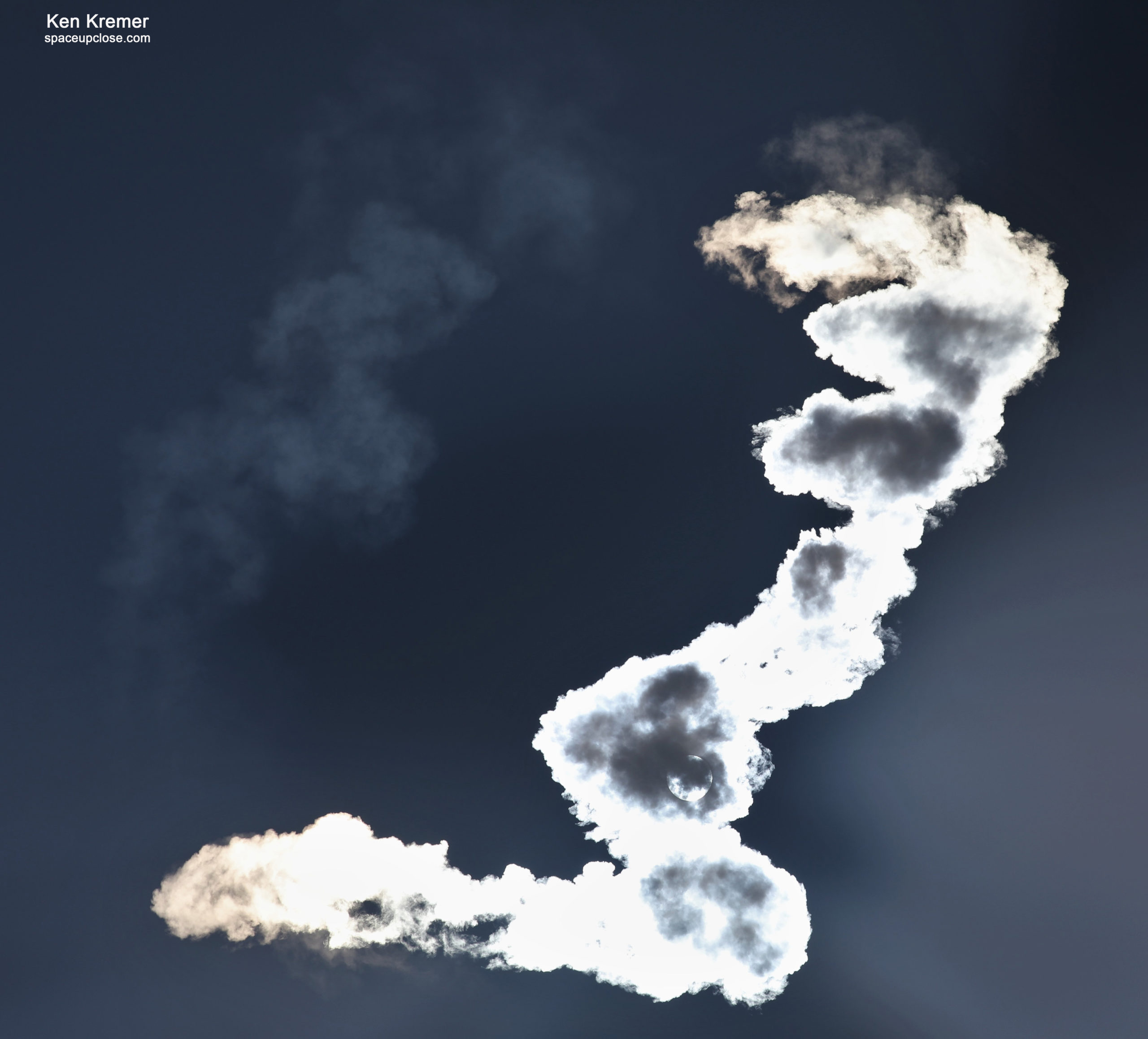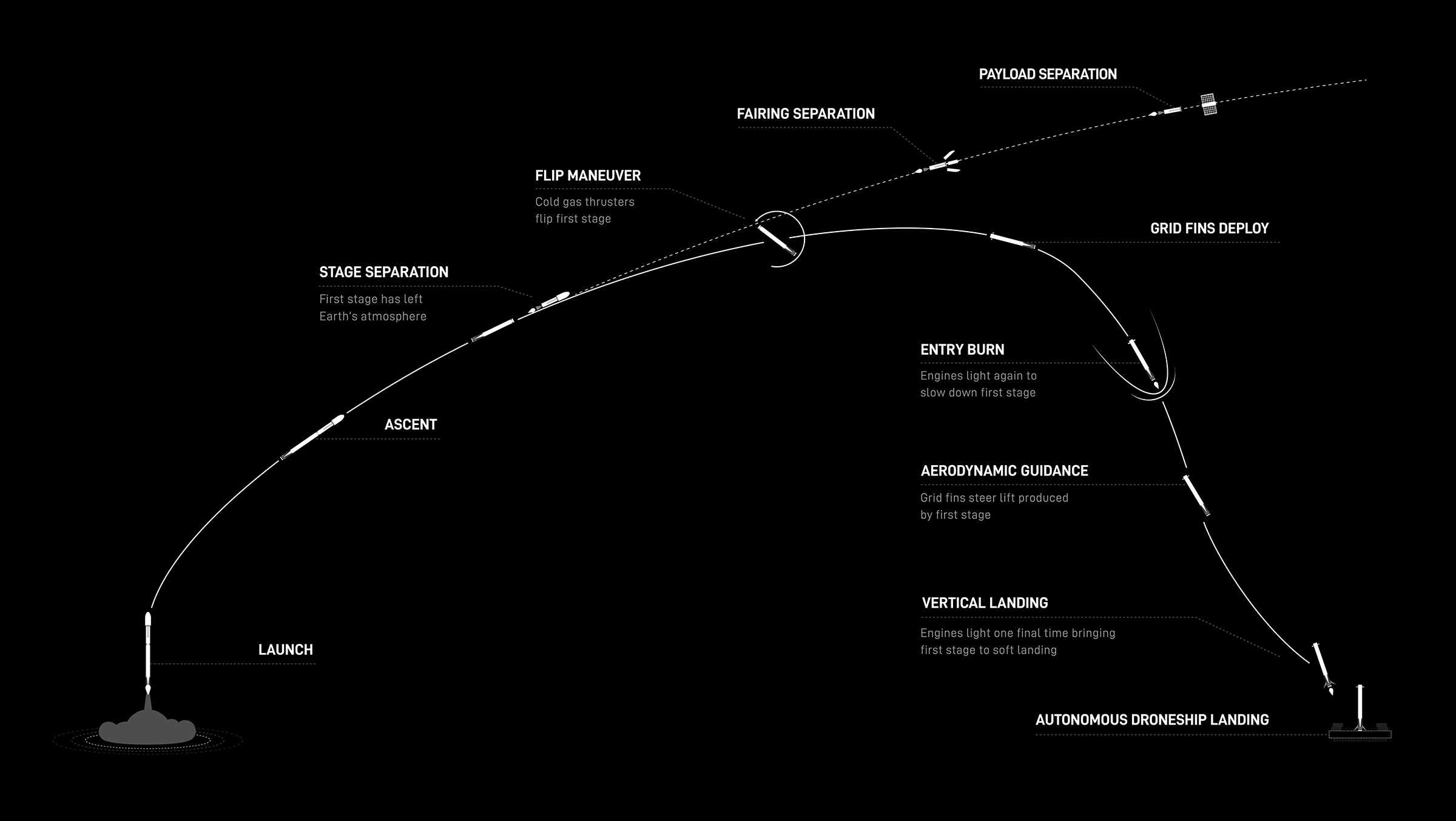 x