For SpaceUpClose.com & RocketSTEM
KENNEDY SPACE CENTER/CAPE CANAVERAL, FL – After a prolonged departure delay due to poor weather the first ever all private astronaut crew that launched to the International Space Station (ISS) Friday morning, April 8, on a SpaceX Crew Dragon spacecraft on the Axiom Mission 1 (AX-1) successfully splashed down in the Atlantic Ocean off the coast of Florida on Monday, April 25, 2022.
The Axiom Mission 1 (AX-1) crew spent 17 days in space – nearly double the original plan of about 1o days as they had to pit their return to Earth on hold because of unacceptably high waves and winds that forced repeated ISS departure scrubs over the past week.
The private Axiom Space crew of astronauts Michael López-Alegría, Larry Connor, Eytan Stibbe, and Mark Pathy safely returned to Earth seated their SpaceX Crew Dragon Endeavour spacecraft, marking the end of the Axiom Mission 1 (Ax-1) after about 15 days of science and outreach aboard the ISS – marking a significant milestone for private commercial space activities leading eventually to a commercial low Earth orbit economy.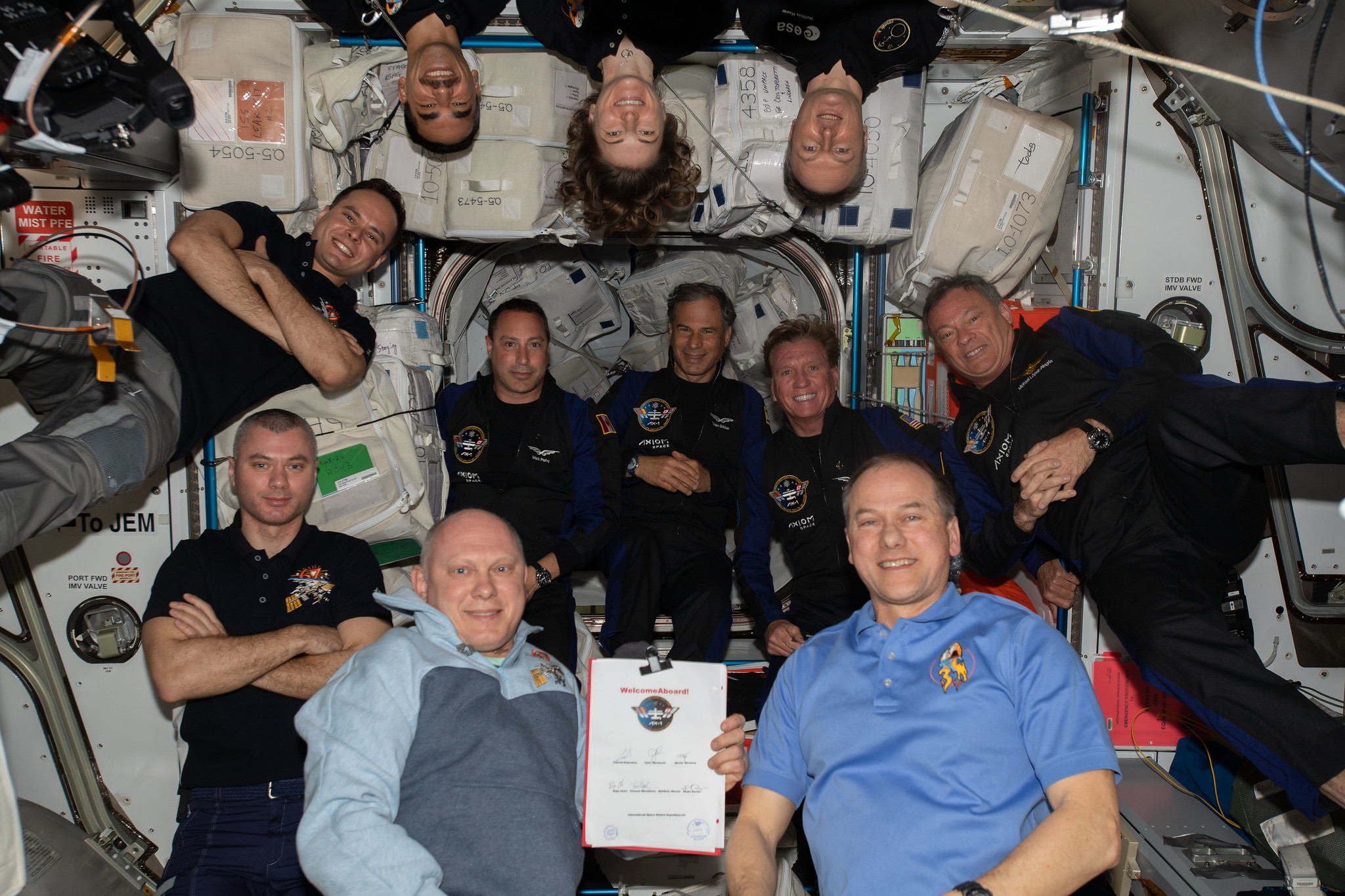 The SpaceX Dragon spacecraft carrying the crew of four and more than 200 pounds of science and supplies, including NASA experiments and hardware, undocked from the space station at 9:10 p.m. EDT on Sunday, April 24.
About 16 hours later, the vehicle splashed down at 1:06 p.m. ET, Monday, April 25,  in the Atlantic Ocean off the coast of Jacksonville, Florida. A first for that splashdown zone
"The success of this first private astronaut mission to the International Space Station is an important step in opening opportunities for space travelers and achieving NASA's goal of enabling commercial business off the planet in low-Earth orbit," said NASA Administrator Bill Nelson.
"This progress has been made possible by NASA's work with private industry – especially the Commercial Crew Program. I'm incredibly proud of the NASA, SpaceX, and Axiom teams for safely completing this landmark mission. Welcome home, Ax-1!"
The AX-1 mission comprised a four person multinational crew was led by retired NASA astronaut Michael López-Alegría who is now an Axiom VP and three paying passengers, ushering in a new commercial era in human spaceflight.
"Axiom Space is incredibly proud of this mission and these astronauts, whose training rigor and commitment to a robust research portfolio set the standard for future private spaceflight," said Michael Suffredini, President and CEO of Axiom Space.
"The Ax-1 mission is a pathfinder, showing the value of this new method of access to orbit and progress toward Axiom Station, a next generation platform in which the benefits and products of life, work and research in space will be available to a greater number of people."
Ax-1 had docked to the ISS at 8:29 a.m. ET, April 9,  to the Harmony module's space-facing port while the spacecraft were flying 260 miles above the central Atlantic Ocean. It is the first mission with an entirely private crew to arrive at the orbiting laboratory.
Overall the crew size aboard the station increased from 7 to 11 for over 100 hours of science investigations over some 15 days of docked operations vs. about 8 originally planned
Liftoff of the 215-foot-tall (65 m) SpaceX Falcon 9 on the Axiom-1 (AX-1) private mission took place right on time at 11:17 a.m. EDT (1517 GMT) Friday, April 8, from Launch Complex 39A at NASA's Kennedy Space Center in Florida.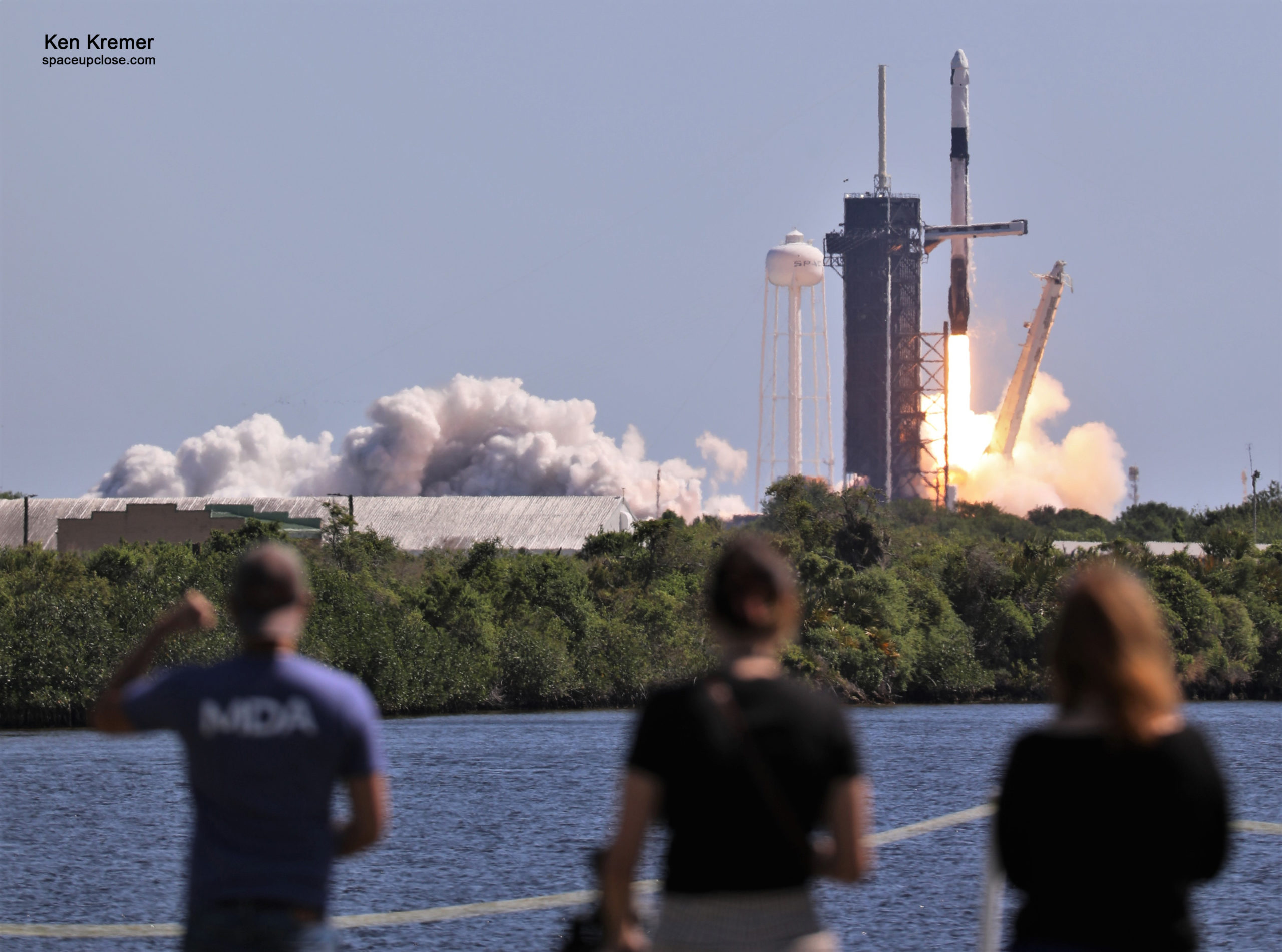 The crew spent 15 days in orbit on the ISS, conducting a variety of science experiments and technology demonstrations.
More from NASA:
A few highlights include research on cancer cell growth, a demonstration testing a new air purifier for station use, and a study utilizing swarms of autonomous tiles for future applications of in-space construction.
The SpaceX capsule with the AX-1 crew was hoisted aboard the SpaceX recovery ship within 45 minutes of s[lashdown and all 4 crew mates were helped off quickly thereafter and  appeared to be in excellent health and spirits
Following splashdown, teams will retrieve science aboard the Dragon spacecraft and transport it to nearby Kennedy Space Center for further investigation. Kennedy's proximity to the coast allows researchers to study their experiments mere hours after their return to Earth, while the effects of microgravity are still largely intact.
NASA is partnering with commercial companies to establish a robust low-Earth orbit economy – one where government and private astronauts live and work aboard the space station and future commercial habitats. The agency recently selected Axiom Space to negotiate for a second private astronaut mission to the orbiting laboratory and plans to announce a third flight opportunity later this year.
More from Axiom Space:
The Ax-1 crew's arrival back to Earth officially concludes the first all-private astronaut mission to the International Space Station (ISS), successfully demonstrating Axiom Space's ability to integrate with the ISS and conduct meaningful research.
During their 17-day mission, Ax-1 Commander Michael López-Alegría, Pilot Larry Connor, and Mission Specialists Eytan Stibbe and Mark Pathy worked aboard the orbiting laboratory for 15 days. They flew approximately 6.3 million miles, about 240 orbits of Earth. Among the many highlights:
Ax-1 supported 26 science payloads and technology demonstrations that had been curated with leading academic and research partners around the globe, including the Mayo Clinic, Montreal Children's Hospital, Cleveland Clinic, and the Ramon Foundation, as well as research investigations from Axiom's partners such as studying self-assembling technology for future space habitats, devices to purify air on space stations, and more;
The Axiom astronauts served as research subjects to better understand the impacts of microgravity on the human body, as well as methods for maintaining connectedness to loved ones on Earth during space travel; and
The Ax-1 crew shared the excitement of expanded access to space with a new generation of space explorers, participating in over 30 STEAM (science, technology, engineering, art and math) engagements. Outreach efforts were conducted in English, Hebrew, Spanish, French, and Arabic
In keeping with the mission's emphasis on scientific discovery, within hours of splashdown and recovery, the astronauts will take part in post-flight studies such as providing biomedical and physiological data for researchers at the Translational Research Institute for Space Health to gauge the effects of spaceflight on the human body, including changes in vision, balance, and perception.
…. 
Watch Ken's commentary about Starlink, NASA SLS WDR demo test, NASA Crew 4 and SpaceX AX-1 mission:
Apr 29: WKMG CBS 6 with my commentary about the record setting Falcon 9 turnaround of 21 days since the Axiom-1 launch
Apr 22: Fox 35 Orlando features my analysis of the busy week ahead in space with weather delayed Earth return of AX-1 crew this weekend, launch of 4 NASA/ESA Crew-4 astronauts on SpaceX Crew Dragon NET Apr 26 & rollback of NASA SLS to VAB for repairs
https://www.fox35orlando.com/video/1060937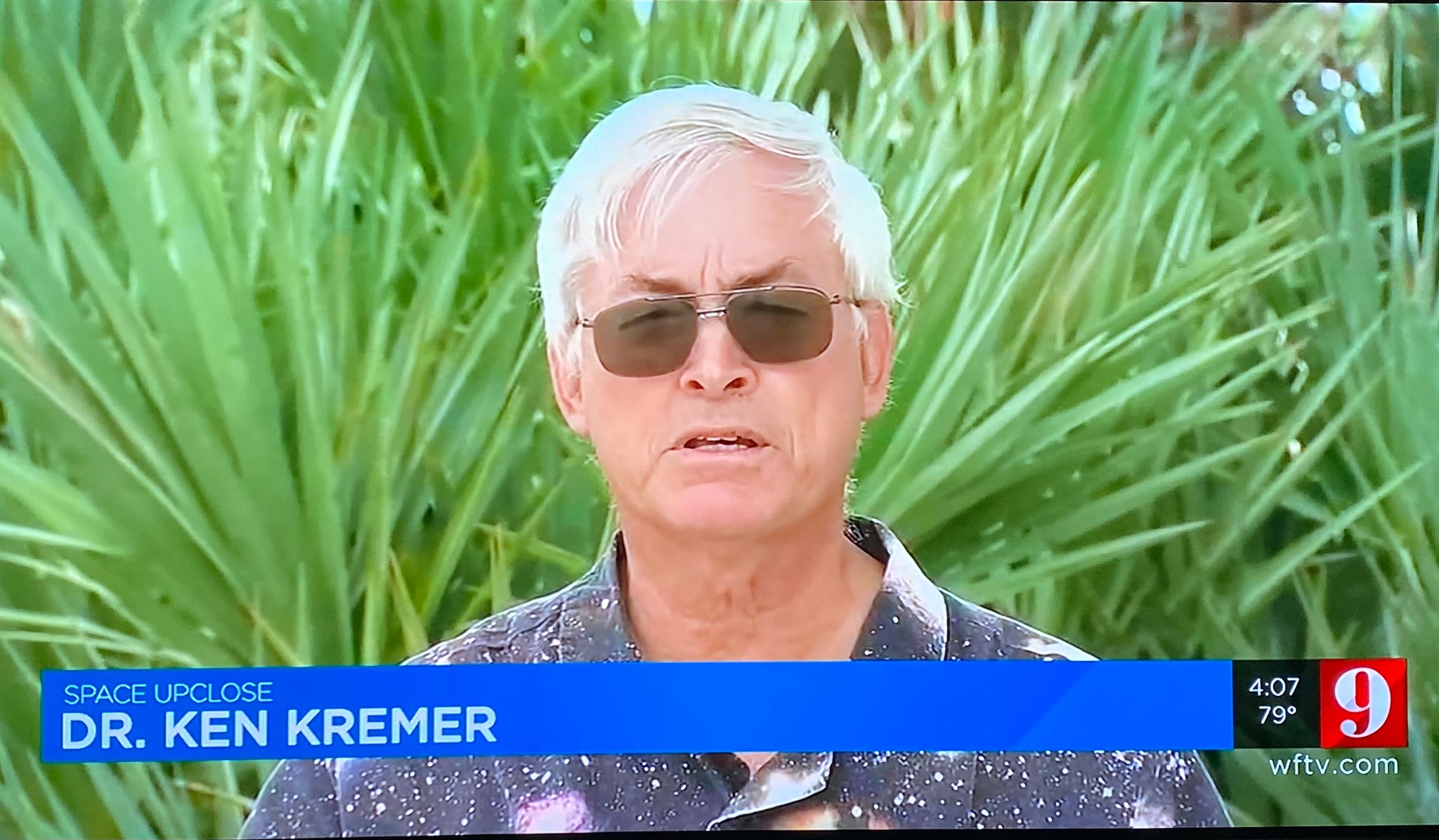 Apr 20:  WFTV ABC News Orlando features my commentary about the SpaceX static fire and impact of weather induced delays to departure of Ax-1 and launch of Crew-4.
https://www.wftv.com/news/local/unfavorable-weather-delays-axiom-1-splashdown/JT7VT5AMLZHU7NHAHTAR2265PA/
Apr 15/16 & Apr 12/13:  WFTV ABC News Orlando and WKMG CBS 6 Orlando featured my comments about NASA SLS WDR wet dress rehearsal countdown and fueling demo test and human launches to ISS:
https://www.wftv.com/news/video-small-valve-forcing-nasa-modify-critical-test-artemis-i/83355ff1-ce09-4b83-bbf0-23446b95abf7/
https://www.clickorlando.com/news/local/2022/04/12/nasa-resumes-final-test-before-launch-of-sls-moon-rocket/
Apr 6: WFTV ABC 9 Orlando featured my comments about 1st fully private astronaut launch to ISS by SpaceX on AX-1 mission:https://www.wftv.com/news/local/brevard-county/first-all-private-astronaut-mission-iss-set-liftoff-kennedy-space-center-this-week/FYE5QAT735BA7G42O6IVCJGB4Q/
Apr 4 & 5: WFTV ABC News Orlando and Fox 35 Orlando featured my comments about NASA SLS WDR wet dress rehearsal countdown and fueling demo test and human launches to ISS
https://www.wftv.com/news/local/nasa-artemis-mission-hold-testing-delayed-second-time/L637Y3454VDJPBZRH4RZMM2XRQ/
https://www.fox35orlando.com/news/nasa-resumes-artemis-i-wet-dress-rehearsal-countdown
Watch Ken's continuing reports about , SpaceX Crew and Cargo Dragons, SpaceX Axiom-1, Artemis, SLS, Orion and NASA missions, JWST, IXPE, DART, Lucy Asteroid mission, GOES, SpaceX Starlink, Commercial Crew and Starliner and Crew Dragon, Blue Origin and Space Tourism, and onsite for live reporting of upcoming and recent SpaceX and ULA launches including Crew 1 & 2 & 3 & 4, ISS, Solar Orbiter, Mars 2020 Perseverance and Curiosity rovers, NRO spysats and national security missions and more at the Kennedy Space Center and Cape Canaveral Space Force Station.
Stay tuned here for Ken's continuing Earth and Planetary science and human spaceflight news: www.kenkremer.com –www.spaceupclose.com – twitter @ken_kremer – email: ken at kenkremer.com
Dr. Kremer is a research scientist and journalist based in the KSC area, active in outreach and interviewed regularly on TV and radio about space topics.
………….
Ken's photos are for sale and he is available for lectures and outreach events
Please consider supporting Ken's work by purchasing his photos and/or donating at Patreon:
https://www.patreon.com/kenkremer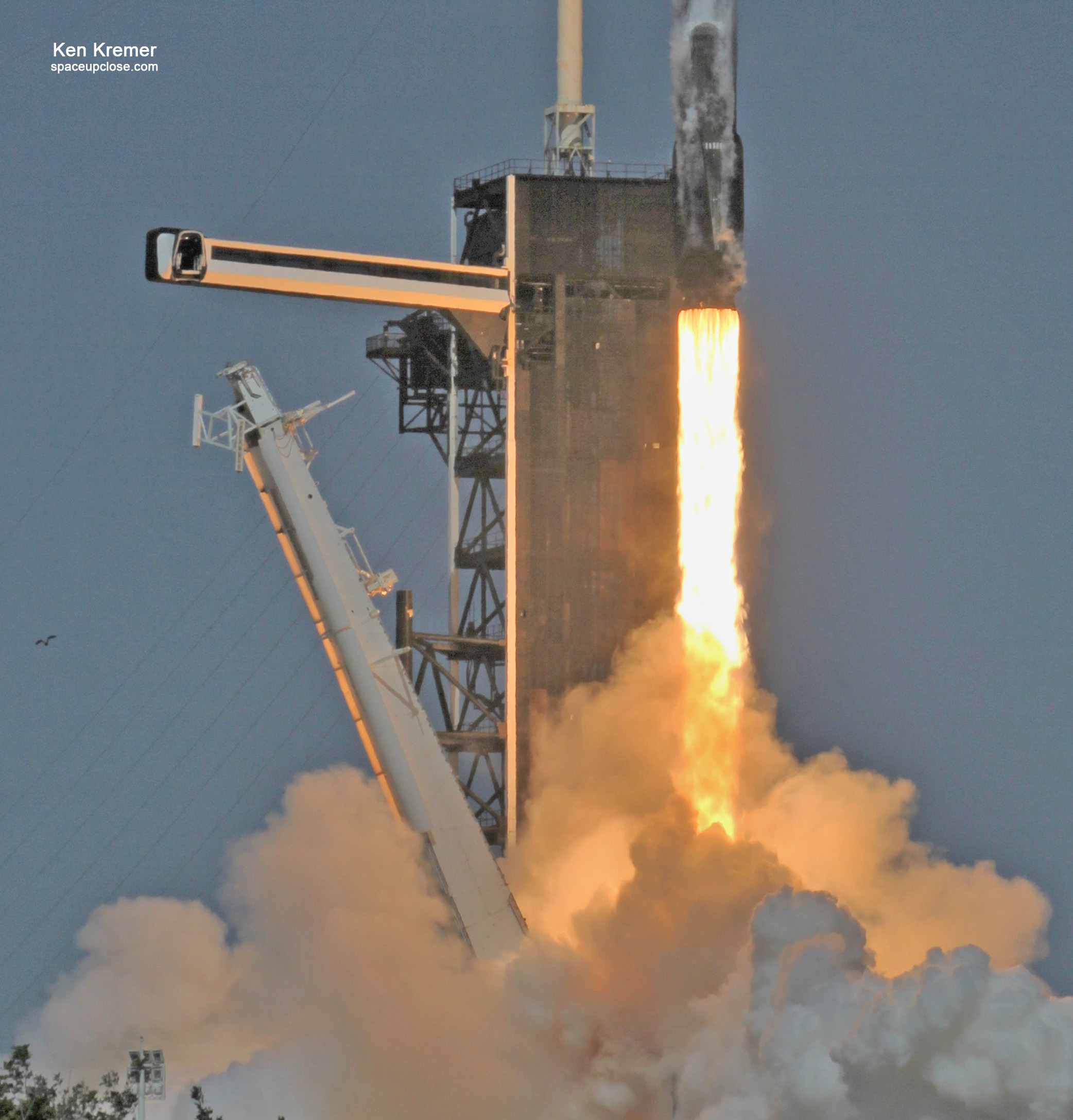 x