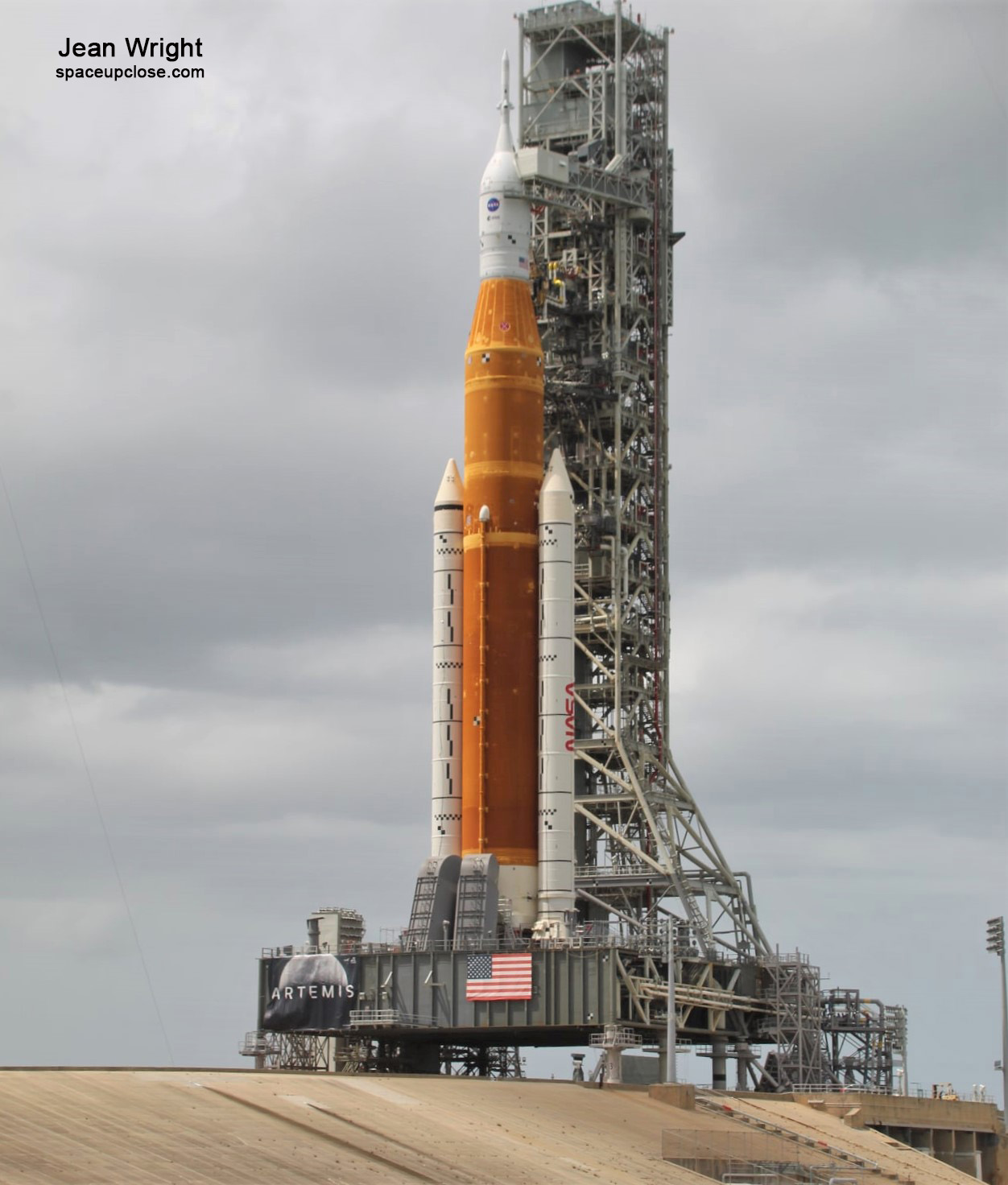 For SpaceUpClose.com & RocketSTEM
KENNEDY SPACE CENTER, FL –  Enjoy our gallery of up close photos of NASA's first ever Space Launch System (SLS) Mega Moon rocket taken at Launch Complex 39B a few days ago at NASA's Kennedy Space Center (KSC) before it rolls back to the Vehicle Assembly Building (VAB) for repairs to the rocket and ground systems hardware before any further attempts to complete a critical fueling test that must be successfully completed before attempting an actual rocket launch.
The photos were mostly taken by Jean Wright for Space UpClose on Thursday, April 21 as technicians were preparing the 322-foot-tall (98-meter) rocket for rollback to the VAB as soon as April 25 or 26.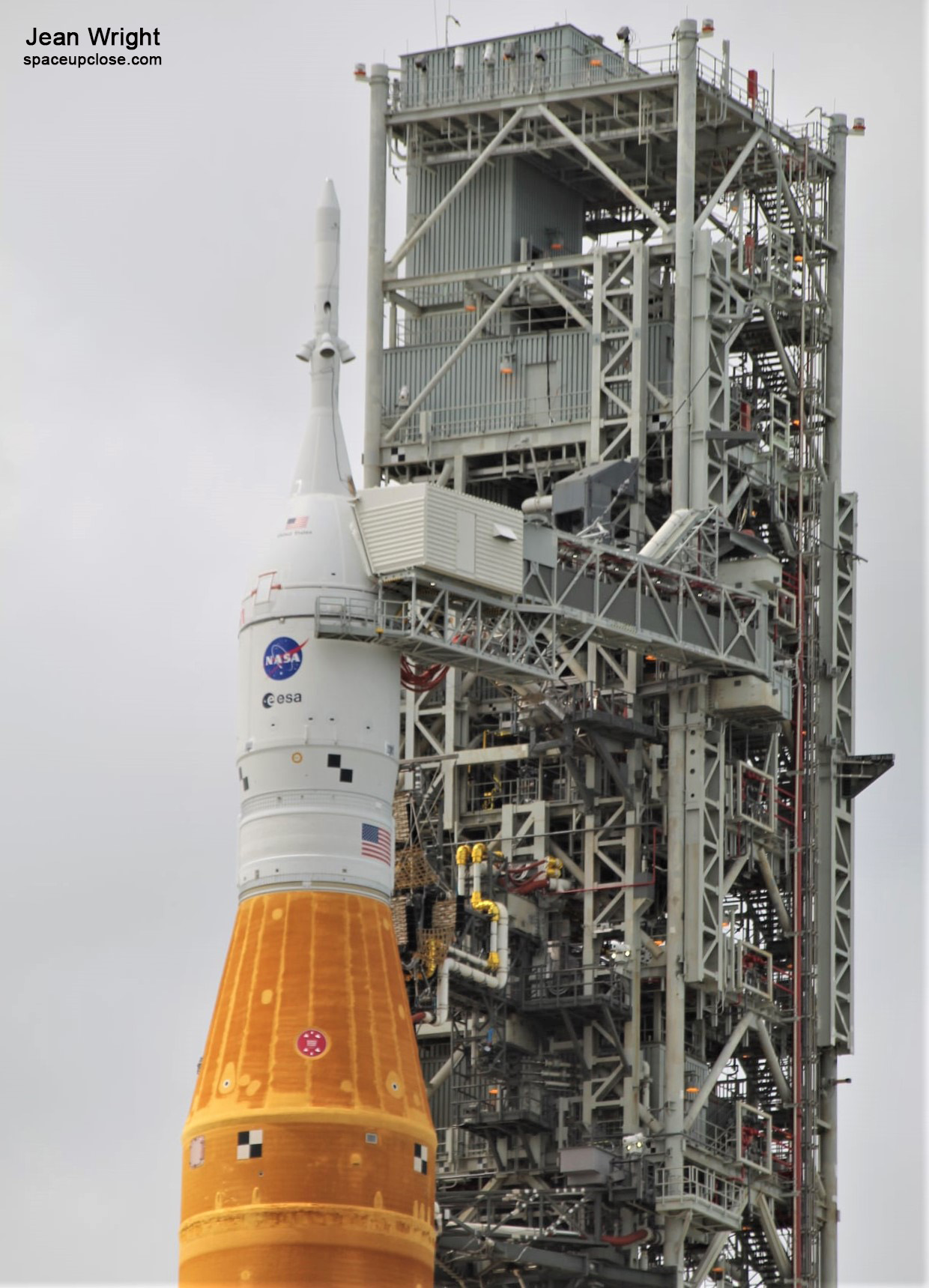 Following a serious leak of hazardous hydrogen NASA was forced to halt the 3rd attempt to complete the critical countdown and fueling test of cryogenic propellants known as the Wet Dress Rehearsal (WDR) on Thursday, April 14, for the maiden Space Launch System (SLS) Mega Moon rocket planned to launch on the unpiloted Artemis 1 lunar mission as soon as the summer.
NASA decided the SLS rocket will have to be rolled back to the VAB to locate, fix and repair the source of the hydrogen leak discovered in the tail service mast umbilical at the base of the mobile launcher during loading of liquid hydrogen (LH2) propellent into the SLS core stage  Thursday afternoon April 14 – and resolve other significant problems as well such as the faulty upper stage Helium (He) check valve.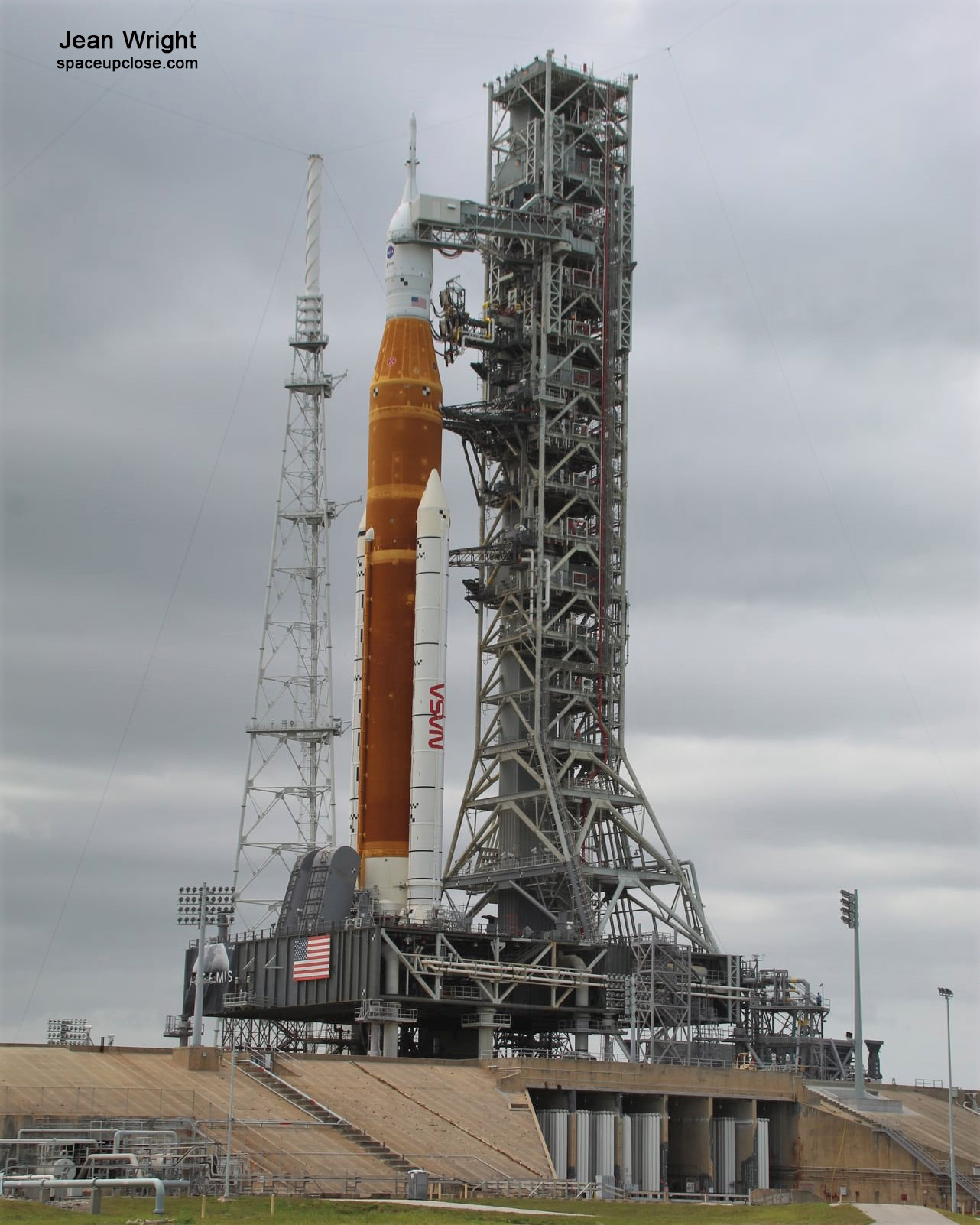 "Once inside the VAB, teams will work on replacing a faulty upper stage check valve and a small leak within the tail service mast umbilical ground plate housing on the mobile launcher while the supplier for the gaseous nitrogen makes upgrades to their pipeline configuration to support Artemis I testing and launch," NASA officials said.
"Following completion, teams will return to the launch pad to complete the next wet dress rehearsal attempt."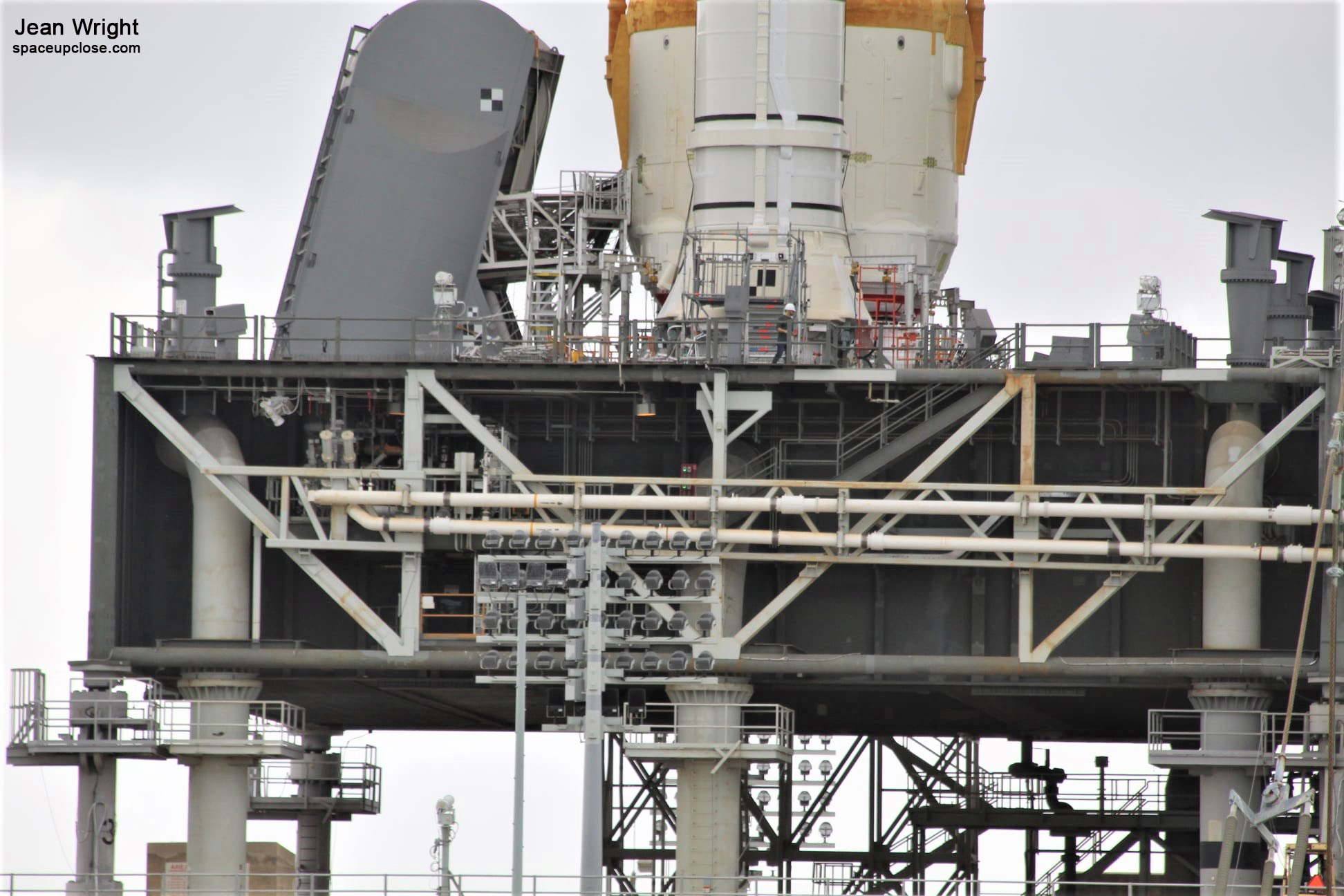 SLS 1 will launch the Orion crew spacecraft on the Artemis 1 mission lasting between 4 to 6 weeks on a journey of some 280,000 miles (450,000 kilometers)  from Earth to many thousands of miles past the moon and then return to Earth.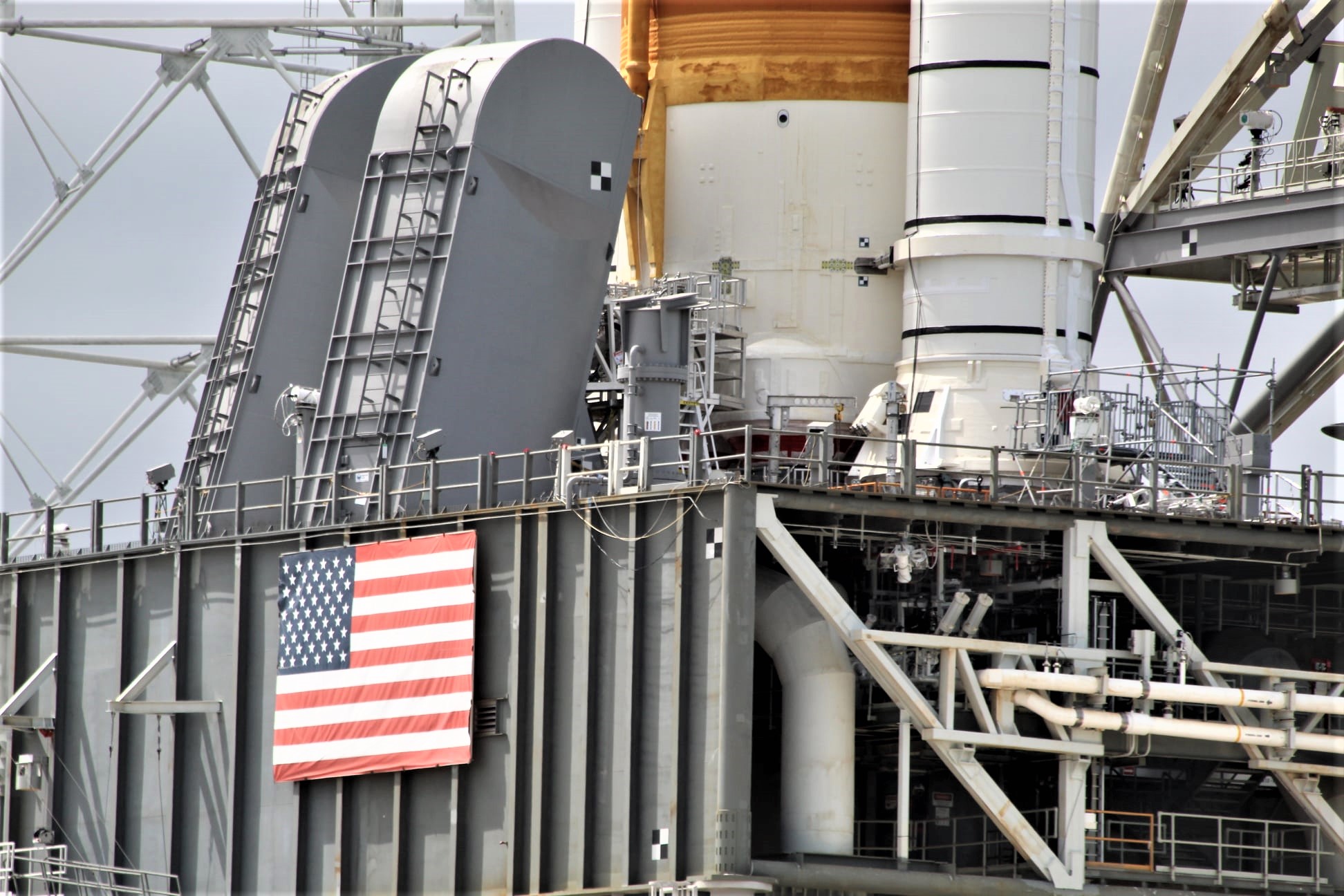 Liftoff of the uncrewed Artemis 1 mission from Launch Complex 39B at NASA KSC will be the first integrated test of the SLS heavy lift mega moon rocket and Orion crew capsule – and will pave the path to more complex missions with crewed human flights to the Moon starting with Artemis 2 – targeting launch in 2024.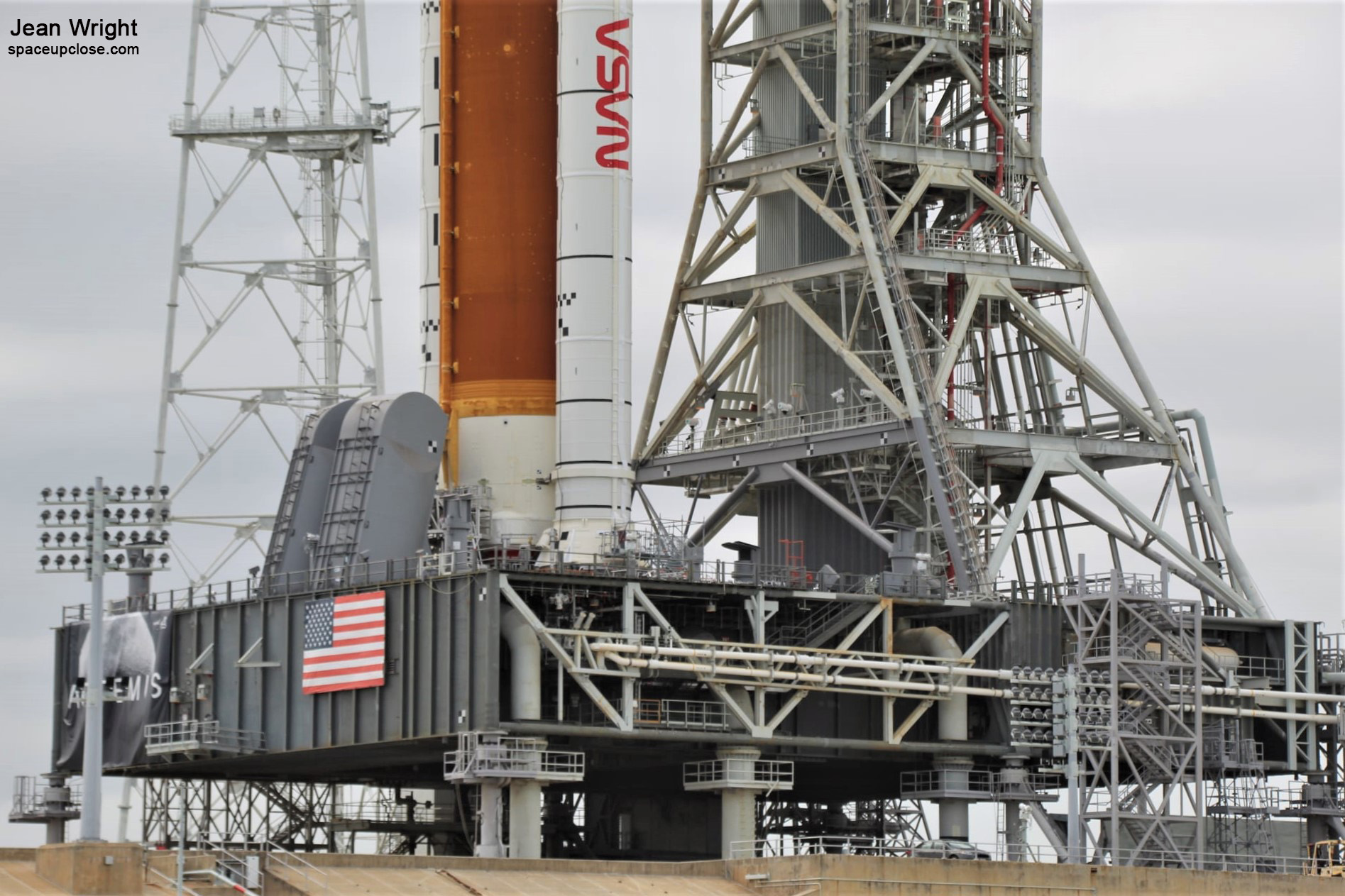 NASA's Artemis I Moon rocket is perched atop the Mobile Launcher and will be moved by crawler-transporter 2 when it leaves launch pad 39B and begin its 4-mile trek to the VAB at KSC in Florida.
SLS is standing vertical atop launchpad 39B atop the Mobile Launcher at the Kennedy Space Center (KSC) in Florida since rolling out from the iconic VAB on March 17 – detailed in our earlier stories and photos.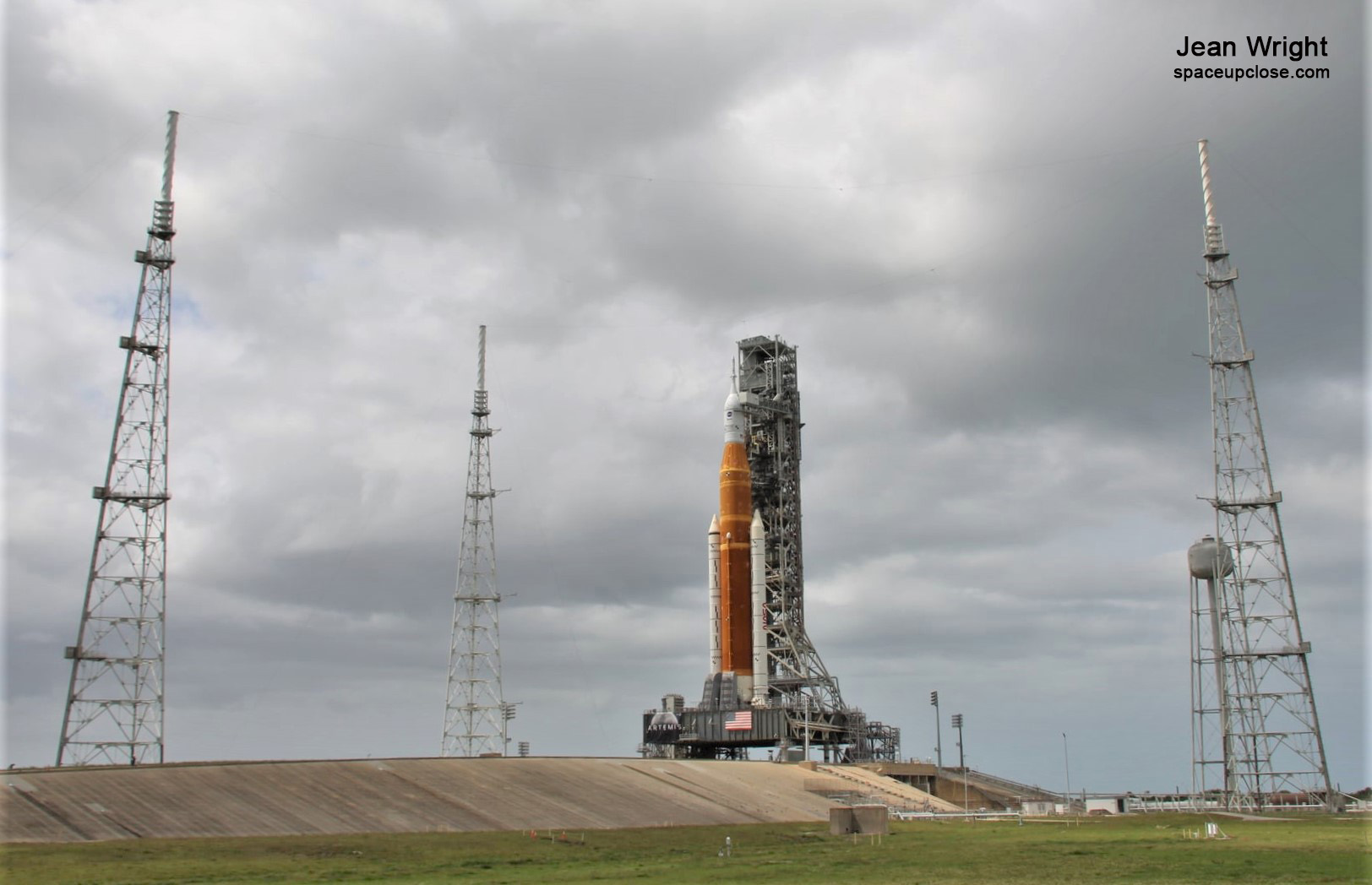 After the repairs are complete SLS will roll out a second time to complete the full WDR including fueling both the core stage and ICPS upper stage.
During the April 14 modified WDR test the SLS launch team was only able to fuel the core stage with about 49% of LOX and 5% of LH2 when the official scrub was called at approximately 4 p.m. EDT.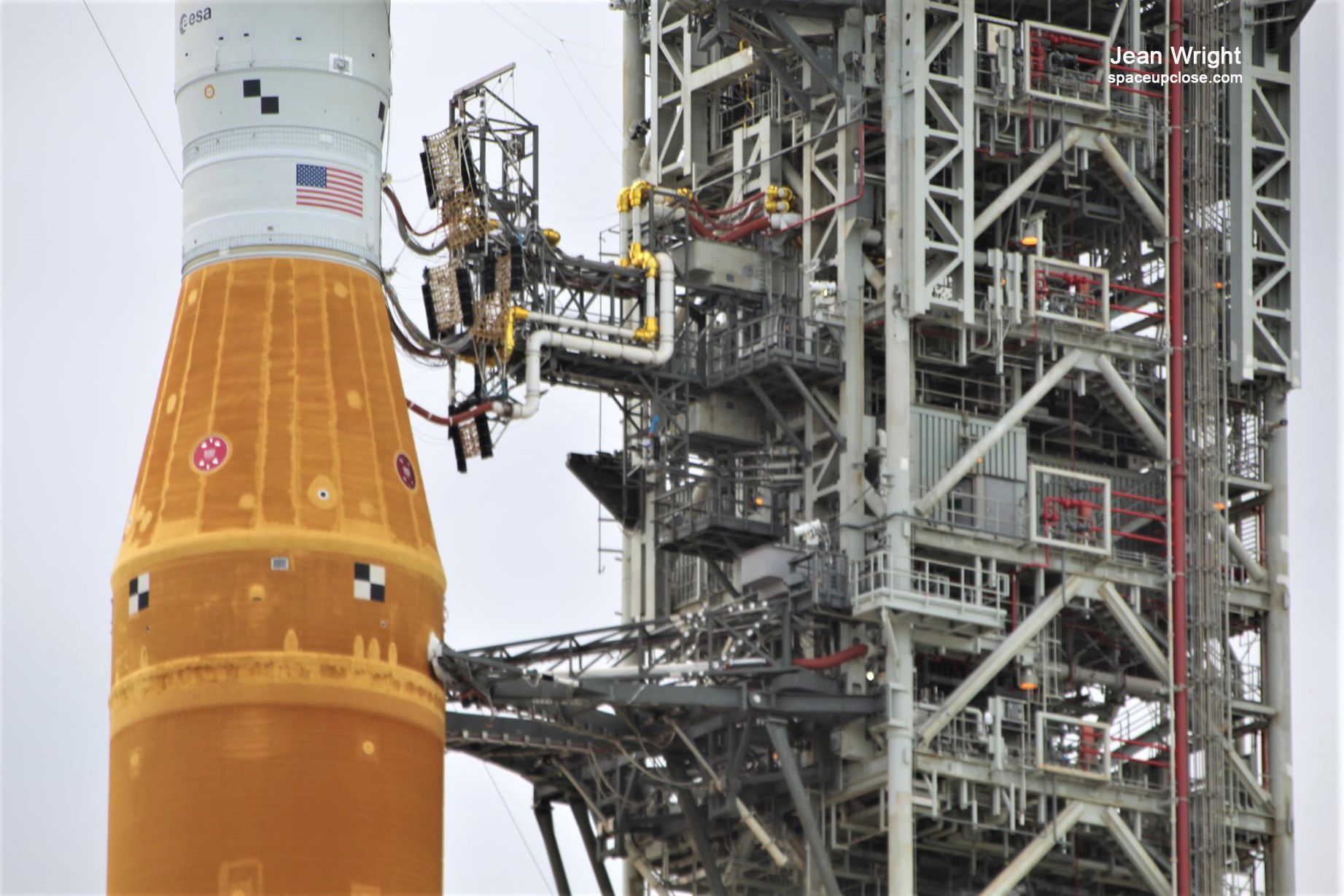 Thereafter SLS will again rollback to the VAB for final checks, testing and refurbishments.
Following a successful WDR campaign the SLS/Orion will roll back to the VAB for data reviews, final checkouts and refurbishments before they can commence the actual Artemis 1 launch campaign.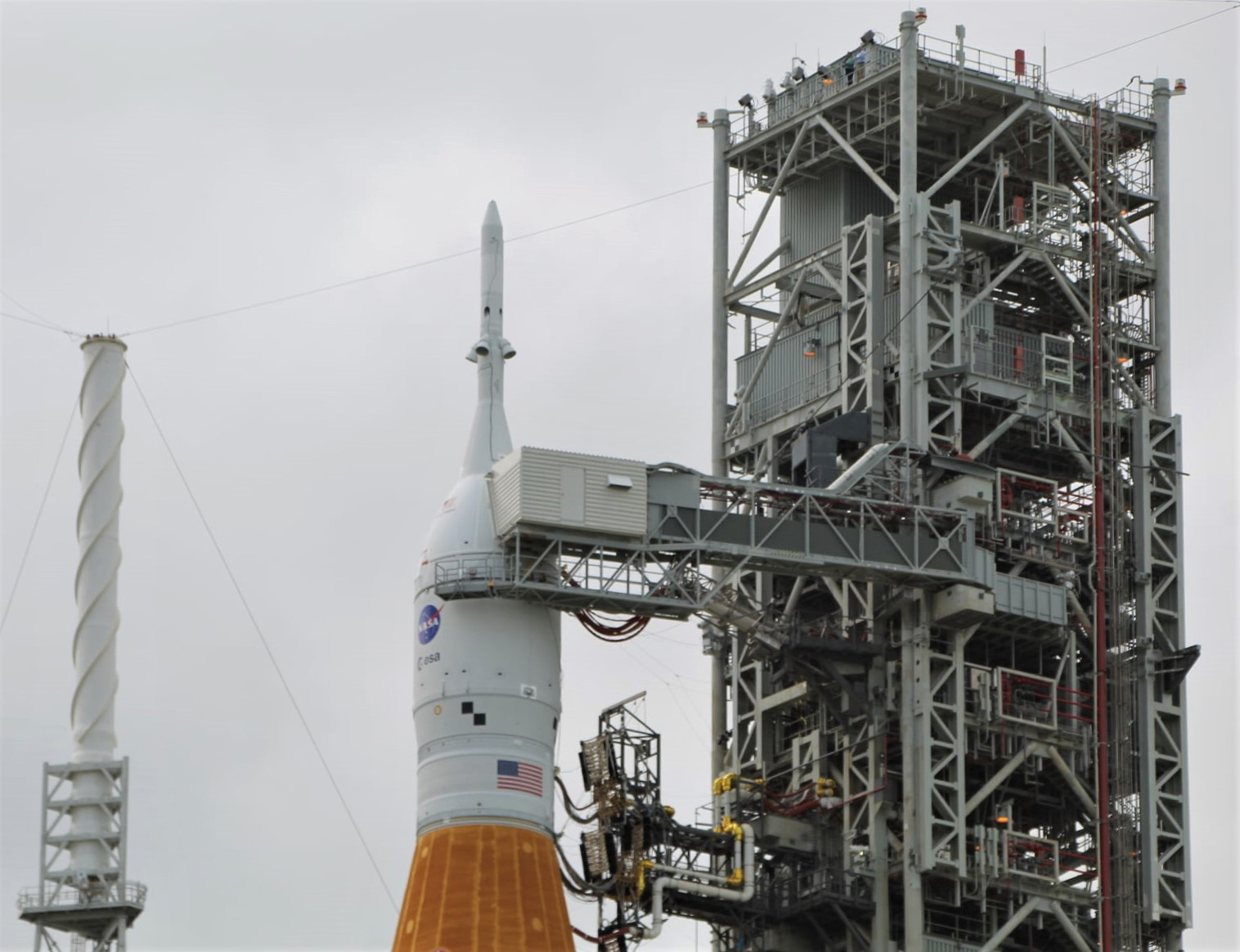 "While most objectives associated with the wet dress rehearsal were met during recent testing, teams plan to return to the launch pad when repairs and checkouts in the VAB are complete for the next full wet dress test attempt. Following completion of the test, SLS and Orion will return to the VAB for the remaining checkouts before rolling back out to the pad for launch."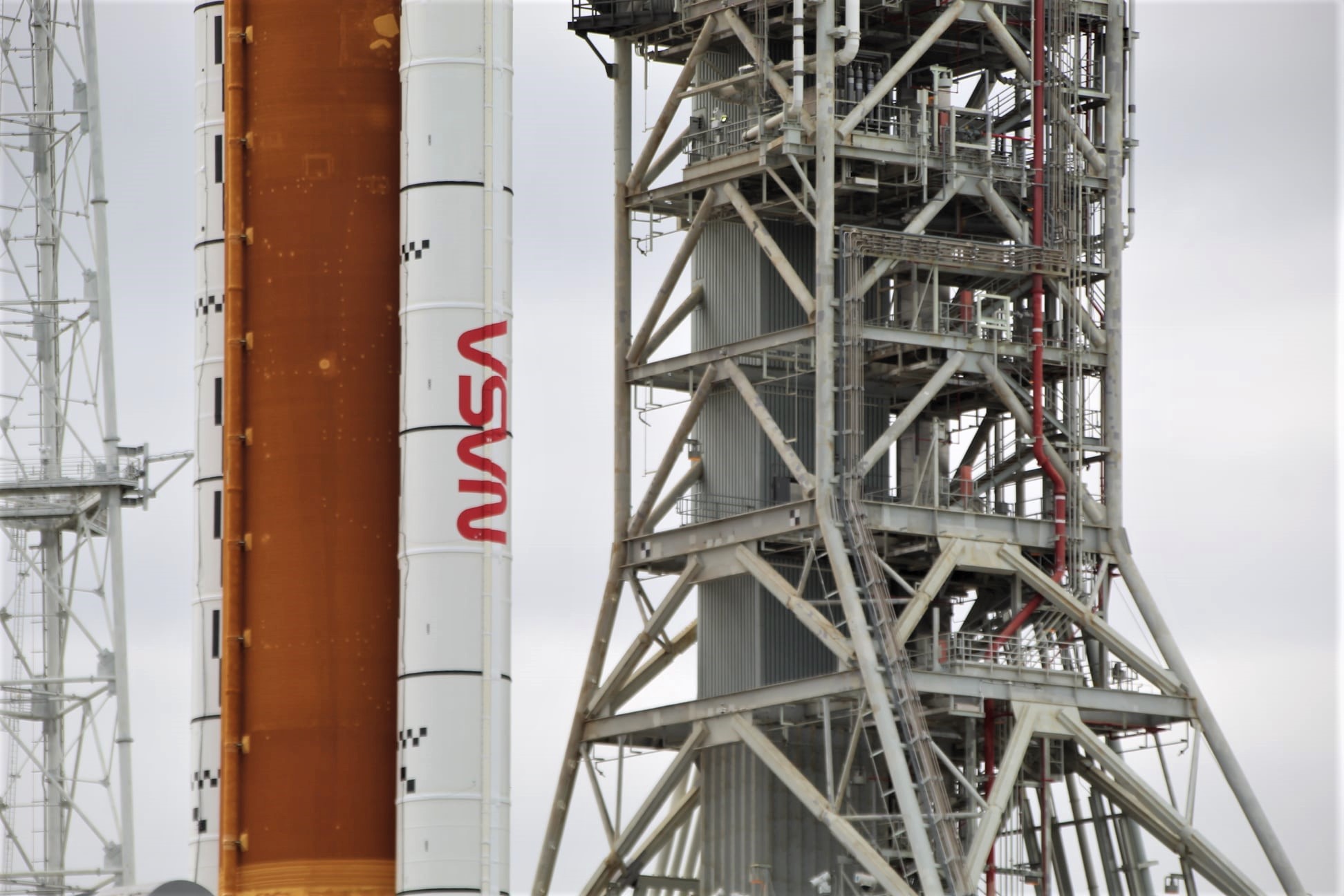 After analyzing all the test data NASA will decide and announce a new target launch date for Artemis 1 only after thoroughly analyzing all the WDR test results
Launch is not expected before NET late June.
The Artemis 1 SLS and Orion launch could well slip further into July or August given the time needed for additional rollouts and rollbacks alone
Stay tuned.
Watch Ken's commentary about NASA SLS WDR demo test, NASA Crew 4 and SpaceX AX-1 mission
Apr 22: Fox 35 Orlando features my analysis of the busy week ahead in space with weather delayed Earth return of #AX1 crew this weekend, launch of 4 NASA/ESA #Crew4 astronauts on #SpaceX #CrewDragon NET Apr 26 & rollback of NASA SLS to VAB for repairs
https://www.fox35orlando.com/video/1060937
Apr 20:  WFTV ABC News Orlando features my commentary about the SpaceX static fire and impact of weather induced delays to departure of Ax-1 and launch of Crew-4.
https://www.wftv.com/news/local/unfavorable-weather-delays-axiom-1-splashdown/JT7VT5AMLZHU7NHAHTAR2265PA/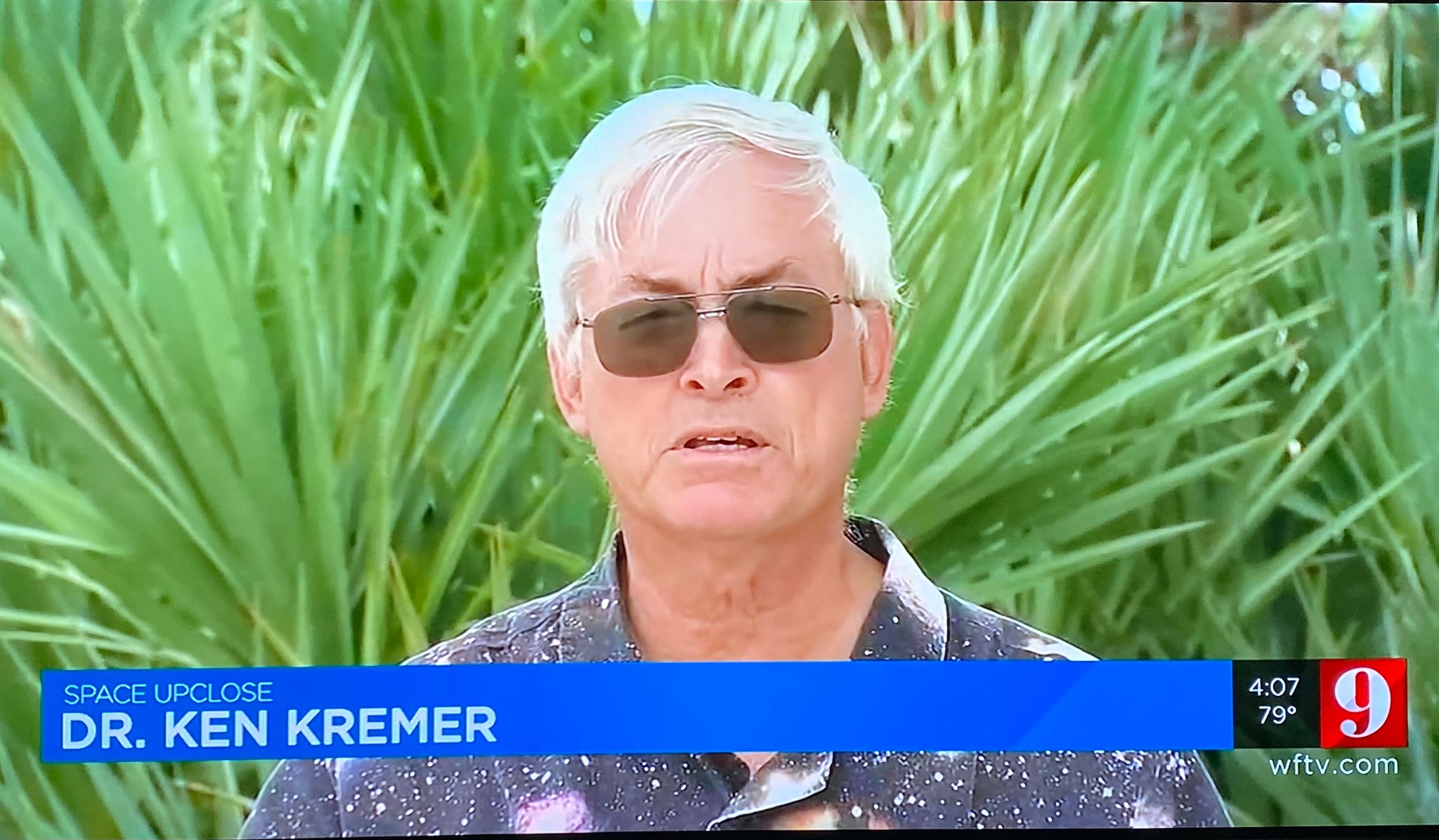 Apr 15/16 & Apr 12/13:  WFTV ABC News Orlando and WKMG CBS 6 Orlando featured my comments about NASA SLS WDR wet dress rehearsal countdown and fueling demo test and human launches to ISS:
https://www.wftv.com/news/video-small-valve-forcing-nasa-modify-critical-test-artemis-i/83355ff1-ce09-4b83-bbf0-23446b95abf7/
https://www.clickorlando.com/news/local/2022/04/12/nasa-resumes-final-test-before-launch-of-sls-moon-rocket/
Apr 6: WFTV ABC 9 Orlando featured my comments about 1st fully private astronaut launch to ISS by SpaceX on AX-1 mission:https://www.wftv.com/news/local/brevard-county/first-all-private-astronaut-mission-iss-set-liftoff-kennedy-space-center-this-week/FYE5QAT735BA7G42O6IVCJGB4Q/
Apr 4 & 5: WFTV ABC News Orlando and Fox 35 Orlando featured my comments about NASA SLS WDR wet dress rehearsal countdown and fueling demo test and human launches to ISS
https://www.wftv.com/news/local/nasa-artemis-mission-hold-testing-delayed-second-time/L637Y3454VDJPBZRH4RZMM2XRQ/
https://www.fox35orlando.com/news/nasa-resumes-artemis-i-wet-dress-rehearsal-countdown
Watch Ken's continuing reports about Artemis, SLS, Orion and NASA missions, SpaceX Axiom-1, JWST, IXPE, DART, Lucy Asteroid mission, GOES, SpaceX Cargo and Crew Dragons, SpaceX Starlink, Commercial Crew and Starliner and Crew Dragon, Blue Origin and Space Tourism, and onsite for live reporting of upcoming and recent SpaceX and ULA launches including Crew 1 & 2 & 3 & 4, ISS, Solar Orbiter, Mars 2020 Perseverance and Curiosity rovers, NRO spysats and national security missions and more at the Kennedy Space Center and Cape Canaveral Space Force Station.
Stay tuned here for Ken's continuing Earth and Planetary science and human spaceflight news: www.kenkremer.com –www.spaceupclose.com – twitter @ken_kremer – email: ken at kenkremer.com
Dr. Kremer is a research scientist and journalist based in the KSC area, active in outreach and interviewed regularly on TV and radio about space topics.
………….
Ken's photos are for sale and he is available for lectures and outreach events
Please consider supporting Ken's work by purchasing his photos and/or donating at Patreon:
https://www.patreon.com/kenkremer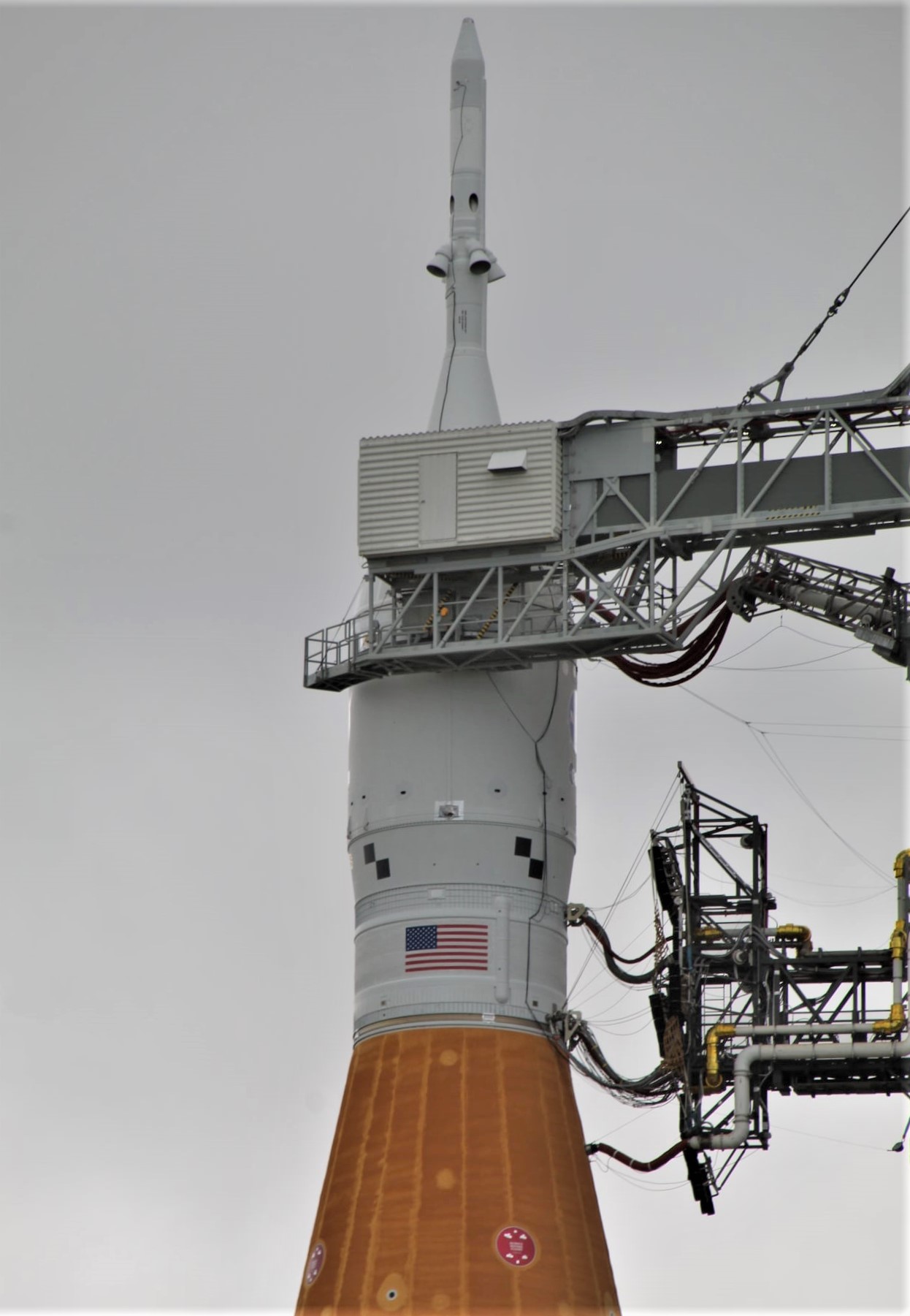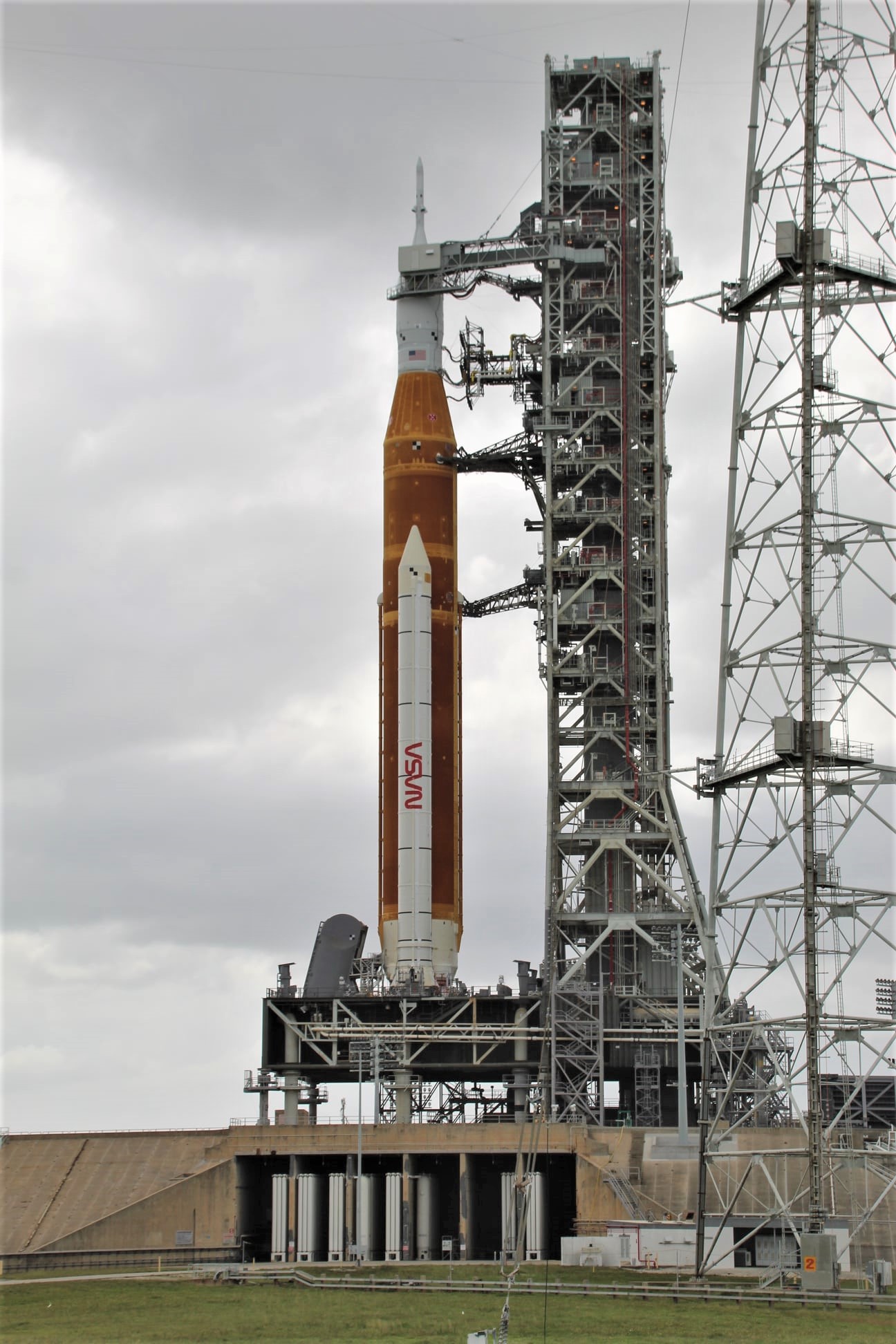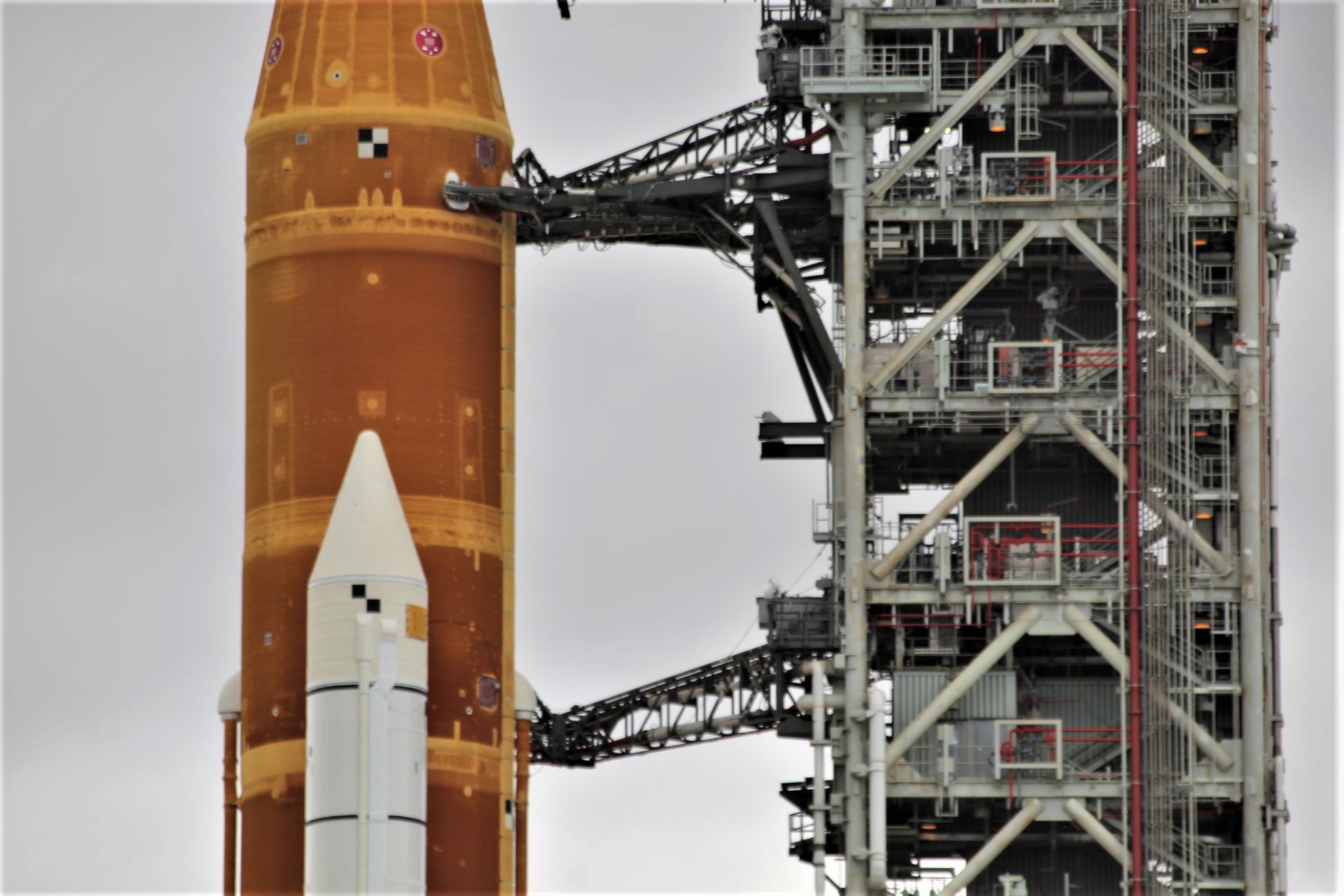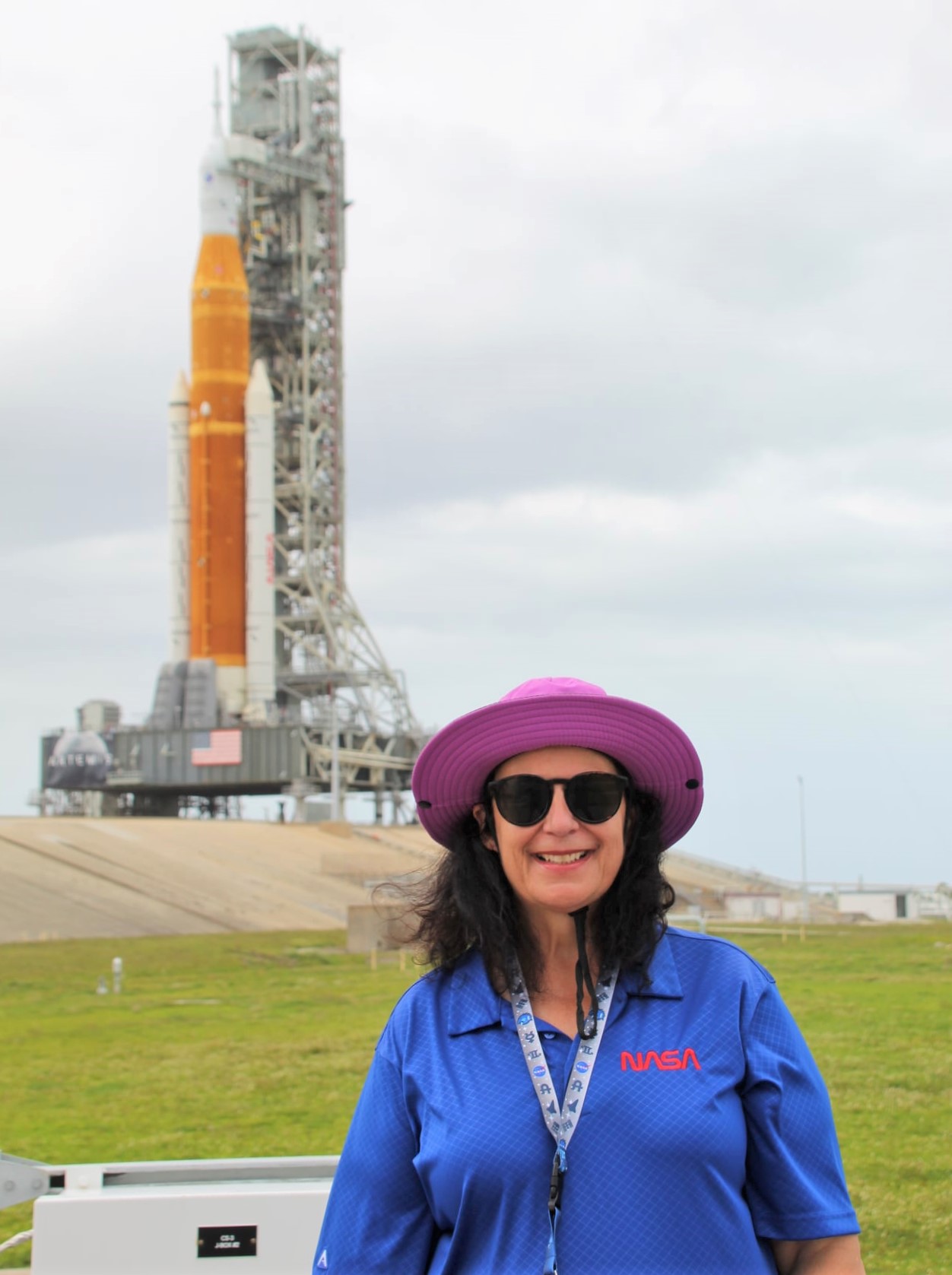 x