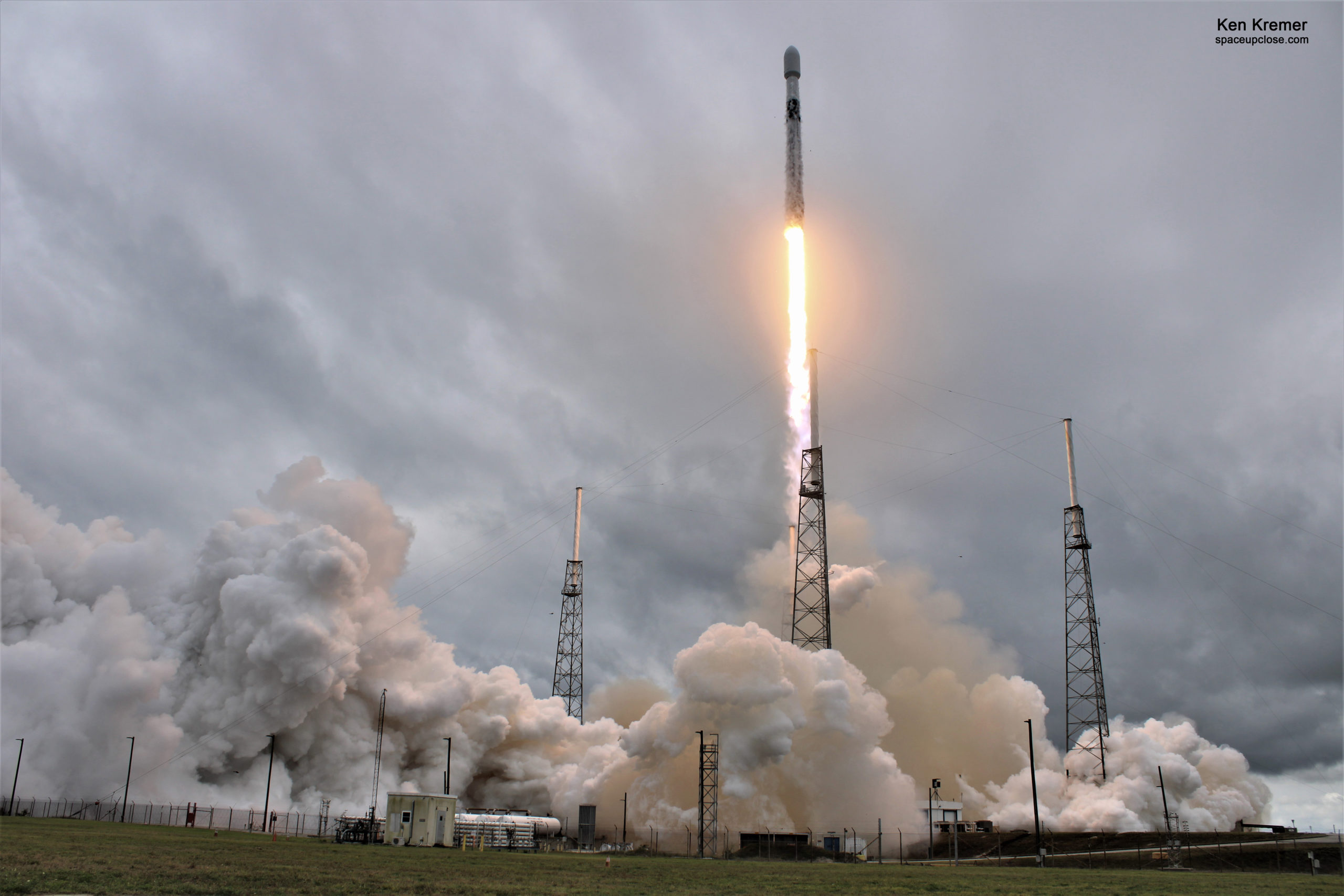 For SpaceUpClose.com & RocketSTEM
CAPE CANAVERAL SPACE FORCE STATION, FL – Despite rather poor weather prospects a SpaceX 7x flown 1st stage Falcon 9 booster threaded the needle and successfully launched the Transporter 4 rideshare mission and successfully delivered a payload of 40 varied small satellites to low Earth orbit from the Florida Space Coast, at noontime Friday, April Fool's Day, led by a German environmental mapping satellite.
The weather outlook had been very poor at only 30% GO after severe weather raced across the US towards the East Coast, southeast and central Florida on Thursday and threatened to derail the April 1 liftoff of the next SpaceX Falcon 9 on the firms 4th commercial rideshare missions with a host of 40 varied small satellites on a southerly trajectory from the Space Coast.
Liftoff of the 229-foot-tall (70-meter) rather sooty SpaceX recycled Falcon 9 on the Transporter-4 mission took place right on time at 12:24 p.m. EDT, or 1624 GMT, on Friday, April 1, from Space Launch Complex 40 (SLC-40) at Cape Canaveral Space Force Station in Florida during an instantaneous launch window to a sun-synchronous orbit
All nine  Merlin 1D first stage engines ignited with 1.7 million pounds of thrust fueled by liduid oxygen (LOX) and RP-1 refined kerosene propellants.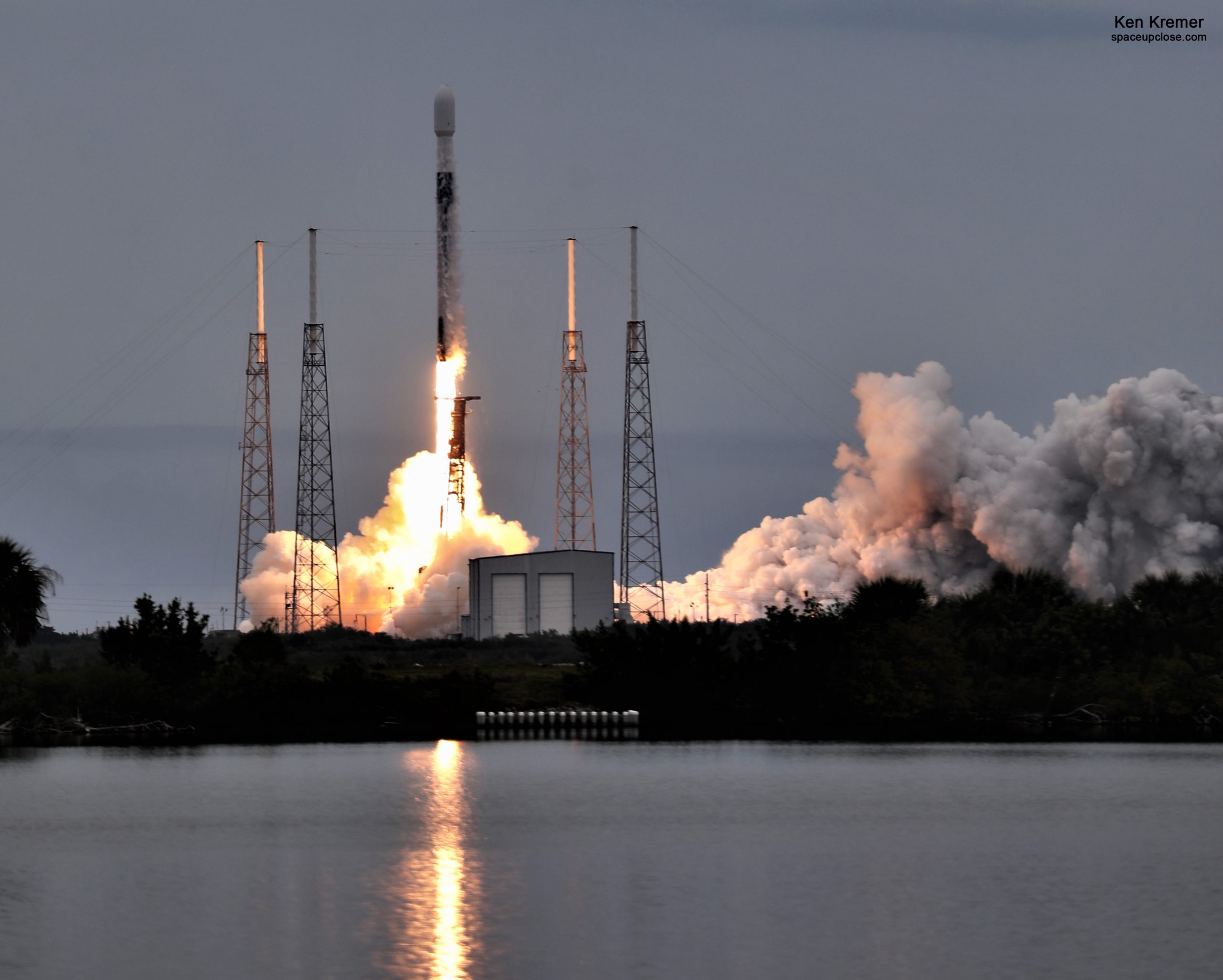 The SpaceX Falcon 9 reused rocket designated B1061 performed flawlessly and quickly disappeared behind thick low clouds just seconds after liftoff – rumbling loudly as it thundered almost overhead on the southern trajectory.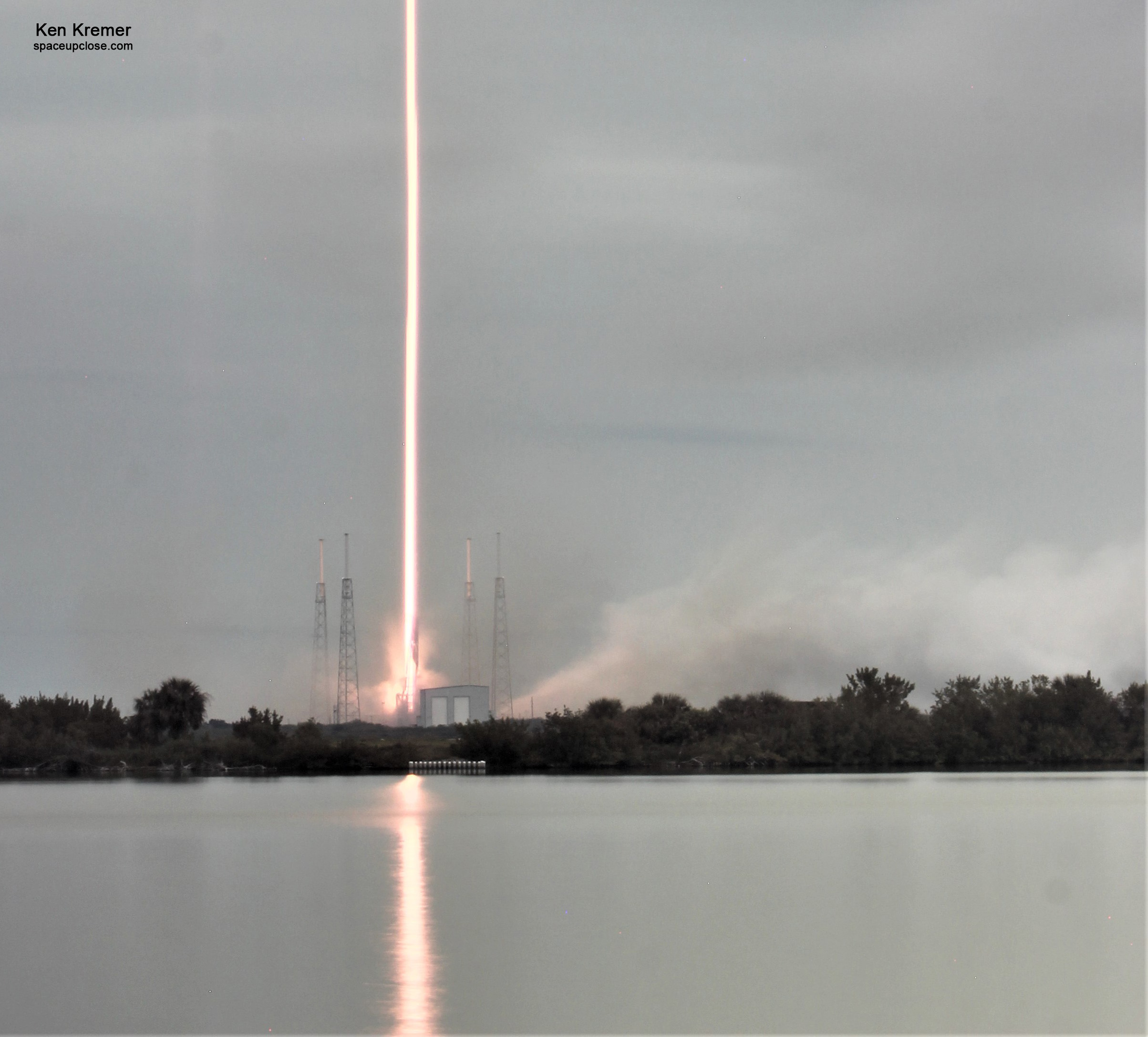 We witnessed the rocket being completely obscured behind the clouds in less than 20 seconds after blastoff
We never saw it again until it appeared on video screens nailing the successful touchdown on the 'Just Read the Instructions' (JRTI) droneship minutes later.
Enjoy our photos of the SpaceX Falcon 9 for Transporter 4 launch and prelaunch vertical at pad 40  taken by the Space UpClose team of Ken Kremer and Jean Wright.
Falcon 9's first stage booster B1061 previously launched Crew-1, Crew-2, SXM-8, CRS-23, IXPE, and one Starlink mission.
Following stage separation, SpaceX landed Falcon 9's first stage on the Just Read the Instructions droneship (JRTI) stationed in the Atlantic Ocean between the Bahamas and Cuba.
Transporter-4 is SpaceX's fourth dedicated smallsat rideshare mission.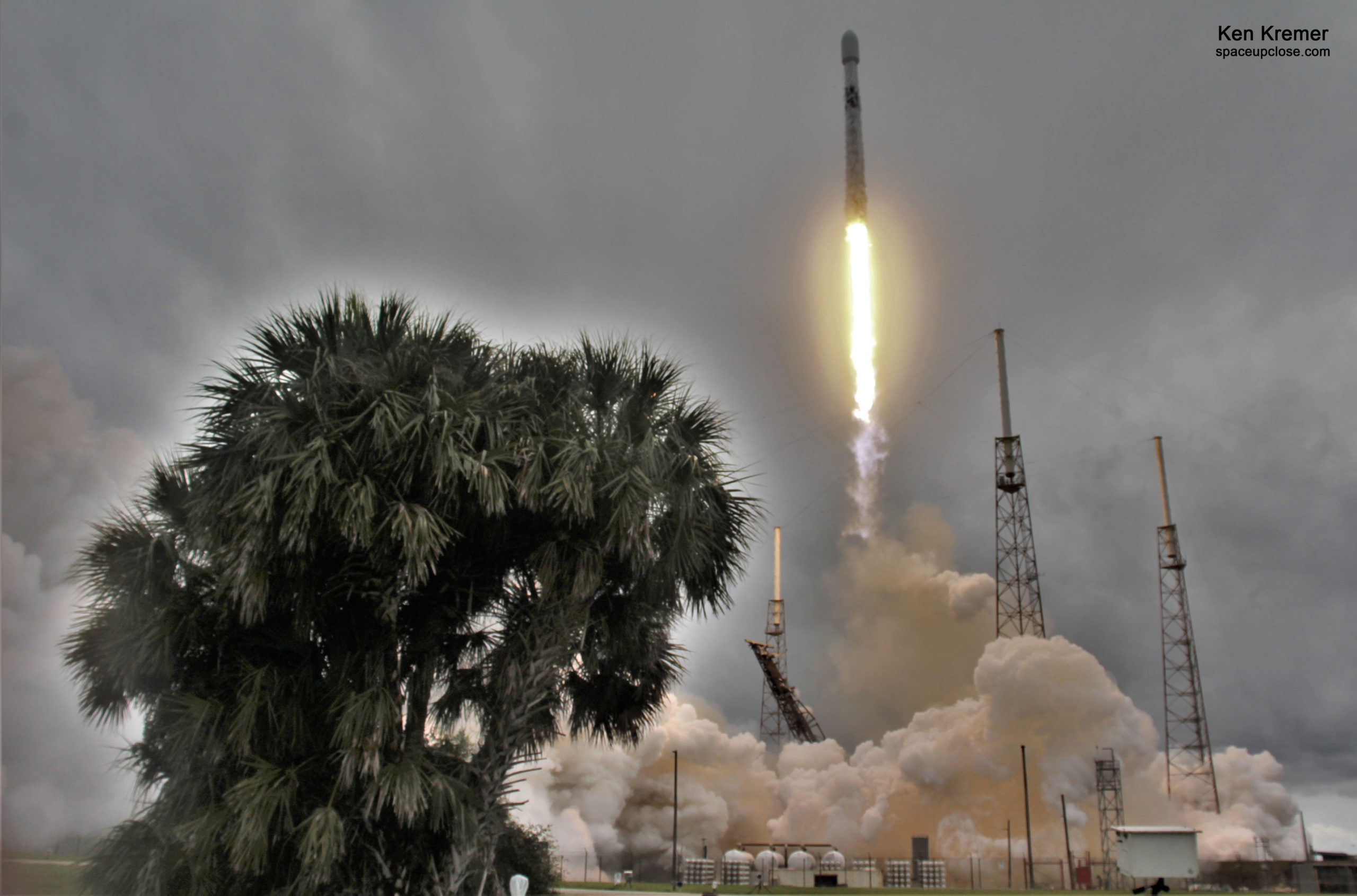 The nose cone encapsulated 40 spacecraft of many sizes altogether – these included "CubeSats, microsats, picosats, non-deploying hosted payloads, and an orbital transfer vehicle carrying spacecraft to be deployed at a later time," says SpaceX.
Exolaunch is one of the commercial customers carrying 12 satellites from 9 countries:
We are counting down to our next launch with @SpaceX Falcon 9 carrying 12 customer satellites from 9 countries 🇺🇸🇫🇷🇱🇹🇮🇳🇸🇰🇧🇷🇳🇴🇦🇷🇩🇰

Check out our mission infographics and stay tuned for our official press-release in a few hours!#Transporter4 pic.twitter.com/9uO9pdtybf

— Exolaunch (@EXOLAUNCH) April 1, 2022
The hosted satellite deployments started at T + 14 minutes and continued more than an hour to T + 1 hour 26 minutes.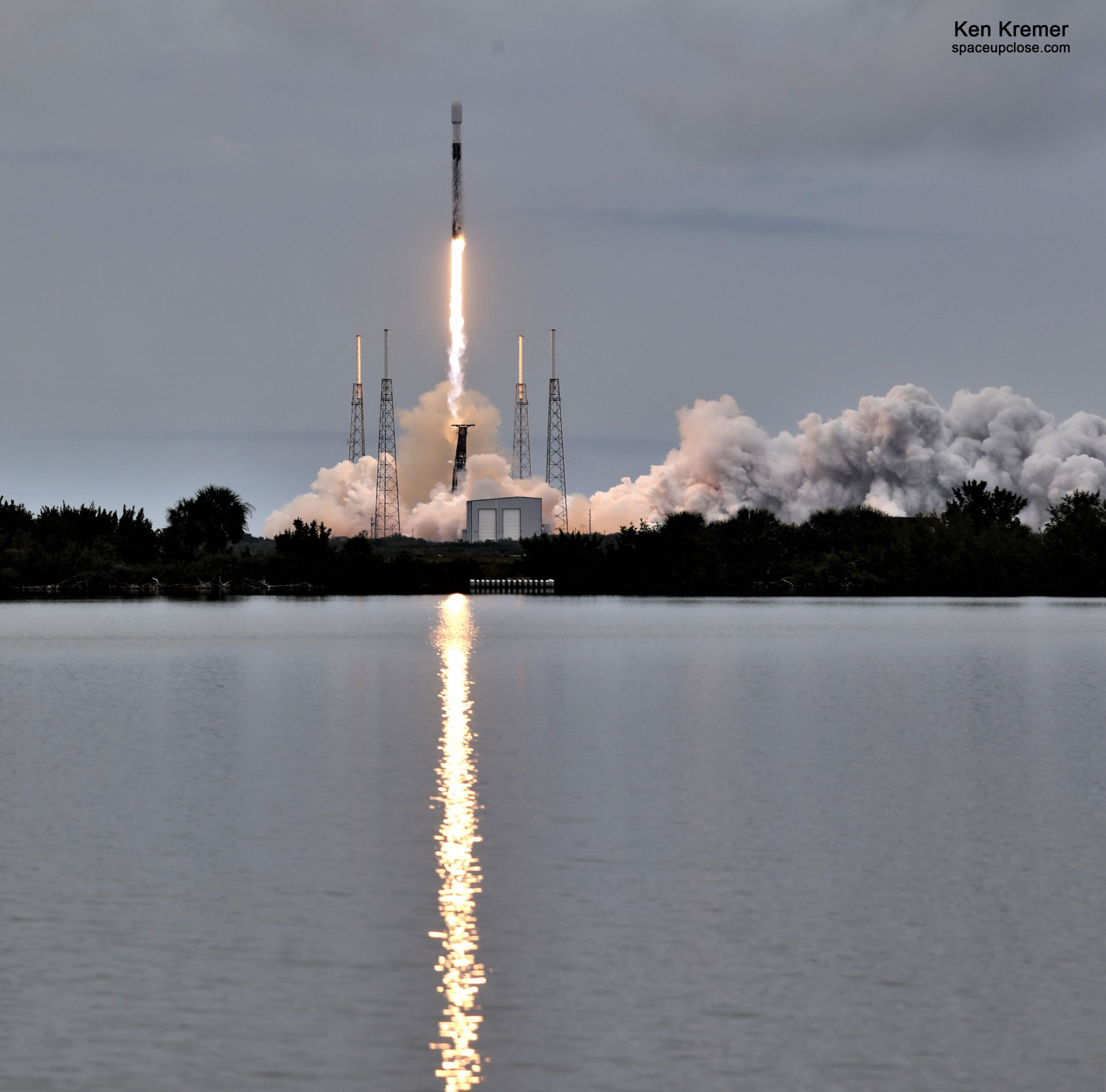 Among the first three payloads deployed early on between 14 and 18 minutes was Germany's EnMAP hyperspectral imaging satellite – the largest spacecraft carried to orbit on the Transporter 4 mission.
The one-ton German observation satellite named the Environmental Mapping and Analysis Program, or EnMAP is sponsored by the German Space Agency (DLR) and about the size of a compact car
EnMAP weighs about 2,160 pounds (980 kilograms).
Due to its large size there are far fewer accompanying small satellites
"With the launch of EnMAP, Germany is making an indispensable contribution to climate protection. Its innovative hyperspectral sensor technology will really let us see Earth with different eyes," Anna Christmann, federal government coordinator for German aerospace policy, said in a DLR statement.
"With EnMAP, Germany is making an important contribution to European space technology for the benefit of our planet."
The satellite will scan Earth's surface with a telescope and dual spectrometers tuned to see sunlight reflected off the ground, lakes, rivers, and oceans in 242 colors.
"EnMAP is a satellite that acquires images of Earth," said Sebastian Fischer, the mission manager at DLR. "However, an image is normally recorded in three different colors: red, green and blue. The unique thing about EnMAP is that it does not only concentrate on these three colors, but the light is split into very many, very small wavelength ranges."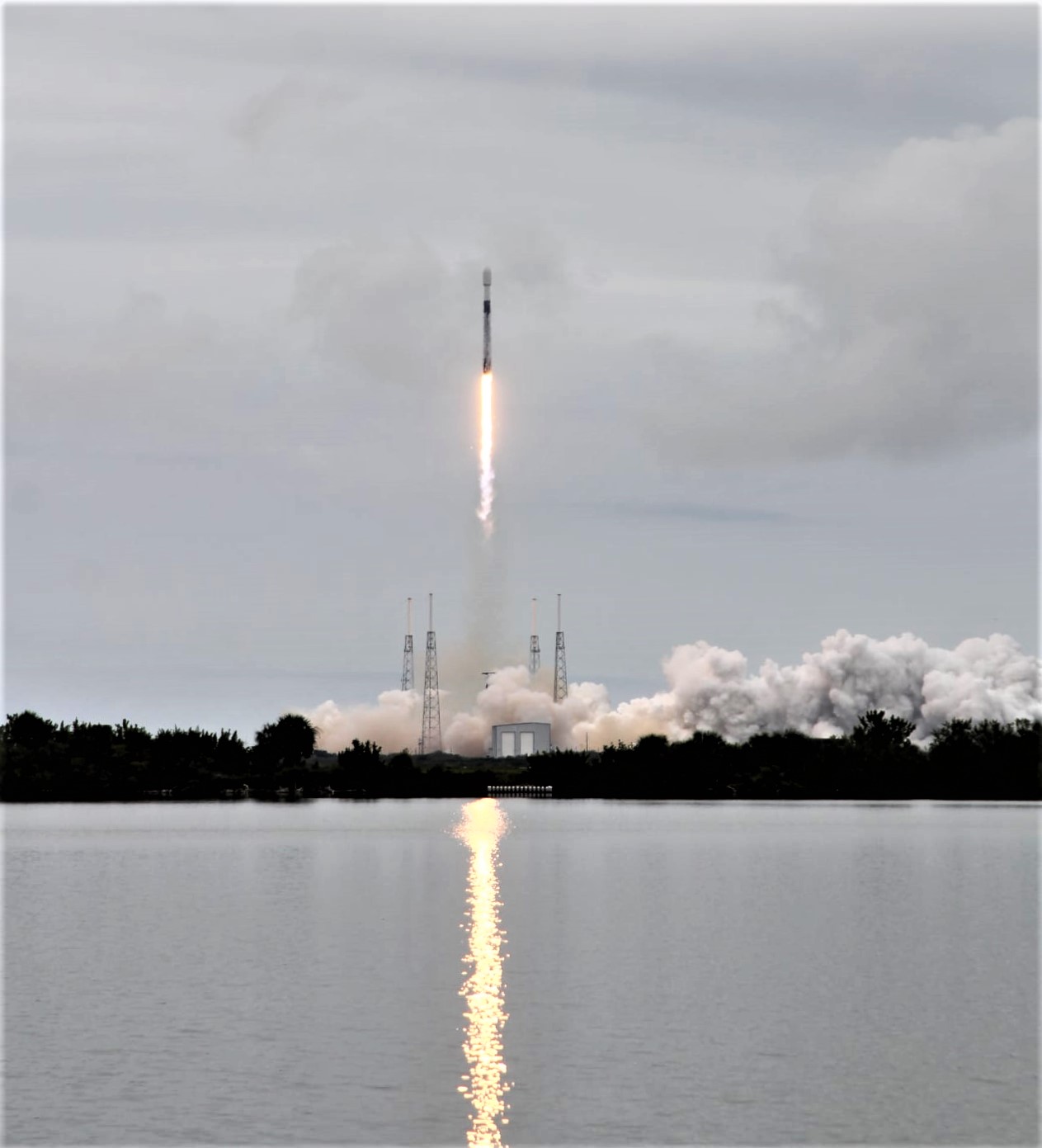 Overall Transporter-4 counts as the 146th flight of a Falcon 9 rocket since the workhorse SpaceX rocket debuted in June 2010.
It also counts as the 12th Falcon 9 launch so far this year.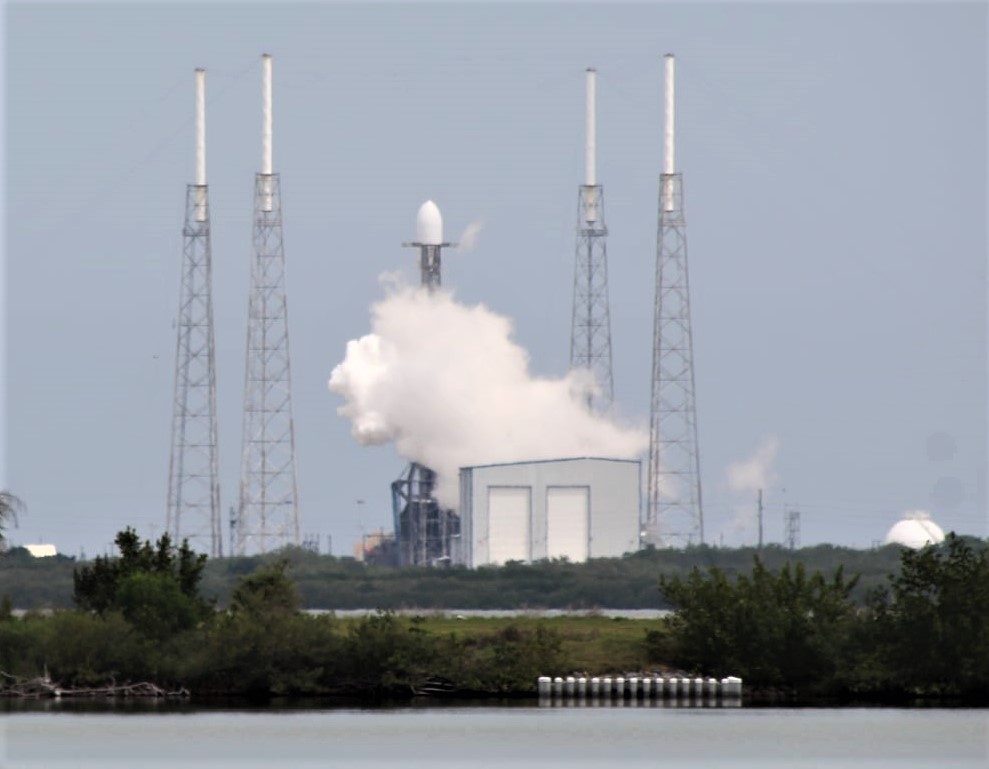 WFTV Channel 9 ABC News Orlando featured Ken's comments about busy times on the Space Coast with SLS WDR and upcoming Artemis 1 launch and two SpaceX Crew Dragon launches to ISS NET April 6 & April 20 and Mark Vande Hei return:
https://www.wftv.com/news/local/look-space-coasts-busy-week-ahead/GSYWA2VOHFEHDG35OGCERHT7AI/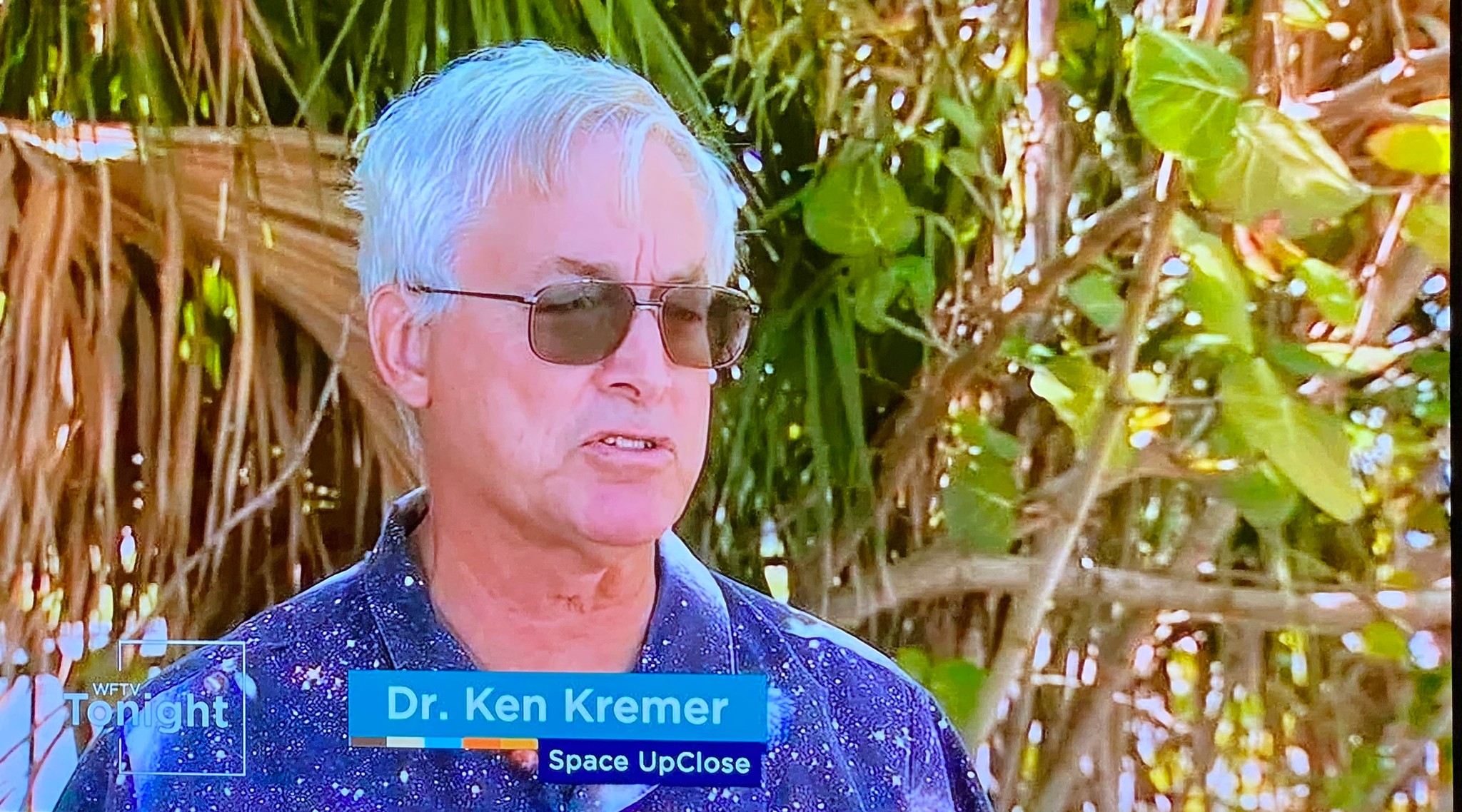 Watch Ken's continuing reports about SpaceX  Starlink, SpaceX Crew and Cargo Dragons, Artemis, SLS, Orion and NASA missions, DART,  Lucy Asteroid mission, Blue Origin and Space Tourism, Commercial Crew and Starliner and Crew Dragon and onsite for live reporting of upcoming and recent SpaceX and ULA launches including Crew 1 & 2 & 3, ISS, Solar Orbiter, Mars 2020 Perseverance and Curiosity rovers, NRO spysats and national security missions and more at the Kennedy Space Center and Cape Canaveral Space Force Station.
Stay tuned here for Ken's continuing Earth and Planetary science and human spaceflight news: www.kenkremer.com –www.spaceupclose.com – twitter @ken_kremer – email: ken at kenkremer.com
Dr. Kremer is a research scientist and journalist based in the KSC area, active in outreach and interviewed regularly on TV and radio about space topics.
………….
Ken's photos are for sale and he is available for lectures and outreach events
Please consider supporting Ken's work by purchasing his photos and/or donating at Patreon:
https://www.patreon.com/kenkremer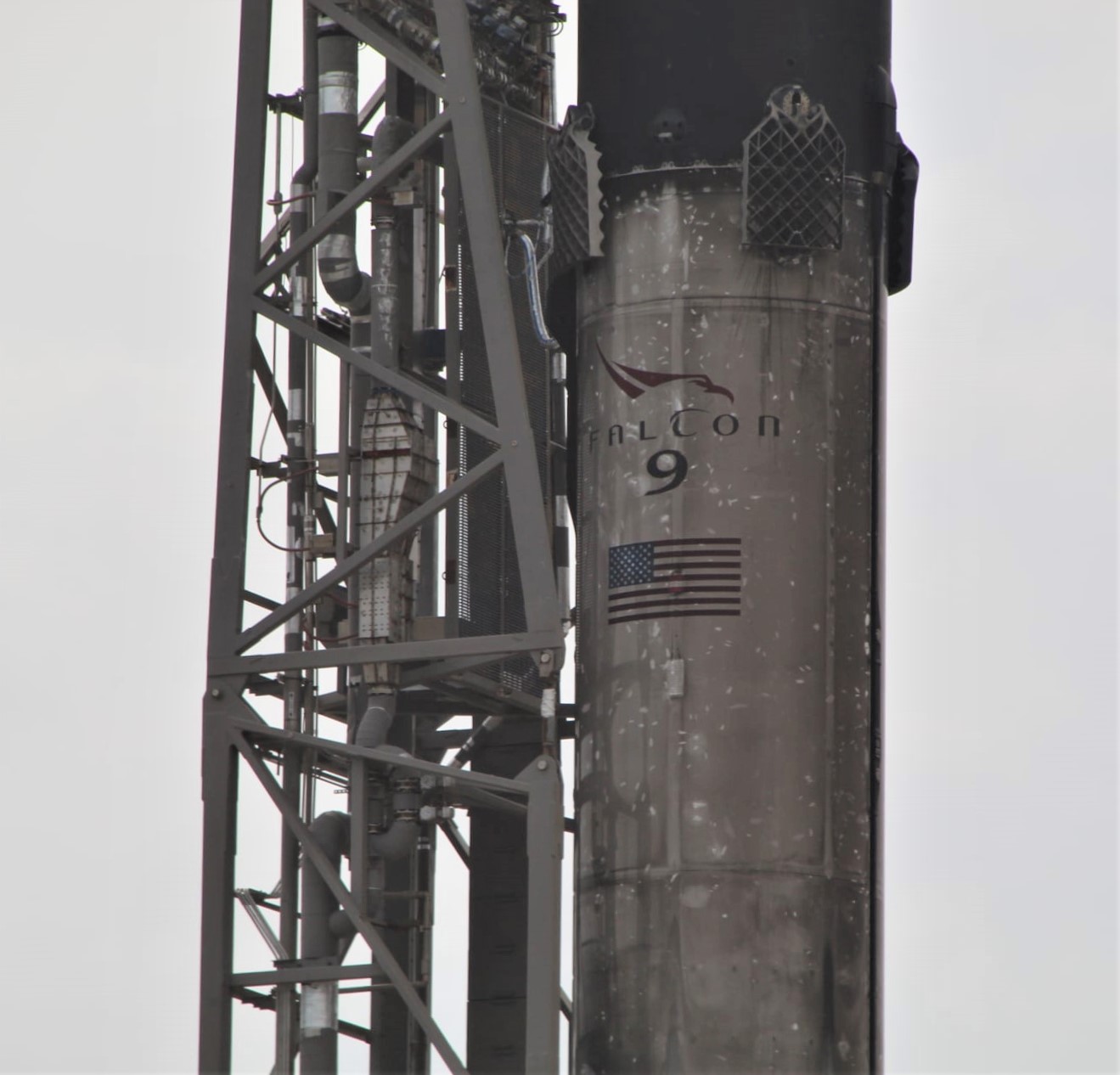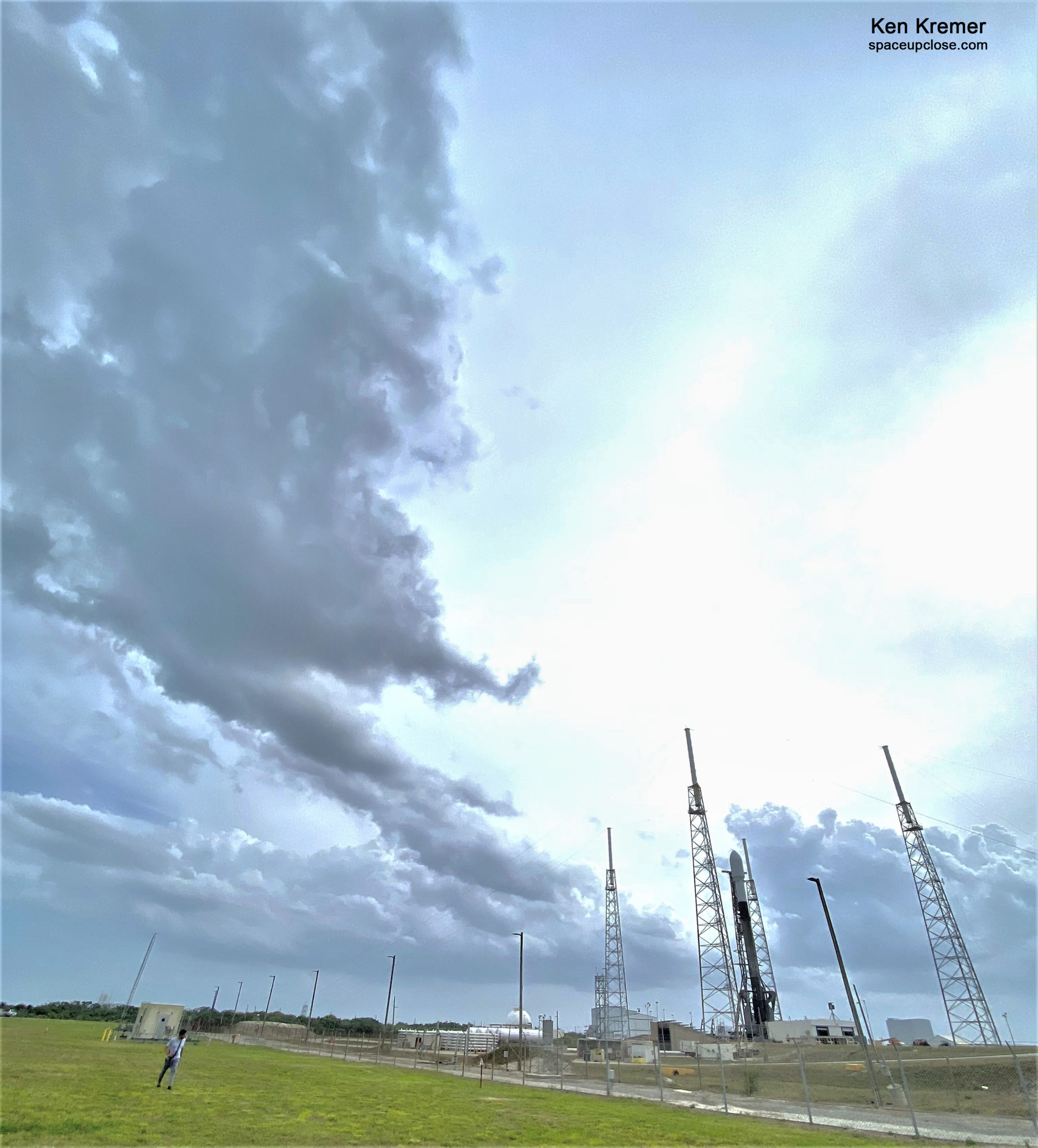 x